These Oreo Shamrock McFlurry Cheesecake Bites are made with cream cheese, vanilla ice cream, peppermint extract, and lots of Oreos.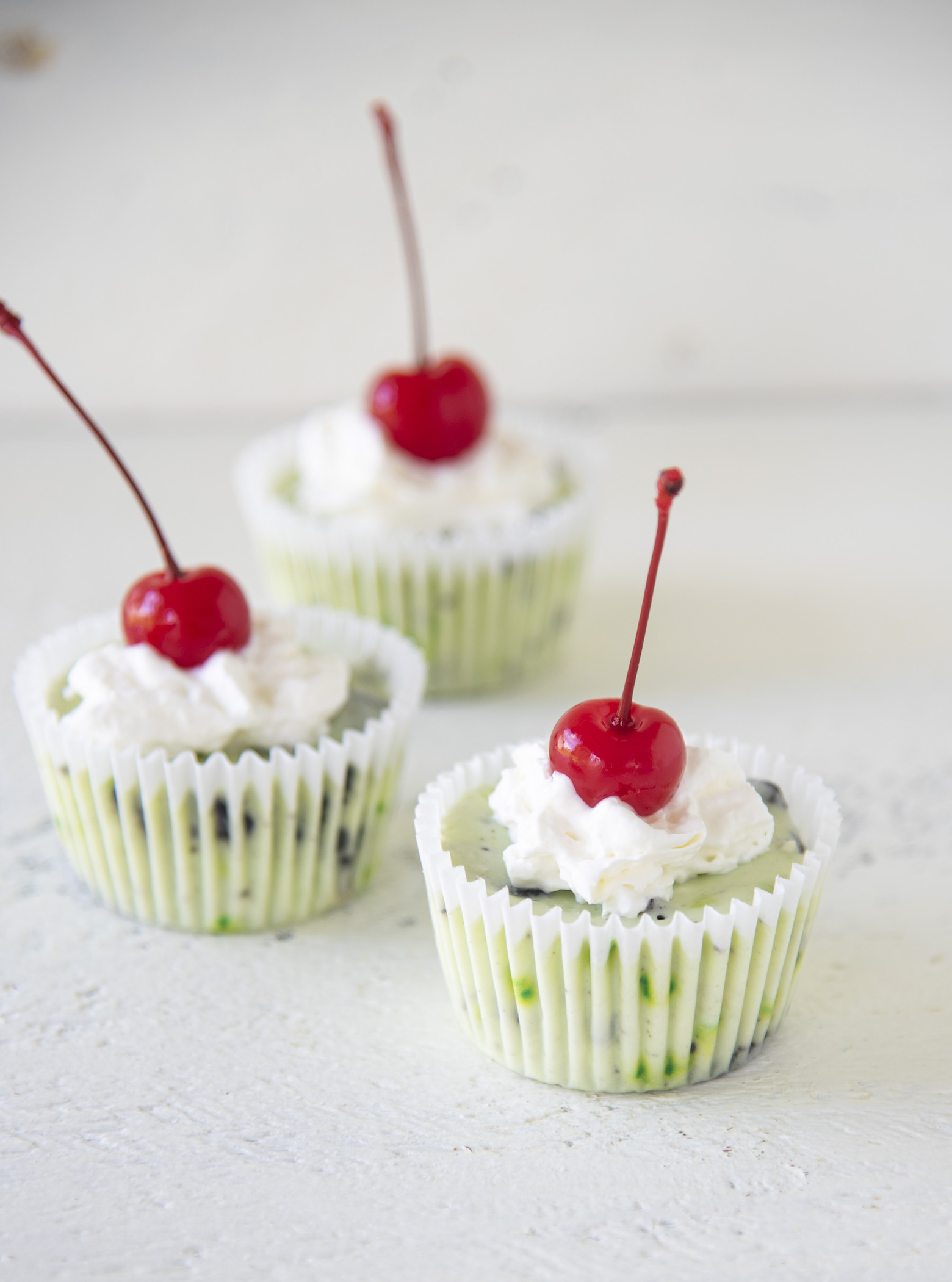 I hope you have enjoyed my Shamrock Shake Weekend.
Celebrating the 50 year anniversary of the Shamrock Shake.
I am rounding out the Shamrock Shake weekend with these Oreo Shamrock McFlurry Cheesecake Bites.
A nod to the newer creation, the Oreo Shamrock McFlurry.
Basically the same as the shake just a little more ice cream and of course the addition of Oreo cookies.
These are very simple to make and would make for a great St. Patrick's Day treat.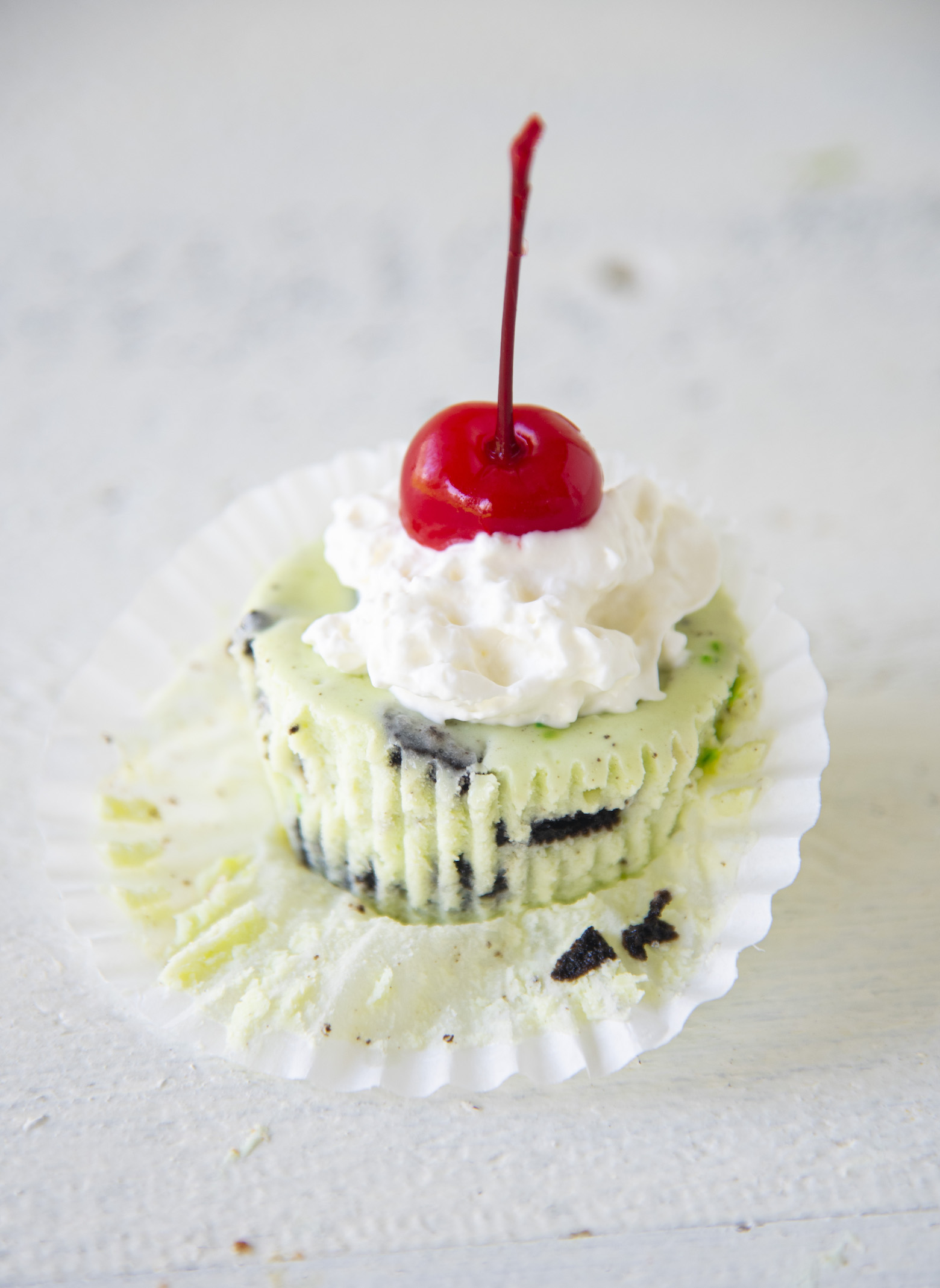 An Oreo Shamrock McFlurry is made up of vanilla soft serve ice cream, peppermint syrup, and Oreo's. These cheesecake cupcakes stay true to the McFlurry by using melted vanilla ice cream in the batter.
As well as peppermint flavoring.
And of course, Oreo's.
All in a portable cheesecake bite.
I used regular Oreo's because that is all we had in the house but I would totally use Double Stuff because I am always pro more filling.
As with all cheesecakes you want to make sure that the cream cheese is at room temperature.
You want to cream the cream cheese until it is completely smooth.
No one likes a chunky cheesecake.
If you are feeling the need for booze in these feel free.
Creme de Mente or the Tippy Cow Shamrock Shake would go nicely in these.
If you do add them I would reduce the amount of vanilla ice cream to 1/3 cup and add 1/4 of the liqueur.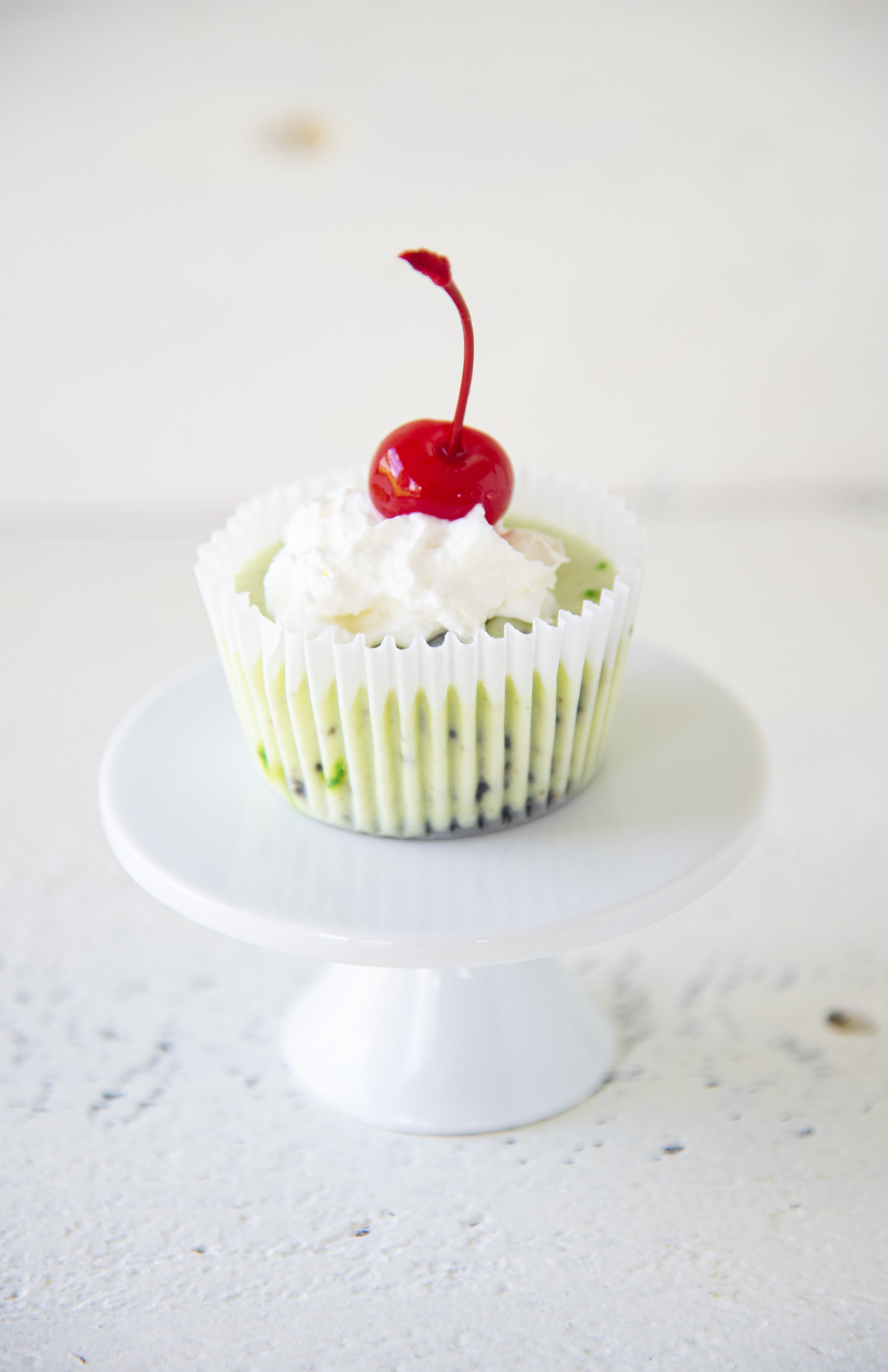 Be sure to order my cookbook.
If you love the recipes on the blog you will love the ones in the book!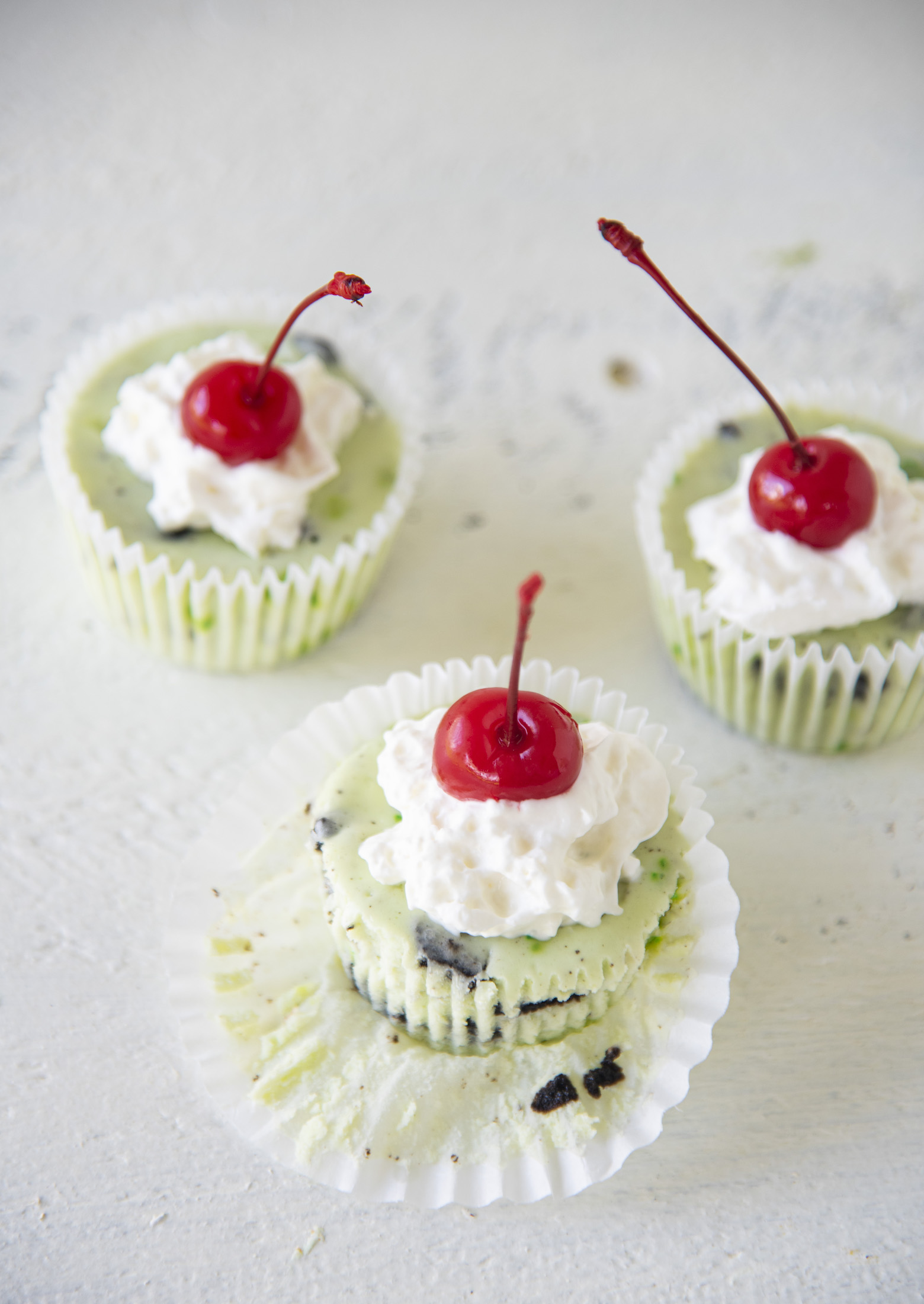 Want More Oreo Recipes?
Cookies and Cream Birthday Sprinkle Overload Cake
Blackberry Jam Cookies and Cream Bread Pudding
Double Stuff Oreo Filling Fudge
Ingredients
16 ounces cream cheese, at room temperature
½ cup granulated sugar
2 eggs
1/2 tsp peppermint extract
½ cup melted vanilla ice cream
2-3 drops geen food coloring
2 TBSP flour
22 Oreo Cookies
Shamrock sprinkles (optional)
Whipped cream (garnish)
maraschino cherries (garnish)
Instructions
Preheat oven to 275F.
Line muffin a muffin tin with cupcake liners (preferably white).
Place an Oreo cookie at the bottom of each cupcake. Set aside.
Using a stand mixer, beat cream cheese and sugar on medium-high speed for about 5 minutes.
Add eggs, one at a time, beating for about 1 minutes. Scrape down the bowl after each addition.
Add peppermint extract and melted ice cream, beat until incorporated.
Add the food coloring and mix until even color distribution throughout the batter.
Mix in the flour and mix until fully combined.
Fold in the Shamrock sprinkles.
Crush up remaining Oreos and add them to the cheesecake batter and mix until the cookies are throughout the batter evenly.
Pour into prepared cupcake liners.
Bake for 22 minutes, rotating half way through.
Remove from oven and let cool to room temperature.
Chill in fridge in muffin tins for at least 4 hours or overnight.
Top with whipped cream and cherries if desired.