These Orange Spice Molasses Cookies are made with molasses, orange zest, chai spice, cinnamon, and nutmeg all rolled in sugar and baked.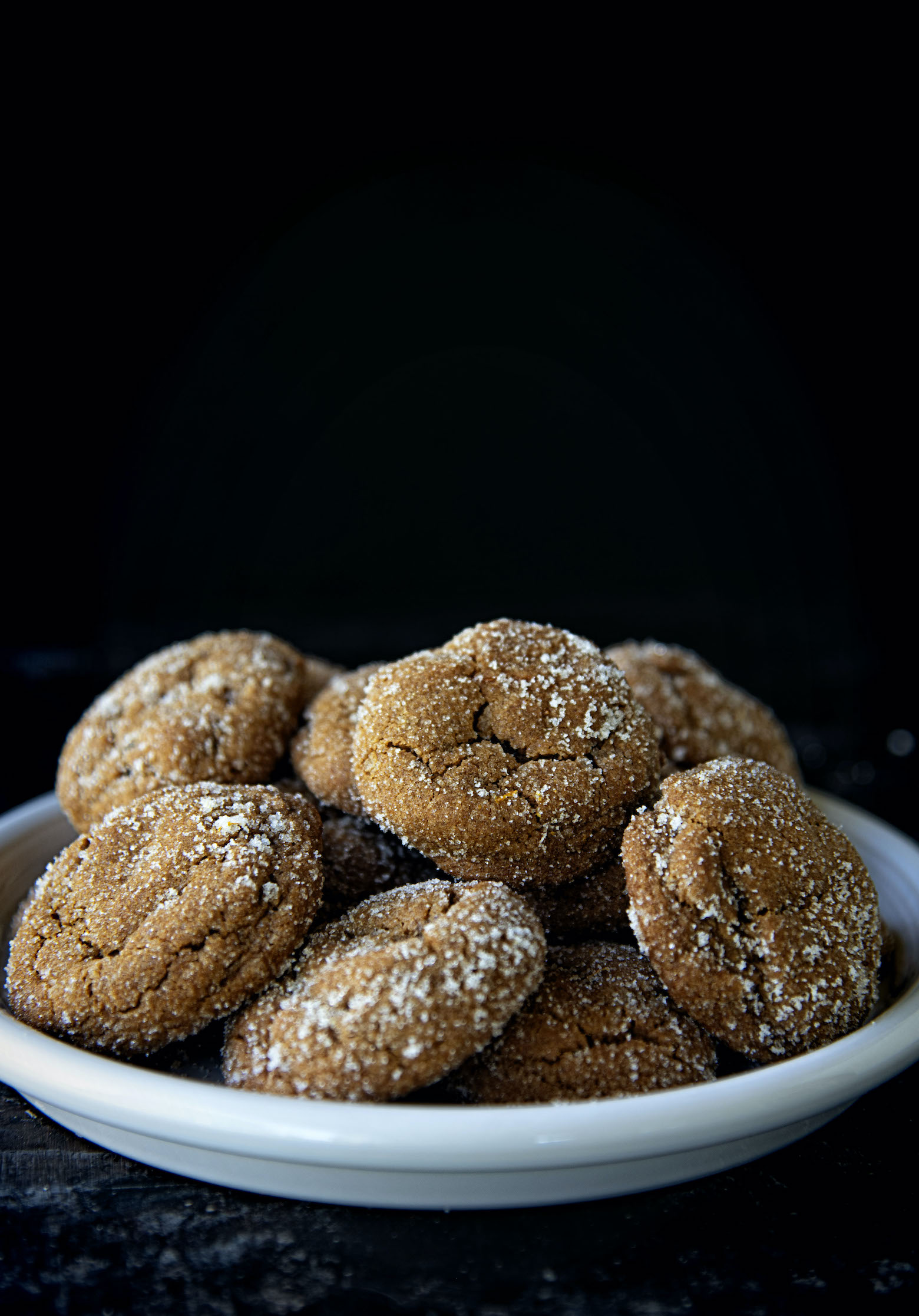 Yeah, these Orange Spice Molasses Cookies could be considered a Christmas cookie.
And yes, I am in the mood for Christmas already.
I want happy twinkling lights darn it all.
This year needs some tinsel on it that is for sure.
It also needs cookies.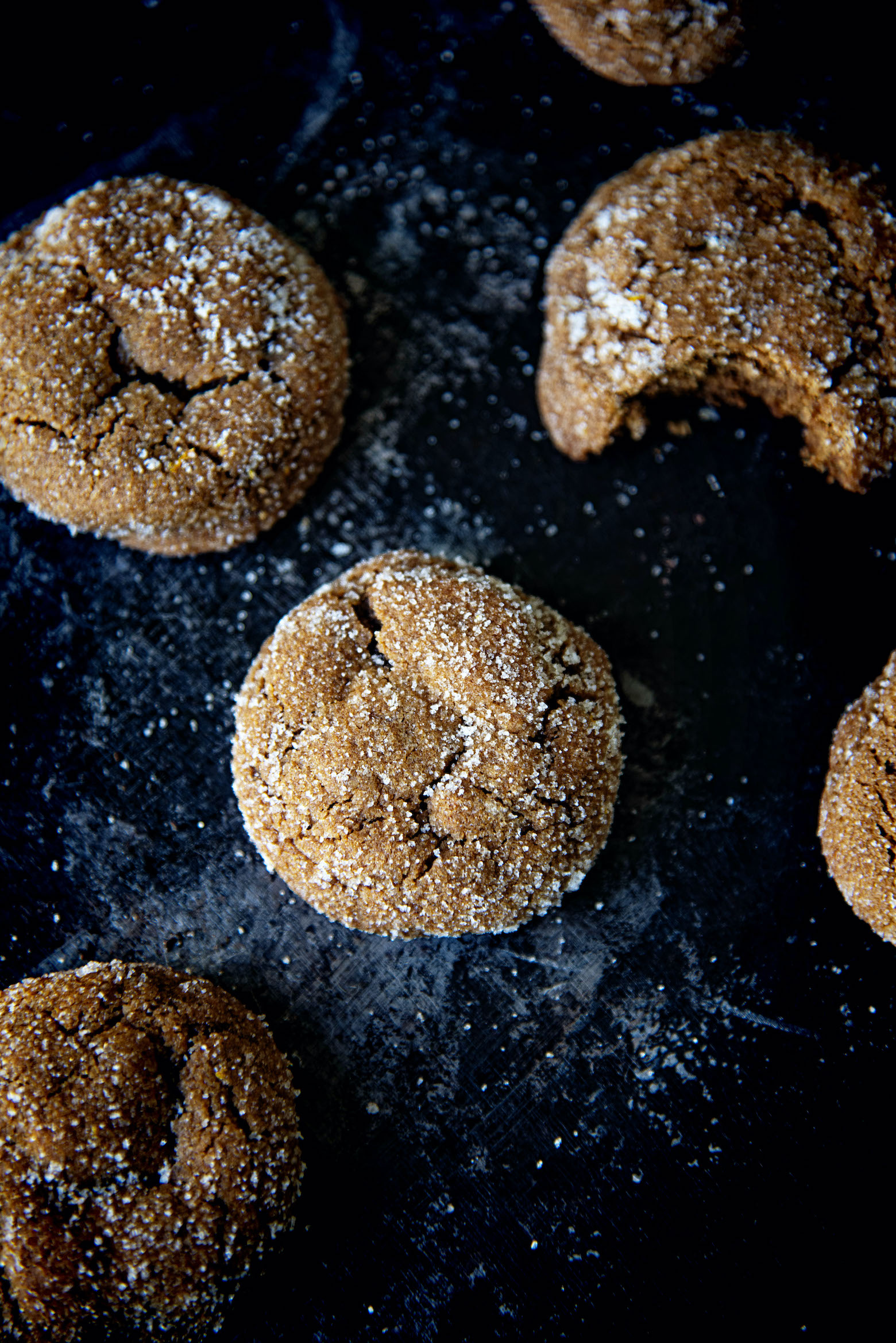 While I am a early Christmas person there are so many more this year than ever before.
Mostly I think because they want this year to hurry up and be over with already.
Many people are going to be disappointed at 12:01am on January 1st and all the stuff that was here in 2020 is there in 2021.
But for now I welcome you…the early celebrators.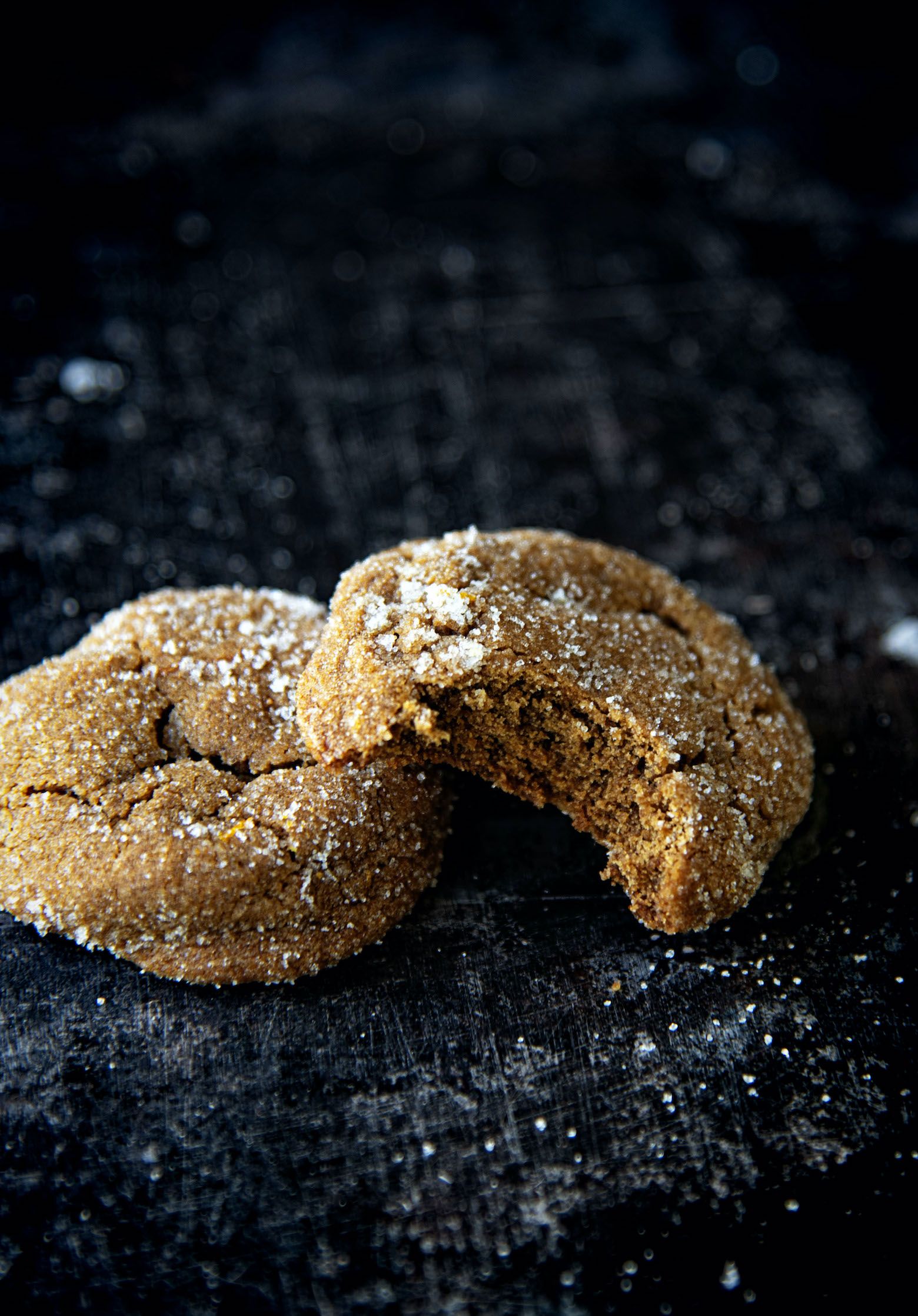 For years now my friend Amy has hosted our cookie and ornament exchange.
We don't do it like normal people.
There are cookies but you don't have to bake a dozen for every person there.
You just bring some cookies.
And bring some Tupperware and load up on cookies.
Then we also do an ornament exchange white elephant style.
Some of my best ornaments have come from this exchange every year.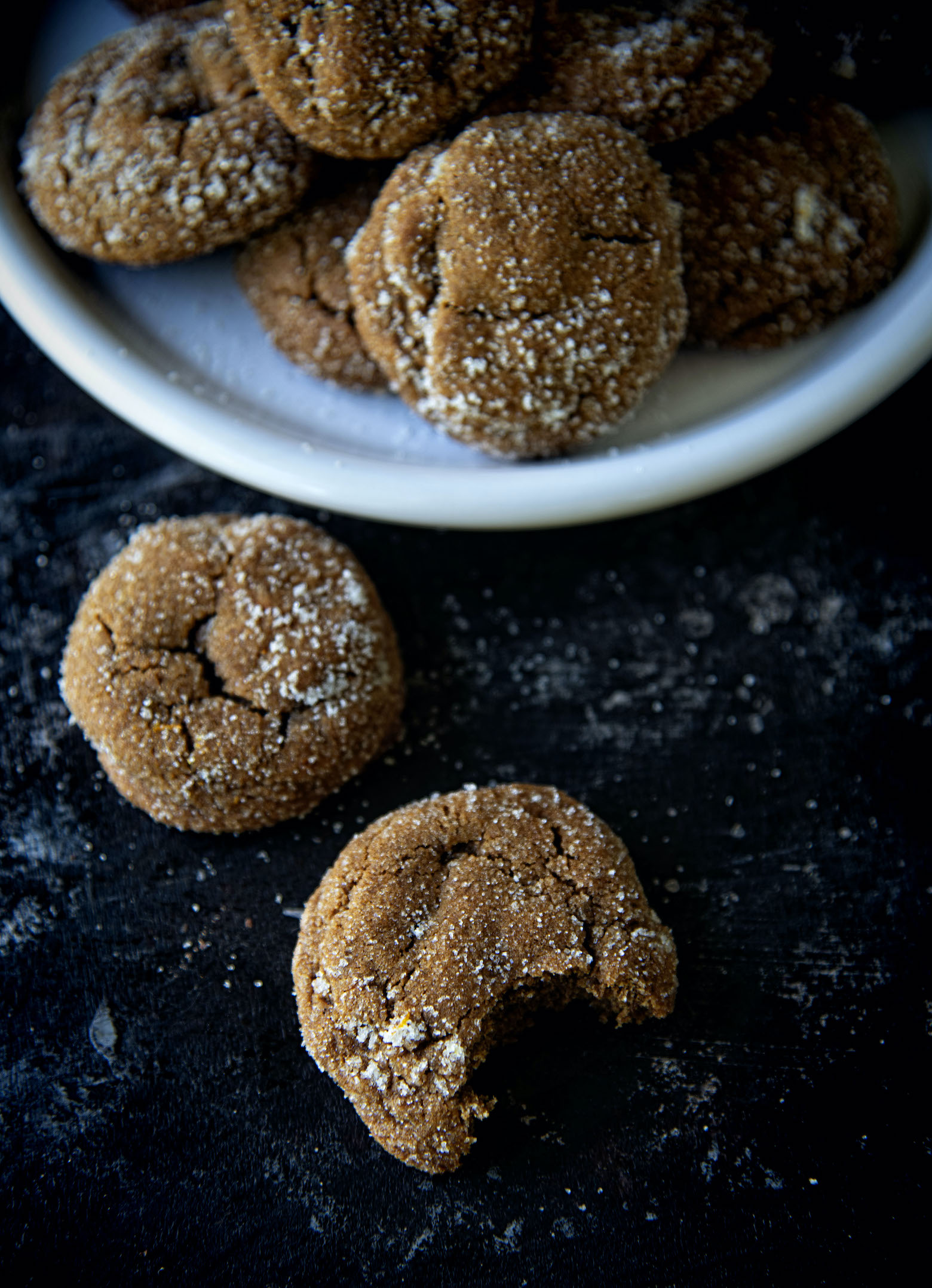 This year we are meeting by Zoom (or some form of online platform).
Instead of cookies we are going to have a cocktail.
And in place of ornament exchange we are to buy ourselves something nice and then have a show and tell of what we bought ourselves.
I'm actually really on board with this.
It's treat yourself holiday edition.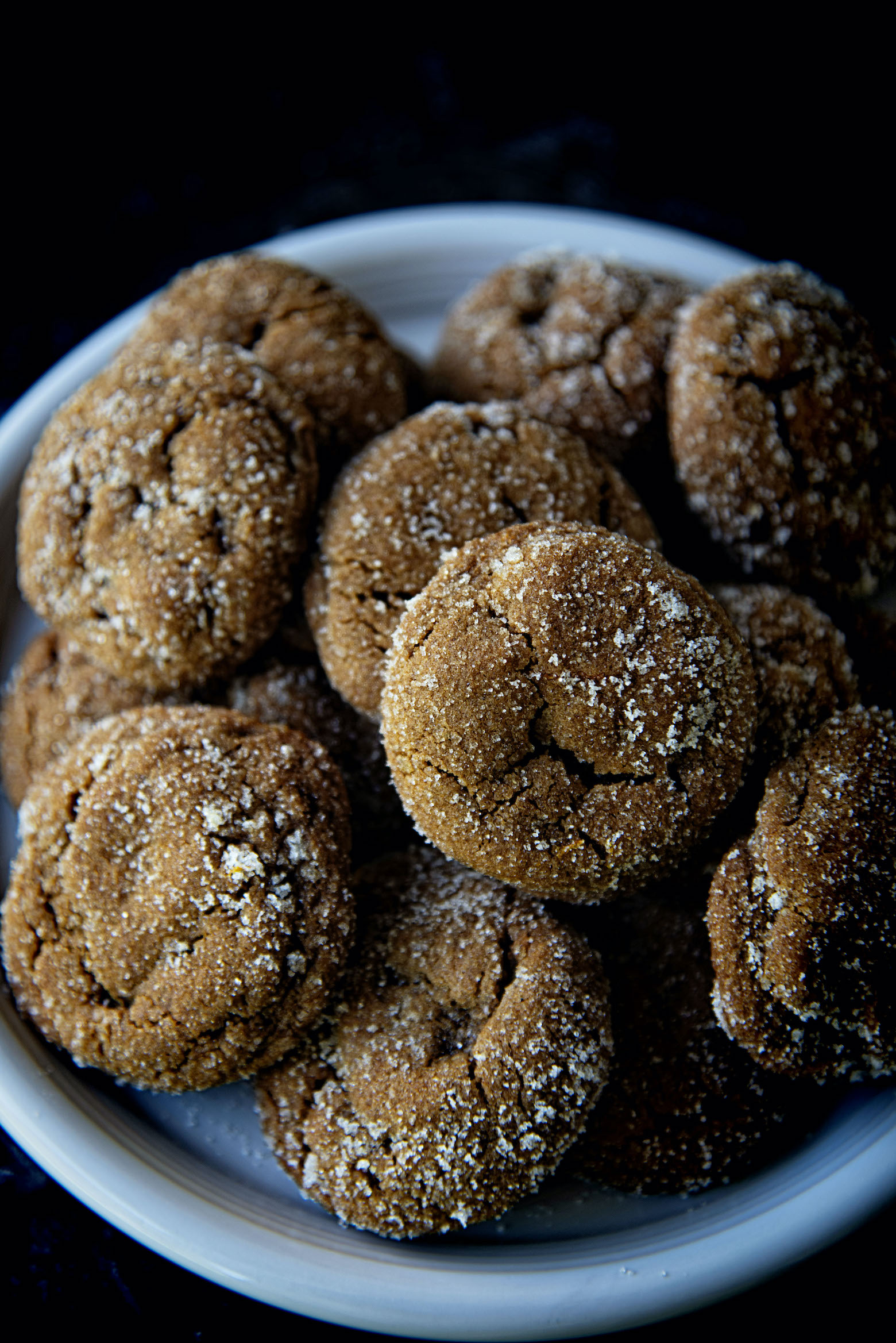 Since it's not quite holiday season I did not make these with gingerbread spice but with chai spice instead.
And a little more cinnamon and nutmeg as well.
Spice cookies always have such warmth to them.
These do as well.
Don't skip the step to infuse the orange zest into the sugar.
Really adds something to the cookie.
If you don't like orange zest in your sugar just sift it out.
I personally kept it in there.
P.S. It's a great day to buy my cookbook.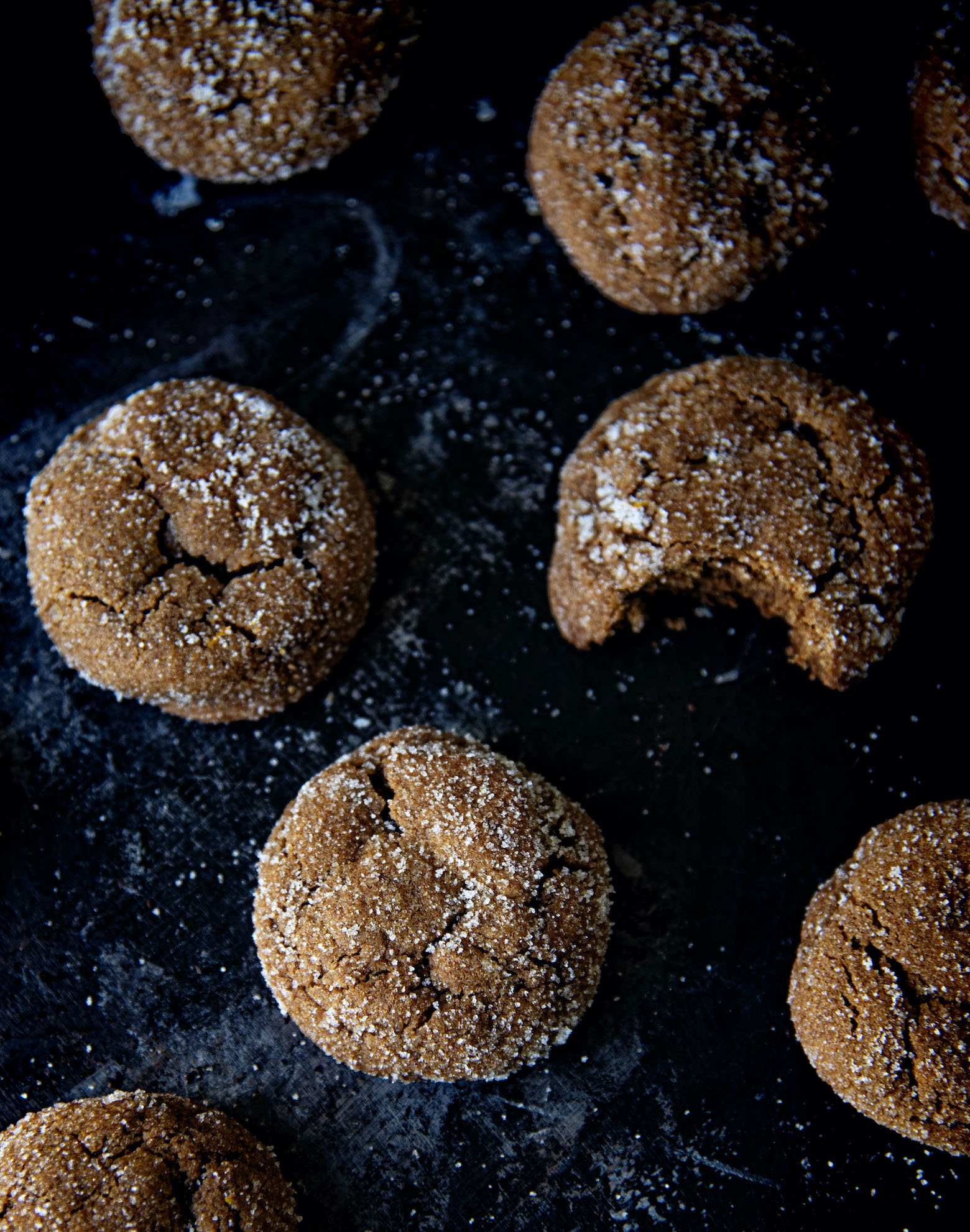 Want More Holiday Cookies?
Mini Chocolate Gingerbread Men Sandwich Cookies
Shortbread Roll Out Sugar Cookies
Cranberry Orange Pistachio Cookies
Vanilla Bean Caramel Thumbprint Cookies
Ingredients
2 1/2 cups all-purpose flour
2 tsp. chai spice
1 tsp ground cinnamon
1/2 tsp ground nutmeg
11/2 tsp baking soda
1/2 tsp salt
1 cup packed dark brown sugar
1/2 cup shortening
4 TBSP unsalted butter, at room temperature
1 egg
1/2 cup full-flavor molasses
zest of 1 orange
To Roll The Dough In:
1 cup granulated sugar
zest of 1 orange
Instructions
Whisk together flour, spices, baking soda, and salt in a bowl.
Using a stand mixer with the paddle attachment cream together the brown sugar, shortening,and butter until light and fluffy, 5 minutes.Add egg to butter mixture and mix until combined.
Beat molasses and zest into creamed mixture, scraping down the sides of the bowl as needed.
Add the flour mixture, beating just to combine.
Chill dough at least 4 hours, or overnight. I always do overnight because more flavor develops.
Preheat oven to 350F.
Line baking sheets with parchment paper.
Combine the 1 cup sugar and zest together in a bowl. Using your fingers combine the two. You want the orange oil from the zest to be incorporated into the sugar.
Scoop dough using a medium scoop (1 1/2 TBEP), roll in the orange granulated sugar mix, and drop onto prepared baking sheets.
Bake cookies until edges are set, about 11-13 minutes.
Cool cookies on baking sheets.