These Orange Glazed Bourbon Soaked Fruitcake Cupcakes are filled with 48 hour bourbon soaked candied fruit and topped with an orange fondant glaze.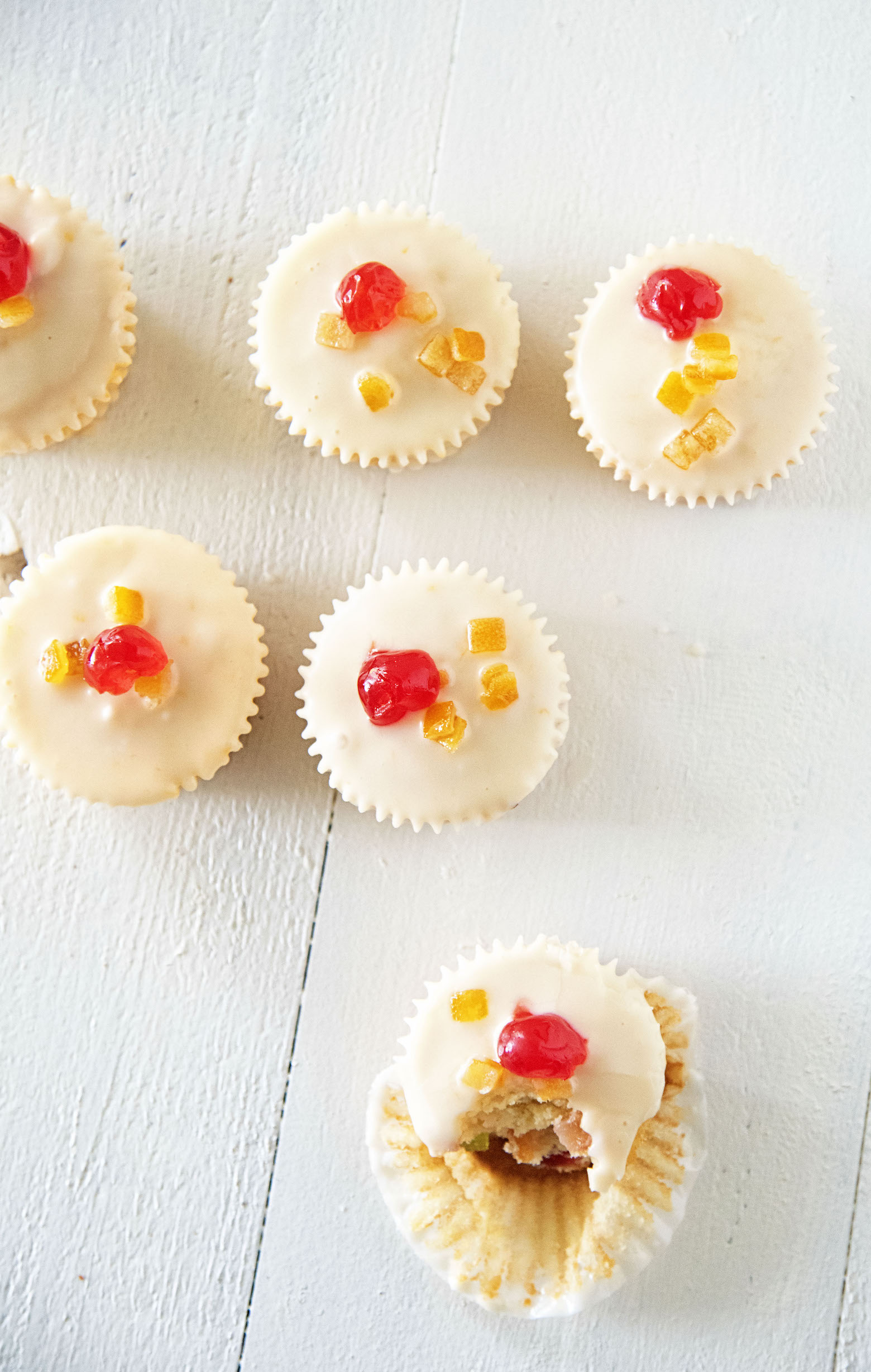 I avoided fruitcake for years.
Until my aunt while living in Tennessee sent us a Jack Daniels Tipsy Cake.
I reluctantly tried a piece and was hooked.
From then on I didn't hide from the glowing neon fruit that was studded in cake.
While I do enjoy fruitcake it can sometimes be rather heavy.
Especially the ones that have been soaked and soaked because the booze settles in there real good. 🙂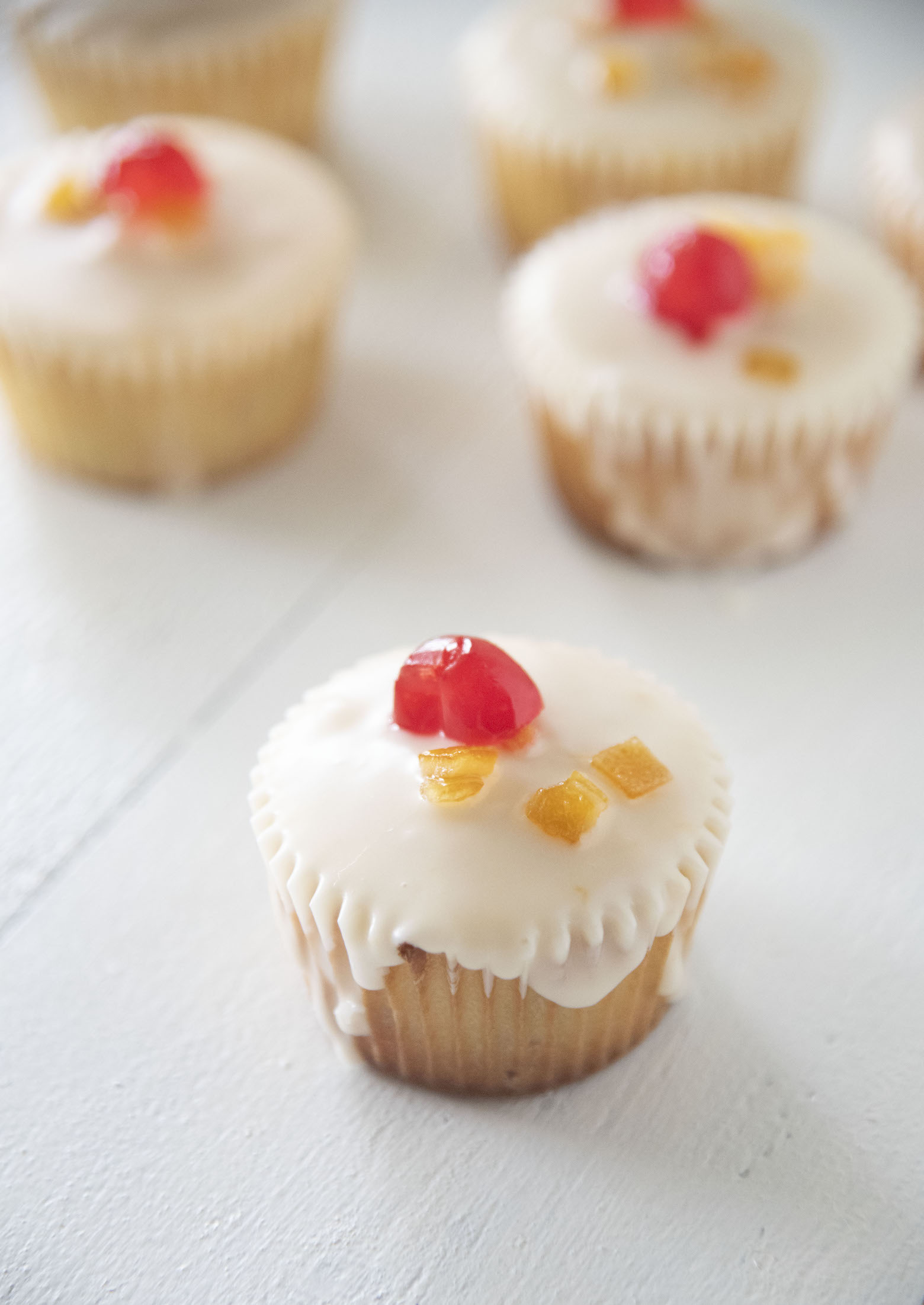 I wanted to do fruitcake but in a lighter way.
Which resulted in these Orange Glazed Bourbon Soaked Fruitcake Cupcakes.
So I soaked the candied fruit in bourbon for 48 hours.
You don't need it that long but I ran out of time and made the cupcakes later.
As far as candied fruit is concerned you can use whatever fruit you like.
In my case, I used red and green candied cherries, candied pineapple, candied lemon peel, and candied orange peel.
Feel free to use what are your favorite candied fruits.
Also, if you are a nut a fan, feel free to add a cup of chopped nuts to these as well.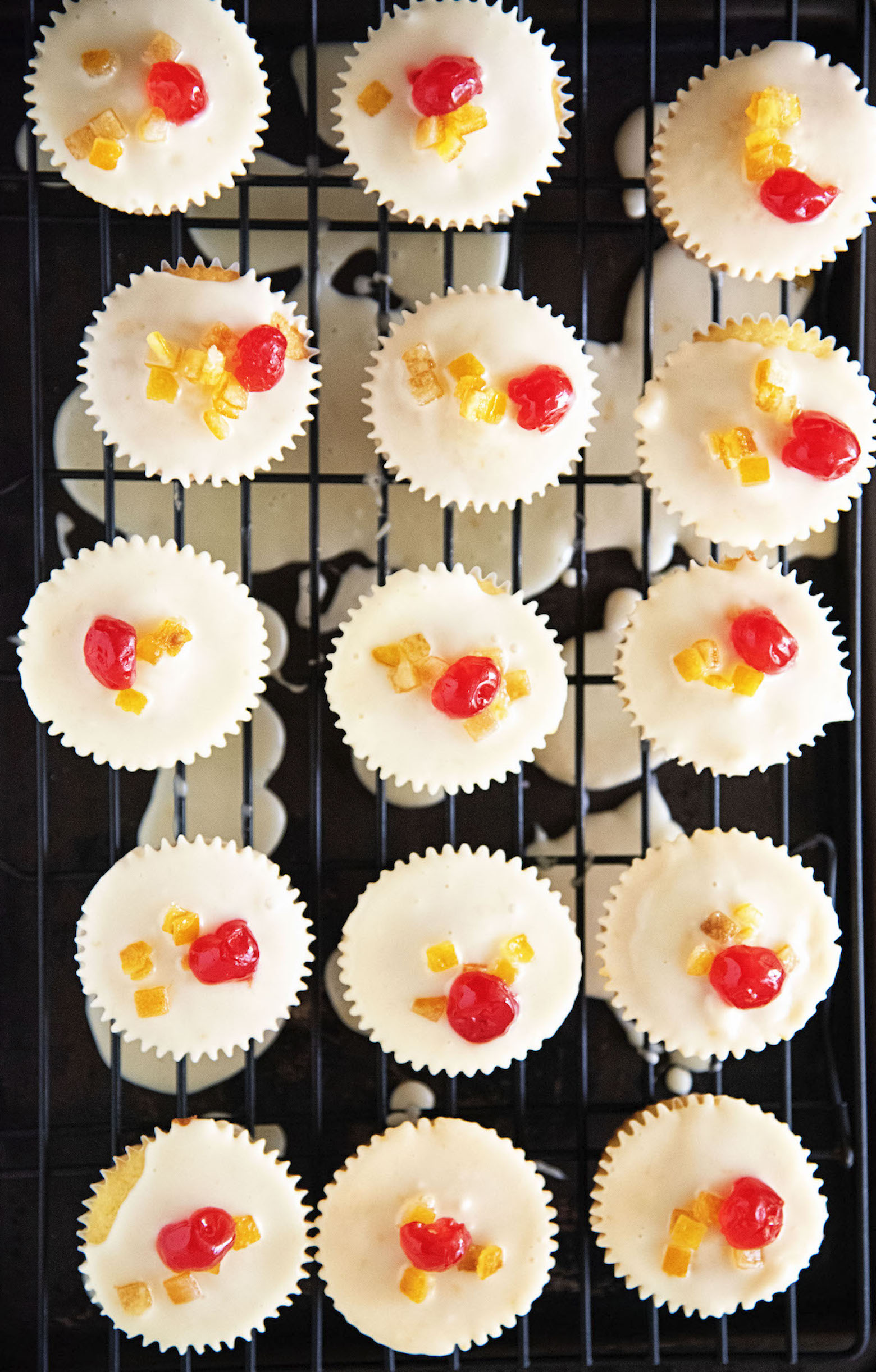 These are a fun cupcake to take to a potluck.
Though do warn others that the booze does not bake off.
And fruit that has been soaked in bourbon for a day or two tends to taste like bourbon FYI. 🙂
I used icing instead of frosting for these.
So technically you could even maybe call them muffins instead of cupcakes.
But if you are eating these for breakfast you might get a few looks. 😛
And as always it's a great day to order my cookbook.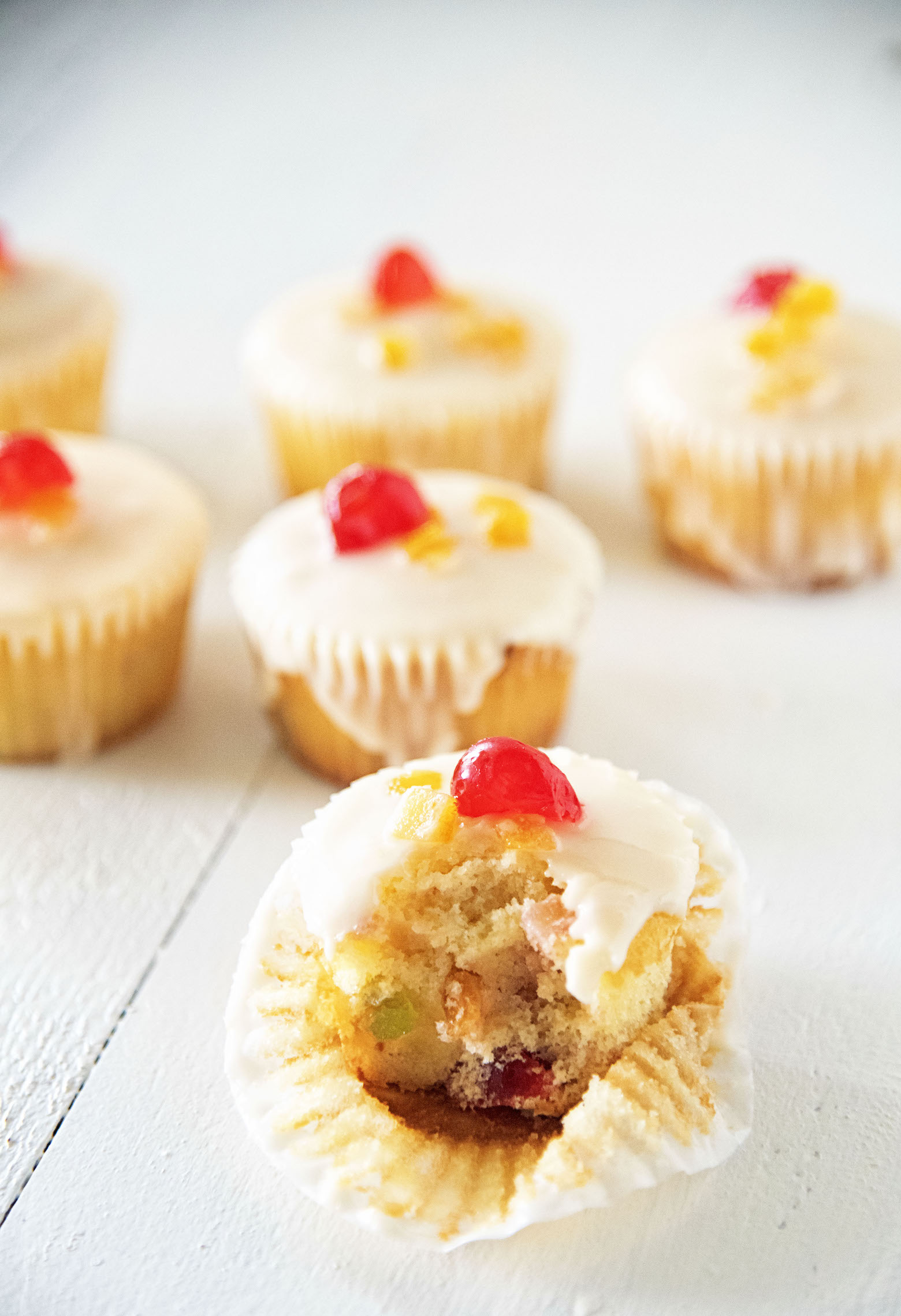 Want more Holiday cupcakes?
Peppermint Bark Red Velvet Cupcakes
Chocolate Bourbon Eggnog Cupcakes
Eggnog Cupcake with Spiced Rum Caramel Buttercream
Chocolate Dipped Chocolate Peppermint Cupcakes
Ingredients
For the Cupcakes:
1 cup candied fruit, chopped
1 cup bourbon
12 TBSP unsalted butter
4 large eggs
1 cup whole milk
1 tsp. Vanilla extract
1 tsp. salt
2 cups all-purpose flour
1 1/2 cups sugar
2 tsp. Baking powder
For the Fondant Icing:
5 cups powdered sugar
Juice of 6 clementines (about 1/2 cup juice)
Instructions
For the Cupcakes:
The night before place chopped candied fruit of your choice into a medium sized bowl. 
Pour the bourbon over the candied fruit. 
Cover and place to the side for 24 hours. Stir the fruit every couple of hours.
Preheat the oven to 350°F.
Line cupcake pans with 24 baking cups.
Melt the butter in a microwave at 60% power for 1 1/2 to two minutes.
Keep the butter warm do not allow it to sit and cool off.
In a stand mixer with a paddle attachment, beat the eggs on medium low speed for two minutes until light And fluffy and lightly foamy.
Increase the mixer speed to medium high.
Pour the warm butter into the egg slowly so that the mixture tempers the eggs, do not scramble.
Once the butter is added, reduced the speed back to medium-low.
With the mixer running, add the milk, vanilla, and salt.
Mix for one minute until well combined.
Sift together the flour, sugar, and baking powder and add to the batter.
Mix on medium until just combined, 10 to 20 seconds.
Remove the bowl and paddle from the mixer and use the paddle to scrape the bottom and sides of the ball ensuring that everything is well mixed.
Drain the bourbon from the candied fruit and discard all but 2 TBSP of the bourbon. 
Add the candied fruit and the 2 TBSP bourbon to the batter. 
Fold in the candied fruit and do your best to evenly distribute the fruit. 
Scooped the batter into the prepared baking cups, filling them two thirds of the way.
Thinking the middle of the oven for 20 to 25 minutes, rotating the pan halfway through.
The cupcakes are done with the center spring back when you touch them.
Remove the cupcakes from the oven. Let cool for five minutes, then remove from the pan and place on a baking sheet.
For the Icing:
Whisk together the powdered sugar and orange juice. 
Pour icing on top of each cupcake.
For thicker glaze add more powdered sugar.
For thinner glaze add more orange juice.
Top with more candied fruit if desired.