These Orange Cranberry White Chocolate Walnut Muffins are filled with dried cranberries, white chocolate chips, walnuts and is covered in an orange glaze.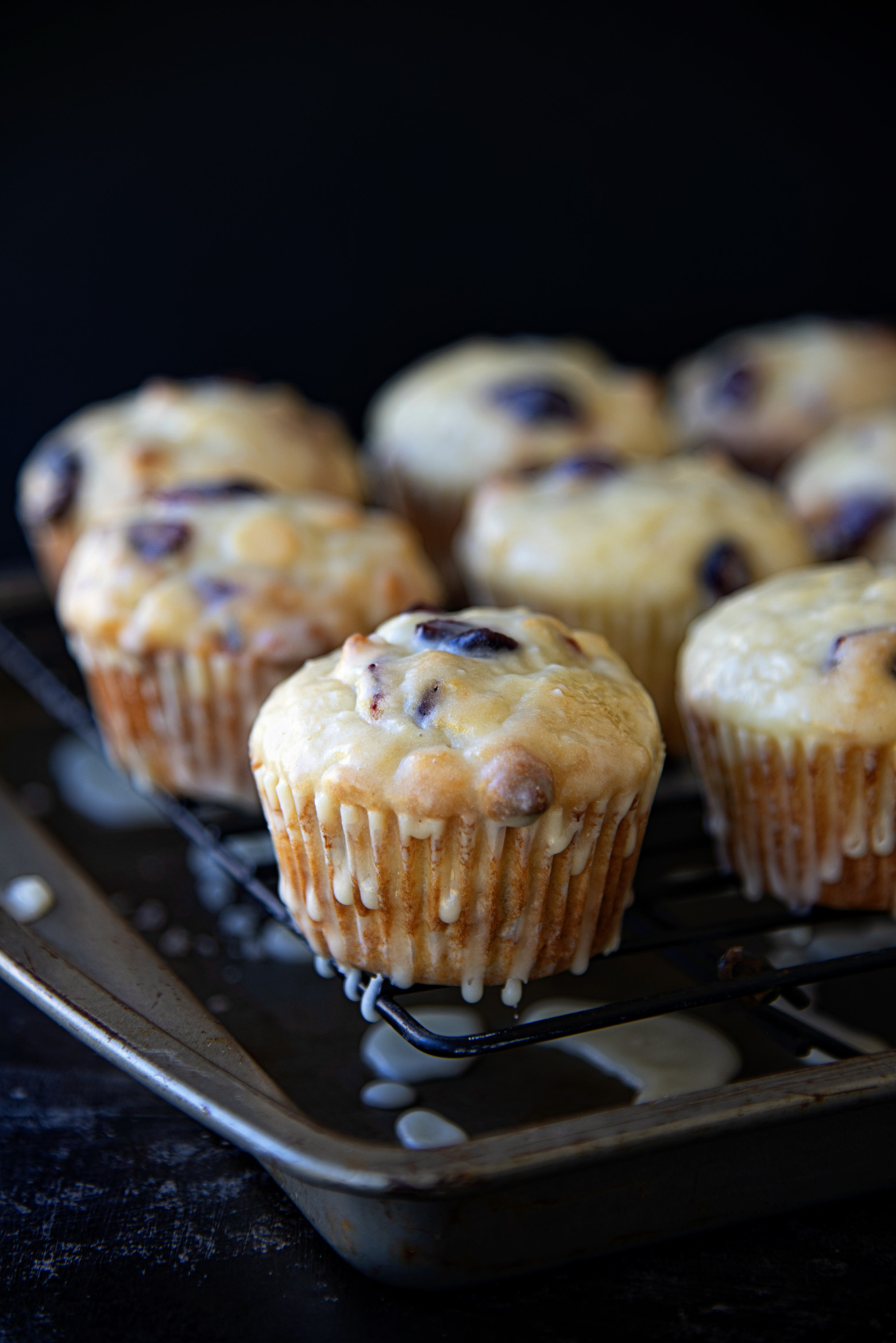 Everytime I make muffins I always think you know I should make muffins more often.
Pretty much everyone loves muffins.
It used to be a thing to send a muffin basket.
I'm not sure if it's a thing anymore but if it's not we might want to bring it back.
I feel guilty as a blogger though when I make muffins.
Because they are rather simple, at least to me.
As long as you don't overmix most of them are pretty foolproof.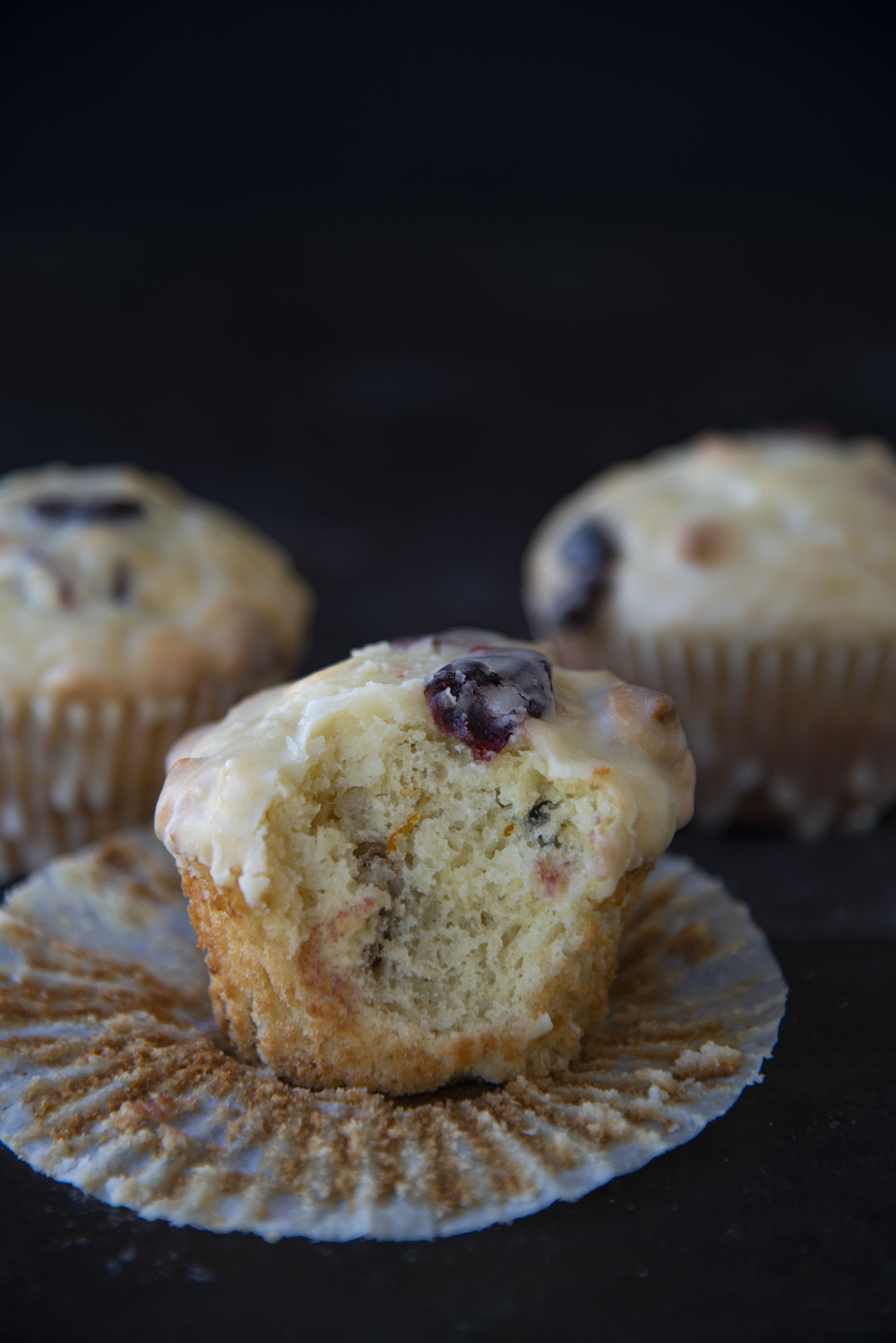 We sometimes forget that not everyone has the same abilities as us.
I realized this years ago when a friend of mine wanted a chocolate chip cookie recipe.
Seemed easy enough.
But when I sent her the recipe it called and asked how many times do you stir?
I replied just until it comes together and is fully combined.
To which I got back okay, but how many times do you stir to get to that?
This is also the same person who text during the holidays to say that she thinks she made my candy cane fudge wrong.
That it tasted okay but she really didn't like the plastic and thought that would melt off.
My little brain thought and thought and I stood there stumped.
Plastic?
See, I didn't say to take the wrapper off the candy canes when I said to crush candy canes in the recipe.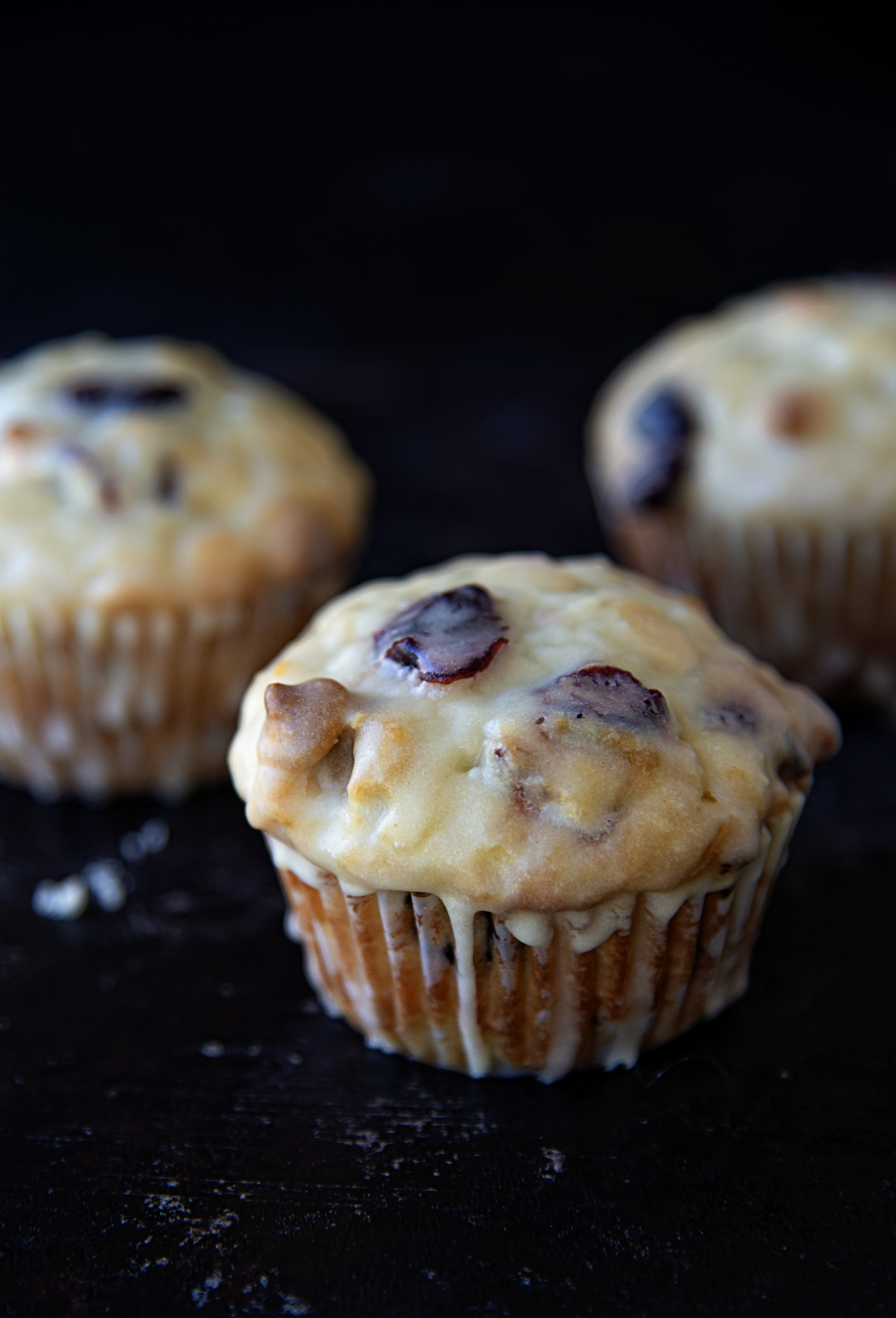 Now you may be saying how could someone do that?
Believe it or not that is a more common comment than you think.
Over the 15 plus years on this blog I have had a lot of wrapper complaints.
Second only to apple cider vinegar.
So many people email/comment and complain about how sour my recipe was that had apple cider in it.
For years I was at a loss.
Until one day a woman commented that was a lot of apple cider vinegar in a recipe.
And my light bulb went off.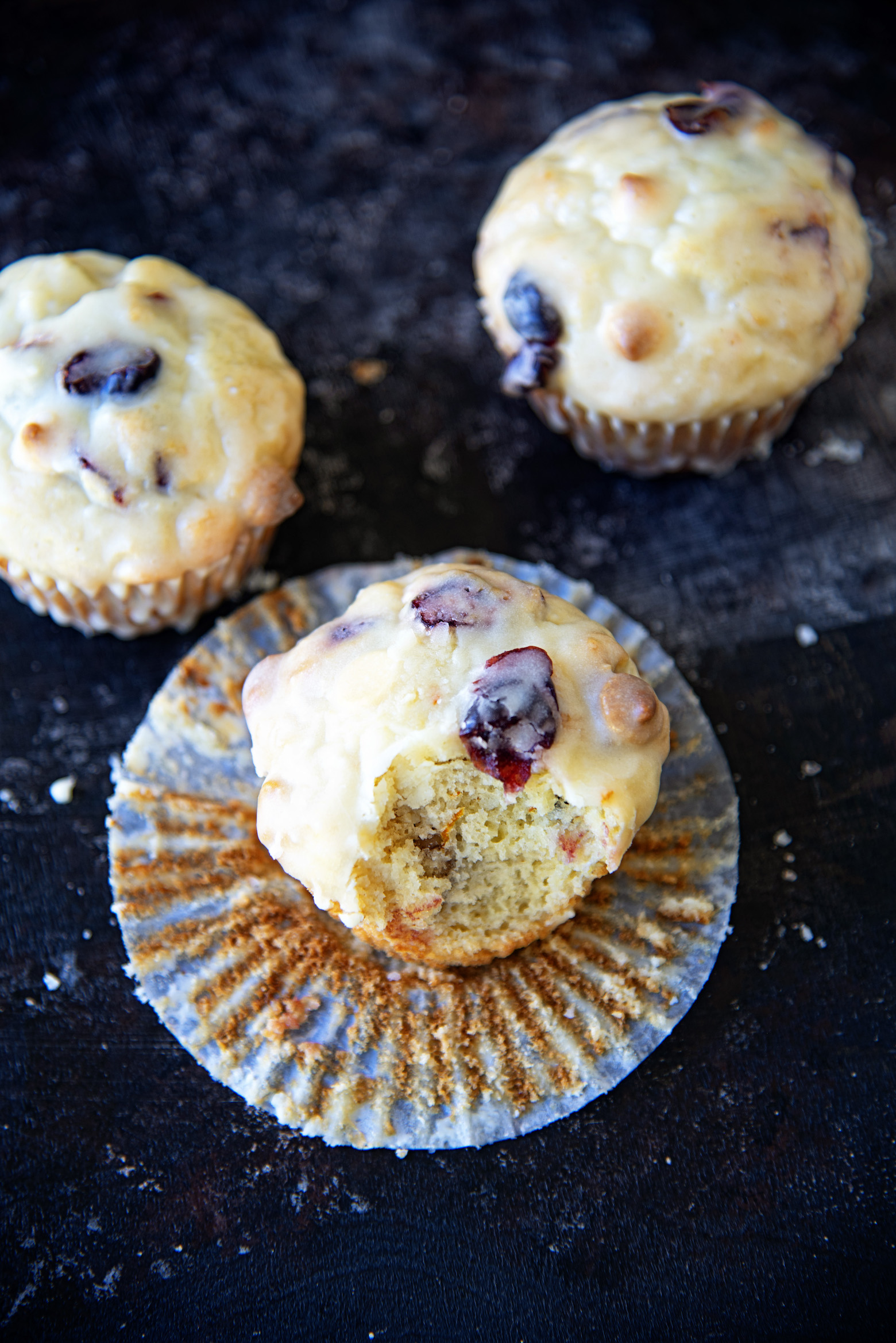 So it may be odd when you see me say here to remove the paper liner before you eat the muffin.
Because there have been some that have eaten the paper when I make a muffin like this where the glaze goes down the side.
I mean, you can eat the paper if you want.
It's got fiber and may do you some good. 🙂
But you might just try a salad or a supplement.
If you fear you might be lured to eat the paper I suggest making them without the paper liners.
These Orange Cranberry White Chocolate Walnut Muffins are a variation of a muffin I make often.
The sour cream makes them moist (sorry but that's the word needed).
And the glaze really makes these special.
I love to double dip the glaze on these.
And last but not least, it's a great day to order my cookbook.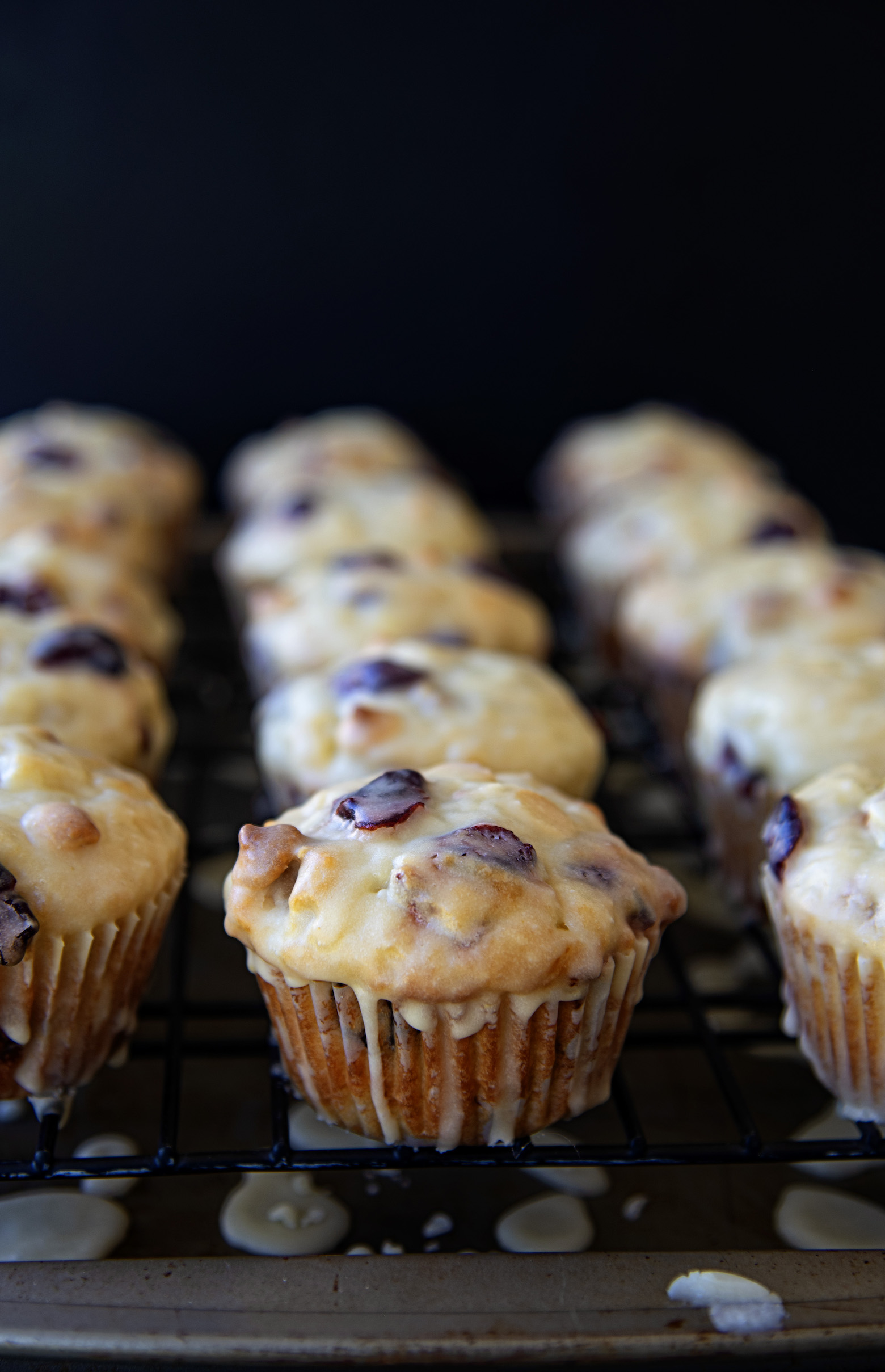 Want More Muffin Recipes?
Clementine Chocolate Chip Muffins
Cider Glazed Apple Fritter Muffins
Ingredients
For the muffins:
8 oz. unsalted butter
1 cup granulated sugar
zest of one orange
1. tsp. vanilla extract
2 large eggs
¾ tsp. baking soda
¾ tsp. baking powder
Pinch of salt
2 and ¼ cups all-purpose flour
1 and ¼ cup sour cream
¾ cup dried cranberries (or Craisins)
3/4 cup white chocolate chips
3/4 cup walnuts, chopped
For the glaze:
3 TBSP unsalted butter, at room temperature
1 ½ cups powdered sugar
1/3 cup orange juice (approximately)
Instructions
Preheat oven to 350F.
Take 1 cup of sugar and place in a small bowl.
Add orange zest.
Using your fingers rub the orange zest into the sugar.
Using a stand mixer with a paddle attachment, cream the butter and sugar until light and fluffy about 3 minutes.
Add in the vanilla.
Add the eggs one at a time and mix until each is incorporated.
In a separate bowl, mix together the flour, baking soda, baking powder, and salt.
Add the flour mixture and the sour cream alternately to the egg-butter mixture in the additions.
Start with the flour and end with the flour.
Scrape the bowl occasionally.
Fold the cranberries, walnuts, and white chocolate chips into the batter.
Portion the muffin batter into greased tins (I use an ice cream scoop) or muffin tins with paper liners (don't eat the paper).
Depending on the size of your tins, you should get about 12 to 14 muffins.
Bake them for approx. 20 minutes.
If making mini muffins, reduce time to 15 minutes.Let cool to room temperature before glazing.
For the Glaze:
Beat together the butter and sugar in a stand mixer using paddle attachment.
Add juice and mix.
This is when I got bad about measuring and just kept adding orange juice until it was at the consistency I wanted.
You want it to be a glaze more than a frosting.
Once the muffins are cool.
Dip the top part of the muffin into the glaze and set aside.Let the glaze set up for about 5 minutes and dip them all again for a second coat.