This Orange Blossom Chocolate Challah Bread is made with orange blossom honey and mini chocolate chips and braided into a lovely loaf.
Whenever someone passes in my life, I make a braided bread.
It's a tradition I have done ever since I learned how to make bread.
What kind of bread changes each time but the common denomination is that it is braided.
The braid represents how the person was woven into my life.
This last week I lost a friend and fellow teammate on my hockey team.
My husband had known him the majority of his life.
His kids had grown up playing sports with Chris' kids.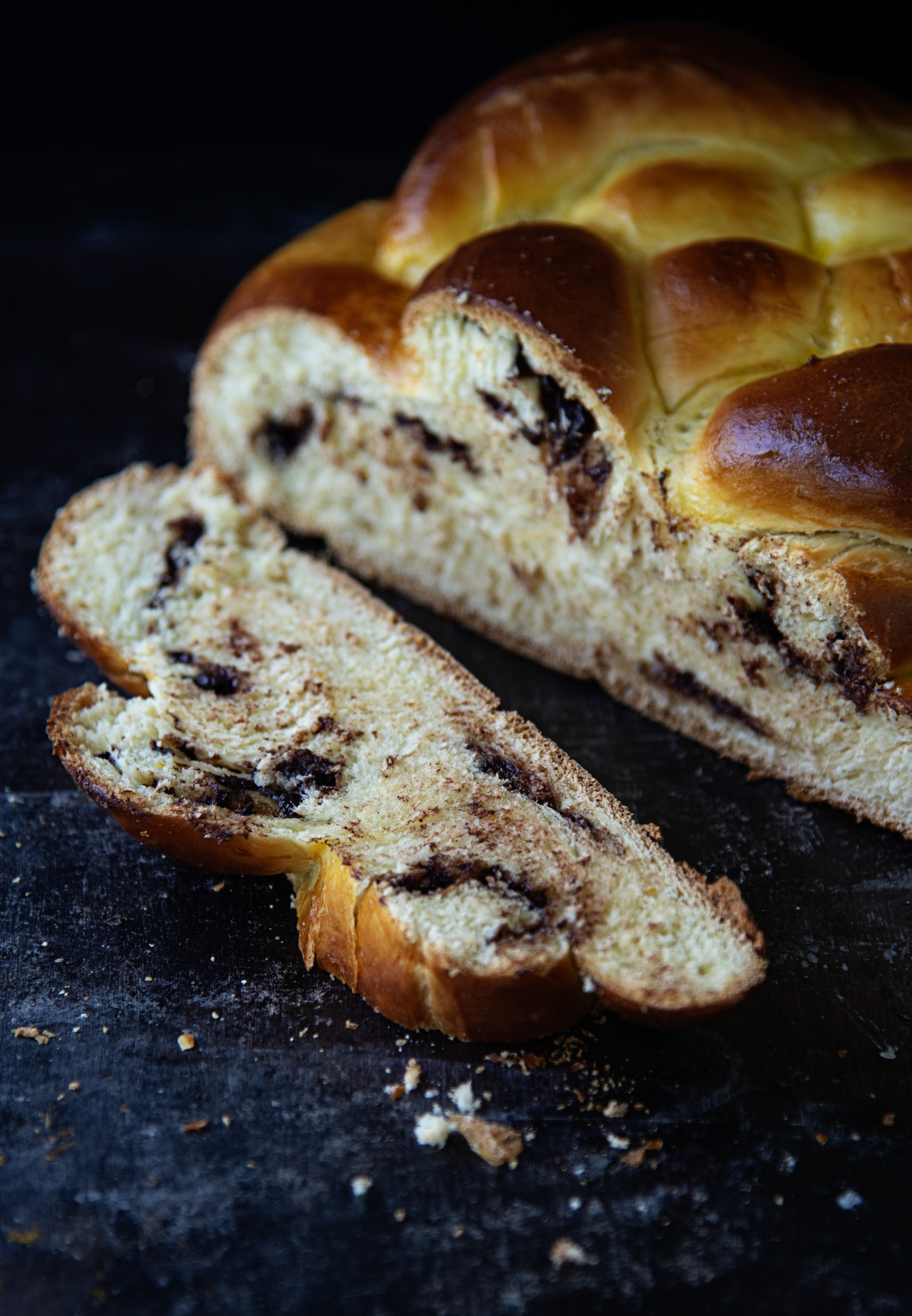 I choose bread because it takes a while.
Because I use the time it takes to make the bread to be mindful about how the person affected my life.
I reminisce about all the good times.
And that is exactly what my husband and I did while I made this bread this weekend.
We stood in the kitchen talking about what a great person Chris was.
An amazing father (my heart breaks for his four kids),
A great teammate.
And all around nice guy that would do anything for you, you just had to ask.
We retold the stories that made us laugh and smile.
This Orange Blossom Chocolate Challah Bread in in honor of Chris.
I have instructions for the traditional braid but also a link to how to make it as a round as I did.
Each rope if filled with 1/4 cup mini chocolate chips.
You can add more or less than that if you so desire.
If felt it was just enough for the bread but that's my own tastes.
So thank you Chris for being part of my life I only wish it could have been for longer.
And as always it's a great day to order my cookbook.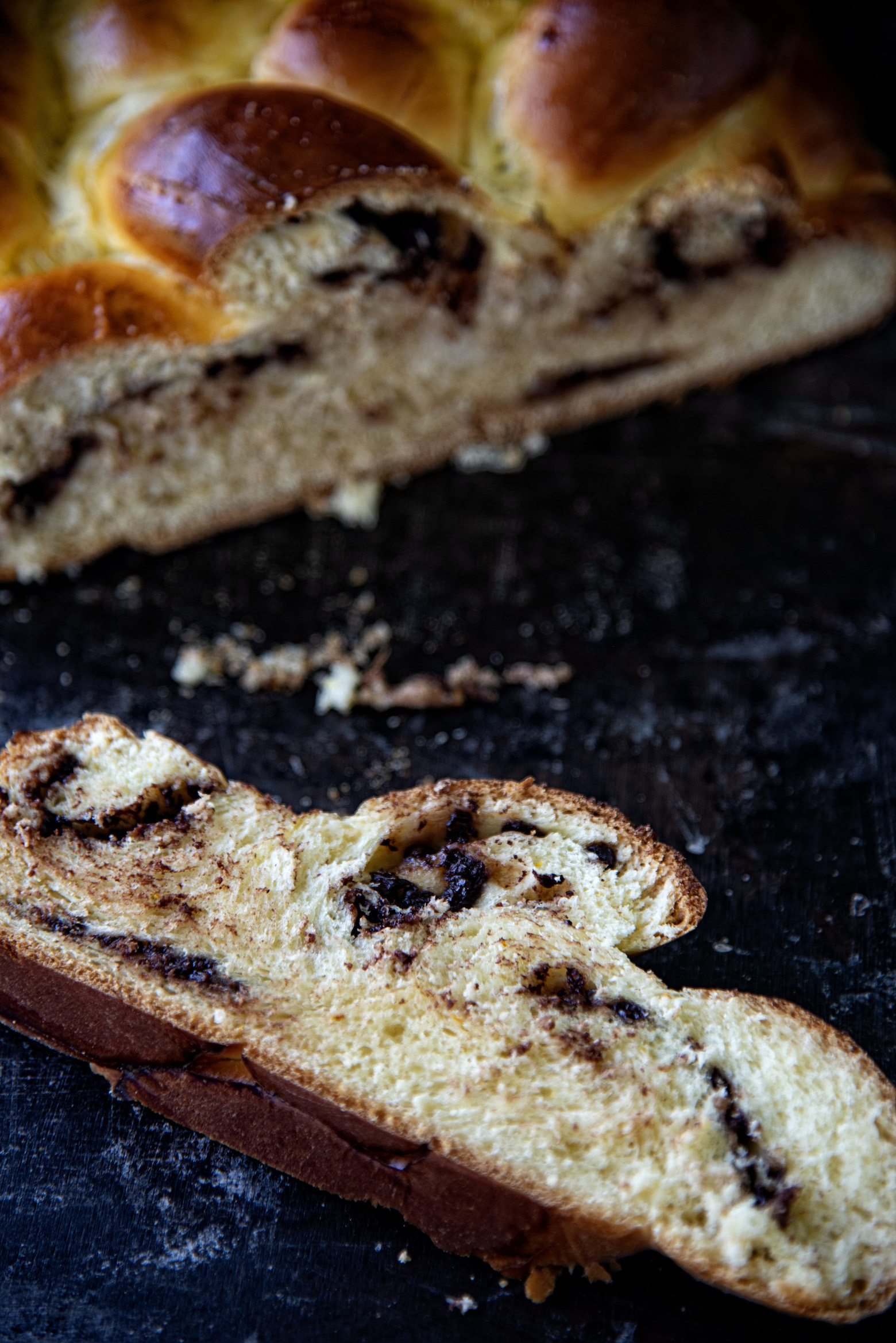 Want More Yeast Bread Recipes?
Oatmeal Chocolate Chip Cookie Babka
Brown Sugar Spiral Banana Bread
Ingredients
1¾ cups warm water (105° to 110°)
2 TBSP granulated sugar
1 TBSP active dry yeast
½ cup olive oil
5 large eggs
zest of one orange
2 TBSP kosher salt
7½ to 8 cups all-purpose flour
1 large egg, lightly beaten
2 cups mini chocolate chips
Instructions
In the bowl of a stand mixer fitted with the dough hook attachment, combine 1¾ cups warm water, sugar, and yeast.
Let stand until mixture is foamy, about 10 minutes.
With mixer on low speed, gradually beat in oil.
Add eggs, one at a time, beating well after each addition.
Beat in honey, zest, and salt.
Gradually add flour, ½ cup at a time, until dough begins to pull away from sides of bowl.
Increase mixer speed to medium-high, and knead for 3 to 5 minutes.
Spray a large bowl with cooking spray.
Place dough in bowl, turning to grease top.
Cover and let stand in a warm, draft-free place (75°) until doubled in size, 1 to 1½ hours.
Preheat oven to 350°. Line 2 baking sheets with parchment paper.
Divide dough in half.
Divide one-half of dough into four equal pieces.
Roll each piece out to about 18 inches long and 6 inches wide.
Place strands vertically in front of you, and dust with flour.
Place 1/4 of a cup of mini chocolate chips spread out on the dough. Then roll up like a cinnamon roll keeping the length at 18-inches. Pinch the seems together and roll into a rope shape.
For a traditional shape follow these directions:
Pinch 4 ends together at top.
Cross the first strand under the second and third strands.
Cross the third strand over the second strand.
Cross the fourth strand under the second strand.
Cross the second strand over the third strand.
Repeat this crossing pattern until you've reached end of strands; pinch ends together to seal.
Repeat with remaining dough.
Place braided loaves on prepared pans.
Cover and let stand in a warm, draft-free place (75°) until doubled in size, 45 minutes to 1 hour.
Brush with half of egg wash
If you want a round like I have made see step by step instructions HERE. There is a video as well.
Bake until golden brown and a wooden pick inserted in center comes out clean, 35 to 50 minutes, brushing loaves with remaining egg wash halfway through baking, and covering with foil to prevent excess browning, if necessary.
Let cool on pans for 10 minutes before serving.