Mini Apple Bread with Caramel Bourbon Glaze: An easy quick bread filled with apples and spices that scream fall. All topped with a caramel bourbon glaze.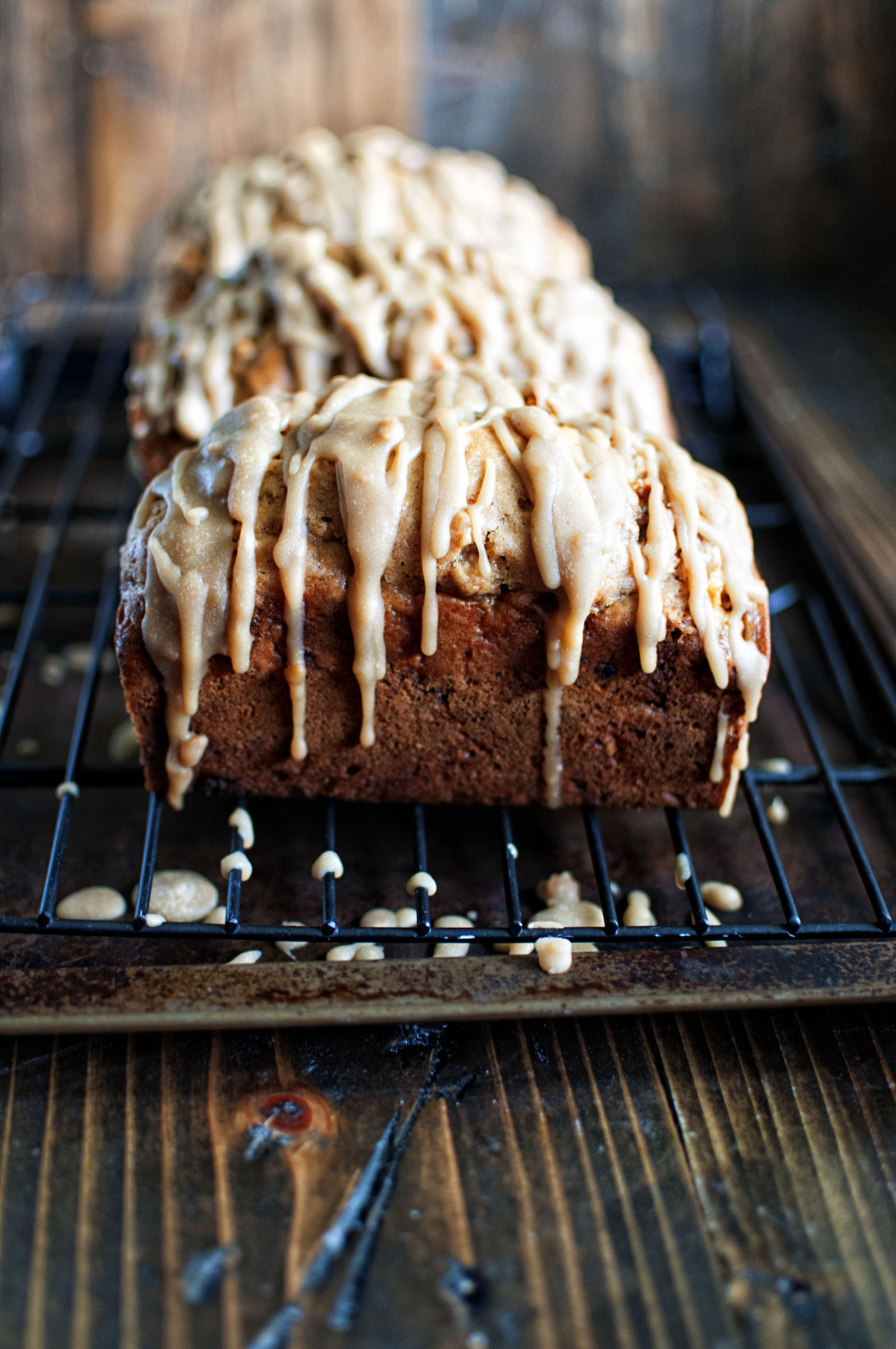 What a tragic week it has been.
Hurricane Harvey you are an a$$hole.
I saw my Facebook filled with people who were saying goodbye to their homes.
People who had to put all that was important to them into one backpack and that was it.
It didn't take long for me to know that my backpack simply would have been dog meds, dog food, my meds, some water (and a bowl), protein bars and an extra pair of undies and socks.
Which got me thinking since all last week I was shoving crap around in my house (trying to make it fit somewhere).
Stuff that I couldn't possibly part with and yet when I came down to it…I could replace it.
And none of it came to mind when I had to think about what I would take.
Sure there are photos that could not be replaced but overall everything can be replaced.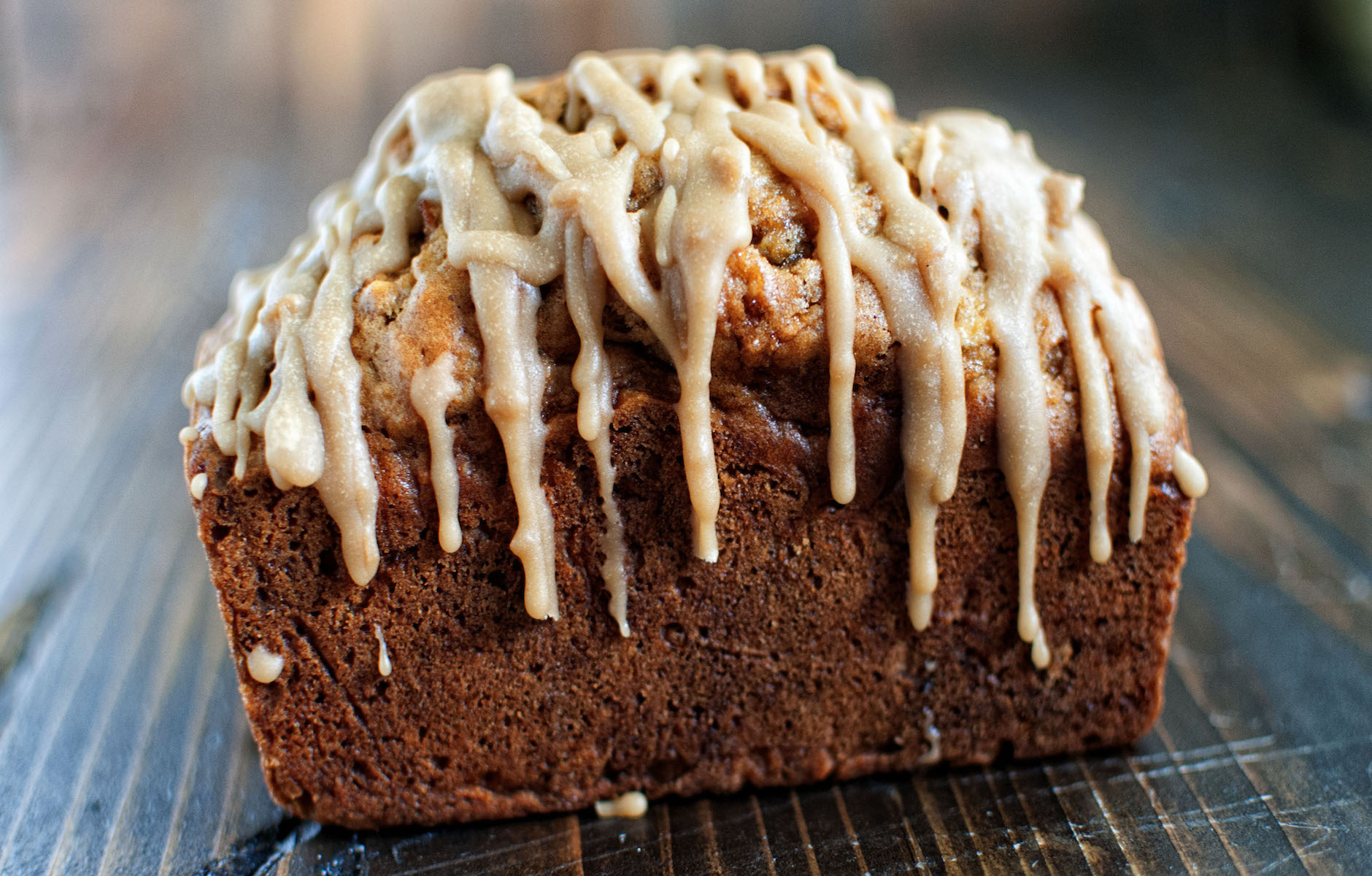 Amongst all the terrifying photos of people's houses being buried by water there were just as many photos of unsung heroes helping out their fellow man.
It's a good reminder when our nation has been so divided by differing political views that people are inherently good. 
Sure there are always a few jerks who loot and take advantage and there will always be unfortunately.
But that is the minority and not the majority.
We gave both to organizations that were helping people and animals.
And we also gave to our local human society who has volunteered to take in 300 animals from Harvey.
To all those still dealing with this nightmare you didn't deserve know that we are thinking of you.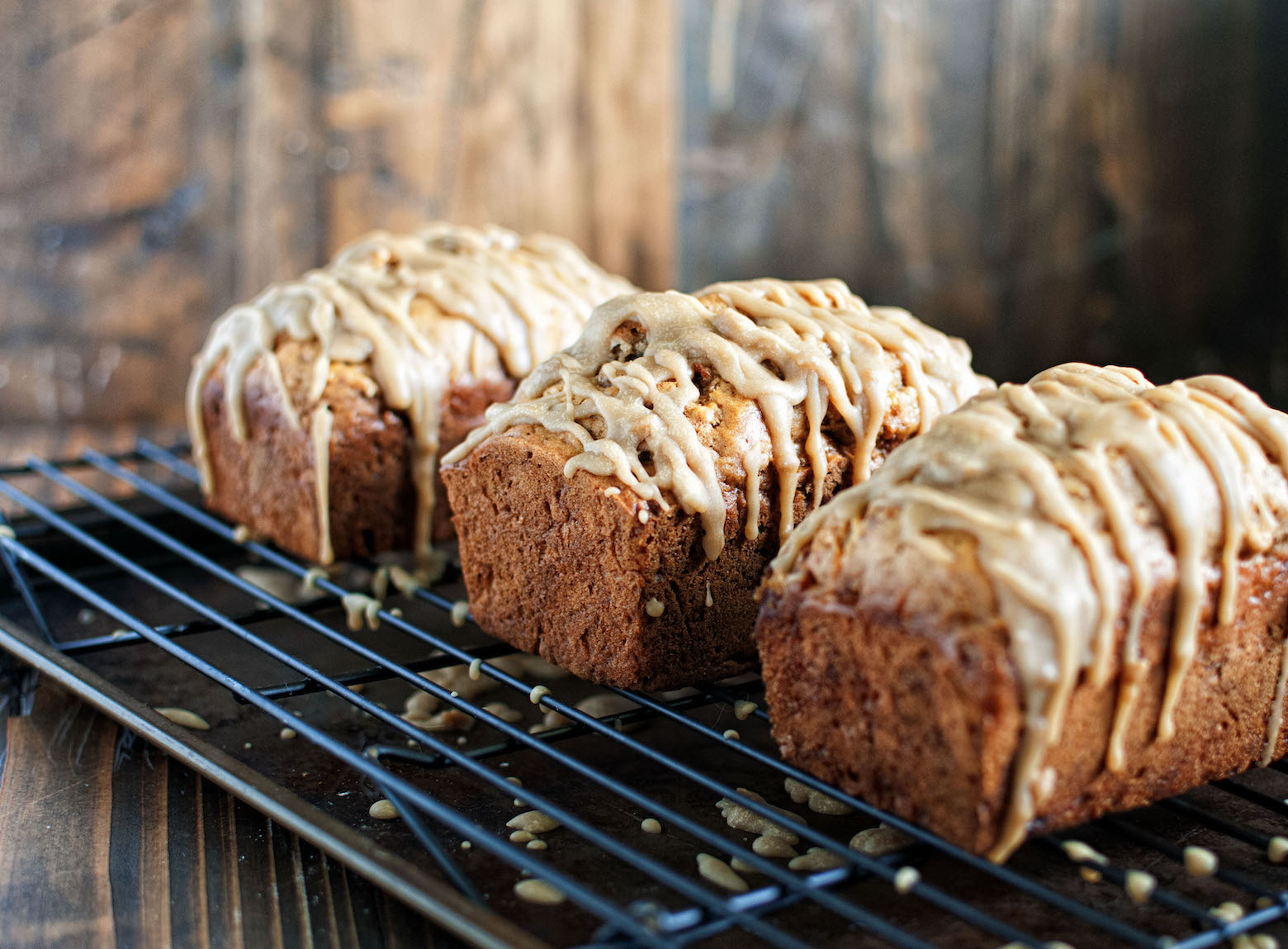 On to the Mini Apple Bread with Caramel Bourbon Glaze.
Last week Stemilt sent me some of their new Rave apples (this is not a sponsored post but the did give me the apples for free FYI).
It's supposed to be a snacking apple and I did snack on them with cheese but I also wanted to bake with them.
We have been having a dreadful heatwave and so I waited and waited for a day when I could turn on the oven.
Instead I just baked in the middle of the night. 🙂
They said that this apple would disintegrate if baked and so I knew I couldn't make something like an apple pie.
This bread however uses shredded apples that you do kind of want to melt into the bread so it worked out to be the perfect recipe for this type of apple.
Since the apple is crazy juicy.
I mean so, so juicy, I had to ring out some of the juice (but not all) so that my bread would not be soggy.
These almost remind me a little of a spiced zucchini bread but better.
It doesn't hurt that it's topped in a caramel bourbon glaze either. 😛
P.S. It's a great day to buy my cookbook.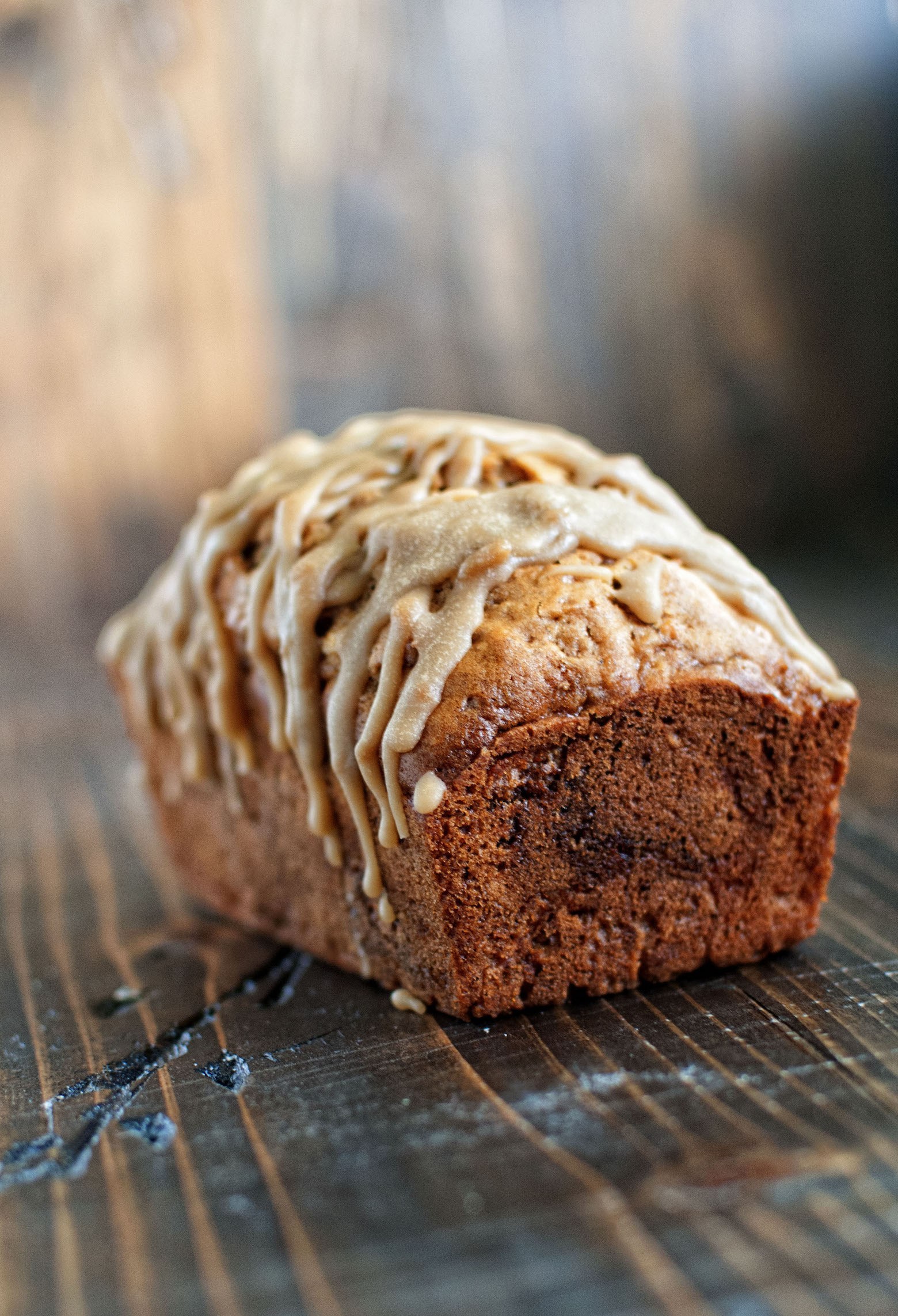 Want more Quick Bread Recipes?
Salted Caramel Apple Fritter Bread
Mini Caramel-Glazed Honey Crisp Apple Bread
Apple Cinnamon Buttermilk Bread
Zucchini Walnut Bread with Lemon Glaze
Ingredients
Bread:
1½ cups shredded peeled apples (I used Rave apples), mine were very juicy and I rang out some of the juice
1½ cups brown sugar, loosely packed
½ cup buttermilk
½ cup vegetable oil
4 large eggs
3 cups All-Purpose flour
2 tsp. baking soda
1 tsp. salt
2 1/2 tsp.apple pie spice (if you can't find just use 1 1/2 tsp. cinnamon and 1 tsp. nutmeg)
Glaze:
2 TBSP unsalted butter
¼ cup packed brown sugar
3 TBSP bourbon, divided
½ cup powdered sugar, sifted
Instructions
For the Bread:
Heat oven to 350°F.
Spray three mini pans (5.75L x 3.25W x 2.25H inches) with baking spray.
In large bowl, stir together apples, 1½ cups brown sugar, the buttermilk, oil and eggs.
Stir in remaining bread ingredients just until dry ingredients are moistened.
Pour into pans (each pan takes 4 regular size ice cream scoops).
Bake 30-35 minutes or until a toothpick inserted in center comes out clean.
Cool 10 minutes on cooling rack.
Loosen sides of loaves from pans; remove from pans and place top sides up on cooling rack. Cool completely, about 1 hour.
For the Glaze:
In 1-quart saucepan, melt butter over medium heat.
Stir in ¼ cup brown sugar.
Heat to boiling, stirring constantly; reduce heat to low.
Boil and stir 2 minutes.
Stir in 1 TBSP bourbon.
Heat to boiling; remove from heat.
Let cool for 5 minutes.
Gradually stir powdered sugar into glaze mixture.
Add the remaining bourbon.
Beat with spoon until smooth and thin enough to drizzle.
Drizzle glaze over loaves.
Wrap tightly and store at room temperature up to 4 days, or refrigerate up to 10 days.