Peanut Butter Cap'n Crunch Banana Crumb Cake: A wicked twist on a classic crumb cake. Moist malted banana and peanut butter chip cake all topped with Peanut Butter Cap'n Crunch crumb that is piled high.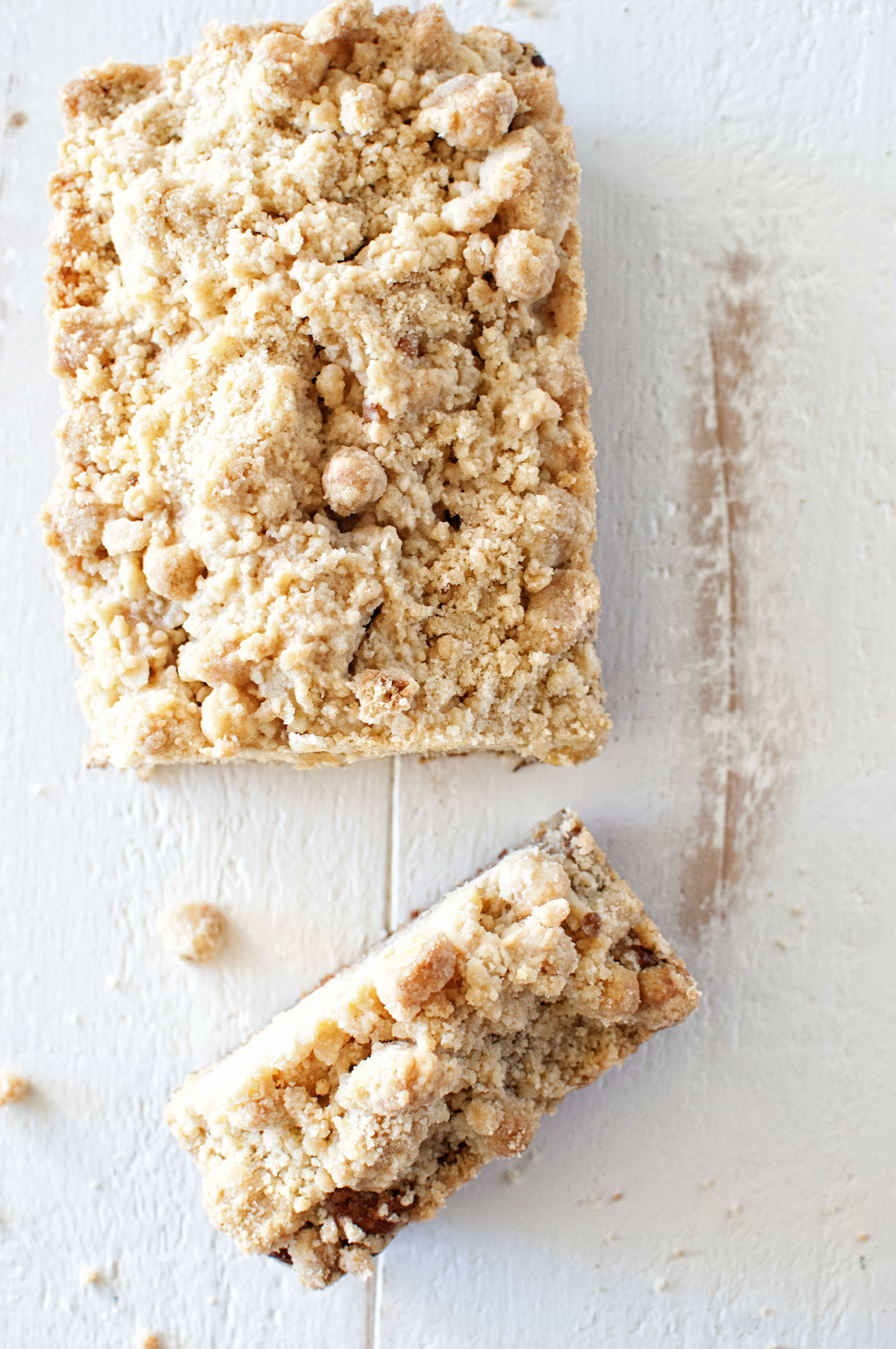 It's here, the month I have been waiting for all year.
Even more so this year.
This year is the first year I spend September in my new house.
The house that is down the street from a pumpkin patch and have about 8 in my area!
I already see them growing out there and I can't wait.
I'm only dragging hubs to one of them…but I'll be going to several by myself I am sure.
I'm smack dab in fall central.
This time of year is almost like my New Year.
I think partially because of my teaching days.
To this day I always buy a student planner calendar…that's the real start of the year to me. 🙂
The other reason of course is the shift to cooler weather.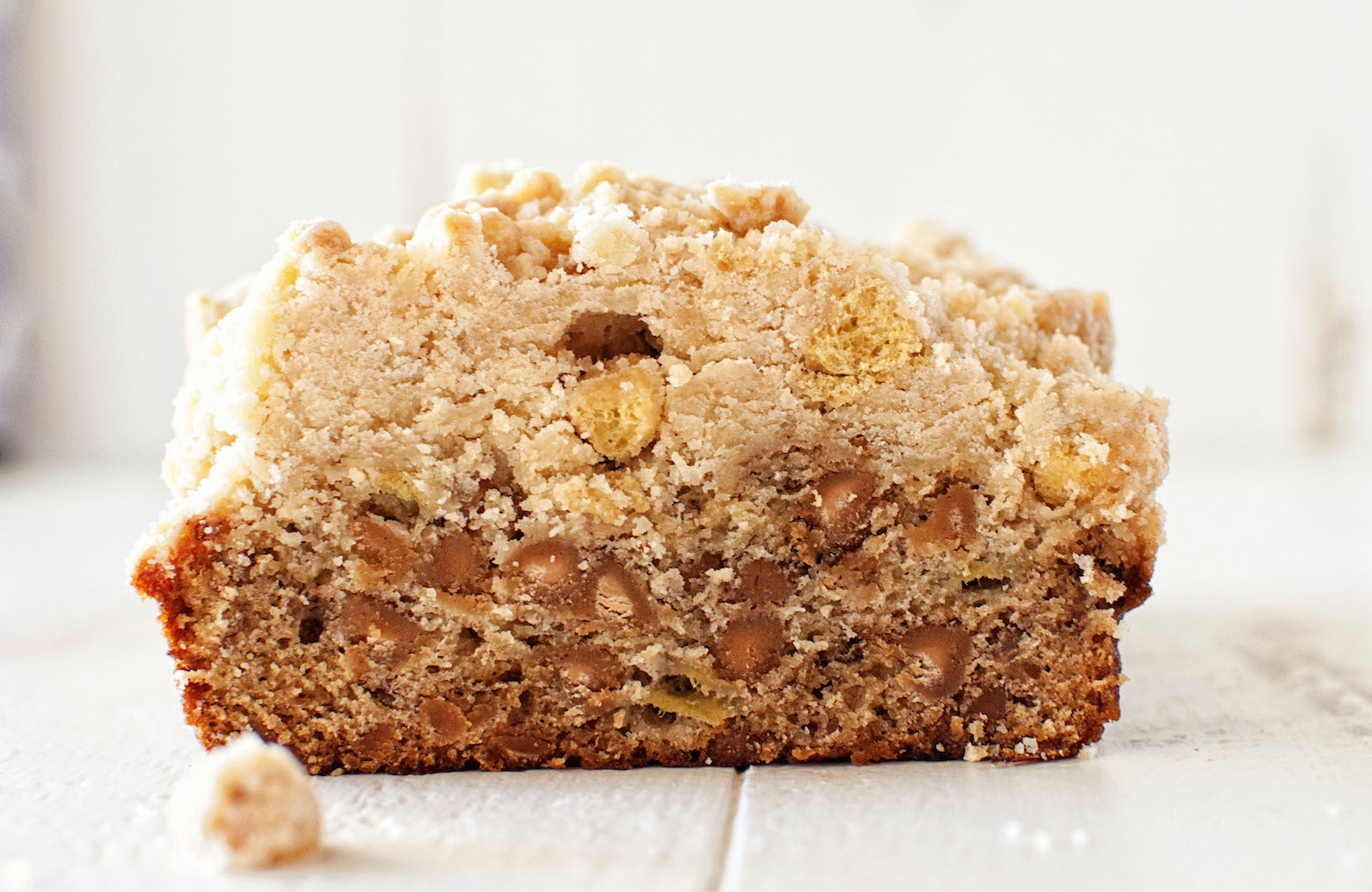 Though this year Mother Nature seems to have a beef with me as we are rolling into yet ANOTHER heat wave.
While I get that people get hot summers, we do not. Only 30% of Seattle area peeps have air conditioning so when it hits 95F it's really hard on us…especially the elderly and babies…dogs too.
Even with the hotter than usual I could not help but wake up happy.
I already feel like baking more even when it is super hot out (thank goodness we have portable a/c). And while it gets hot during the day we quickly cool down to the 50's at night.
Speaking of baking…
I have often wondered (because I'm weird) what it would be like to put cereal in crumb cake topping.
So that is just what I did.
I experimented with crushing the cereal but found that keeping it whole was the best.
You will lose some crumb when you bit into it but that just means there is a ton of crumb topping…which is how all crumb cake should be…Cakespy taught me that. 🙂
Welcome fall and get thinking about baking peeps!
Last but not least…it's a great time to order my cookbook. 😀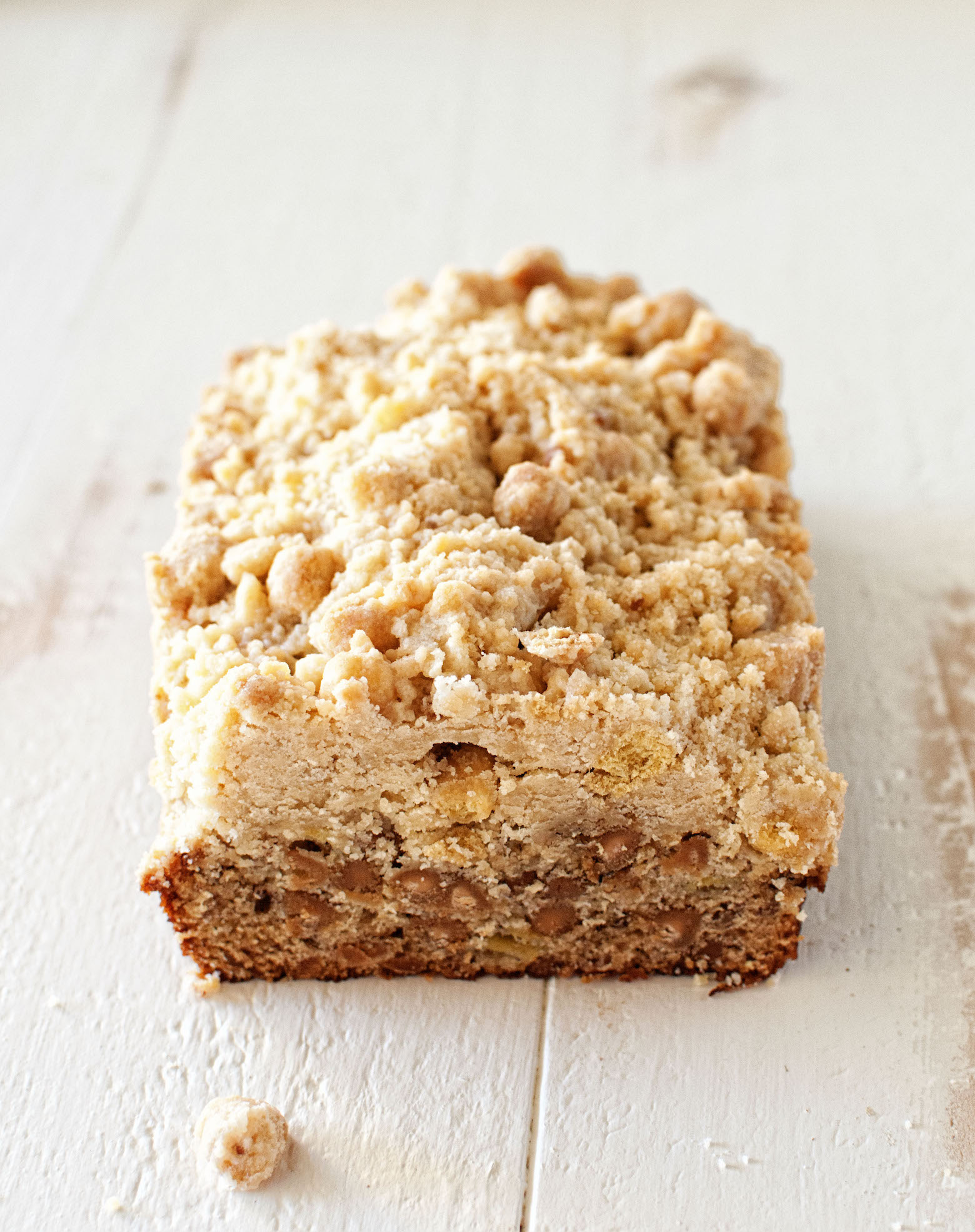 Want more Banana Bread Recipes?
Chocolate Chocolate Chip Sourdough Banana Bread
Dark Chocolate Sea Salt Caramel Banana Bread
Ingredients
For the Crumb Top:
2/3 cup granulated sugar
2/3 cup brown sugar, packed
½ tsp. salt
16 TBSP unsalted butter melted and then slightly cooled
3 cups cake flour
1 1/2 cups Peanut Butter Cap'n Crunch
For the Banana Base:
1 1/2 cup smashed bananas (about 4 medium bananas)
1 cup granulated sugar
1/4 cup vegetable oil
2 large eggs
1 1/2 cups all-purpose flour
¼ cup malted milk powder
¾ tsp. baking soda
¼ tsp. salt
1 cup peanut butter chips
Instructions
For the Crumb Topping:
In a medium sized bowl, put sugars, and salt and stir until combined.
Add the melted butter and then cake flour and mix (hands work best for this).
Add the Peanut Butter Cap'n Crunch and again mix with your hands.
Place into fridge while you make banana batter.
Prepare a 9-x-13-inch pan with baking spray. Set aside.
Preheat oven to 325F.
In a medium bowl whisk together the flour, malted milk powder, baking soda, and salt; set aside.
Using a stand mixer with a paddle attachment add the bananas and sugar and mix together for about 3 minutes on medium-high speed.
Add the oil and mix until incorporated.
Add eggs, scraping down after each addition.
Add flour mixture to the banana mixture and mix on low until the ingredients just start to come together.
Remove bowl from mixer and add in peanut butter chips.
Finish incorporating the batter being very careful not to over mix. Over mixing leads to tough bread.
Pour batter into prepared pan.
Pull the crumb mix from the refrigerator and, with your fingertips, break it into pieces.
There's no need to try to get even pieces-these are crumbs, they're supposed to be lumpy and bumpy and every shape and size.
Evenly divide and scatter the crumbs over the batter, pressing them down ever so slightly.
Bake for 40 to 45 minutes, or until the crumbs are golden and thin knife inserted into the center of the cake comes out clean. This may vary depending on your oven.
Transfer the cake to a rack and cool just until it is warm or until it reaches room temperature.