White Chocolate Chip Fruity Pebbles Cookies: Soft and chewy white chocolate chip cookies coated in a crunchy Fruity Pebbles cereal…breakfast of champions.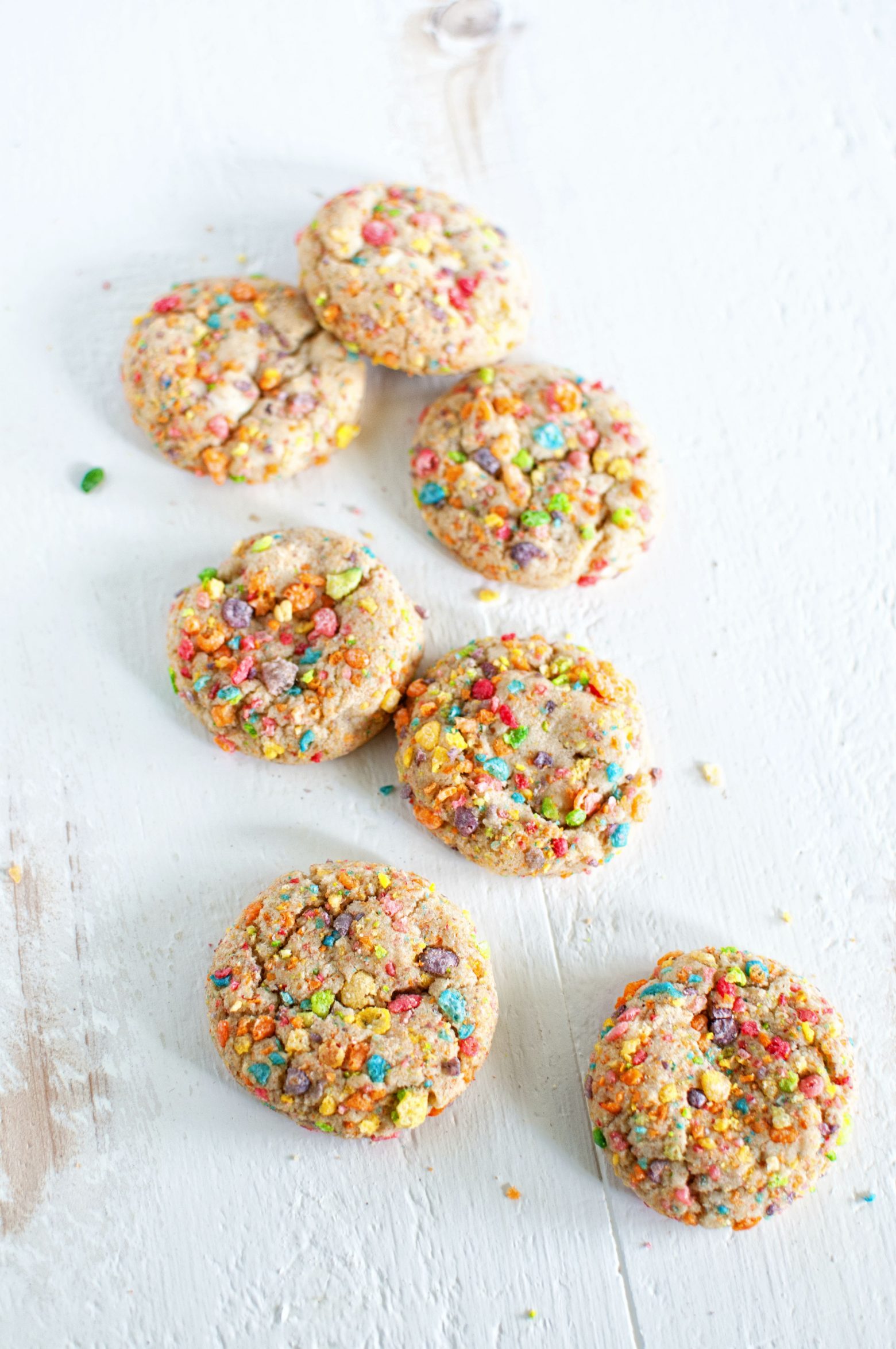 So I was all ready to blog again.
Then the universe laughed at me.
It killed my computer.
The hard drive died.
It was bound to happen, it was 8 years old after all and I am not kind to my computers.
There were tears.
However, luckily for me I have a laptop.
Except, I've only ever really used my laptop for social media type things.
Nothing was really loaded on it.
All my programs were on my desktop.
My desktop is a PC. My laptop is an Apple.
It's been good in the fact that I have learned a lot about my lap top this week.
I will eventually get a new hard drive but two dogs say a cardiologist this week.
And one of them saw an Internist twice this last week too.
Yes, specialty dog vets cost just as much as specialty human doctors.
So no money right now.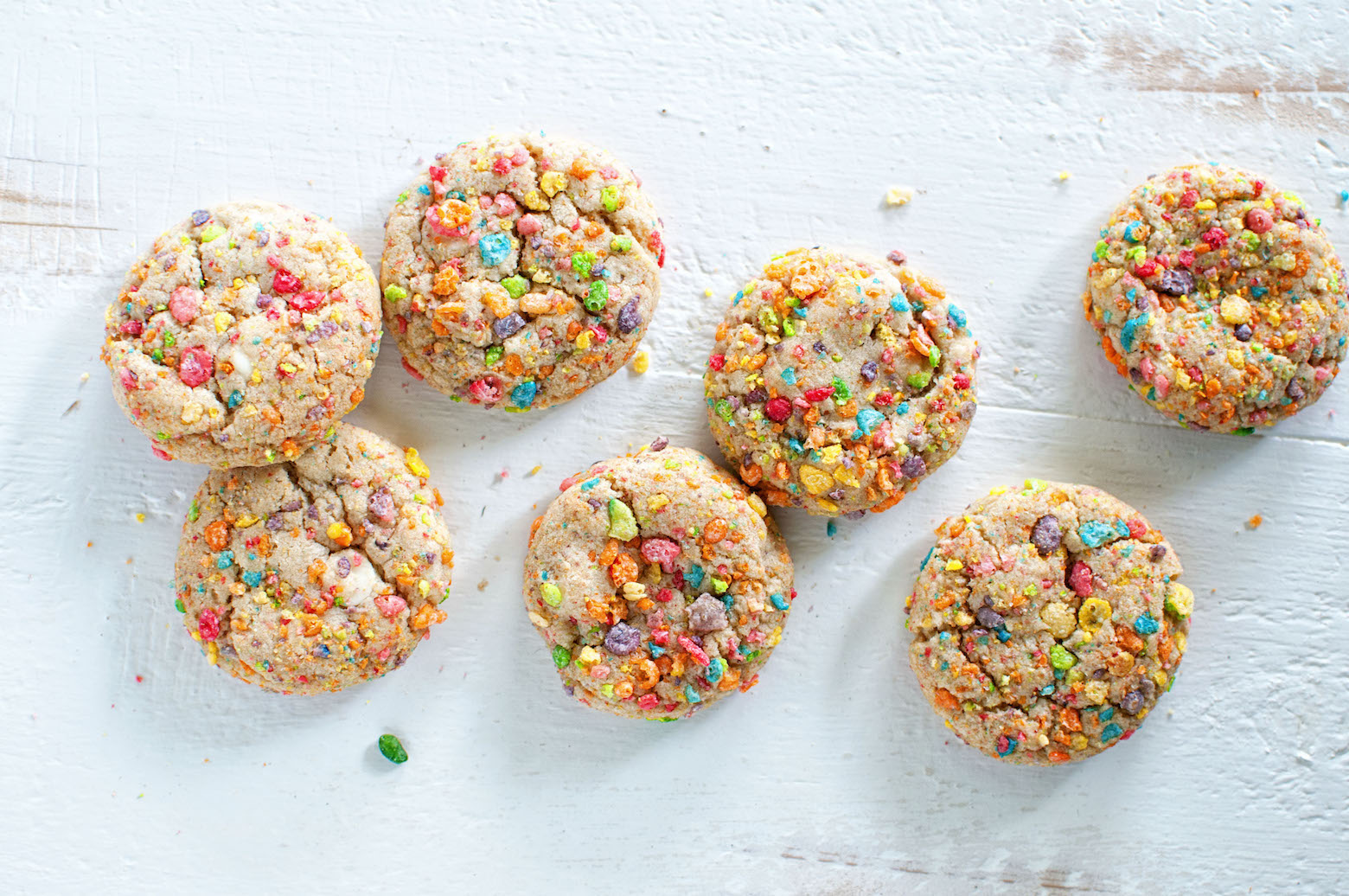 But I had cookies.
Cookies I told people the recipe would be up this week and gosh darn it I was going to do it.
The pictures may be really bad because I'm used to editing on a 27-inch screen instead of a 15-inch.
So I'm sure there is some random dog hair I missed airbrushing out. 🙂
But now that I sort of have this all figured out and actually got a post up I'm hopeful. 😀
So these White Chocolate Chip Fruity Pebbles Cookies.
The hockey team likes when I make cereal bars…especially Fruity Pebble ones. But I wanted to actually bake something.
I've seen lots of treats with the Fruity Pebbles in them but they all had them in the cookies, cupcakes, cheesecake, etc. Therefore they lost their crunch.
By rolling them in the cereal pieces they crunch remains.
These were a huge hit. So much so I'm trying to think of what other flavors I an be making in the near future.
P.S. It's a great day to buy my cookbook Holy Sweet!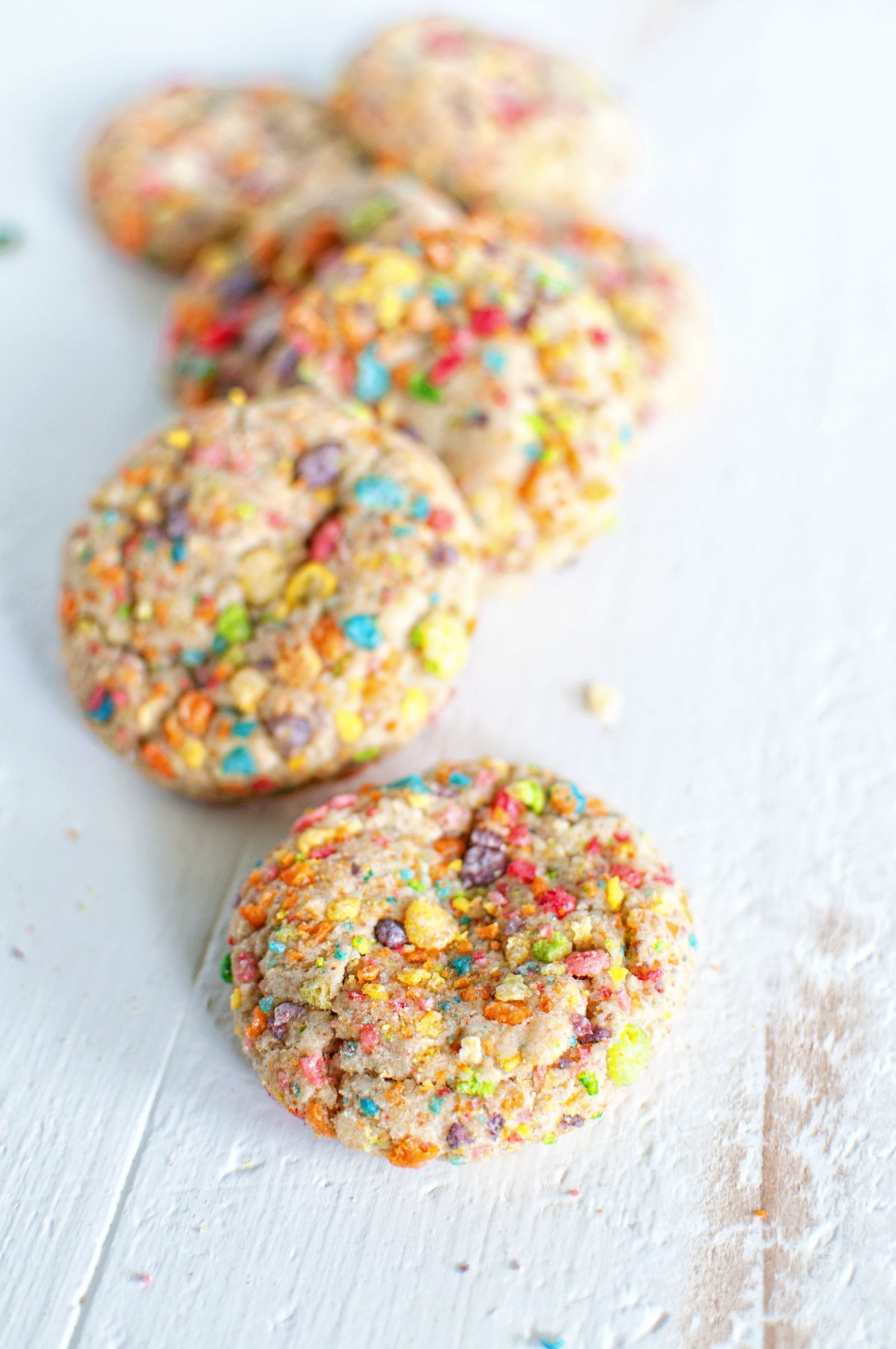 Want More Cookie Recipes?
Roll Out Shortbread Sugar Cookies
White Chocolate Chip Creamsicle Cookies
Vanilla Bean Caramel Thumbprint Cookies
White Chocolate Dried Pineapple Salted Macadamia Nut Cookie
Ingredients
8 oz. unsalted butter, at room temperature
1/4 cup granulated sugar
2 cups light brown sugar, firmly packed
2 eggs
2 tsp. vanilla bean paste (or extract)
3 1/2 cup All-Purpose flour
1 1/2 tsp. Baking soda
3/4 tsp. salt
16 oz. white chocolate, chopped
1 cup crushed Fruity Pebbles cereal
Instructions
Using a stand mixer with the paddle attachment cream together the butter and the sugars until very light and fluffy, about 3 minutes on medium high.
Scrape down the side of the bowl.
Continue mixing while adding the eggs one at time.
Make sure each egg is incorporated before adding the next.
Add the vanilla bean paste and scrape down the bowl with a spatula.
In a small bowl combine the flour, soda and salt and mix to combine.
With the machine on low, slowly add the flour.
Mix until just combined, taking care not to over mix.
With a spatula fold in the white chocolate.
Using a cookie scoop, scoop out dough and roll into a ball.
Roll cookie dough ball into crushed Fruity Pebbles.
Place on baking sheet 2 inches apart.
Bake at 360* for 12 minutes. They should be lightly golden on the outside but still look gooey on the inside.
*Please note that yes that reads 360 and not 350. If you oven does not go to that I would stay with 350 and bake an extra minute.