This Monster Mash-Up Layer Cake is a combo of my two favorite Monster cereals: Count Chocula and Franken Berry and covered in malted vanilla frosting.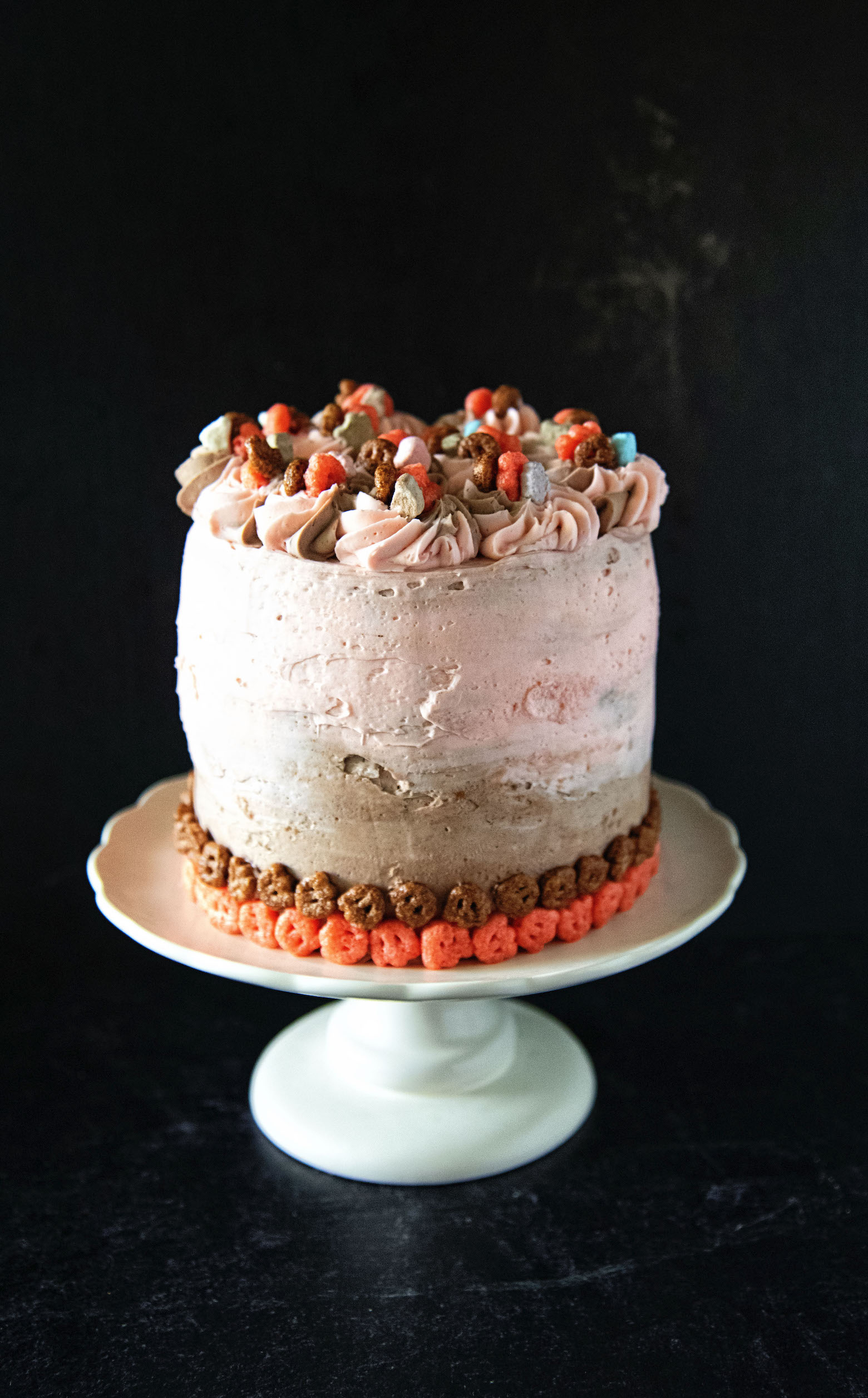 As Halloween comes closer that means I only have a few more weeks to get in my fill of Count Chocula.
And while I certainly like Franken Berry…the Count has my heart.
Or my cereal bowl is more like it.
But I had quite a bit leftover from making Franken Berry Hand Pies and decided to do this Monster Mash-Up Layer Cake.
Yes, it is a play on Monster Mash. 🙂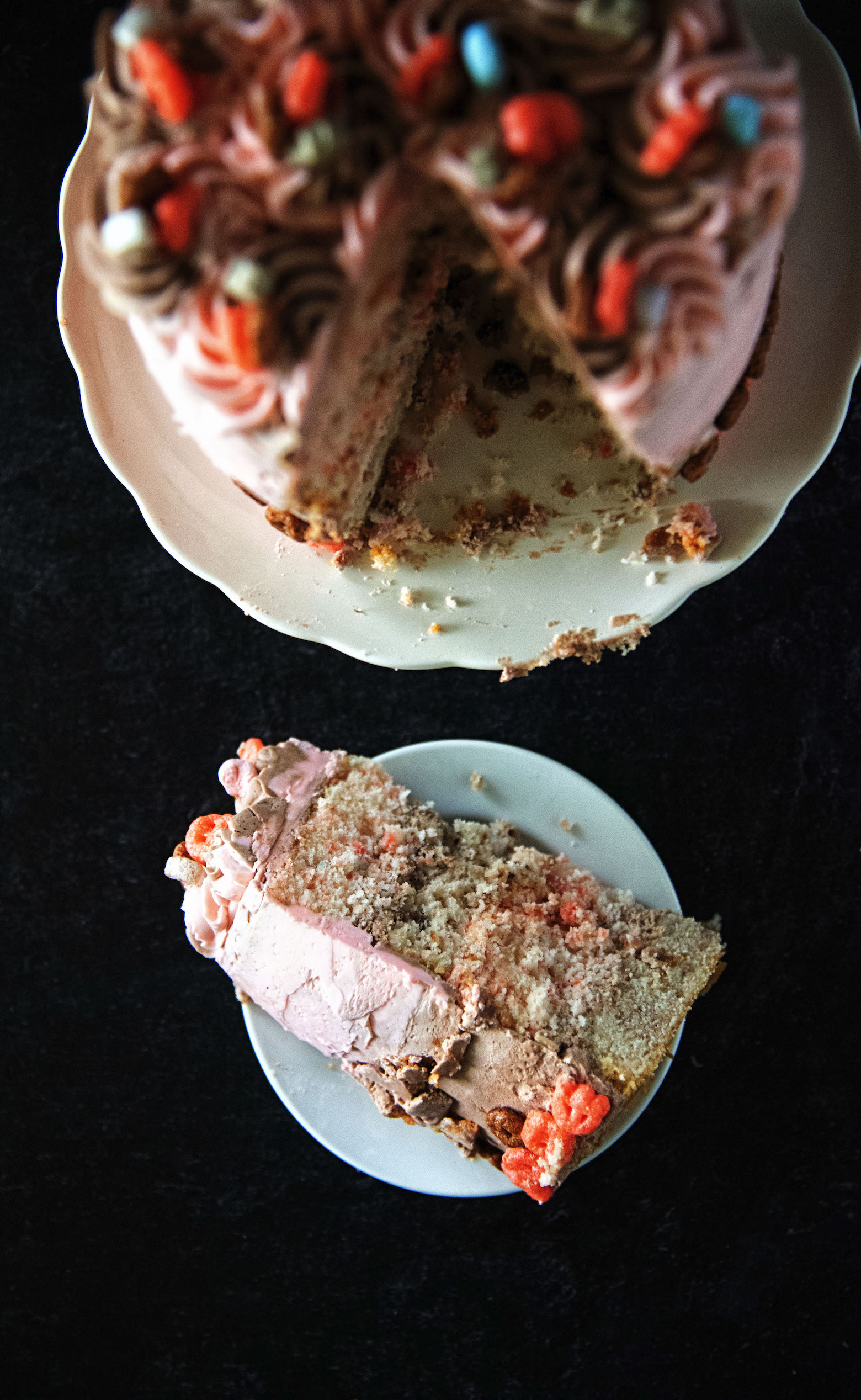 Several people asked last time and I'm going to guess more people are going to ask this time.
Where did you get your Franken Berry (and Count Chocula) from?
They come from Funko but you can buy them on Amazon.
I just happen to live about 15 minutes from Funko headquarters.
Which I never really realized was a big deal but apparently in the nerd world it is.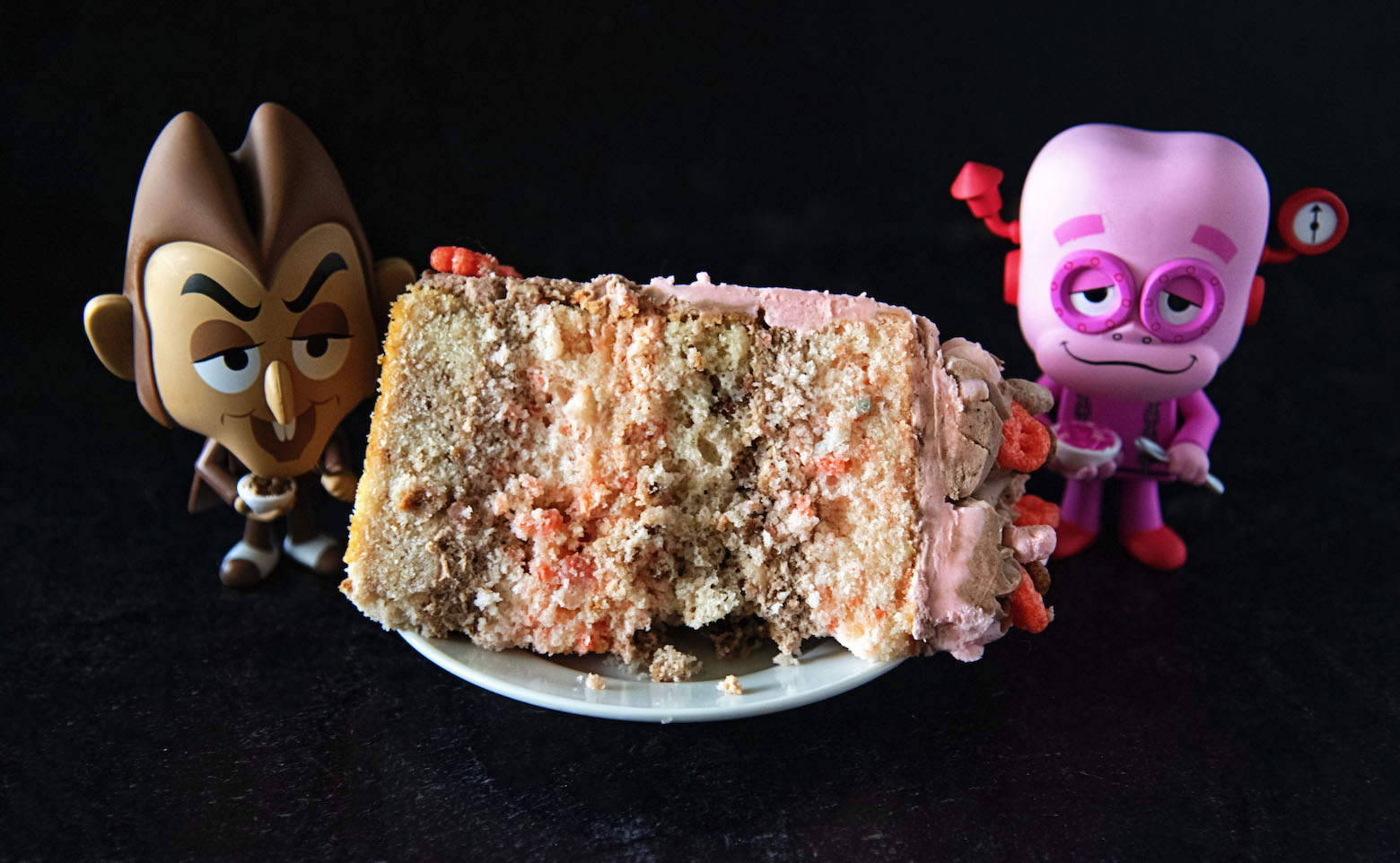 I've been a couple times and it's fun.
I did however know the minute I saw the two figurines that I had to break down and get them.
And it just works out that they make great props for when you are making cakes using their cereals. 😀
I'm sure collectors are freaking out that I take them out of the box and get frosting on them. 😛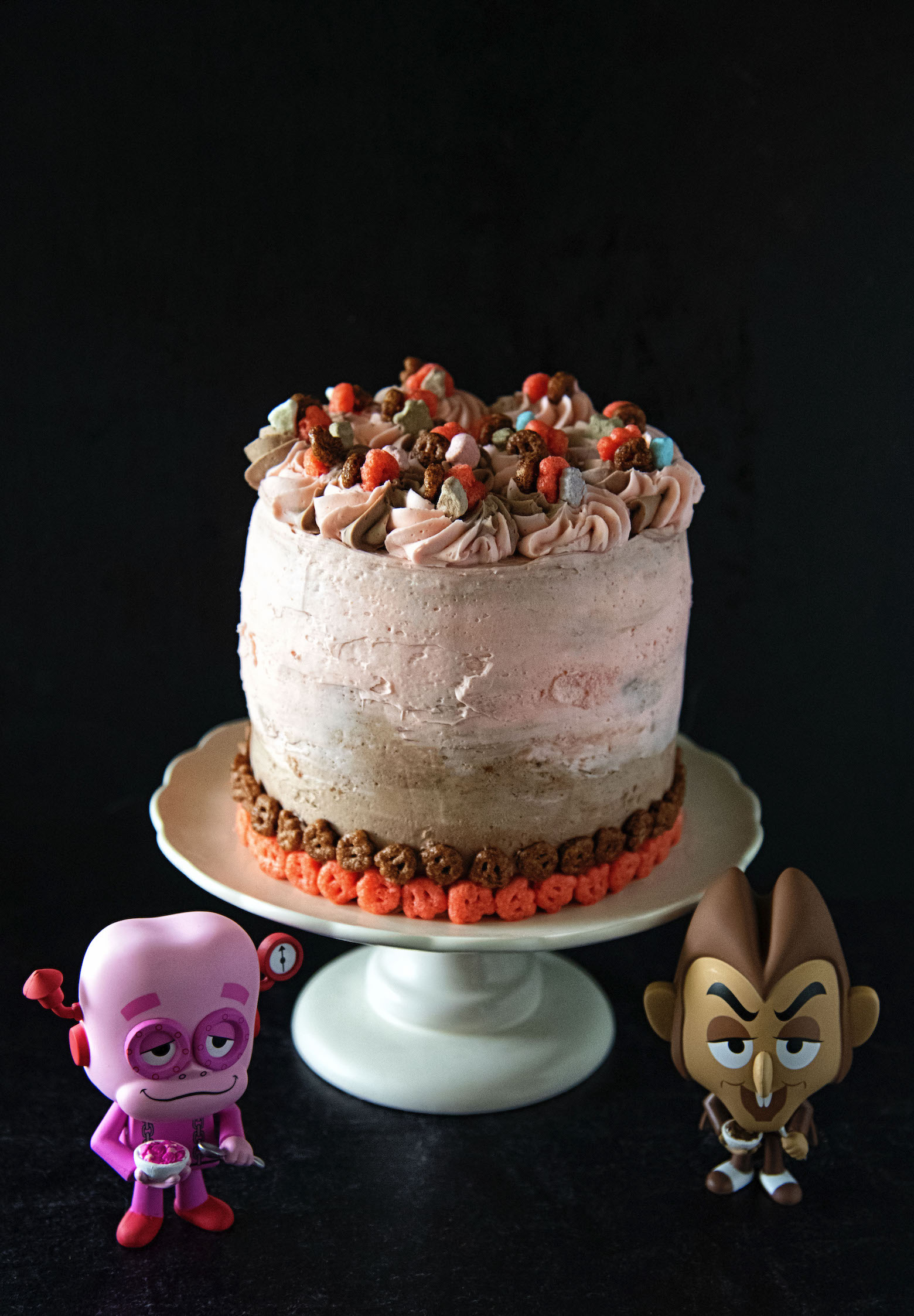 But enough about the figurines and more about this cake.
Both the cake and the Bavarian cream in between have the cereals in them.
They just absorb both into the cake and the Bavarian and the longer it sits in the fridge the more flavor it gets.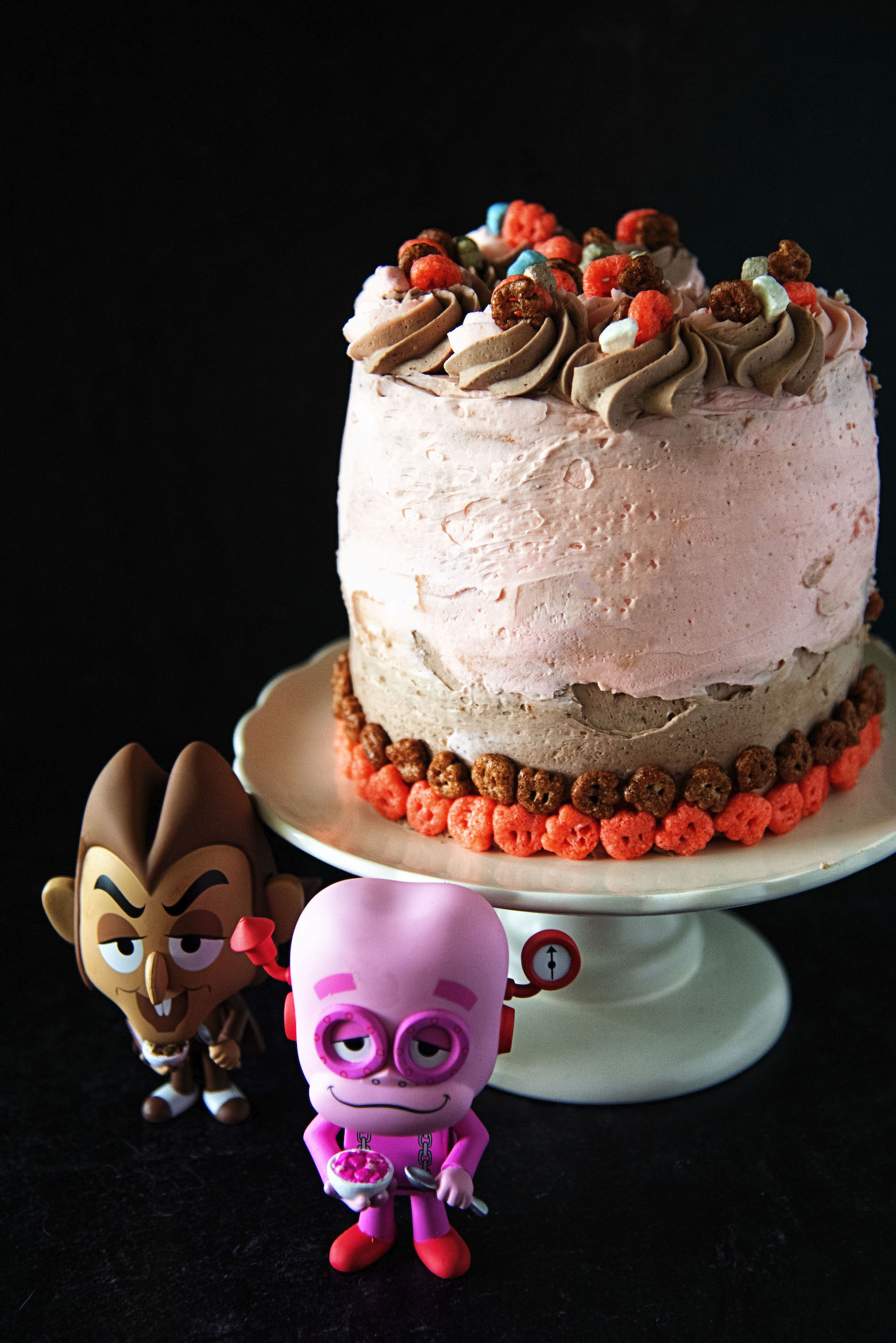 With that being said you do not want to put on the cereal pieces for decoration until right before you want to serve the cake.
Those will get very soggy very quickly and it is not a texture you want.
You honestly don't need it as it was more for the blog than actual flavor to the cake.
But it does make it look nice if you are serving it at a Halloween party or something like that.
Just something to keep in mind.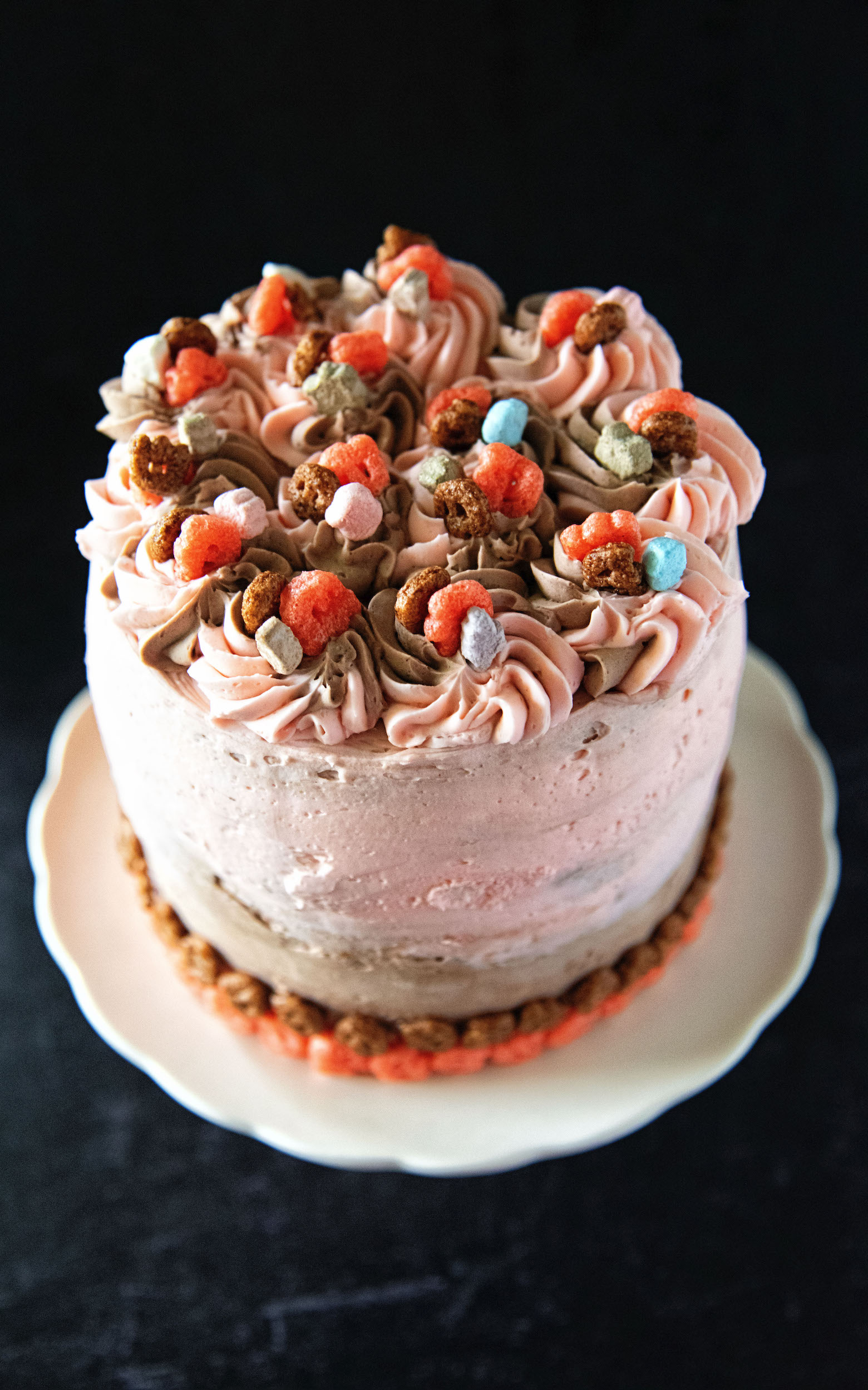 The base frosting is Swiss Meringue Buttercream and is flavored vanilla malt.
Count Chocula and Franken Berry both have a hint of malt in the cereal.
Must be why I like it.
The chocolate frosting surprise surprise has cocoa powder added to it, but it is the same vanilla malt base.
So if you love Monster cereals as much as I do then this is the cake for you.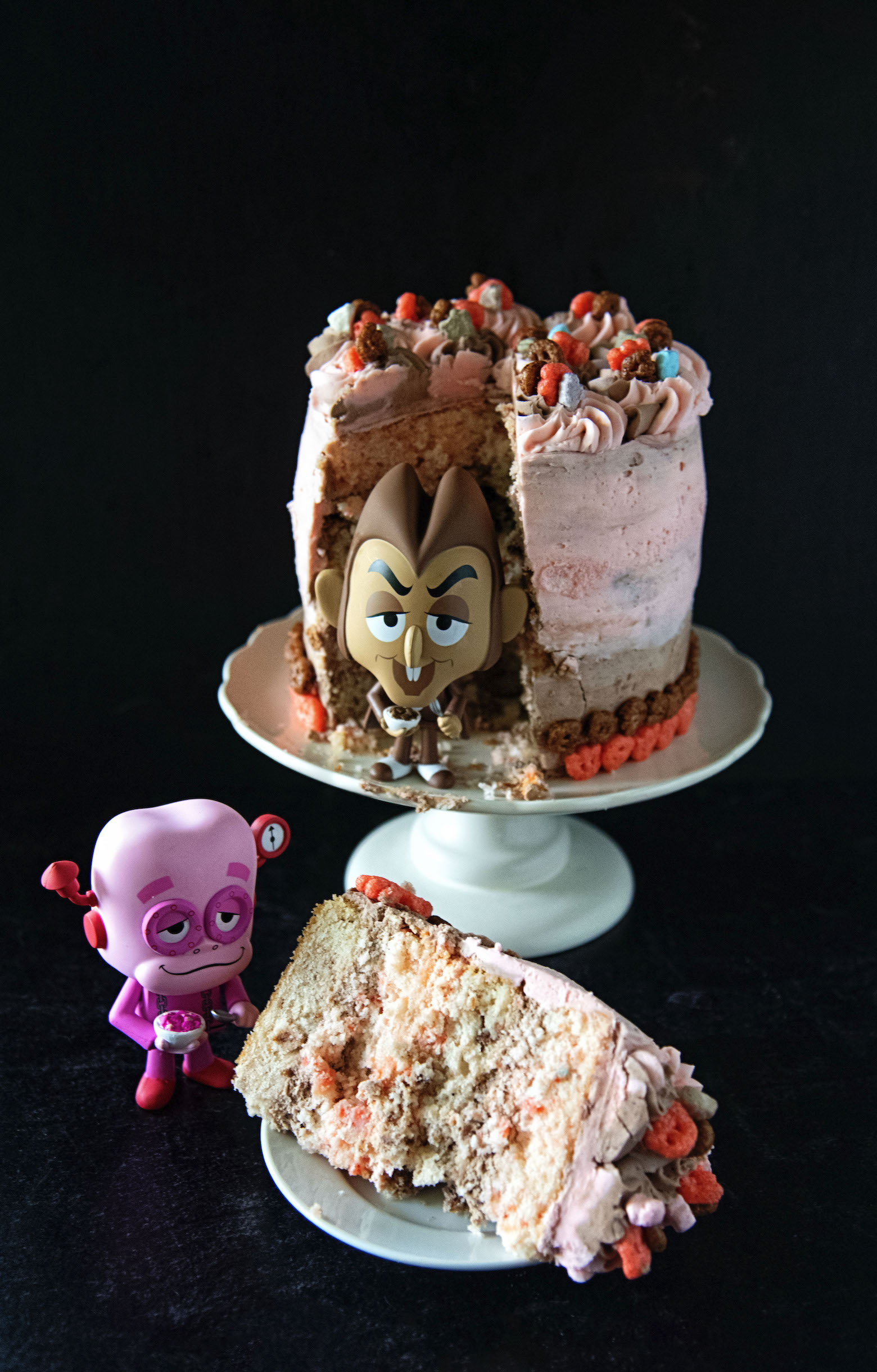 Want More Cereal Recipes?
Cinnamon Toast Crunch Sticky Buns
Ingredients
For the Cake:
2 1/4 cups cake flour
1 cup milk at room temperature
6 large egg whites at room temperature
2 tsp. vanilla extract
1 tsp. butter emulsion extract
1 3/4 cups granulated sugar
4 tsp. baking powder
1 tsp. salt
1 1/2 sticks unsalted butter, softened but still cool
1/2 cup crushed Count Chocula cereal
1/2 cup crushed Franken Berry cereal
For the Bavarian:
1 packet powdered gelatin(around 2 ¼ tsp)
1 cup cold water, divided
3 large eggs, separated
¼ cup granulated sugar, divided
1 cup heavy whipping cream
1 tsp. vanilla extract
1/3 cup crushed Count Chocula Cereal
1/3 cup crushed Franken Berry Cereal
For the Buttercream:
3/4 cup egg whites
1 1/2 cup granulated sugar
2 (4 sticks) cups unsalted butter, cubed and at room temperature
1 tsp. vanilla
1/4 cup malted milk powder
2 TBSP cocoa powder
pink food coloring
Instructions
For the Cake:
Heat oven to 350 degrees. Prepare two 8-inch cake pans or two 6-inch cake pans with baking spray and parchment paper at the bottom to prevent sticking. I used 6-inch for height.
Make sure milk and eggs are room temperature.
Pour milk, egg whites, and extracts into medium bowl and mix with fork until blended.
Mix cake flour, sugar, baking powder, and salt in bowl of electric mixer at slow speed.
Add butter, cut into cubes and continue beating on low for about 1-2 minutes.
Add all but 1/2 cup of milk mixture to flour mixture and beat at medium speed for 1 1/2 minutes. Add remaining 1/2 cup of milk mixture and beat for about 1 minute.
Divide the batter into two bowls.
Fold in the Count Chocula in one bowl. And Franken Berry in the other bowl. Mix until fully combined.
Pour batter evenly between two prepared cake pans.
Bake until toothpick inserted in the center comes out clean, 27 to 30 minutes. If using 6-inch pans you will bake for 45-55 minutes. You will need to put foil on top to prevent burning after the 30 minute mark.
Allow cake to cool to room temperature.
For the Bavarian Filling:
Place ¼ cup of the water into a small bowl.
Sprinkle gelatin over and let dissolve.
In a saucepan, whisk together egg yolks and 1/8 cup granulated sugar. Do not place over heat, yet.
Bring remaining water to a boil in a small saucepan.
Once boiled, remove from heat.
Temper egg/sugar mixture with water, slowly adding the water to the egg/sugar mixture and whisking the whole time.
Move to stove top add gelatin and heat and simmer, stirring constantly, until sauce coats the back of a spoon.
Place saucepan into a large, heat proof bowl filled with ice. This will help the mixture cool quicker. Watch to make sure the gelatin doesn't start to set. Once cool, remove from ice bath and set aside.
Whip 1 cup heavy cream into stiff peaks. Add the vanilla beans and whip until fully incorporated. Set aside.
Whip egg whites and the remaining 1/8 cup granulated sugar until stiff peaks form.
Carefully fold the egg whites with the whipped cream.
Then fold the mixture into the cooled gelatin mixture.
Divide evenly into two bowls.
Fold in the Count Chocula in one bowl. And Franken Berry in the other bowl. Mix until fully combined.
Put in fridge covered in plastic wrap to set at least 2 hours.
For the Buttercream:
Place the egg whites and sugar in the metal bowl of a stand mixer and set over a small pot of simmering water (the bowl should not touch the water).
Heat, stirring occasionally, until mixture is 160F or hot to the touch.
Transfer bowl to stand mixer and beat on high speed with a whisk attachment to medium stiff peaks, about 8 minutes.
Reduce mixer speed to medium low and add butter a tablespoon at a time, letting it incorporate into the meringue for few moments before adding more.
Add the malted milk and vanilla extract and beat until smooth and creamy.
Divide into two bowls.
Fold in the cocoa powder in one bowl. And pink food coloring in the other bowl. Mix until fully combined.
To assemble:
Set one of the Count Chocula layers on the plate or cake plate.
Pipe 3/4 cup Franken Berry Bavarian over the cake layer.
Top with a Franken Berry cake layer and add Count Chocula Bavarian.
Then the last Count Chocula layer followed by more Franken Berry and Count Chocula Bavarian. Do half and half.
Place the last Franken Berry layer on top.
Set in fridge for 1 hour.
Remove cake from fridge to frost.
Use an offset spatula to frost cake with 1/2 pink buttercream and half chocolate buttercream.
If desired, first make a thin coat to seal in crumbs and chill for 30 minutes.
Cover completely with another layer of frosting.
Pipe some decorative swirls on top of cake and top with more cereal if desired.
Chill cake for 30 minutes.