This Molasses Spice Orange Bread Pudding is made with molasses spice bread and an orange custard base all topped with an orange toffee sauce.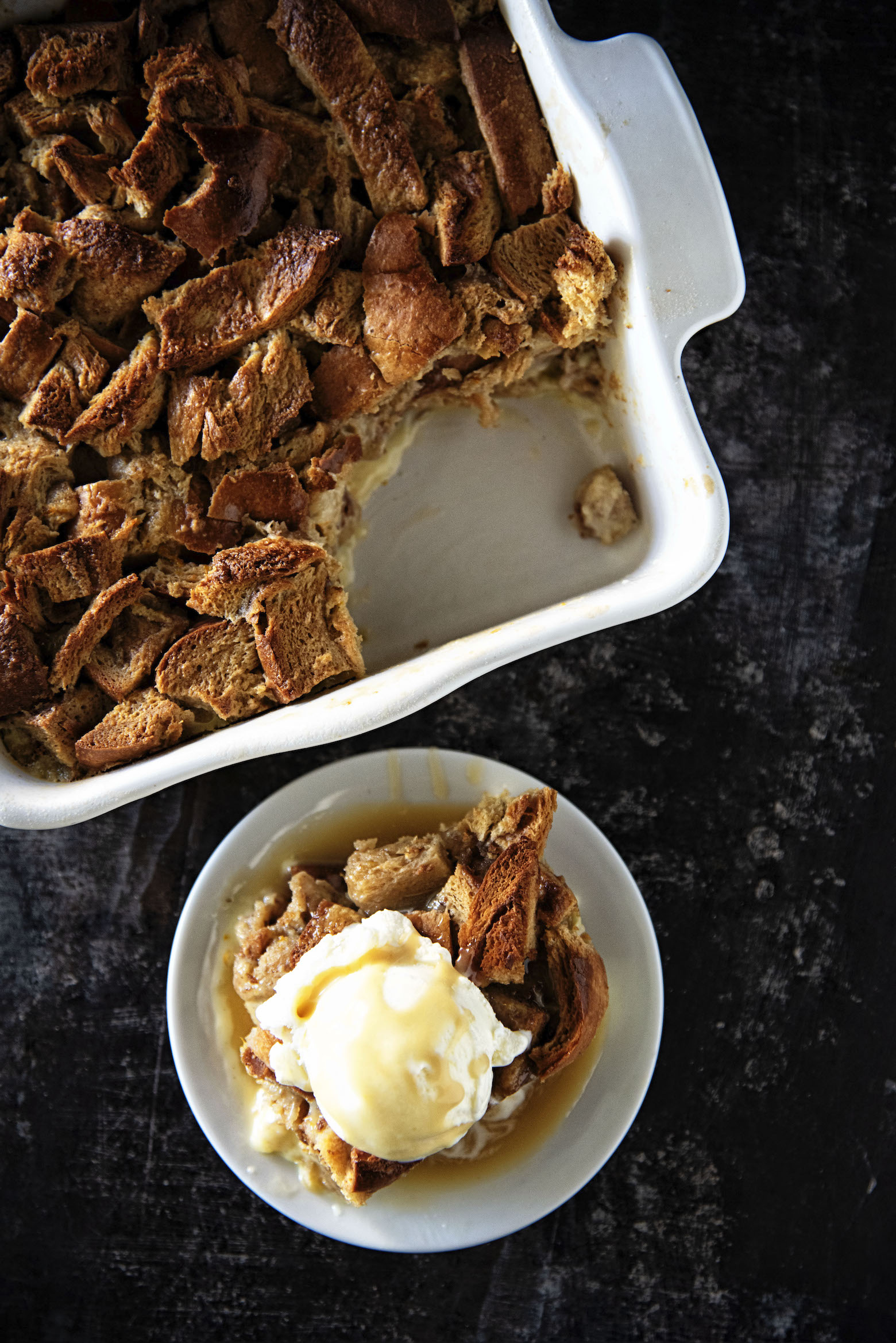 Ready or not it's November.
For us here in Washington state that usually means the gray days will becoming more often.
Which many people are not a fan of and yet still choose to live in this state. 😛
I on the other hand love the gray skies.
And the drizzle of rain.
The cooler temps.
I mean I enjoy a nice sunny day (when it's cooler) but here in the Seattle area there is so much pressure to do something when it's sunny.
When the sun is out people are always asking what did you do today?
If your answer is along the lines of nothing, watched Netflix, stayed in and baked bread people groan and tell you that you wasted a day.
But when it's gray and rainy…that's a perfectly acceptable day.
I say it's perfectly acceptable any day.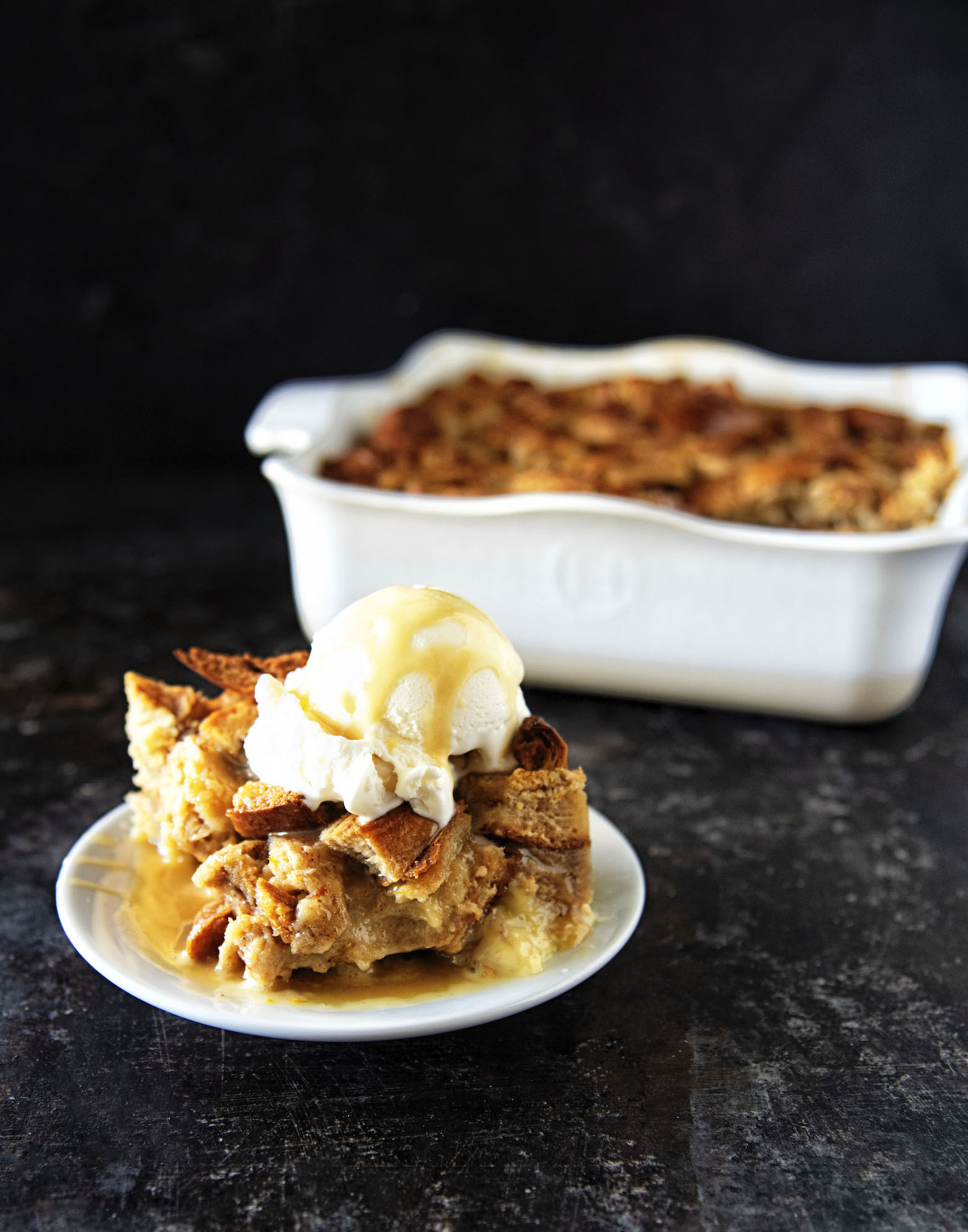 I believe in cozy blankets.
Hot tea, hot cider, and hot cocoa.
I believe in cuddling with spaniels and using them for warmth.
In watching hours of Great British Baking Show reruns and the Hallmark Christmas movies…which have already started FYI.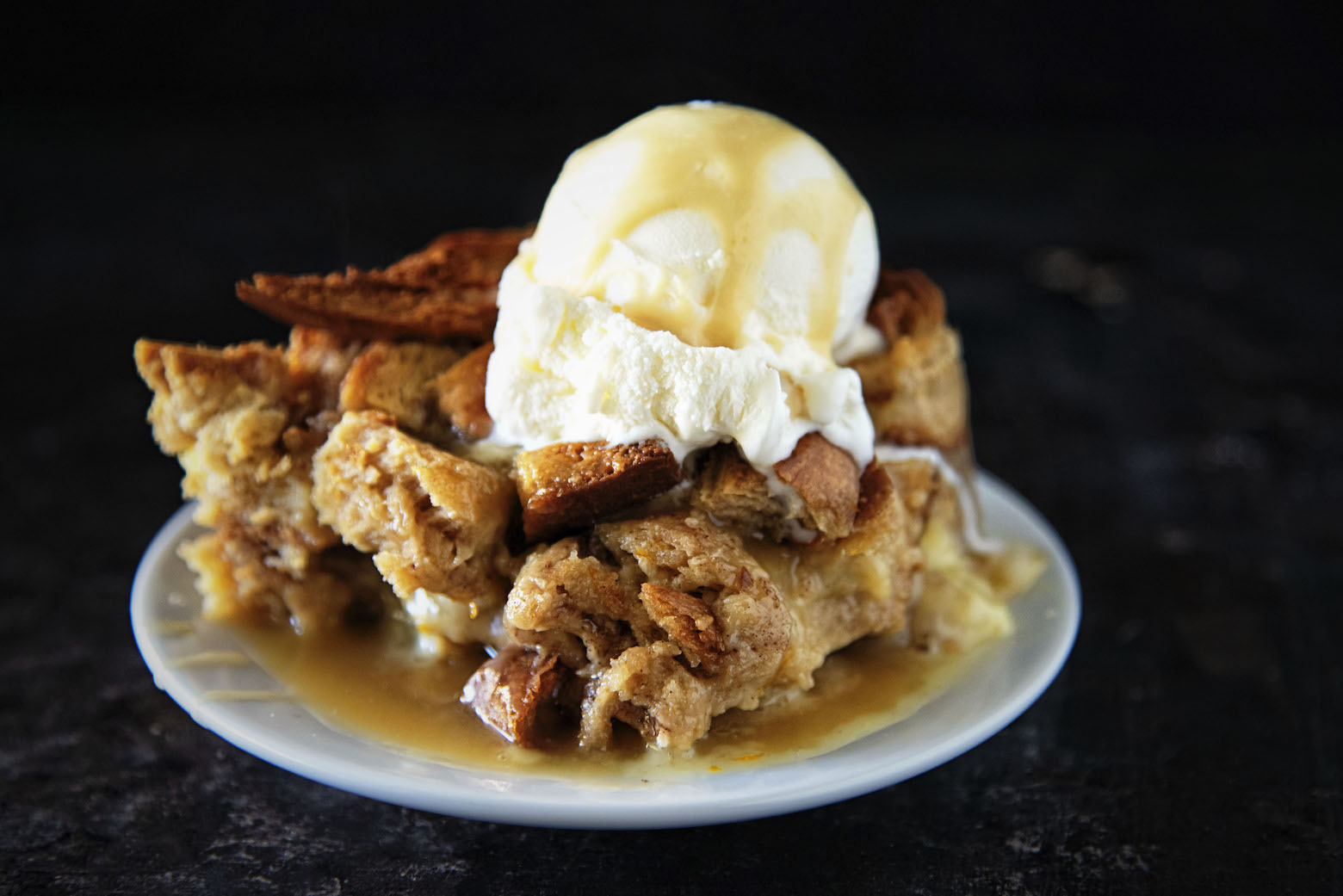 I believe in baking all day.
Reading books.
Napping.
And whatever else makes you happy.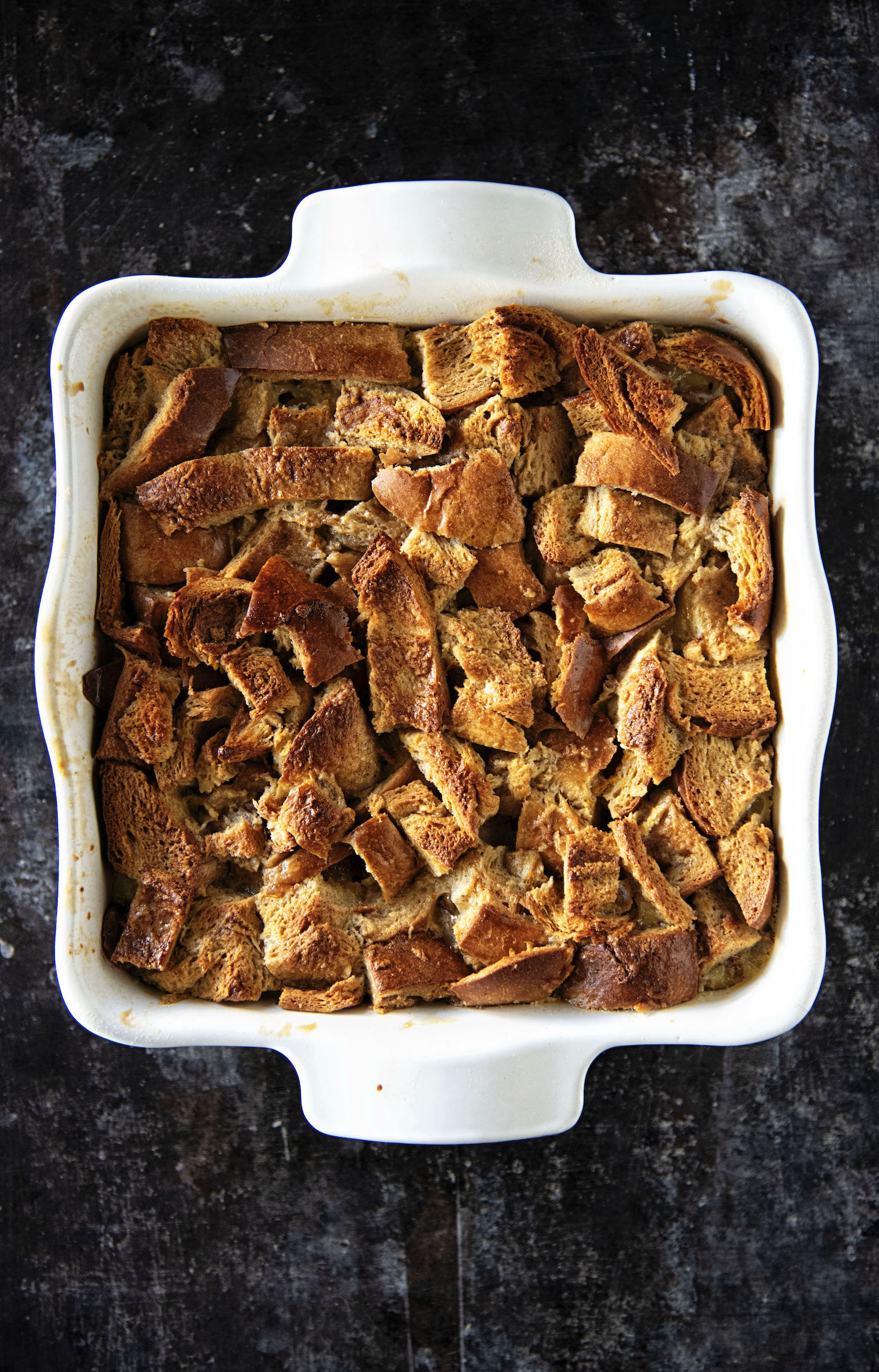 This bread pudding uses the same dough from the Molasses Spice Sugar Buns.
That recipe makes a large batch and you only use half for the buns.
And you have half left.
So I decided to make that a loaf.
Which of course had to be turned into bread pudding.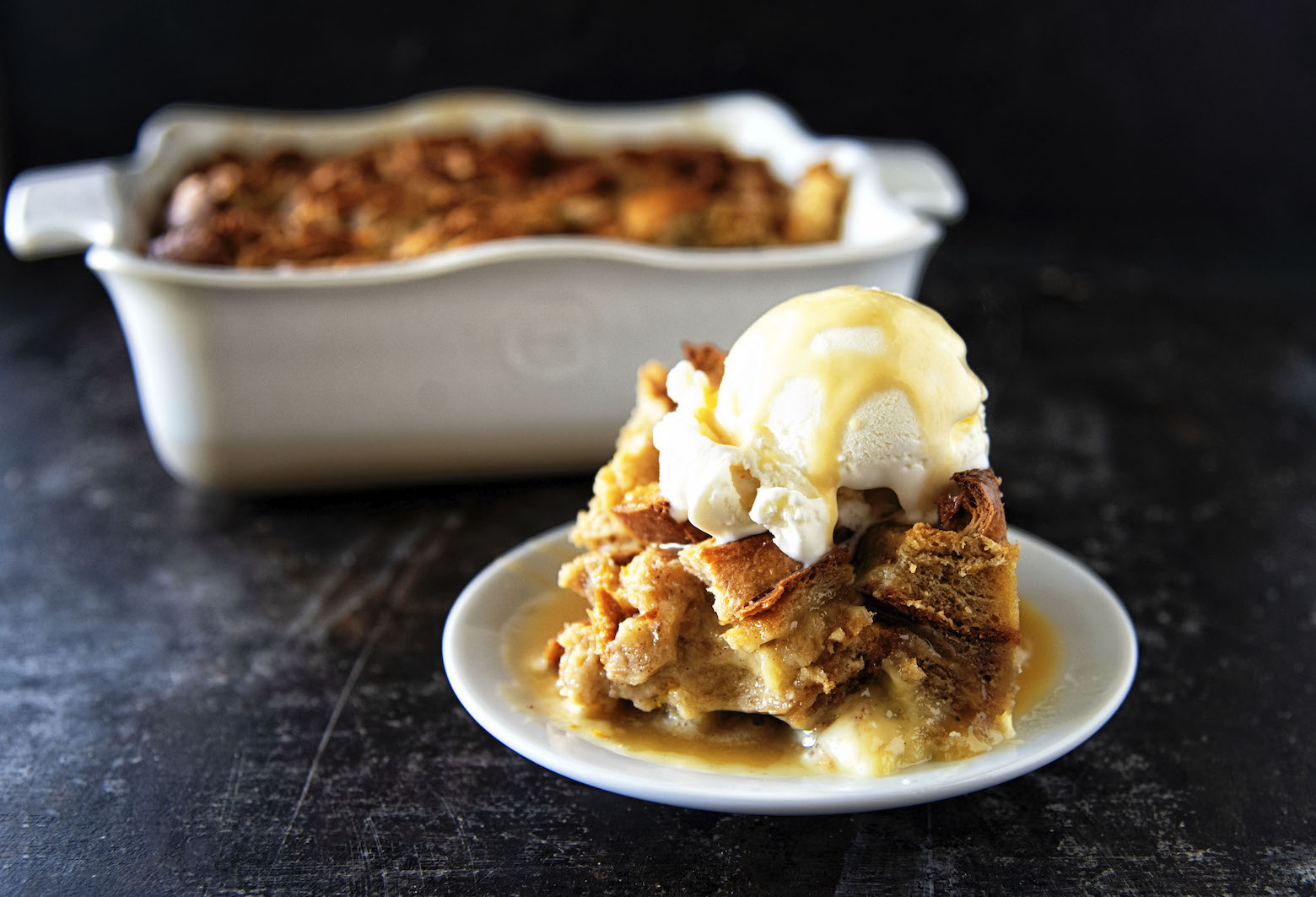 I love spice and orange together.
So the custard base is orange to compliment the brioche flavor.
While I say orange in this case I used clementines because that's what Costco was carrying.
Use whatever "orange" you like.
The Molasses Spice Orange Bread Pudding is then all covered in a yummy orange toffee sauce.
And as always it's a great day to order my cookbook.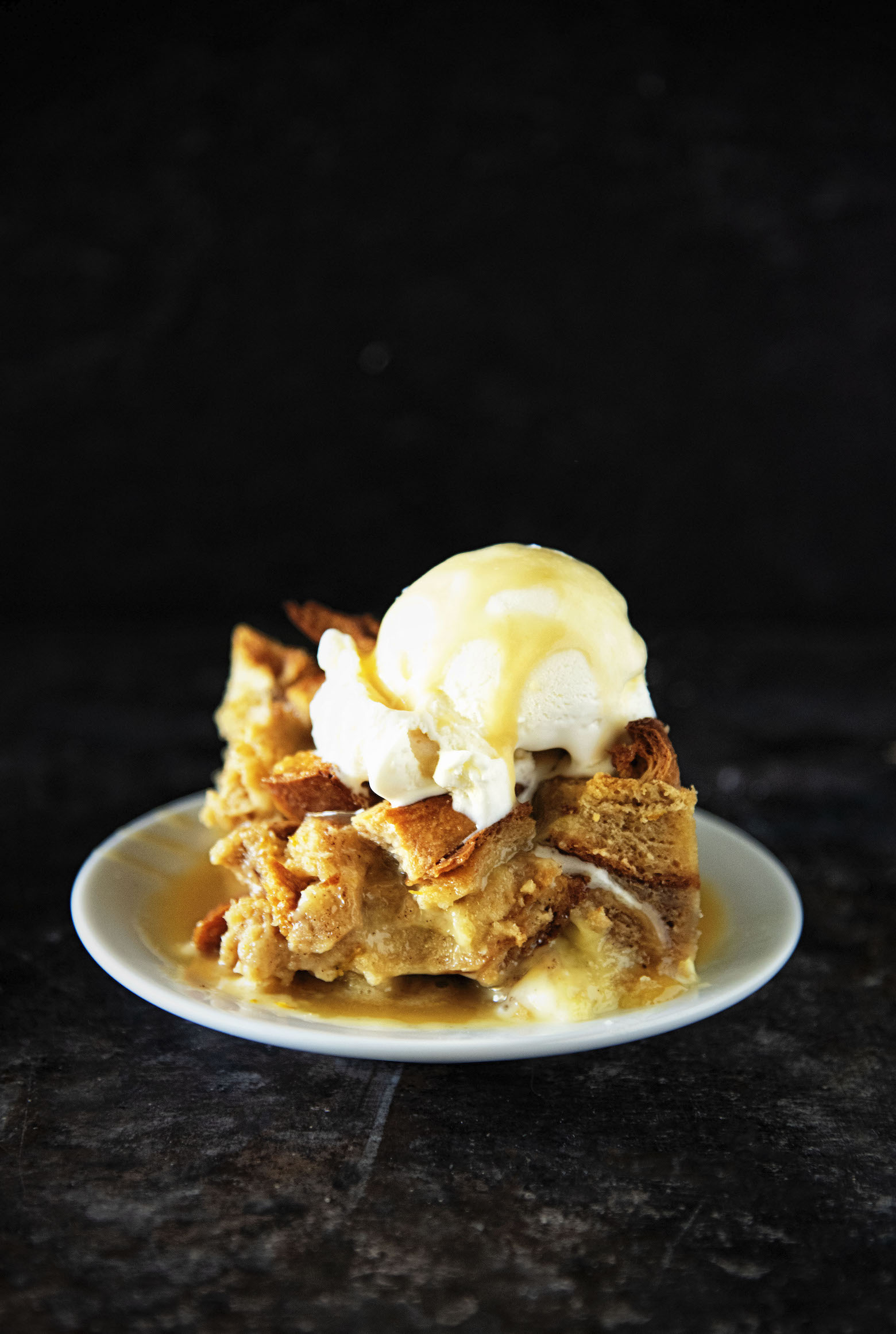 Want more Bread Pudding recipes?
Pumpkin Cinnamon Roll Bread Pudding
Apple Cider Donut Bread Pudding
Oatmeal Raisin Cookie Bread Pudding
Ingredients
For the Brioche:
For the sponge:
½ cup whole milk, at room temperature
1 TBSP Red Star® Platinum Superior Baking Yeast®
2 TBSP granulated sugar
½ cup bread flour
For the dough:
⅓ cup un-sulfured black-strap molasses
3 TBSP packed light brown sugar
1 TBSP cinnamon
2 tsp. freshly ground nutmeg
1 TBSP ginger
1/2 tsp. allspice 
4 cups bread flour
2 tsp. salt
6 large eggs, slightly beaten
9 oz. unsalted butter, softened but still cool
For the Bread Pudding:
1 loaf molasses spice brioche
3 cups heavy cream
5 egg yolks
zest of two oranges
1 tsp. fresh grated nutmeg
1 tsp. cinnamon
1 1/2 cups granulated sugar
pinch of salt
For the Orange Toffee Sauce:
¾ cup brown sugar, tightly packed
⅓ cup unsalted butter
⅓ cup heavy whipping cream
3 TBSP frozen orange juice concentrate
Instructions
For the Brioche:
For the sponge:
Combine milk and yeast in the mixing bowl of a standing mixer.
Whisk and let sit for 5 minutes.
Add flour and sugar, mix to form a thick batter.
Cover with plastic wrap and let rest at room temperature for 30-45 minutes, until bubbles form.
For the dough:
Add the molasses, brown sugar, zest, spices, flour, and salt to the sponge.
Add the eggs.
Beat with the paddle attachment on low speed for 2 minutes, until the eggs are absorbed. Increase the speed to medium and knead the dough for 5 minutes.
Switch to the dough hook at this point.
The dough will be sticky. Hold the mixer when necessary if it starts to dance on you.
Turn the machine down to medium low speed and add the butter, 2 TBSP at a time.
Knead for another 5 minutes, until the dough is shiny.
Scrape out the dough and clean and lightly oil the bowl. Don't worry if the dough is difficult to work with (it will be).
Place the dough in the bowl then turn it over so that the top is oiled. Cover with plastic wrap and let rise at room temperature for 2 hours, until doubled.
When dough is has doubled in volume, punch it down by folding it two or three times.
Cover and refrigerate for 4 hours or overnight. Spray two 9 x 5 x 3-inch loaf pans with pan spray.
Remove dough from fridge.
Turn out onto a lightly floured surface.
Divide the dough evenly into two parts.
With a rolling pin(that is floured), roll the dough into a rectangle equal to the length of the pan and double its width.
Starting from the short side, roll up the dough like a jelly roll.
Pinch the seam together. Place the dough seam side down in the prepared pan.
Gently work the dough into the pan with your fingers so that it touches all sides. The dough should fill the pan halfway.
Cover the dough with plastic film coated with pan spray and let rise at room temperature until it has doubled in size and filled the pans completely, 1 ½ to 2 hours.
Toward the end of proofing preheat the oven to 400F.
Adjust the rack to the center of the oven.
Bake for 10 minutes at 400F.
Turn down the oven temperature to 350F and bake for 30 minutes more with an internal temperature of 180F.
Remove the brioche from the pans as soon as they come out of the oven and cool it on a rack.
YOU WILL ONLY USE ONE LOAF FOR THIS RECIPE.
For the bread pudding:
Tear 1/2 of the loaf into pieces and place into a baking dish (9-x-13-inch) that has been sprayed with baking spray or lightly coated in butter.
Mix the egg yolks, sugar, nutmeg, and salt together in a bowl.
Then whisk in the heavy cream and eggnog and beat until fully incorporated.
Pour 1/2 the custard over the bread.
Press down the bread pieces until the bread is soaked with the custard.
Add the remaining roll pieces.
Top with remaining custard.
Press down the bread pieces until bread is soaked with the custard.
Don't feel like you have to use all the custard. How much bread will soak up changes.
Place pan into another pan that will hold a water bath.
Bake the bread pudding for 45 minutes at 350F until golden on top.
Cool for 10 minutes and serve warm.
For the sauce:
For the sauce:
Stir brown sugar and butter in a heavy medium saucepan over medium heat until melted and smooth, about 2 minutes.
Add cream and orange juice concentrate and bring to a simmer.
Simmer for about 5 minutes.
Serve on top of bread pudding.