Gingerbread Lemon Cream Cheese Swirl Blondies: Dense gingerbread blondies swirled with tangy lemon cream cheese icing.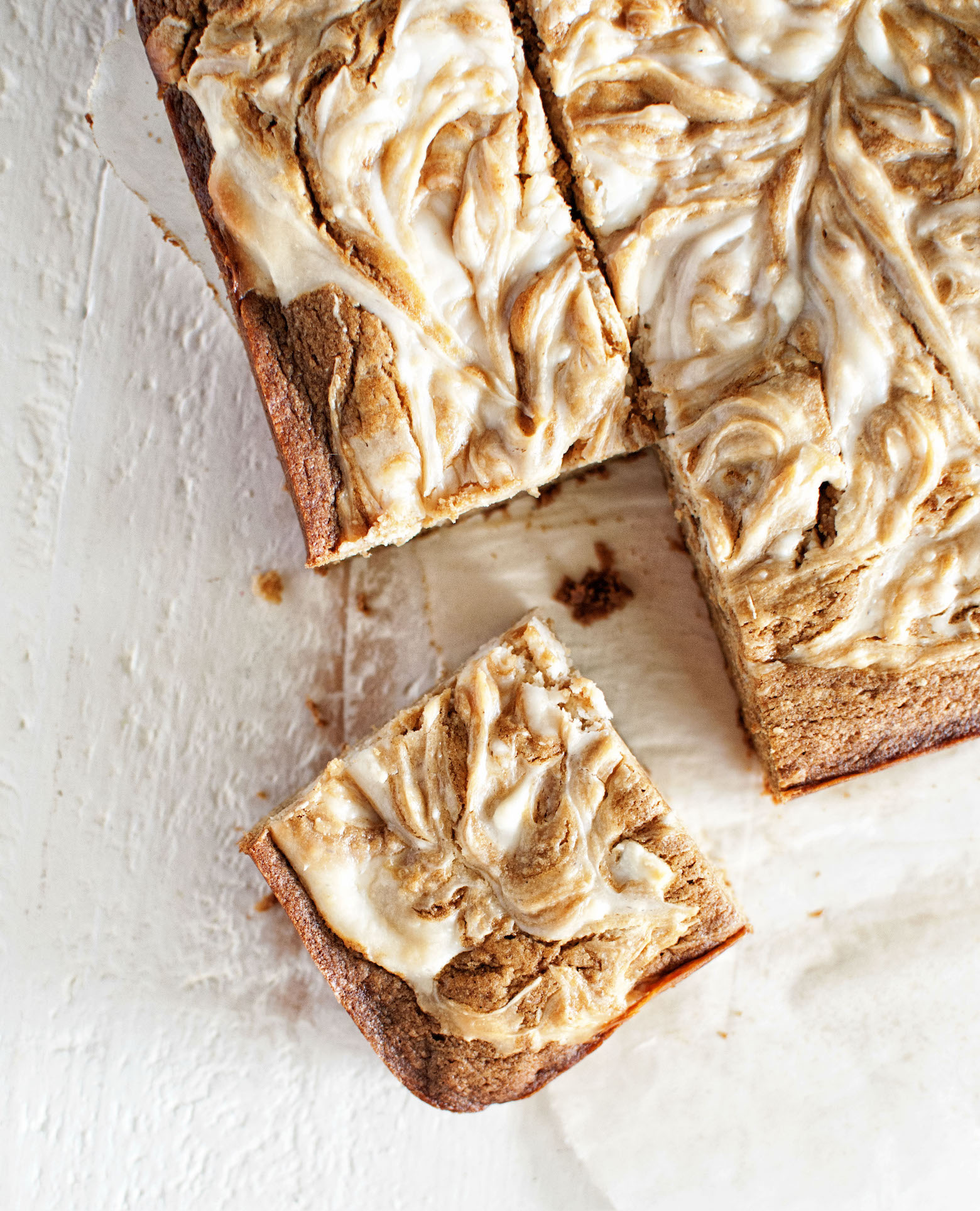 This past week we had what I call a rent-a-spaniel come and stay with us.
She is a cavalier in late stage congestive heart failure.
Her family made the hard decision of re-homing her because they were moving across the country and would also not be working from home anymore.
The boxes and chaos was seriously stressing her out and the absolute worst thing for a dog in congestive heart failure is stress.
They family that had agreed to take her (friends of mine) had literally just left for vacation the day this all came about and so they needed a temporary place to take her.
One that was familiar with late stage congestive heart failure in cavaliers.
So we took her in.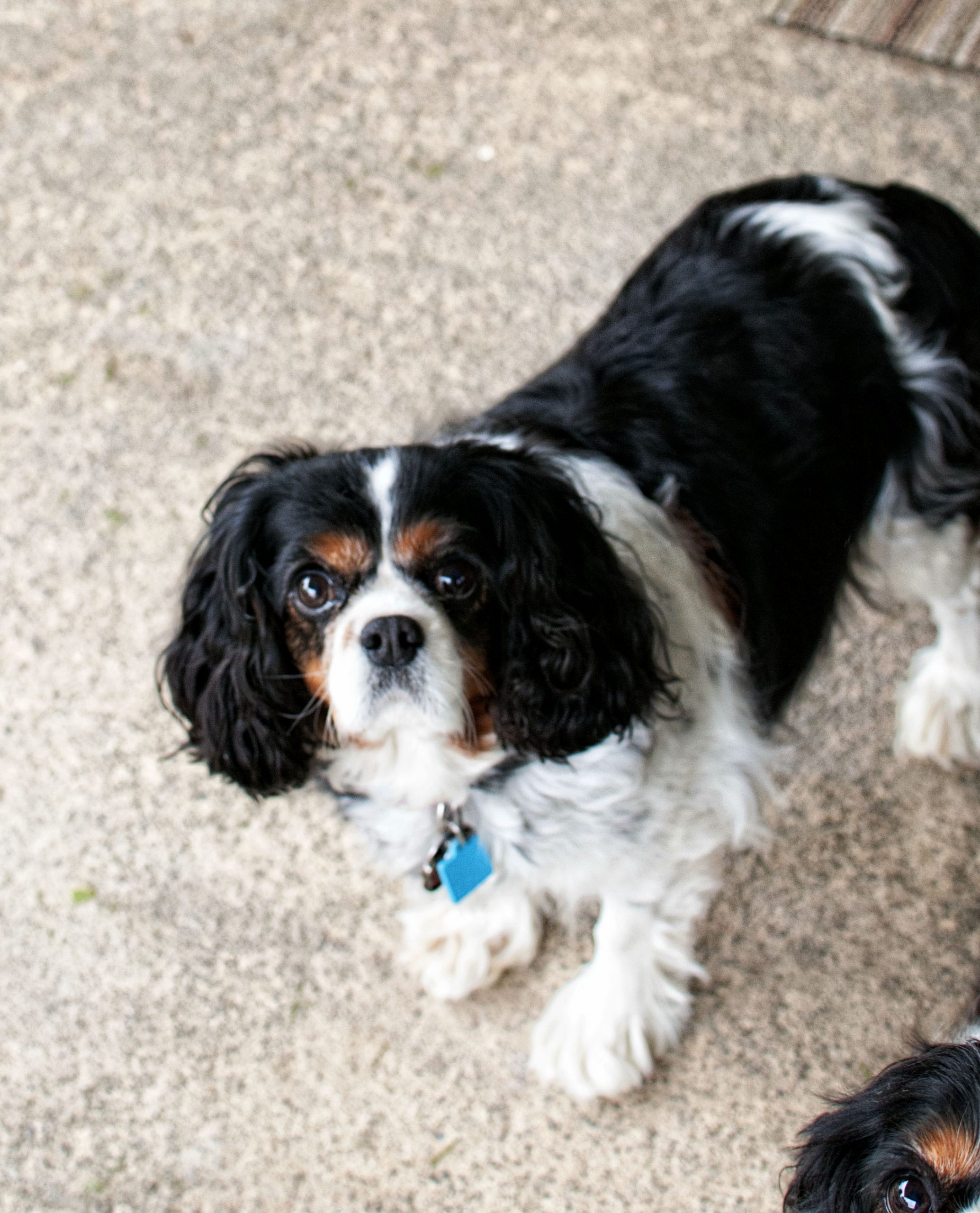 Cleary she was well taken care of and loved as she came with pretty much top of the line anything a dog could want.
They had pre-bought all her heart meds for the month ahead ( a considerable cost), brand new boxes of food, cut all her pills for the month up, and she came freshly bathed and brushed.
Gracie is her name, we took to calling her Gracie Lou…as in Gracie Lou Freebush from Miss Congeniality.
She is a sweet and gentle soul and we fell in love with her over the week, it was hard not too.
But this last week was a reminder to me.
A reminder that we can handle what life throws at us.
Having Gracie this last week was a pleasure but it was also a week with a dog in congestive heart failure.
A week of fear each time she coughed that she could collapse and I would relive the nightmare of the roller coaster we had with Holly.
The letting her out to the bathroom every one and a half to two hours…24 hours a day.
Since dogs in congestive heart failure are on pee pills to help reduce the fluid build up in their body.
It's cleaning up after the dog when you aren't there to let them out.
I have been a walking zombie this last week due to lack of consistent sleep (like having a newborn).
That is what the last six months of Holly's life was like…I just forgot.
Forgot how hard it was.
For I did it day in and day out thinking nothing of it.
I mean, I thought of it…because I was a zombie back then too…but it's just what you did.
It wasn't until I was done that I realized it was hard.
I would also do it all over again.
Gracie Lou is off to her new forever home.
A home that is loving and also very familiar with the ins and outs of congestive heart failure.
I'll still get to see her since, like I said, we know the family.
With all the lack of sleep I have not really been baking so it was nice to get a good night's sleep and wake up and get to baking.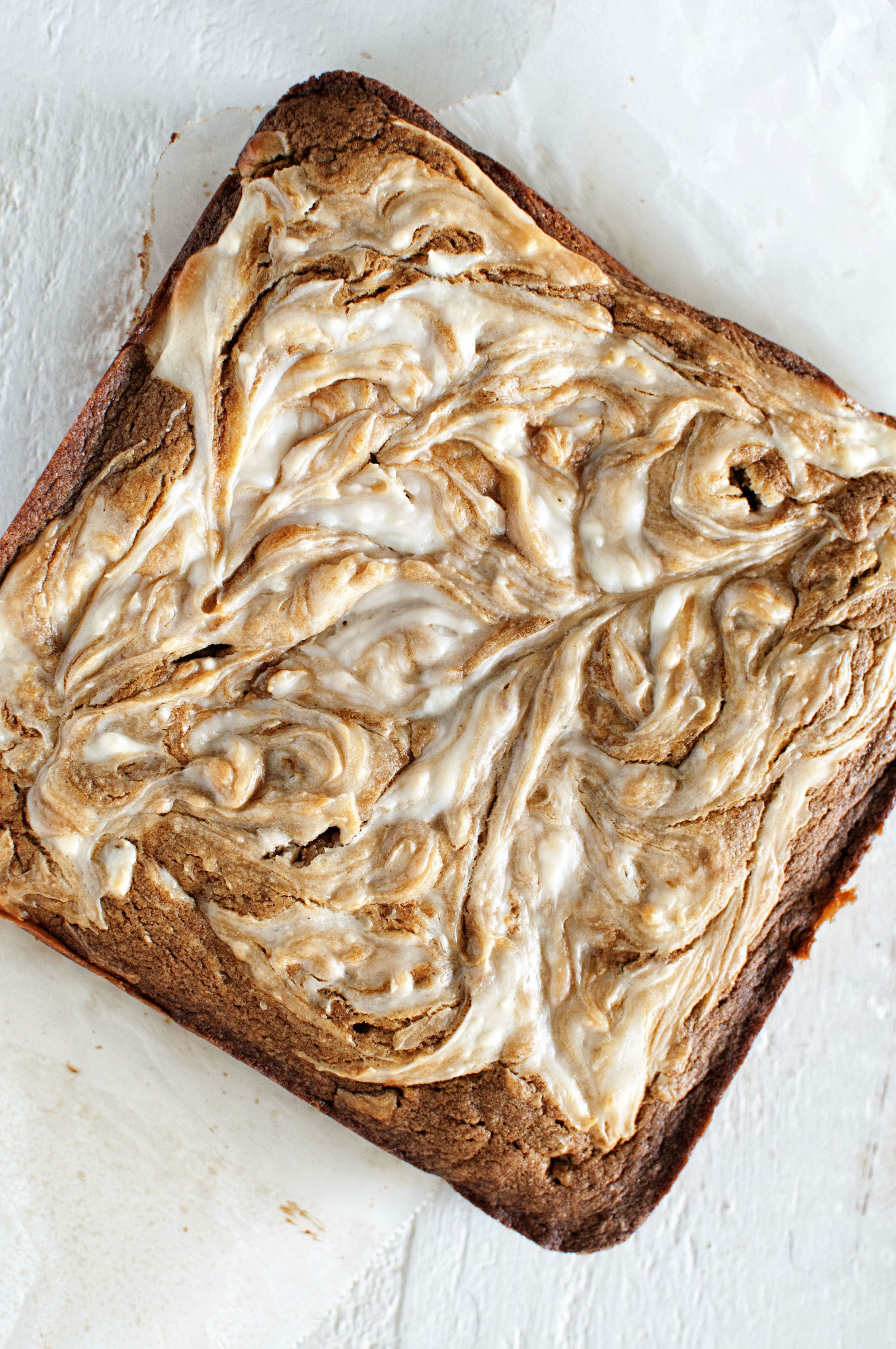 I'm already in full Christmas mode (I'm allowed since my Thanksgiving was in October :D).
I've had the Gingerbread Latte.
I have watched Hallmark Christmas movies (which actually were a blessing this past week because they are on 24 hours and so I had something to watch other than infomercials).
I've listened to Christmas music in the car.
So it made since to make something holiday-ish.
Gingerbread Lemon Cream Cheese Swirl Blondies.
I love gingerbread and citrus together.
I've experimented with key lime, lemon, and orange over the years…all excellent.
But I was craving the lemon this time.
I use Lemon Juice Powder.
It's exactly what it sounds like.
What makes it so great is it has intense flavor without all the liquid to mess with the texture of your baked good.
They also carry it in Lime…both I recommend. I also use their Gingerbread Spice as well, all their holiday spice blends actually. 
If you don't want to get the lemon juice powder you can use lemon oil or lemon extract. But it won't be as tangy.
P.S. It's a great day to buy my cookbook Holy Sweet!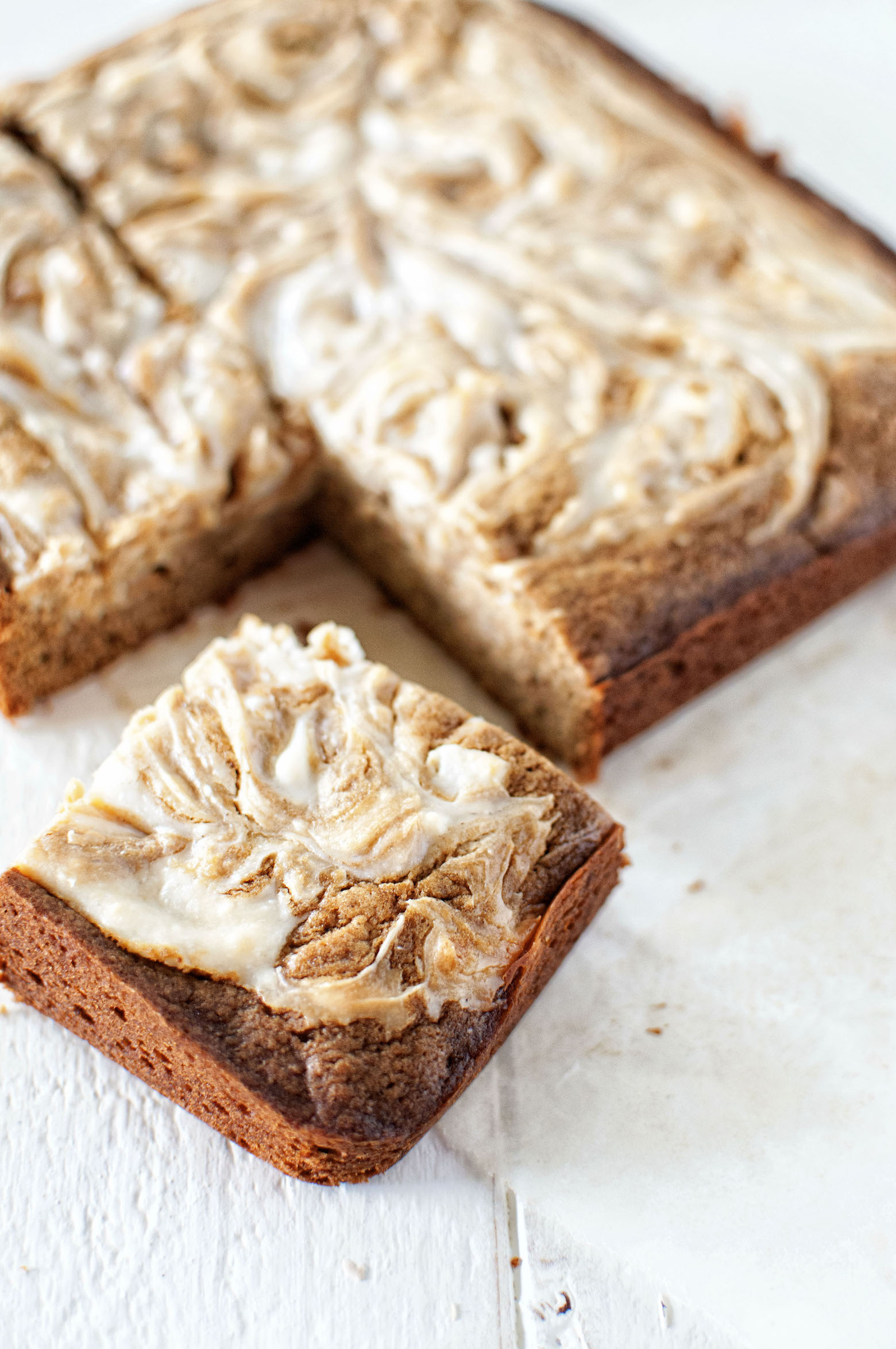 Want More Bar Recipes?
Salted Chocolate Chip Butterscotch Toffee Cookie Bars
Strawberry Lemonade Lemon Bars
Chocolate Chunk Churro Cookie Bars
Ingredients
1 1/4 cups flour
1 TBSP Gingerbread Spice
1/4 tsp.baking soda
1/4 tsp.salt
3/4 cup unsalted butter, at room temperature
3/4 cups granulated sugar
1 egg
1/3 cup molasses
3 TBSP hot water
6 oz. cream cheese, at room temperature
1/2 cup powdered sugar
1 TBSP lemon juice powder (if you do not have 1 tsp. lemon extract)
Instructions
Preheat oven to 350°F. 
Line 8-x-8-inch baking pan with foil or parchment paper. You can use 9-x-13 but you will have much thinner bars and will have to lower baking time.
Spray foil with no stick baking spray. 
Mix flour, gingerbread spice, baking soda and salt; set aside.
Beat butter and 3/4 cup of the sugar in large bowl with electric mixer until light and fluffy, about three minutes. 
Beat in egg until well blended. 
Gradually beat in flour mixture until well mixed. 
Stir in molasses and hot water just until blended.
Spread evenly in prepared pan. The batter is thick and is hard to spread.
Beat cream cheese in large bowl with electric mixer until smooth. 
Beat in 1/2 cup powdered sugar and lemon powder until smooth. Spoon dollops (about 1 teaspoon each) of the cream cheese batter over gingerbread batter in pan. 
With knife or spatula, swirl icing through batter to marbleize.
Bake 40 minutes or until toothpick inserted in center comes out clean. 
Cool in pan 15 minutes. 
Lift out of pan using foil.  Cool completely on wire rack.  Invert and peel off foil. 
Cut into bars. 
Store in refrigerator.