Mini Fruity Pebbles Cupcakes: Mini vanilla based cupcakes filled with Fruity Pebbles cereal all topped off with a Fruity Pebbles American buttercream frosting.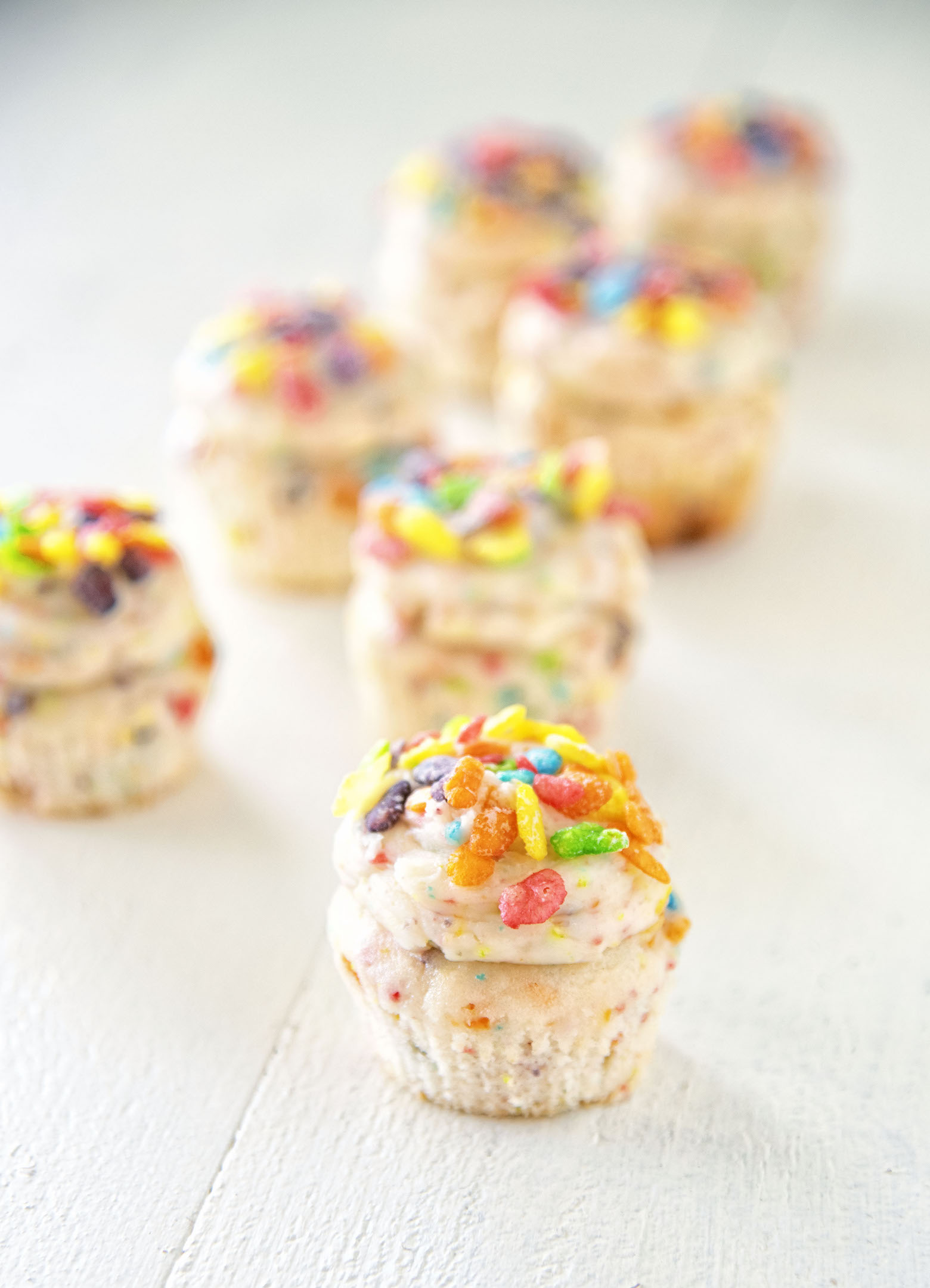 47.
That's how old I turned today.
I've had this blog since I was 32 turning 33 years old.
So, so much has changed in this time.
And my blog has cataloged that along the way.
The blog was started with the intention of sharing my life and my love of baking.
That is still the intention.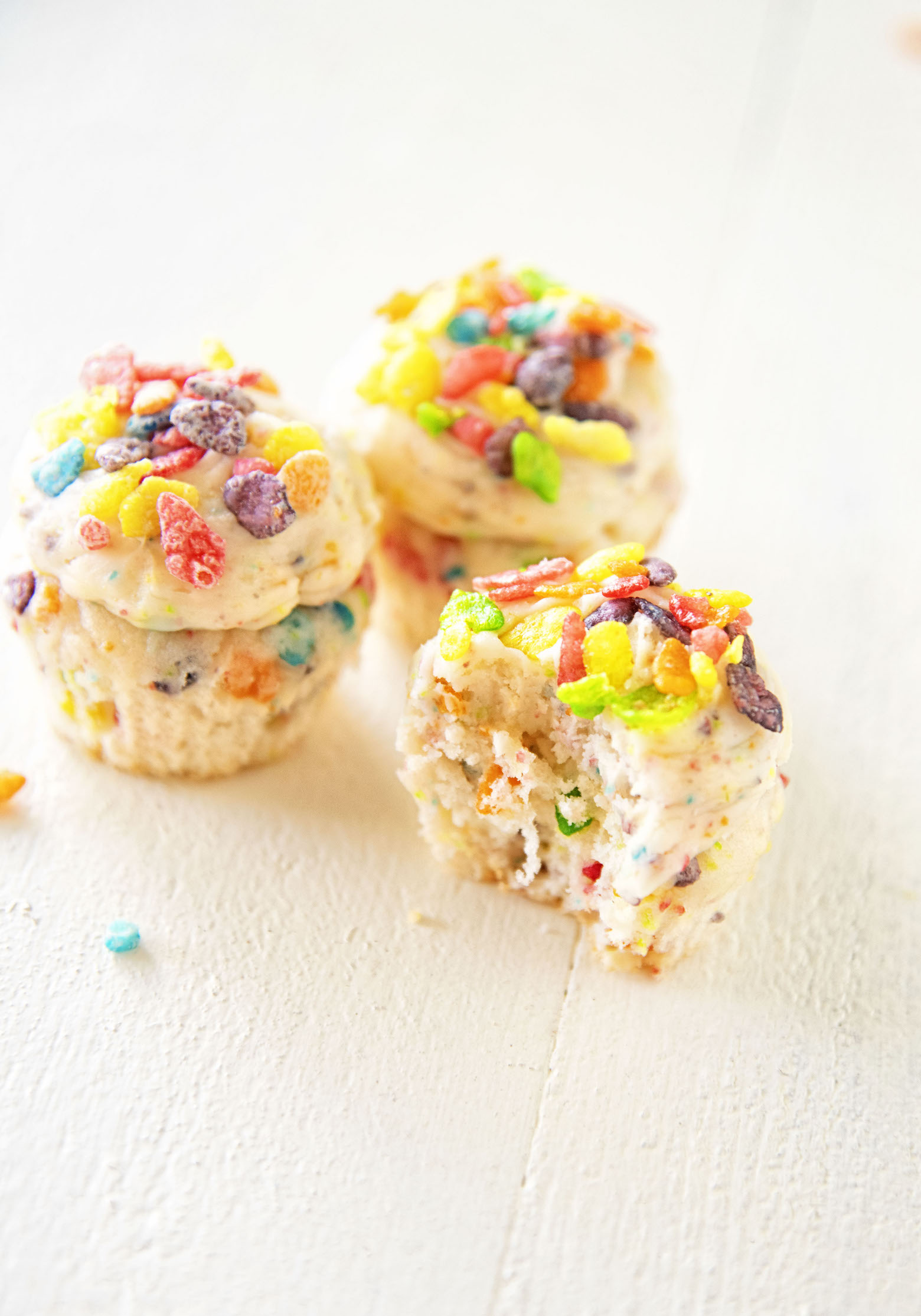 These days though that isn't really the intent of the reader.
Where people used to reach out to connect now they complain that I write and ramble on so that I can have more ads on my site.
Ha!
Long time readers know that I have rambled on about absolutely nothing far before there were ads on my blog.
Rambling aimlessly is my thing.
It's my therapy sometimes.
So no matter how much people write "just get to the recipe and leave out the other crap" I'm sorry to tell you that won't be happening.
That other crap I like very much.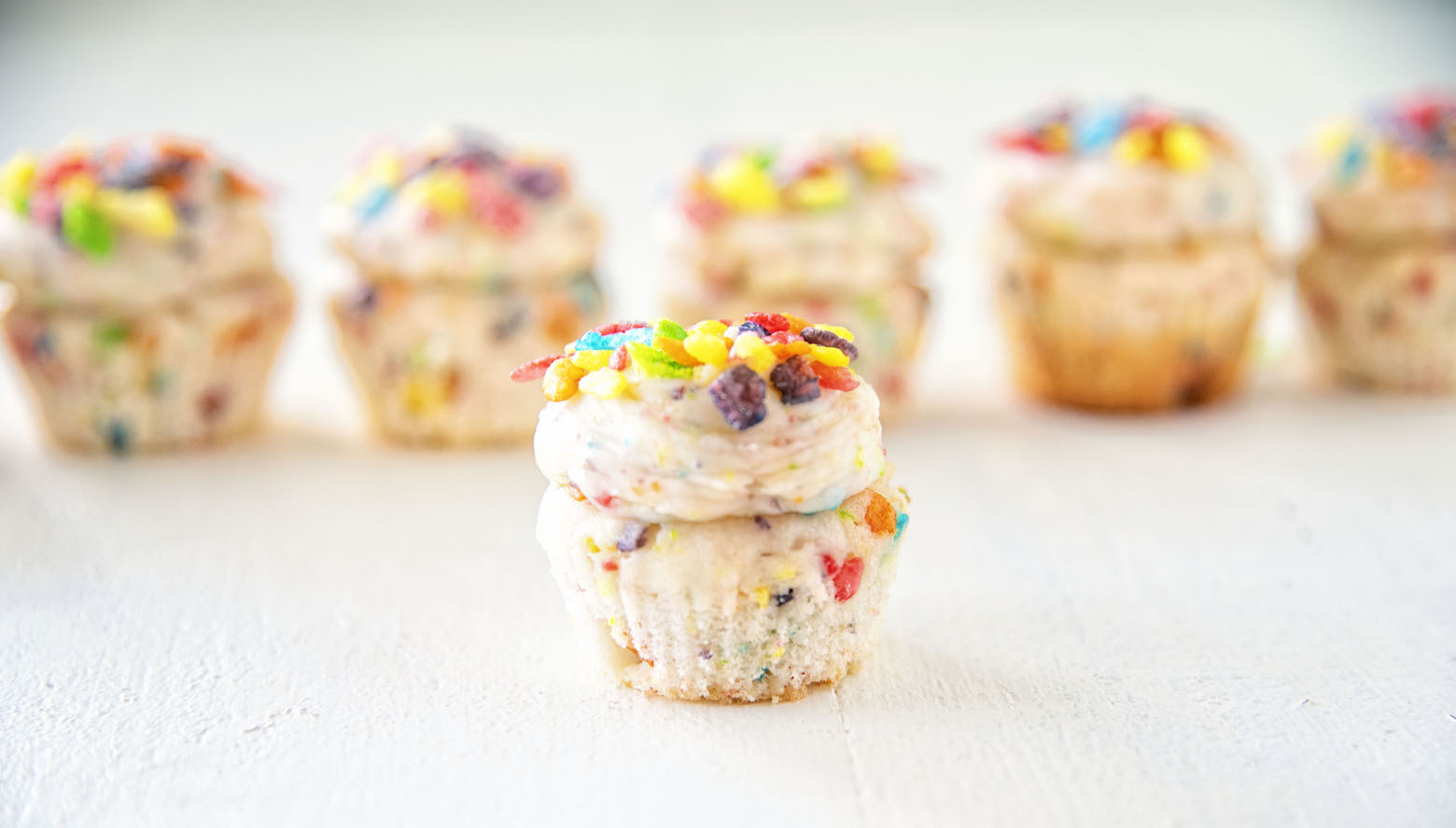 I remember when I used to think 47 was so old.
And in some ways it is.
My body certainly doesn't spring back from injuries or a night of drinking like it used to. 😀
But now that it's here it's no big deal.
Well, for the most part.
For me I've enjoyed the part of your 40's where you are quite sure of yourself and you really don't care about the little things anymore.
I don't enjoy when I go to the doctor now and they say "well you are in your 40's so that's normal". 😛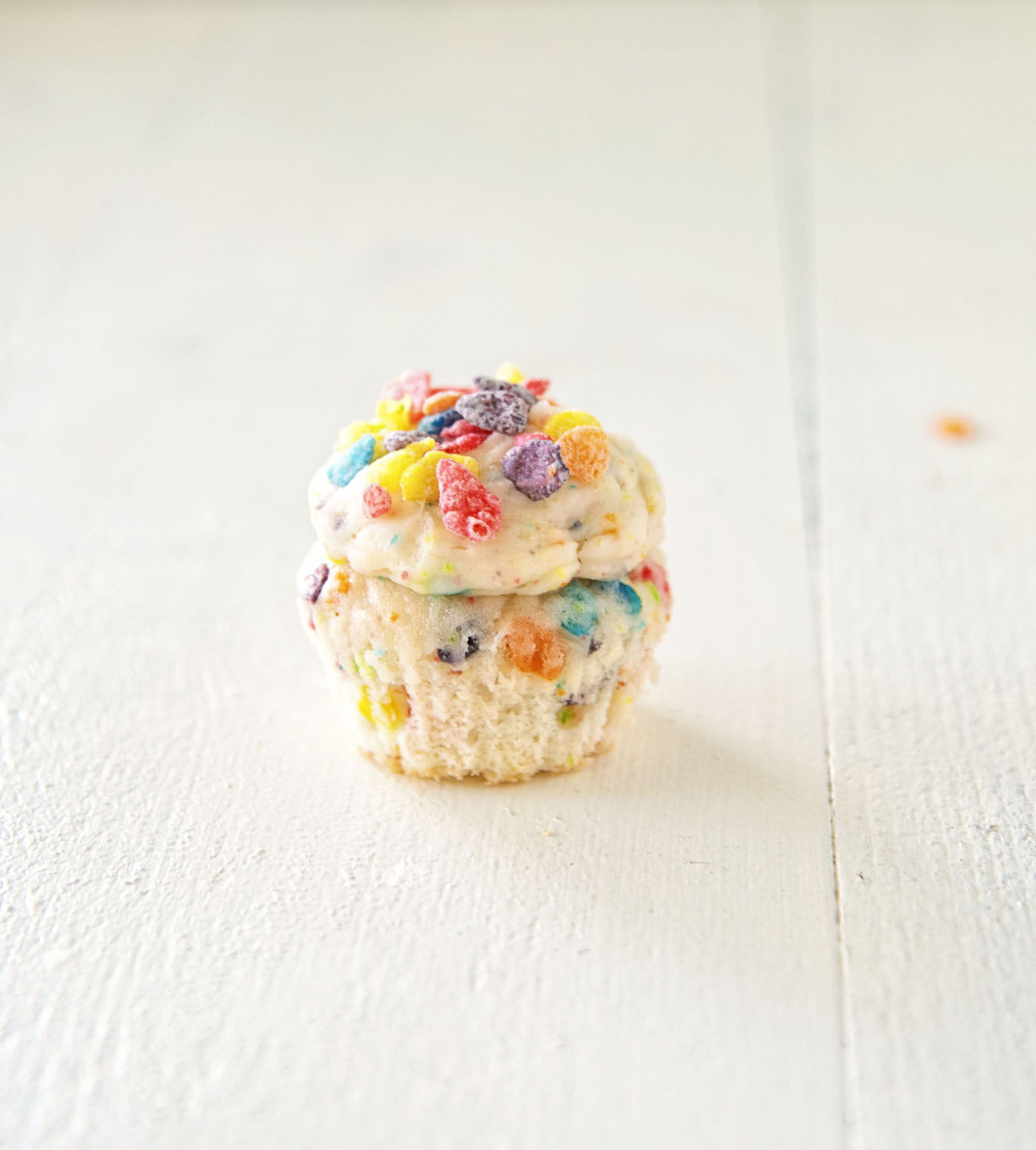 Every year since I was 40 they have thrown a half day hockey tournament for me.
I make lots of cereal treats and Jell-O shots in hopes of raising money for my Walk for Old Dogs.
This year there was a pajama party theme and so I decided my birthday cupcakes should be cereal related.
I almost made Cocoa Krispie cupcakes, but it's a good thing I didn't.
Because we take our dogs with us to the tournament in the trailer.
The cupcakes were in the trailer and shifted during transport.
So when the dogs got in the trailer the cupcakes (still wrapped in the pan) were on the floor.
Our dog Mickey crushed them and ate as many as he could before I could pry him away.
Needless to say, no one got cupcakes because I wasn't sure which ones he might have licked.
Luckily for me I did save some at home to have on my actual birthday.
Our dog was quite proud of himself.
If you love Fruity Pebbles…like my dog…you will love these too.
And if you like recipes like this you will want to order my cookbook. 😀 It has a whole chapter called Cereal Killers. 😛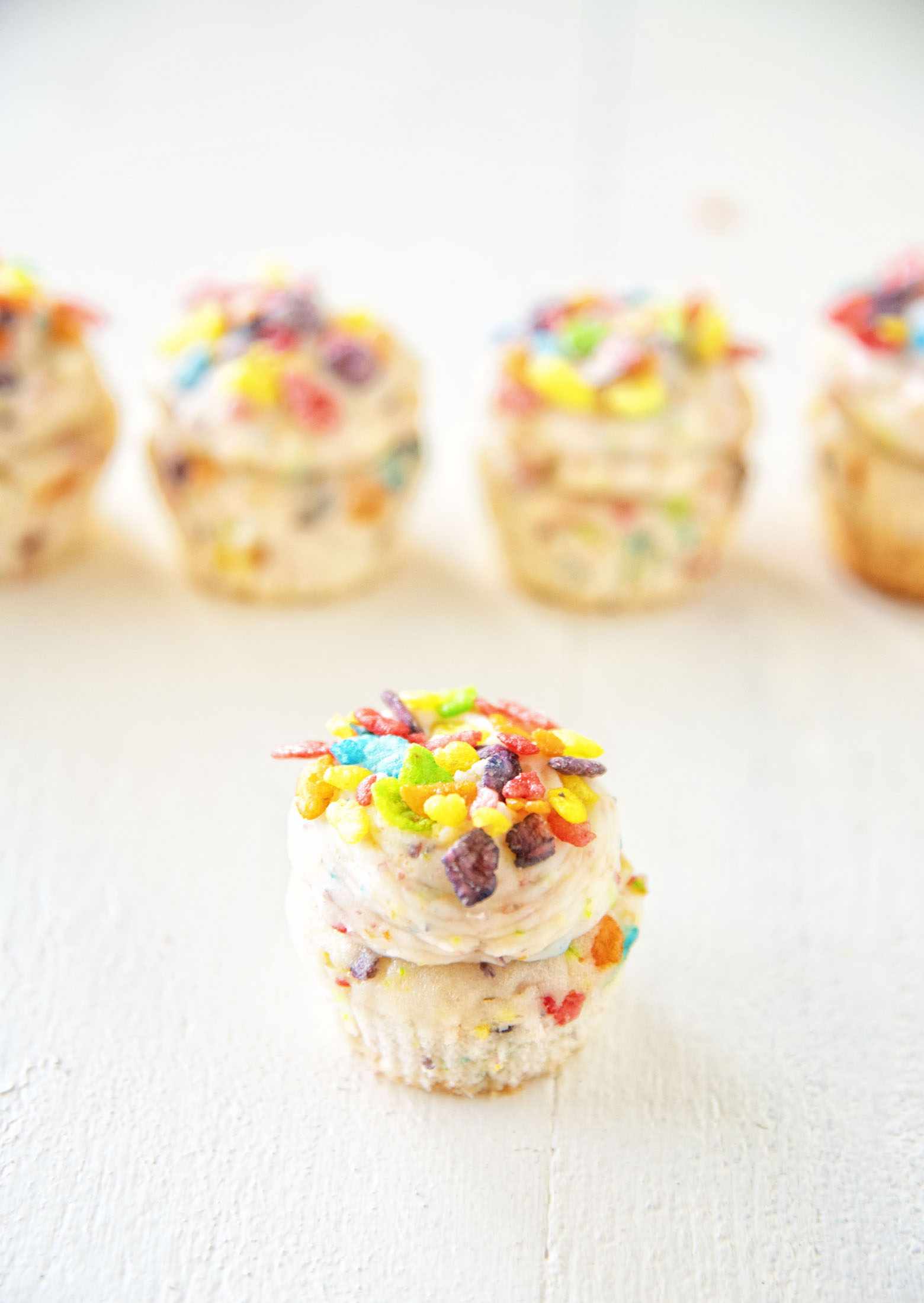 Want More Cupcake Recipes?
Strawberry Malted Milk Cupcakes
Cinnamon Sour Cream Cupcakes with Oatmeal Raisin Buttercream Frosting
Jack and Coke Chocolate Cupcakes
Vanilla Bean Rice Krispie Treat Cupcakes
Ingredients
1 ½ cups all-purpose flour
1 cup cake flour (you can use all-purpose if you need)
1 TBSP. baking powder
1 tsp salt
½ cup unsalted butter, at room temperature
¼ cup vegetable oil
1 ½ cups granulated sugar
1 tsp vanilla extract
1/2 cup buttermilk
1/2 cup sour cream
5 egg whites
1/2 cup crushed Fruity Pebbles cereal
1 cup whole Fruity Pebbles cereal
For the Frosting:
1 cup unsalted butter
1 cup vegetable shortening (such as Crisco)
8 cups powdered sugar
1 tsp. vanilla extract
6 oz heavy whipping cream
3/4 cup crushed Fruity Pebbles cereal
Instructions
For the cupcakes:
Sift together flours, baking powder and salt in a medium bowl; set aside.
In a mixing bowl (if using a stand mixer use the paddle attachment), cream butter and sugar until light and fluffy, about 3 minutes.
Add vanilla extract and 1/2 cup crushed Fruity Pebbles and beat until incorporated.
In a liquid measuring cup, combing vegetable oil, sour cream, and buttermilk.
Add flour mixture and milk/oil mixture alternatively to the mixing bowl. Beating on low speed after each addition.
Pour mixture into a large bowl. Scrape down to make sure you get all of the batter.
Clean out bowl and switch to whisk attachment.
Beat egg whites until stiff peaks form.
Fold 1/3 of the egg whites into the batter, to "lighten" the batter. Gently fold in the remaining egg whites.
Fold in the 1 cup Fruity Pebbles cereal.
Grease and lightly flour mini muffin pans. Fill each cup 2/3 full.
Bake at 375 degrees for 14 to 16 minutes or until done.
Cool on a wire rack.
For the Frosting:
Cream together butter and shortening and 1 cup of powdered sugar using a stand mixer with paddle attachment.
Continue to add 1 cup at a time powdered sugar.
Once 4 cups had been added, thin out with 3 oz of cream.
Continue beating.
Add vanilla and beat until fully combined.
Add 1 cup at a time the remaining powdered sugar.
Thin with remaining cream.
Add in the crushed Fruity Pebbles and mix until fully combined.
Place frosting in a piping bag.
Pipe frosting onto cupcakes and add extra Fruity Pebbles cereal if desired.