These Mimosa Sugared Sweet Rolls are filled and rolled with orange zest and sugar and then topped with an orange Prosecco glaze.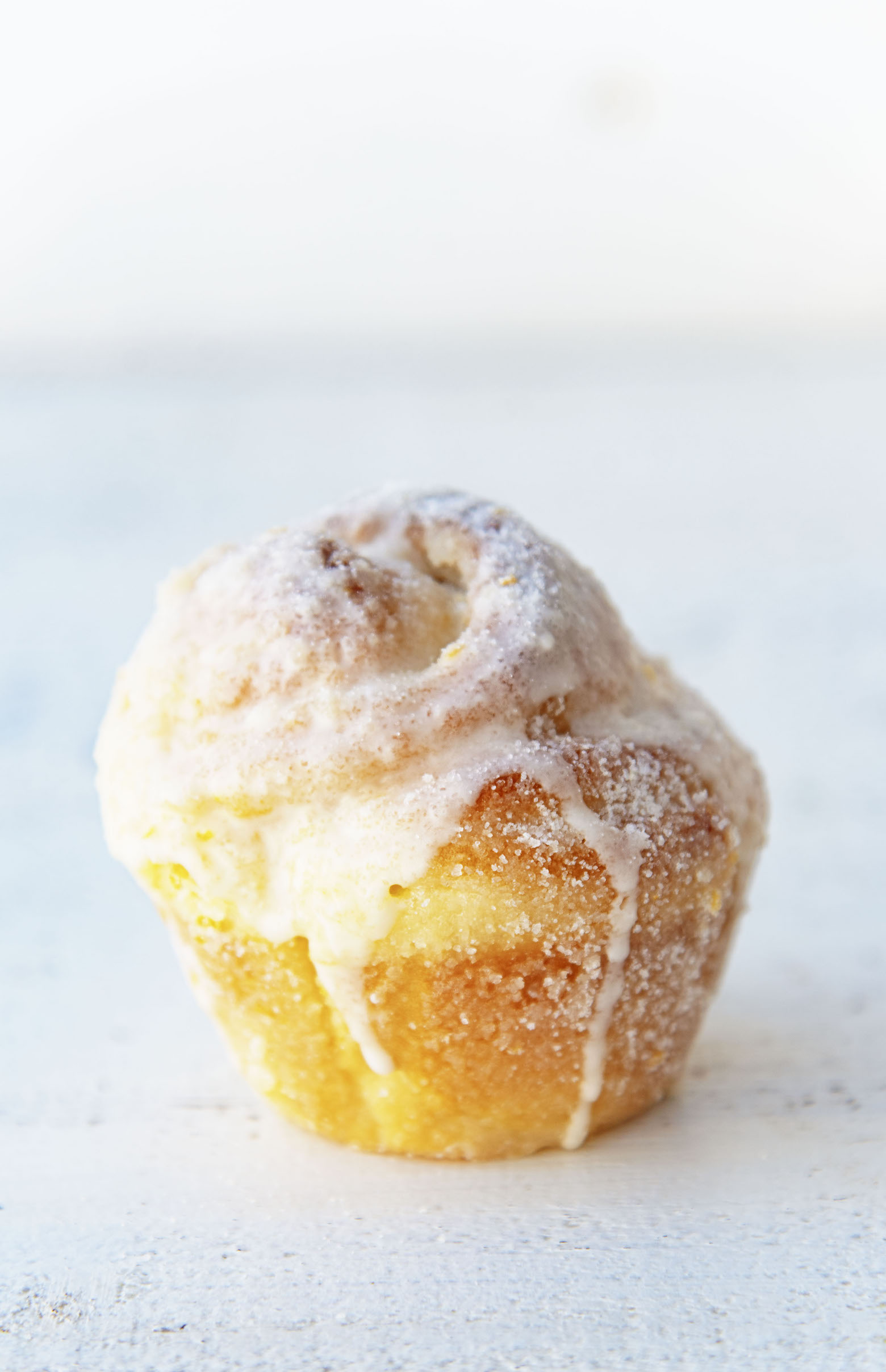 Let me just start off by saying that these Mimosa Sugared Sweet Rolls should be the new brunch standard.
For real.
People and restaurants almost always have mimosas when serving brunch.
That and Bloody Mary's.
Which for the record I'm already working on a Bloody Mary savory baked good. 🙂
But mimosas didn't really become a brunch thing until the late 1960's.
Clearly though the popular drink has stood the test of time.
Heck, I've even had a mimosa flight at a restaurant during brunch.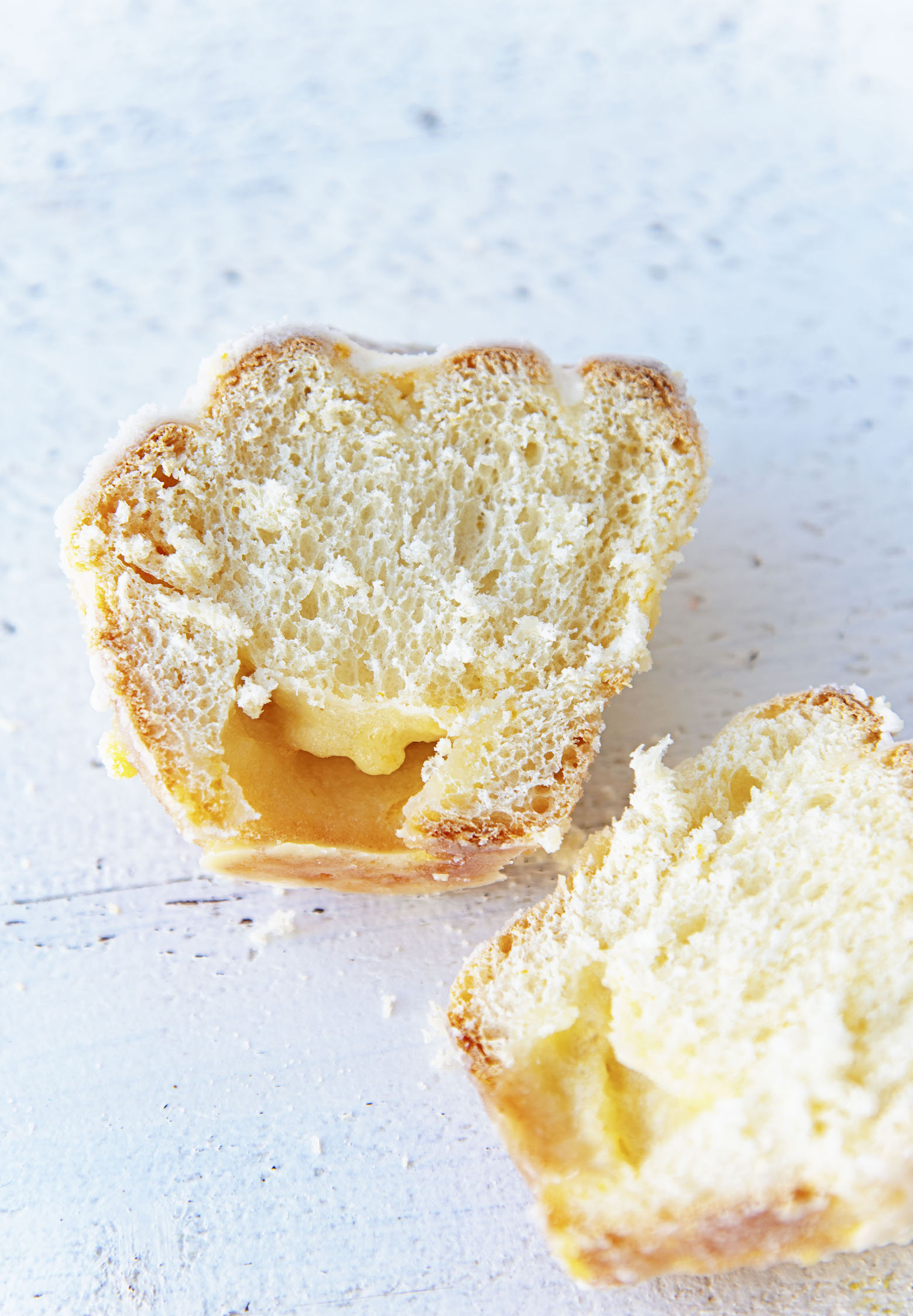 Last year around this time I made Prosecco Strawberry Sugared Buns which I fell in love with.
Right then and there I knew that I would continue the tradition of making sugared buns with sparkling wine in them for the new year.
This year happened to be the mimosa.
Now, technically a mimosa uses champagne.
However, thanks to supply chain issues there was a shortage of champagne.
At least the higher end kind.
I will admit that when I do buy champagne (which is not often) I do splurge for a decent bottle.
Because for years I thought I hated champagne.
As I mostly only had it at people's weddings.
And well, most don't splurge for the good stuff.
Then my neighbor years ago was throwing a holiday party for her husband's boss.
That year we got almost 2 feet of snow and no one could go anywhere.
She had all this food and high end champagne so she went around to all the neighbors and said please come over and drink and eat.
So we did.
That is when I learned that I did indeed like champagne….just not the cheap kind.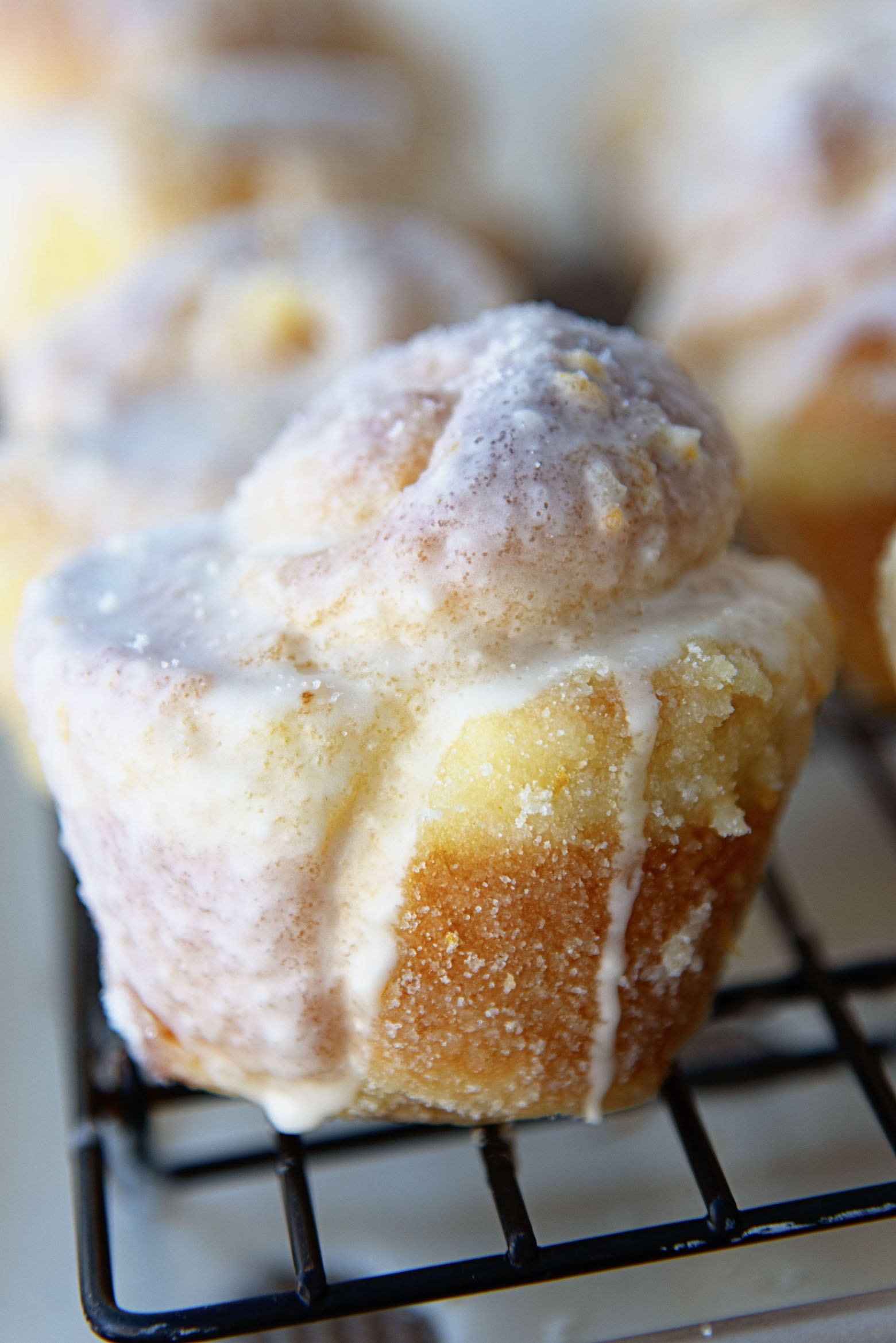 So for these I ended up using Prosecco.
But one of the better ones I have.
Normally if I make things like jello shots I use the cheaper stuff…because I'm using it in jello.
And shots.
Most people just slurp it down and don't pay that much attention.
But a sweet roll is a different story.
Especially since it's in the glaze.
You are going to taste it.
And just like the say don't cook with anything you wouldn't want to drink…I say don't bake with it either.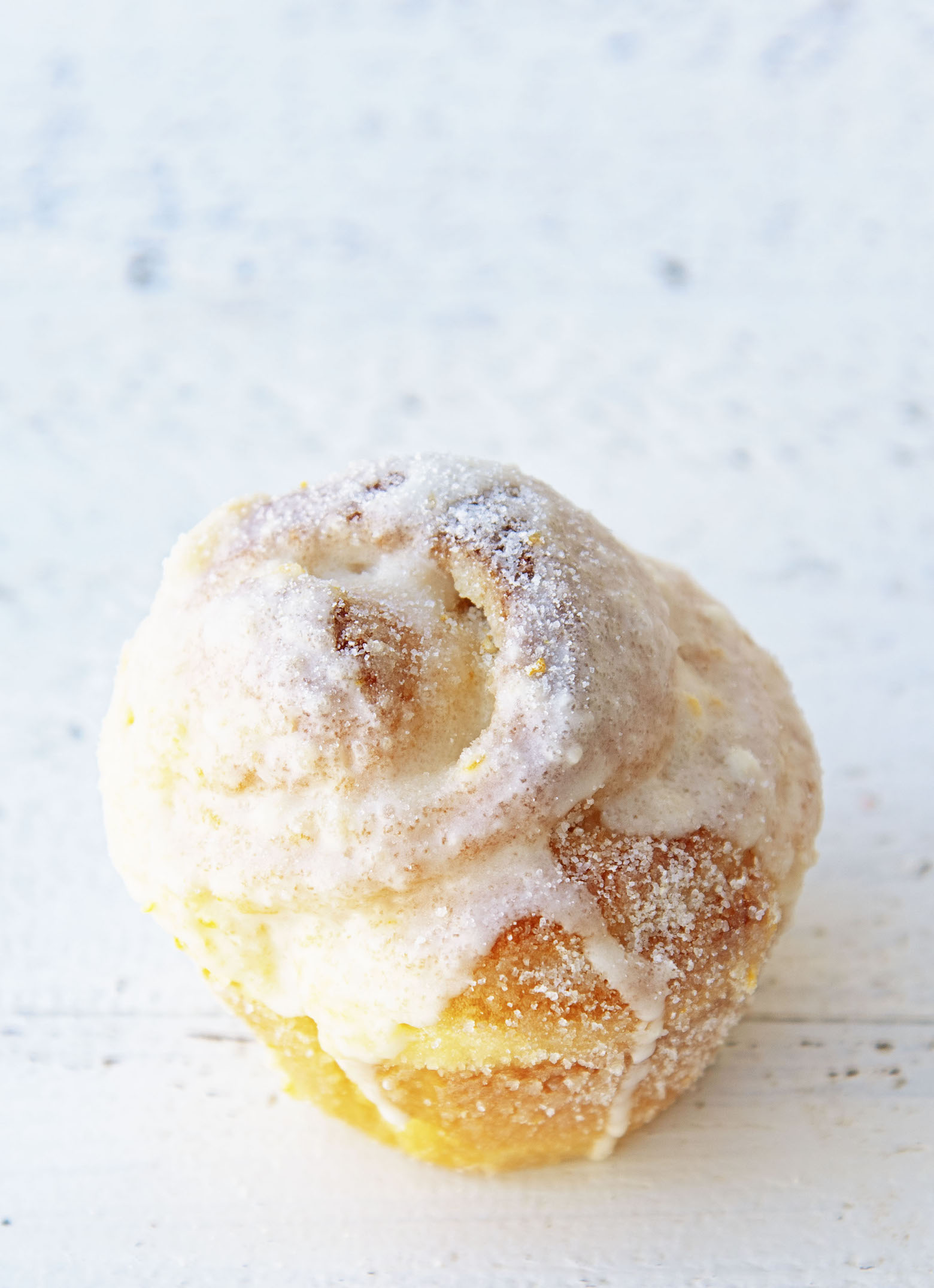 So should I use champagne or Prosecco
Honestly, that is up to you.
If I had it, I would have used champagne.
But I didn't.
So I went with Prosecco.
And more people tend to have Prosecco or sparkling wine in their house rather than champagne.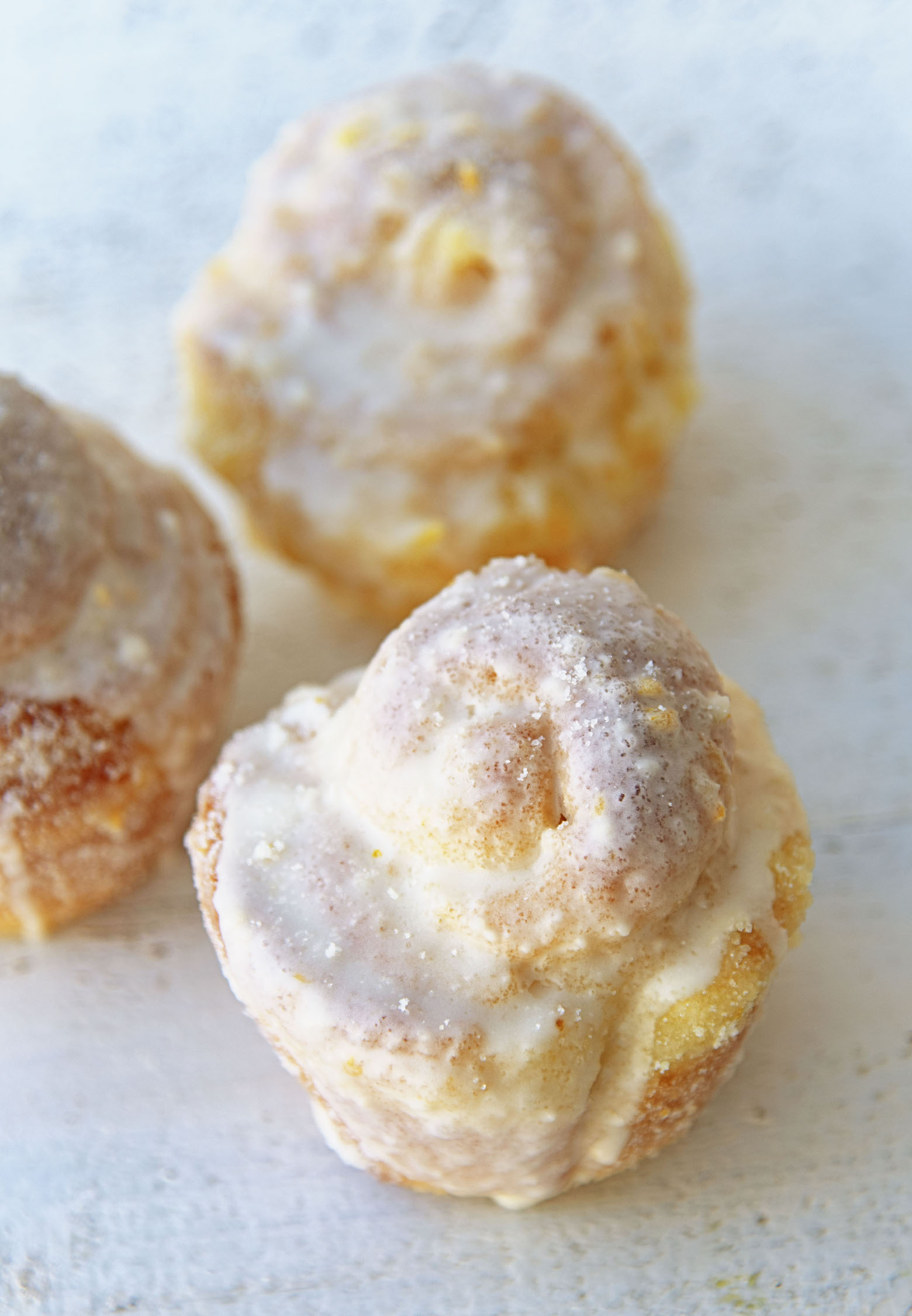 Normally I mix my sugar with freeze dried fruit.
But in this case I use orange zest in the sugar.
And you rub it together with your fingers.
Which releases the natural orange oil into the sugar and gives it a lovely orange flavor.
You can sift out the zest if you want to but I prefer to keep mine in.
These rolls have a sugar crust.
It is what makes them special.
You coat the buns in butter and then roll them in the orange sugar.
Then the butter and sugar hardened and form this amazing crust.
It's kind of a pain but it's what makes these buns special.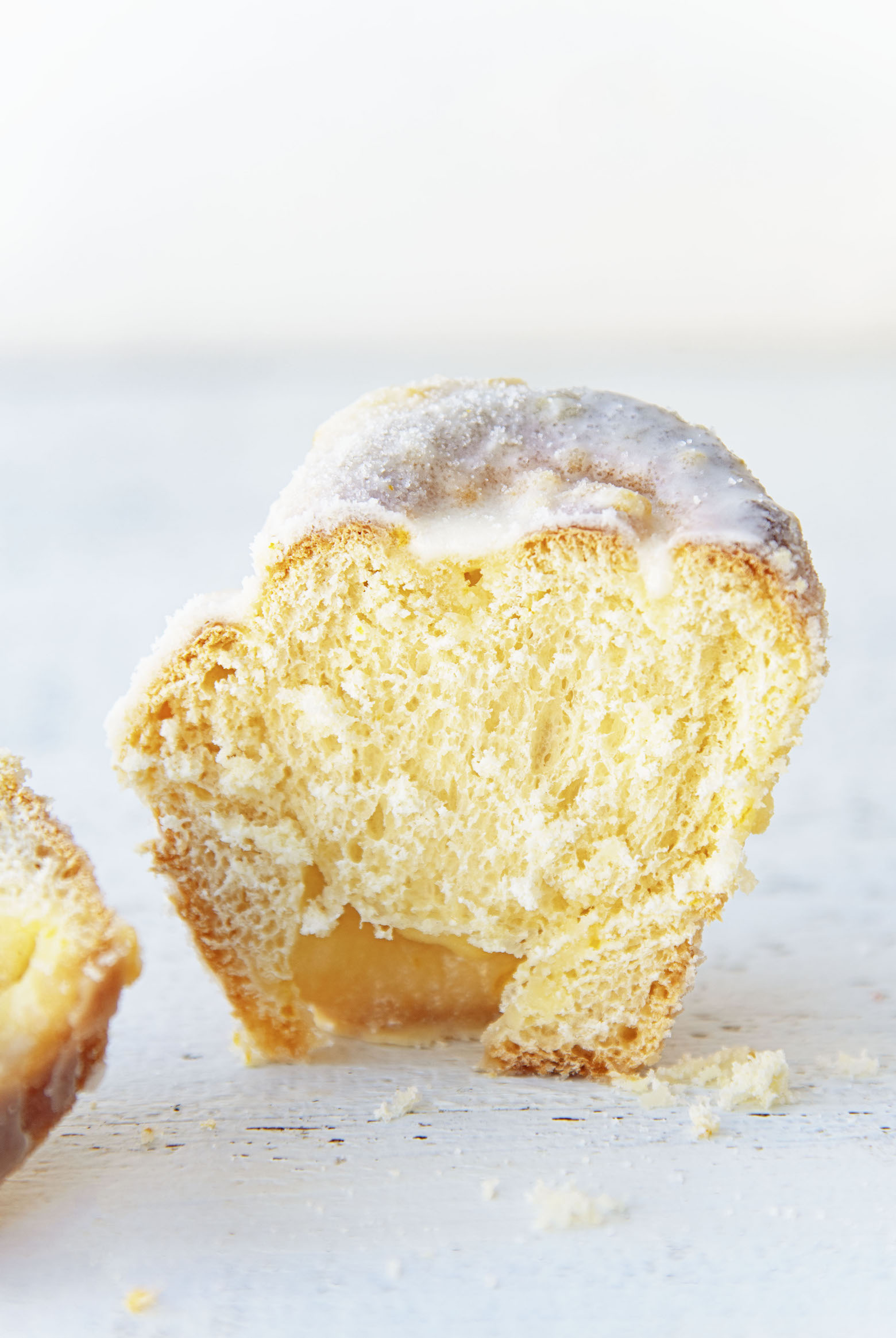 Lastly, these sweet rolls are drizzled with a orange Prosecco glaze.
You can use all orange juice if you are not wanting the booze.
Since it does not bake out in a glaze.
Either way they are perfect for your next brunch!
P.S. It's a great day to buy my cookbook Holy Sweet!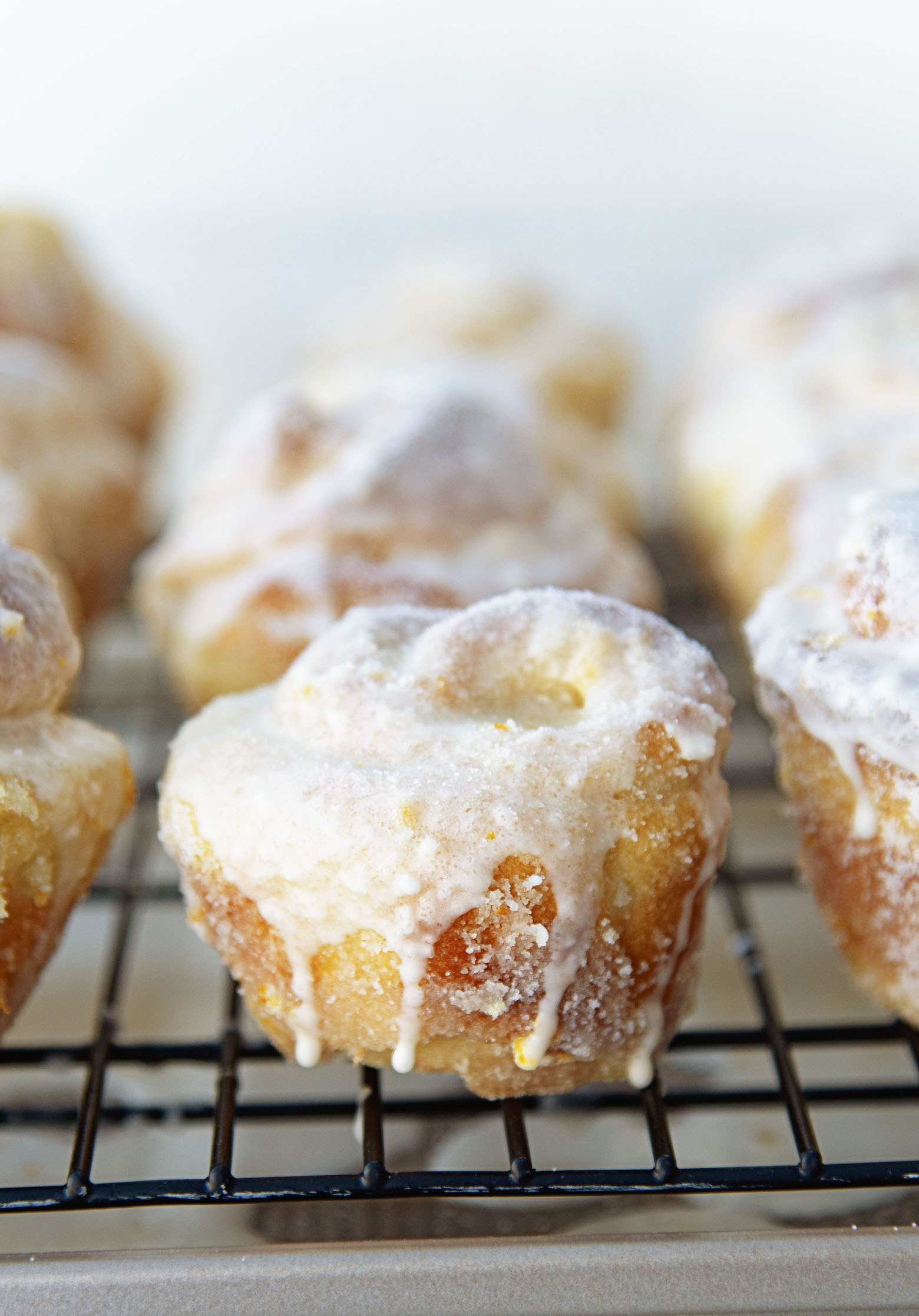 Want More Sweet Roll Recipes?
Bourbon Brown Sugar Caramel Peach Sweet Rolls
Salted Caramel Apple Sweet Rolls
Coconut Cream Pie Breakfast Buns
Prosecco Strawberry Sugared Buns
Ingredients
For the rolls:
1/2 cup Prosecco, heated to 110 – 115F
1 TBSP active dry yeast (I used Red Star Yeast Platinum)
1/2 tsp granulated sugar
1/2 cup full fat buttermilk, at room temperature
1/2 cup plus granulated sugar
2 large eggs
1 tsp. salt
1 tsp. vanilla extract
zest of two oranges
6 TBSP unsalted butter, melted and slightly cooled
3 1/2 – 4 cups bread flour
For the filling:
6 TBSP unsalted butter, super soft but not quite melted
1 cup granulated sugar rubbed with the zest of two large oranges
1/4 cup powdered freeze dried strawberries (meaning 1/4 of a cup AFTER the strawberries have been turned into powder)
For the Dusting:
melted butter for coating the rolls
1 cup of granulated sugar rubbed with the zest of two large oranges
For the Glaze:
2 TBSP melted butter
1 ½ cups powdered sugar
2 TBSP fresh orange juice
4 TBSP Prosecco
Instructions
Using a stand mixer with the paddle attachment add the yeast, warm Prosecco, and 1/2 tsp. granulated sugar.
Let rest for 5-10 minutes to proof…the batter will puff up. If it does not then your yeast is bad and rolls won't rise so best to throw out and start again with different yeast.
Add in the 1/2 cup buttermilk, eggs, 1/2 cup granulated sugar, salt, vanilla, orange zest, and melted butter and mix until fully combined.
Add in 2 1/2 cups of the flour and mix until fully combined.
Switch to a hook attachment then add another 1 cup flour. Knead mixture until combined.
Continue to knead on low speed about 5 – 6 minutes while adding a little more flour as needed to reach a soft and moist dough (Dough shouldn't stick to the sides of the bowl but does stick to the bottom).
Transfer dough to an oiled bowl, cover with plastic wrap (I find press and seal works best)  and let rise in a warm place until doubled in volume, about 1 1/2 hours.
Punch dough down.
Dust a working surface lightly with flour and turn dough out onto surface.
Sprinkle top of dough with a little flour then roll dough out into an 20 by 18-inch rectangle.
Spread the softened butter evenly over entire surface (hands work best).
In a small mixing bowl whisk together 1 cup granulated sugar and powdered freeze dried strawberries. Sprinkle and spread brown sugar mixture evenly over butter layer (try to leave about 1/2-inch border uncovered along all edges).
Beginning on an 18-inch side tightly roll dough into a cylinder. Pinch the seam to seal (brushing a little egg white underneath helps if needed or I just use a toothpick).
Cut into 12 equal portions using a large sharp knife (they should be 1 1/2-inch each).
Transfer the log to a baking sheet, cover with plastic wrap and freeze for 10 minutes.
This will make cutting the buns clean and even.
Remove from freezer, cut buns into 1 ½-inch pieces, you should get around 12.
Place them into a standard muffin pan with cupcake liners. I use THESE because they help the bun rise up not out.
Wrap with plastic wrap and let rise at room temperature for 1 ½ to 2 hours. The cooler your house is the longer it will take.
Bake at 350F for 25-30 minutes.
Remove from oven and cool slightly on wire rack.
Remove buns from muffin tins (and liners). The buns will be very soft. Let them cool on a baking sheet and they will get a little more firm.
Brush the buns liberally with melted butter and gently roll in orange sugar mixture.
While buns are cooling make glaze.
Simply whisk together the butter, powdered sugar, orange juice, and Prosecco in a medium bowl.
When buns are cool pour glaze over the top of them.
Let it firm up, which will take about 30 minutes.