Margarita Churros: Combine two Cinco de Mayo favorites into one. Lime churro dough brushed with a tequila lime glaze and rolled in sugar and salt.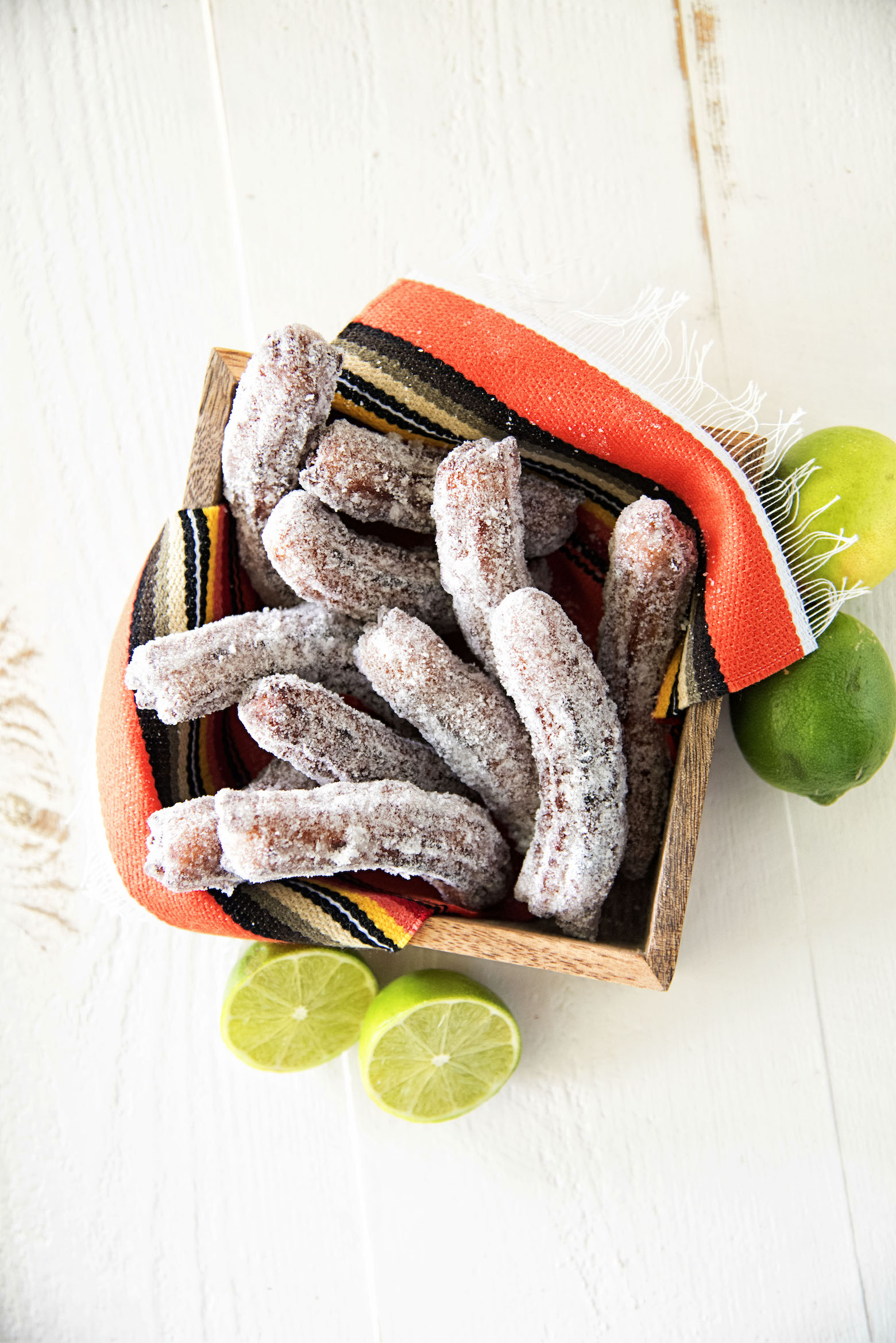 I'm allergic to raw tomatoes, raw onions, capsaicin, cow's dairy, cilantro…so basically Mexican food.
This can be a real problem when one lives in Arizona where there is a Mexican food restaurant or taco truck every three feet.
And that is where everyone wants to go to eat or for happy hour.
So that leaves me with margaritas and churros.
Which don't get me wrong…make for an excellent meal.
However, not a very complete meal.
I have eaten a lot of churros and drank a lot of margaritas in my day.
Again, not that there is anything wrong with that. 😀
So in honor of my margarita churro meals I decided to combine the two and make Margarita Churros!
The dough is basically churro dough with a little lime juice subbed in.
Tangy tequila spiked glazed is brushed on them.
Rolled in sugar and salt for the salty sweet goodness.
While you can certainly eat them year round these margarita churros would be perfect for your Cinco de Mayo celebration.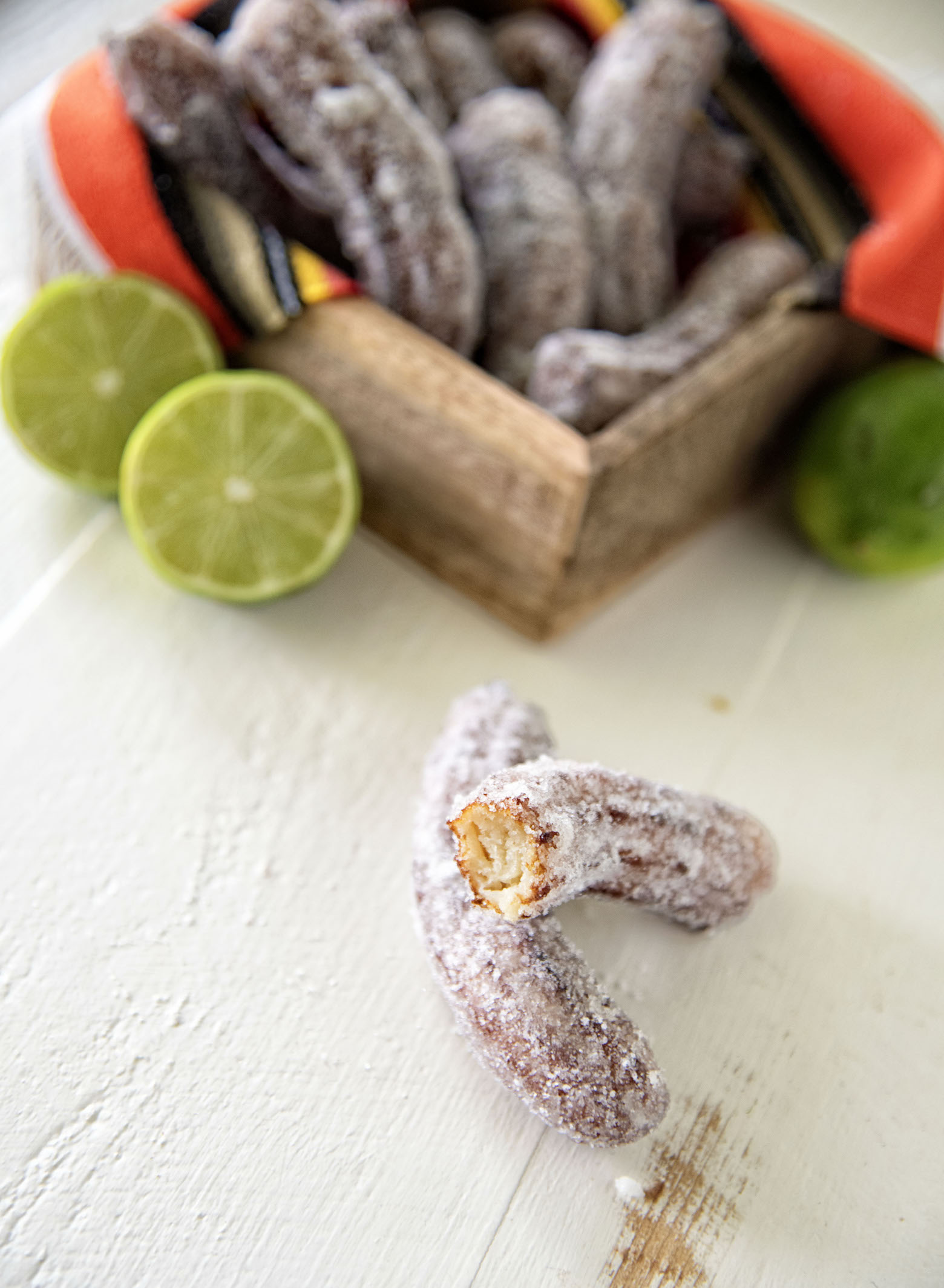 Tips for Frying:
Use a thermometer and make sure your temperature is at 375F.
You will need to check this throughout the process as the temperature will dip down as you fry.
Be careful not to over crowd your pan with too many churros at one time.
They will stick together and you risk making the oil too cool.
The churros will still cook if they temperature is too low but they will soak up more oil.
If the oil gets too hot, simply move it off the heat source until it cools down again.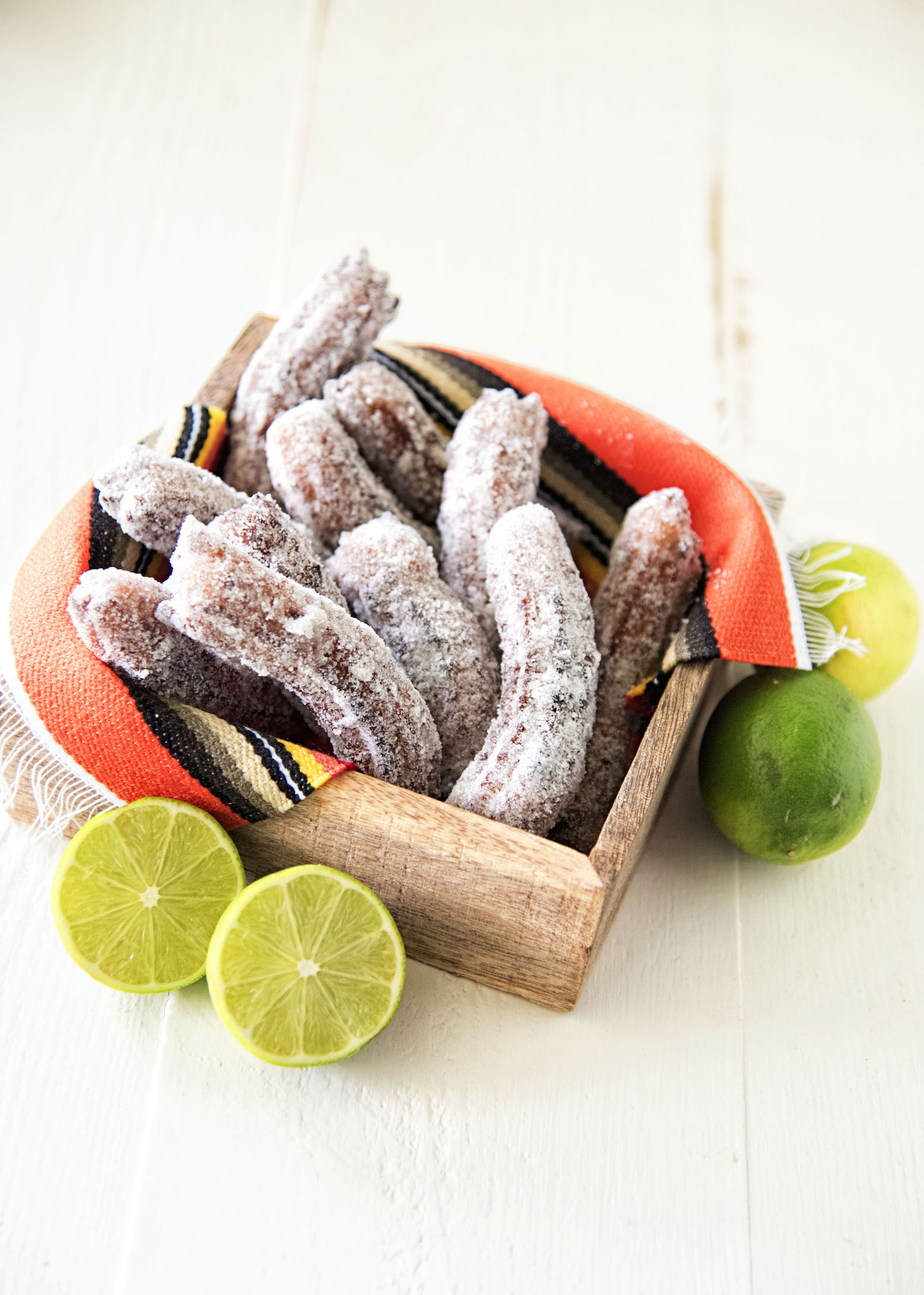 Want more recipes ideas? Try these:
Frozen Caramelized Pineapple Margarita
Chocolate Chunk Churro Cookie Bars
Ingredients
For the batter:
1 1/4 cup water
1/4 cup key lime juice
1/2 tsp. salt
2 TBSP granulated sugar
1 tsp. extra virgin olive oil
1 1/2 cup all purpose flour
1 tsp. baking powder
Oil for frying (enough to deep fry the churros)
For the Glaze:
4 TBSP unsalted butter (or Earth Balance if vegan)
1/3 cup granulated sugar
1/4 cup key lime juice
1/4 cup tequila
For the Salt-Sugar Coating:
1/2 cup granulated sugar
1/8 tsp. Salt
Instructions
For the Batter:
In a small saucepan over medium heat, whisk together the water, key lime juice, salt, sugar, and olive oil.
Bring the mixture to a boil then remove it from the heat.
Stir in the flour and baking powder, mixing with a wooden spoon until it forms a ball and all the ingredients are well incorporated. NOTE: It's very important that you mix the dough very well to make sure all the water is absorbed. This will prevent oil explosions when frying.
Let the dough rest while the oil heat.
For the Frying:
Heat about 2 – 4 inches of oil in a heavy-bottomed pot over medium-high heat until the oil reaches 375ºF.
You need enough oil to deep fry the churros. IMPORTANT: When frying the churros stand back to about any splatters. Also, make sure that all your utensils are dry to avoid any oil explosion.
Using a thermometer to keep the oil temperature under control is highly recommended.
Transfer the dough to a cloth pastry bag or heavy-duty plastic bag fitted with a large star tip. *Heavy duty is important as the dough is very thick and you will have to squeeze hard. If the bag is not sturdy enough then the bag will bust open.
Squeeze a 3-4 inch strip of dough into the hot oil.
Repeat, frying 3 or 4 strips at a time. Do not crowd the pan or else the temperature will go down too much they will also stick together.
Fry the churros, turning them once, until golden brown and crisp, about 2 minutes per side.
Transfer the cooked churros to a plate lined with paper towels to drain.
For the Glaze:
Combine the sugar, butter, and key lime juice in a small saucepan and place over medium heat.
Stir until the sugar melts, about 5 minutes.
Remove the pan from the heat and whisk in the tequila.
Brush the syrup over the surface of the cooled churros liberally using a pastry brush.
For the Sugar Salt Coating:
In a small bowl whisk the sugar and salt together.
Roll the churros in the sugar salt mix.
Let sit. The first roll through will get wet due to the glaze, that is okay as you will roll them again.
5 minutes later, roll the churros again in the sugar salt mix.