This Maple Syrup Waffle Cone Spiral Roll is inspired by Buddy the Elf and his love of maple syrup and all things sweet and yummy.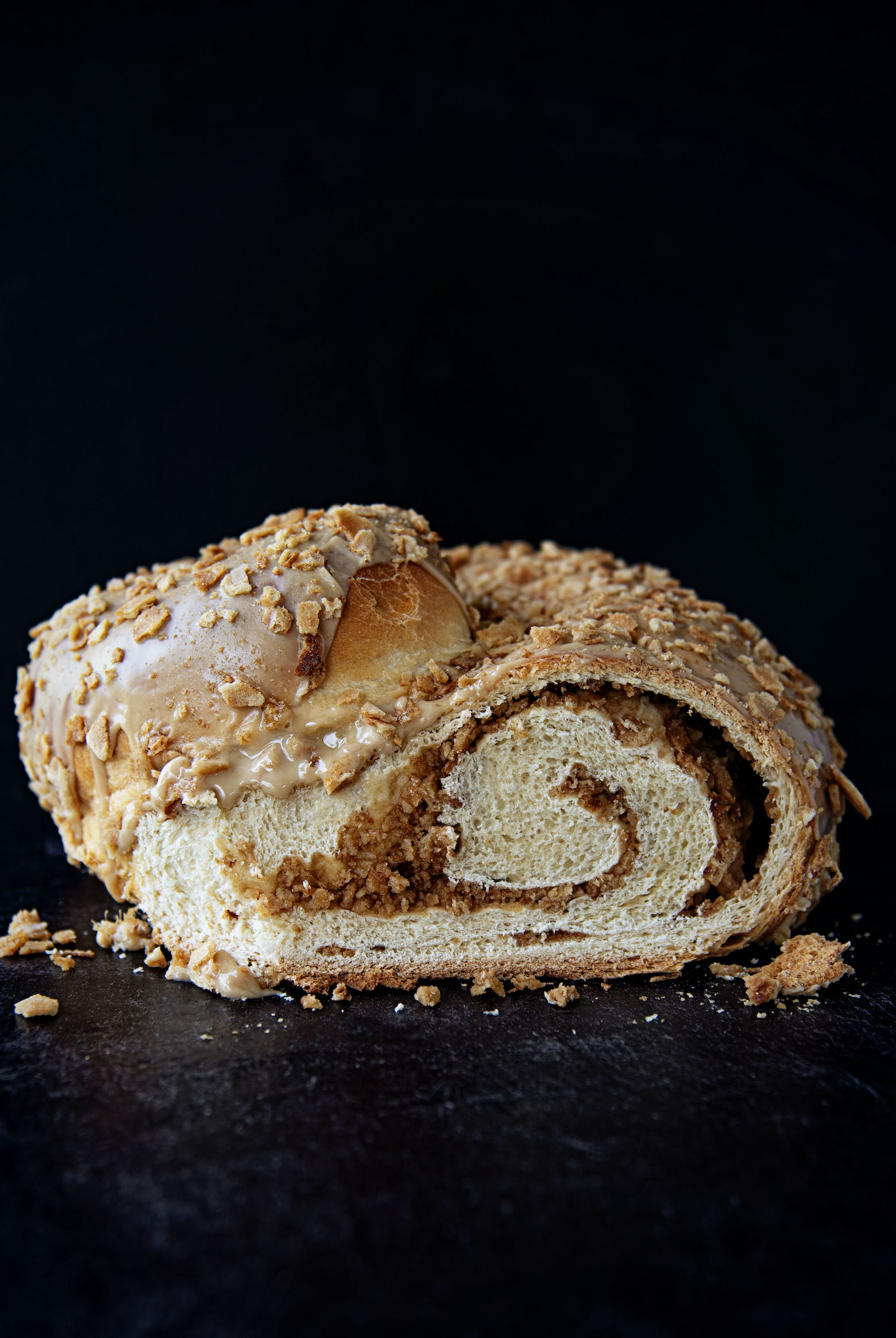 Growing up, like many households, the day after American Thanksgiving was when they holiday stuff went up.
We would wake up with Christmas music being played.
My mom would be putting up all things other than the tree.
My dad would be out on the ladder cussing up a storm as every other bulb on the lights would be out.
Then that night we would decorate our tree.
Just like the the outdoors my dad was in charge of putting lights on the trees.
It's where I learned a lot of swear words. 😛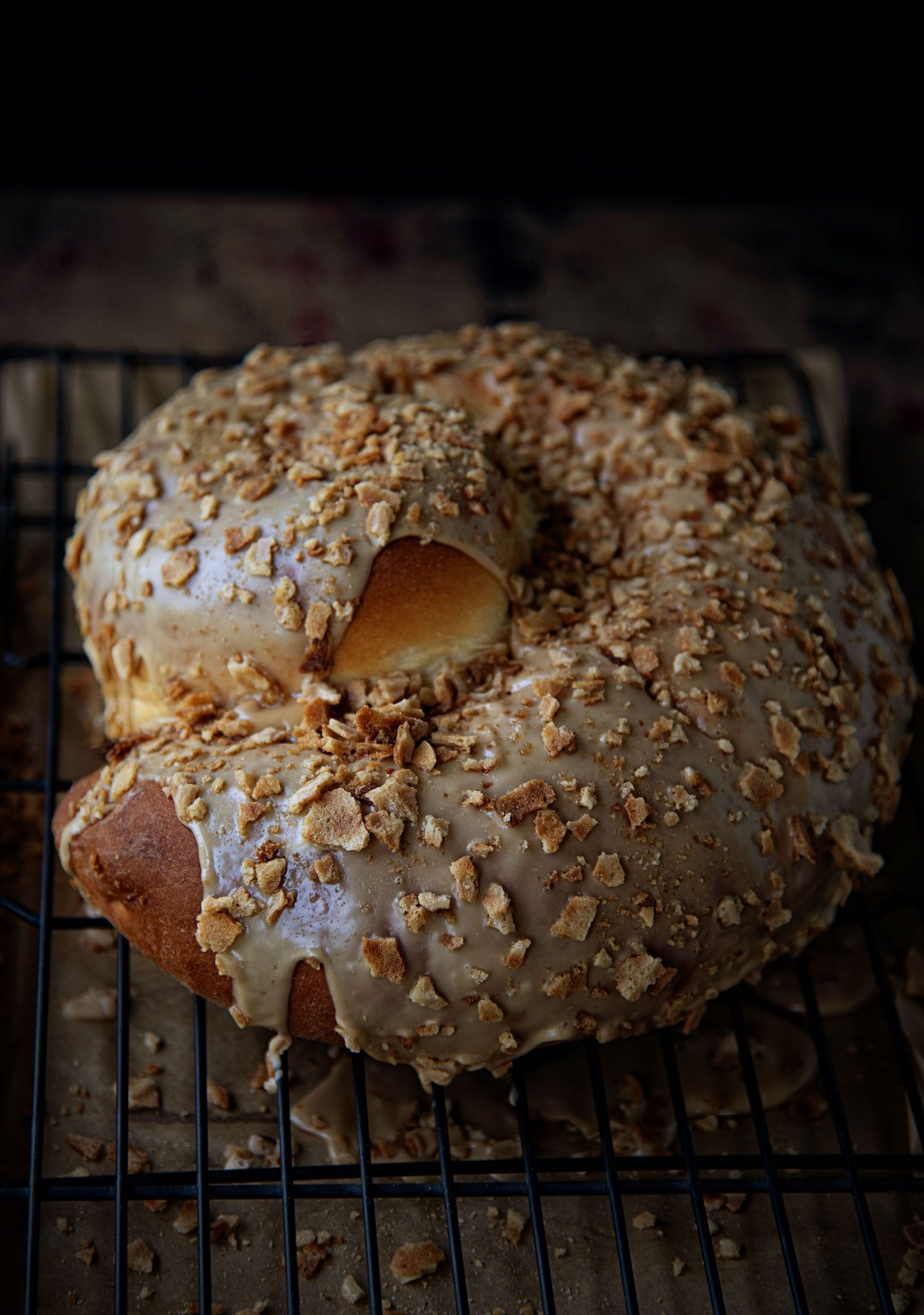 As an adult however, I tend to put my Christmas decor up before American Thanksgiving.
Much of that is we start a little early, especially when we have a dog in hospice.
This year we put ours up in the middle of November because of our dog Banjo.
We are hoping to spend actually Christmas with us but there is no guarantee with the older pups.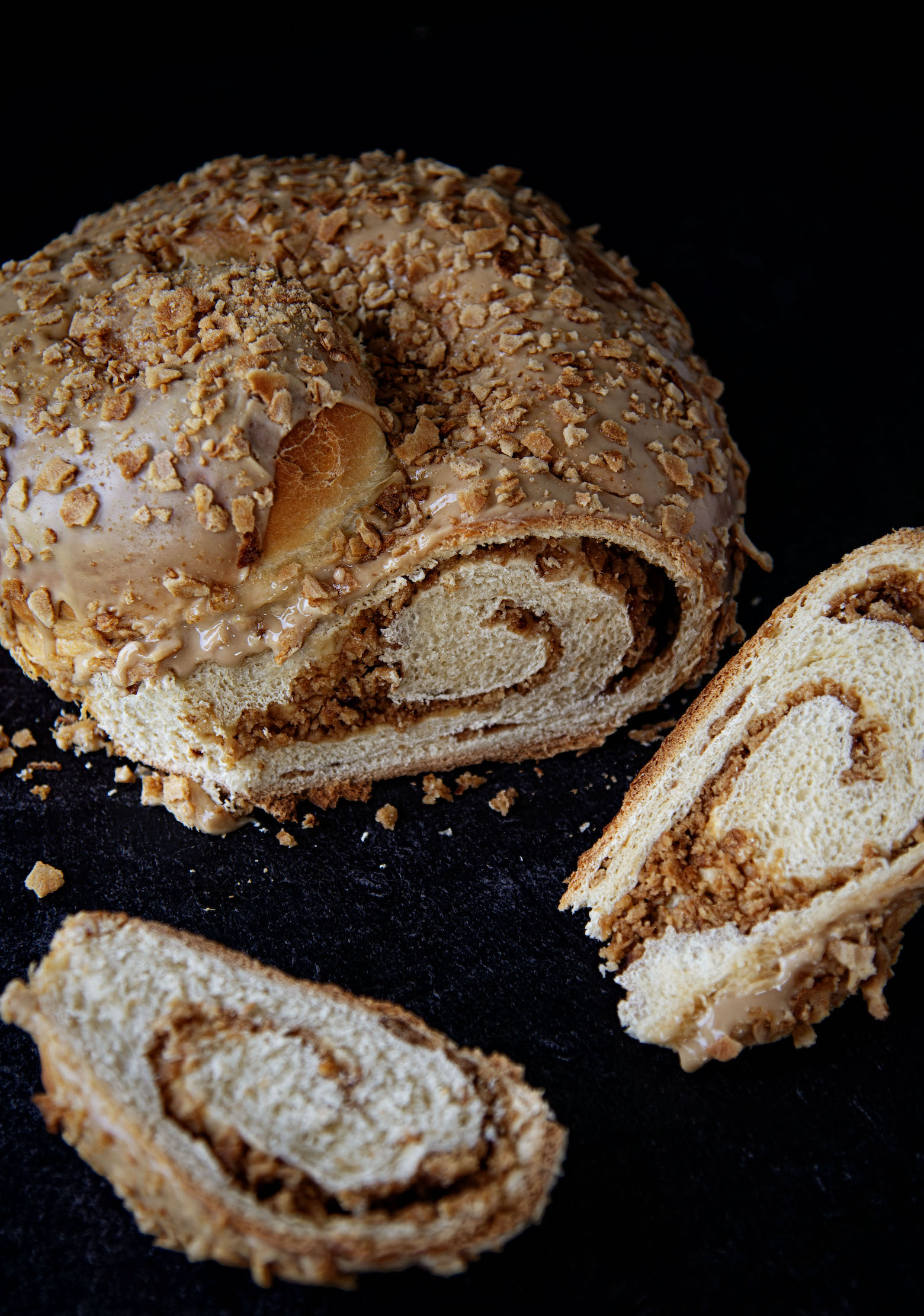 While I do enjoy me some super cheesy Hallmark movies, the first movie I usually watch each year while putting out the holiday decor is Elf.
It's such a fun movie with great quotes.
My husband and I often joke when we answer the phone with each other asking what's your favorite color?
We randomly say the word Francisco.
Because Buddy is right, it is a fun word to say.
In fact, we kept to calling this the Fransisco Bun.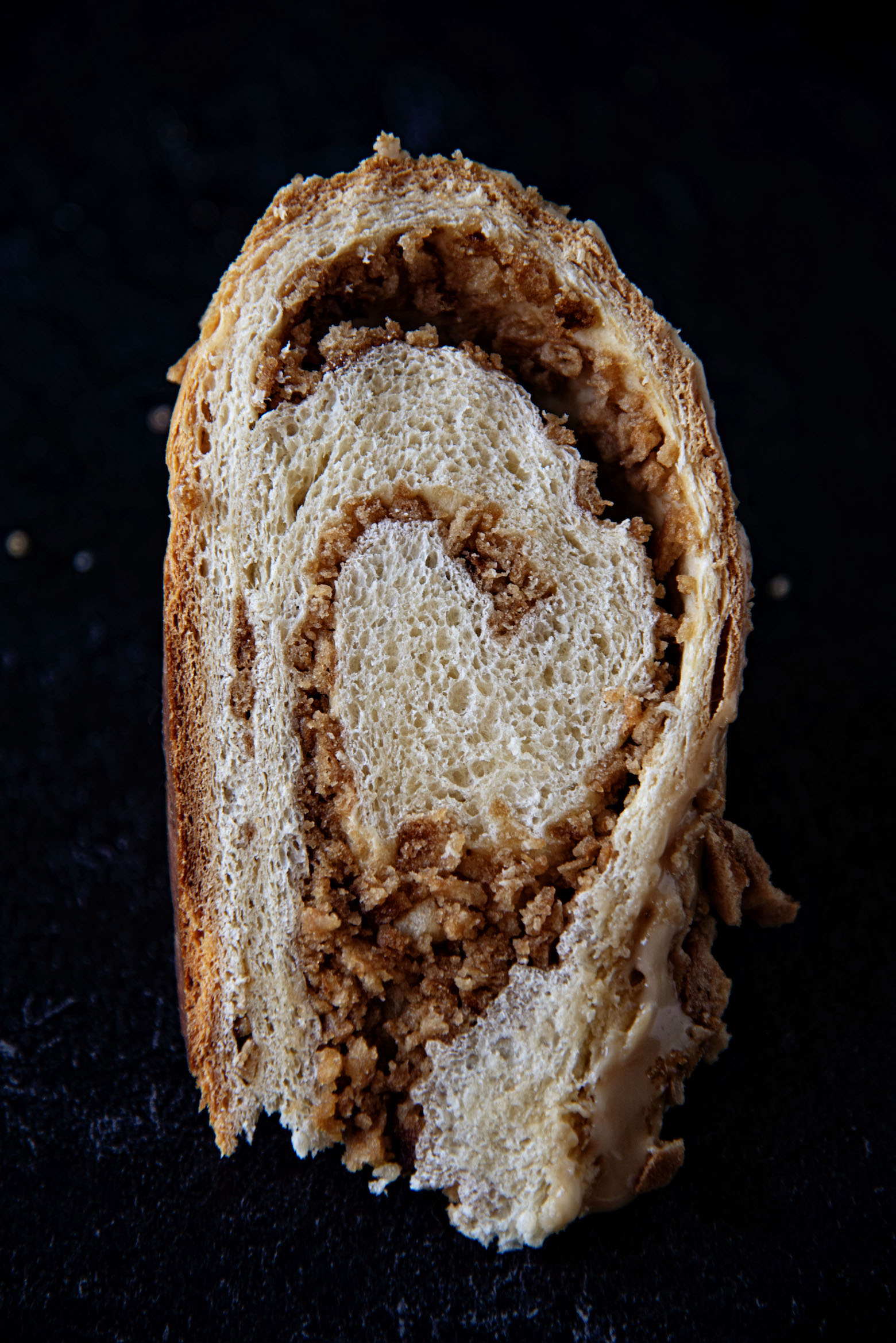 This year International Coffee Creamer has three Elf flavored creamers (this is not a sponsored post).
There is a sugar cookie flavor (my favorite), a peppermint mocha, and a waffle cone flavor.
The waffle cone flavor has a very distinct maple flavor.
And that's what inspired this Maple Syrup Waffle Cone Spiral Roll.
This is made from a brioche dough but it's inspired by a Poteca Nut Roll.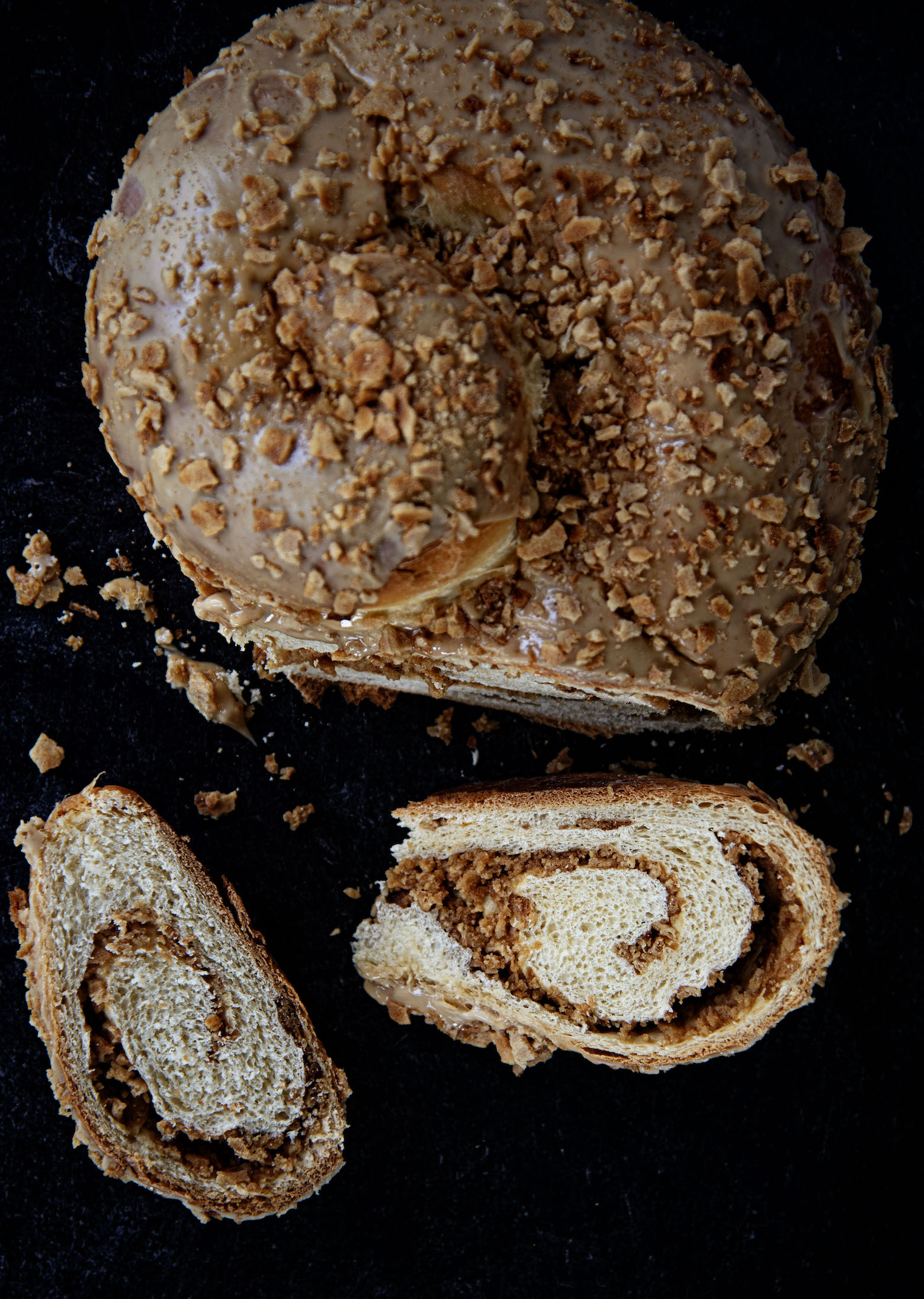 You only use half the dough for this recipe.
But the dough used for this can be in the fridge for up to 5 days.
So you can make this and then another yeasted bread a couple days later.
The recipe calls for pure maple syrup.
Use pure maple syrup.
Don't use stuff like Mrs. Butterworth.
Which I'm okay with on my pancakes but not in baked goods.
I'm confident Buddy would approve of this Maple Syrup Waffle Cone Spiral Roll and my cookbook Holy Sweet!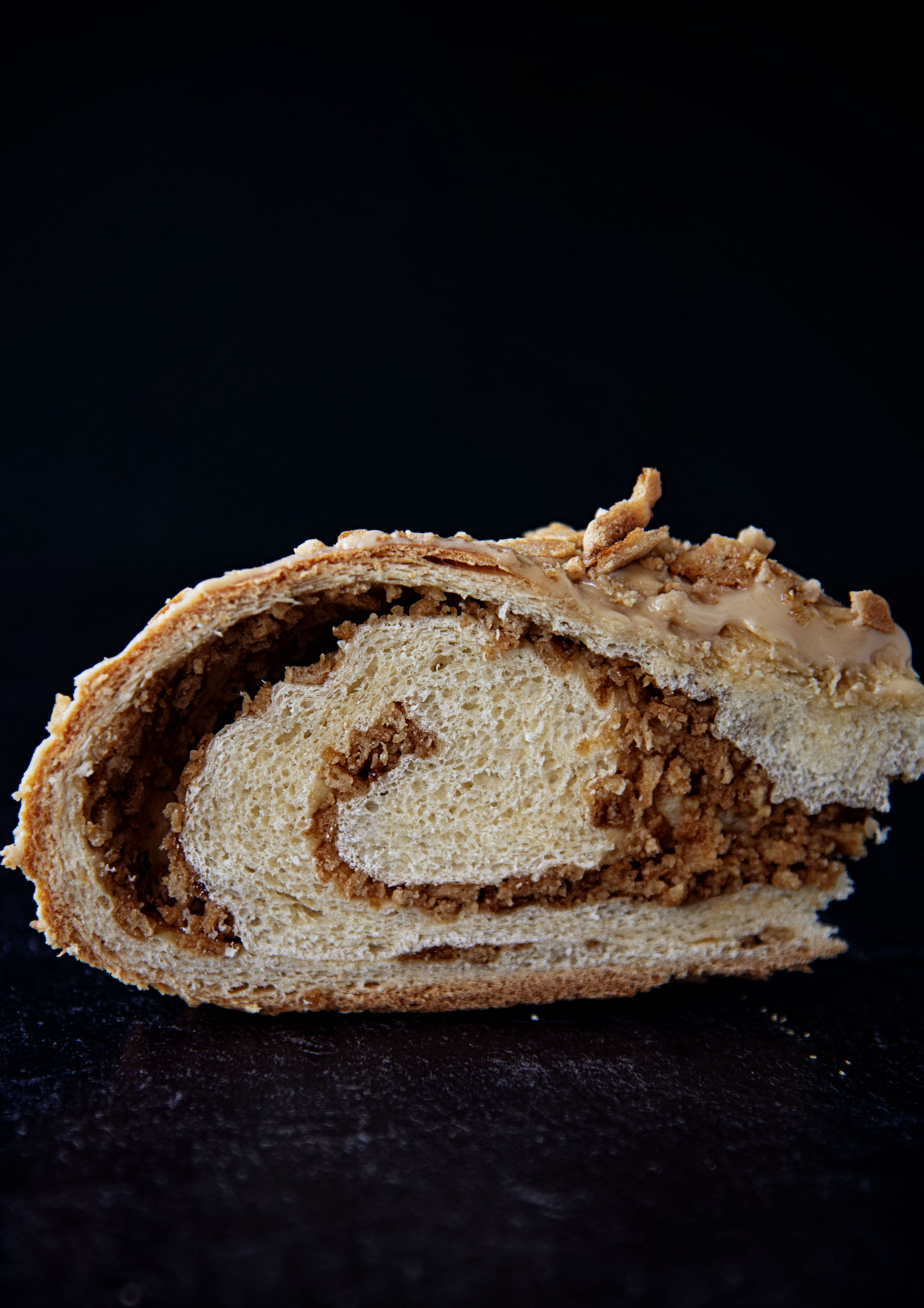 Want More Bread Recipes?
Orange Blossom Chocolate Challah Bread
Oatmeal Chocolate Chip Cookie Babka
Brown Sugar Spiral Banana Bread
Ingredients
For the Dough:
1¾ cups warm water (110F)
1 TBSP active dry yeast
1 TBSP salt
4 large eggs
½ cup brown sugar
1/2 cup unsalted butter, melted and slightly cooled
5 ½ cups all-purpose flour
2 cups bread flour
For the Filling:
2 1/2 cups waffle cone, finely crushed, divided
1 cup pure maple syrup
For the Glaze:
2 cups powdered sugar, sifted
1/4-1/3 cup pure maple syrup
Instructions
For the Dough:
Using a stand mixer with the dough hook, add the water, yeast, and brown sugar and whisk until combined. Let it rest and get foamy for about 5 minutes.
Add the melted butter, eggs, and flours.
Mix on low for about a minute and then add the salt.
Then mix until ingredients are mixed and dough comes together and forms a shiny dough.
Place in a large bowl sprayed with baking spray.
Cover with plastic wrap and allow to rise at room temperature for about 2 hours.
Punch down the dough and move to the refrigerator for at least 4 hours to chill the dough before using. This dough can stay in the fridge for up to 5 days. Which is good because you only use 1/2 of the dough recipe for the roll.
Dust the surface of the refrigerated dough with flour and cut off a 2-pound (cantaloupe-size) piece. If you don't have a scale, it's half of the dough.
Place the remaining dough back in the refrigerator.
Roll out the dough into a rectangle. It will resist and you won't get it to stretch that much. That is okay, we are going to let it rest before we fully roll it out, we are just shaping it into a rectangle.
Let the dough rest loosely covered with a tea towel for 20 minutes to allow dough to relax.
Roll the dough out to 1/4 of inch thick. It's about 18-x-24-inches.
For the Filling:
Mix together 2 cups crushed waffle cones (the other remaining 1/2 cup is for the topping) and maple syrup until each waffle cone pieces is covered with maple syrup.
Spread filling to within 1-inch of edges.
Roll up from one long side; pinch seams and ends to seal.
Place on a greased baking sheet; shape into a tight spiral.
Cover with a towel and let rise in a warm place for about 90 minutes or until doubled in size.
Bake at 350F for 35-40 minutes or until golden brown.
Cool on a wire rack.
For the Glaze:
Whisk together the powdered sugar and maple syrup until smooth. If you want a thicker glaze use 1/4 cup syrup. Want a thinner glaze use 1/3 cup maple syrup.
Pour over roll.
Cover with crushed waffle cone pieces.