This Maple Pecan Swirl Bread is a brioche filled with maple and pecans all swirled up and baked in a Bundt pan. Topped with maple glaze and pecans.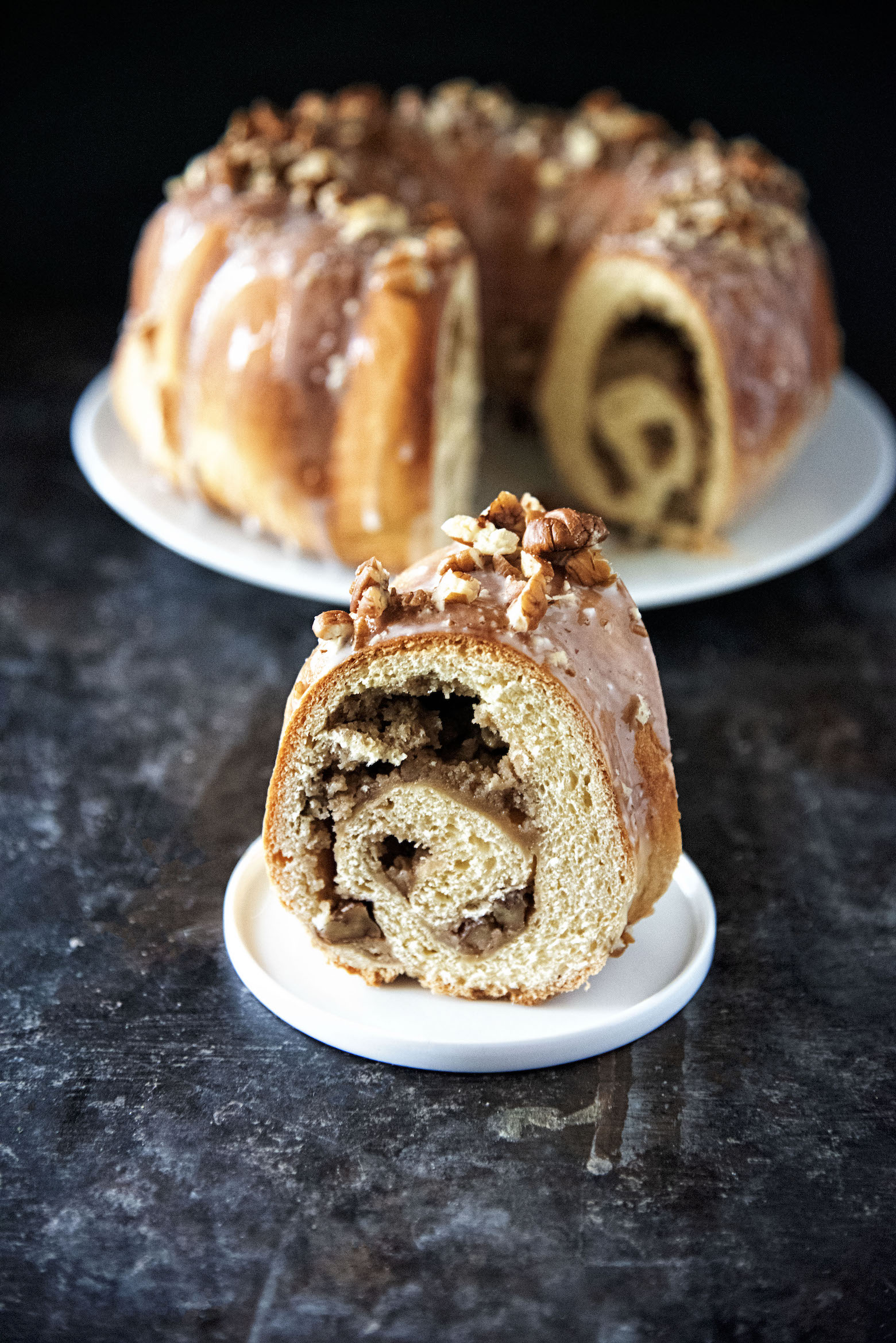 I've been making a lot of breakfast type breads lately.
I should probably stop.
Each time my mom sees one on the blog her and my dad ask if I'm going to make that for them when they come. 🙂
I always say the same thing.
Maybe.
Knowing that I probably won't. 🙂
Not because I don't want to but because I'll want to make something different to put on the blog.
The curse of the food blogger.
We usually never want to repeat the same thing.
Though I must admit I might make them this Maple Pecan Swirl Bread.
Or at least some version of it. 😛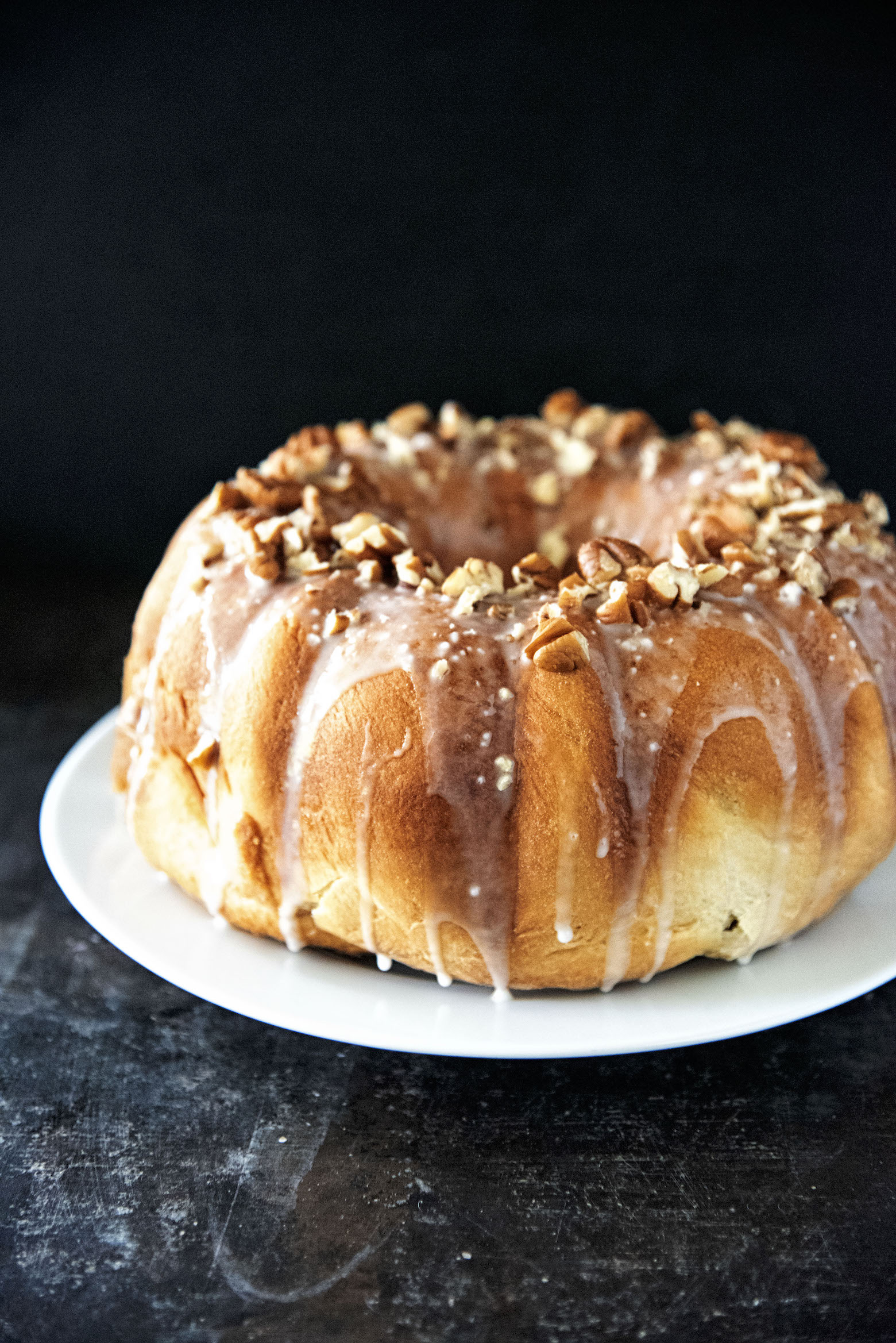 Today is the last day of November.
Just one more month in the calendar year.
Pretty hard to believe actually.
I saw this bread in Sift.
Sift is the magazine that King Arthur Flour puts out.
I really like the magazine because it's always has a bread section.
And well, bread is my favorite to bake most of the time.
The original recipe called for maple sugar.
I had some and just couldn't find it.
Plus they wanted 1/2 of it and maple sugar is kind of pricey so I opted with maple syrup.
Now, don't get me wrong, I don't want you using fake maple syrup but you don't have to use the top of the line maple syrup in this.
Because wow, can those prices vary.
If you have a Trader Joe's near you they carry good maple syrup for a decent cost.
The original bread did not have nuts but I love pecans with maple and so I added them.
Last but not least…it's a great time to order my cookbook. 😀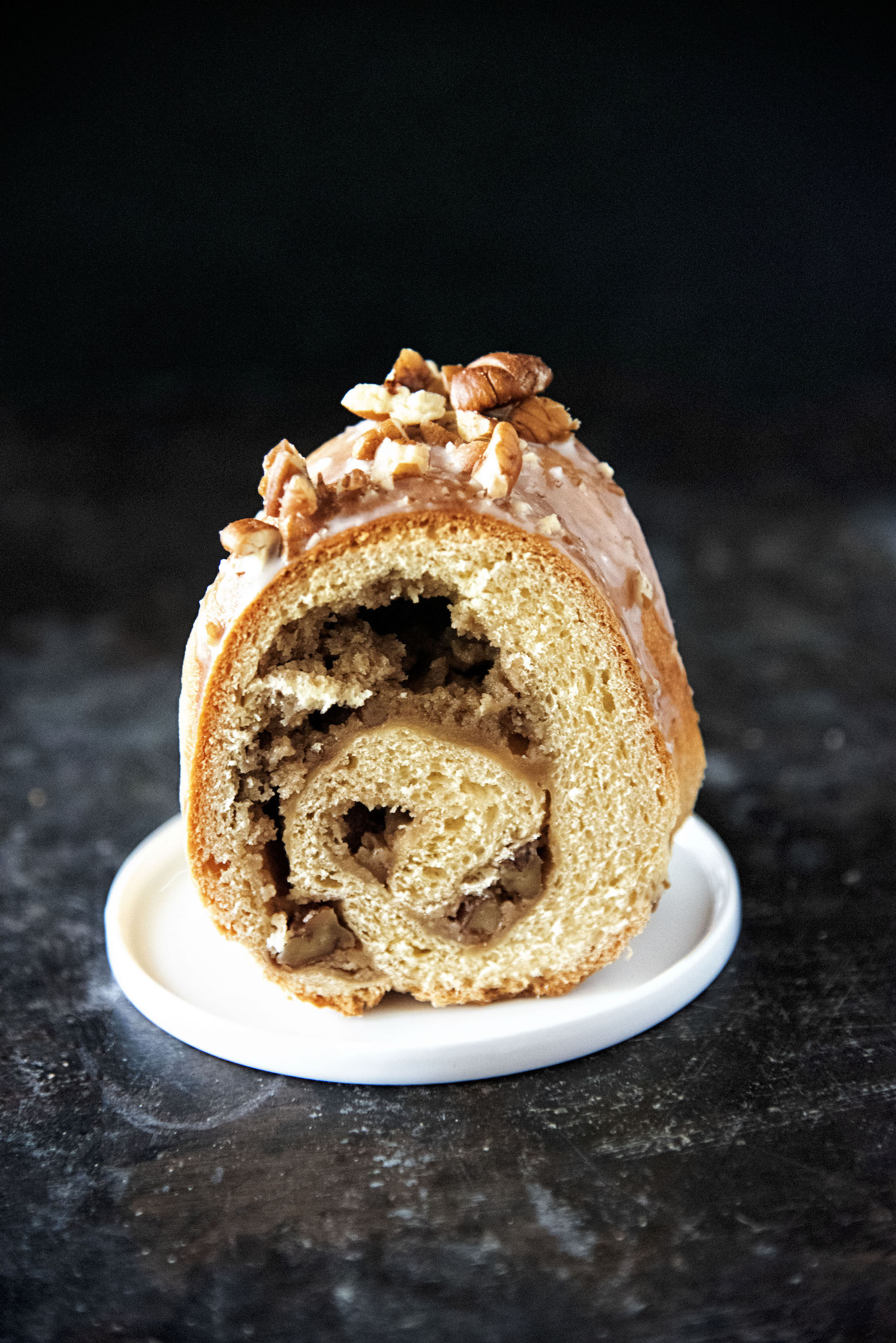 Want More Bread Recipes?
Orange Blossom Chocolate Challah Bread
Oatmeal Chocolate Chip Cookie Babka
Brown Sugar Spiral Banana Bread
Ingredients
For the dough:
3/4 cup whole milk
6 TBSP unsalted butter
1/4 cup packed brown sugar
1 1/2 tsp. salt
2 large eggs plus 1 yolk (reserve the white) teaspoons vanilla extract
2 tsp. instant yeast or active dry yeast (I used Red Star Yeast)
1/2 cup nonfat dry milk
3 3/4 cups All-Purpose Flour
For the Filling:
1/2 cup brown sugar, packed
1/4 cup maple syrup
1/4 tsp. salt
3/4 cup All-Purpose Flour
1 cup chopped pecans
4 TBSP melted unsalted butter
1 large egg white (from above)
2 TBSP milk
For the Glaze:
2 cups powdered sugar
4 TBSP maple syrup
milk to thin
Instructions
For the dough:
Bring the milk to a simmer on the stove or in the microwave and pour over the butter in a large mixing bowl.
Stir int he sugar and salt and let cool to lukewarm.
Add the eggs, egg yolk, vanilla, and yeast.
Whisk together the dry milk and 1 1/2 cups of flour and add to the wet ingredients, mixing to combine.
Add the rest of the flour and mix until you have a soft dough.
Knead the dough in your mixer for 6 to 8 minutes or by hand for 10 minutes, until it's smooth, satiny, and the surface is slightly shiny.
Place in a greased bowl, cover, and let rise for 1 to 1 1/2 hours, until puffy.
For the filling:
Mix all of the ingredients together to form a paste. Set aside.
To assemble:
Grease a 12-cup Bundt, large tube, or monkey bread pan.
On a greased surface, roll the dough out to a rectangle 20″ x 14″, with a long edge facing you.
Spread the filling over the dough, leaving 1″ uncovered on both long edges.
Roll up the dough from one long edge to the other, pinching the seam closed to seal.
Place the long into the prepared pan, seam side up, pinching the edge of the log together.
Cover the pan and let rise for 1 hour, until puffy.
Halfway through the rise time, preheat the oven to 350°F.
When the bread has risen, cover the top with a piece of parchment and place a baking sheet and a weight on top of the pan, such as a cast-iron skillet (this will keep the bottom flat for when you turn the bread out).
Bake for 40 minutes, then remove the baking sheet and parchment and bake for 10 minutes more, until the top is golden brown and the center reads 190°F when measured with an instant-read thermometer.
Remove from the oven and tip out of the pan to cool on a rack before glazing.Mix the glaze ingredients together and drizzle over the top of the bread.
Sprinkle with extra pecans if desired.
Store, well-wrapped, for 3 days on the counter, or 3 months in the freezer.