These Maple Mummy Oatmeal Cookie Cream Pies are fun and easy to decorate. Soft oatmeal cookies sandwiched with maple buttercream and look like mummies.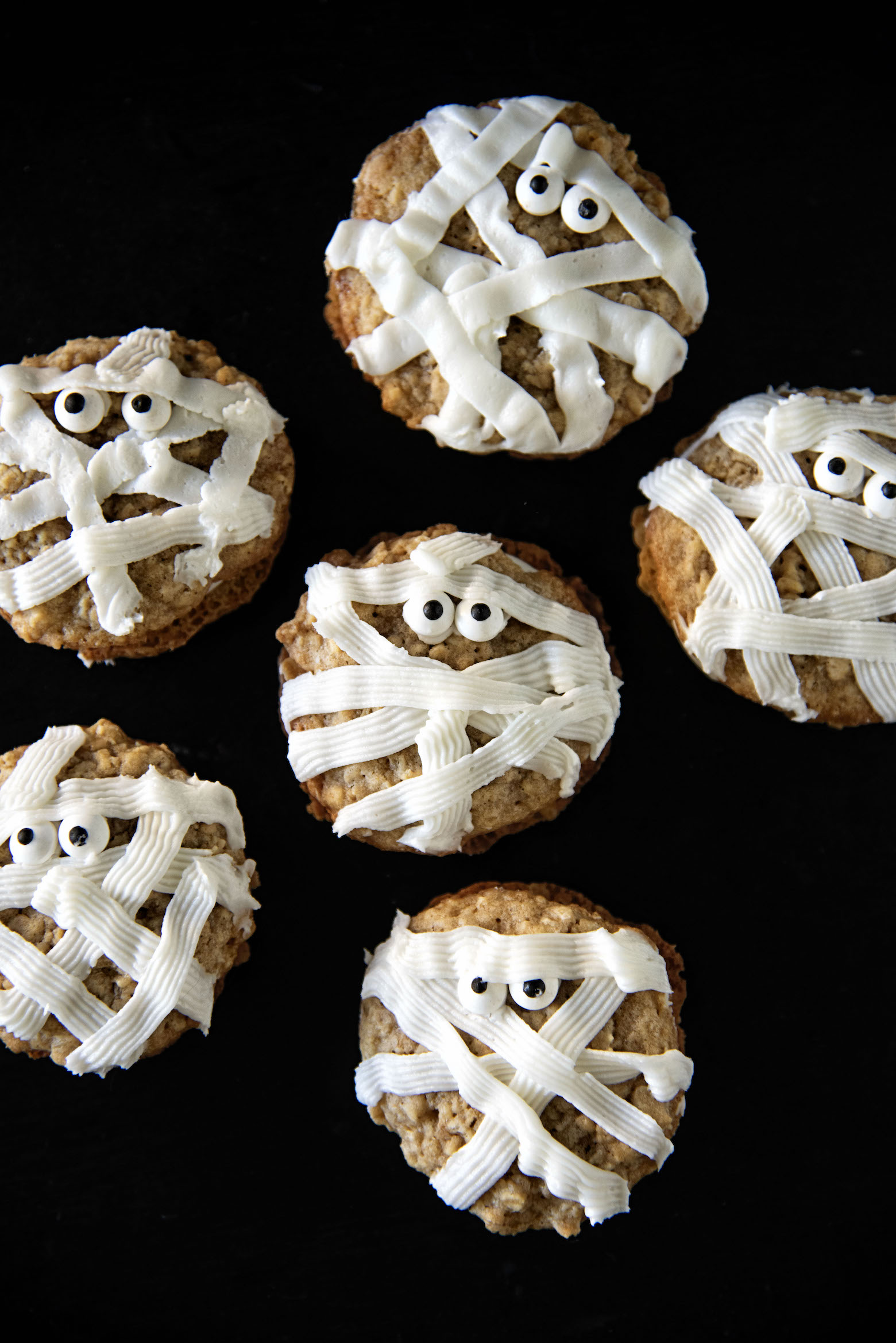 This post and recipe was created for #HalloweenTreatsWeek!
I was sent products by some of the sponsor companies but as always opinions, bad grammar, and overuse of emojis are 100% mine.
In this post I used Dixie Crystals Sugar granulated sugar as well Wilton Candy Eyes which were sent to me free by both companies for participating in #HalloweenTreatsWeek.
As we wrap up #HalloweenTreatsWeek I just want to give a big shout out to Angie of Big Bear's Wife for putting on another very fun treats week!
It's a lot of work to organized one of these and Angie does a fantastic job!
We are always excited to participate in these weeks just because they are so well run and just for the fun of blogging!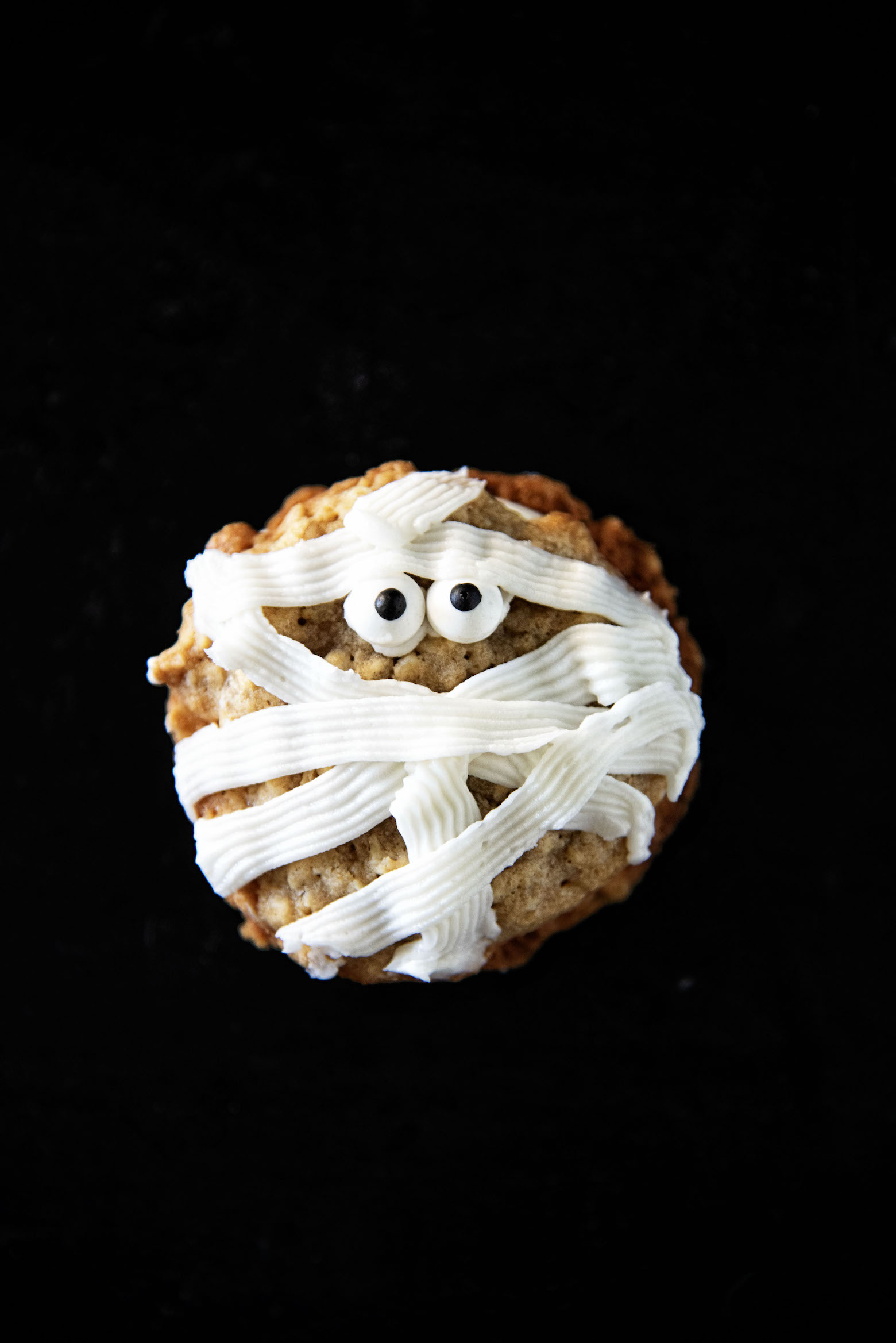 It is the last day of #HalloweenTreatsWeek and I'm a little sad.
I've had fun stepping out of my normal treats to make Halloween themed ones.
These Maple Mummy Oatmeal Cookie Cream Pies are my last contribution.
I'm not reinventing the wheel here.
The mummy cookies have been around for awhile but they are usually just sugar cookies.
Don't get me wrong, I love me a good sugar cookies but it's been done.
A lot.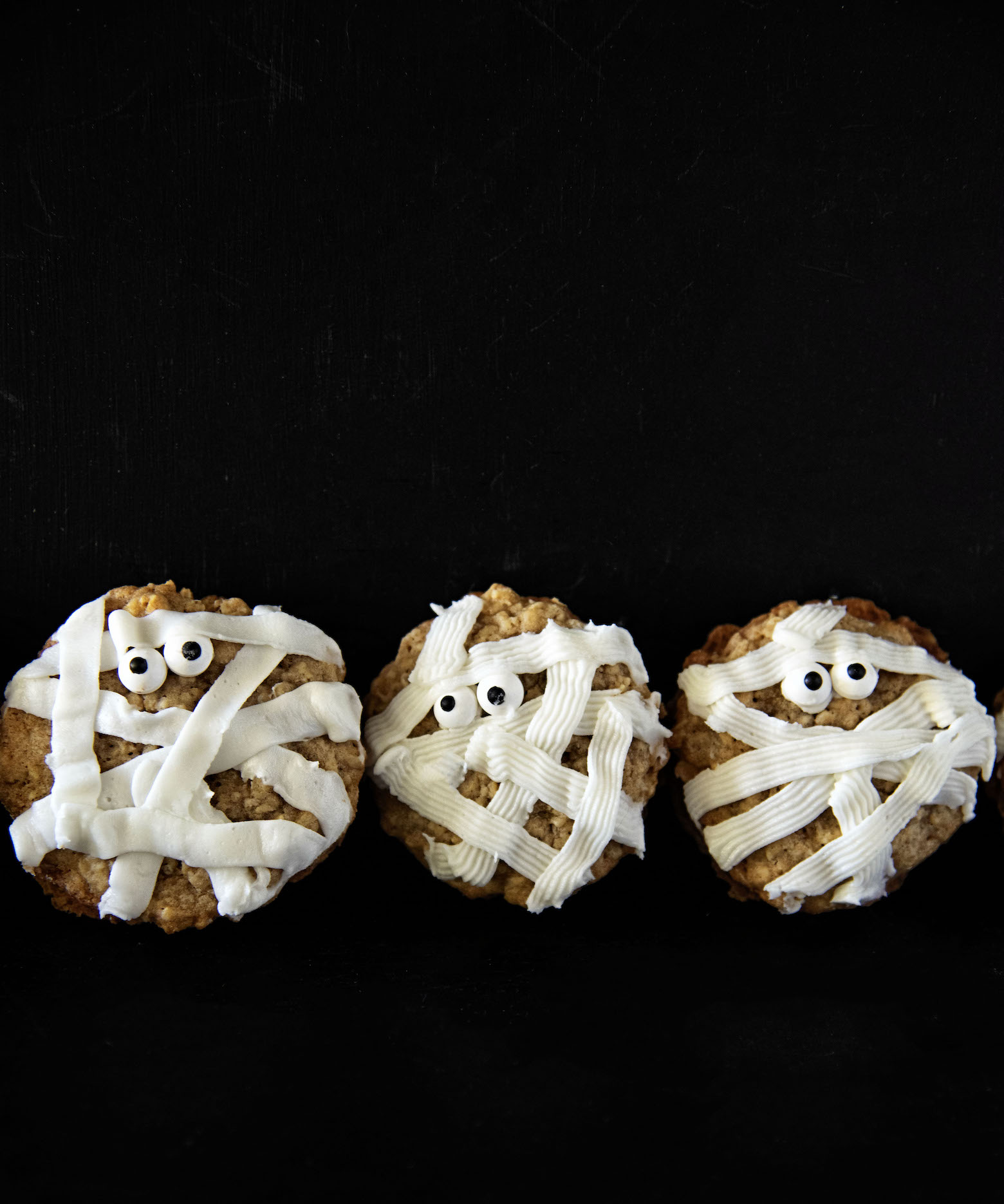 So I decided to go oatmeal maple.
Then I decided that oatmeal cream pies would be even better.
I was right. 🙂
One big thing I learned was to make them sandwich cookies BEFORE you frost the mummy part.
I did not do that and it took forever for me to wait to smoosh the two cookies together.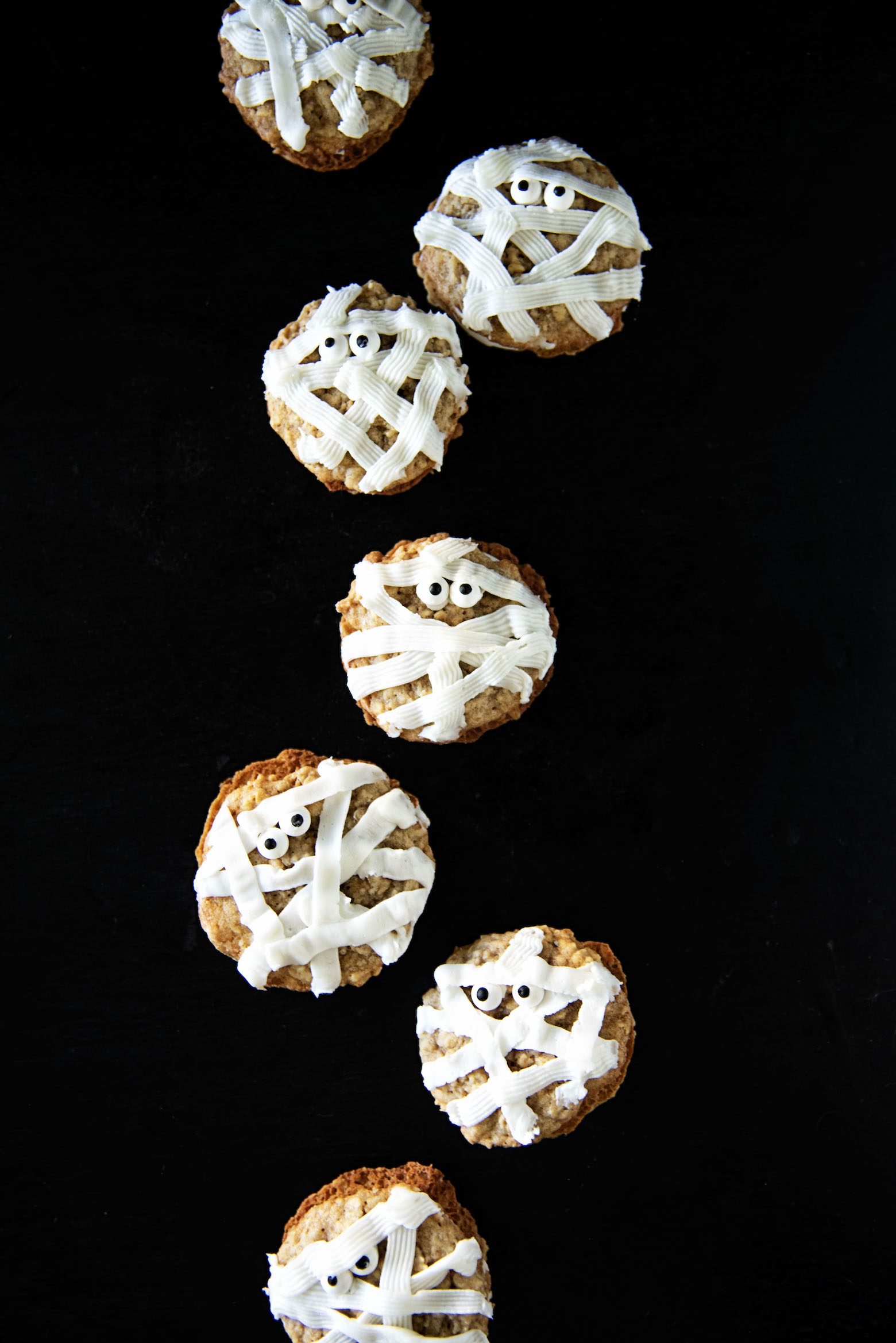 Do I have to use Vegetable Shortening? Why not butter?
Sure, butter is going to taste better than vegetable shortening.
BUT butter is also going to make your mummies have a yellow hue.
Which is probably more anthropologically correct that they be a little yellow but most like the look of white better.
So break down and buy those Crisco sticks. 🙂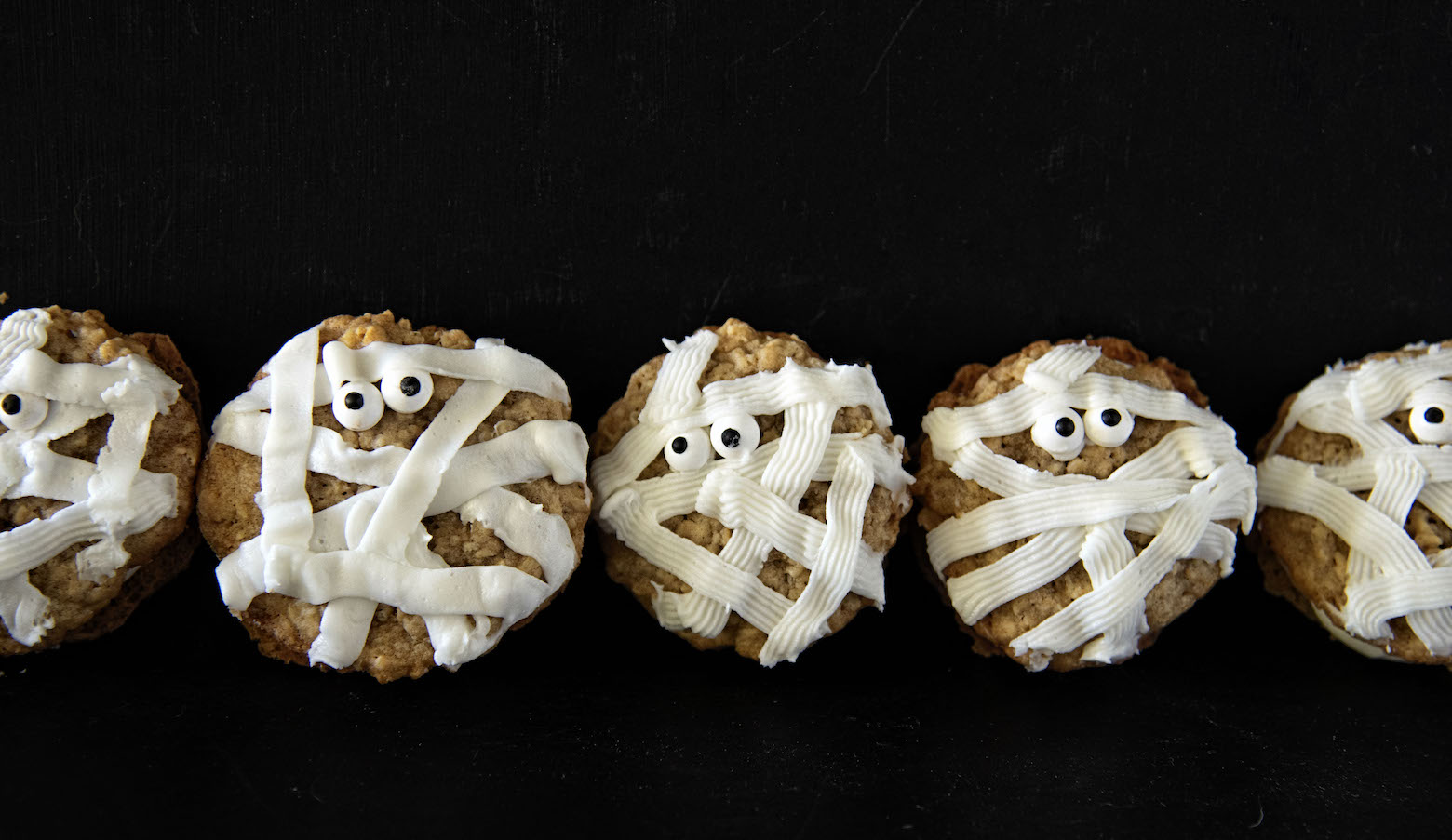 Do I have to make them as cream pies?
You certainly can just make these as mummy cookies and not have them filled.
If you went that route then you need to make sure that you double the frosting amount to decorate the mummies.
As you will now have double the amount of cookies to frost if you don't make them into pies.
And as always it's a great day to order my cookbook.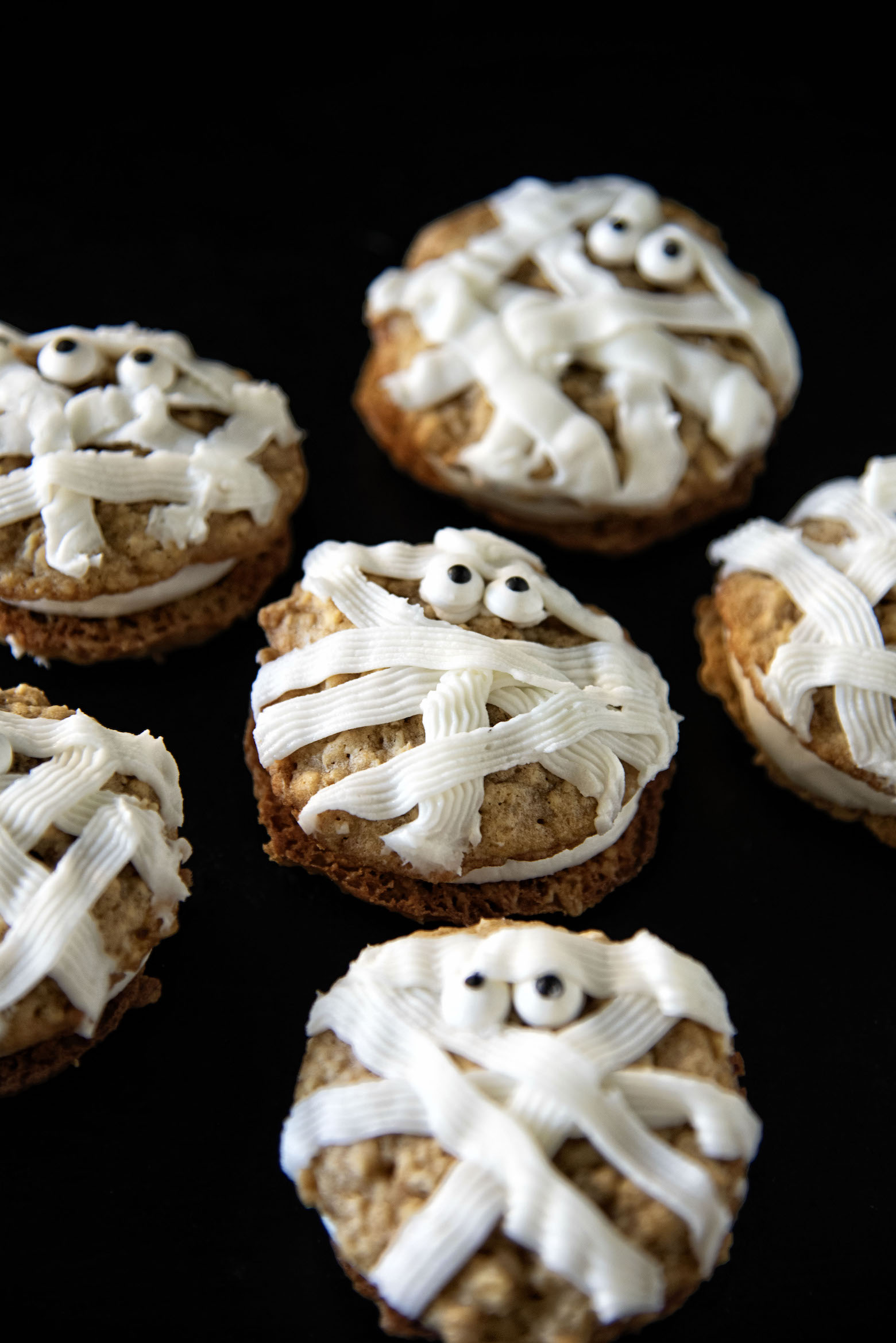 Want more Halloween Recipes?
Chocolate Gingerbread Men Skeleton Cookies
Witches Cauldron No-Bake Vanilla Cheesecake
Ingredients
For the Cookies:
1 cup unsalted butter, at room temperature
3/4 cup firmly packed light brown sugar
1/2 cup granulated sugar
2 large eggs
3 TBSP maple syrup
1 1/2 cups all-purpose flour
1 tsp. baking soda
1 tsp. cake spice (if can't find use 3/4 tsp. cinnamon and 1/4 tsp. nutmeg)
3/4 tsp. salt
3 cups old fashioned oatmeal
For the Filling:
1 cup vegetable shortening
1 cup powdered sugar
4 TBSP maple syrup
7.5 ounces marshmallow fluff (1 jar)
For the Frosting:
1/3 cup vegetable shortening
2 cups powdered sugar
3 TBSP milk
1/2 tsp. vanilla extract
candy eyeballs
Instructions
Preheat oven to 350°F.
Line cookie sheets with parchment paper.
In the bowl of a stand mixer fitted with the paddle attachment, or in a large bowl with an electric mixer, cream together butter and sugars until light and fluffy, about 3 minutes.
Add in eggs and maple syrup and mix until combined.
In a medium bowl, whisk together the flour, baking soda, cake spice and salt.
Slowly add the flour mixture to the wet ingredients, mixing until just combined.
Add in oats and mix until incorporated.
Using a medium cookie scoop (about 1.5 tablespoons) of dough per cookie bake cookies for 10-12 minutes.
Allow cookies to sit on cookie sheets for about 5 minutes before removing them to a wire rack to cool completely.
Once cookies have cooled completely, prepare the cream filling.
For the Filling:
Cream the shortening, powdered sugar, and maple syrup together until smooth.
Mix in the marshmallow fluff until fully combined.
To assemble the cookies:
Match up two cookies that are of equal size and shape.
Turn the bottom cookies over.
Use a piping bag (or zip-bag with the corner cut off) to pipe the filling onto the bottom cookie.
Add the top cookie of each cream pie and press down.
For the frosting:
Using a stand mixer with the paddle attachment cream together the vegetable shortening and powdered sugar.
Add vanilla and milk.
Add more milk if you need to thin.
To make into mummies:
Fit a Wilton #47 icing tip into a piping bag.
Fill halfway with frosting.
Pipe strips of frosting across the cookie, slightly overlapping and at differing angles.
Pipe a small dollop of frosting on the bottom of two candy eyeballs and attach them slightly above the very center of the cookie.
Let the cookies sit at room temperature until the frosting sets.
Happy Halloween!
It's October which means it's time for Spooky Season and this year's #HalloweenTreatsWeek event! #HalloweenTreatsWeek is hosted by Angie from Big Bear's Wife & its a creepy and haunting week-long event is filled with some amazingly wicked Halloween treats, and recipes.
"When witches go riding, and black cats are seen, the moon laughs and whispers 'tis near Halloween."