This Lucky Charms Cereal Milk Babka is a yeasted soft sweet dough cake that is filled with Lucky Charms and topped with a crumb topping.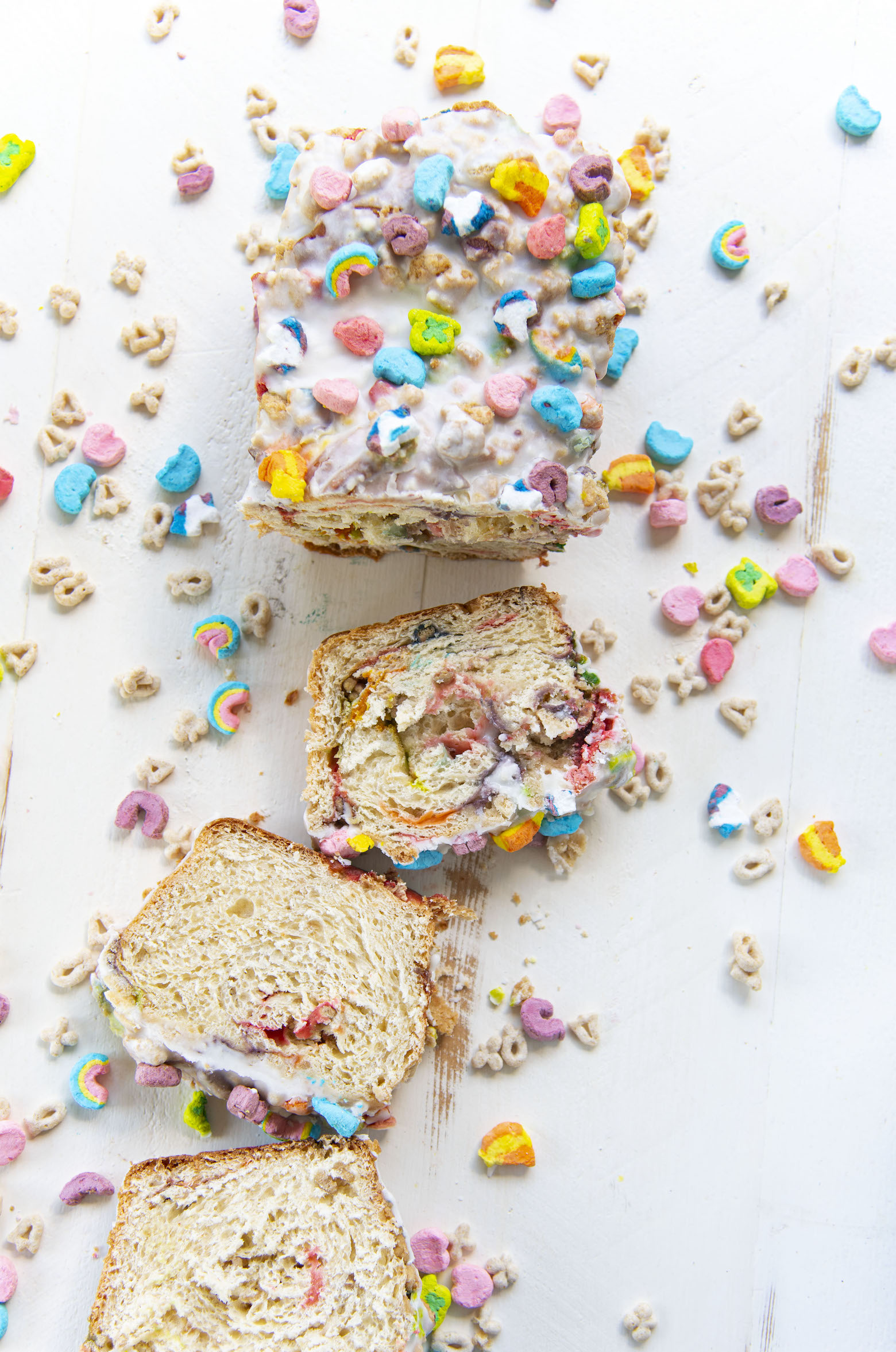 I love cereal.
LOVE it.
If you have my cookbook you know I even have a whole chapter dedicated to it.
That chapter is called Cereal Killers. 🙂
I knew I found the the right publisher when they were excited about the name of the chapter. 😀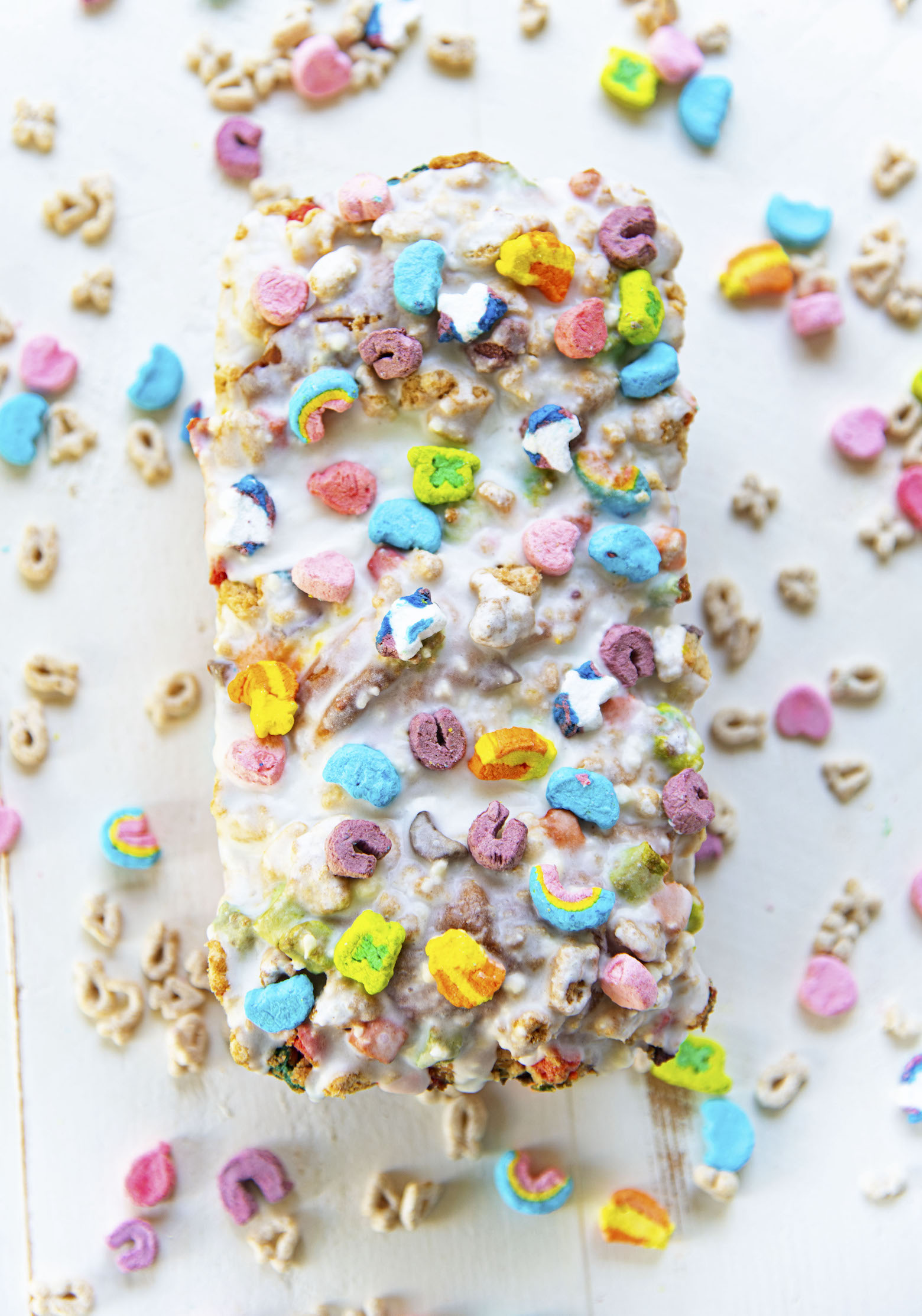 Lucky Charms is one of my top five cereals.
As a kid.
And as an adult.
My complaint as a kid is the same as an adult.
Not enough marshmallows.
So yes, I buy more marshmallows and add them.
The other thing I love is babka.
Spend some time on this site and you will see that I make a lot of babka.
A lot.
It only made sense to make a Lucky Charms Cereal Milk Babka.
So let's talk about what can help you make a good babka.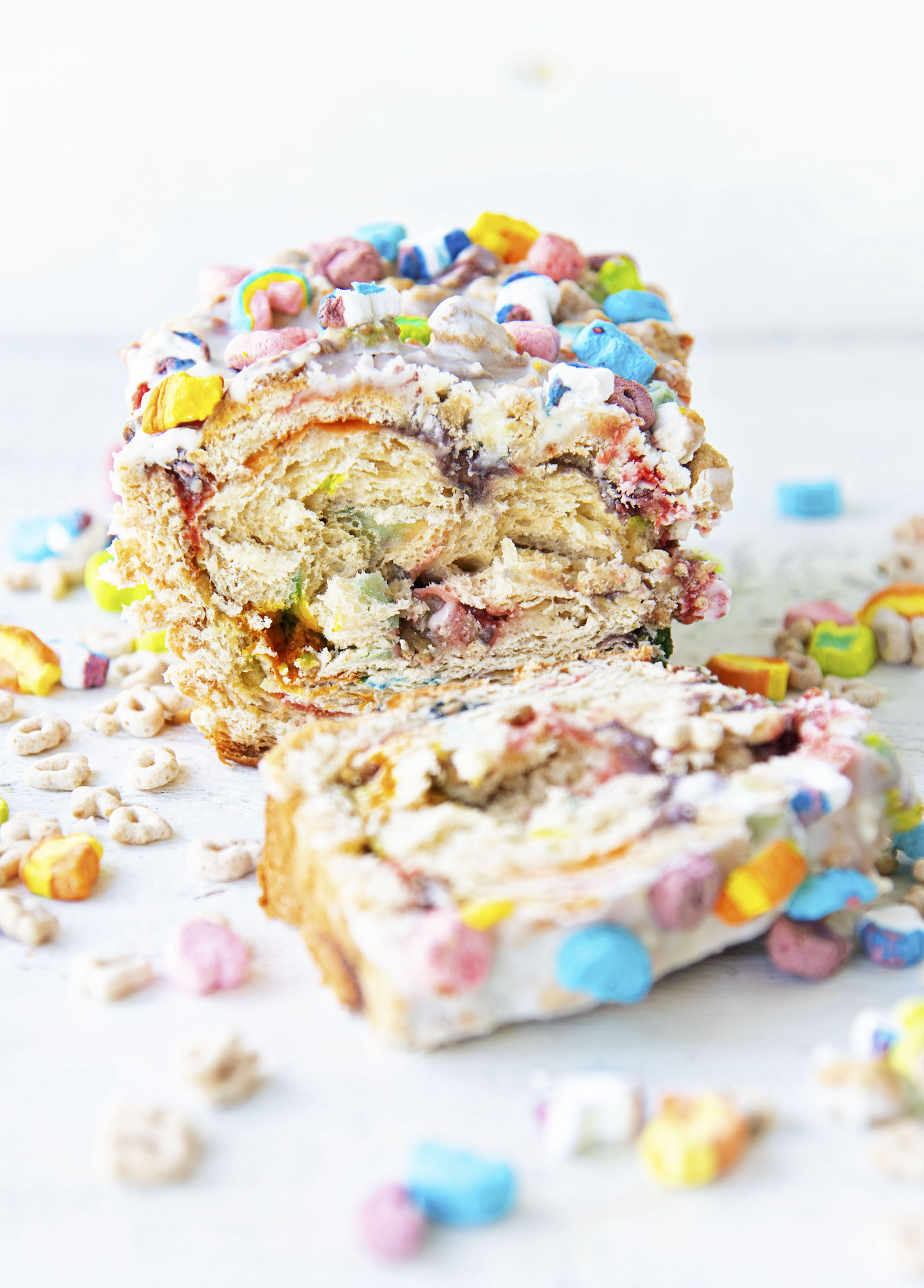 Tips for Making a Great Babka:
Babka can be confusing in general because technically it's a cake.
But to me it's really a bread.
Because it's a yeasted cake.
Which right away makes people nervous, yeast always does. 
Some babka recipes use instant yeast and some use active dry.
Pretty much all of my babka recipes use active dry.
Which is why you have to activate it with the yeast. 
You can use instant yeast in my recipes and skip the step of activating it. 
The reason why I use active dry yeast is because I want to see the yeast activated.
If my yeast is bad and I'm using active dry yeast then I've only wasted the yeast, a little pinch of sugar, and either water or milk. 
BUT if I used instant and throw all the ingredients in there and the yeast is bad I've then wasted all of those ingredients.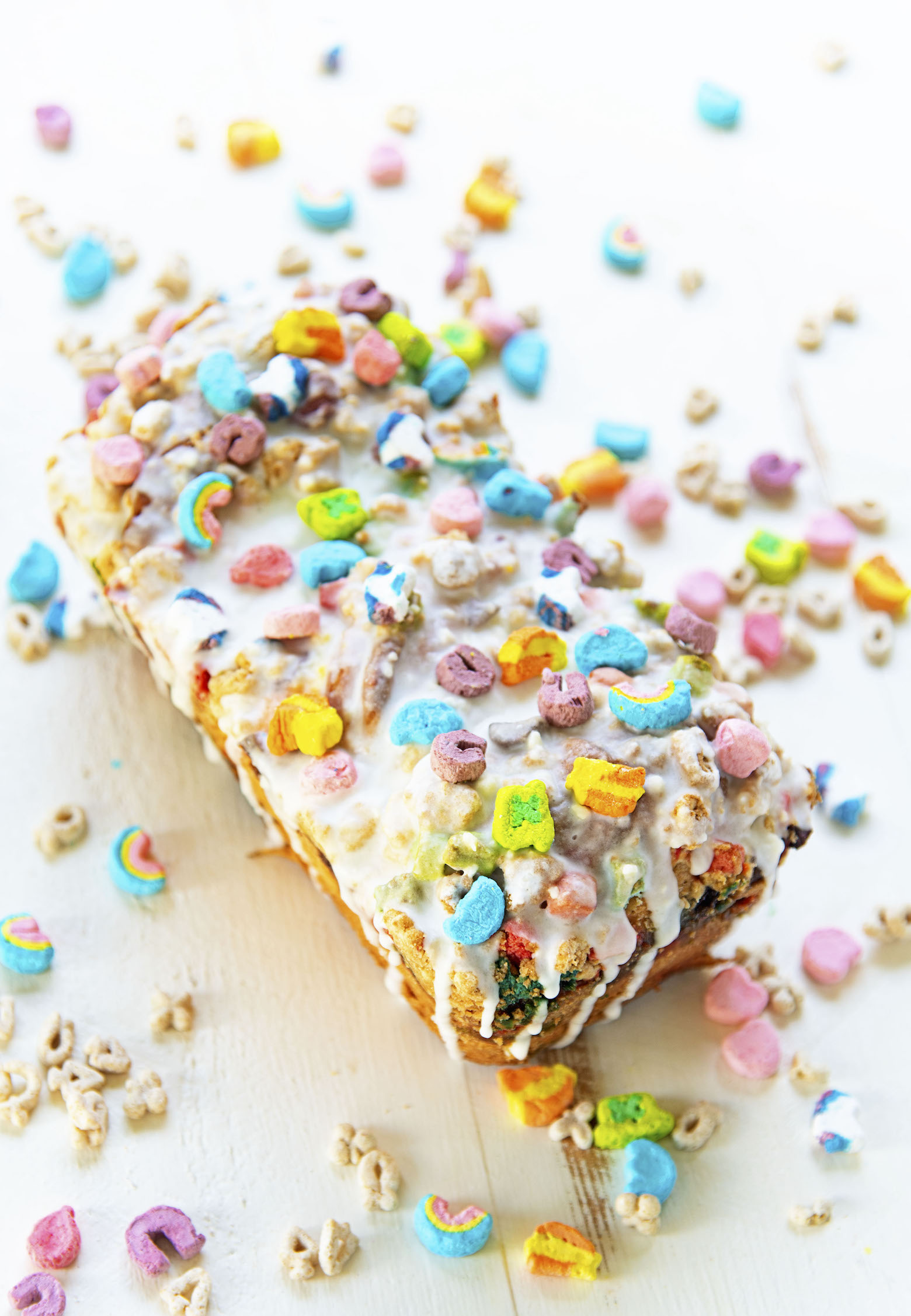 Know that babka are messy. 
No matter what filling you put in the babka it's going to fall out.
And that's fine.
If it's fruit or something like  chocolate chips just shove them back in there once the dough is in the pan. 
The twist seems to make people nervous as well.
You don't have to have a complicated twist.
Many of my babka I only split it down the middle once.
And then just twist the two.
Mostly because it's easy.
Still messy, but easy. 
If your babka has a streusel topping know that your baking time will be longer than a traditional babka.
Also, when placing the streusel on top of the babka (or any cake for that matter) place the largest and heaviest pieces of streusel to the outside of the babka.
Otherwise it will be too heavy for your babka and will either impeded rising time or sink when the babka is done baking.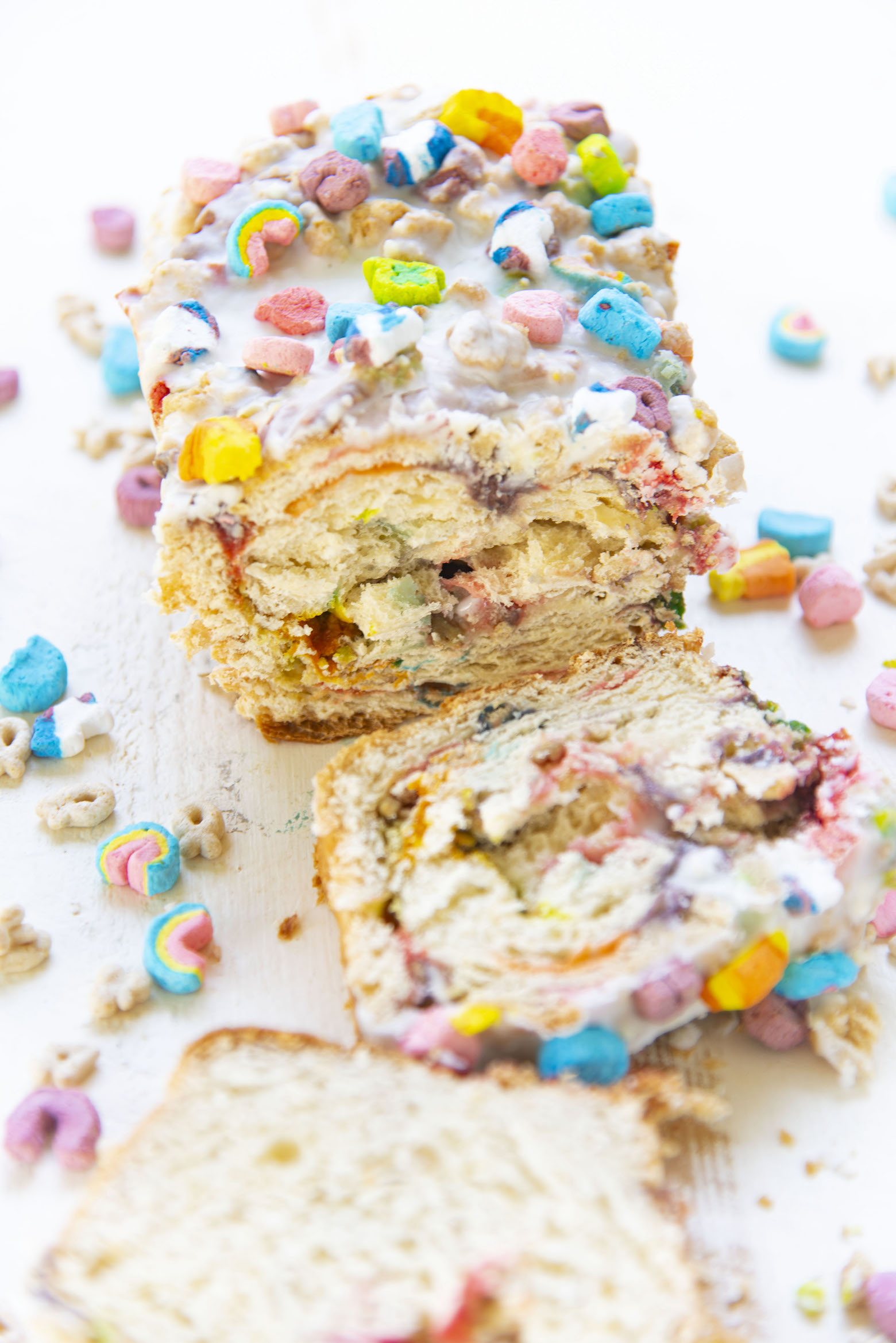 Want More Babka Recipes?
Oatmeal Chocolate Chip Cookie Babka
Ingredients
For the Cereal Milk:
2 cups whole milk
1 cup Lucky Charms Cereal (no marshmallows)
For the Streusel:
3/4 cup all-purpose flour
1/3 cup granulated sugar
3/4 cup packed brown sugar
1/4 tsp salt
1/2 cup cold unsalted butter, diced
2/3 cup Lucky Charms Cereal
For the dough:
⅓ cup plus 1 TBSP brown sugar, loosely packed, divided
2 1/2 tsp. active dry yeast
1/4 cup cereal milk (100-110F)
2 3/4 cups all-purpose flour
1/2 cup finely crushed Lucky Charms Cereal (no marshmallows)
⅛ tsp. salt
½ cup cereal milk at room temperature
½ cup eggs (whole eggs or just yolks)
1 tsp vanilla extract
10 TBSP unsalted butter, divided
For the Filling:
4 TBSP unsalted butter, melted
3 cups Lucky Charms Cereal
For the Icing:
3 TBSP unsalted butter, at room temperature
1 ½ cups powdered sugar
1/3 cup cereal milk
white food color gel
Lucky Charms marshmallows
Instructions
To make the cereal milk:
Pour milk into a large saucepan.
Add cereal to milk.
Heat milk until it just starts to boil.
Remove from heat.
Steep the cereal for 25 to 35 minutes.
Strain the milk into a bowl.
Press on the cereal in the strainer with a large wooden spoon to squeeze out the milk from the cereal.
For the streusel:
Whisk together 1 1/2 cups flour, granulated sugar, brown sugar, and 1/4 tsp. salt in a bowl. 
Cut butter into flour mixture using a pastry blender until butter is pea-sized. 
Mix Lucky Charms cereal into flour mixture with your hands until thoroughly combined. 
Cover and refrigerate while you prepare the filling.
For the Dough:
Using a stand mixer with the dough hook attached stir in the yeast with one tablespoon warm water and 1 TBSP brown sugar just until sugar and yeast have dissolved. Let sit for 5 minutes.
Combine the flour, finely crushed Lucky Charms cereal (no marshmallows), salt and 1/3 cup brown sugar and mix on medium speed.
Reduce mixer speed to low and add 1/2 cup cereal milk, eggs and vanilla. Beat until dough is shiny and elastic, 10 to 15 minutes.
Add 8 TBSP unsalted butter one TBSP at a time until all the butter is fully incorporated, then beat on low speed for about 5 minutes. Dough will not form a ball, it will be a sticky sort of blob. That's what it's supposed to do.
Transfer the dough to a large bowl, cover with plastic wrap and set aside.
When dough has doubled in size, after 2 hours, flour a cutting board and your hands.
Then push dough down on board, cover well with plastic wrap and refrigerate for 1 to 2 hours or overnight. I prefer overnight but everyone has their preference.
Line two 8 1/2 by 4 1/2-inch loaf pans with parchment paper, not letting paper come more than 1 inch above top of pans.
Remove dough from refrigerator and divide it in half. On a lightly floured surface, roll one piece of dough into a 12 x 8-inch rectangle.
Using a spatula spread 1/2 the butter over dough within 1/2 inch of edges.
Scatter half the Lucky Charms cereal over the butter.
Beginning with long side, roll dough up like a cinnamon roll and cut it straight down the middle so the filling is exposed.
Cut ½ inch off each end.
Layer each cut piece on top of one another and twist.
Filling will come out, that is to be expected.
Place in a greased loaf pan.
Melt remaining 2 tablespoons butter. Brush babka top with half the melted butter and sprinkle with half the streusel.
Repeat with second half of babka dough.
Cover loosely with plastic wrap. Let loaves rise at room temperature until they reach top of pan or about doubled in volume, about 2 hours
Heat oven to 350 degrees and bake for about 45 minutes, or until a cake tester inserted in center comes out clean. Allow babka to cool for 30 minutes before icing.
For the icing:
Whisk all the ingredients together and drizzle over the two babkas.
Top with Lucky Charms marshmallows.