These Lemon Poppyseed Sweet Rolls are filled with lemon poppyseed pastry cream all swirled up and glazed with a tart lemon glaze.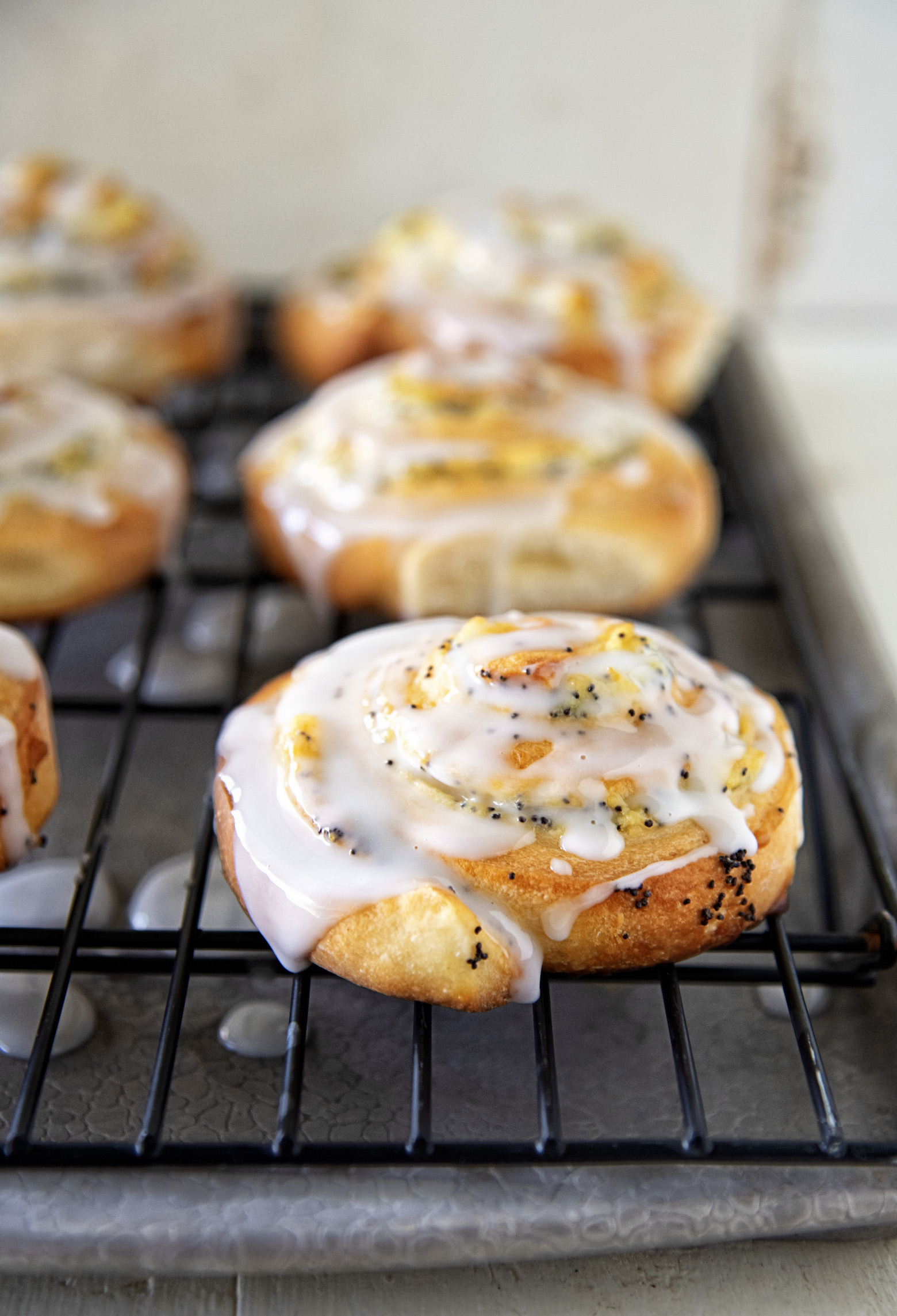 Today is my husband's second birthday.
Now before you go and call Child Protective Services on me, he is 46, but he did have a rebirth.
Two years ago today my husband had a heart attack and I literally watched him code and die in front of me and our friend Zach.
Now thanks to modern medicine he was brought back.
He was given a stent.
Coded again…because once you go from 100% blockage to 100% blood flow you throw off your heart.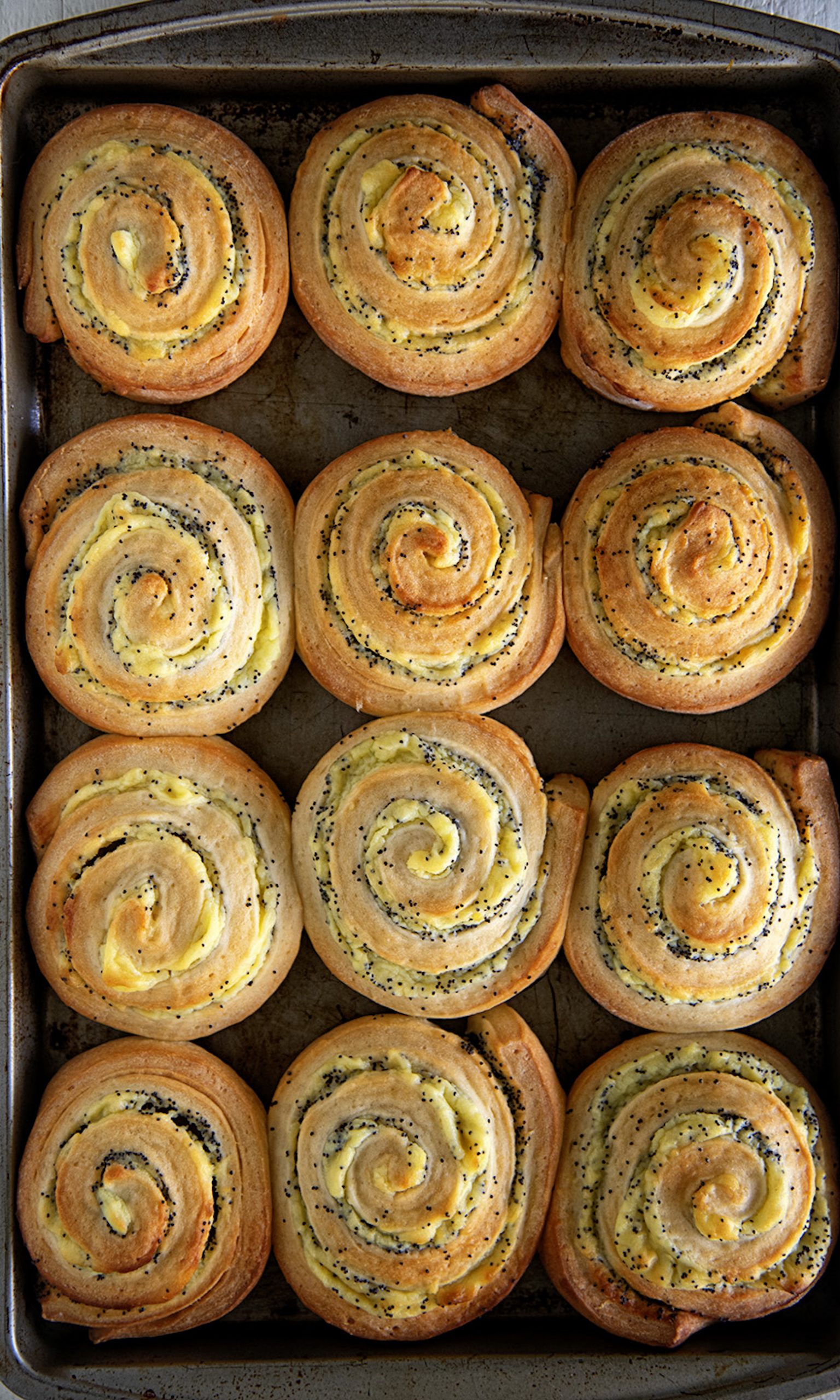 Luckily the cardiologist knew this would happened and had pre-warned me that this would happen and they would restart his heart again.
And they did.
Then 40 hours later he was home.
Since he physically died I think of this date as his second birthday of sorts.
Quite a bit has changed since that heart attack.
We don't eat meat anymore.
Found out who was and was not there for us.
Have done our best to eliminate stressful relationships and situations.
Refocused our priorities.
While I hate that it happened in some ways a lot of good came out of it.
So it deserves to be celebrated.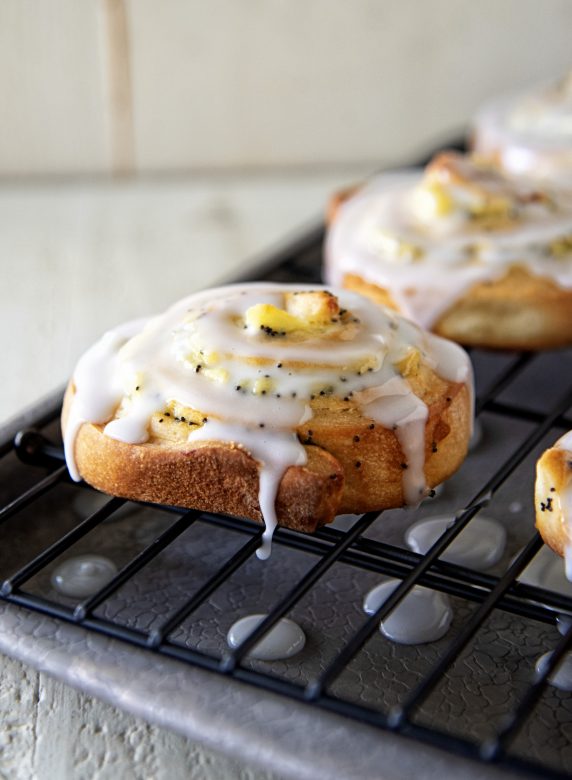 A few months ago while watching British Bake Off my husband commented on someone's lemon poppyseed cake.
That comment was about how much he loves lemon poppyseed.
Now I've known my husband a long time now as we were friends for quite some time before we even started to date.
Not once did he ever mention this tidbit.
And I ask.
A lot.
Is there anything you want me to make for you?
Nope.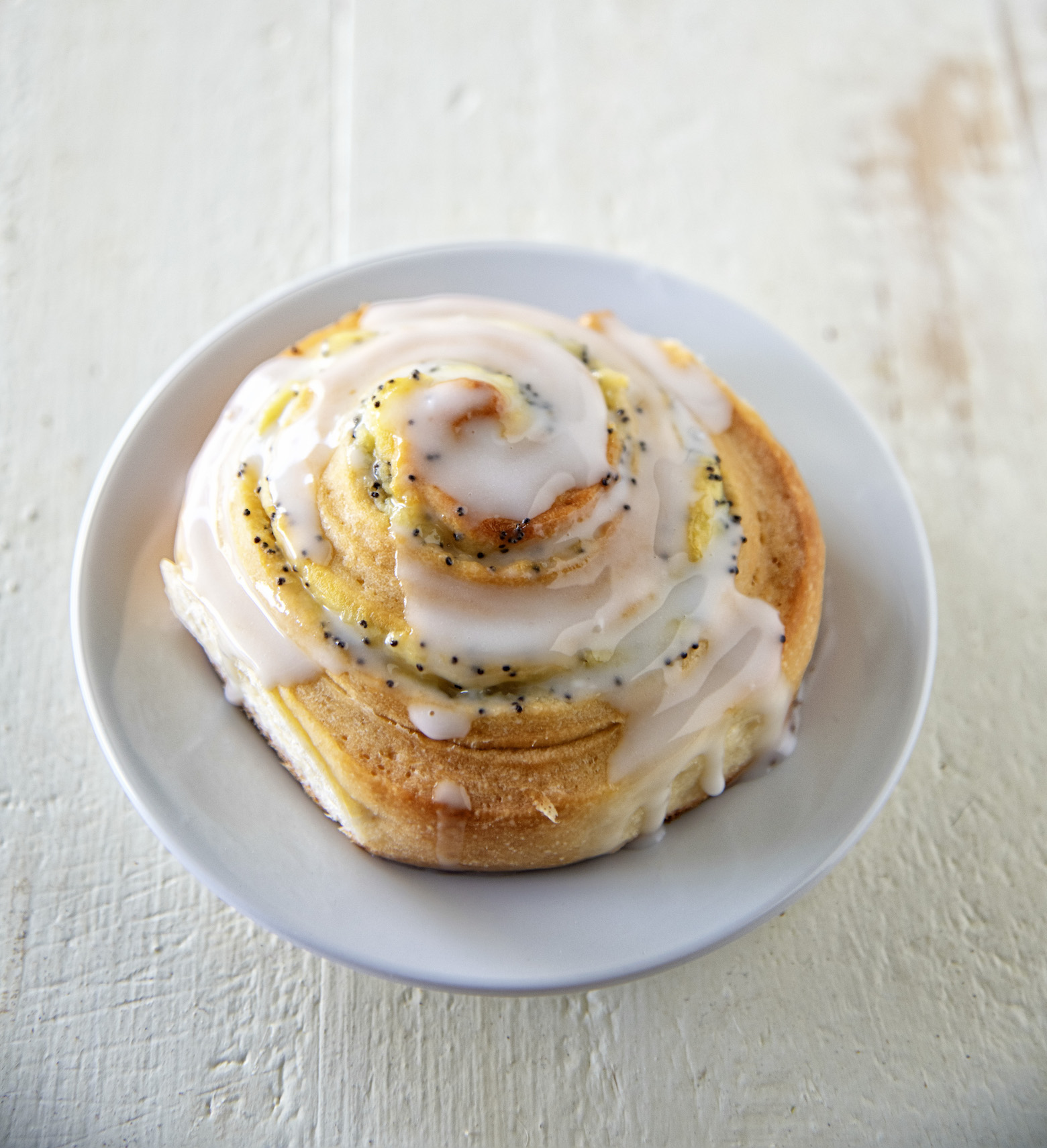 Learning this new info I made these Lemon Poppyseed Sweet Rolls.
Which technically rolls that are filled with pastry cream are usually called snails.
But it just doesn't sound good.
And it certainly doesn't sound Pin-worthy. 😛
So when you start seeing a lot more lemon poppyseed recipes on here you know why.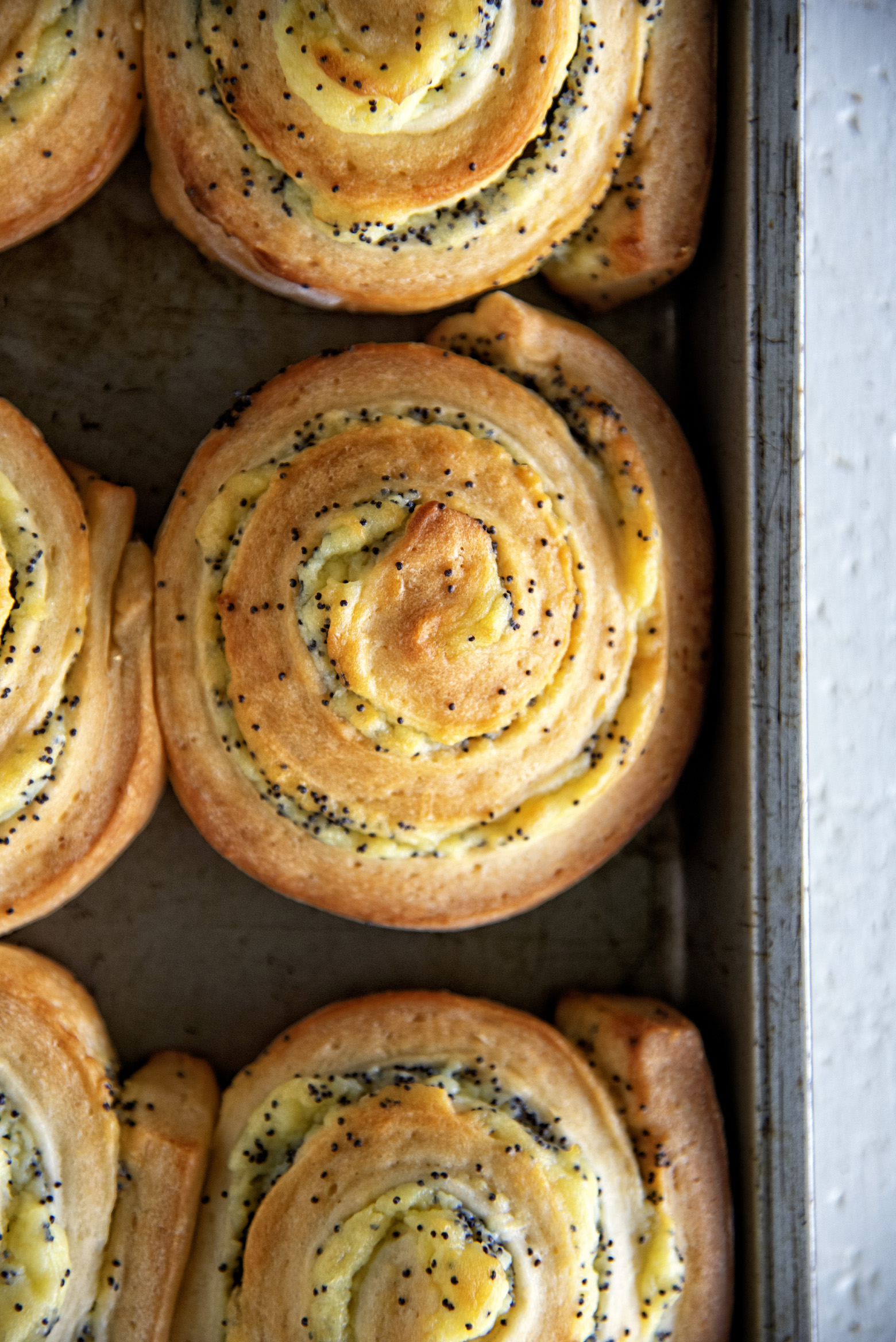 These rolls use lemon juice powder.
Which is just freeze dried lemons that get turned into a powder.
Very similar to all the other times I used freeze dried fruit.
I have a link to where to buy it in the recipe.
The powder is used because it has an intense lemon flavor and does not add moisture to the pastry cream and glaze.
So happy second birthday hubby….here is to many, many more.
Last but not least…it's a great time to order my cookbook. 😀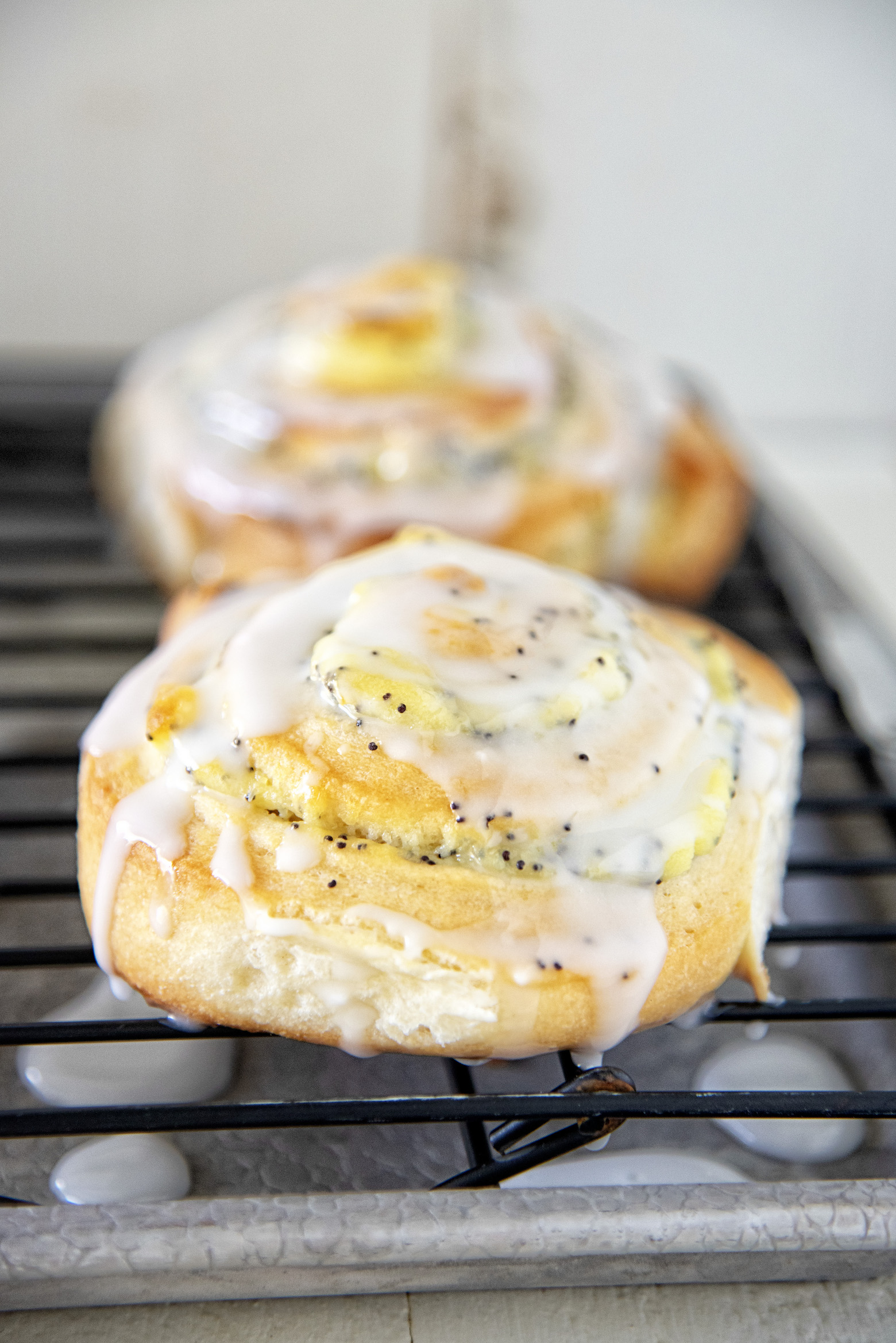 Want More Sweet Roll Recipes?
Bourbon Butterscotch Sweet Rolls
Chocolate Clementine Sweet Rolls
Salted Caramel Apple Sweet Rolls
Blackberry Laminated Brioche Brown Butter Crumb Rolls
Ingredients
For the Pastry Cream:
1 cup whole milk
3 large egg yolks
1/4 cups granulated sugar
3 TBSP cornstarch, sifted
Zest of 1 lemon
2 TBSP unsalted butter, cut into bits at room temperature
1/2 cup poppyseeds
For the Dough:
1/2 cup warm water, 110 – 115F
1 TBSP active dry yeast (I used Red Star Yeast Platinum)
1/2 cup whole fat buttermilk, at room temperature
2 large eggs
1/2 cup plus 1/2 tsp granulated sugar, divided
1 tsp. salt
1 tsp. vanilla extract
Zest of 1 lemon
6 TBSP unsalted butter, melted and slightly cooled
3 1/2 – 4 cups bread flour
For the Glaze:
1 3/4 cups powdered sugar
1/4 cup lemon juice
2 TBSP Lemon Juice Powder
1 TBSP unsalted butter, melted
Pinch of salt
Instructions
For the Pastry Cream:
Bring the milk to a boil in a small saucepan.
Meanwhile, in a medium heavy-bottomed saucepan, whisk the egg yolks together with the sugar and cornstarch until thick and well blended.
Still whisking, drizzle in about 1/4 cup of the hot cereal milk– this will temper, or warm, the yolks so they won't curdle.
Whisking all the while, slowly pour in the remainder of the milk.
Put the pan over medium heat and, whisking vigorously, constantly and thoroughly (making sure to get the edges of the pot), bring the mixture to a boil.
Keep at a boil, still whisking, for 1 to 2 minutes, then remove the pan from the heat.
Let sit for 5 minutes, then whisk in the bits of butter, lemon juice powder, and lemon zest stirring until they are full incorporated and the pastry cream is smooth and silky.
Fold in the poppyseeds.
Scrape the pastry cream into a bowl.
You can press a piece of plastic wrap against the surface of the cream to create an airtight seal and refrigerate the pastry cream until cold or, if you want to cool it quickly–as I always do–put the bowl into a larger bowl filled with ice cubes and cold water, and stir the pastry cream occasionally until it is thoroughly chilled, about 20 minutes.
Using a stand mixer with the paddle attachment add the yeast, warm water, and 1/2 tsp. granulated sugar.
Let rest for 5-10 minutes to proof…the batter will puff up. If it does not then your yeast is bad and rolls won't rise so best to throw out and start again with different yeast.
Add in buttermilk, eggs, 1/2 cup granulated sugar, salt, lemon zest, vanilla, and melted butter and mix until fully combined.
Add in 2 1/2 cups of the flour and mix until fully combined.
Switch to a hook attachment then add another 1 cup flour. Knead mixture until combined.
 Continue to knead on low speed about 5 – 6 minutes while adding a little more flour as needed to reach a soft and moist dough (Dough shouldn't stick to the sides of the bowl but does stick to the bottom).
Transfer dough to an oiled bowl, cover with plastic wrap (I find press and seal works best)  and let rise in a warm place until doubled in volume, about 1 1/2 hours.
I suggest dividing the mixture up between two greased 9-x-13-inch pans.
Punch dough down.
Dust a working surface lightly with flour and turn dough out onto surface.
Sprinkle top of dough with a little flour then roll dough out into an 20 by 18-inch rectangle.
Spread the pastry cream evenly over the dough leaving one inch at the top on one of the long sides.
Starting at one of the long sides, roll the dough up, and pinch the seam well to seal.
Using a serrated knife, cut the dough into 2 inch thick slices, and then place them in the prepared pans.
Cover with plastic wrap and let rise one more time, until doubled in volume, about 1 hour.
Preheat the oven to 350F.
When the rolls have risen, bake until golden brown, about 25 minutes.
Let cool for about 5 minutes. 
For the Glaze:
Whisk together the ingredients. 
Pour over buns. 
Sprinkle with extra poppyseeds if desired.