These Lemon Meringue Pie Sweet Rolls are a lemon dough filled with lemon curd and then topped with torched Swiss meringue.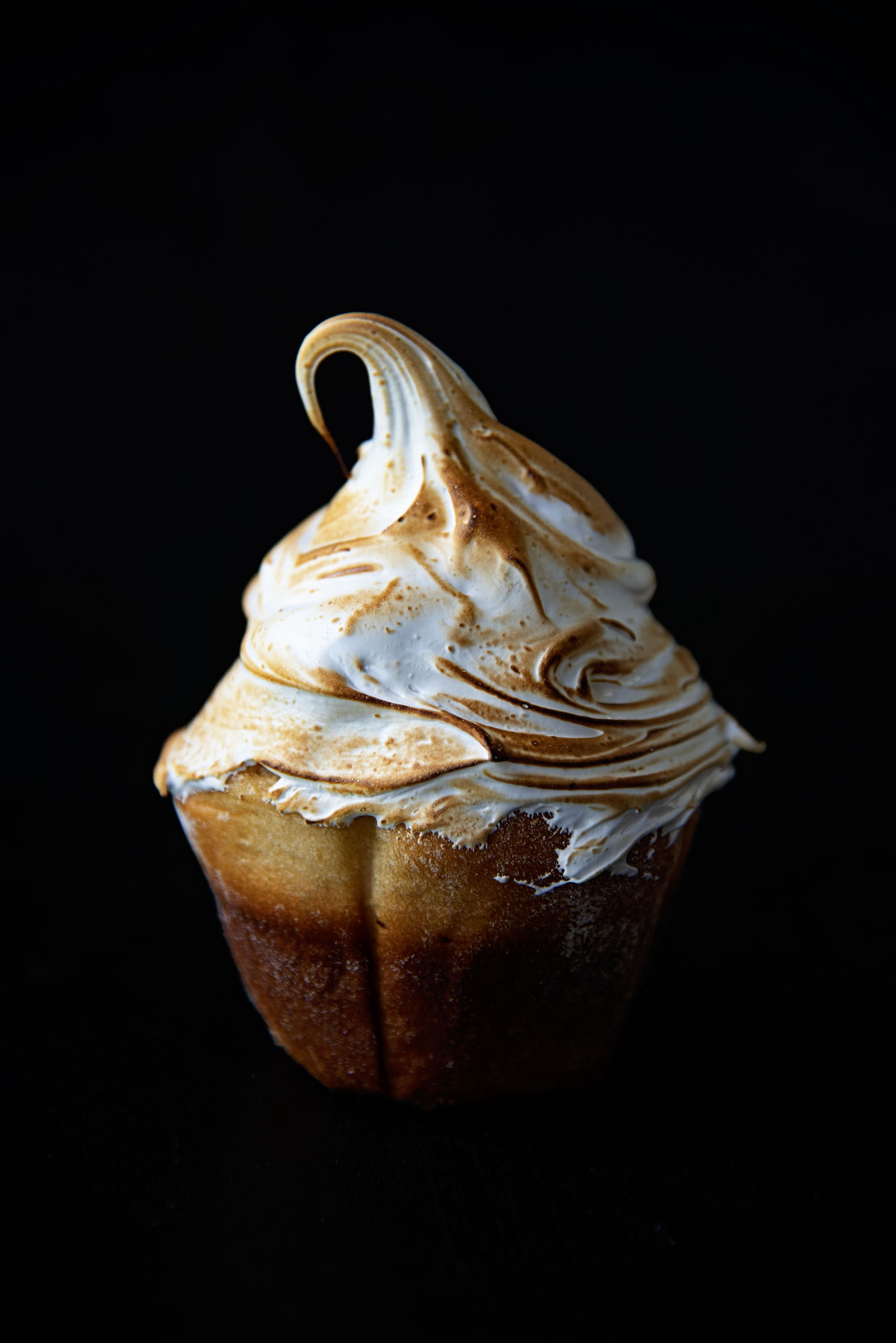 I have a confession.
As a pie, I don't like lemon meringue pie.
But making other baked goods taste like lemon meringue pie I love.
Weird I know.
It must be a family thing my brother doesn't like peas but loves pea soup.
And he doesn't like bananas but like banana bread.
Then again that could have all changed because we are older now and those are childhood memories.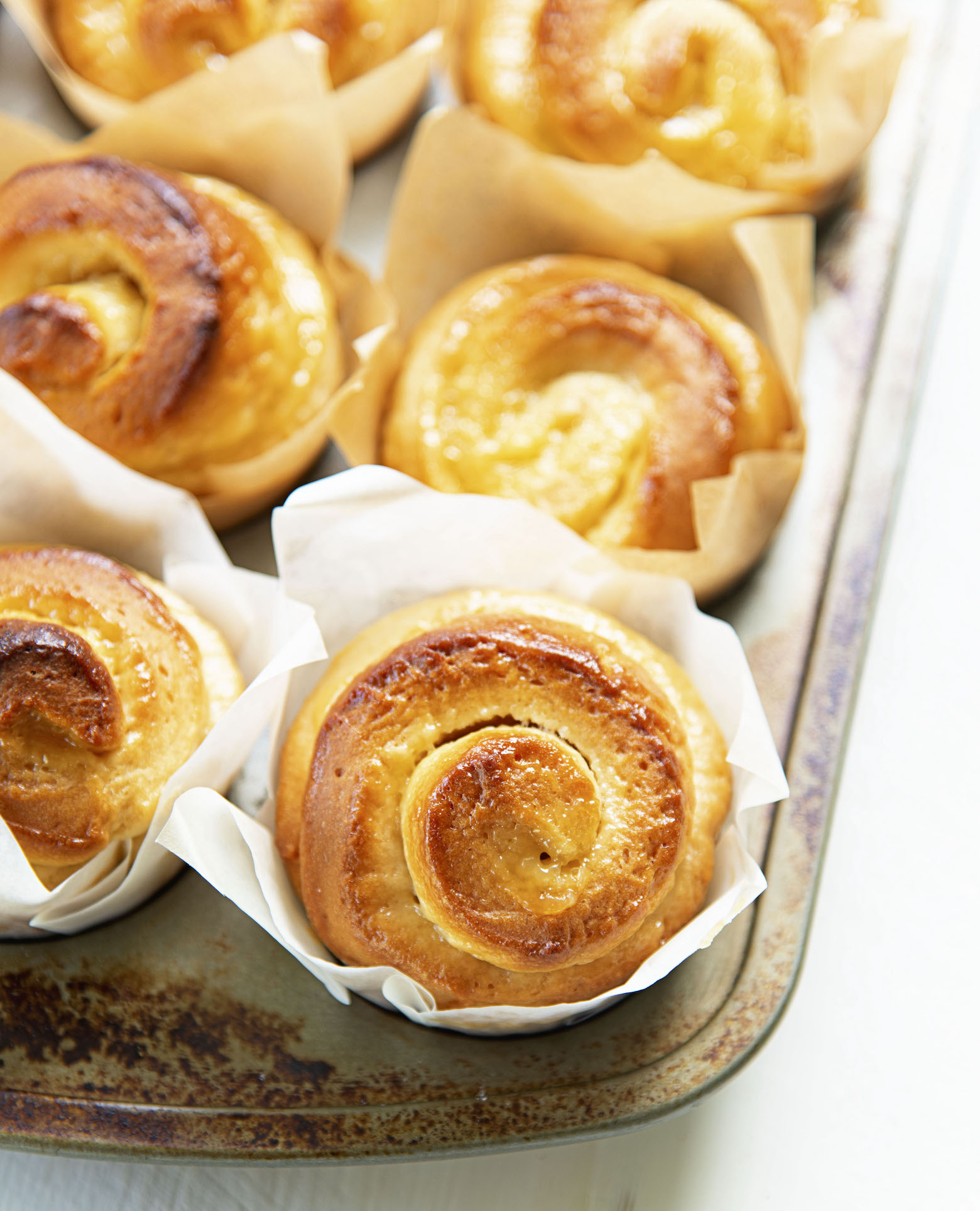 I've envisioned these Lemon Meringue Pie Sweet Rolls for awhile.
I pictured swirly buns filled with tart lemon curd then rolled in a lemon sugar.
The lemon sugar did not happen.
Mostly because when it came time to make these I wasn't sure that the meringue would stick to a sugared bun.
Still not sure if it would because I didn't try.
I probably should have tried.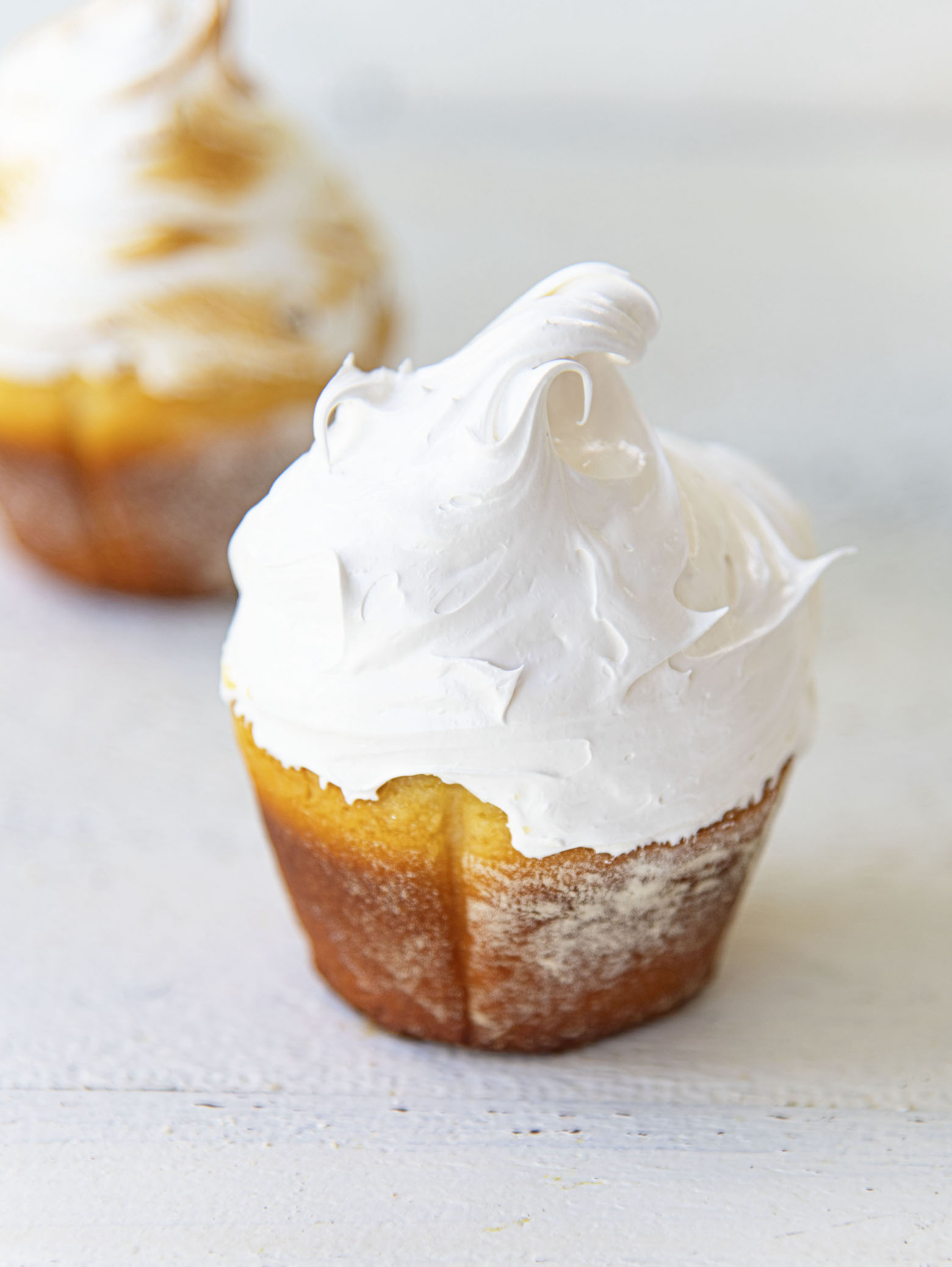 I pictured them with a thick Swiss meringue (the same I use as a base for buttercream).
Then torching that meringue giving these buns a texture contrast.
As you can see that part worked out lovely.
You will notice in the recipe that when you get to the Swiss meringue you have to use grams.
Do you have to use grams?
YES.
I know everyone is anti weighing their ingredients but if you want to be successful with the meringue you really do need to measure it out.
A food scale really isn't that expensive and can make a huge difference in your baking.
While almost everything I put on here is in cups and tsp/TBSP the meringue is in grams.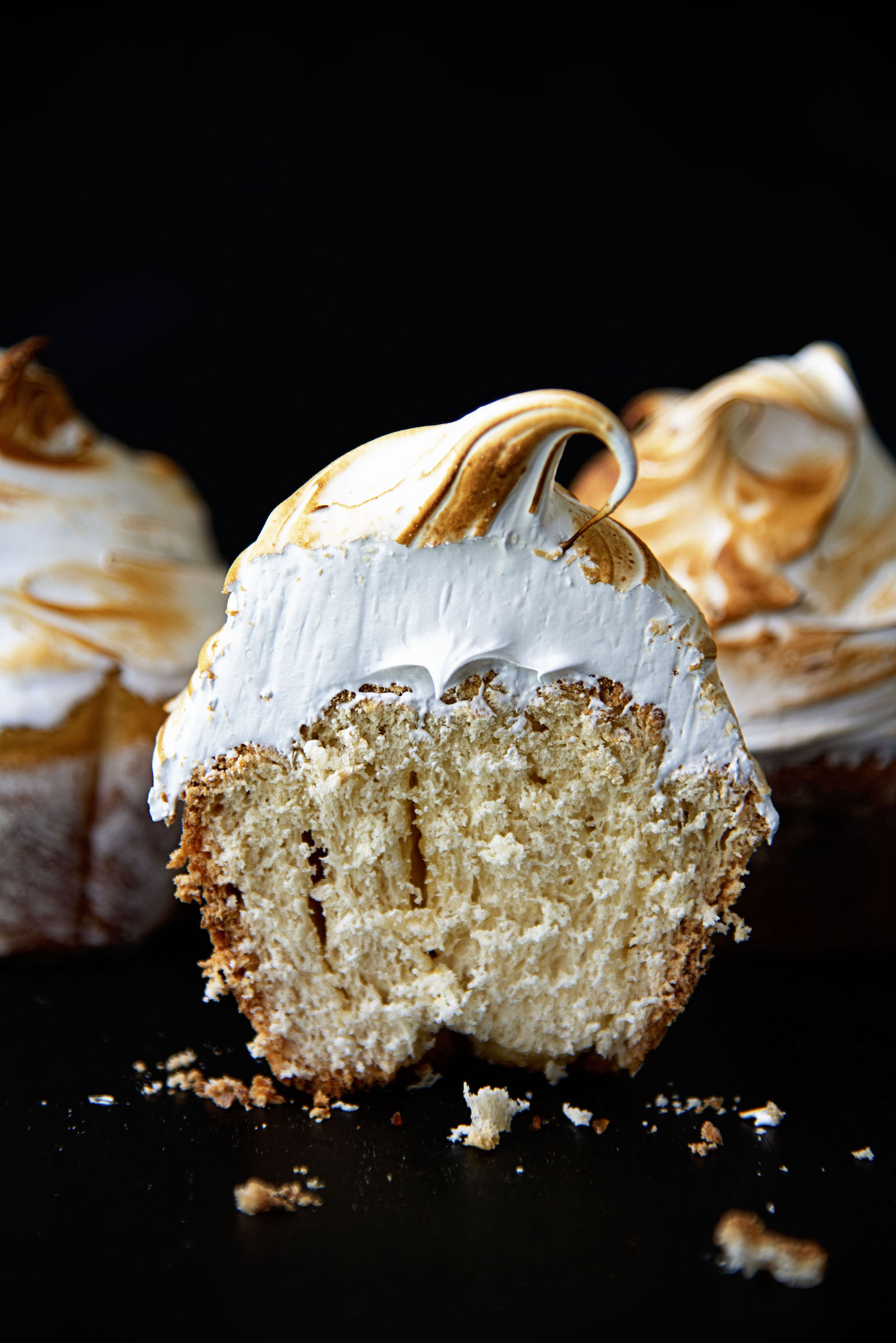 All you have to do is look at these sweet rolls to know they are worth the effort.
I mean you have to admit these are pretty awesome looking.
Just like I pictured them in my head.
P.S. It's a great day to buy my cookbook Holy Sweet!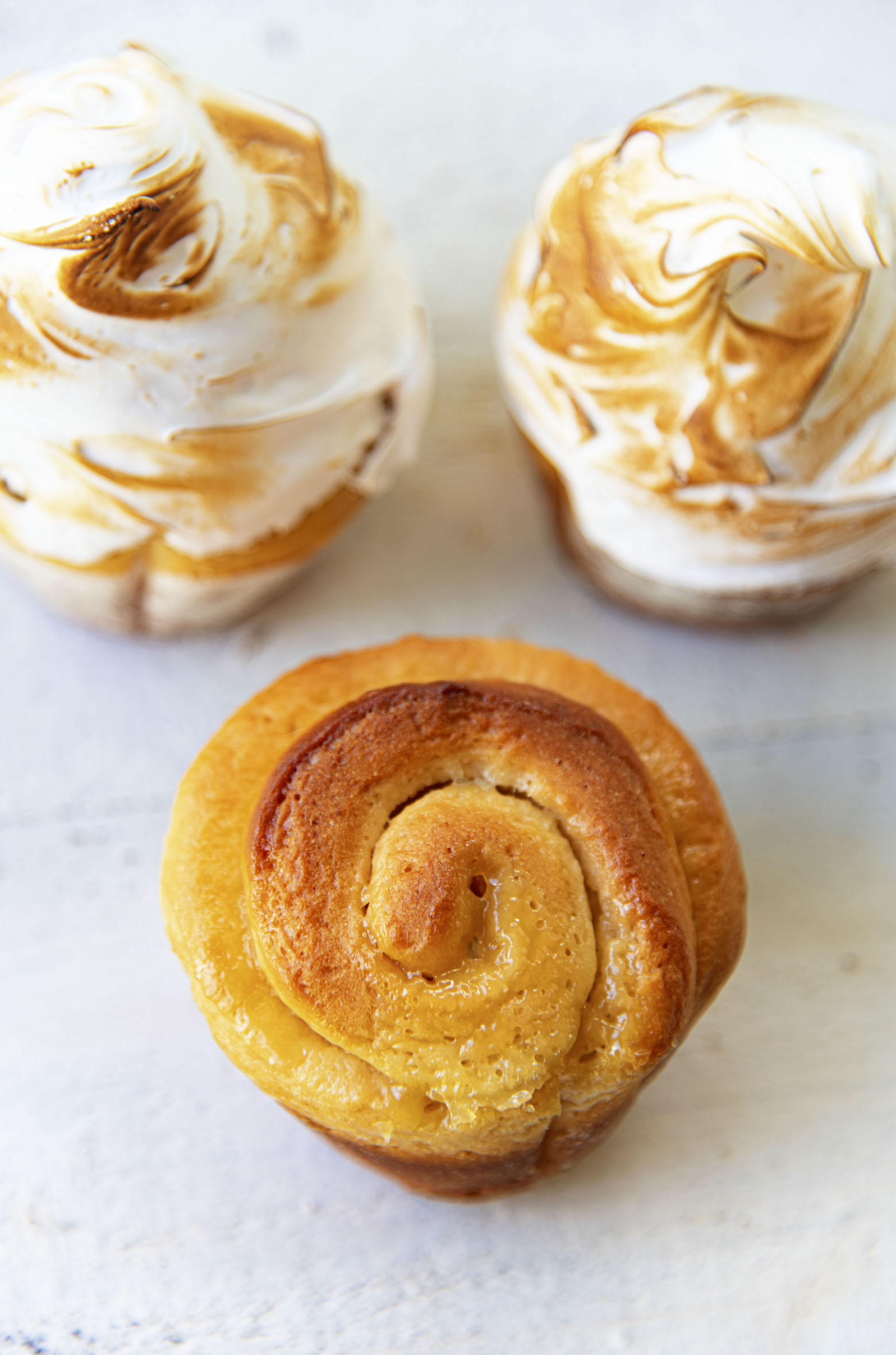 Want More Sweet Roll Recipes?
Peanut Butter and Jelly Sugared Buns
Bourbon Brown Sugar Caramel Peach Sweet Rolls
Salted Caramel Apple Sweet Rolls
Prosecco Strawberry Sugared Buns
Ingredients
For the Sweet Roll Dough:
1/2 cup whole milk, heated to 110 – 115F
1 TBSP active dry yeast (I used Red Star Yeast Platinum)
1/2 tsp granulated sugar
1/2 cup full fat buttermilk, at room temperature
1/2 cup plus granulated sugar
2 large eggs
1 tsp. salt
1 tsp. vanilla extract
6 TBSP unsalted butter, melted and slightly cooled
zest of two lemons
3 1/2 – 4 cups bread flour
For the Filling:
1/2 cup lemon curd
For the Meringue:
150 g egg whites
225 g granulated sugar
Instructions
For the Dough:
Using a stand mixer with the paddle attachment add the yeast, warm milk, and 1/2 tsp. granulated sugar.
Let rest for 5-10 minutes to proof…the batter will puff up. If it does not then your yeast is bad and rolls won't rise so best to throw out and start again with different yeast.
Add in the 1/2 cup buttermilk, eggs, 1/2 cup granulated sugar, salt, vanilla, and melted butter and mix until fully combined.
Add in freeze dried lemon powder, lemon zest, and 2 1/2 cups of the flour and mix until fully combined.
Switch to a hook attachment then add another 1 cup flour. Knead mixture until combined.
Continue to knead on low speed about 5 – 6 minutes while adding a little more flour as needed to reach a soft and moist dough (Dough shouldn't stick to the sides of the bowl but does stick to the bottom).
Transfer dough to an oiled bowl, cover with plastic wrap (I find press and seal works best)  and let rise in a warm place until doubled in volume, about 1 1/2 hours.
Punch dough down.
Dust a working surface lightly with flour and turn dough out onto surface.
Sprinkle top of dough with a little flour then roll dough out into an 20 by 18-inch rectangle.
Spread the lemon curd evenly over entire surface using an offset spatula (works the best).
Beginning on an 18-inch side tightly roll dough into a cylinder. Pinch the seam to seal (brushing a little egg white underneath helps if needed or I just use a toothpick).
Cut into 12 equal portions using a large sharp knife (they should be 1 1/2-inch each).
Transfer the log to a baking sheet, cover with plastic wrap and freeze for 10 minutes.
This will make cutting the buns clean and even.
Remove from freezer, cut buns into 1 ½-inch pieces, you should get around 12.
Place them into a standard muffin pan with cupcake liners. I use THESE because they help the bun rise up not out.
Wrap with plastic wrap and let rise at room temperature for 1 ½ to 2 hours. The cooler your house is the longer it will take.
Bake at 350F for 25-30 minutes.
Remove from oven and cool slightly on wire rack.
Remove buns from muffin tins (and liners). The buns will be very soft. Let them cool on a baking sheet and they will get a little more firm.
For the Swiss Meringue:
Measure the egg whites and granulated sugar into the bowl of a stand mixer or other heatproof bowl.
Place over a pot of simmering water, ensuring that the water does not touch the bottom of the bowl.
Heat the mixture, whisking often and watching the edges carefully, until it no longer feels gritty when rubbed between your fingers, and it registers at least 160F on a thermometer. 
Carefully transfer to a stand mixer fitted with the whisk attachment.
Whip on high speed until stiff peaks form, approximately 5-6 minutes. 
Dip the sweet roll into the meringue.
Torch the meringue with a culinary torch.
Repeat with all the buns.