Lemon Cherry Loaf Cake: A sweet, tart, and tangy simple lemon loaf cake studded with freeze dried cherries and topped with a lemon freeze dried cherry icing.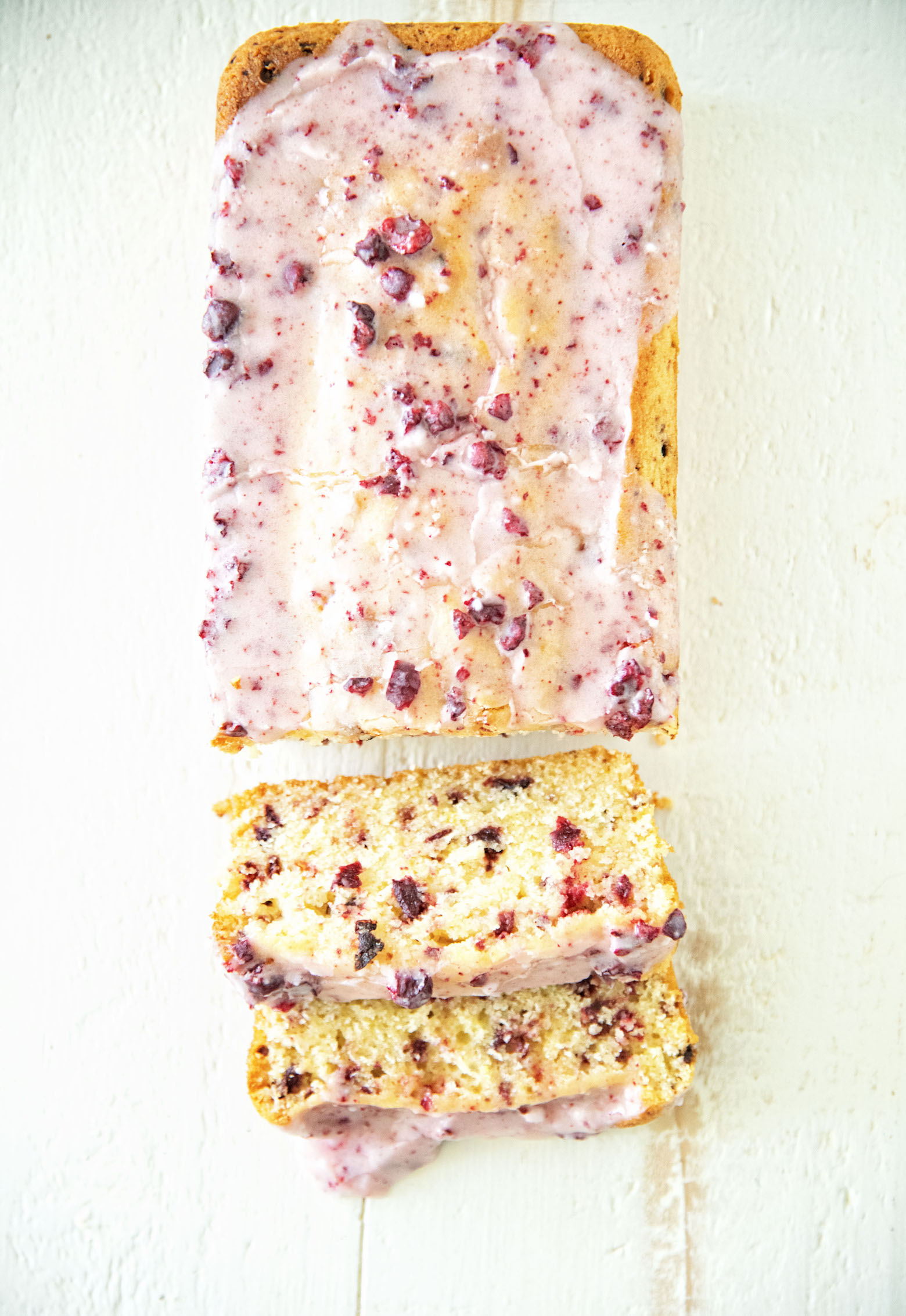 We are active with two main dog groups around here, Cavalier Rescue USA and Old Dog Haven.
You have heard me talk a lot about Old Dog Haven as we raise money for them each year.
In fact, we are doing it now if you want to help some old dogs.
But we also get dogs into Cavalier Rescue USA when the chance comes up and most of our Cavaliers are through them.
Old Dog Haven is at the shelters all the time.
When they see a Cavalier there they usually will ask me to see if I can get them into Cavalier Rescue USA because the dog is both a cavalier and what they consider adoptable after some health issues addressed.
Old Dog Haven only takes dogs deemed unadoptable due to age and ailments.
So if say a dog just needs a surgery and then they are adoptable they try and place them in a rescue that can get them adopted.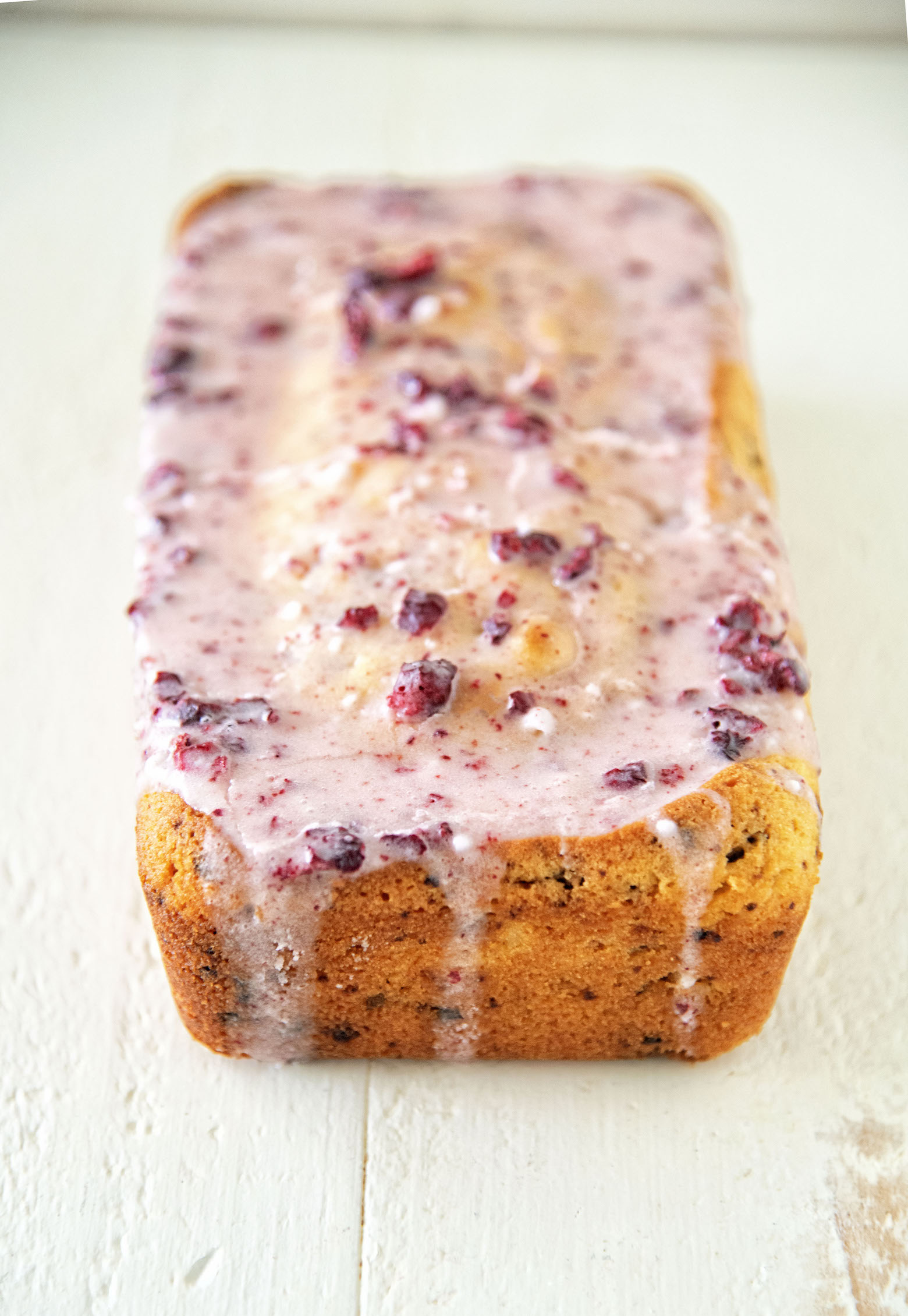 They reached out to me about a dog named Copper.
I was excited because at first I thought he was going to be a final refuge foster meaning they would pay for all his medical and I was all set to take him.
But sadly he was a surrender (owner was going into assisted living) and the dog was deemed adoptable.
So I got him into CRUSA and he went into a loving foster home while they got him ready to go to his forever home.
When they went to give him his dental it was discovered that Copper sadly had cancer of a salivary gland.
He was no longer going to be adopted but be in hospice in the care of his foster.
Sadly it spread to his eye and they said goodbye.
He had not really been eating the last few days before he passed.
But on the last day the foster gave him fried chicken and lemon cake.
When the owner released the dog to them he had sent fried chicken and lemon cake saying it was the dogs favorite.
On his last day Copper gladly ate up his treat of fried chicken.
And lemon cake and went out with his boots on so to speak.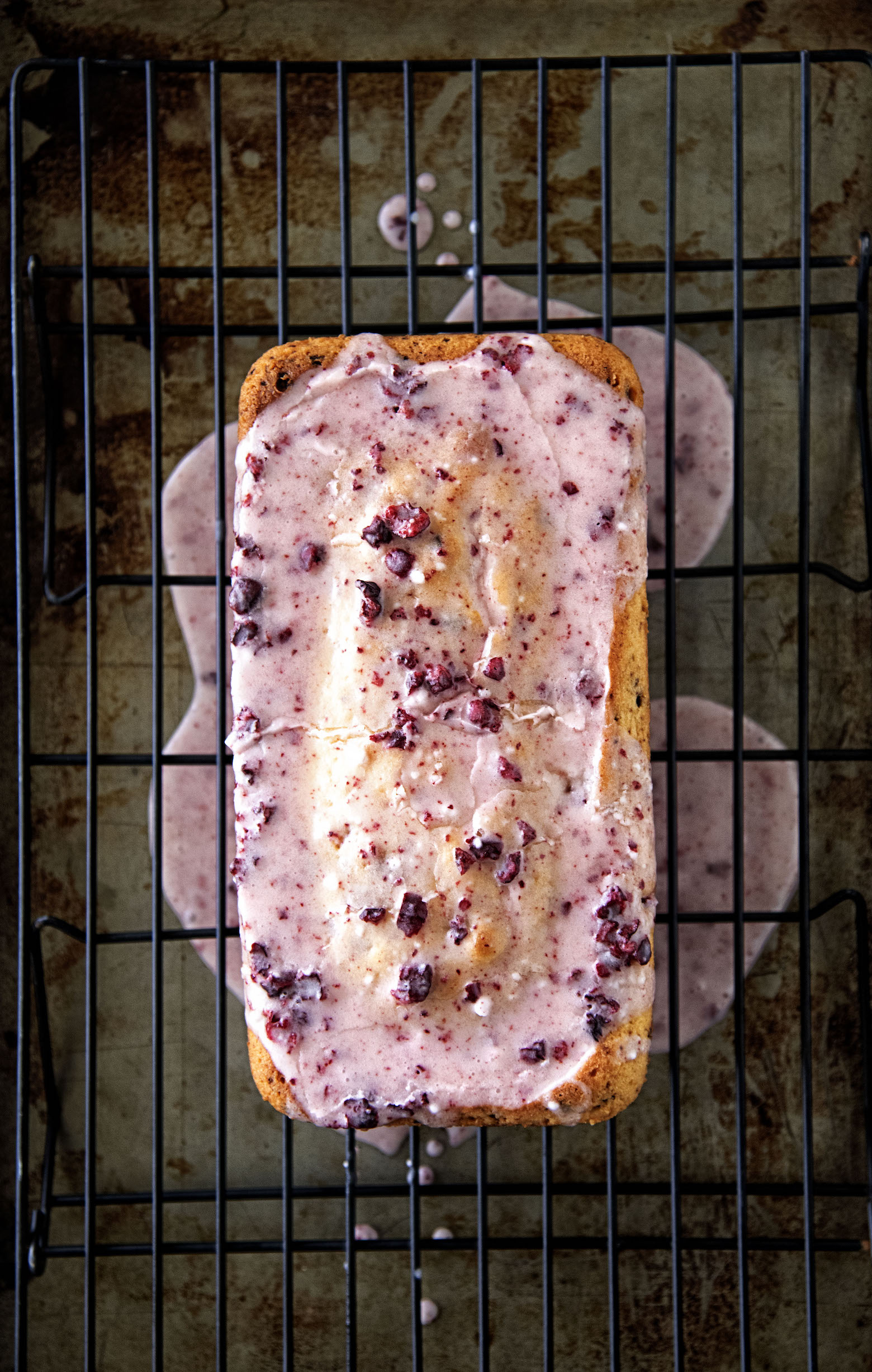 This cake was made in honor of Copper.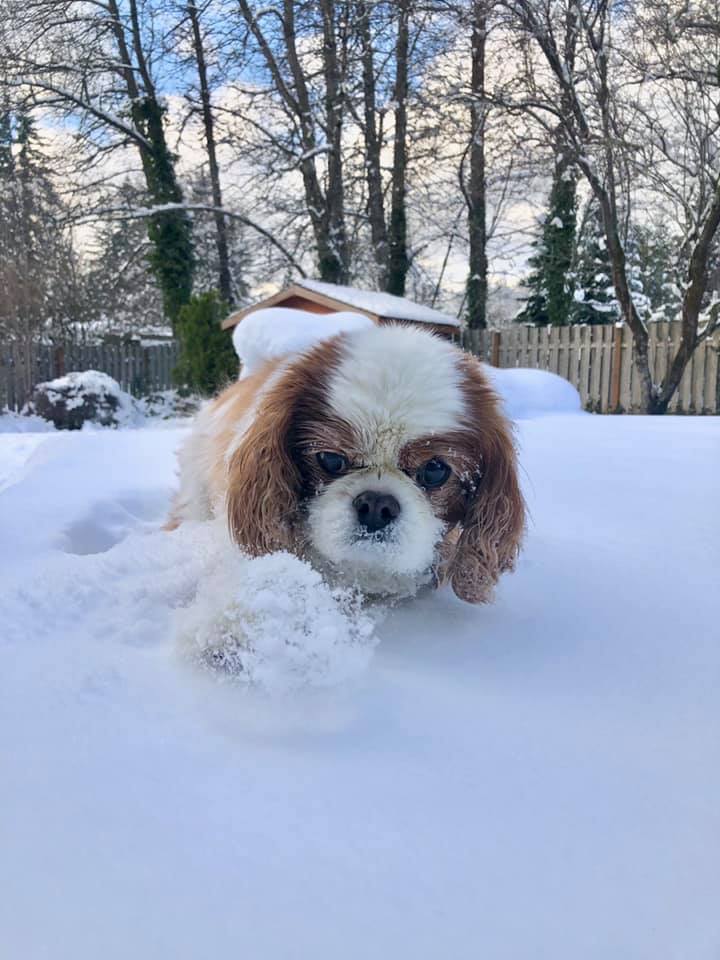 I had just gotten some freeze dried cherries and had wanted to try them.
It's one of the fruits I had not tried freeze dried yet.
So I made Copper a lemon cake with cherries.
I'm sure he would have liked it.
If you like the lemon loaf cake they have at Starbucks, this is similar, but better because I love what the cherries add to it.
Run free sweet Copper, hopefully you are enjoying all the fried chicken and lemon cake you want.
Last but not least…it's a great time to order my cookbook. 😀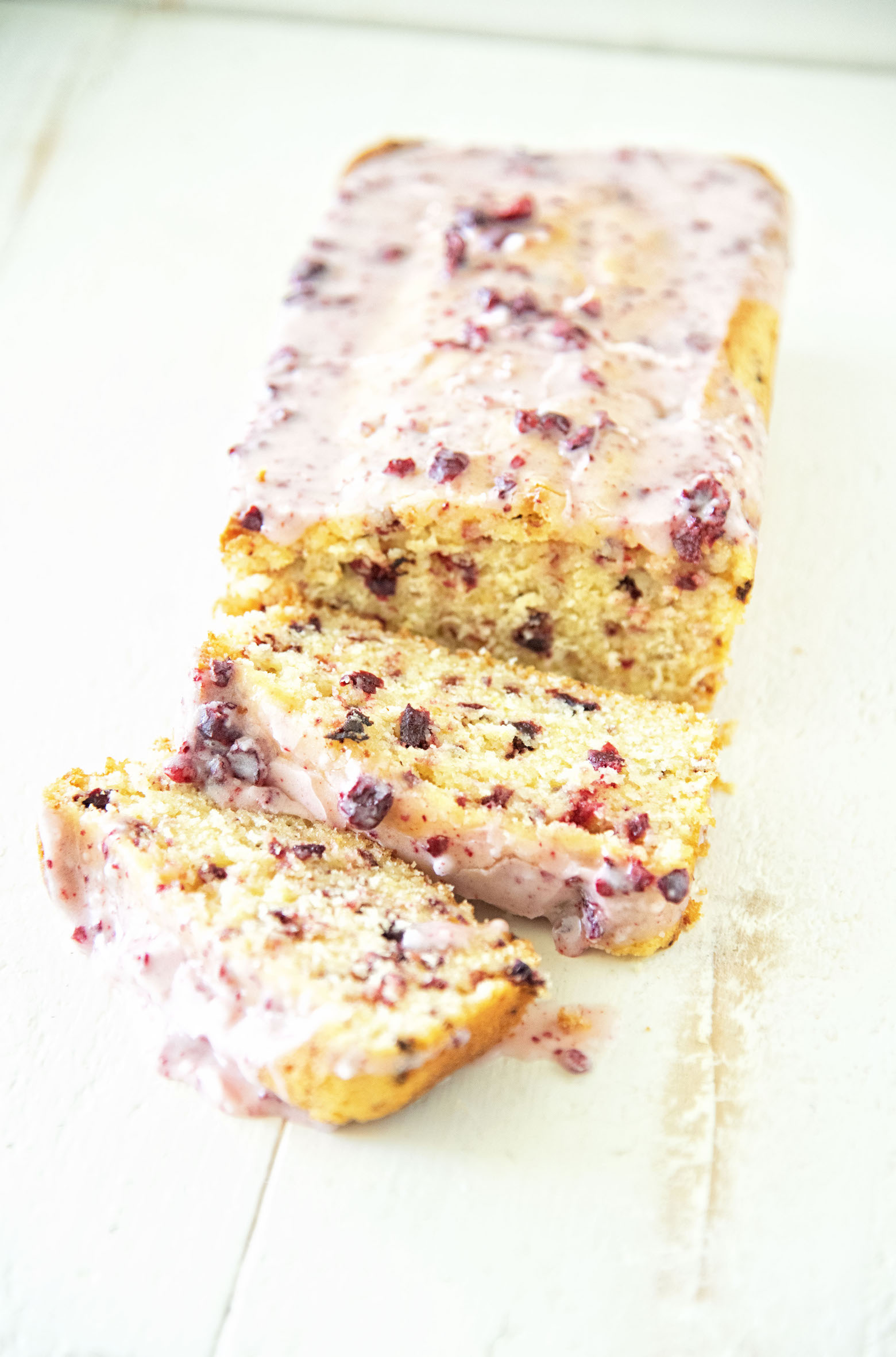 Want more recipes like this? Try these:
Hummingbird Streusel Loaf Cake
Vanilla Yogurt Cake with Orange Glaze
Hot Chocolate Loaf Cake with Marshmallows and Cocoa Glaze
Salted Caramel Apple Fritter Bread
Ingredients
For the Cake:
1 1/2 cups all-purpose flour
1/2 tsp. baking powder
1/4 tsp. baking soda
1/4 tsp.salt
1/2 cup unsalted butter softened
1 cup granulated sugar
3 large eggs
1 tsp.vanilla extract
zest of 1 large lemon
2 TBSP fresh squeezed lemon juice
1/3 cup full fat buttermilk
Lemon Cherry Icing:
1 cup powdered sugar
2 TBSP fresh squeezed lemon juice
1-2 TBSP milk
Instructions
For the Cake:
Preheat the oven to 350F degrees.
Grease and flour an 8 x 4-inch loaf pan, or line with parchment paper.
In a medium bowl whisk together the flour, baking powder, baking soda & salt.
Using a stand mixer with a paddle attachment beat together the butter and sugar until fluffy, about three minutes.
Mix in the eggs 1 at a time, scraping down the mixer after each addition.
Then mix in the vanilla extract, lemon zest, and lemon juice.
With the mixer on low speed, mix in about 1/2 of the flour mixture followed by about 1/2 of the buttermilk.
Turn off the mixer and scrape down the sides of the bowl.
Repeat the process with the rest of the flour mixture and buttermilk.
Fold in the cup of freeze dried cherries.
Pour the batter into the prepared pan and bake for 50-60 minutes. It will be done when an inserted toothpick comes out clean and the top feels firm to the touch. If after about 30-40 minutes the top is browning too much, tent a piece of aluminum foil over top and continue baking.
Cool the loaf fully before icing.
For the Icing:
In a medium bowl whisk together the powdered sugar, lemon juice, freeze dried cherries, and milk until smooth. Add in a little more powdered sugar or milk as needed.
Remove the cooled loaf from the pan and drizzle over top of loaf.