This Jellied Cranberry Sauce Bread is a great way to use up your Jellied Cranberry Sauce and makes for a great sandwich or French toast.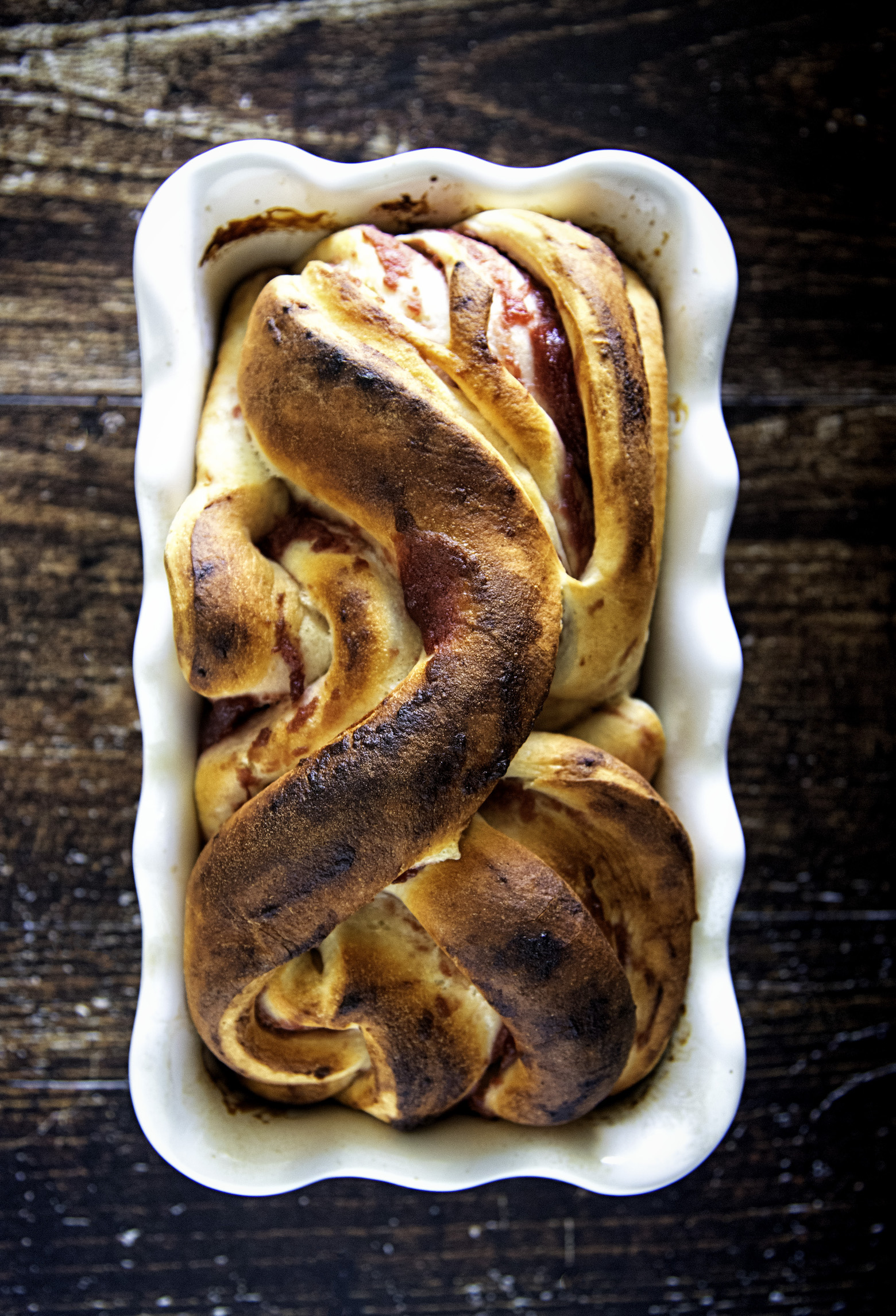 I seem to like a lot of foods people don't like.
Candy corn. Circus Peanuts. Marshmallow Peeps.
Jellied Cranberry Sauce.
Growing up we always had it.
My mom also made homemade for years but just gave up as no one but her was eating it.
Instead we wanted the jellied cranberry sauce sill in it's can shape so we could slice it.
She would just shake her head at us.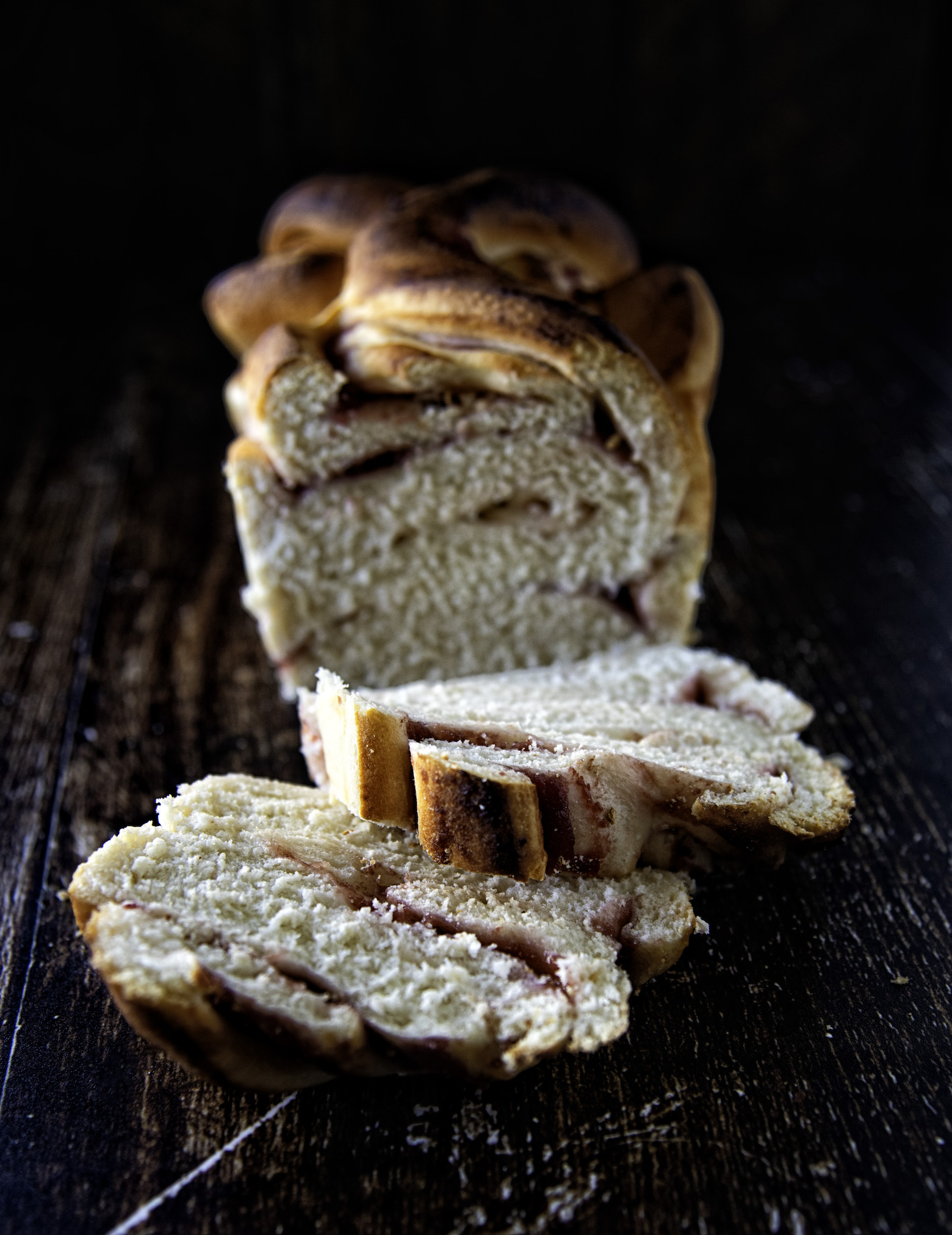 Nowadays I eat any and all cranberry sauce but if I am having a holiday dinner I better see that lovely can shape.
When I still ate meat no Thanksgiving sandwich was complete without Miracle Whip (I know, I know) and jellied cranberry sauce.
So a few years ago I started just baking in straight into the bread.
Now our sandwiches are filled with stuffing and corn casserole instead of turkey but I still have to have the Miracle Whip and the cranberry.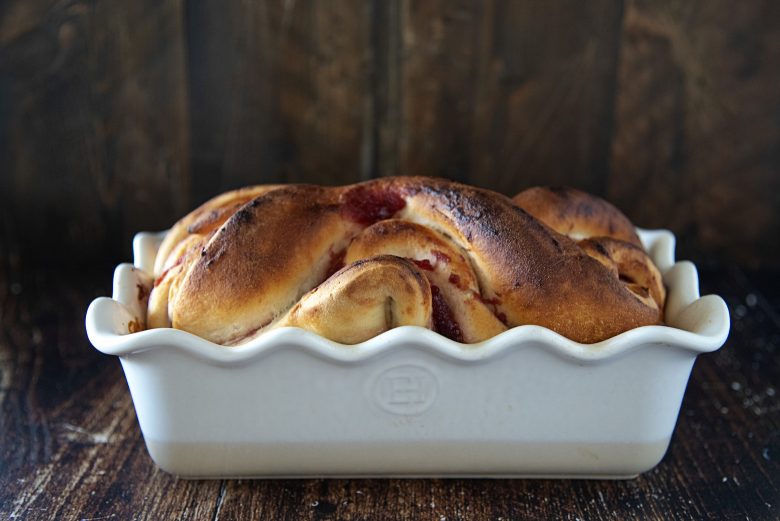 This Jellied Cranberry Sauce Bread works great as sandwich bread and it works really good as French Toast.
Just make regular French toast custard but add the zest of one orange and 2 TBSP of frozen orange concentrate.
So good.
I made my loaf as a twist bread but suggest that you make just a plain bread loaf like you would for sandwiches.
The choice to cut open the loaf and twist it was for visual effect only for the blog.
I normally just make it as sandwich bread.
Because I use it as sandwich bread. 🙂
P.S. It's a great day to buy my cookbook Holy Sweet!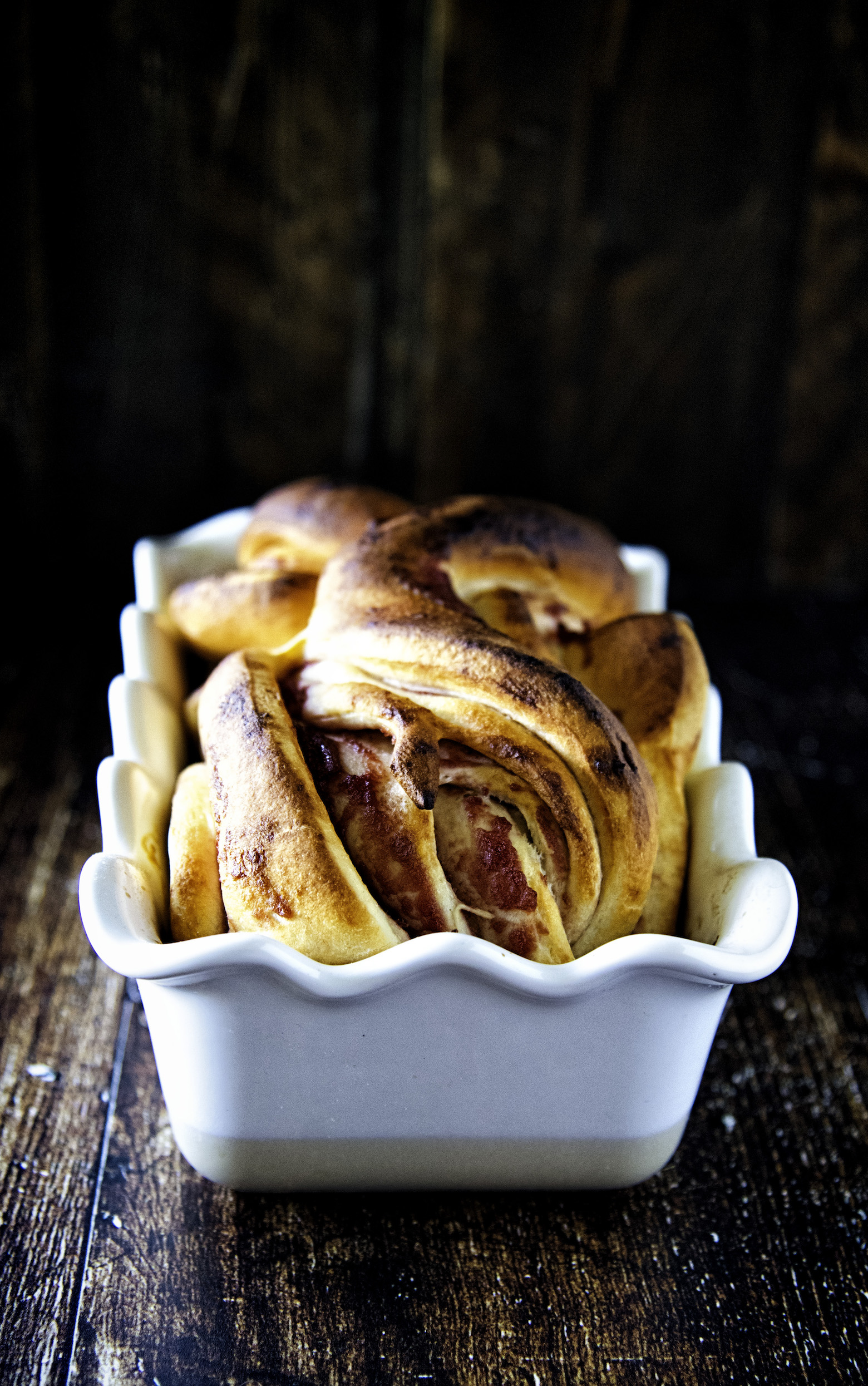 Want more cranberry recipes?
Cranberry Lemon Poppyseed Loaf
Pistachio Dried Cranberry Caramel Tart
White Chocolate Dipped Orange Cranberry Cupcakes
Cranberry Orange Spice Bundt Cake
Ingredients
Dough:
1 ¼ cups lukewarm water(100-110F)
1 ½ TBSP vegetable oil
2 tsp. granulated sugar
1 envelope active dry yeast (I used Red Star Yeast Platinum)
1 ½ cups all-purpose flour
1 ½ cups bread flour
1 ½ tsp. salt
Filling:
1 cup jellied cranberry sauce
Instructions
In the bowl of a stand mixer add the water, oil, and the sugar.
Sprinkle the yeast over the top and whisk to dissolve.
Let stand for 5 minutes, mixture will look a little foamy.
Add the flours and the salt.
Add the dough hook and mix on low speed for about 7 minutes.
Turn the bread out onto a floured work surface and knead until the dough is soft and somewhat sticky yet firm to the touch, about 10 minutes.
Form dough into a ball and place into a lightly oiled large bowl.
Cover with plastic wrap or towel.
Let dough rise in a warm, draft free spot and let rise for 1 ½ hours. Mine took longer as our house was cold.
After the 1 ½ hours punch down the dough and let it rise for another 30 minutes.
After the second rise, divide the dough in half.
Lightly flour a work surface and place half of the dough on it.
Using your hands pat the dough into a rectangle 18-x-12-inches.
Starting from the long side nearest you spread the jellied cranberry sauce across the dough. Make sure to leave 1 inch uncovered on each side to prevent oozing.
I chose to make mine like a babka where I rolled it up like cinnamon rolls and then sliced it down the middle with a braid. You can also just shape it like a normal sandwich loaf.
Place into a prepared 8×4 loaf pan.
Cover with a towel or plastic wrap and let rise for 40 minutes.
Position one rack in the center and a second rack in the lower third of the oven and preheat to 400F.
Place a pan of hot water on the lower rack.
Bake until the loaf is golden and sound hollow when tapped on top, 30-40 minutes.
Let the loaf cool in the pans for about 15 minutes.
This makes GREAT French toast. You should try it.
Notes
Adapted from Good Morning Baking by Mani Niall