This Blueberry Limoncello Cobbler is spiked with Limoncello liqueur this blueberry cobbler is a grown up summer treat and twist on a classic.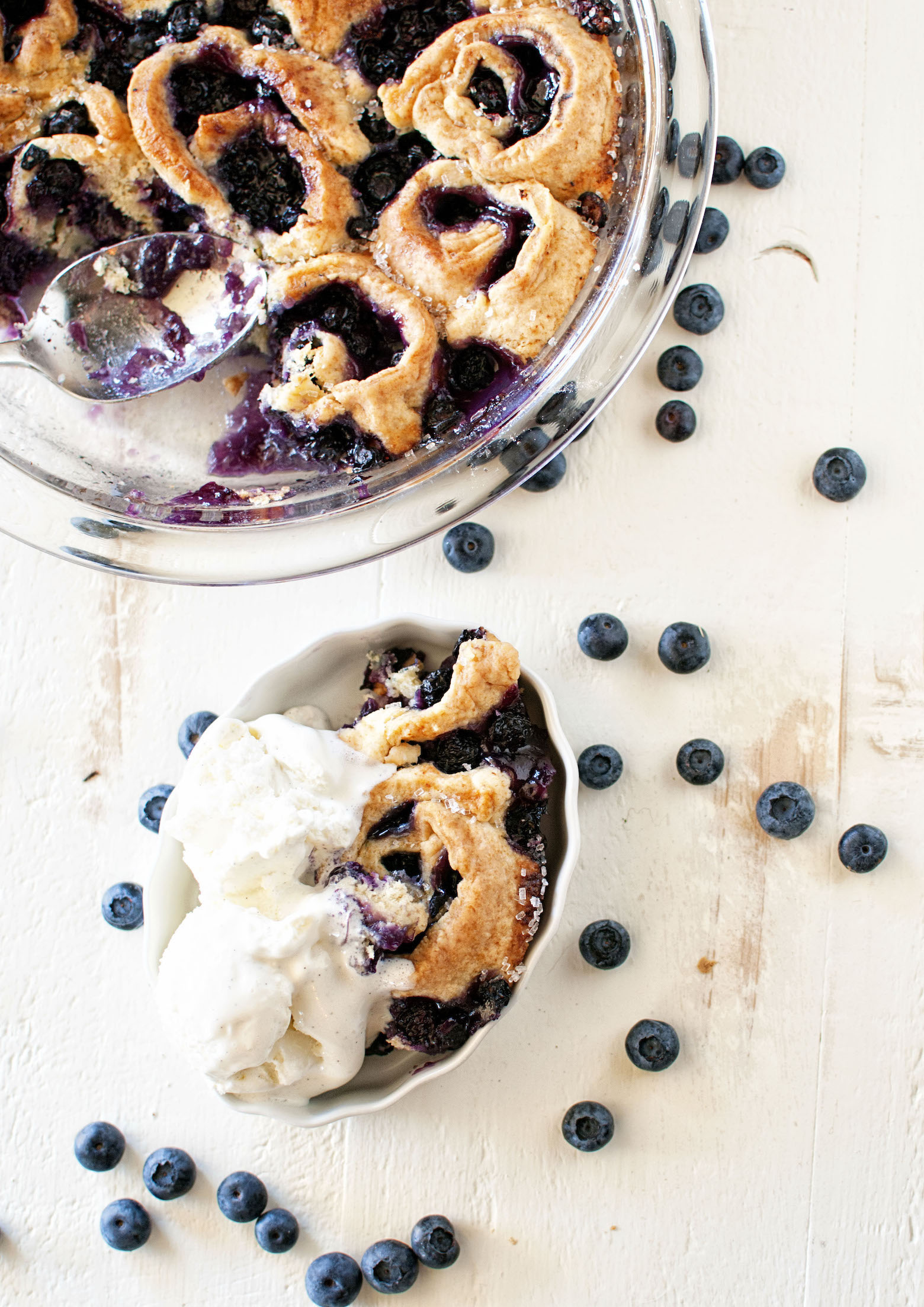 This post and recipe was created for #SummerDessertWeek!
I was sent samples by some of the sponsor companies but as always opinions, bad grammar, and overuse of smiley emoji's are  are 100% mine.
It's no secret that I don't like summer.
I'm so pasty white that I don't absorb the sun I reflect it. 🙂 Bugs love to nibble away at my skin.
I don't tolerate heat and it's often too hot to turn the oven on.
I'm allergic to all the growing things and don't get to breath from May until September.
But the saving grace of summer is the bounty of fruit and veggies.
So when Angie of Big Bear's Wife decided to host Summer Dessert Week I decided to join in.
Main reason was the fun giveaway for you the readers. The other reason is that I miss the days in blogging when we used to do things like this all the time.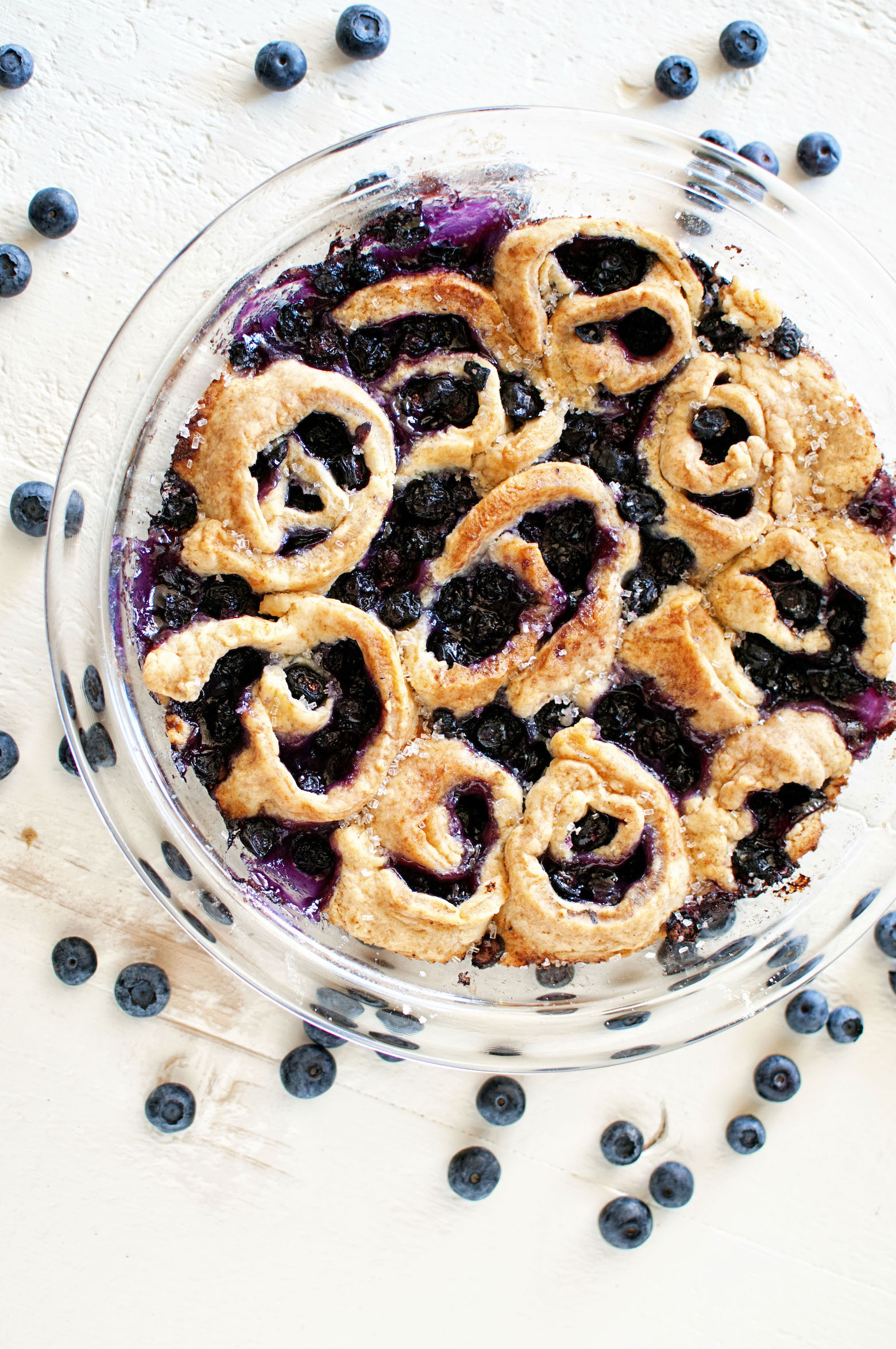 This Blueberry Limoncello Cobbler may seem like an odd choice of a dessert for me since I'm allergic to blueberries, but I love to bake with them.
I especially love the combo of blueberries and lemon.
Way back when I started this blog over 12 years ago I made a blackberry cobbler mostly because the recipe intrigued me.
The dough rolls like cinnamon rolls, you melt a stick of butter in the pan, and your pour sugar water into the pan which makes everything float up.
You will be determined that it will not work out and you wasted ingredients. You will be wrong…it all comes together magically.
I love this cobbler.
It's like half biscuit half cobbler.
And it's messy but tasty.
Some of the fruit will fall out when you slice it just through the fruit into the pan after you put the sliced dough in.
I also used the Dixie Crystals Sugar sent to me as well as the Land O'Lakes butter.
You can use fresh or frozen berries. Rainer Fruit sent blueberries so I used fresh.
But I have made this cobbler with both frozen and fresh fruit and both have been excellent.
This recipe does contain alcohol and so you need to be 21 or older to enjoy.
If you don't want the booze you can just use all water in the recipe.
Welcome to the first #SummerDessertWeek event hosted by Angie from Big Bear's Wife.
We're so glad that you've joined us for this week long event of desserts and giveaways.
You're going to love what we have in store for you.
It's a great day to buy my cookbook.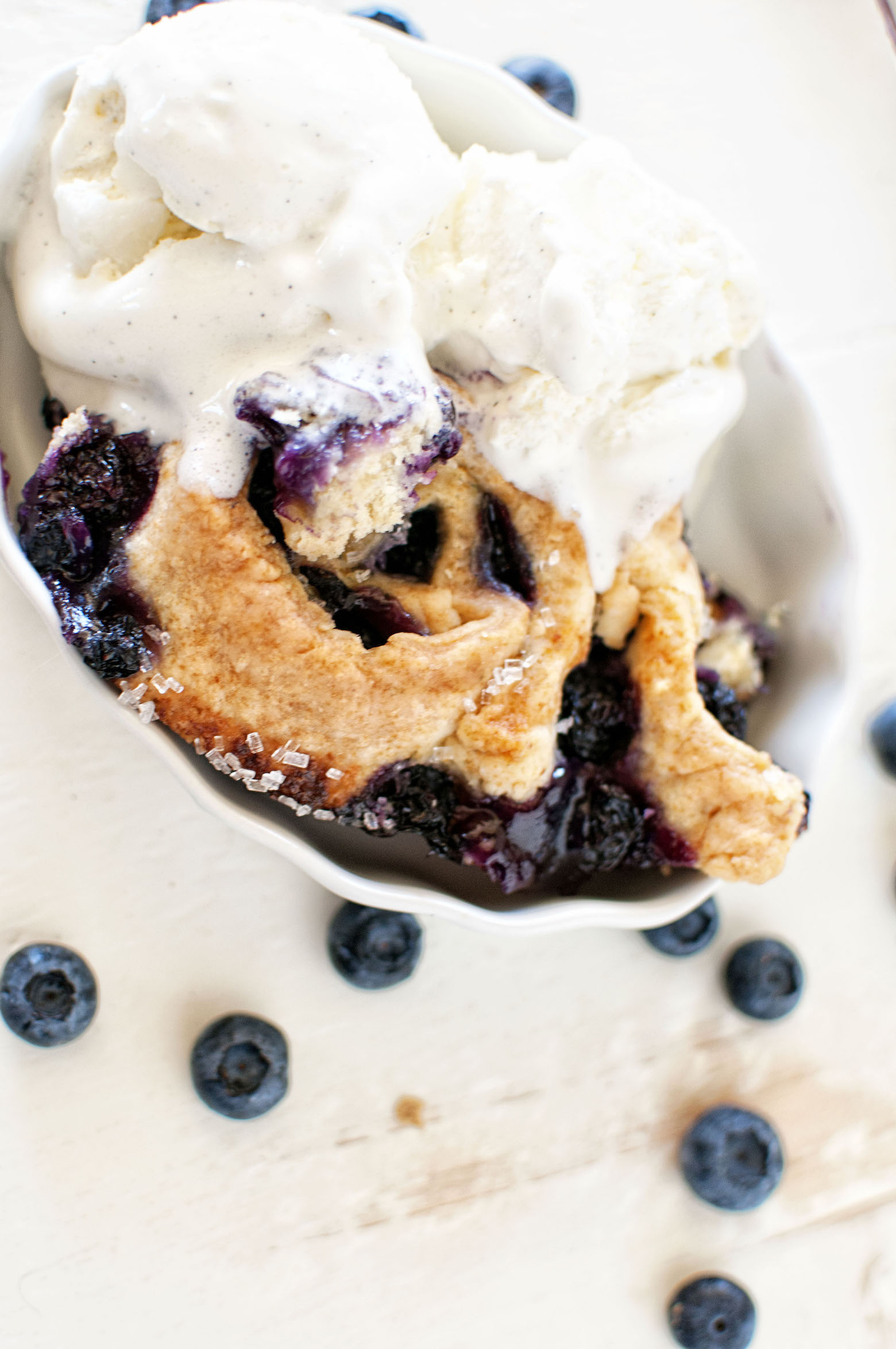 Want More Cobbler Recipes?
Ingredients
1 stick (1/2 cup) unsalted butter, plus 1/2 stick (4 TBSP) cut into bits and chilled
3/4 cup water
1/4 cup Limoncello liqueur (if not into booze use water)
1 cup granulated sugar
1 1/2 cups self-rising cake flour
1/3 cup milk
zest of one lemon
3 cups fresh or thawed frozen blueberries (about 1 pound)
2 TBSP sparkling sugar
Accompaniment if desired: vanilla ice cream
Instructions
Preheat oven to 350°F.
In a 10-inch glass pie plate or baking dish melt 1/2 cup uncut butter in oven.
In a small saucepan combine water and 1 cup sugar and heat over moderate heat, stirring occasionally, until sugar is completely dissolved.
In a food processor pulse together flour and remaining 1/2 stick (4 TBSP) cut-up butter until mixture resembles fine meal.
Add milk and pulse just until a dough forms.
Turn dough out onto a lightly floured surface and with a floured rolling pin roll into an 11- by 9-inch rectangle.
Scatter blueberries evenly over top of the dough.
Beginning with a long side roll up dough jelly-roll fashion and cut into 1 1/2-inch thick slices. (Slices will come apart and be messy).
Arrange slices, cut sides up, on melted butter in pie plate or baking dish.
Pour sugar syrup over slices, soaking dough, and bake cobbler in middle of oven 45 minutes. Sprinkle sparking sugar over cobbler and bake 15 minutes more, or until golden.
Serve cobbler warm with ice cream.