This Hot Cocoa Crumb Cake is a twist on classic crumb cake. Hot cocoa flavored cake topped with chocolate buttery crumbs covered in hot cocoa glaze.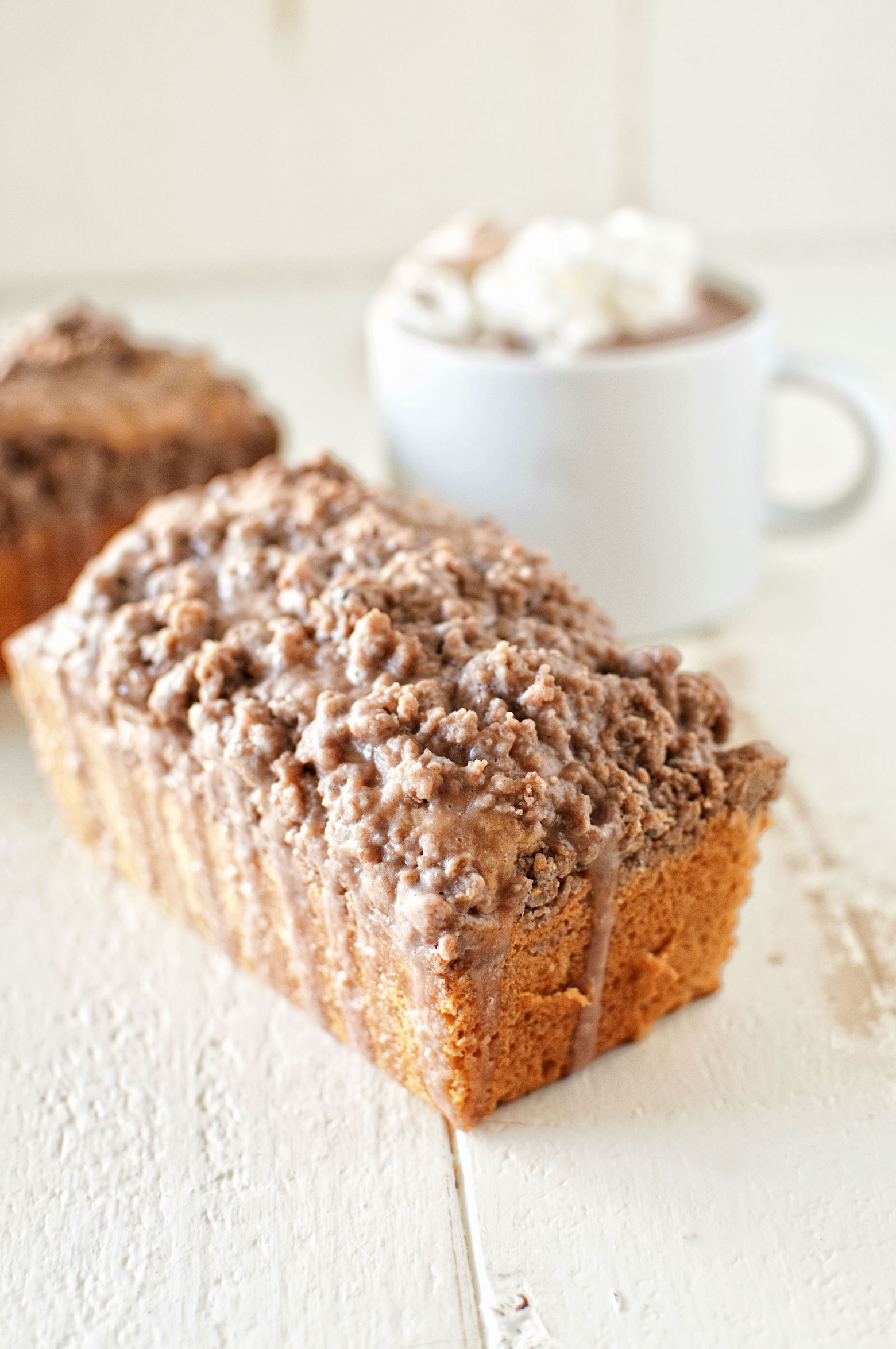 I've partnered again with Darigold to bring you this chocolatey Hot Cocoa Crumb Cake using their Heat N' Serve Hot Cocoa.
Despite the highly unusual heat wave some of the country just had, most of us are indeed rolling into cooler weather…hot cocoa weather.
Darigold introduced a fun new seasonal product: Heat N' Serve Hot Cocoa,
Making it easier than ever to have a creamy, chocolatey cup of cocoa.
You can heat it up on the stovetop, in the microwave, or even with a milk steamer (my favorite way).
While I love to just sit around in my pj's, sitting under cozy blankets with my husband and pups, and watching hockey all while drinking hot cocoa, I really love using it in baking.
Because Dairgold Heat N' Serve Hot Cocoa is ready to go it is perfect for baking.
Often, when you bake a recipe that requires using hot cocoa it can have grainy results.
From the hot cocoa powder not fully dissolving.
Usually have to heat the milk with the cocoa packet.
And whisk like crazy to make sure the cocoa is fully dissolved.
Then I have to wait for it to at least cool to room temperature before I can use it in the recipe.
But with the Darigold Heat N' Serve Hot Cocoa I can use it straight from the carton.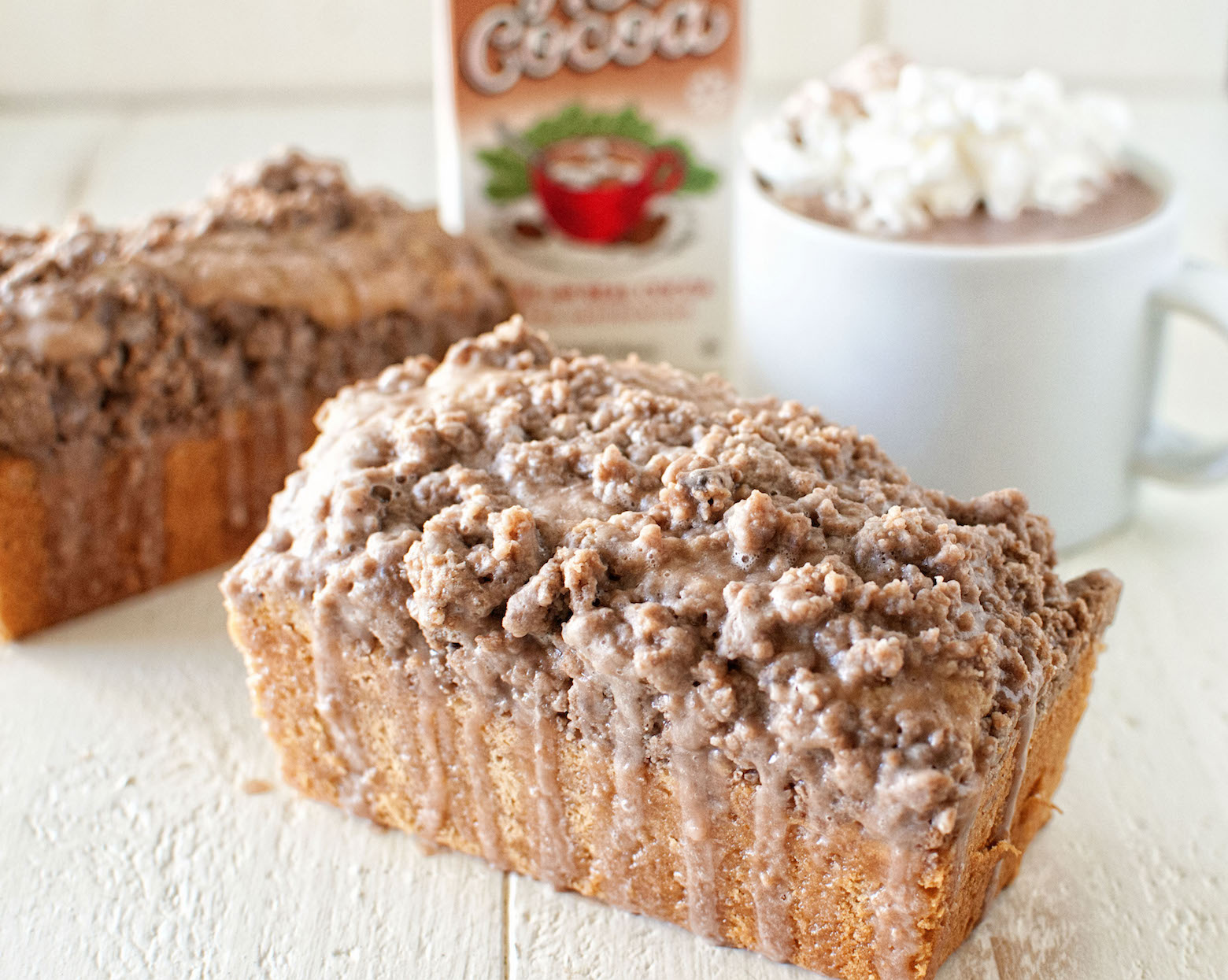 I'm using mini loaf pans again as I often do.
I love using mini pans because I find that it encourages sharing baked goods that way.
Fall/Winter is just the perfect season of sharing.
Theoretically you can make this using a full size loaf pan.
I say theoretically because I have only made it using the mini pans.
You would definitely need to increase the baking time by at least 20 minutes if you do go with the traditional loaf pan size.
This cake combines two of my favorites: hot cocoa and crumb cake.
I love to use crumb topping, not only is it delicious, but it adds a nice texture contrast to your baked goods.
While this cake does have hot cocoa and unsweetened cocoa in it the cake is not a knock you over with chocolate kind of cake.
If you want to add more chocolate to this I think adding mini chocolate chips to the cake batter.
If you can't find the Heat N' Serve Hot Cocoa near you regular cocoa will be fine but make sure to make it with whole milk.
I love Darigold, both the products and the company and hope that you will support those companies that help support this blog.
P.S. It's a great day to buy my cookbook Holy Sweet!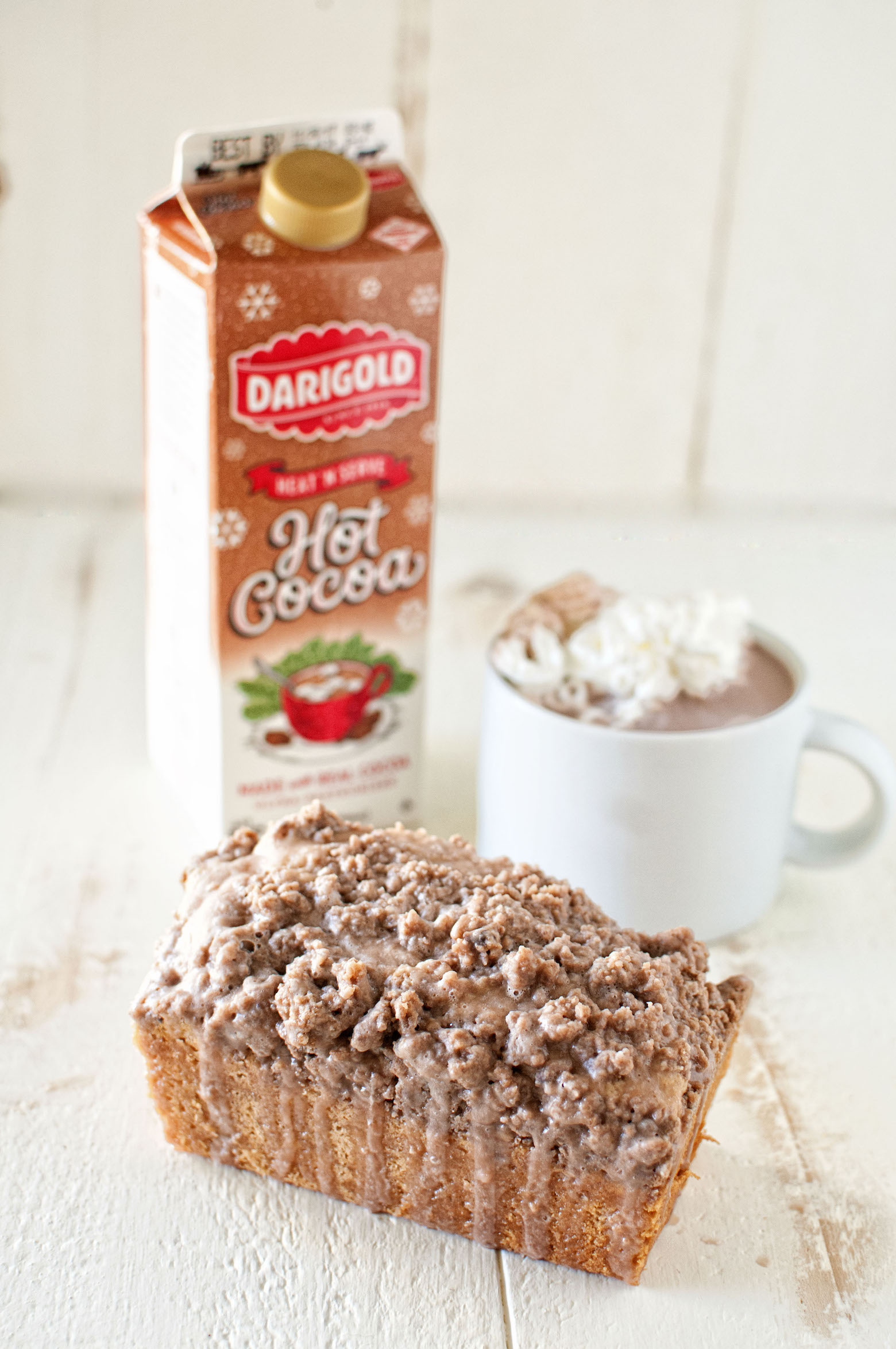 Want More Crumb Cake Recipes?
Strawberry Lemonade Crumb Cake
Ingredients
Crumb Topping:
1/3 cup granulated sugar
1/3 cup brown sugar, packed
¼ tsp. salt
2 TBSP unsweetened cocoa powder
8 TBSP Darigold unsalted butter, melted and then slightly cooled
1 ¾ cup cake flour
Cake:
½ cup Darigold unsalted butter, at room temperature
1 cup granulated sugar
2 large eggs
1 cup Darigold Heat N' Serve Hot Cocoa or Chocolate Milk
1 cup Darigold sour cream
½ tsp. vanilla bean paste
2 ½ cups cake flour
2 tsp. baking powder
½ tsp. baking soda
Pinch of salt
Icing:
6 TBSP Darigold Heat N' Serve Hot Cocoa
2 TBSP melted butter
1 ½ cups powdered sugar
Instructions
For the Crumb Topping:
In a medium sized bowl, put sugars, salt, and unsweetened cocoa powder and stir until combined.
Add the melted butter and then cake flour and mix (hands work best for this). Set aside.
For the Cake:
Preheat oven to 325F.
Spray baking spray 4 mini loaf pans and set them aside.
In a stand mixer with a paddle attachment cream together the butter and sugar until light and fluffy, about 3 minutes.
In a separate bowl add the Darigold Heat N' Serve, sour cream, vanilla bean paste, and eggs and whisk until fully combined.
In another bowl add flour, baking powder, baking soda, and salt.
Alternate adding dry ingredients, then wet, then dry, then wet, and finish with dry.
Mix on low until fully combined. Be careful to not over-mix.
Using a regular size ice cream scoop, scoop three scoops per pan. Even out with a spatula.
Evenly divide crumb topping (as evenly as you can) into pieces over top of the batter.
Bake for 30-35 minutes depending on your oven.
Check by using a wooden skewer or knife to see if it comes out clean.
Let cool on wire rack.
While cooling make glaze.
Simply whisk together the Darigold Heat N' Serve Hot Cocoa, butter, and powdered sugar in a medium bowl.
When cakes are cool pour glaze over the top of them. Let glaze firm up.