These Hot Chocolate Nougat Brownies have a hot chocolate brownie base topped with a marshmallow hot chocolate nougat and mini marshmallows.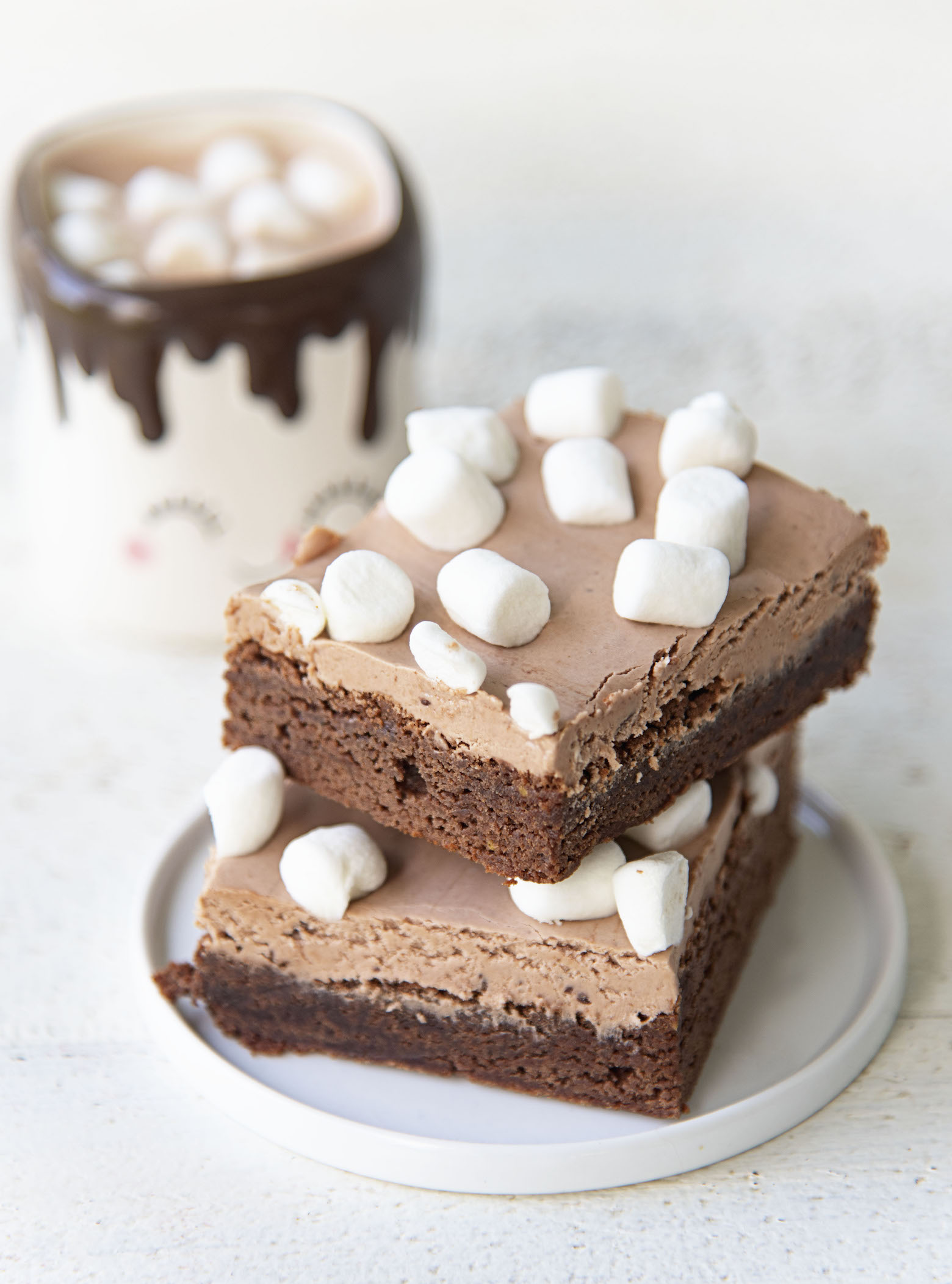 Hot chocolate week continues with these Hot Chocolate Nougat Brownies.
For me, I personally have to have marshmallows in my hot chocolate.
I also usually want whipped cream as well.
What can I say, overkill is my speciality. 😀
And yes, I do usually have both if it's an option.
So when thinking about how to make a hot chocolate brownie I knew that I wanted marshmallow somehow in it.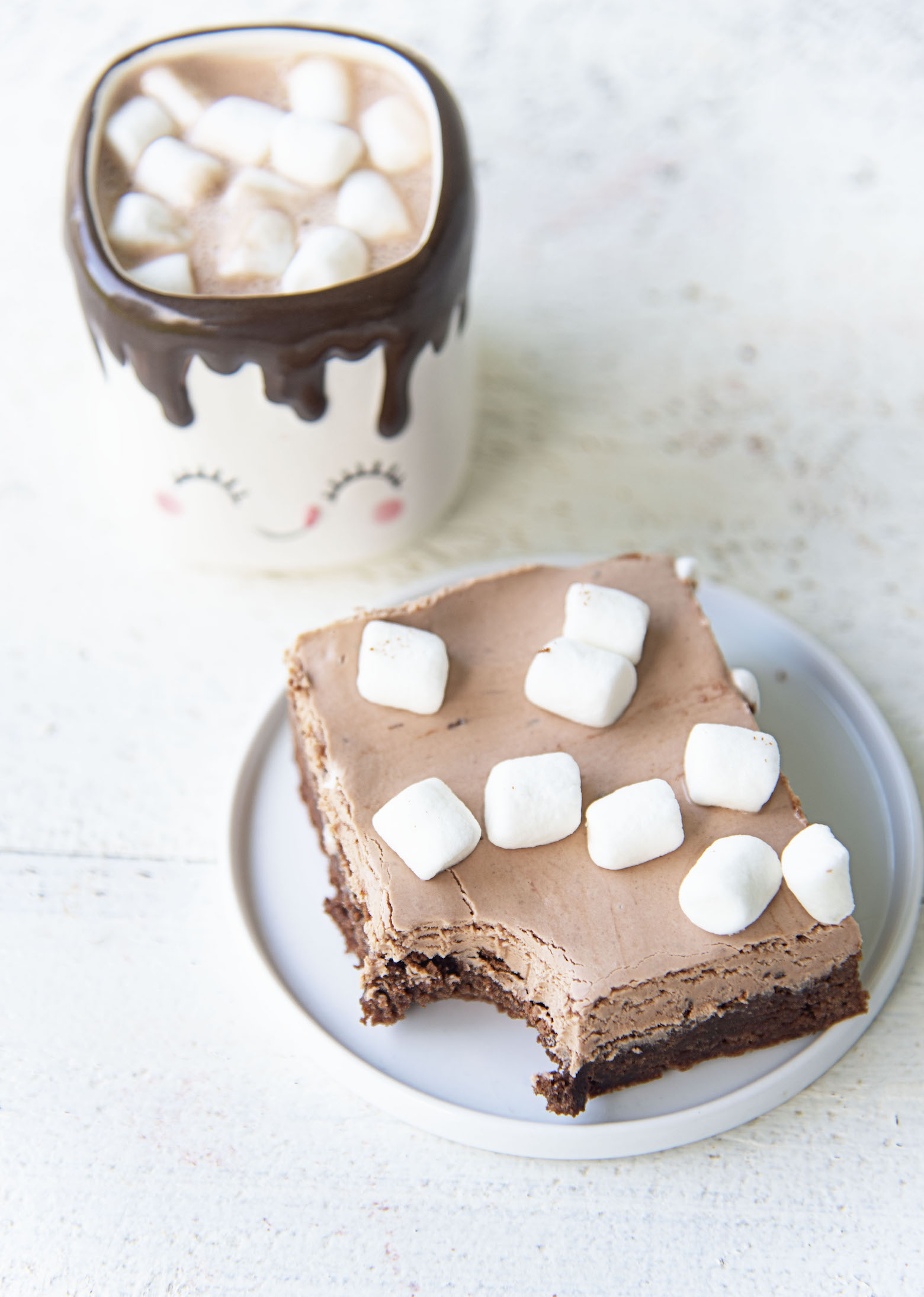 Marshmallow is tricky in baking because they dissolve.
And well, that isn't something you want.
I thought about using mallow bits since those do not dissolve but decided to go the marshmallow nougat route.
Because to me it represents the layer you get in your hot chocolate when the marshmallows have partially melted.
You know what I'm talking about.
And it makes like a yummy marshmallow foam.
Since the marshmallow nougat layer is made with marshmallow fluff (creme) it tends to be on the sweeter side.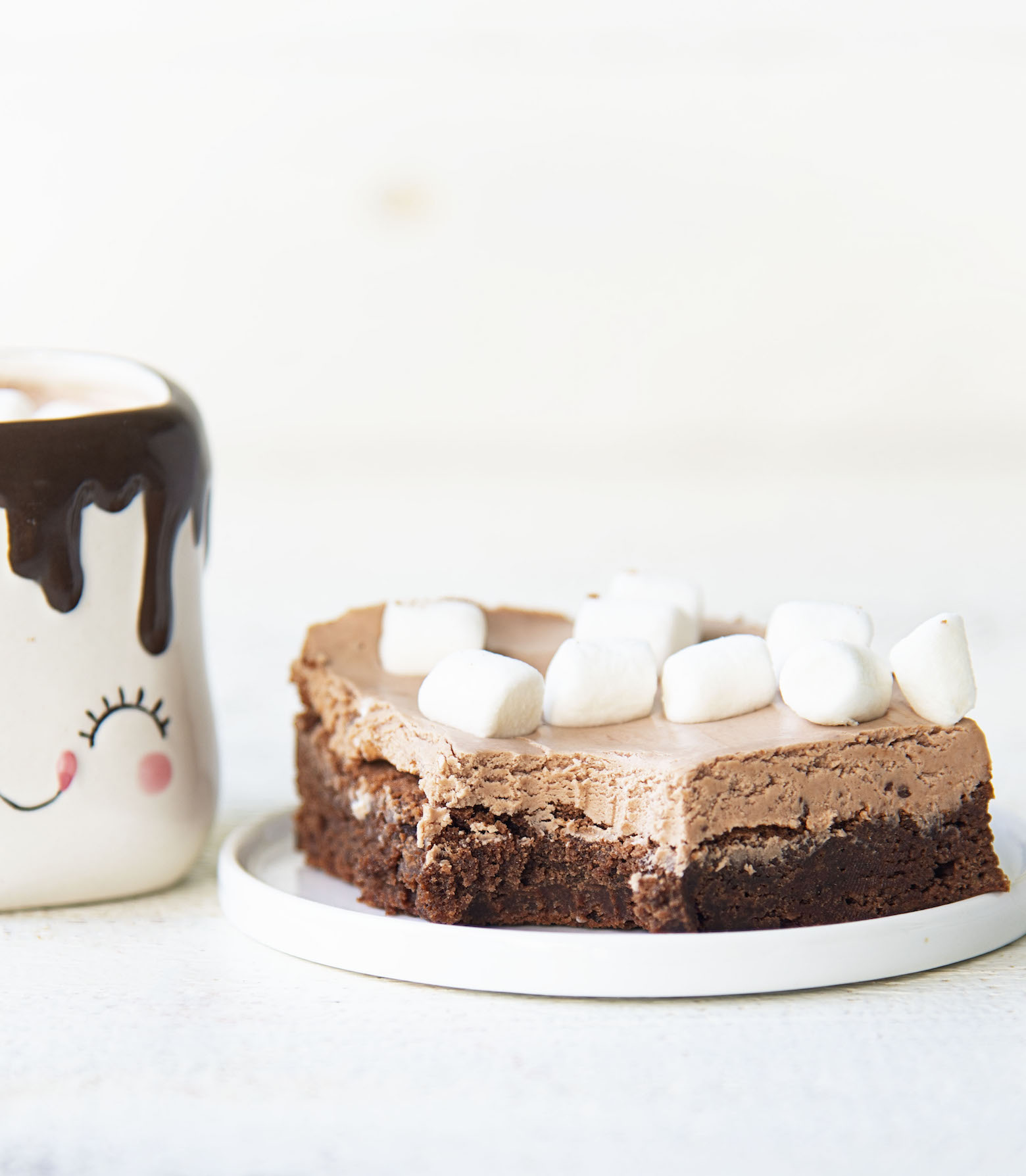 Which is why the brownie based uses semisweet and unsweetened chocolate instead of milk.
You could even use bittersweet chocolate in place of the semisweet chocolate if you like your treats less sweet.
One thing hard about these brownies is that you have to refrigerate them for 7-8 hours.
And yes, you need to do that.
The brownie gets more flavor that way and the nougat sets up.
If you don't then cutting them will be very hard to do.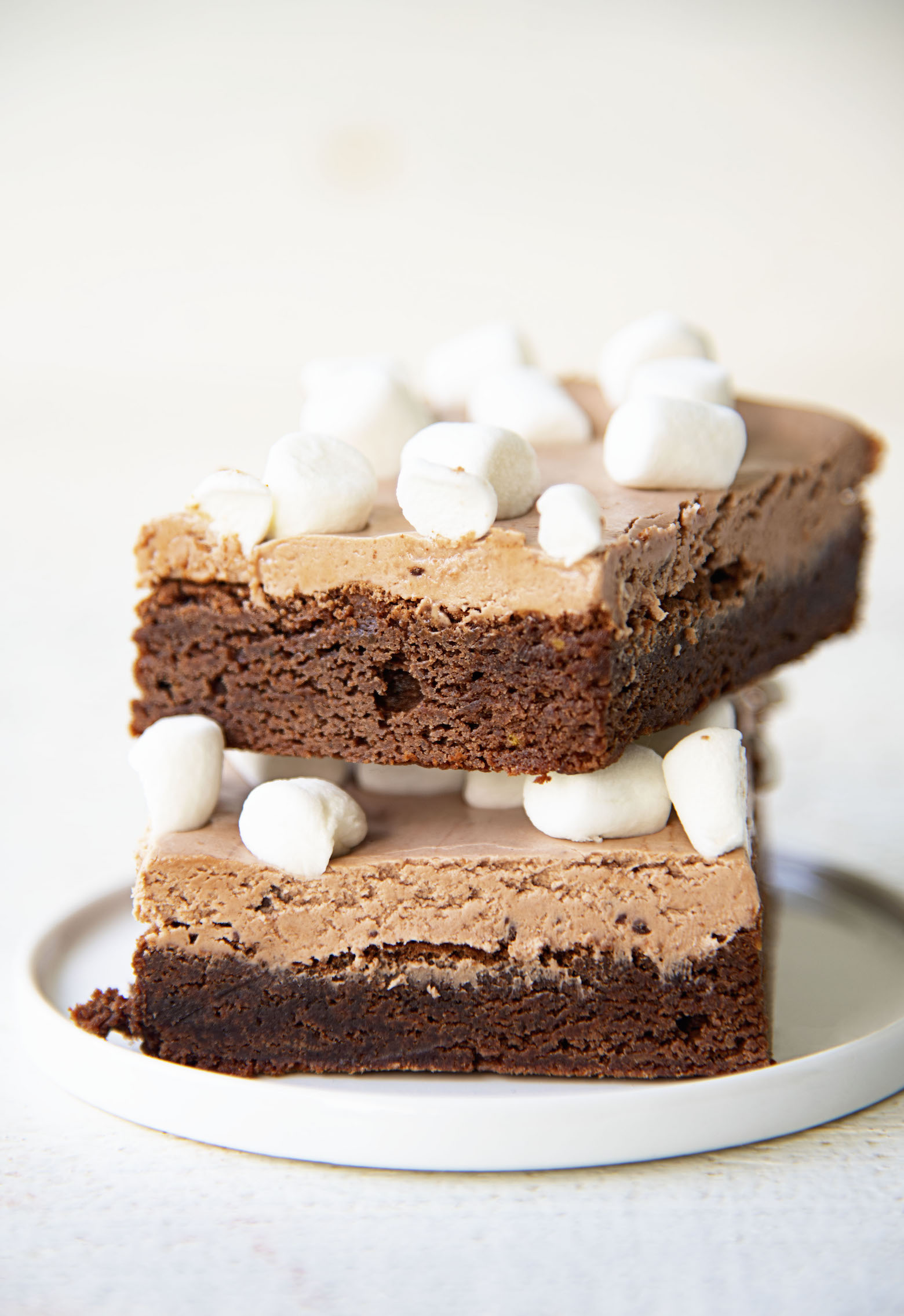 So if you are a hot chocolate fan then this is the brownie for you.
P.S. It's a great day to buy my cookbook Holy Sweet!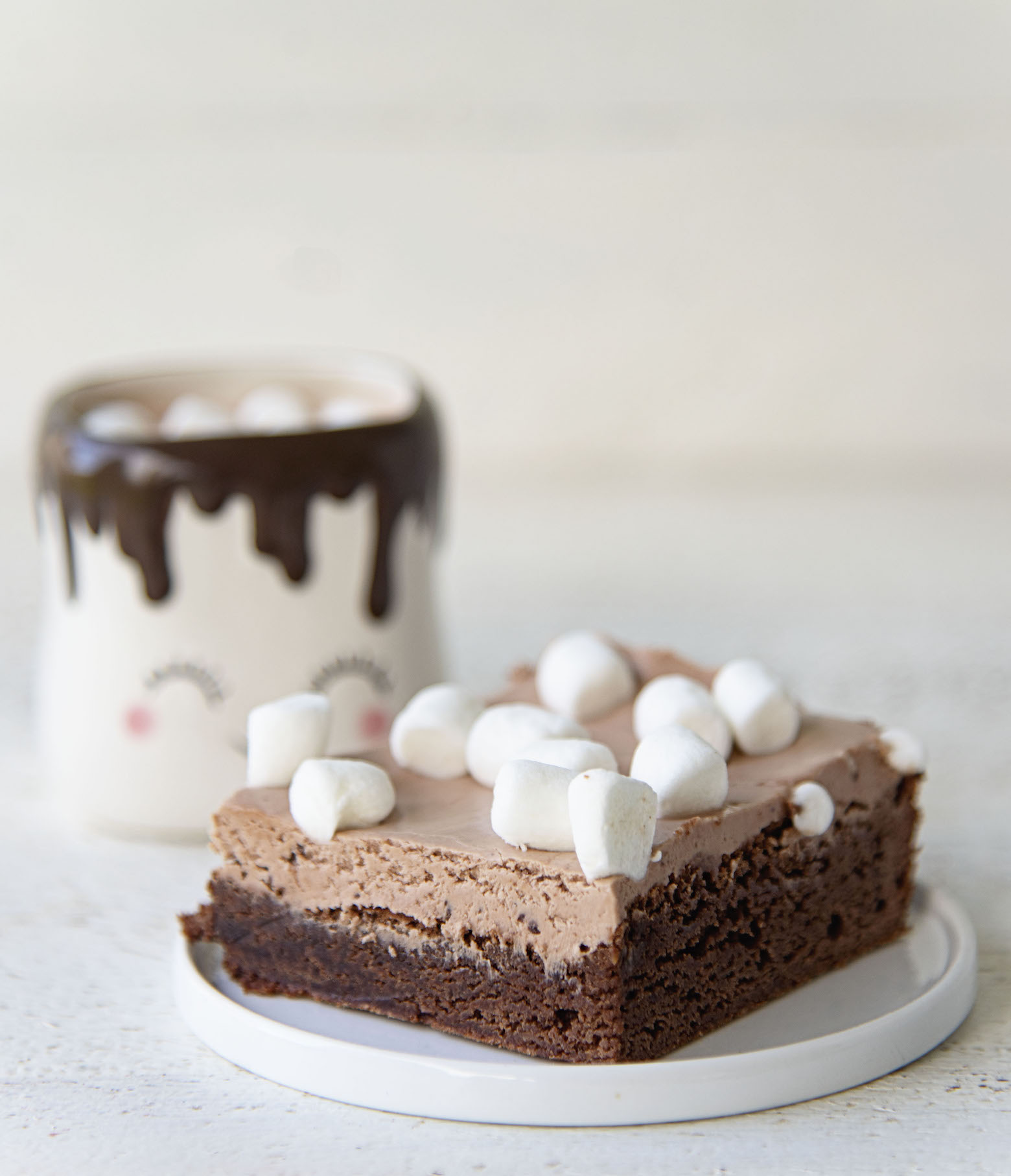 Want More Brownie Recipes?
Marshmallow Crunch Brownie Bars
Ingredients
Brownie batter:
8 oz. unsalted butter, cut into pieces
3 oz. unsweetened baking chocolate, finely chopped
1 cup semisweet chocolate chips
4 large eggs, at room temperature
1/4 cup hot chocolate mix
3/4 cup granulated sugar
1 cup brown sugar, packed
¾ tsp. salt
1 ½ tsp. vanilla extract
1 cup all-purpose flour
½ tsp. baking powder
Chocolate nougat:
4 TBSP unsalted butter
3/4 cup granulated sugar
1/4 cup hot chocolate mix
¼ cup evaporated milk
7 oz. marshmallow fluff
½ cup semisweet chocolate chips
1 tsp. vanilla extract
pinch of salt
2 cups mini marshmallows for garnish
Instructions
For the Brownies:
Prepare a 9-x-13-inch pan with baking spray.
Preheat oven to 350F.
In a small saucepan melt the butter over low heat.
Add the unsweetened chocolate and the semisweet chocolate chips and whisk until the chocolate is melted and smooth.
Move from burner and set aside.
Using a stand mixer with a whisk attachment, beat together the eggs, hot chocolate mix, sugars, and salt until incorporated.
Add the chocolate and whisk until combined.
Add the vanilla and beat until fully combined.
Remove from mixer and fold in the flour and baking powder until just combined.
Fold in the sprinkles.
Pour mixture into prepared pan and spread the batter out evenly with a spatula.
Bake 28-30 minutes or until a knife inserted in the center comes out clean.
Transfer to a cooling rack and let cool to room temperature. Then place in freezer while you prepare the chocolate nougat.
For the Hot Chocolate Nougat:
Place butter, sugar, hot chocolate mix, and evaporated milk in a medium saucepan.
Cook over medium-low heat until the butter has melted and the sugar is dissolved.
Increase heat to medium-high to bring the mixture to a boil.
Then lower heat to low and let it gently slowly boil without mixing for 5 minutes.
Remove from heat and add the marshmallow fluff, chocolate, salt, and extract and whisk vigorously until the mixture if fully blended.
Pour the nougat over the chilled brownies and spread evenly with a offset spatula
Sprinkle the marshmallows evenly on top of the nougat.
Put in fridge for 7-8 hours or overnight.
Cut into 24 squares and serve.