These Hot Chocolate Millionaire Bars have a cocoa based shortbread, a hot chocolate caramel, mini marshmallow, and is covered in chocolate.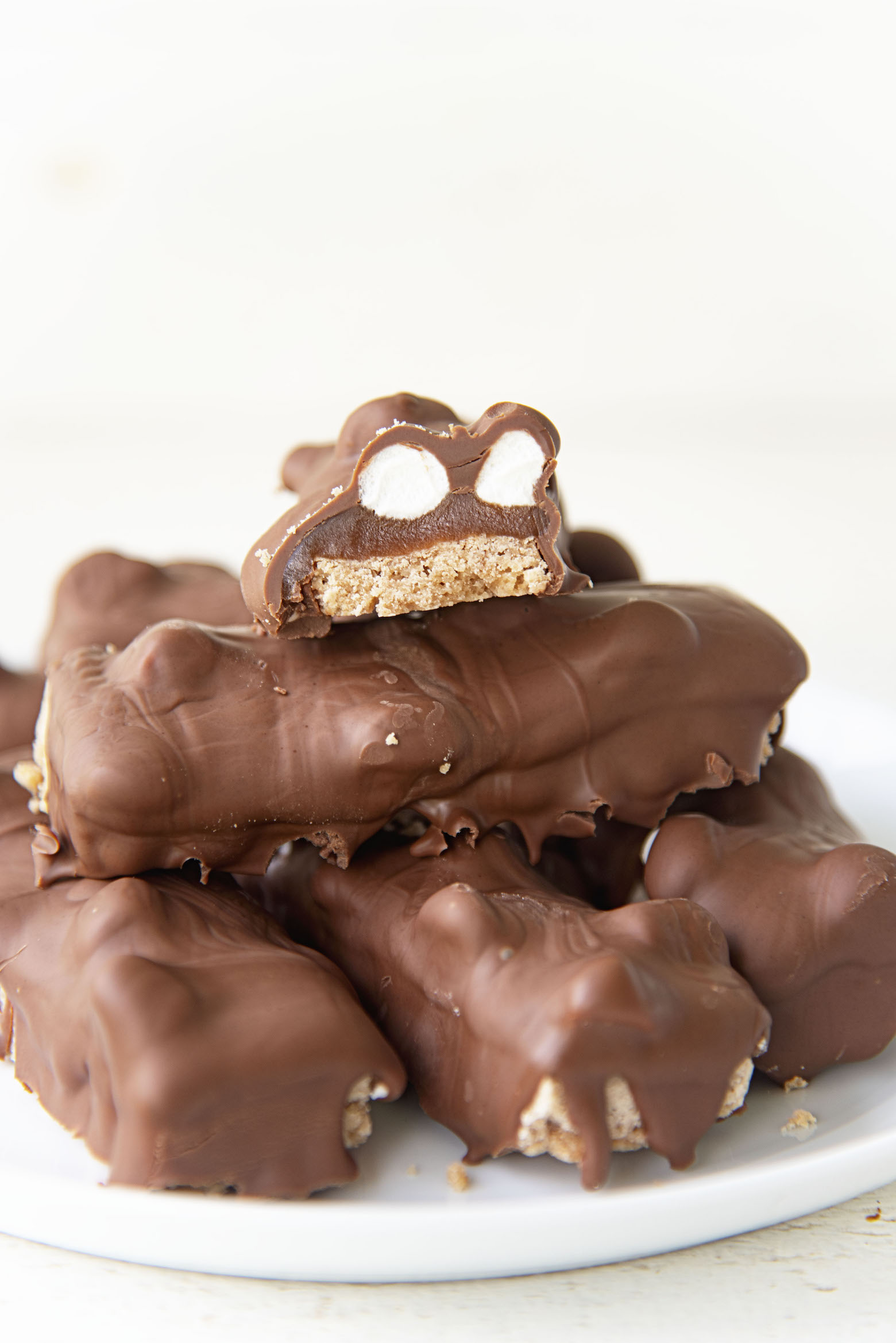 I'm finishing up my unofficial Hot Chocolate Week with these Hot Chocolate Millionaire Bars.
I debated whether to call these Twix bars or not because that's basically what they are.
Except that they have a whole lot more going on than Twix.
And I'll be highly suspicious if next year the new Twix flavor for the holidays is Hot Chocolate. 😀
These bars take time as there are three steps.
Make the shortbread.
Brave the caramel.
Pour the chocolate.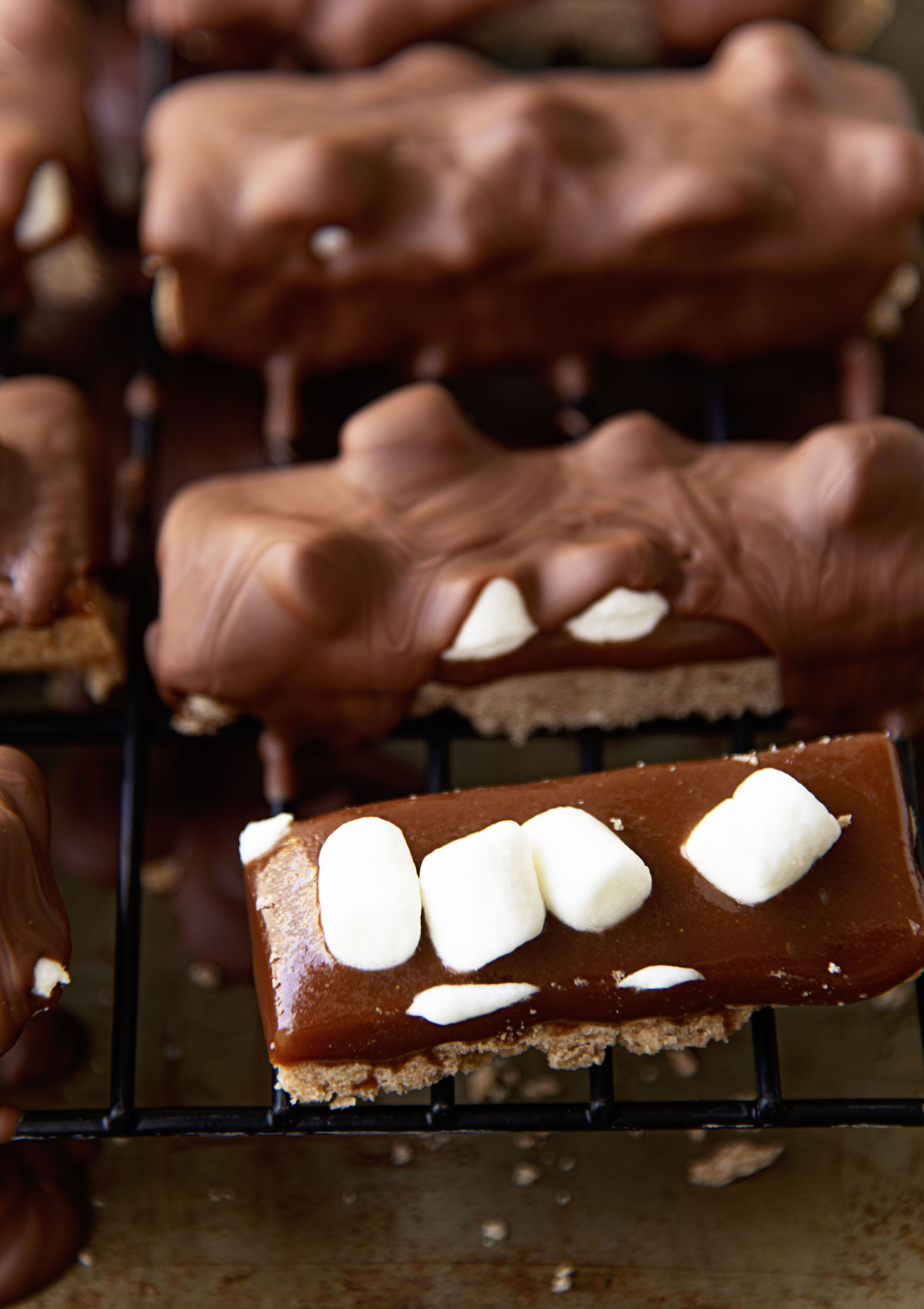 The shortbread part is pretty straight forward.
People sometimes panic because it's a little crumbly and they don't know if it's too crumbly.
When dough is like that I just pinch it together in my hands and if it holds together in the pinch it will work in the pan.
The caramel part is the tricky part.
Not for me as I have made caramel a thousand times but it does intimidate others.
When I watch British Bake Off I see person after person either burning their caramel or making it too light.
Just like with everything in life it takes practice.
I added hot chocolate mix to my caramel this time and topped the caramel layer with mini marshmallows.
Which gives it a kind of rocky road look when they are done.
The chocolate layer is just chocolate and vegetable oil.
You can dip the bars or you can pour the chocolate over the top.
Dipping doesn't waste as much chocolate but it does tend to get all down the front of you.
Then again that may just be me. 😛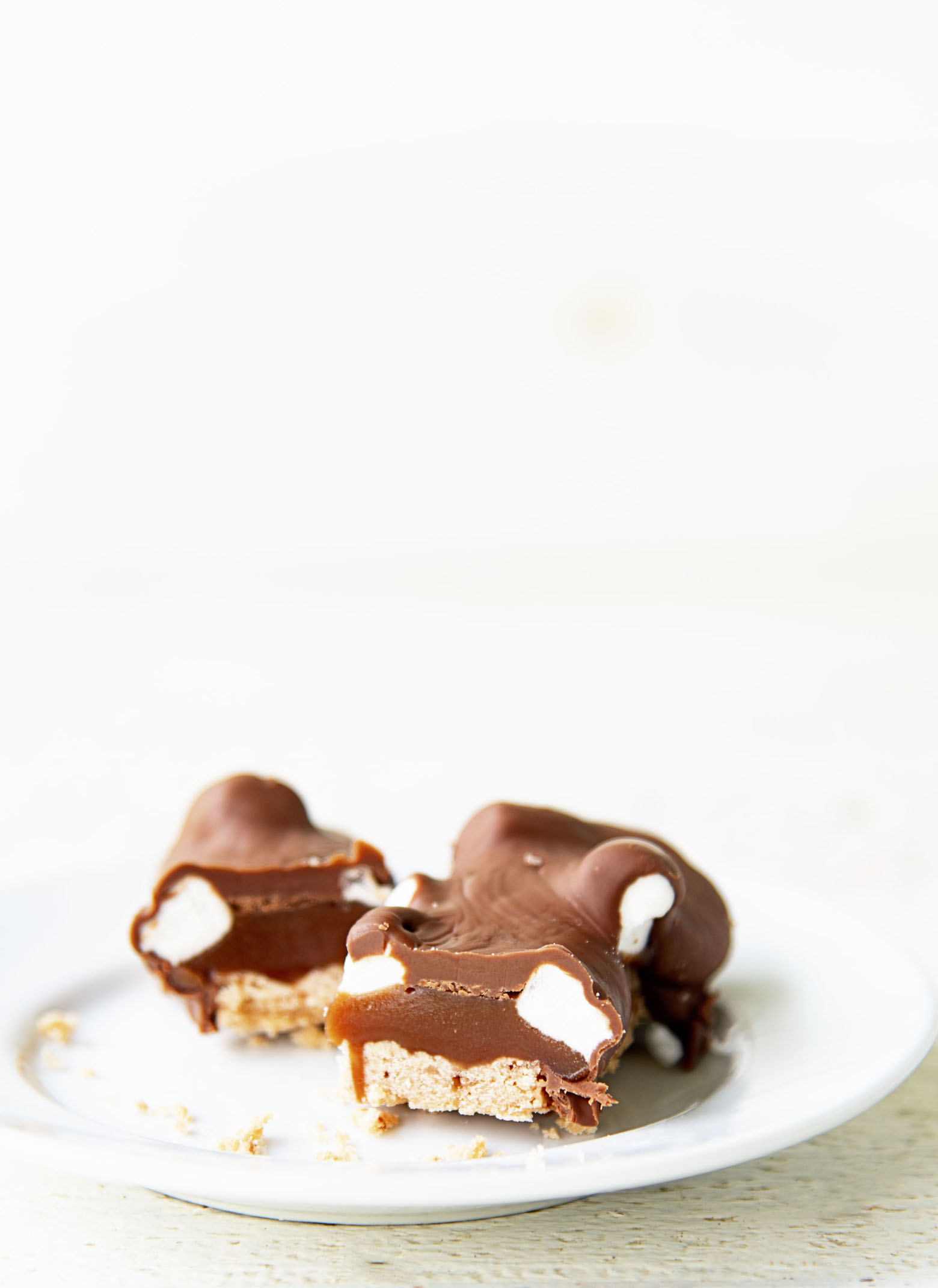 Tips for making successful Caramel:
1. Get a good thermometer.
There are a lot of variety of thermometers out there for candy.
I prefer a digital laser thermometer but you can use the old fashioned kind that hand on the side of the pot.
2. When making candy, especially fudge but even caramels I like to use a superfine sugar.
If you don't want to spend the extra money (like me) for the special sugar just put it in the food processor and pulse a few times.
3. Have all your ingredients out and measured before you start.
Candy making is about timing and if you have to measure out as you go there is a good chance things won't turn out.
4. Be patient. This one is hard for people.
I taught Jr. High for years so I have a lot of patience.  
Candy making takes time.
5. Don't stir. You will want to but don't do it.
6. Don't scrape the bottom.
Often in the caramelization process the bottom of the pan will get a little more brown than you want.
So don't scrape that into the pan.
Just let what caramel comes out…come out.
7. Don't touch.
You may be tempted to stick your finger in there to see how it taste.
It tastes like burnt off finger if you stick your finger in there.
And as always it's a great day to order my cookbook.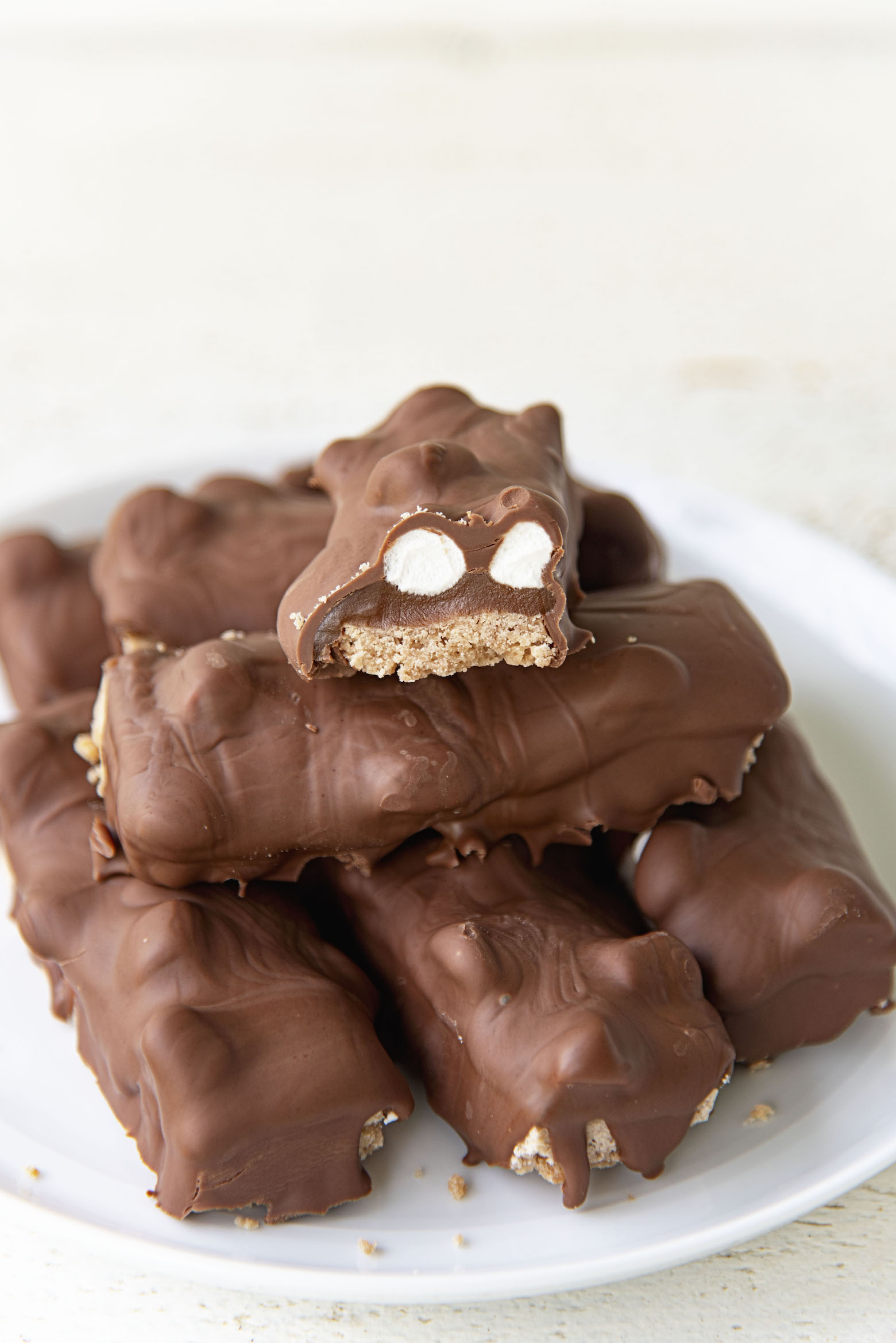 Want more Bar recipes?
Strawberry Lemonade Lemon Bars
Chocolate Chunk Churro Cookie Bars
Butterscotch Walnut Meringue Bars
Ingredients
For the Cocoa Shortbread:
1 cup unsalted butter, at room temperature
1 cup powdered sugar
2 tsp. vanilla extract
1 3/4 cups all-purpose flour
1/4 cup unsweetened cocoa powder
Hot Chocolate Caramel:
¼ cup water
1½ cups granulated sugar
¼ cup light corn syrup
1 cup heavy cream
1/4 cup hot chocolate mix
5 TBSP unsalted butter, cut into 5 pieces
½ tsp. pure vanilla extract
1 cup mini marshmallows
Chocolate Topping:
24 oz. milk chocolate chips
5 TBSP vegetable oil
Instructions
Preheat oven to 300 degrees Fahrenheit.
Prepare a 9×13″ baking dish by lining with parchment paper so as able to lift the bars out when done.
Cream together the butter, powdered sugar and vanilla until smooth.
Add the flour and cocoa powder and beat on medium speed until crumbly dough is formed.
Press dough evenly into the bottom of your prepared baking dish.
Poke several holes in dough with a fork, covering the entire surface.
Bake for 35-45 minutes until top is golden brown. Set aside to cool.
For the Caramel:
Combine water, sugar and corn syrup in a deep saucepan and bring to a boil over medium high heat. Boil until mixture is a fragrant golden brown, swirling occasionally.
In a microwave safe bowl heat butter, hot chocolate mix, cream, and salt for about 30 seconds, or until butter has melted.
Once sugar is golden brown in color, remove from heat and slowly add cream mixture.
It will bubble up so stand back.
Stir in the vanilla with a wooden spoon and return the caramel to medium low heat.
Stirring occasionally, cook for about 10 minutes until a candy thermometer reads 248 degrees Fahrenheit.
Once desired temperature is reached, remove from heat and carefully pour caramel over your cooled shortbread.
Do not scrape sides of saucepan, this caramel will be slightly overdone and can be discarded.
Sprinkle mini marshmallows on top of the caramel sauce.
Refrigerate until caramel is set, about two hours.
To make the Bar:
Cut shortbread into 1 inch squares or rectangles of desired size with a sharp knife.
Melt chocolate chips in a microwave safe bowl, one package at a time, according to package directions. Stir in the vegetable oil to thin it out and give it a shiny appearance.
One at a time, dip squares into chocolate or you can pour the chocolate over the top of the bars.
Pick up using a fork and tap on side of bowl to remove excess.
Slide onto parchment paper.
Once chocolate has set, bars should be stored in an airtight container or packaged for immediate gifting.