This Hot Buttered Rum Apple Pie is filled with apples, spices, butter, and spiced rum. All topped with crumb topping and hot buttered rum sauce.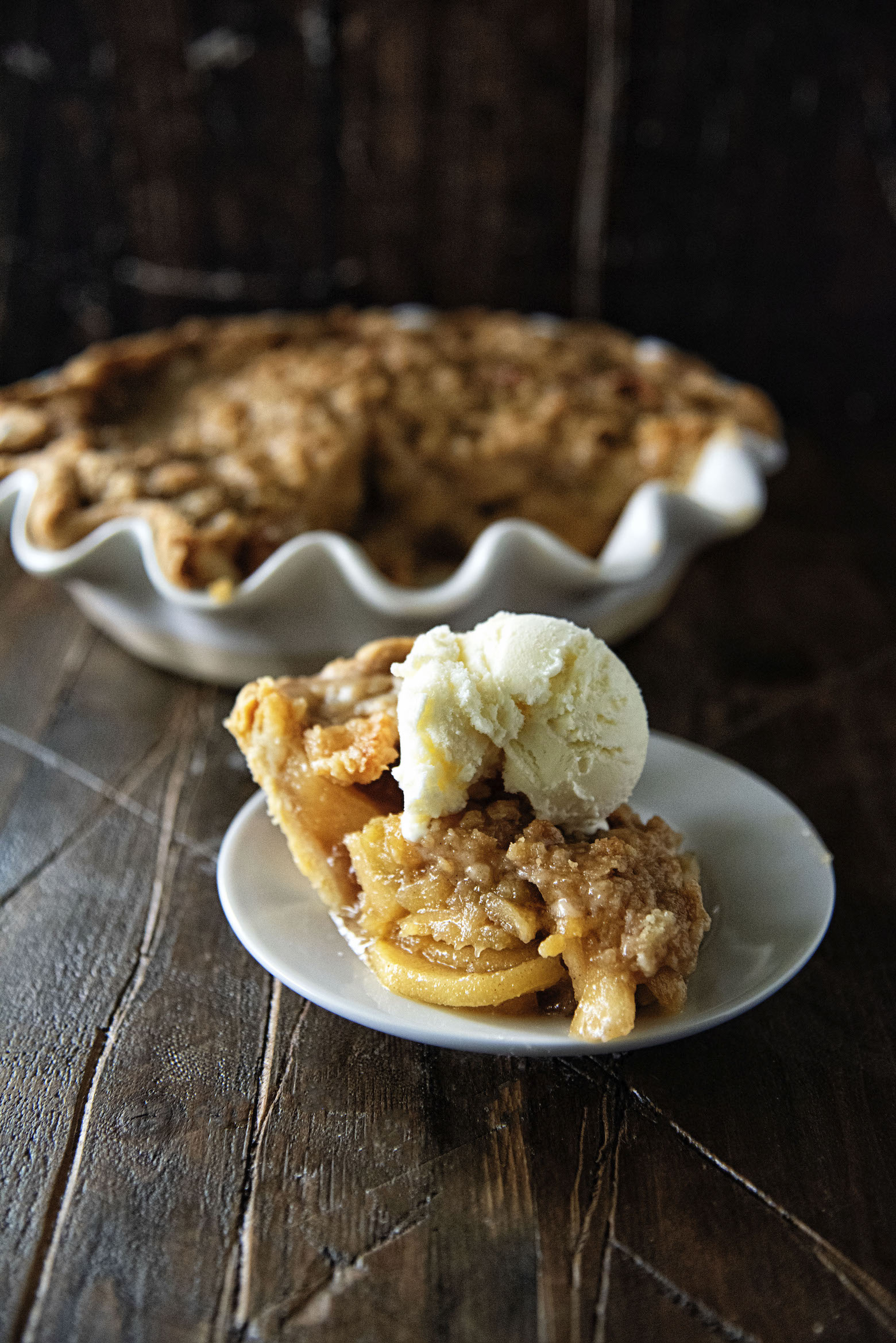 Growing up Thanksgiving pies consisted of my mother making two pumpkin pies, one cherry, and one apple pie.
As I got older and more into baking and my mom realizing I was pretty good at it, I was allowed to make a dessert for Thanksgiving.
And yes, I said allow.
My mom is a touch of control freak when it comes to things especially food.
If my parents go elsewhere now for Thanksgiving my mom carts along half of the meal because she doesn't want to miss out on any family favorites.
Which yes, she has made me be kind of food control freak as well.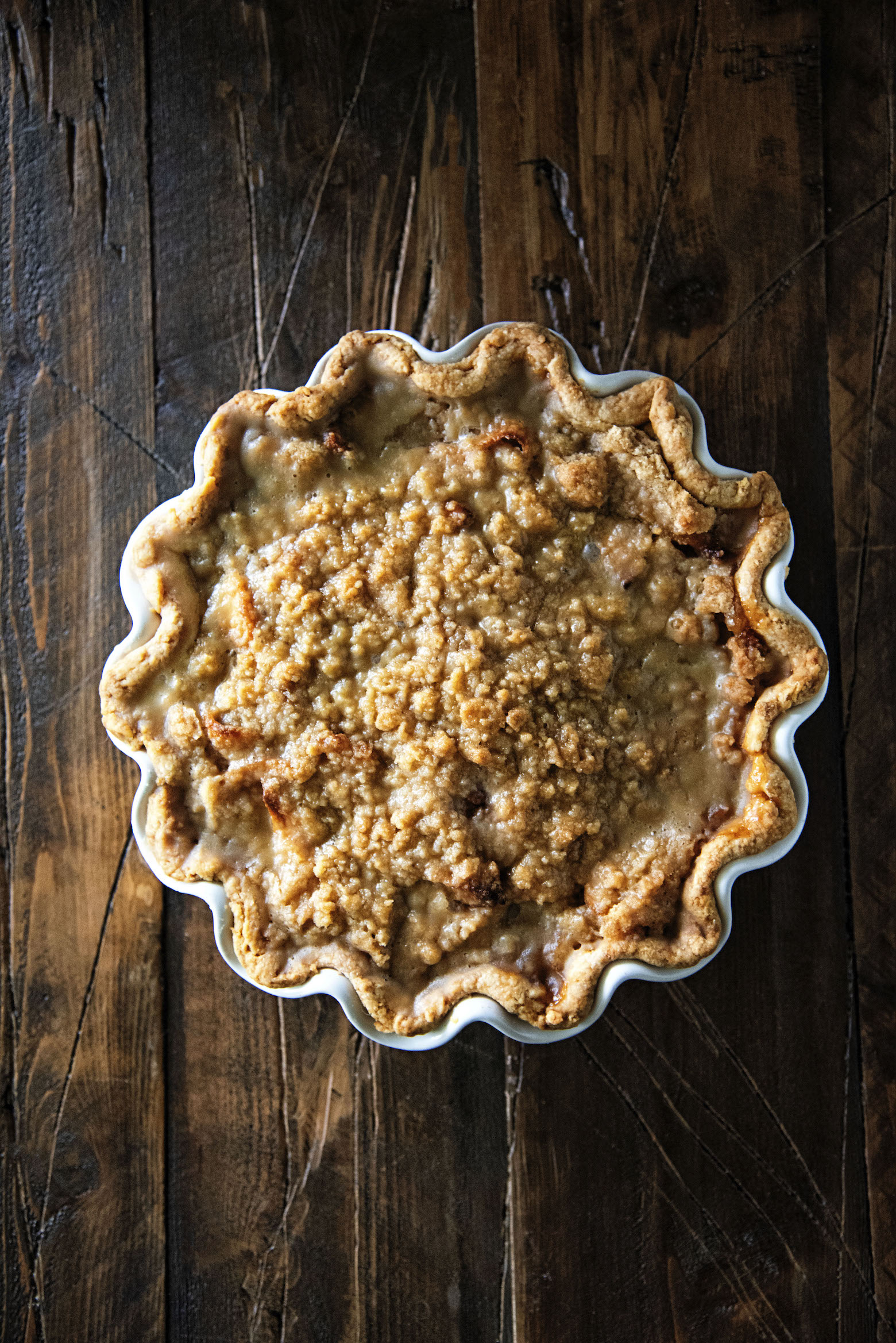 If I am invited somewhere and lets say they are having pie for dessert but I really want cake…I volunteer to bring cake. 🙂
Though really, nowadays people just expect me to bring dessert.
Anyway, back to when I started to be allowed to make something for Thanksgiving it was usually a pumpkin cheesecake of some sort.
My mom could deal with that because she was not a cheesecake maker at all.
So the control over that was easy for her to give up.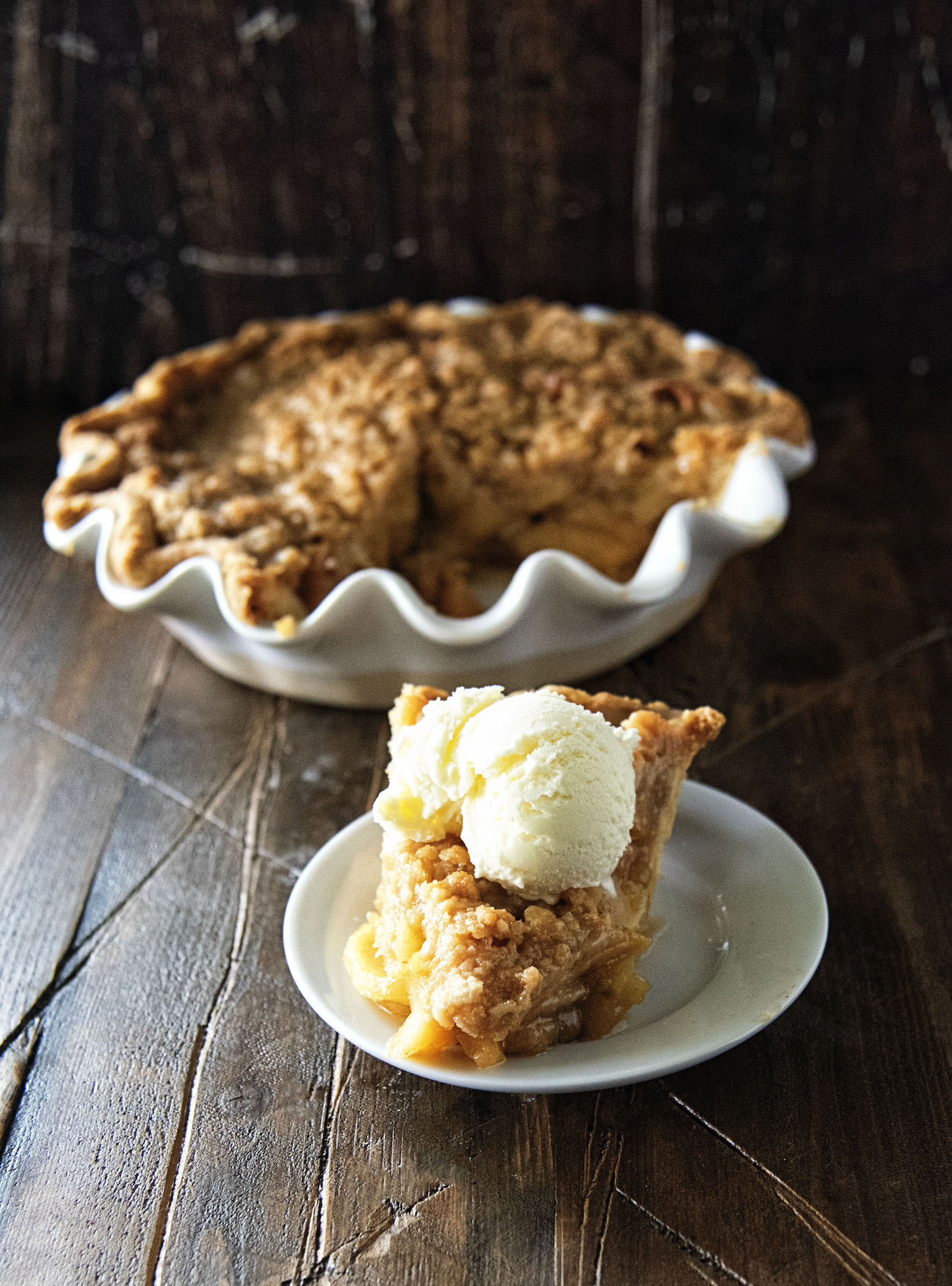 When my mom and dad don't go anywhere for Thanksgiving my mom takes in the strays.
I kind of got that from her as well.
But when it's just my parents and my husband and I we don't go to the trouble of making all the desserts.
Now there is always pumpkin pie. Two.
Why two?
Because my mom's recipe makes two pies and she has no idea how to only make one pie. 🙂
The second pie is apple.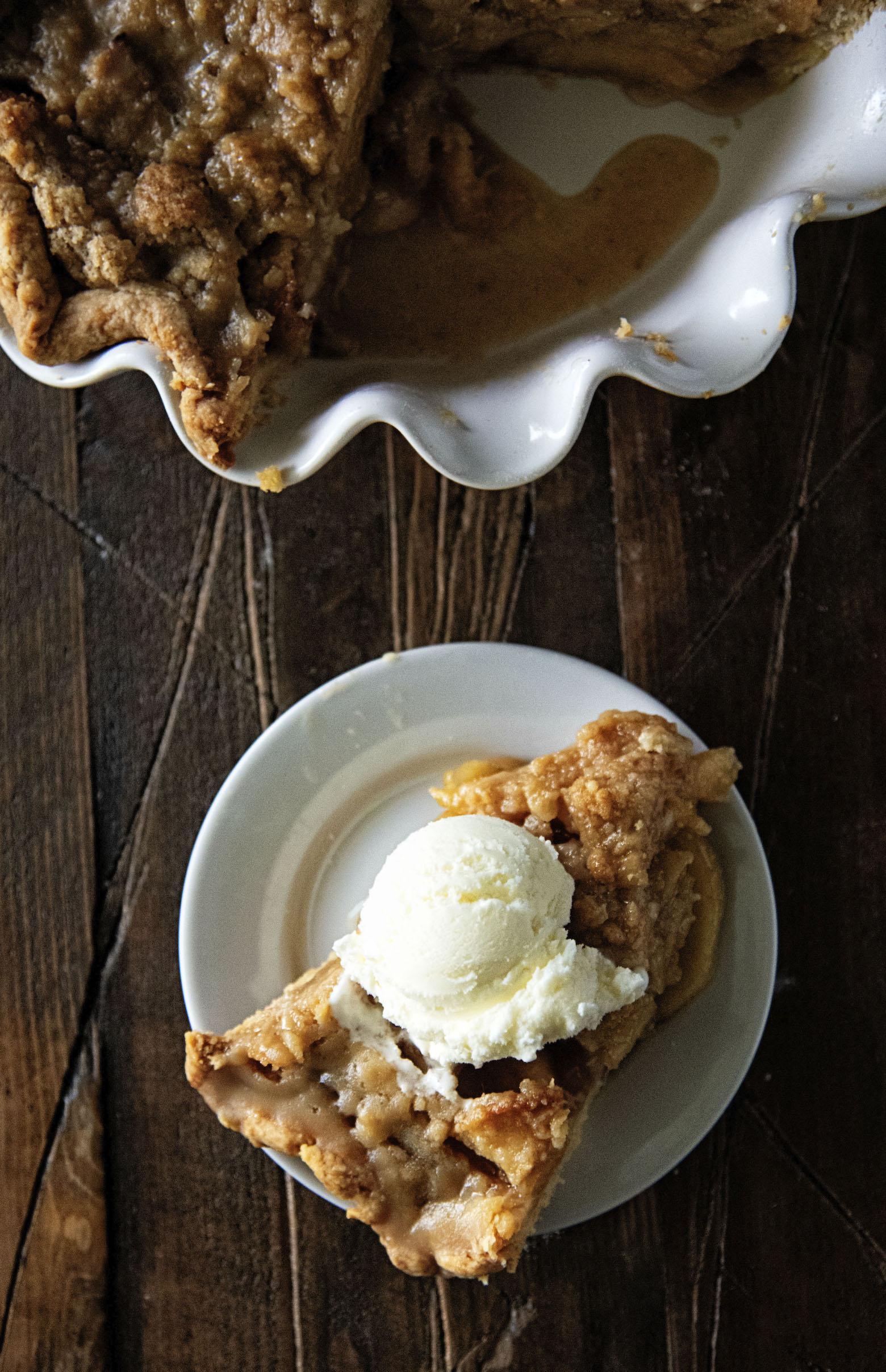 Apple is a close second to key lime pie as my favorite pie.
My mom's is super easy…it doesn't even have a bottom crust.
It's more like a dump cake with the filling and then a crust on top of a 9-x-13-inch pan.
And while it is certainly tasty I do tend to make a more complicated pie than my mother.
My mother likes to tell me that I'm a better cook than her.
Which I disagree with.
I'm a more creative cook than her.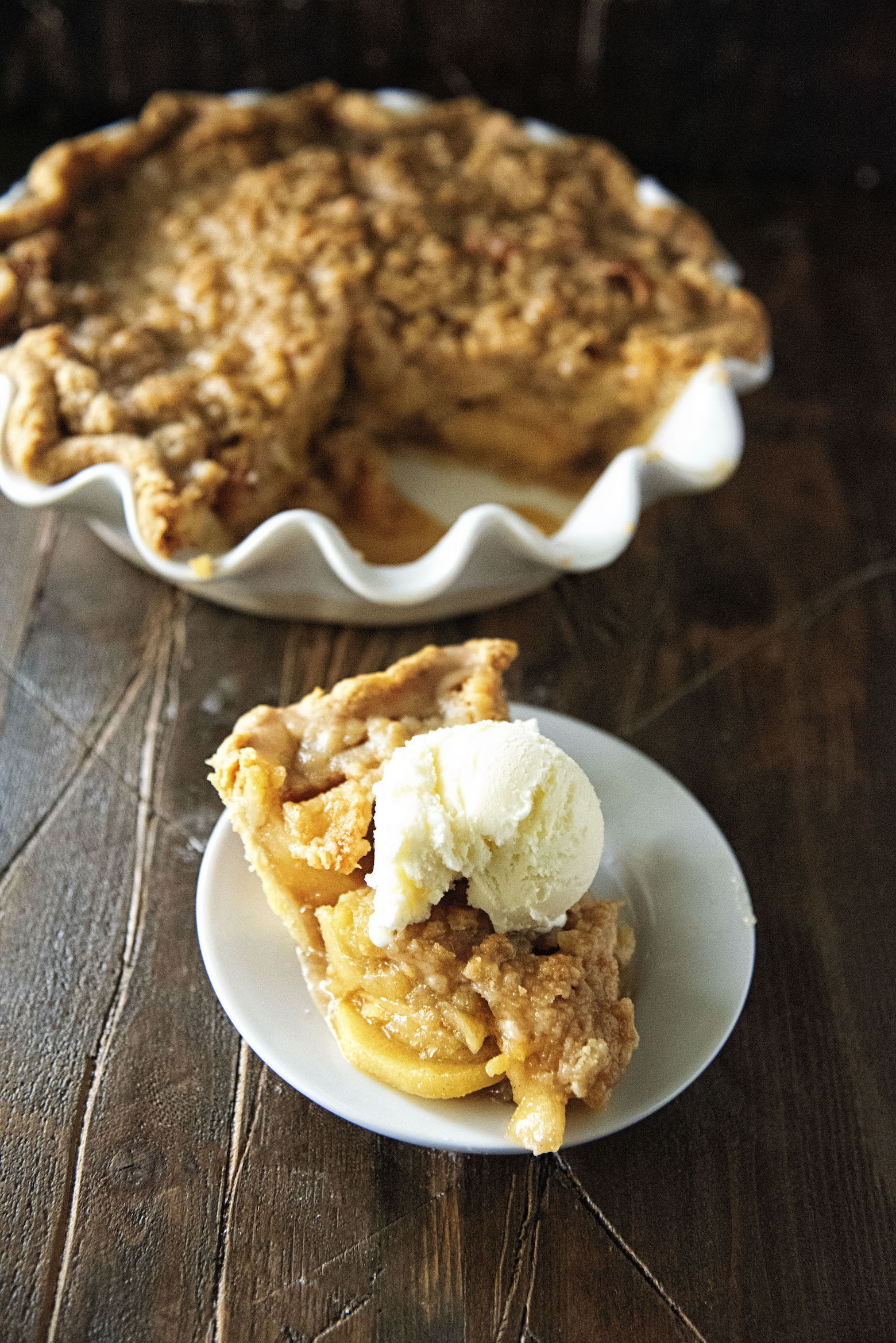 For Thanksgiving this year I'm offering up this Hot Buttered Rum Apple Pie.
It would be fantastic for any day actually so don't just think you need it for Thanksgiving. 😛
A nice flaky crust for a bottom.
Filled with over three pounds of apples…with butter, spiced rum, sugar, and spices.
Topped with a crumb topping and then all covered in a hot buttered rum sauce.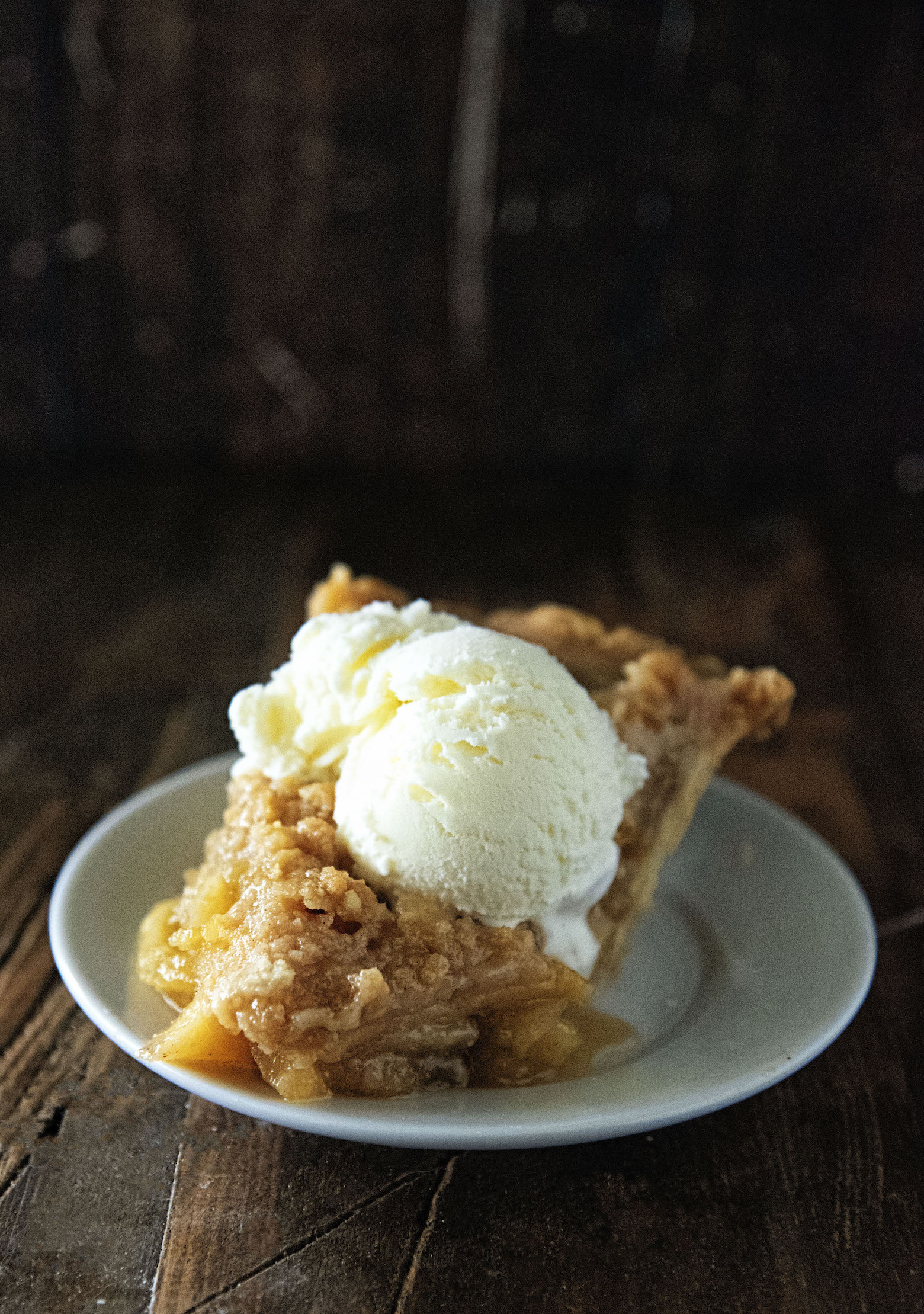 Want More Pie Recipes?
Butter Toffee Pecan Crumb Pumpkin Pie
Oatmeal Crumble Caramel Apple Pie
Bailey's Irish Cream Chocolate Pie
Ingredients
For the Crust:
2 cups all-purpose flour
1/2 tsp.salt
2 TBSP granulated sugar
2/3 cup chilled unsalted butter
4 to 5 TBSP ice water
For the Crumb Topping:
1/3 cup granulated sugar
3 tablespoons firmly packed dark-brown sugar
1/2 tsp. cinnamon
1/4 tsp. salt
1/3 cup all-purpose flour
1/2 cup chilled unsalted butter
For the Filling:
6 to 8 large apples or 3 1/2 pounds…yes pounds (I used a mix of Granny Smith and Honeycrisp)
1/3 cup granulated sugar
1/4 cup packed brown sugar
1/4 cup dark rum4 tablespoons cold, unsalted butter, cut in 1/4-inch dice
1 TBSP plus 1 tsp.cornstarch
2 tsp. vanilla extract
1 tsp. dry pectin or an extra 1/2 tsp. cornstarch
1/2 tsp. ground cinnamon
1/4 tsp. freshly grated nutmeg
1/4 tsp. kosher salt
Hot Buttered Rum Sauce:
1 cup brown sugar
1/2 cup light corn syrup
3 tbsp unsalted butter
1 1/2 tsp kosher salt
1/2 cup heavy cream
1 TBSP Spiced Rum
Instructions
For the Crust:
Using a food processor combine flour, salt, and sugar on and pulse for 30 seconds.
Cut butter into 1/2-inch cubes and add to flour mixture and pulse until mixture looks crumbly, with bits of dough the size of peas, about 1 minute.
Add 4 tablespoons ice water, 1 tablespoon at a time, mixing on low speed for 10 seconds after each addition. After final addition, dough should begin to clump together in a ball. If it doesn't, continue mixing for about 10 seconds longer. (If it still looks too dry, add 1 more tablespoon ice water.) Gently mold dough into a disk, cover in plastic wrap, and refrigerate for at least 1 hour.
Transfer unwrapped dough to a lightly floured surface.
Roll into a 1/8-inch-thick circle large enough to cover bottom and sides of a 9-inch-diameter deep-dish pie pan; do not use a regular (shallow) pan. Transfer dough to pie pan, crimping edges with your fingers or a fork. Prick bottom with a fork.
For the Crumb:
In a food processor fitted with a metal blade, process sugars, cinnamon, salt, and flour for about 1 minute.
Cut butter into small pieces and add to sugar-flour mixture. Pulse 10 to 15 times until mixture is crumbly.
Remove from processor and refrigerate topping, covered, until ready to use.
For the Filling:
Place two large saute pans over medium-high heat and divide the 1/3 cup sugar evenly between them. I have tried it with one large pan and the two pans work better. If you do the large pan the apples don't cook evenly at all.
Cook the sugar without stirring, until it melts and then caramelizes and turns amber, tilting the pans a little to swirl and distribute the color, adjusting the heat as needed. As soon as the sugar melts, it will quickly start caramelizing, so be ready to add the apples immediately.
Add the apples to the two pans and saute until they are half-cooked and the released juices boil away until no liquid remains, 8 to 10 minutes. Toss and stir the apples often so they cook evenly on both sides.
Transfer the apples to a bowl and cool to room temperature.
Preheat the oven to 350 degrees.
In a large bowl, combine the brown sugar, cornstarch, pectin (if using), spices and salt, then add the rum, butter and vanilla, and stir. Add the apples and toss to combine.
Put the apples in a pastry-lined pie plate.
Sprinkle the crumb topping over the top of the pie.
Place the pie on a baking sheet, place in the oven, and bake for 30 minutes.
Tent the pie with aluminum foil and bake for an additional 30 minutes.
Remove the foil and bake for an additional 10-20 minutes or until the pie is evenly golden brown. Remove from oven and cool on wire rack before glazing.
Bring the brown sugar, corn syrup, butter, and salt to a boil in heavy bottom skillet, whisking to dissolve sugar.
Boil until for about 3 minutes until syrupy and slightly reduced.
Remove from heat, add cream and bourbon and stir until smooth.
Set aside too cool and thicken.
Pour half of the sauce onto the cooled pie once it has thickened.
Reserve the second half of the sauce to spoon over the pie when you serve it with ice cream.