This Haunted House Layer Cake is a fun Halloween sprinkle white cake decorated with a very friendly haunted house.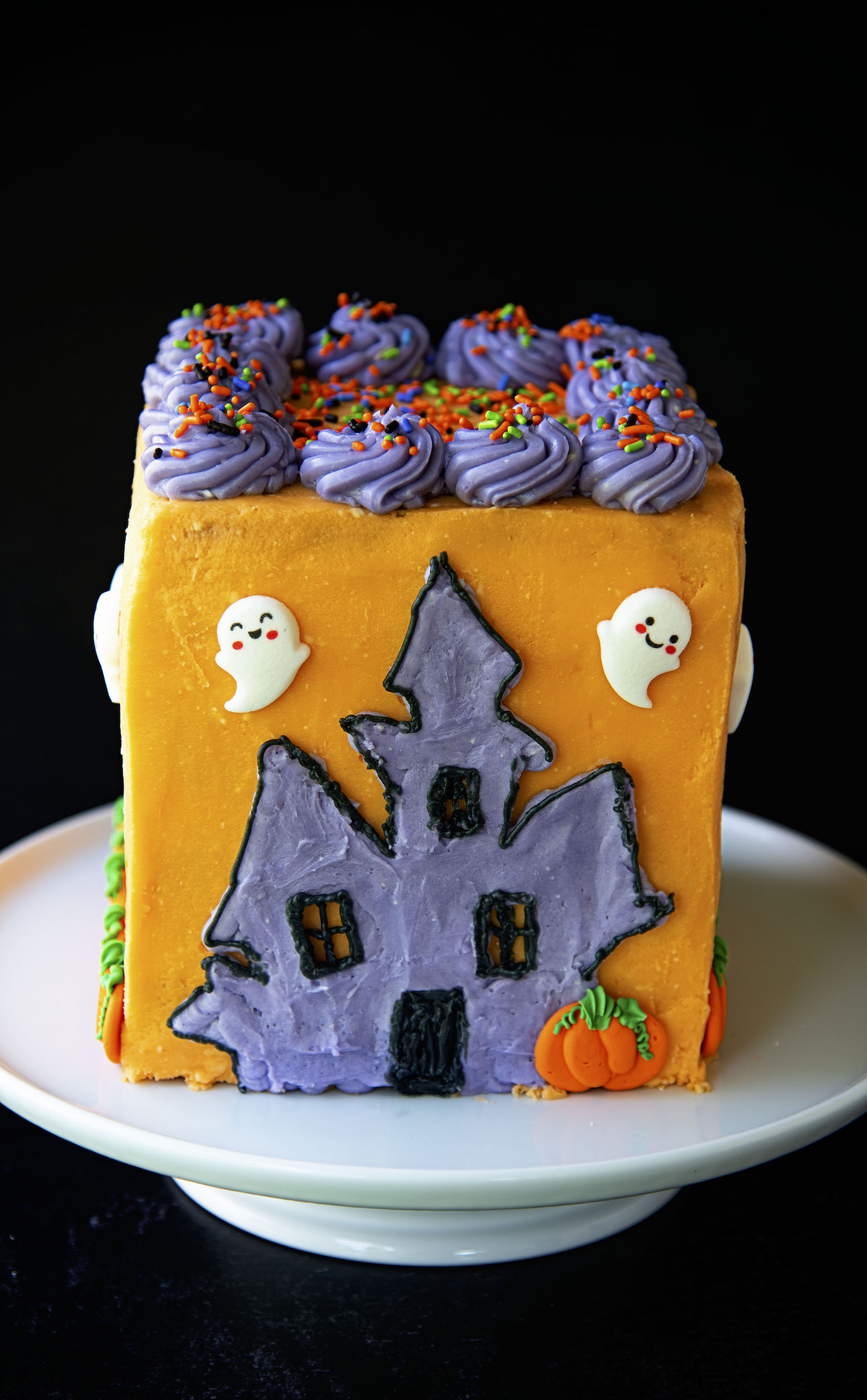 This post and recipe was created for #HalloweenTreatsWeek!
I was sent samples by some of the sponsor companies but as always opinions, bad grammar, and overuse of emojis are 100% mine.
In this post I used Dixie Crystals Sugar granulated sugar which was sent to me by Dixie for free for participating in #HalloweenTreatsWeek.
Thanks again to Angie of Big Bear's Wife for organizing another fun week
Halloween is upon us….well in a couple of weeks.
And once again I'm participating in Halloween Treats Week.
Ironically, I used to not like Halloween.
There are still things I don't like about it.
I'm not into scary anything.
As you can tell by this cake…not exactly menacing.
But for the last few years I have participated in this event to sort of get my juices flowing.
And now I look forward to it every year.
This year Halloween Treats Week is five days and I'll be doing a recipe each day starting with this Haunted House Layer Cake.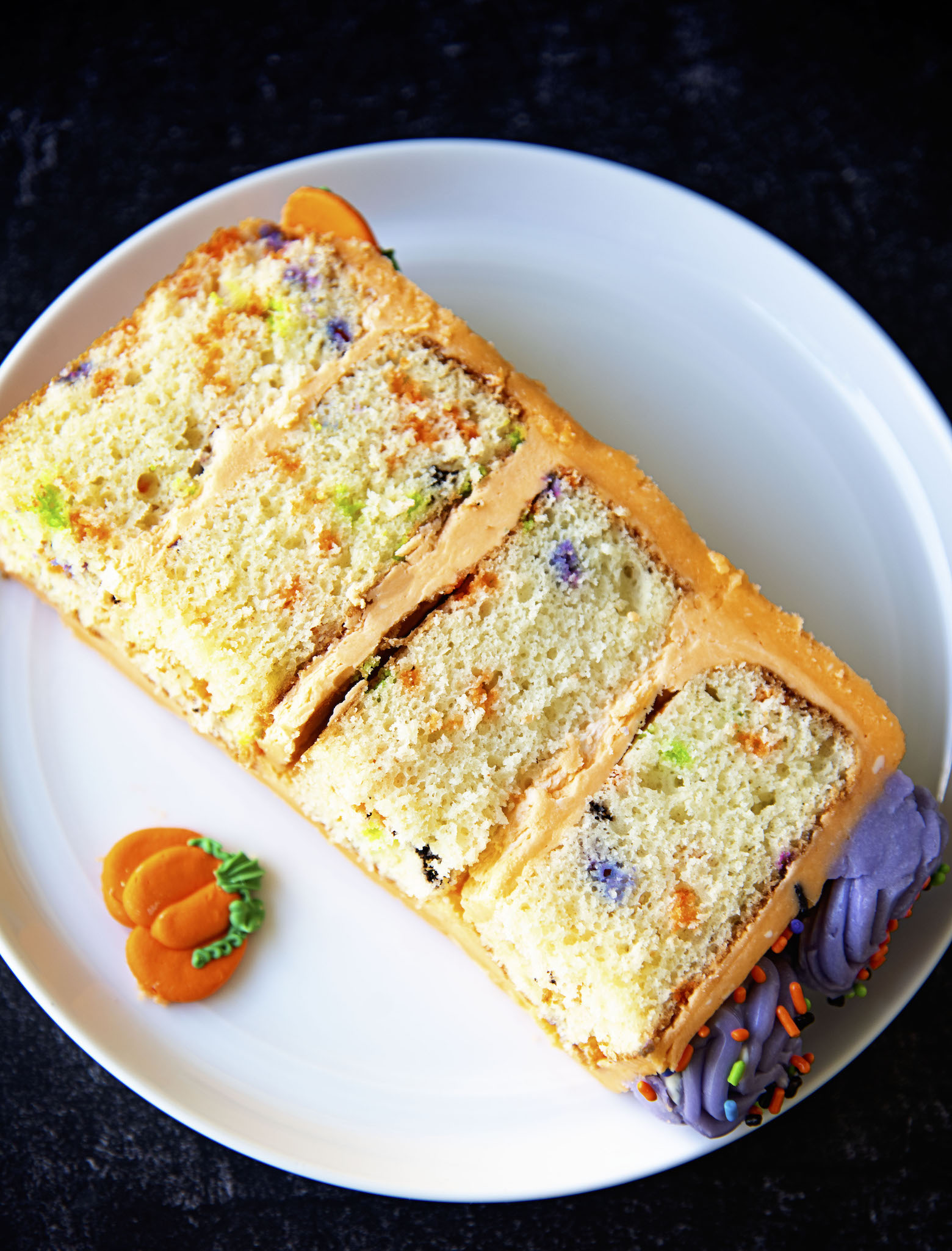 When I think of haunted houses I often think of Scooby Doo.
In which most of the haunted houses in the episodes were purple or a dark blue.
And well, I loved Scooby Doo as a kid.
If I'm being honest I still do.
Since Scooby makes me happy I had to make a happy haunted house.
Nothing I make this week will be scary, including this Haunted House Layer Cake. 🙂
Well, the calorie content might be scary. 🙂
The frosting does use 6 sticks of butter after all. 😛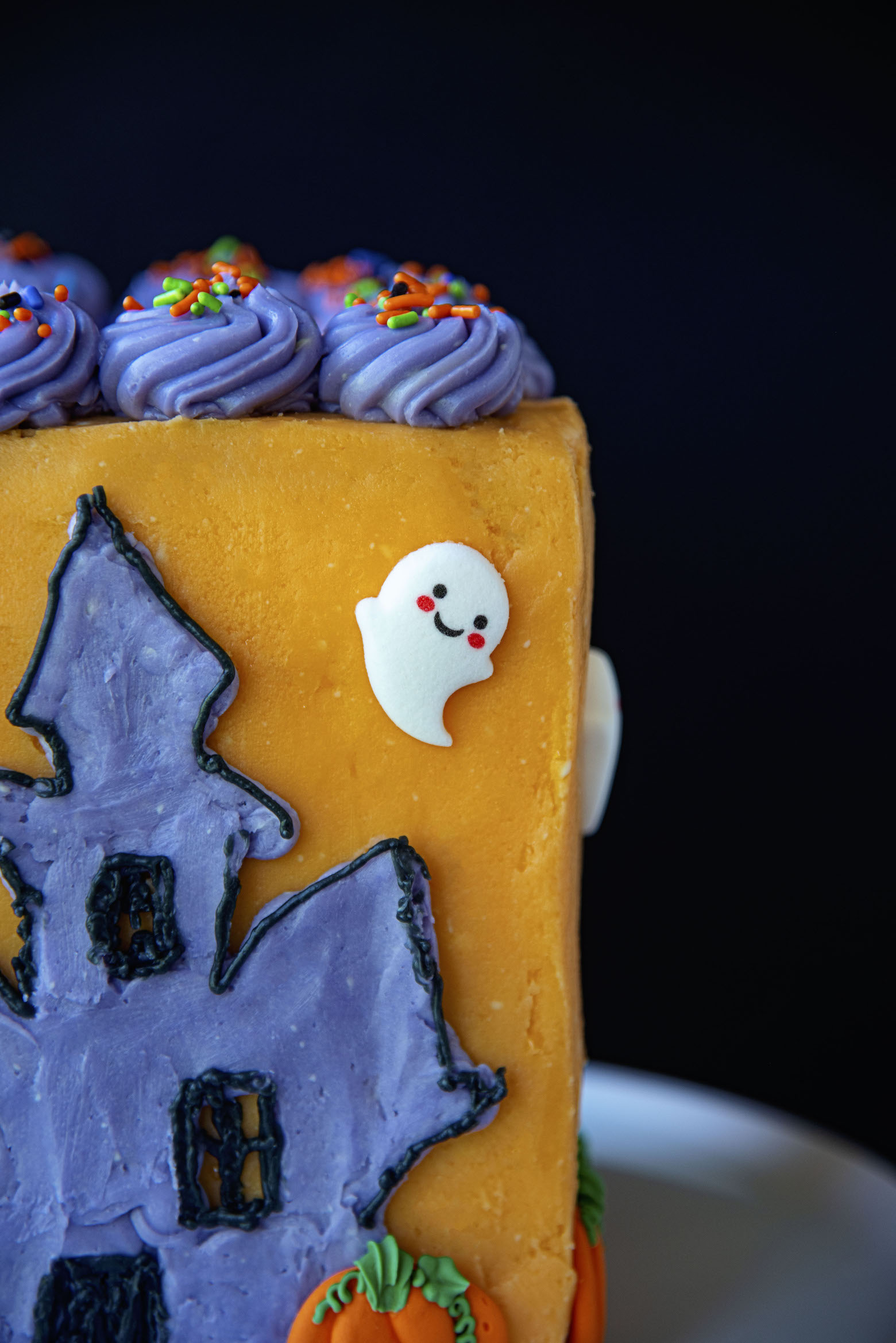 The cake is a basic vanilla cake with Halloween sprinkles thrown in.
I chose to go square just to be different.
I didn't plan on it looking like a giant block of cheddar cheese.
Yet, that's what I got. 😀
But it's cake, not cheese.
I will be honest in saying I ended up making extra frosting.
Because it was cold in the house when I made it and so I just kept adding frosting trying to smooth it out.
But if you frost it normal the recipe given should be enough.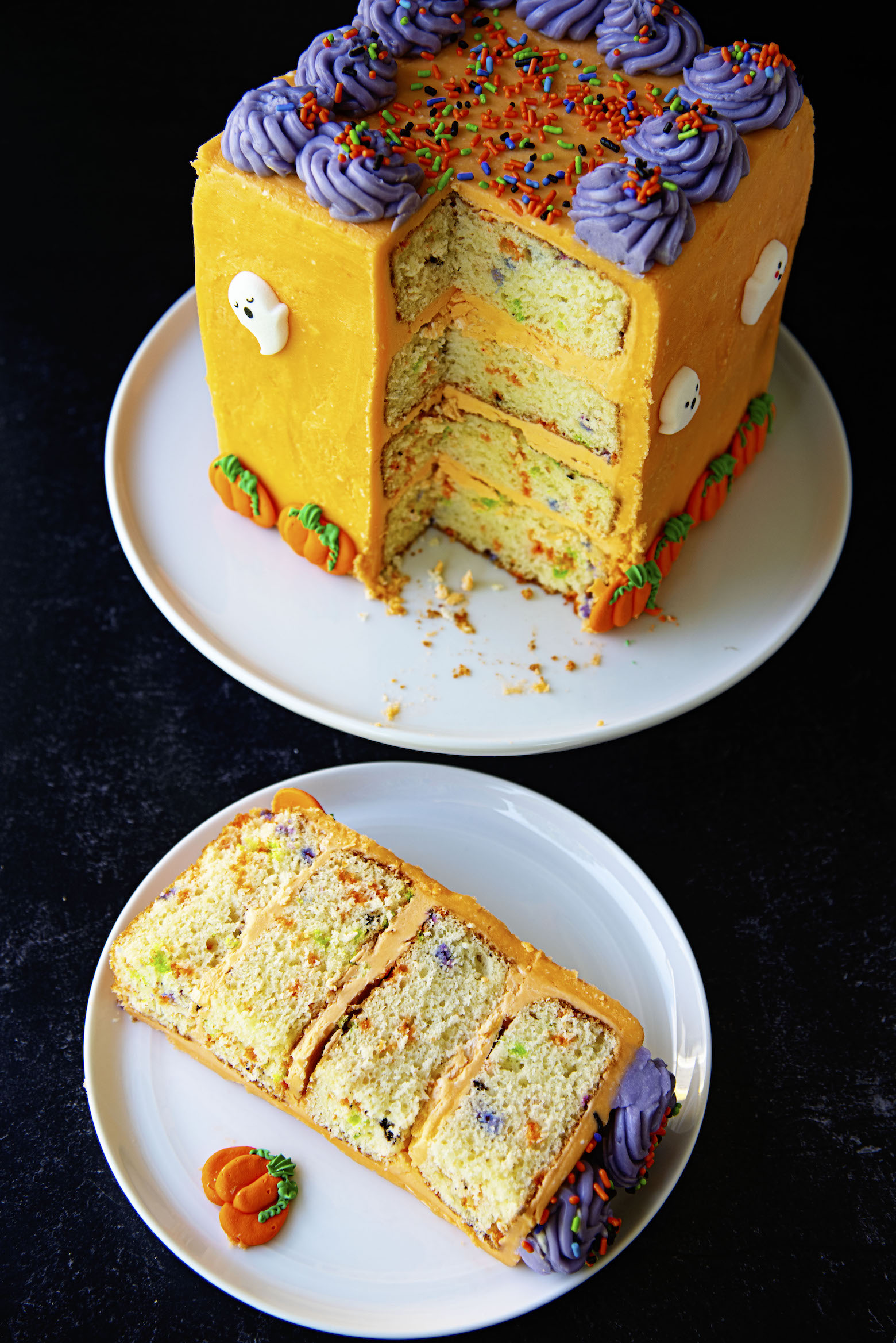 Don't forget it's a great day to buy my cookbook.
Want More Halloween Dessert Ideas?
Halloween Vanilla Sprinkle Quick Bread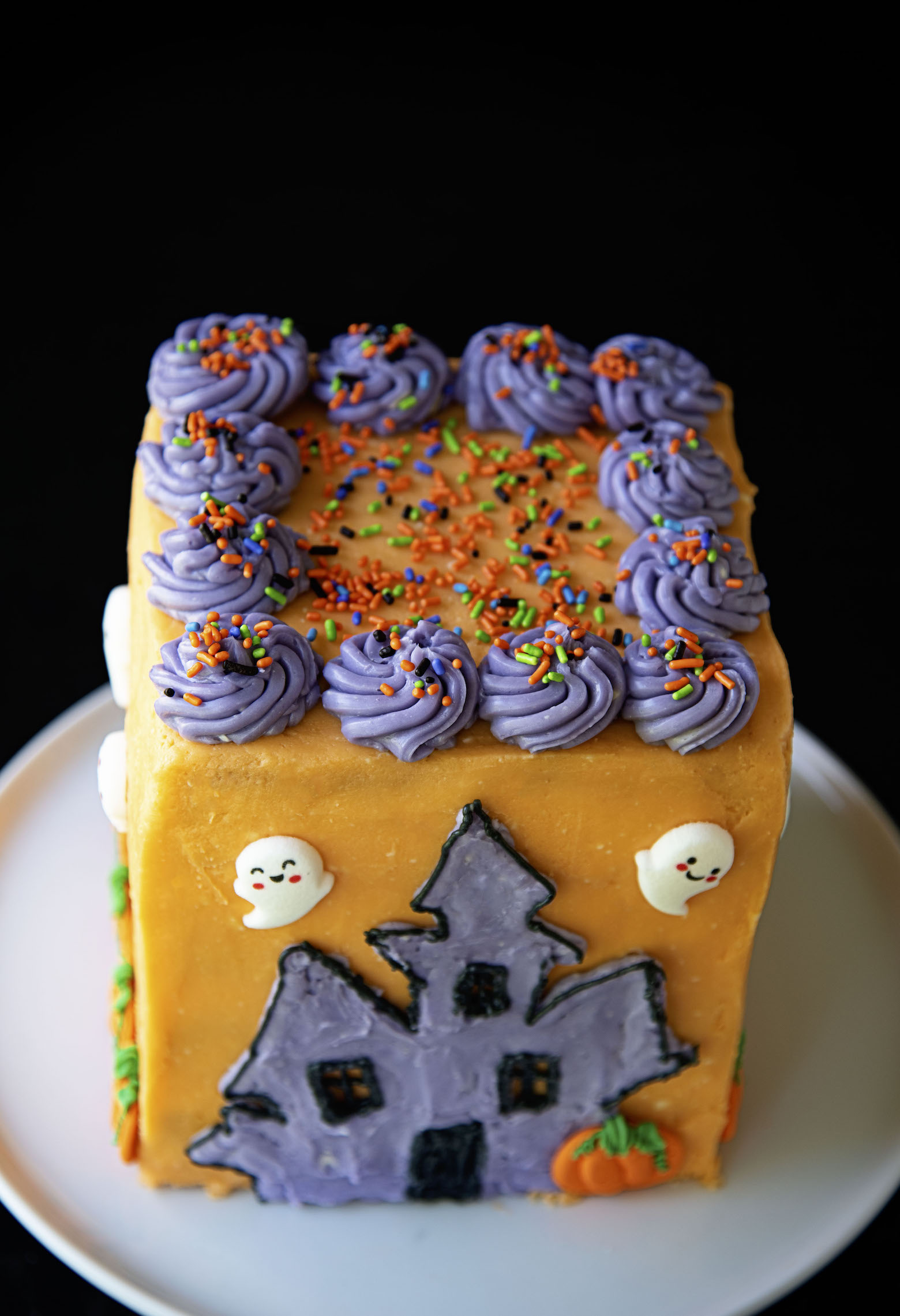 Check out all of these great #HalloweenTreatsWeek recipes for today!
Ingredients
For the Cake:
5 large egg whites
3/4 cup whole milk
2 3/4 cups cake flour
1 1/4 cups granulated sugar
1 TBSP baking powder
1/2 tsp. salt
3/4 cup unsalted butter, at room temperature
1 tsp. vanilla extract
1 cup Halloween colored sprinkles
For the Frosting:
1 cup (about 9) egg whites
2 cups granulated sugar
3 cups unsalted butter, cubed and at room temperature
2 tsp. vanilla extract
1/4 tsp. salt
orange food gel coloring
black food gel coloring
purple food gel coloring
For the Decor:
halloween sprinkles
candy ghost
candy pumpkins
Instructions
For the Cake:
Spray with baking spray a 10-x-10 inch baking pan and line with a parchment and spray with baking spray as well.
Preheat oven to 350F.
Stir together the egg whites and 1/4 cup of the milk in a small bowl and set aside.
Sift flour, sugar, baking powder, and salt and put into the bowl of a stand mixer fitted with the paddle attachment.
Mix on low until combined.
With the mixer on low, add the butter vanilla, and the remaining milk until the dry ingredients are moistened
Bump mixer speed up to medium and beat for one minute until all ingredients are fully combined.
Scrape down the bowl.
Add egg white and milk mixture in three parts, each time mixing on medium speed for about 30 seconds
Scrape down the bowl and fold the sprinkles in and mix until fully combined.
Pour into the pan and use a spatula to smooth the top of batter flat and evenly.
Bake to 30-35 minutes or until a toothpick inserted into the center of the cake comes out clean.
Cool on a wire rack for 10-15 minutes before removing from pans.
Once cakes are cool, wrap in plastic wrap and place in freezer (helps with frosting them).
For the Frosting:
Place the egg whites and sugar in the metal bowl of a stand mixer and set over a small pot of simmering water (the bowl should not touch the water).
Heat, stirring occasionally, until mixture is 160F or hot to the touch.
Transfer bowl to stand mixer and beat on high speed with a whisk attachment to medium stiff peaks, about 8 minutes.
Reduce mixer speed to medium low and add butter a tablespoon at a time, letting it incorporate into the meringue for few moments before adding more.
Add vanilla extract and salt and beat on high for 1-2 minutes until smooth and creamy.
Remove a cup of the frosting to color purple.
Remove 1/2 a cup frosting to make black.
Add orange food gel to the remaining frosting and beat until the color is fully incorporated.
To assemble:
Divide the 10-x-10 cake into 4 equal squares.
Using a serrated knife trim off any cake top that isn't flat.
Place one layer on a platter.
Spread 1/3 cup of frosting on the layer.
Place the second layer on top.
Then another 1/3 cup frosting.
Add the third layer with another 1/3 cup of frosting.
Place the final layer on top and frost the whole cake with a crumb coat.
Place the cake in the fridge or in my case super cold garage for 30 minutes.
Remove from fridge and frost the cake.
Take a haunted house cookie cutter and gently press on one side of the cake to form an outline. Remove the cookie cutter.
With the purple frosting outline and fill the house. Leave space for windows if you want.
With the black frosting outline the haunted house and make windows if desired.
Decorate the rest of the cake with what Halloween things you like. I chose happy ghosts and pumpkins.
Welcome!!! It is almost Halloween which means it is time for this year's #HalloweenTreatsWeek recipe and giveaway event!!
#HalloweenTreatsWeek is a yearly Halloween blogging event that is hosted by Angie from Big Bear's Wife  & its a creepy and haunting week-long event is filled with some amazingly wicked Halloween treats, recipes and some frightfully fun giveaways.
"When witches go riding, and black cats are seen, the moon laughs and whispers 'tis near Halloween."
For the 4th annual #HalloweenTreatsWeek event we have 28 hauntingly talented bloggers that are sharing their favorite Halloween recipes throughout the week!
Follow the hashtag #HalloweenTreatsWeek on social media and look at the bottom of each post to see all of the Halloween recipes that we're sharing!
Prize #1 from Dixie Crystals
41 Pieces Silicone Bakeware Set
3 Piece Halloween Silicone Spatula Set
Nordic Ware Haunted Skull Cakelet Pan
Giveaway open to US Residents 18 years or older. All entries will be verified. No PO Boxes Please. Prizes will be sent directly from sponsor to winner, bloggers are not responsible for prizes. This giveaway runs from October 11th – October 15th at 11:59PM EST. Winners will be selected soon afterward and contacted by e-mail. Winners will have 48 hours to respond or a new winner will be chosen. There are a total of 1 (ONE) prize pack and therefore we will have a total of 1 (ONE) winners. No purchase necessary. Void where prohibited by law.
Disclaimer: These posts and recipes are part of the week-long event, #HalloweenTreatsWeek but all opinions are 100% mine! We would like to Thank our amazing brand sponsors: Dixie Crystals that provided a prize pack for our giveaways and also sent some samples and products to the #HalloweenTreatsWeek bloggers to use in their recipes.