These Gouda Stuffed Crusty Loaves are hearty crusty bread with a gooey aged gouda center. Perfect for soups and for sharing.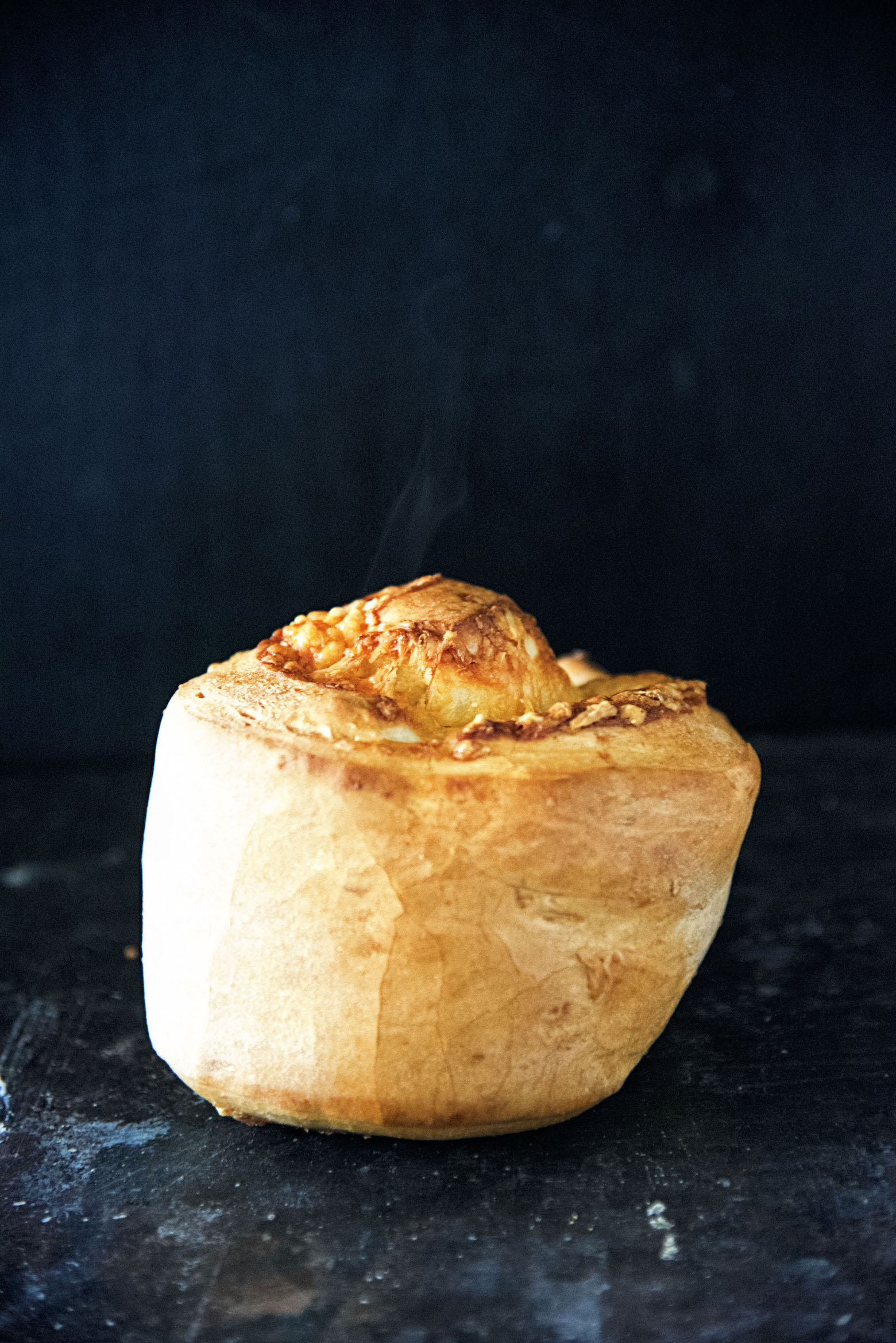 I'll admit this bread takes some time to make.
I will also admit that these Gouda Stuffed Crusty Loaves are the most requested bread that I make.
And if you take the time to make it I'm guessing it will become your most requested bread as well.
The first time I tried the recipe I was a tad nervous as the starter doesn't really look like most starters.
Most starters are a little wet and bubble up.
This starts is more like dough and you sit it out overnight.
It does form little bubbles but not like what you get out of a normal starter.
But when it all came together it was glorious.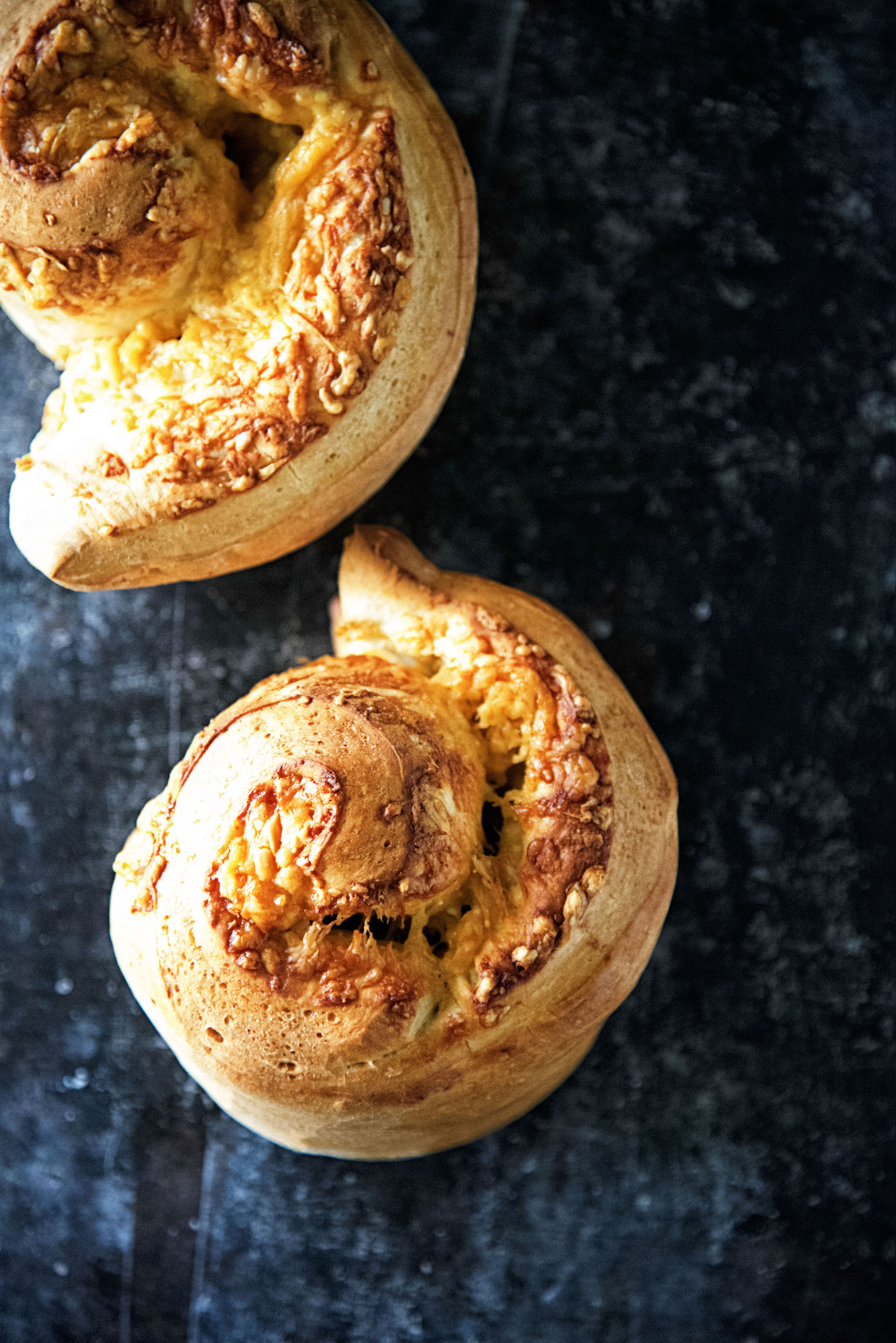 You can turn this into two larger loaves or four smaller ones.
I like the smaller ones best but I tend to use them as breads for soup and I like they everyone gets their own mini loaf of bread.
But you can certainly make it as one large loaf.
You will however need to adjust the time for baking.
Definitely splurge on some decent cheese for these.
If you are going to take the time to make them then make them right.
Lucky enough to live near a Trader Joes?
They have a great cheese selection for decent prices.
Same with Costco and Sam's Club…you just might end up with a lot of cheese.
Which really isn't a bad thing.
It's a great day to order my cookbook.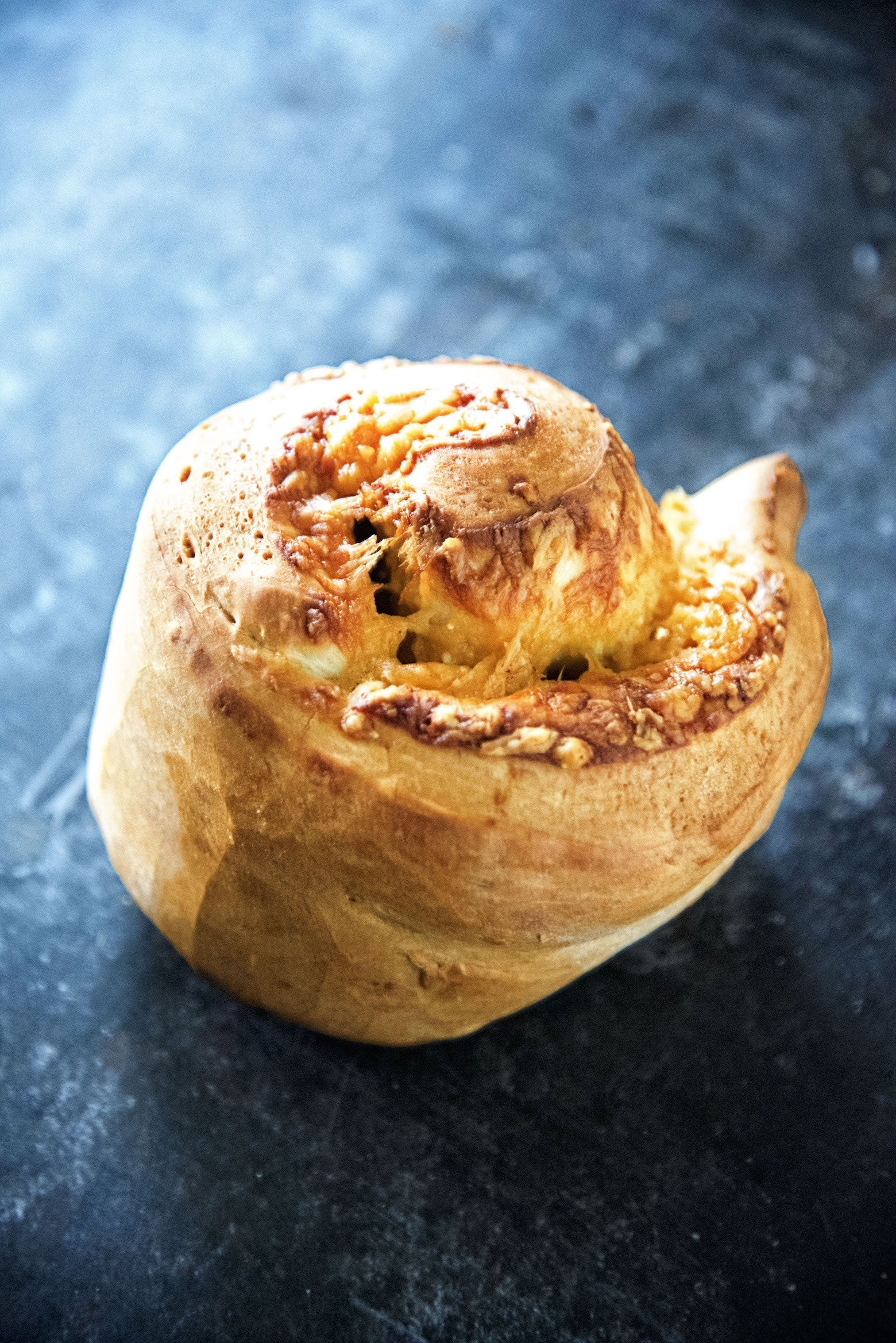 Want More Bread Recipes?
Orange Blossom Chocolate Challah Bread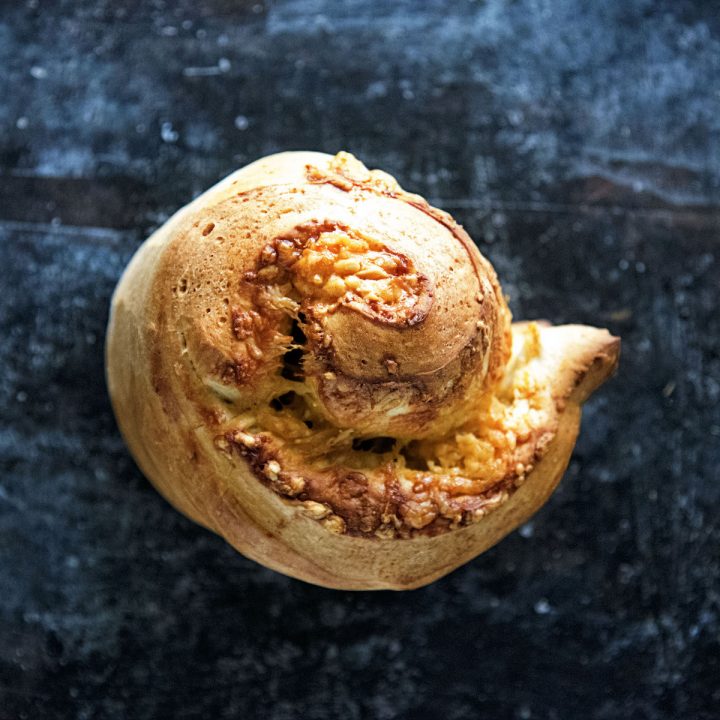 Yield:
2 large loaves or 4 small loaves
Ingredients
STARTER:
1 1/4 cups Unbleached Bread Flour
1 tsp. salt
1/2 tsp. instant yeast
1/2 cup cool water
DOUGH:
all of the starter
1 cup + 2 TBSP to 1 1/4 cups lukewarm water*
1 tsp. salt
3 1/2 cups Unbleached Bread Flour
1/2 tsp. fresh thyme,
1/2 tsp. instant yeast
*Use the greater amount of water in winter, when conditions are dry; and the lesser amount in summer, when the weather is humid.
FILLING:
2 1/2 cups grated Aged Gouda cheese
Instructions
To make the starter: Mix the 1 1/4 cups flour, salt, thyme, yeast, and 1/2 cup water in a medium-sized bowl.
Mix until well combined; the starter will be stiff, not soft/liquid.
Cover and let rest overnight at room temperature (65°F to 75°F is ideal); it'll become bubbly.
To make the dough: Combine the risen starter with the water, salt, flour, flavor (if you're using it), and yeast.
Knead — by hand, mixer, or bread machine set on the dough cycle — to make a smooth dough.
Place the dough in a lightly greased bowl, cover, and let it rise until it's nearly doubled in bulk, about 1 1/2 to 2 hours.
Gently deflate the dough, and turn it out onto a lightly floured surface, or a piece of parchment.
Pat and stretch it into a 3/4″-thick rectangle, about 9″ x 12″.
Spritz with water, and sprinkle with the grated gouda.
Starting with a long side, roll the dough into a log, pinching the seam and the ends to seal.
The cheese will try to fall out; that's OK, just try to enclose as much as possible, then pack any errant cheese into the ends before sealing.
Place the log, seam-side down, on a lightly floured or lightly oiled surface (or leave it on the parchment and place the parchment on a baking sheet, for easiest transport).
Gently cut the log into four crosswise slices, for mini-breads; or simply cut the dough in half, for two normal-sized loaves.
A large sharp knife or serrated knife works well here.
If for some reason you fail to cut all the way through the dough at the bottom, simply take a pair of scissors and snip through the dough.
Place the loaves on one (for two loaves) or two (for four mini-loaves) lightly greased or parchment-lined baking sheets, cut side up.
Cover the breads and let rise until they're puffy though not doubled in bulk, about 1 to 1 1/2 hours.
Towards the end of the rising time, preheat the oven to 425°F. If you're baking two loaves, position a rack in the center of the oven.
If you're baking four loaves, place two racks towards the center of the oven with just enough room in between to accommodate the rising loaves.
Spread the loaves open a bit at the top, if necessary, to more fully expose the cheese.
Spritz with warm water.
Bake for 25 to 35 minutes (for the mini-loaves), or 35 to 40 minutes (for the full-sized loaves), or until the cheese is melted and the loaves are a deep golden brown.
If you're baking four loaves on two pans, rotate the pans halfway through the baking time: top to bottom, bottom to top.
Remove the pans from the oven, and cool the bread right on the pans. Bread is best served warm.
Store any leftovers, well-wrapped, for a day or so in the refrigerator; freeze for longer storage (up to 4 weeks).
Reheat bread before serving; wrap in foil, and warm in a preheated 350°F oven for 25 to 30 minutes, or until heated through.
Bread that's been frozen can be taken right from the freezer, wrapped in foil (if it's not already), and put into a 350°F oven. It'll be nicely warmed in 45 to 50 minutes.