Raspberry Mimosa Cupcakes are sponge cupcakes made with orange juice concentrate and Prosecco topped with Prosecco Raspberry Buttercream.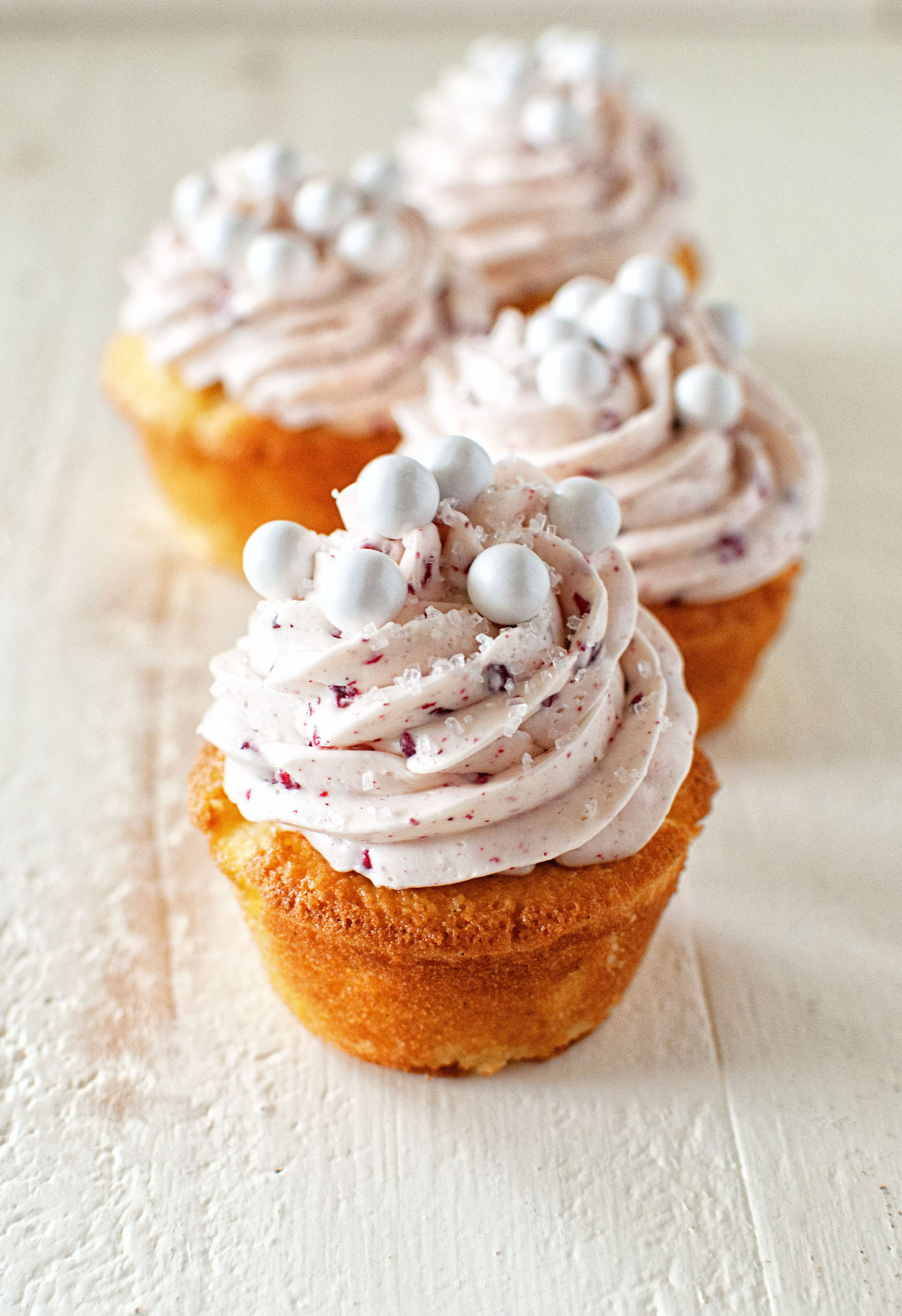 I was going to spend the last day of the 2017 going and seeing the new Star Wars.
It's rather surprising that I haven't seen it yet but life got in the way.
Life got in the way again today.
But life also gave us Raspberry Mimosa Cupcakes today so not too bad.
Today I spent the day at the Veterinarian.
Well, I wasn't seeing the vet…the dog was. 🙂
Our dog Daisy got very ill and we rushed her to her regular vet who diagnosed her with pancreatitis and started treatment.
They wanted to keep her there for the weekend but she is a very needy dog and we wanted to take her home.
Because while they had a veterinarian there, I would not actually be able to see her until Tuesday morning.
That would not fly for her or me.
We live down the street (literally) from a 24 hour vet so if she takes a turn for the worse we can take her there.
She is stable now and doing better.
We have a giant bag of medication…five total to give her.
So instead we are all cuddled up on the couch and will stay there the rest of the weekend tending to our sick pup.
And that's okay because of the end of the day that's all that really matters.
At least for our family.
Where our dogs are our family and our first priority.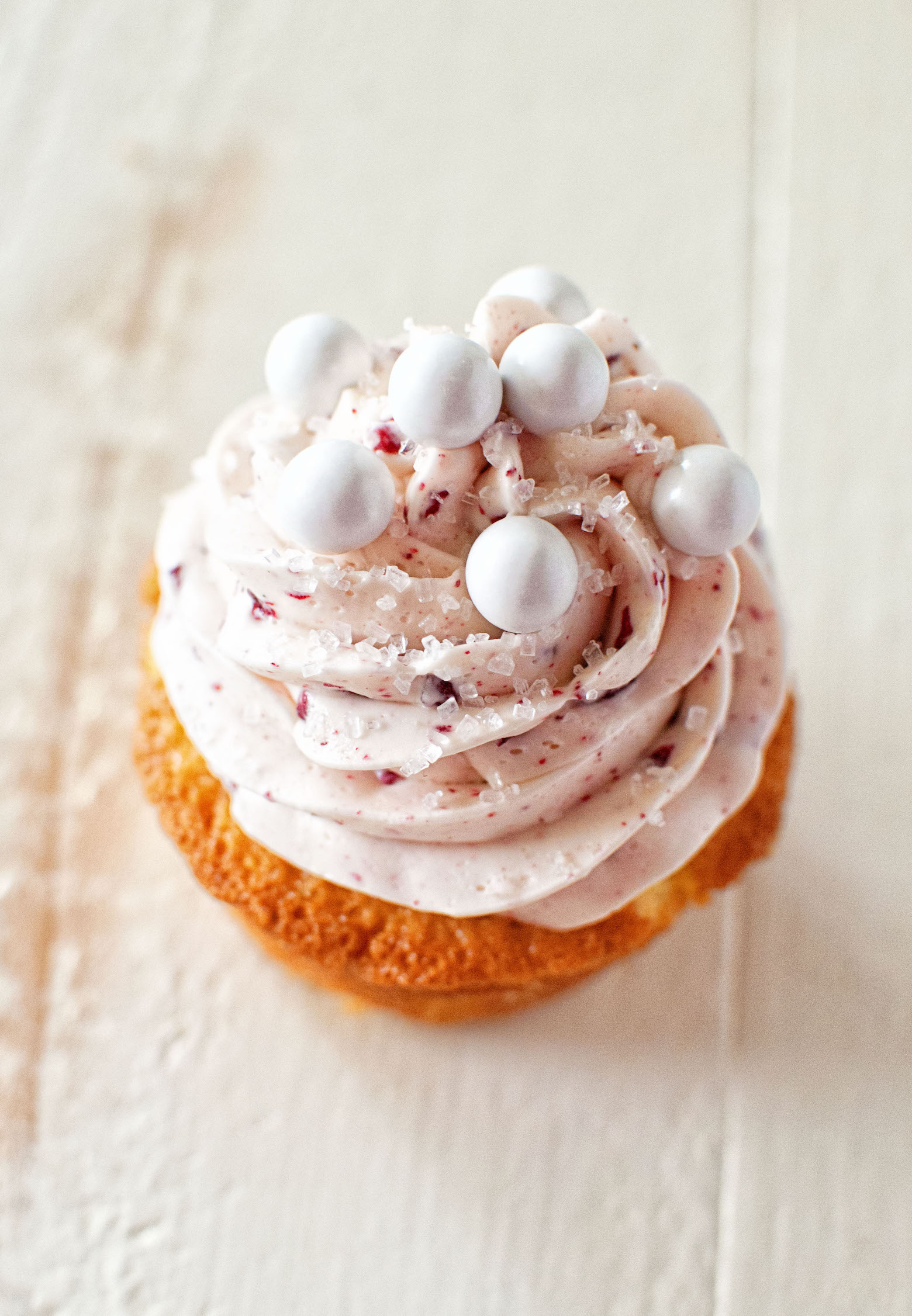 While my pup was at the vet I had a lot of nervous energy.
A lot of nervous energy.
Nervous energy turned into baking Raspberry Mimosa Cupcakes.
With the new year and all I decided to make Champagne cupcakes.
But I'm on a Prosecco budget.
Costco Prosecco at that. 🙂
As I am on Costco Prosecco budget.
But really, it's not bad.
Just like almost all the booze that Costco has to offer.
Plus, this is going in to cupcakes.
So honestly, I wouldn't be using the good stuff even if I could afford to.
I saw a mimosa layer cake and wanted to turn it into cupcakes…but with raspberry as well.
Yeah, they are really, really good.
I ended up taking a good amount of them to the vets office as a thank you for taking good care of my baby.
As we roll into 2018 I want to wish you all the best for the coming year.
Hopefully I'll even get to see the new Star Wars…eventually. 😀
Tips for making perfect Swiss Meringue Buttercream:
Swiss Meringue Buttercream seems to scare people for many reasons.
First off you need a thermometer.
Which seems to scare people for some reason.
You may see some recipes say you can eyeball the meringue mixture when it's in the saucepan I HIGHLY suggest you use a thermometer.
The other thing that scares people is how the frosting looks for most of the process.
It makes people think they messed up when they did not.
So let's see how to be more successful with it.
Start with a SUPER clean bowl.
The base of the frosting is a meringue.
And meringues can not have any fat in them or they don't get fluffy.
So a clean bowl is super important.
This includes making sure there is NO yolk in your egg white mixture.
If there is than your meringue will not turn out.
The best way to ensure you don't have eggs in your mixture is to to separate the eggs one at a time into separate bowls and then pour the whites in as you go along.
It's kind of a pain but worth the time spent doing it.
Otherwise you could just be wasting a lot of ingredients.
Make sure your meringue is no longer warm.
If you add butter to a warm meringue you are going to get a gloppy soup of a frosting.
However, if that does happen just place it in the fridge for about 15 minutes.
That will firm the butter back up.
Proceed as if that didn't happen. 😀
The butter will look curdled for quite some time.
When you are adding the butter to the meringue mixture at first the butter does not incorporate smoothly.
And you will panic.
I used to panic so much when first making this frosting.
But I learned over time to relax and remember it will all come together.
Because it does.
It's a great day to buy my cookbook Holy Sweet!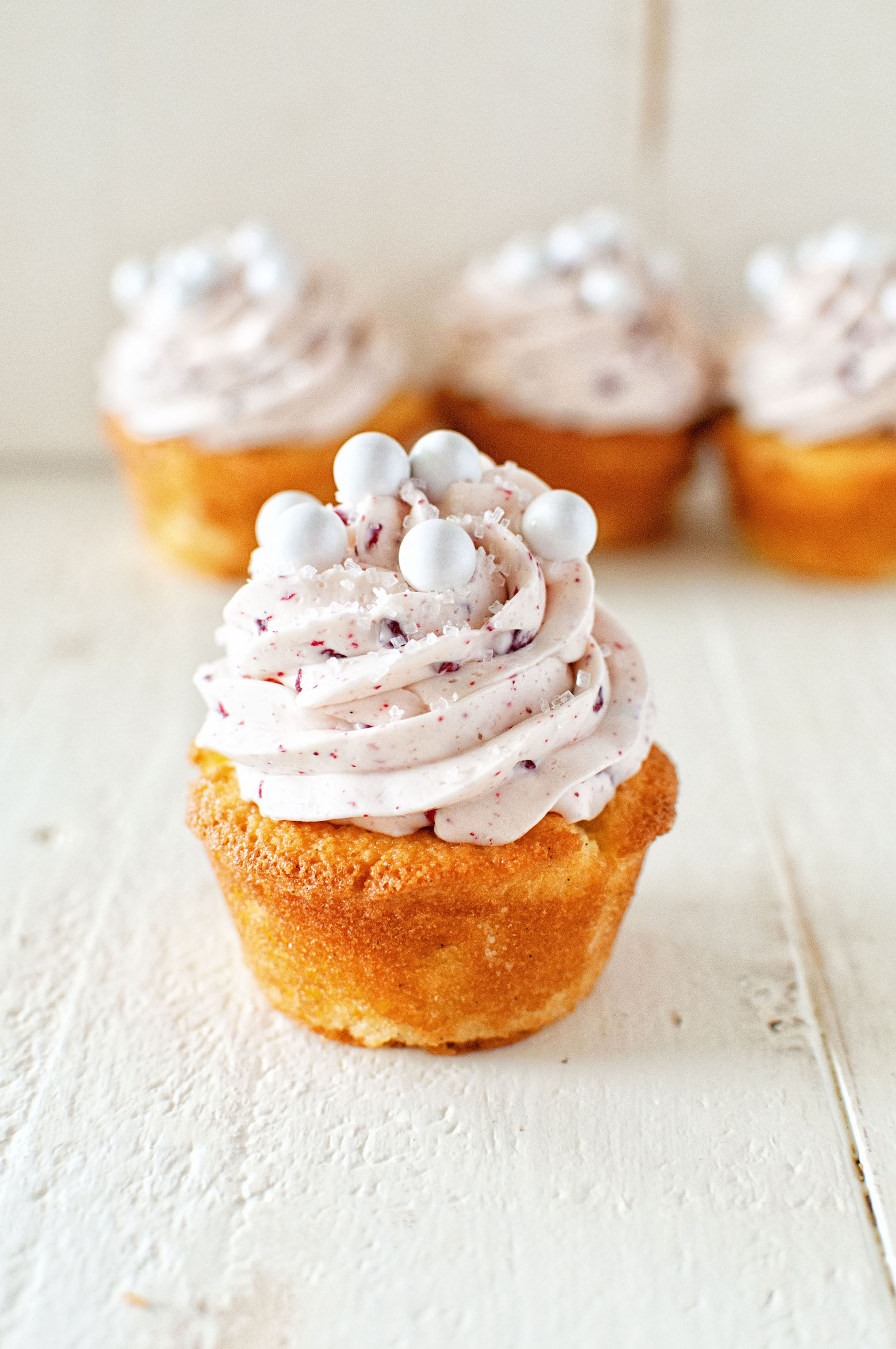 Want More Cupcake Recipes?
Chocolate Root Beer Float Cupcakes
Strawberry Pretzel Cream Cheese Cupcakes
Dark Chocolate Butterfinger Cupcakes
Strawberry Buttercream Neapolitan Cupcakes
Ingredients
Mimosa Sponge Cake:
2 ¾ cup cake flour
2 ½ tsp. baking powder
½ tsp. baking soda
1 tsp. salt
1 cup unsalted butter, at room temperature
2 cups granulated sugar
zest of one orange
2 vanilla beans, seeds scraped out
2 TBSP vegetable oil
4 large eggs
2 TBSP frozen orange juice concentrate
1/2 cup sparkling wine or champagne
1 cup milk
Raspberry Champagne Buttercream:
6 large egg whites
2 cups granulated sugar
3 cups unsalted butter, cubed, softened
1 tsp. vanilla extract
1 cup freeze dried raspberries
½ cup champagne or sparkling wine
Instructions
Pre-heat oven to 350F degrees.
Spray two muffin pans with baking spray or use cupcake liners.
Sift together the flour, baking powder, baking soda and salt. Set aside.
Using a stand mixer, cream together the butter, sugar, and orange zest on medium speed until light and fluffy, 3 to 5 minutes.
Add in the vanilla beans and oil. Mix until combined.
With the mixer on medium-low, add in the eggs, one at a time. Stop the mixer and scrape down the bowl after each egg.
Add in half of the dry ingredients and mix until just combined.
With the mixer on low, stream in the orange juice concentrate, sparkling wine, and milk.
Add in the remaining dry ingredients and mix until smooth.
Evenly distribute the batter between the prepared pans.
Bake for 20 to 22 minutes, or until a toothpick inserted into the center comes out clean.
Cool on a wire rack for 10 minutes then remove the cupcakes from their pans.
Place the egg whites and sugar in the bowl of a stand mixer.
Gently whisk until combined.
Place mixing bowl over a pan of simmering water to create a double-boiler.
Whisking constantly, heat the egg mixture until it registers 160 degrees on a candy thermometer.
Carefully transfer the bowl back to the stand mixer.
Using the whisk attachment, whip the egg mixture on high for 8 to 10 minutes until stiff, glossy peaks and the outside of the mixing bowl returns to room temperature.
Switch to the paddle attachment.
With the mixer on low, slowly add cubed butter and mix until incorporated.
Add vanilla extract.
Whip on medium until silky smooth, about 3 to 5 minutes. The buttercream may look curdled or soupy. Keep mixing until it is completely smooth.
With the mixer on low, slowly stream in the sparkling wine until fully incorporated.
Add the freeze dried raspberries.
Turn up the mixer to medium-high and mix for one minute or until silky smooth.
Frost the cupcakes and top with white sugar sprinkles.