This Glazed Peach Fritter Bread takes one of your favorite fritters and makes it into quick bread form. Made even better with vanilla beans and bourbon.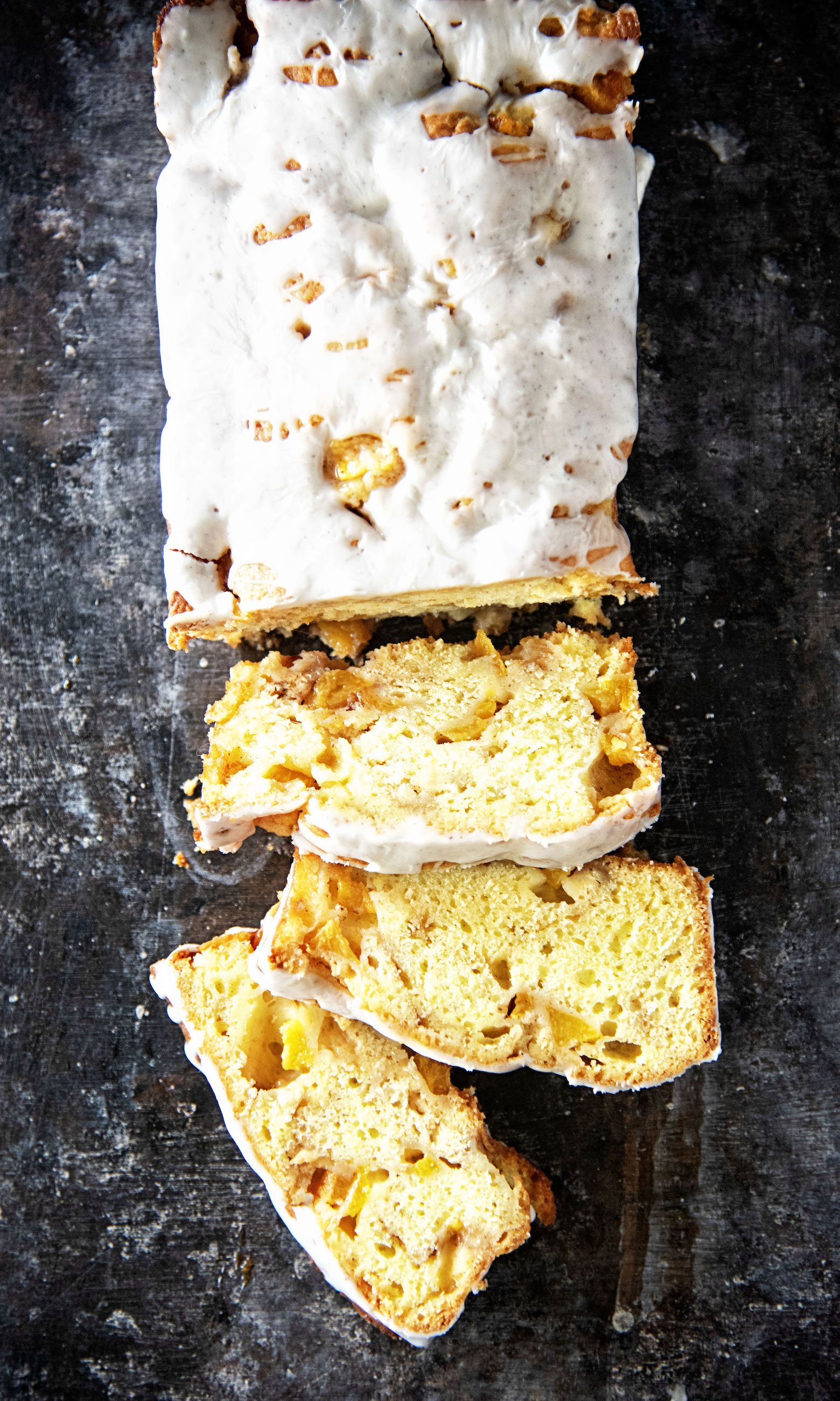 For the last several years week in and week out one of my top 5 recipes of all time on this blog is my Salted Caramel Apple Fritter Bread.
It's extra popular in the fall especially.
Since it is so popular I decide to make a variation of it.
This time using peaches.
Our peaches right now are really good but you could use frozen if you are not at peak peach season.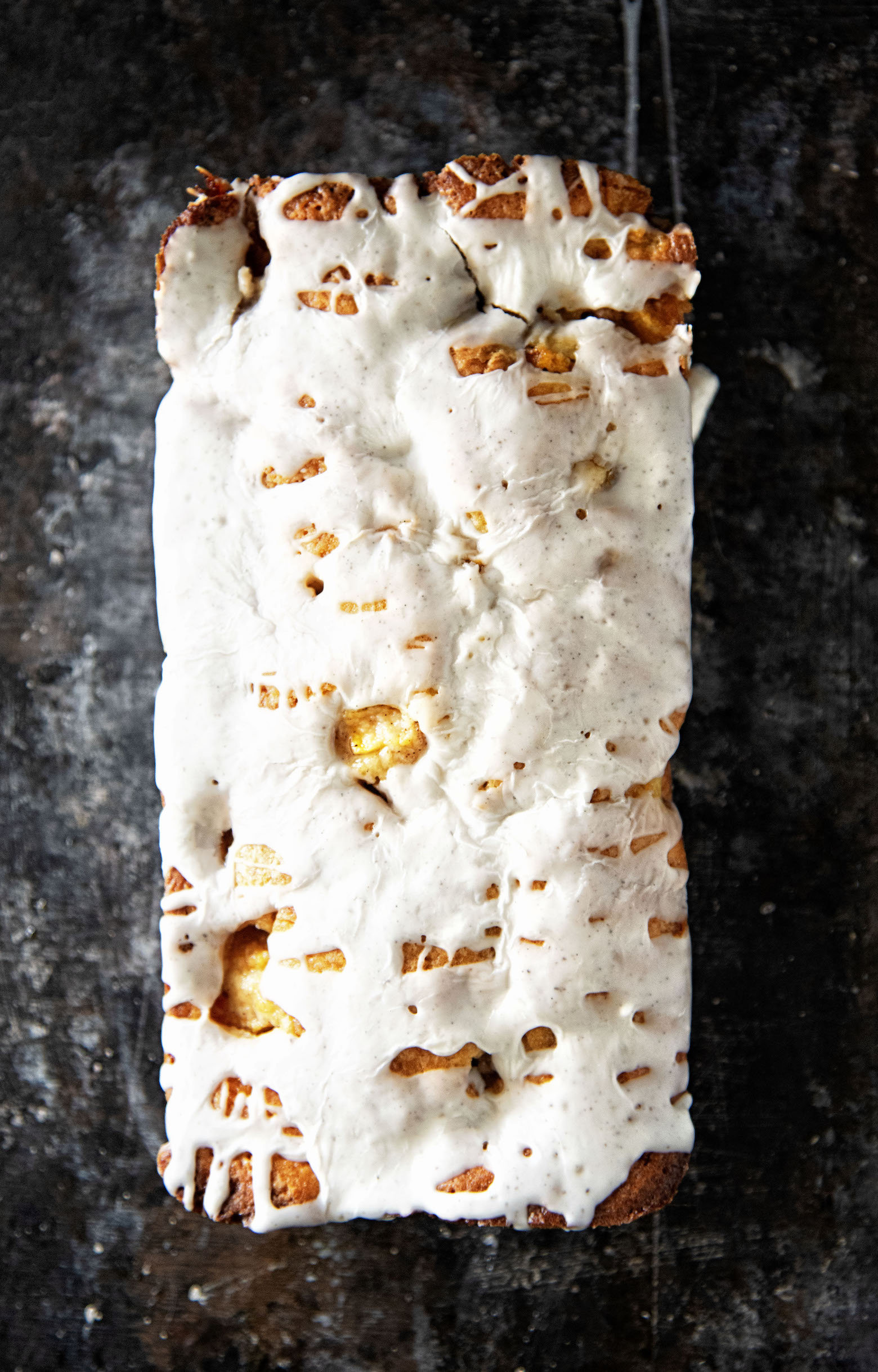 The method to make the bread is a little unusual.
This time I made sure to take photos so people could get a better idea.
For the recipe you need two loaf pans…but you only bake in one.
Prep work is done in the other.
You spread half the batter into one loaf pan.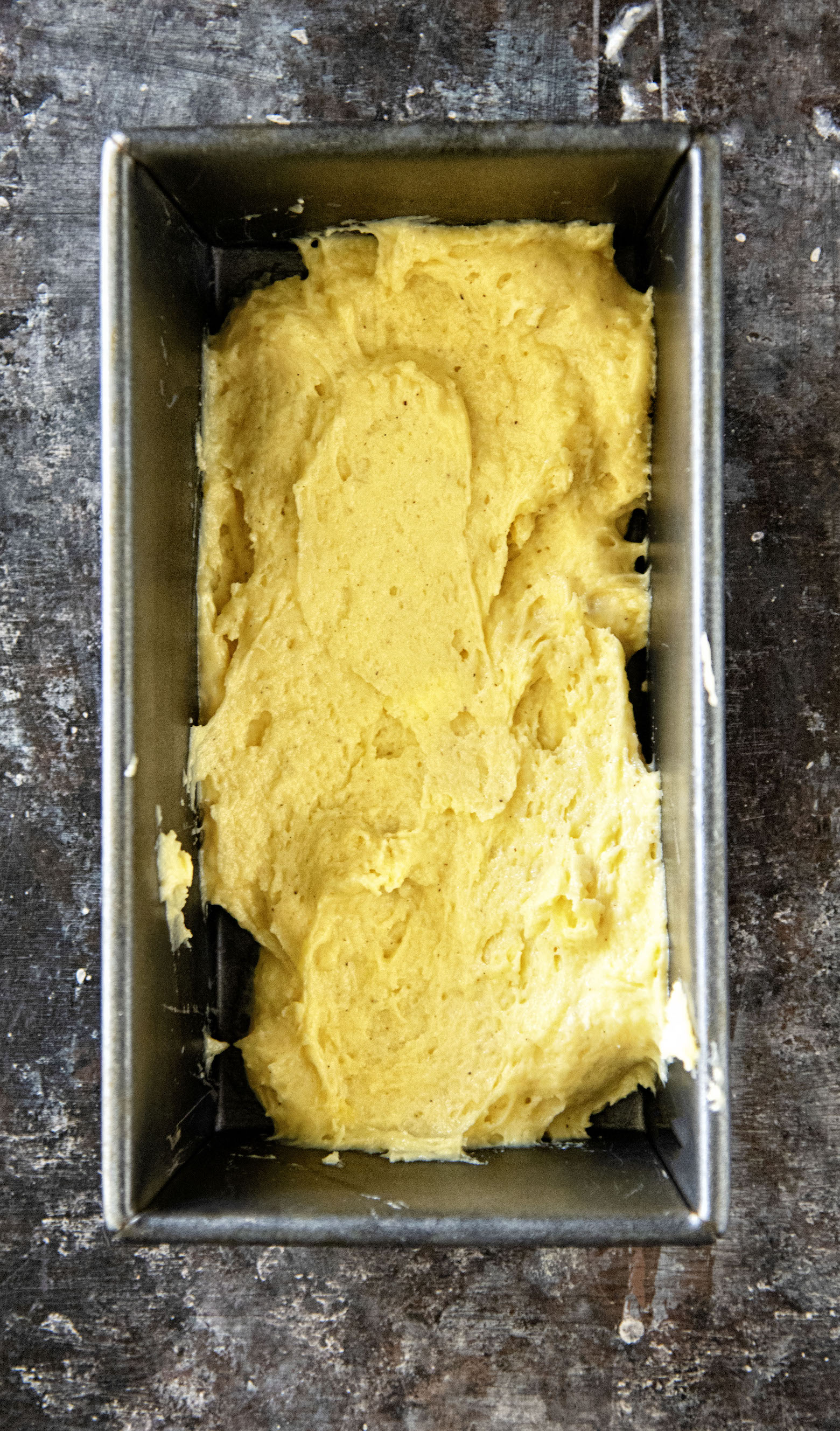 You then add a layer of peaches on top of the batter.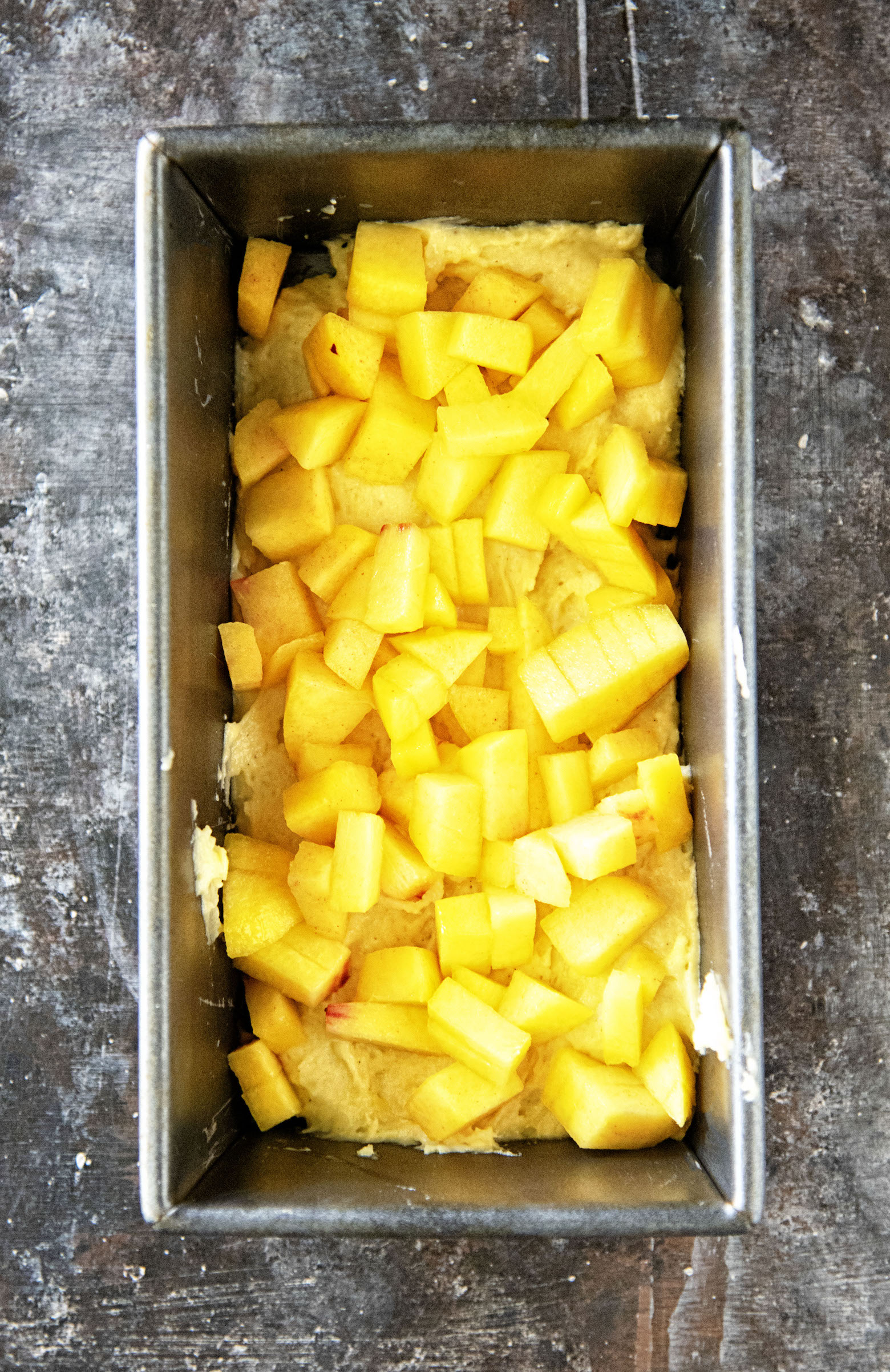 Then sprinkle half of the brown sugar cinnamon mixture on top of the peach layer.
You repeat with a layer of batter, peaches, and then brown sugar and cinnamon again .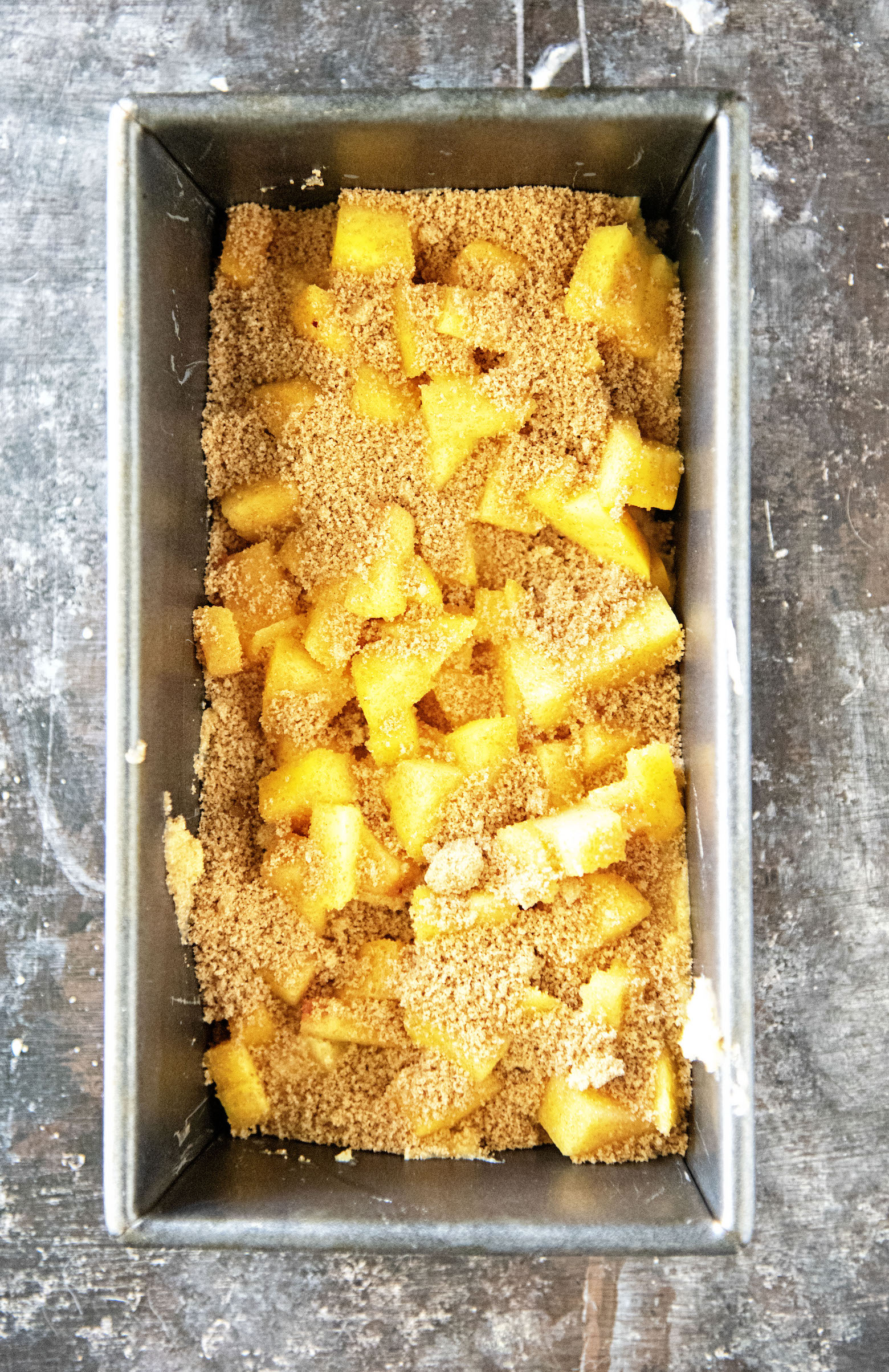 Then using an ice cream scoop you scoop out the batter and place it into the other loaf pan.
That loaf pan should be greased and have parchment paper overhang to help remove the bread from the pan once done baking.
Scoop all of the batter out into the other pan and smooth out with a spatula.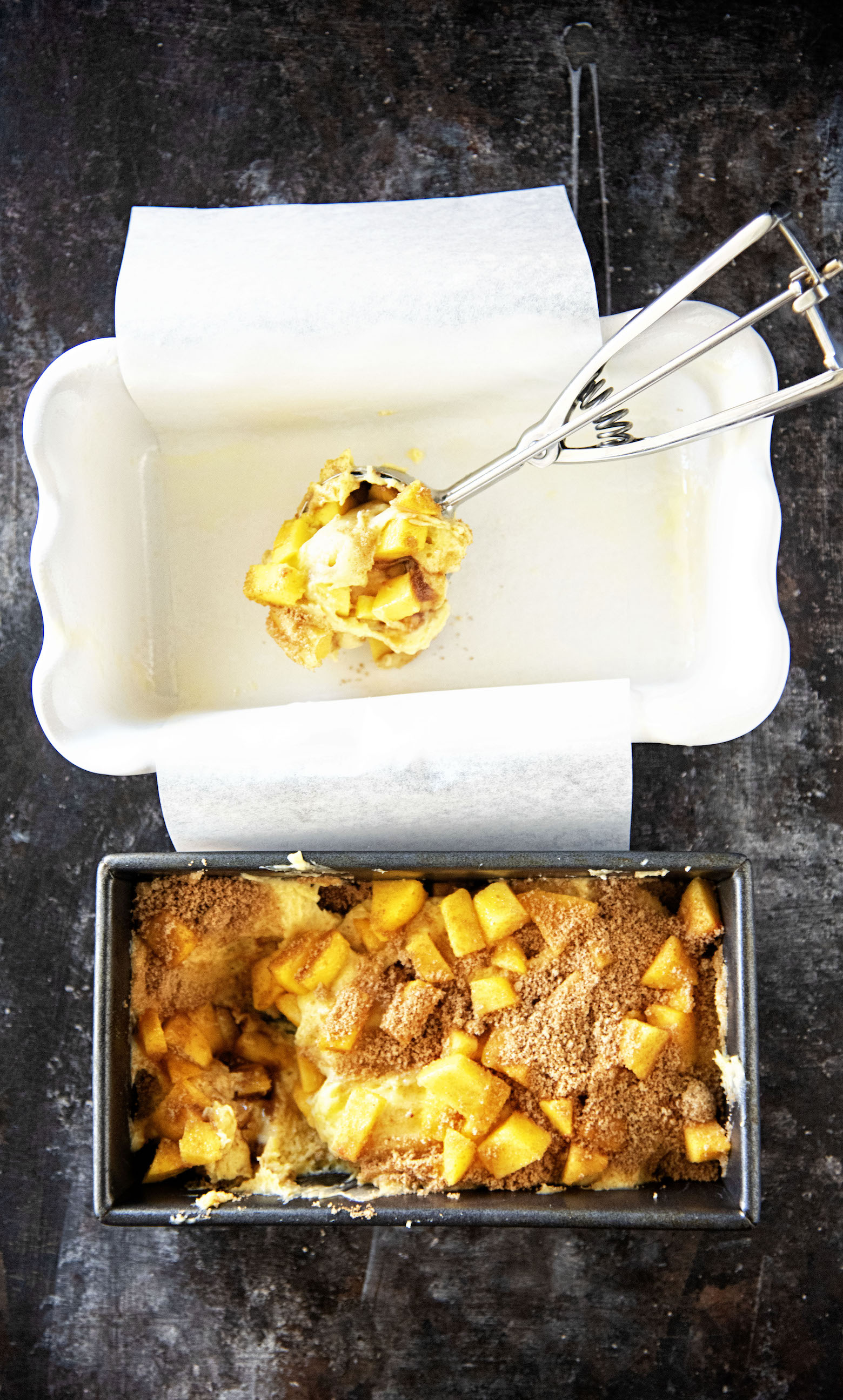 If the steps seem odd…it's because they are.
But when making the original version of this bread I tried many ways to get the brown sugar and fruit integrated.
This method is what I found to do that best.
Who knows…maybe this Glazed Peach Fritter Bread will one day be one of the top five recipes on this site…my husband seems to think so.
Be sure to order my cookbook.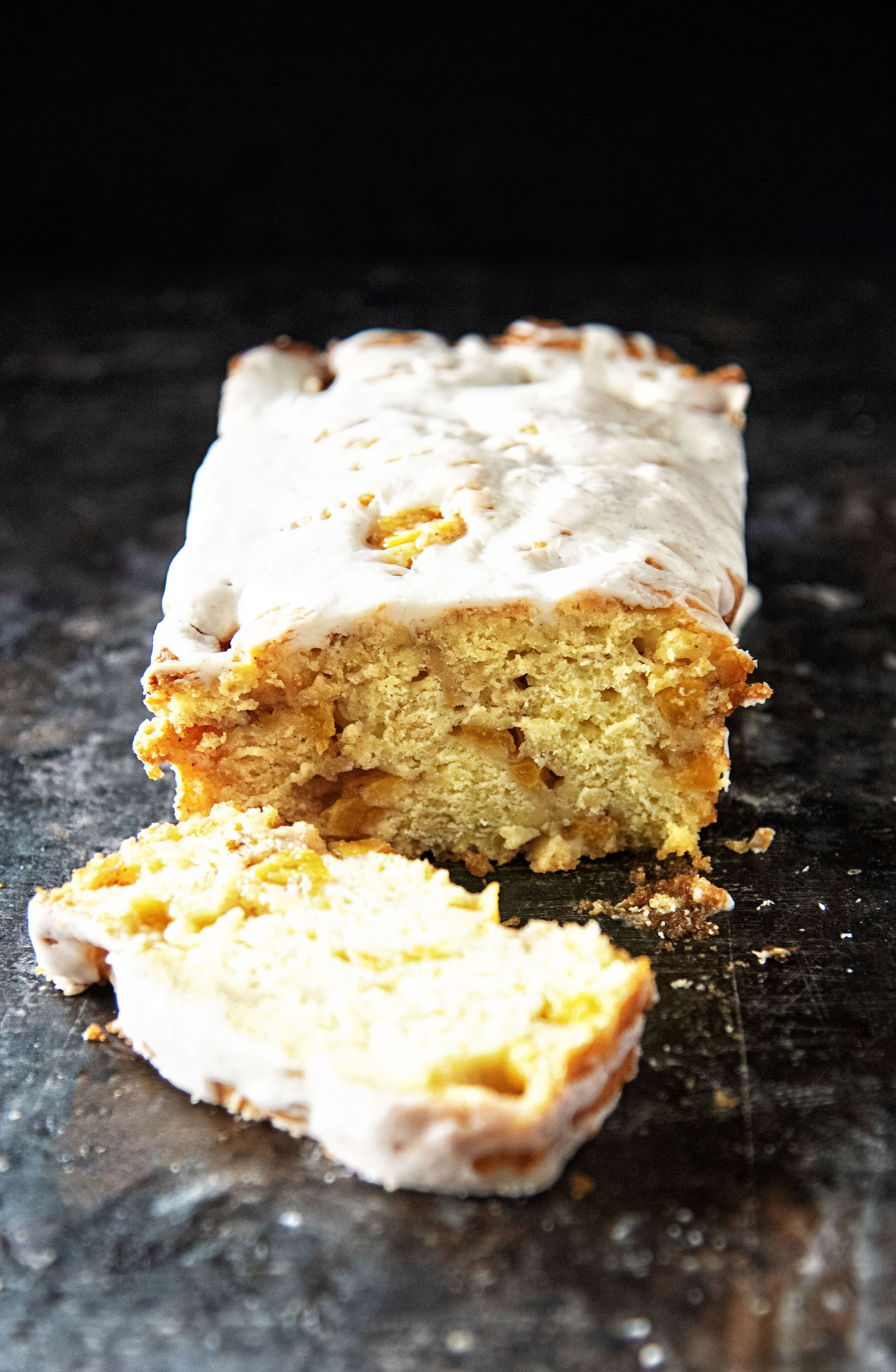 Want more recipes?
Salted Caramel Apple Fritter Bread
Mini Caramel-Glazed Honey Crisp Apple Bread
Apple Cinnamon Buttermilk Bread
Zucchini Walnut Bread with Lemon Glaze
Ingredients
For the bread:
⅓ cup brown sugar, loosely packed
1 tsp. cinnamon
⅔ cup granulated sugar
½ cup unsalted butter, at room temperature
¼ tsp. salt
2 eggs
1½ cups all-purpose flour
1¾ tsp. baking powder
½ cup whole milk
2 large peaches, peeled and chopped
Vanilla Bean Bourbon Glaze:
1/4 cup Bourbon
½ cup of powdered sugar
Instructions
Preheat oven to 350F.
Use TWO (one for baking, one for layering) 9×5-inch loaf pans.
Spray one with baking spray and leave one alone.
Mix brown sugar and cinnamon together in a bowl. Set aside.
Using a stand mixer with a paddle attachment cream together the butter and sugar until light and fluffy, about 3 minutes.
Add the eggs, one at a time, scraping down after each addition.
Then add the vanilla bean paste and beat for 30 seconds.
Incorporate flour, salt, and baking powder together in another bowl and add into creamed butter mixture and stir until blended.
Mix milk into batter and beat until smooth.
Pour half the batter into the non-baking spray loaf pan; add half the peaches and then half the brown sugar/cinnamon mixture. See photos in post.
Add the remaining batter over peach layer and top with remaining peaches, then the remaining brown sugar/cinnamon mixture.
Using and ice cream scoop (or large spoon), scoop the batter into the prepared loaf pan. See blog post for photos.
This helps with getting the yummy peaches and brown sugar throughout the bread and I find it works much better than just swirling with a knife.
Bake in the preheated oven until a toothpick inserted in the center of the loaf comes out clean, approximately 50-60 minutes.
Let rest 5 minutes, flip out, and set on a wire rack to cool.
Place that rack on a baking sheet for glazing.
Let cool on rack for 15 minutes, then glaze.
For the glaze:
Whisk together the powdered sugar, vanilla bean paste and bourbon together until smooth and there are no visible powdered sugar lumps.
Drizzle glaze on bread.