This Glazed Orange Roll Loaf is made with orange juice and candied orange peel are added to the loaf and it is glazed with an orange glaze.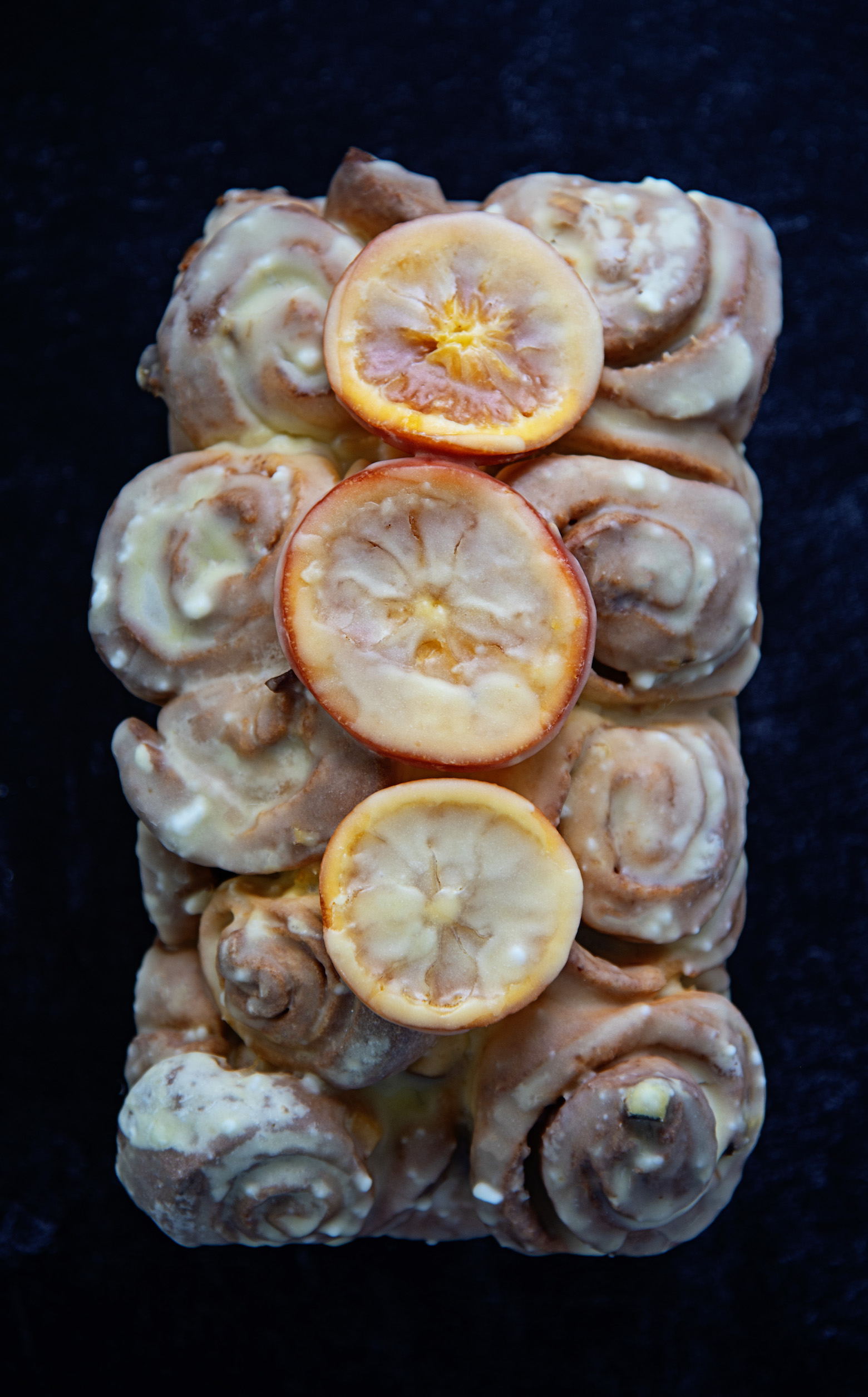 I saw this loaf, well a version of it, in the May/June issue of Bake From Scratch magazine.
Bake From Scratch is my favorite baking magazine, well, that and Sift.
But sadly I learned a few weeks ago that King Arthur Flour is no longer going to be publishing Sift.
Which totally bums me out.
The Bake magazine had a section on loaves.
They took cinnamon rolls and turned them into a cinnamon roll loaf with a cream cheese glaze.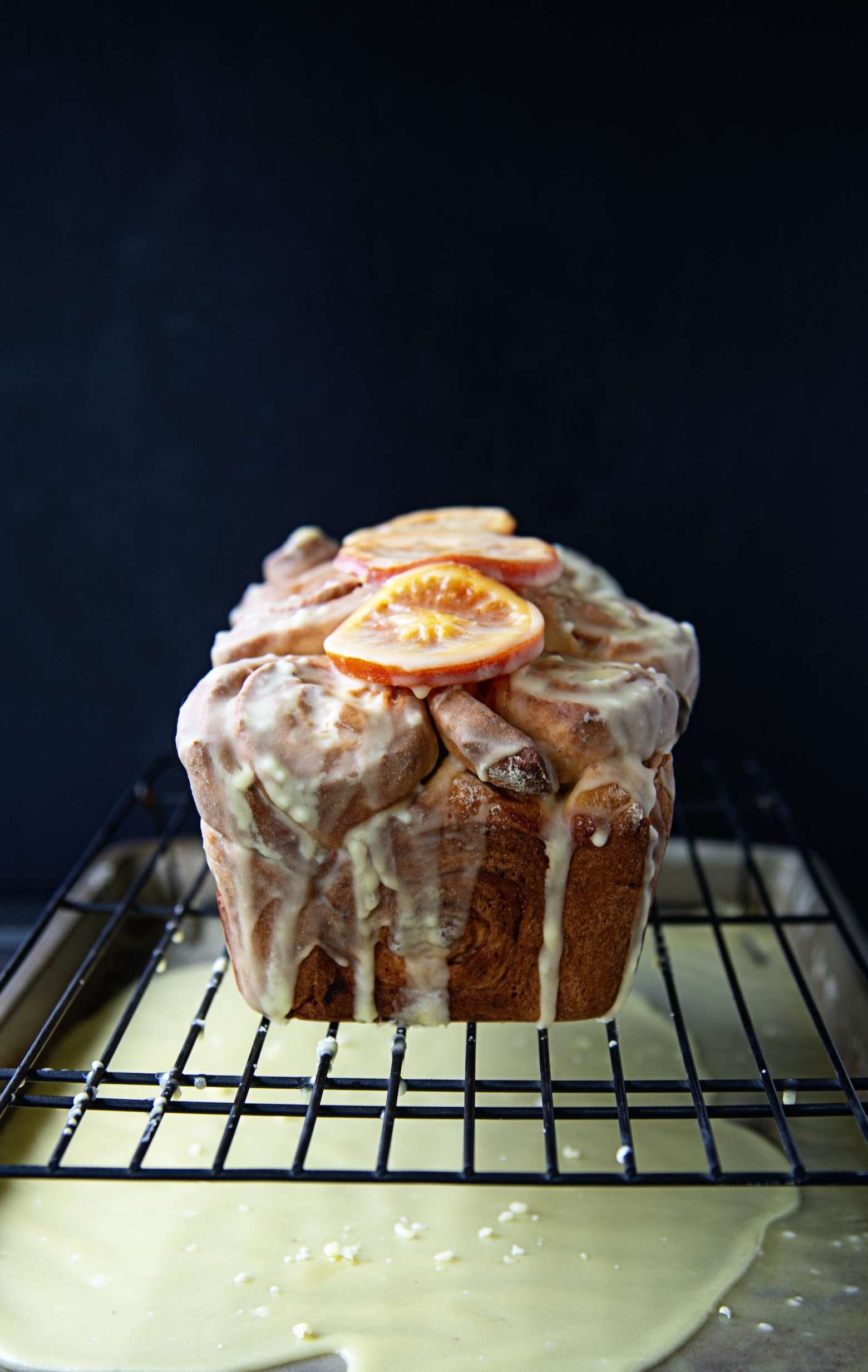 Growing up my mom always made orange rolls.
I was naive and always assumed they were homemade.
Only to find out when I started this blog and asked my mom for the recipe of my childhood orange rolls that they were indeed Pillsbury.
I got quite a few of my culinary dreams crushed in that conversation. 🙂
Turns out my mom was a lot more Sandra Lee than I knew.
So I had to start making my orange rolls and many other baked goods from scratch.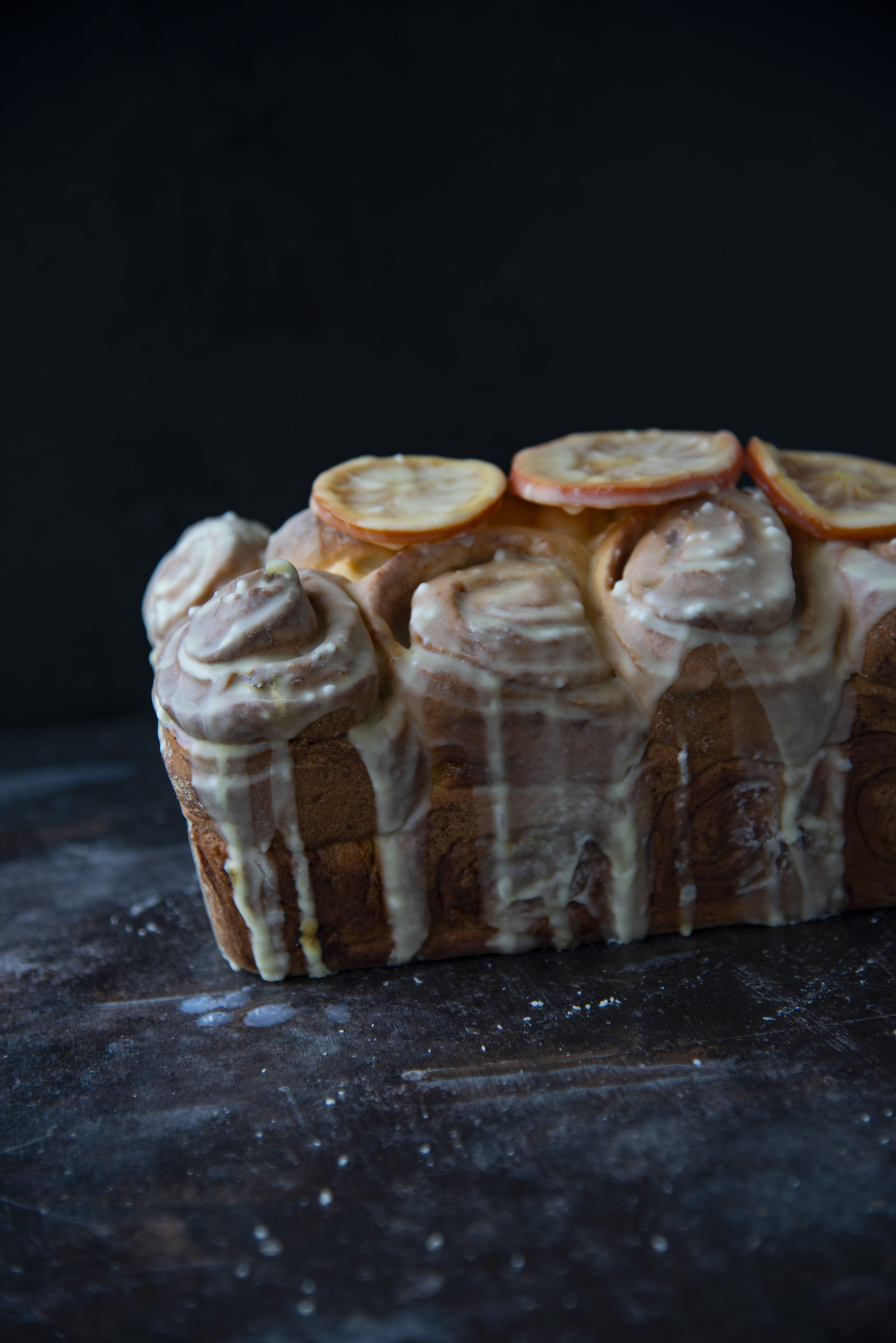 Since I am even more so seeking out comfort food I was craving Orange Rolls.
I remembered the cinnamon roll loaf in the magazine and decided I needed to make a Glazed Orange Roll Loaf version of it.
This loaf is far more dense than my regular cinnamon rolls.
That's because we are cramming it all into a confined area.
With that said because it is on the more dense side it makes for the BEST French toast.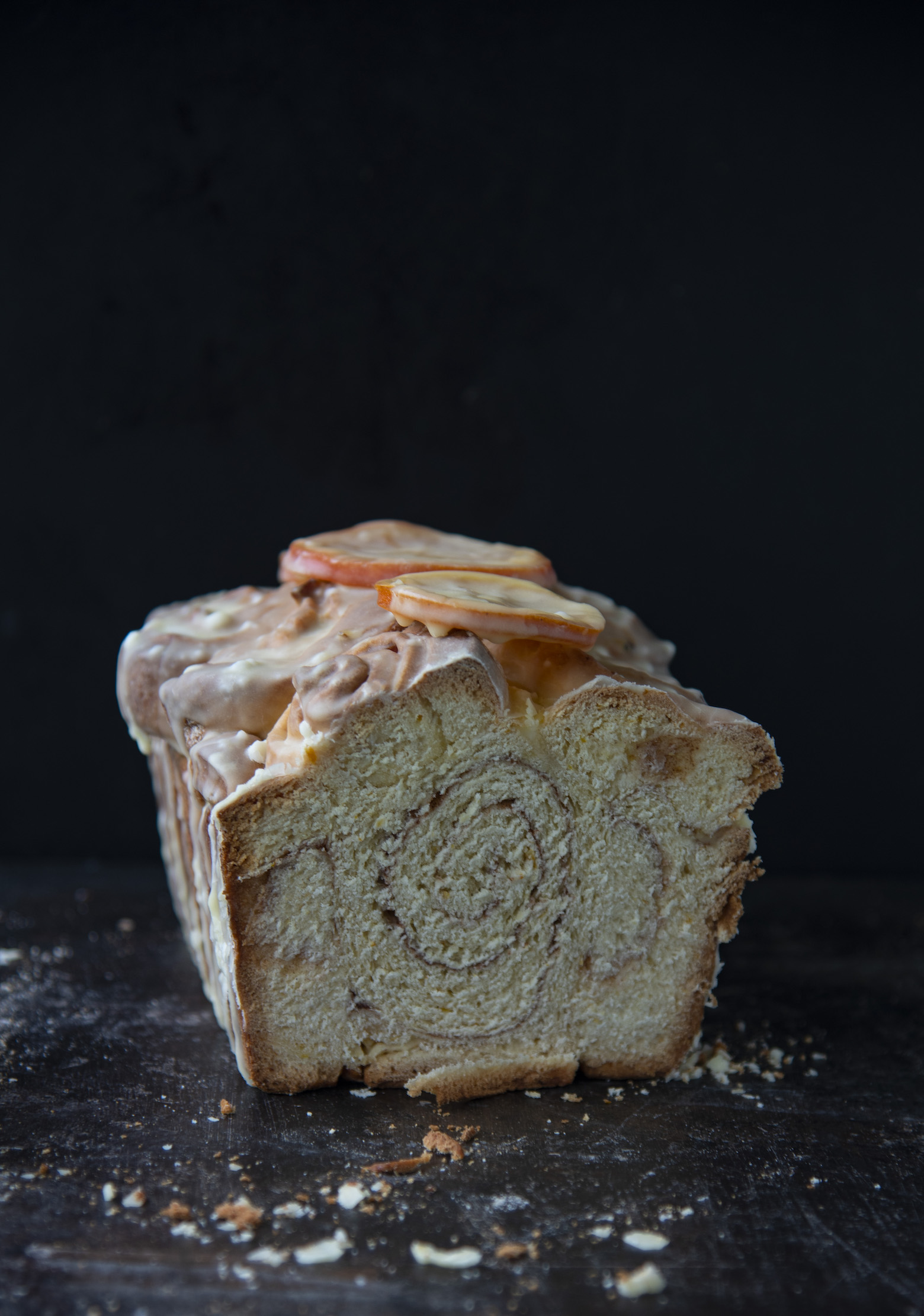 I added some candied orange slices which I found at Trader Joes.
But I put candied orange peel in the recipe because I think that is going to be easier to find.
If however, you have a Trader Joe's nearby then I would get the orange slices and dice them up.
These are definitely a fun way to make cinnamon rolls or orange rolls in this case.
The original recipe called for cream cheese frosting but I went with an orange juice based glaze because that's how we had our orange rolls growing up.
And as always it's a great day to order my cookbook.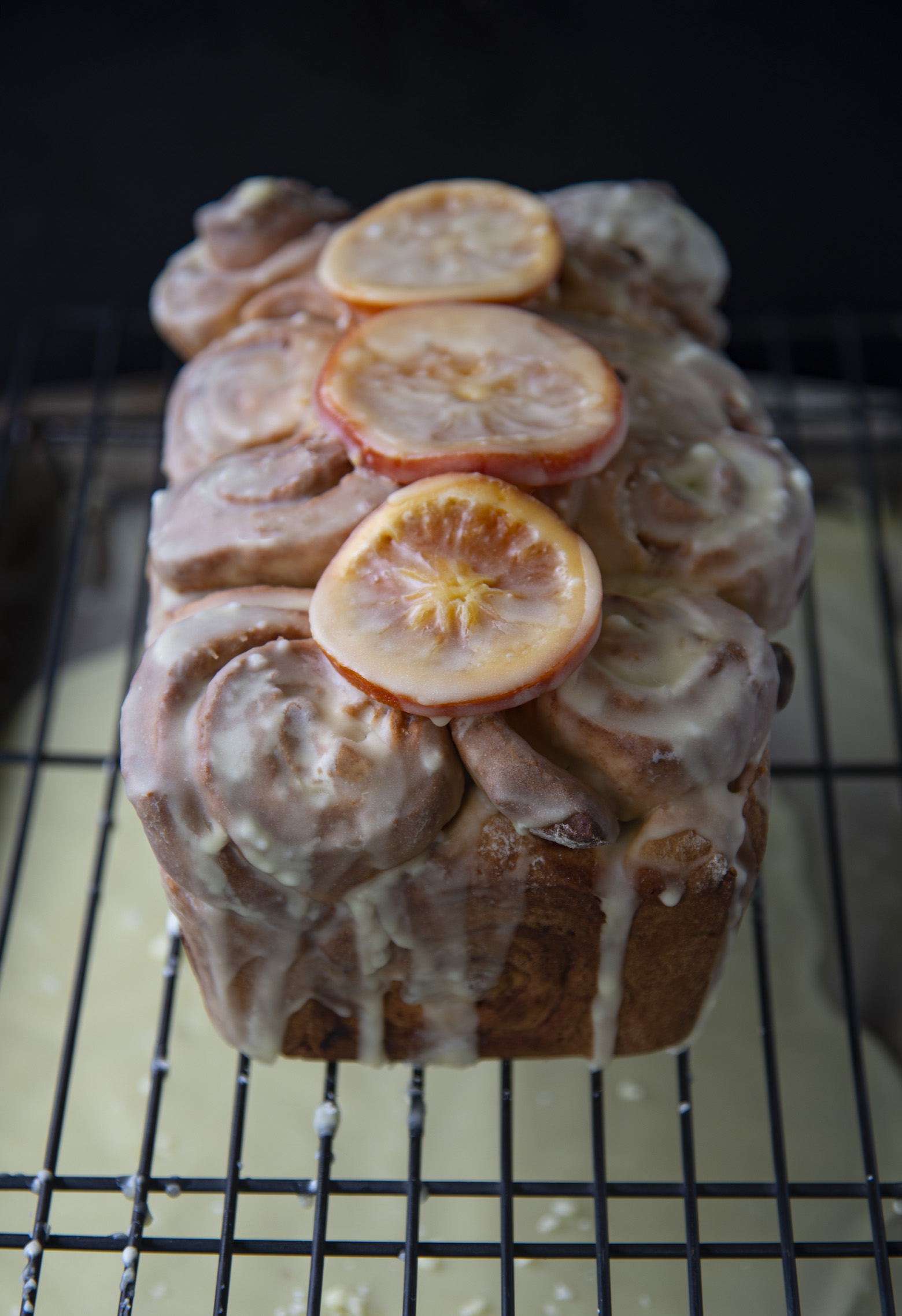 Want More Bread Recipes?
Orange Blossom Chocolate Chip Challah Bread
Brown Sugar Spiral Banana Bread
Ingredients
For the Dough:
4 cups all-purpose flour
2/3 cup granulated sugar, divided
1 package (.25 ounce) active dry yeast
2 tsp. salt, dived
1/3 cup water
1/3 cup orange juice
zest of one orange
1/2 cup unsalted butter
1 tsp vanilla extract
2 eggs
1/2 cup candied orange peel, diced
For the Filling:
3 TBSP granulated sugar
3 teaspoons cinnamon
1/2 cup unsalted butter, at room temperature
For the Glaze:
2 TBSP melted unsalted butter
6 TBSP orange juice
2 cups powdered sugar
Instructions
For the Dough:
In the bowl of a stand mixer fitted with the paddle attachment, whisk together 2 cups of flour, sugar, yeast, and 1½ teaspoons of salt.
In a saucepan heat together water, orange juice, zest, ½ cup butter, and vanilla extract until the mixture reaches 120-130 degrees F. (If the temperature gets too high, simply let the mixture cool before proceeding.)
Add the butter mixture to the dry ingredients and beat at a medium speed to combine. Then beat in the eggs and 2 additional cups of flour. Beat until just combined. Scrape the sides of the bowl if necessary.
Switch to the dough hook and beat at a low speed for about 4 minutes until a dough ball forms.
Add in the diced candied orange and mix until the fruit evenly distributes through the dough.
Place the dough in a greased bowl, cover with a towel, and let the dough rise in a warm place for about an hour. The dough should double in size.
For the Filling:
In a small bowl whisk together the cinnamon, sugar, and salt. Set aside.
To Make the Loaf:
Prepare a 9×5-inch loaf pan. Use one sheet of parchment paper to cover the bottom and long sides of the pan. Let a couple of inches of paper hang over the long sides to make it easy to later remove the bread. Spray with baking spray.
Once the dough has doubled in size, roll it out into a 26×7-inch rectangle on a lightly floured surface.
Using a spatula, spread ½ cup of softened butter on the dough, leaving a ½ border along one long side. Sprinkle the butter evenly with the prepared cinnamon and sugar mixture. Roll up the dough lengthwise and pinch to seal the ends.
Gently reshape the dough into an even 26-inch long cylinder. Slice into 26 1-inch slices.
Fill the prepared loaf pan with the cinnamon rolls. (You can reference the photos in the blog post to see how I arranged my cinnamon rolls. I used 14 standing on their sides for the bottom layer and 12 cut side down for the top layer.
Cover the loaf pan with a towel and set it in a warm place to let the Cinnamon Roll Bread rise for about 45 minutes. In the meantime, preheat the oven to 350 degrees F.
Once the dough has risen, bake the bread until golden. This will take 55-60 minutes. If the loaf is browning too quickly, cover it lightly with a piece of foil. (The internal temperature should be at least 190 degrees F.)
Let the bread cool in the pan for at least 10 minutes. Drizzle with the glaze to complete.
For the Glaze:
Whisk all the ingredients together then pour over loaf.
Notes
Adapted from Bake From Scratch Magazine May/June 2020 issue