This Glazed Apple Crisp Babka is made with a spiced apple filling and is generously topped with an oatmeal streusel.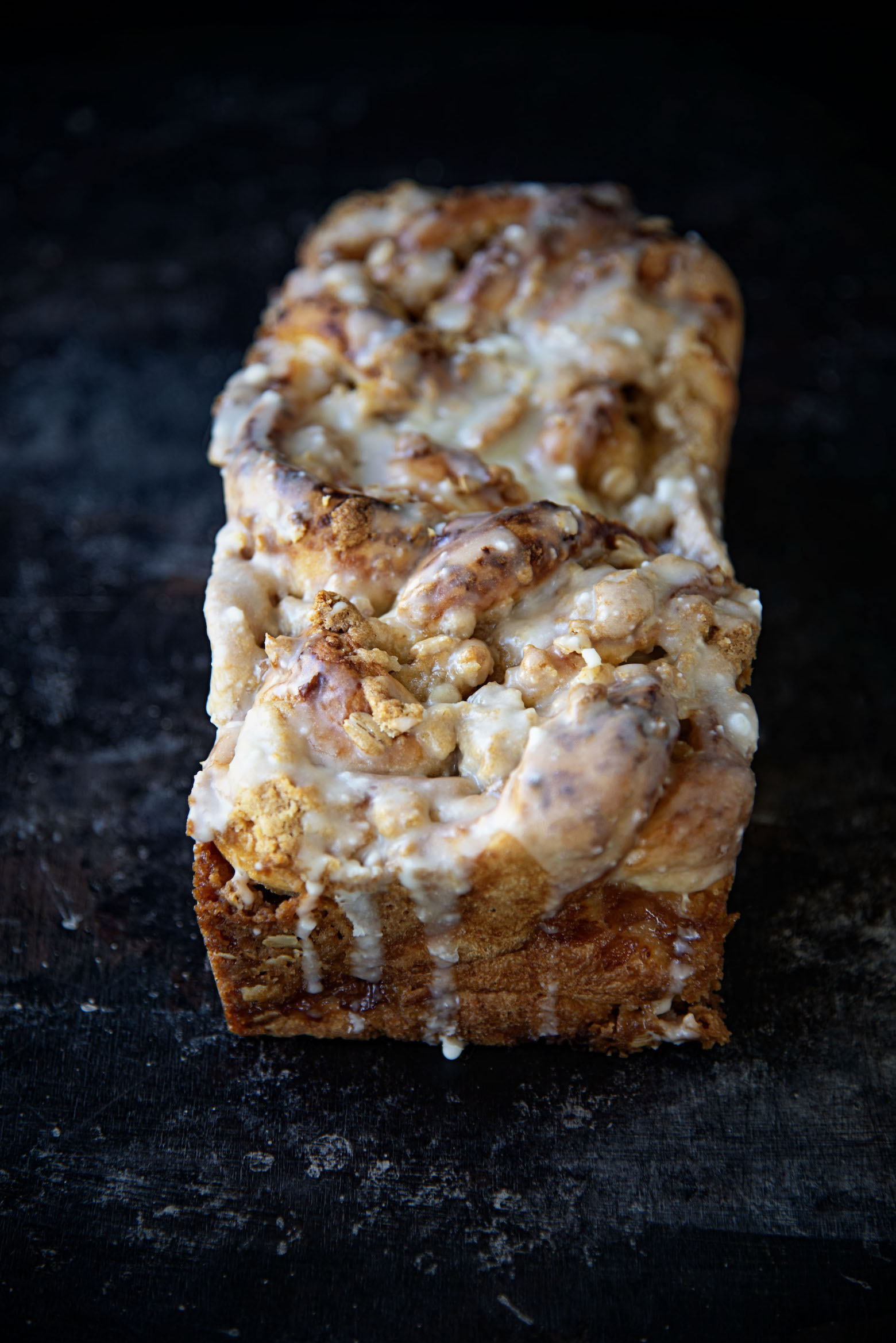 Today marks the official start to fall.
As much as I love winter, fall it my favorite season.
If my area got snow more often winter would probably become my favorite season.
But alas I live in the land of rain (which I like but like snow better) and our winters are mostly liquid snow….and lots of it.
While I did get to apple pick this year it was on a smaller scale.
And we didn't go to the big farm that has the roasted corn, apple cider, and apple cider donuts.
Which means I will be making my own apple cider donuts because those are must this time of year.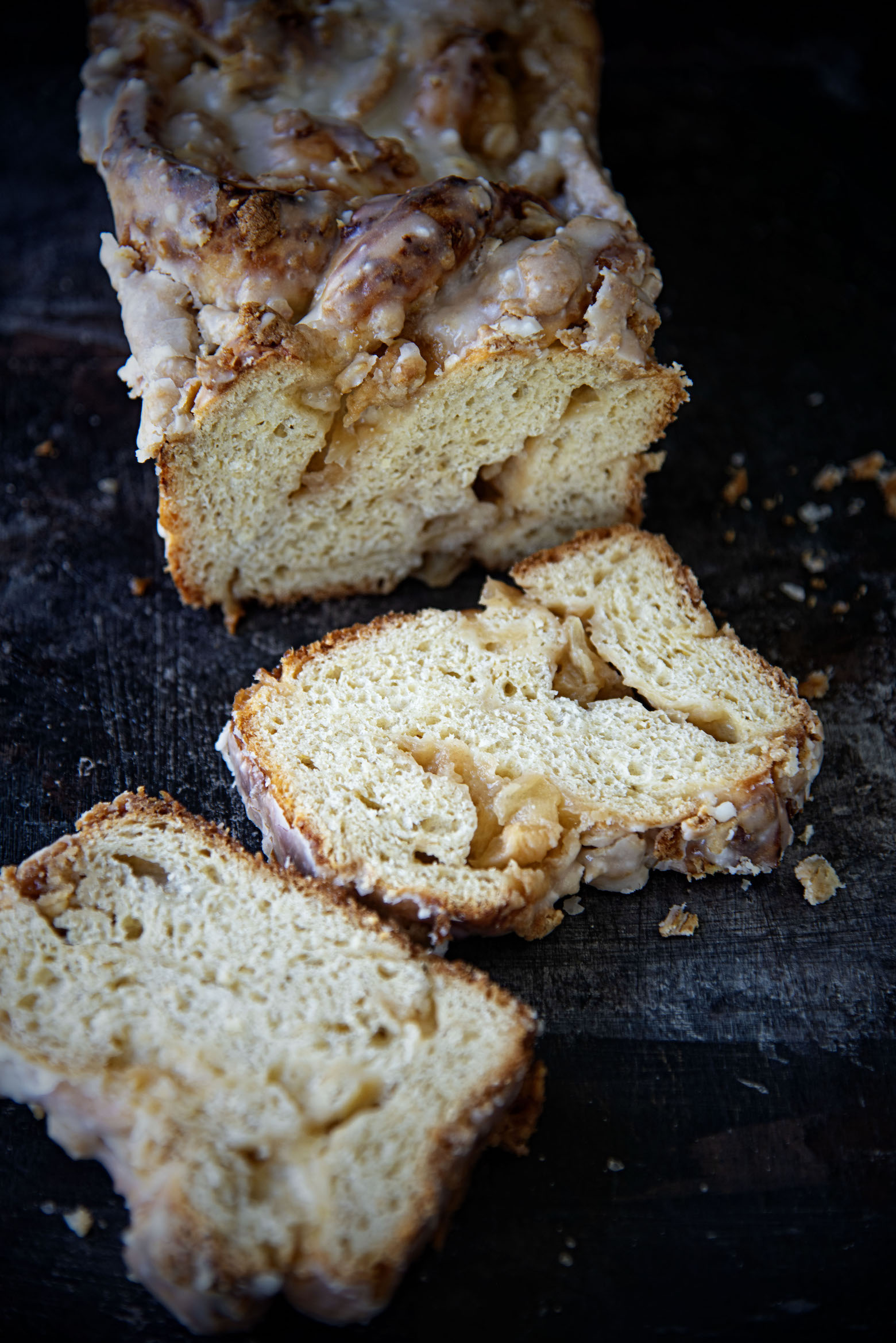 We will do the pumpkin patch this year.
The patch we go to is smaller and allows dogs (which is why we go).
They won't be having any of their hayrides and things like that this year so we are hoping it will be less crowded.
Sadly, this will be our first year there since we started going in 2015 without our dog Mickey (on the far right in the photo).
He LOVED the pumpkin patch and all the smells it had.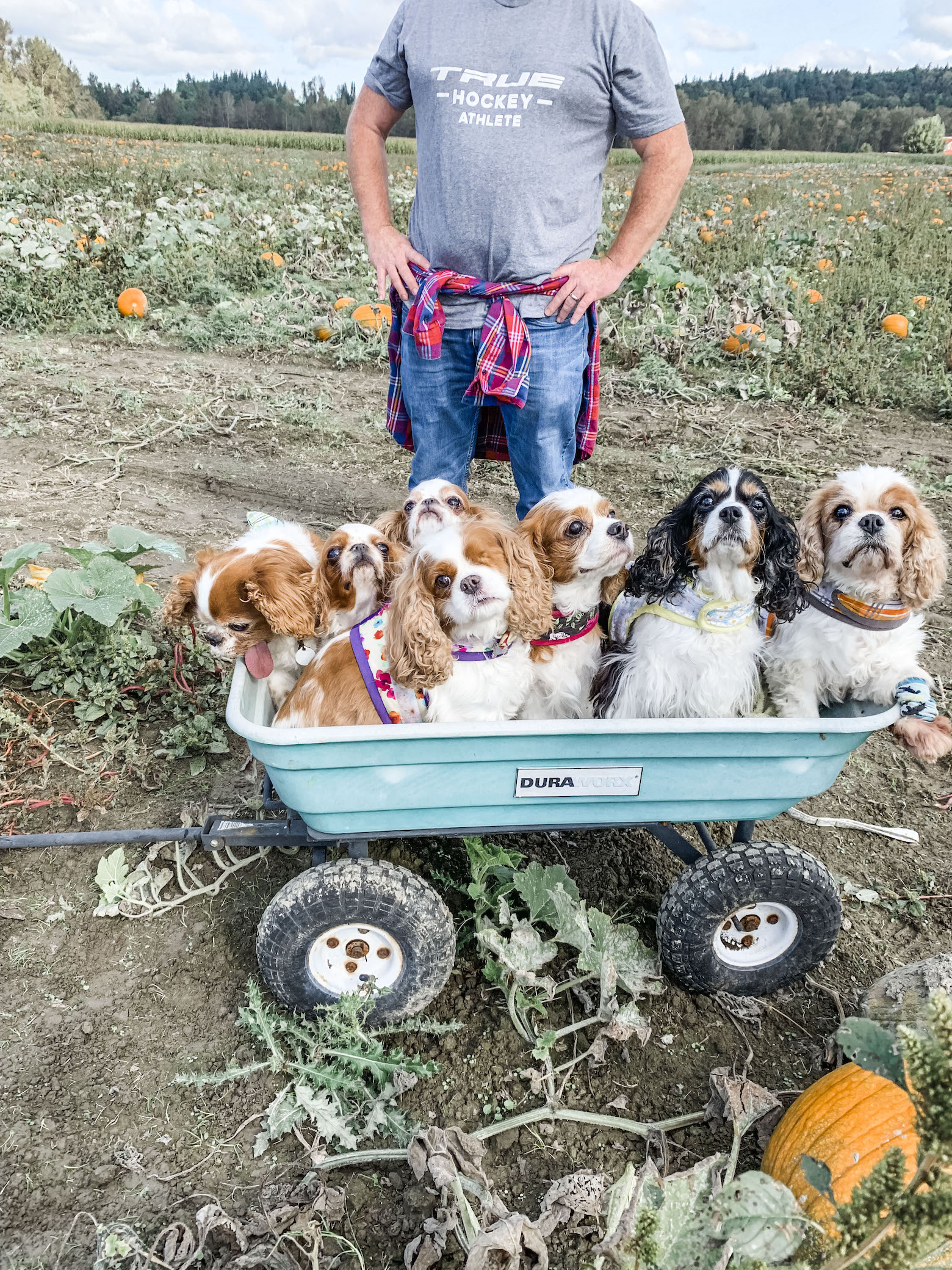 But our other dogs enjoy it as well and so we will drag out our little wagon and take them.
I doubt they will social distance much but we will. 🙂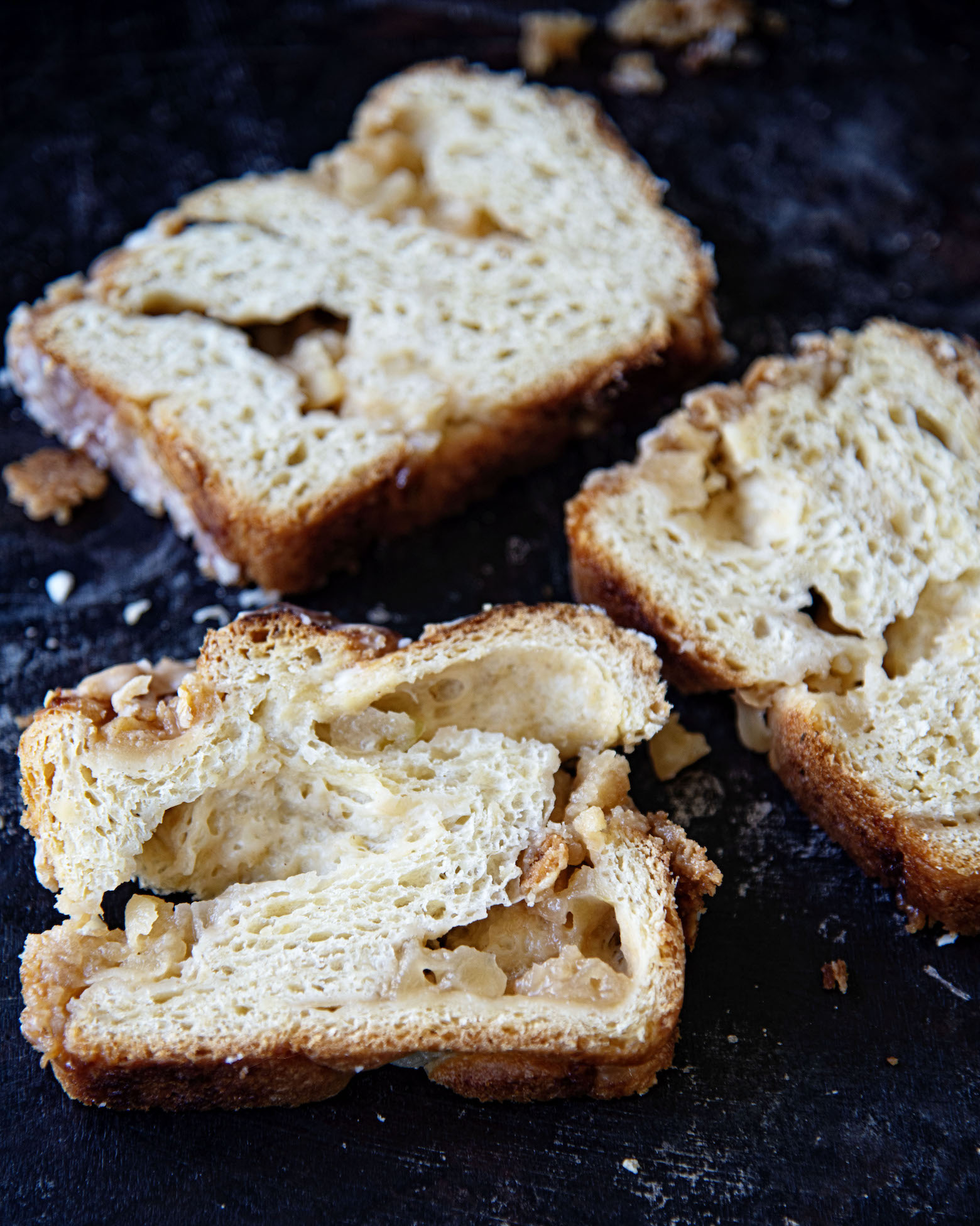 If you made the Iced Oatmeal Apple Crisp you will notice that the filling is about the same.
That's actually how this Glazed Apple Crisp Babka even started.
I didn't get a deep enough dish for my crisp and so I had leftover apples.
Which I then cooked down in apple cider until it got mushy.
Normally I don't want mush apples but I wanted the filling to be spreadable.
As you can tell from the photos, there are still plenty of chunks of apple in the filling.
So it's not like applesauce, it still has chunks.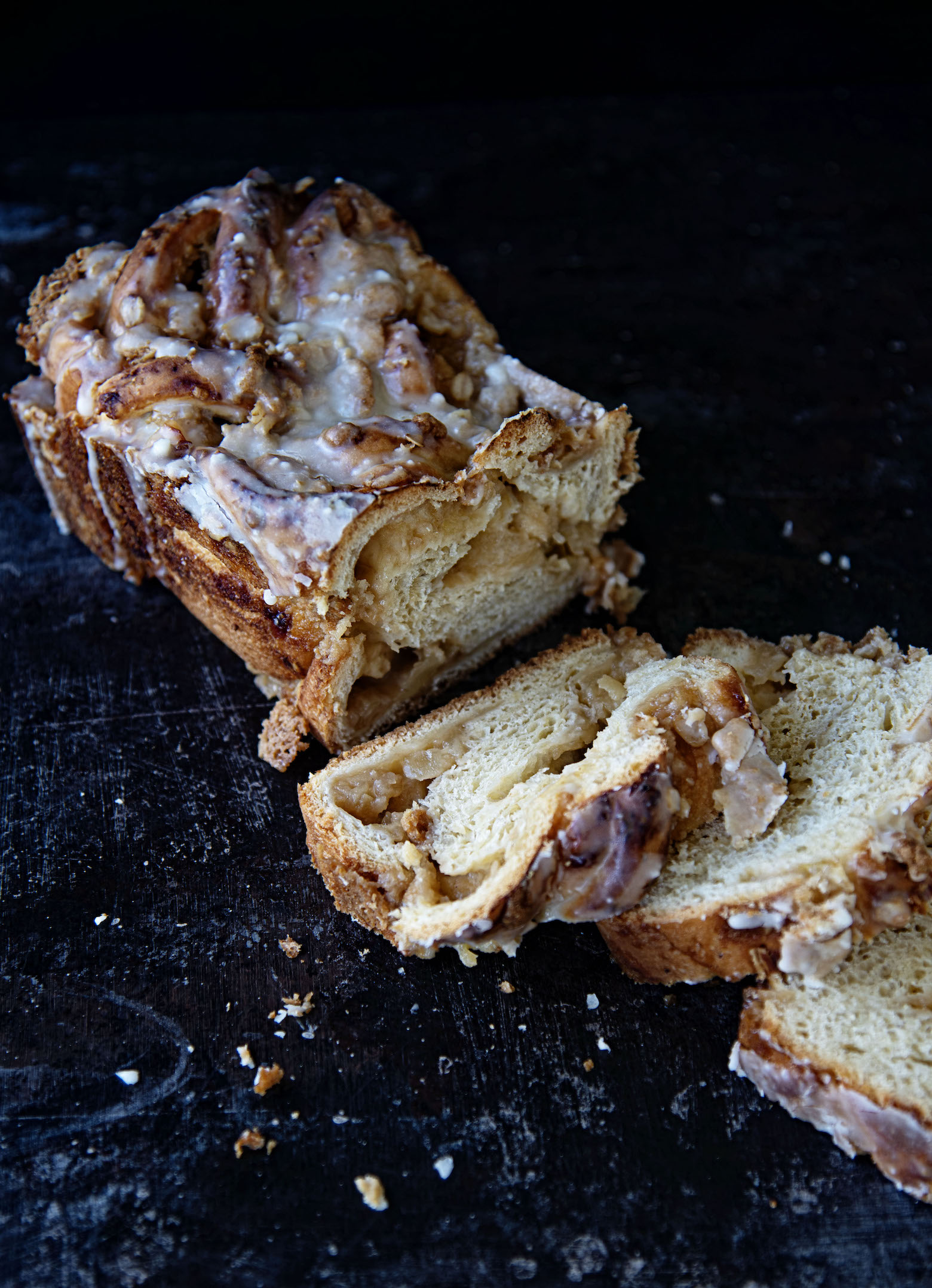 Even though this Glazed Apple Crisp Babka was an afterthought to use up some apples my husband was all over it.
He also ate a bunch of the apple crisp so that makes sense. 🙂
It's pretty hard for it not to be great.
You are basically stuffing apple crisp into bread.
And there is a ton of crumb for the tops.
It will go down the side.
Let it.
The crumb just bakes into the side of the babka and it's tasty.
P.S. It's a great day to buy my cookbook.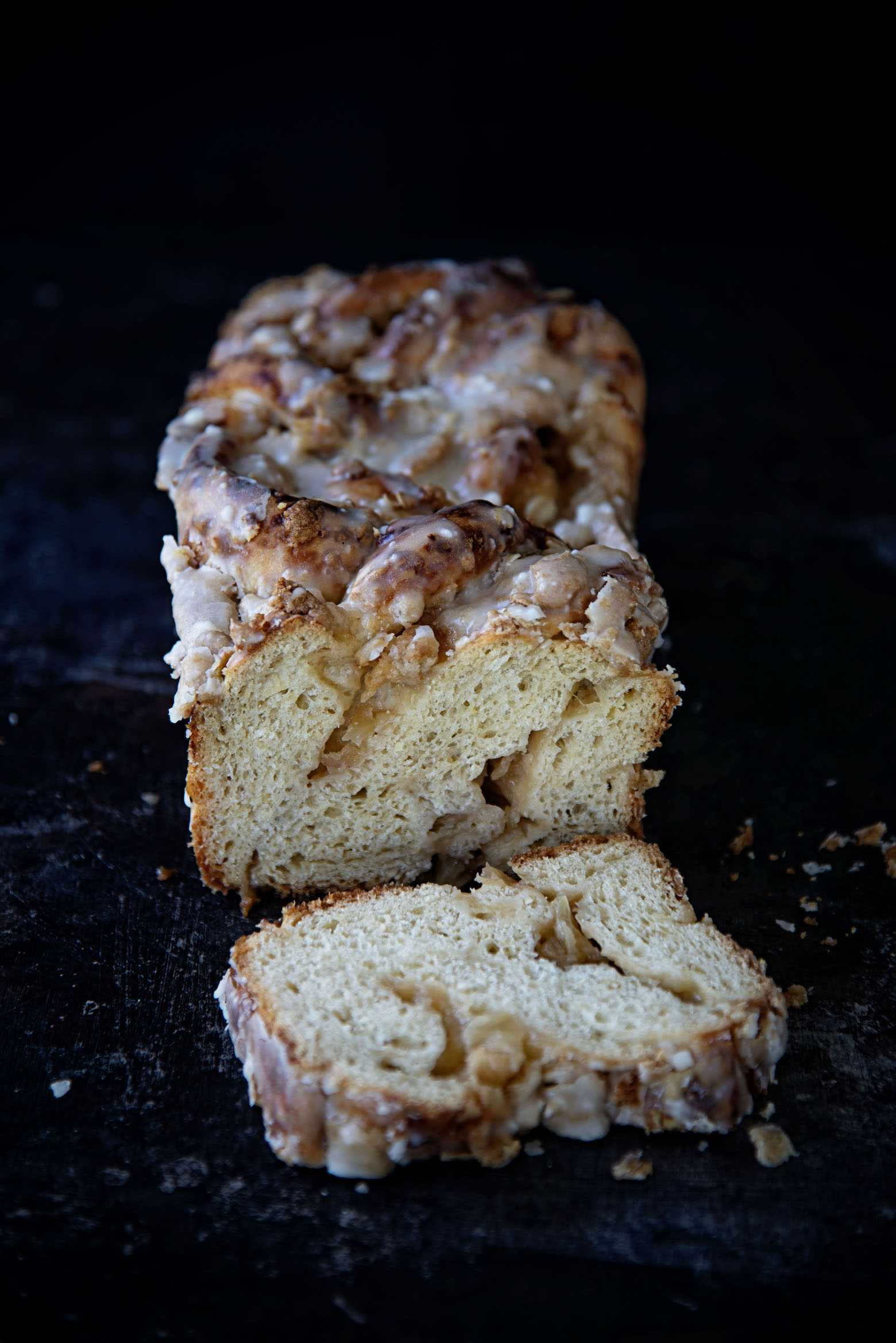 Want More Babka Recipes?
Oatmeal Chocolate Chip Cookie Babka
Ingredients
For the dough:
⅓ cup plus 1 TBSP brown sugar, loosely packed, divided
2 1/2 tsp. active dry yeast
1 TBSP warm water (100-110F)
2 3/4 cups all-purpose flour
1/2 cup old fashioned oatmeal
⅛ tsp. salt
½ cup whole milk at room temperature
½ cup eggs (whole eggs or just yolks)
1 tsp vanilla extract
10 TBSP unsalted butter, divided
For the Streusel:
3/4 cup all-purpose flour
1/3 cup granulated sugar
3/4 cup packed brown sugar
1/4 tsp salt
1/2 cup cold unsalted butter, diced
2/3 cup old-fashioned rolled oats
For the Filling:
2 large baking apples (I used a variety), peeled, cored, and cut into thin slices
1/4 cup brown sugar
1 tsp fresh lemon juice
1 TBSP all-purpose flour
1/4 tsp ground cinnamon
1/4 tsp salt
For the Icing:
3 TBSP unsalted butter, at room temperature
1 ½ cups powdered sugar
1/3 cup apple cider/juice (approximately)
Instructions
For the Dough:
Using a stand mixer with the dough hook attached stir in the yeast with one tablespoon warm water and 1 TBSP brown sugar just until sugar and yeast have dissolved. Let sit for 5 minutes.
Combine the flours, oatmeal, salt and 1/3 cup brown sugar and mix on medium speed.
Reduce mixer speed to low and add the milk, eggs and vanilla. Beat until dough is shiny and elastic, 10 to 15 minutes.
Add 8 TBSP unsalted butter one TBSP at a time until all the butter is fully incorporated, then beat on low speed for about 5 minutes. Dough will not form a ball, it will be a sticky sort of blob. That's what it's supposed to do.
Transfer the dough to a large bowl, cover with plastic wrap and set aside. When dough has doubled in size, after 2 hours, flour a cutting board and your hands. Then push dough down on board, cover well with plastic wrap and refrigerate for 1 to 2 hours or overnight. I prefer overnight but everyone has their preference.
For the streusel:
Whisk together 11/2 cups flour, granulated sugar, brown sugar, and 1/4 tsp. salt in a bowl. 
Cut butter into flour mixture using a pastry blender until butter is pea-sized. 
Mix oats into flour mixture with your hands until thoroughly combined. 
Cover and refrigerate while you prepare the filling.
For the filling:
Toss together apples, brown sugar, lemon juice, flour, cinnamon, and salt in a large bowl. 
In a medium saucepan add 2 TBSP unsalted butter until it melts over medium heat.
Add the apple mixture and add 1/2 cup apple cider/juice.
Cook down the mixture until apples can be mashed. If the apples are not getting soft, add more cider/juice if it evaporated before the apples got soft enough. Mash apple mixture with a fork and let cool.
Line two 8 1/2 by 4 1/2-inch loaf pans with parchment paper, not letting paper come more than 1 inch above top of pans.
Remove dough from refrigerator and divide it in half. On a lightly floured surface, roll one piece of dough into a 12 x 8-inch rectangle.
Using a spatula spread 1/2 the apple filling over dough within 1/2 inch of edges.
Beginning with long side, roll dough up like a cinnamon roll and cut it straight down the middle so the filling is exposed.
Cut ½ inch off each end.
Layer each cut piece on top of one another and twist.
Filling will come out, that is to be expected.
Place in a greased loaf pan.
Melt remaining 2 tablespoons butter. Brush babka top with melted butter and sprinkle with half the streusel.
Repeat with second half of babka dough. Cover loosely with plastic wrap. Let loaves rise at room temperature until they reach top of pan or about doubled in volume, about 2 hours.
Heat oven to 350 degrees and bake for about 45 minutes, or until a cake tester inserted in center comes out clean. Allow babka to cool for 30 minutes before icing.
For the icing:
Whisk all the ingredients together and drizzle over the two babkas.