This Glazed Apple Cider Donut Cake starts with a homemade applesauce made into a Bundt cake all topped with apple cider glaze and cinnamon sugar.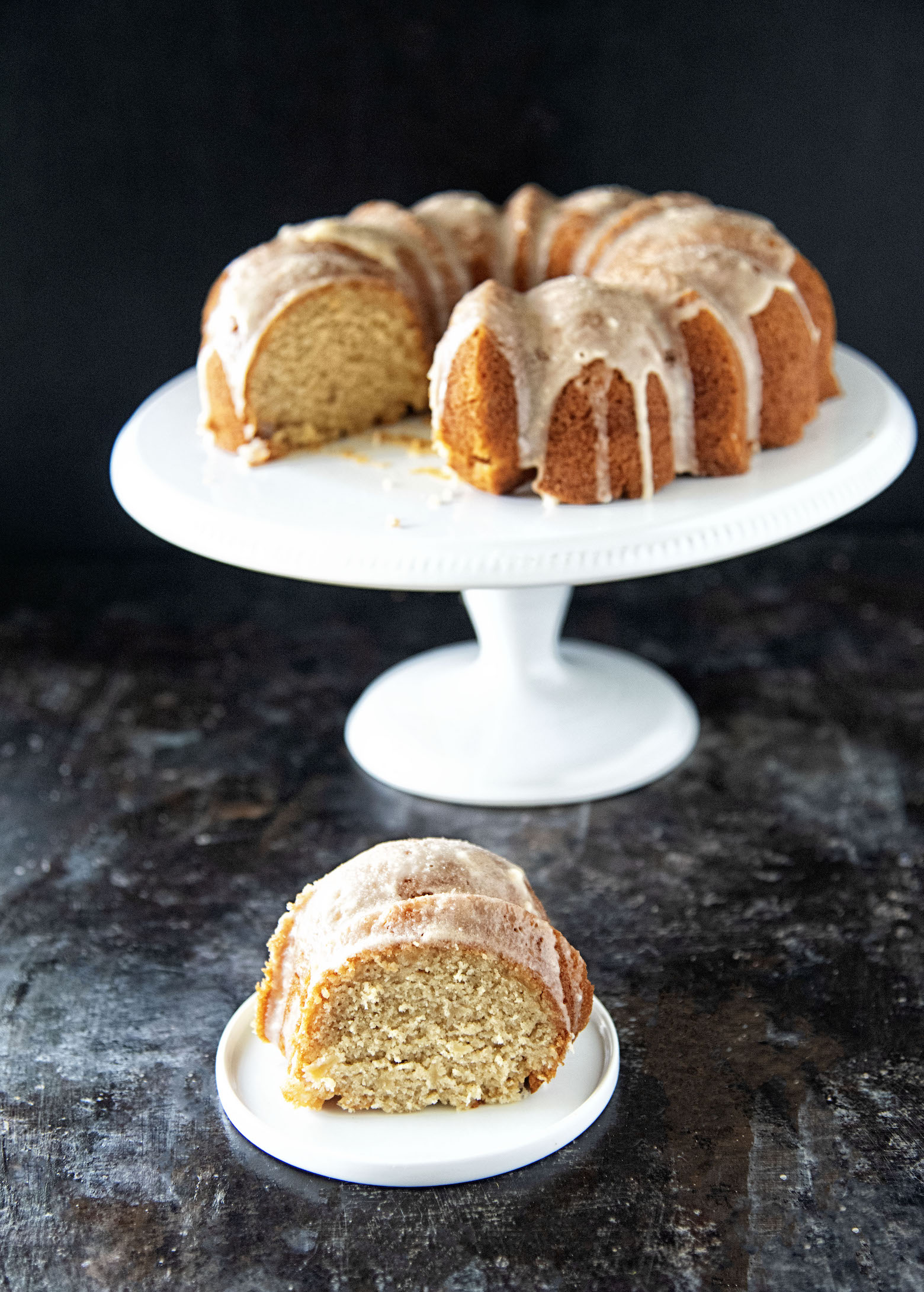 It's September and just like that I'm in a better mood!
Doesn't matter that it's going to be 80F today and tomorrow.
Fall baking is on.
While many argue that fall does not start until September 23rd and "don't take my summer away", I stick out my tongue at you.
Because you are the people who start saying it's summer on Memorial Day Weekend….when technically it's not.
But I think the start of summer is then too.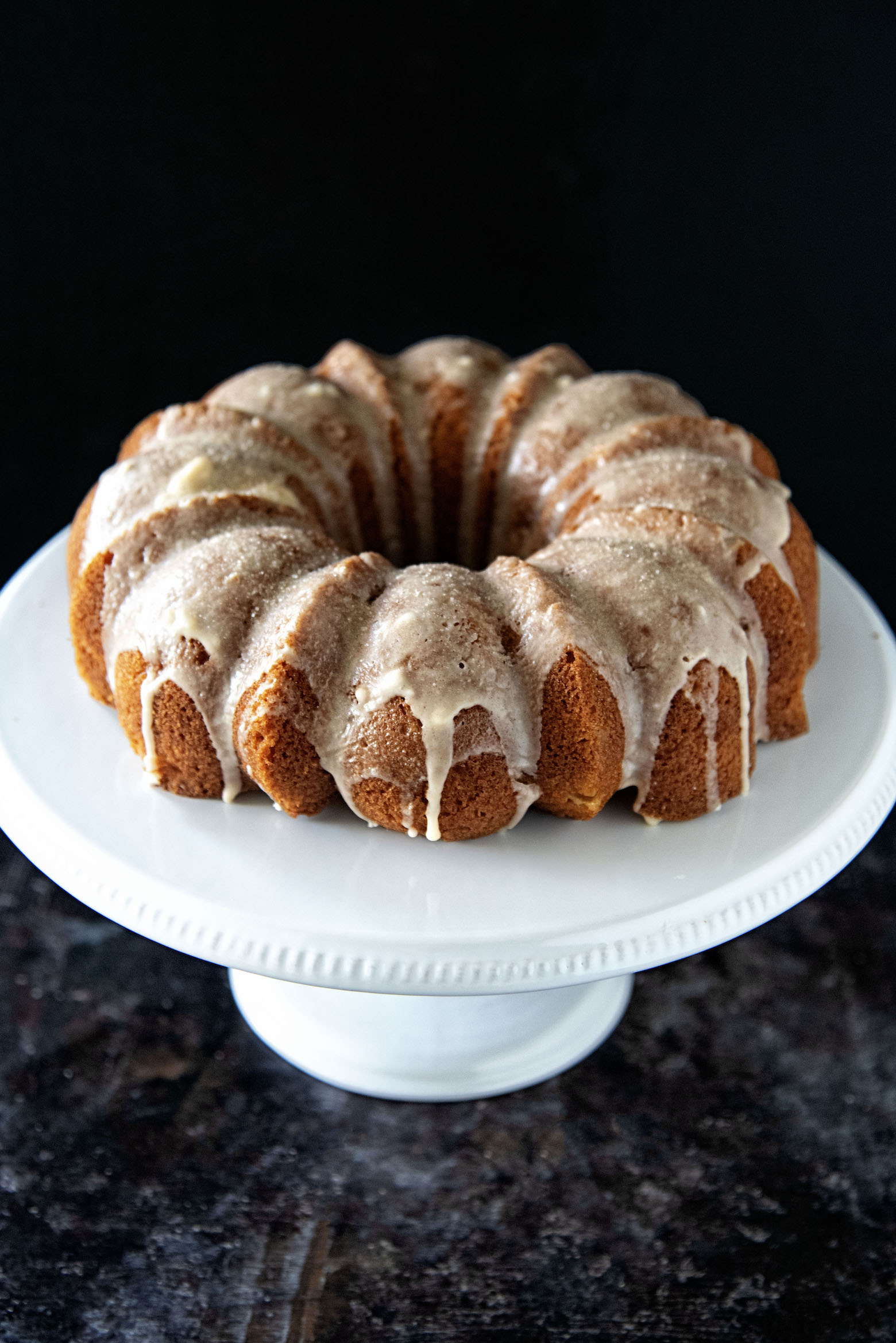 I've already had my pumpkin coffee.
And apple cider.
Though that was cold and involved booze…but still. 😛
I luck out living in Washington state that we get a lot of apple varieties.
Our trees out back alone have 5 different kinds.
And with apples comes fresh apple cider.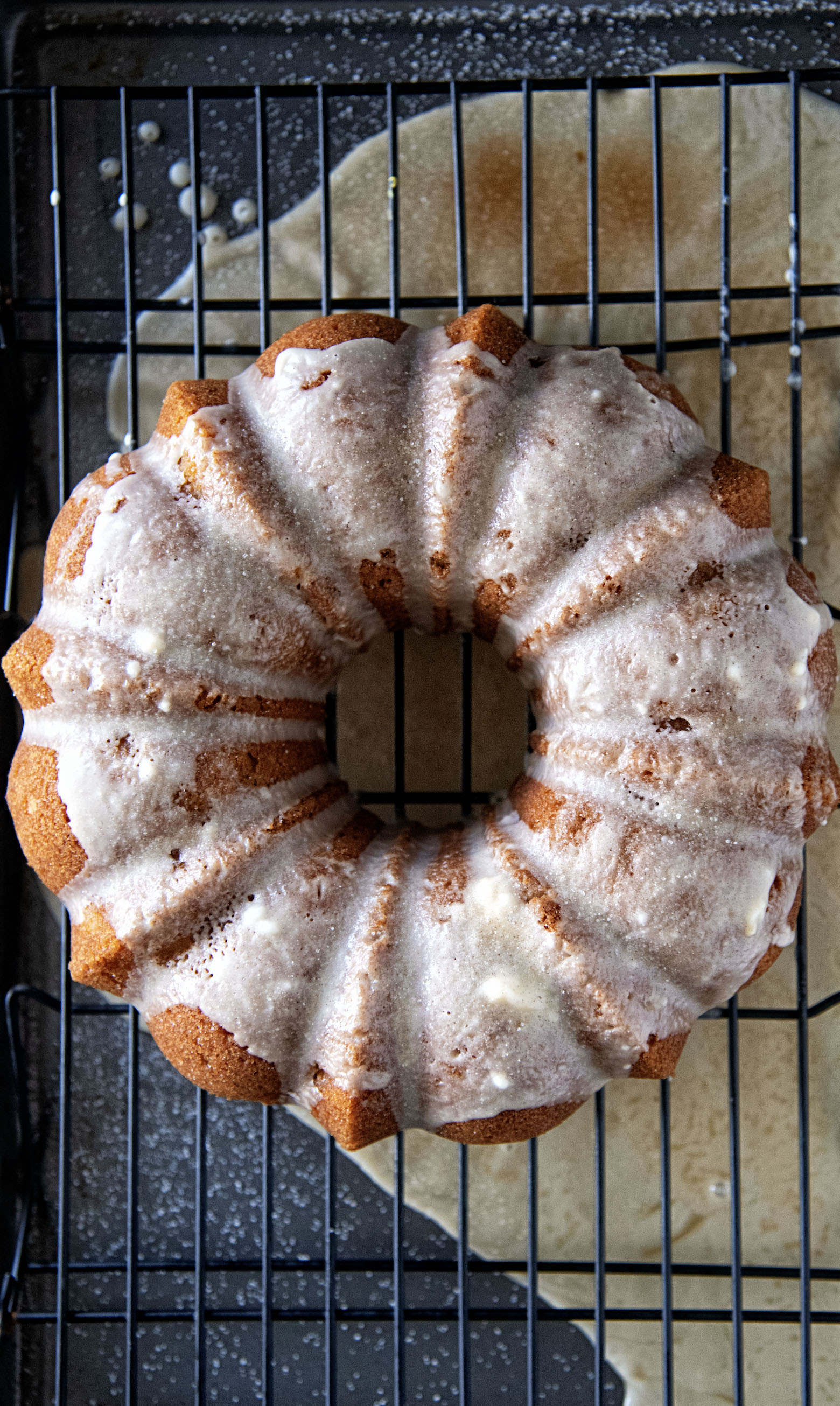 I live less than a mile from two pumpkin patches.
One of them has a booth that sells fresh apple cider donuts while you go around and pick your pumpkin.
Super dangerous for that to be literally walking distance from my house. 😀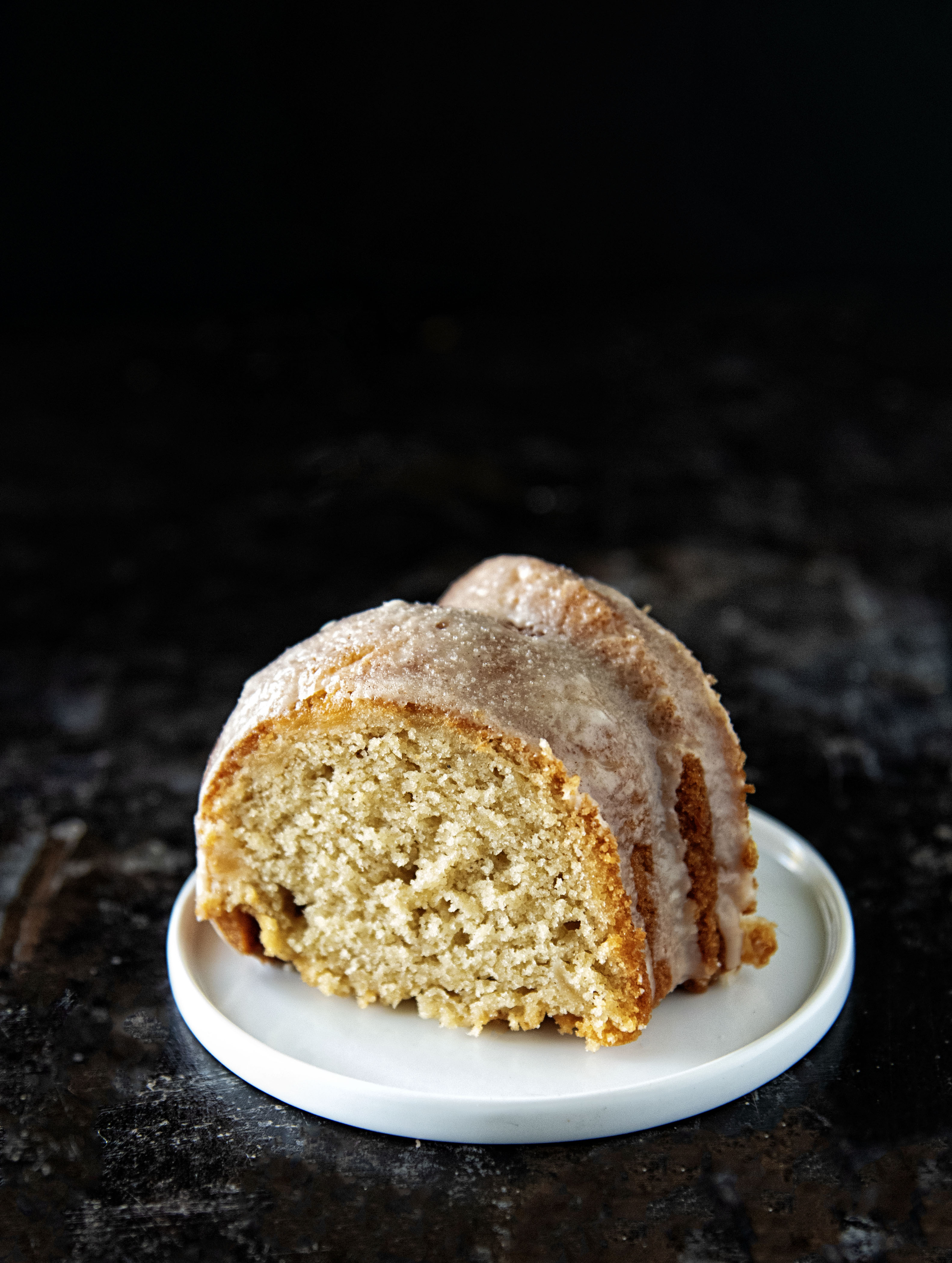 This Glazed Apple Cider Donut Cake is a nod to those donuts.
I have seem them come with cinnamon sugar but the ones I love are glazed.
Glazed with an apple cider glaze that takes them up a notch.
I added powdered apple cider to my glaze as well since it intensifies the flavor.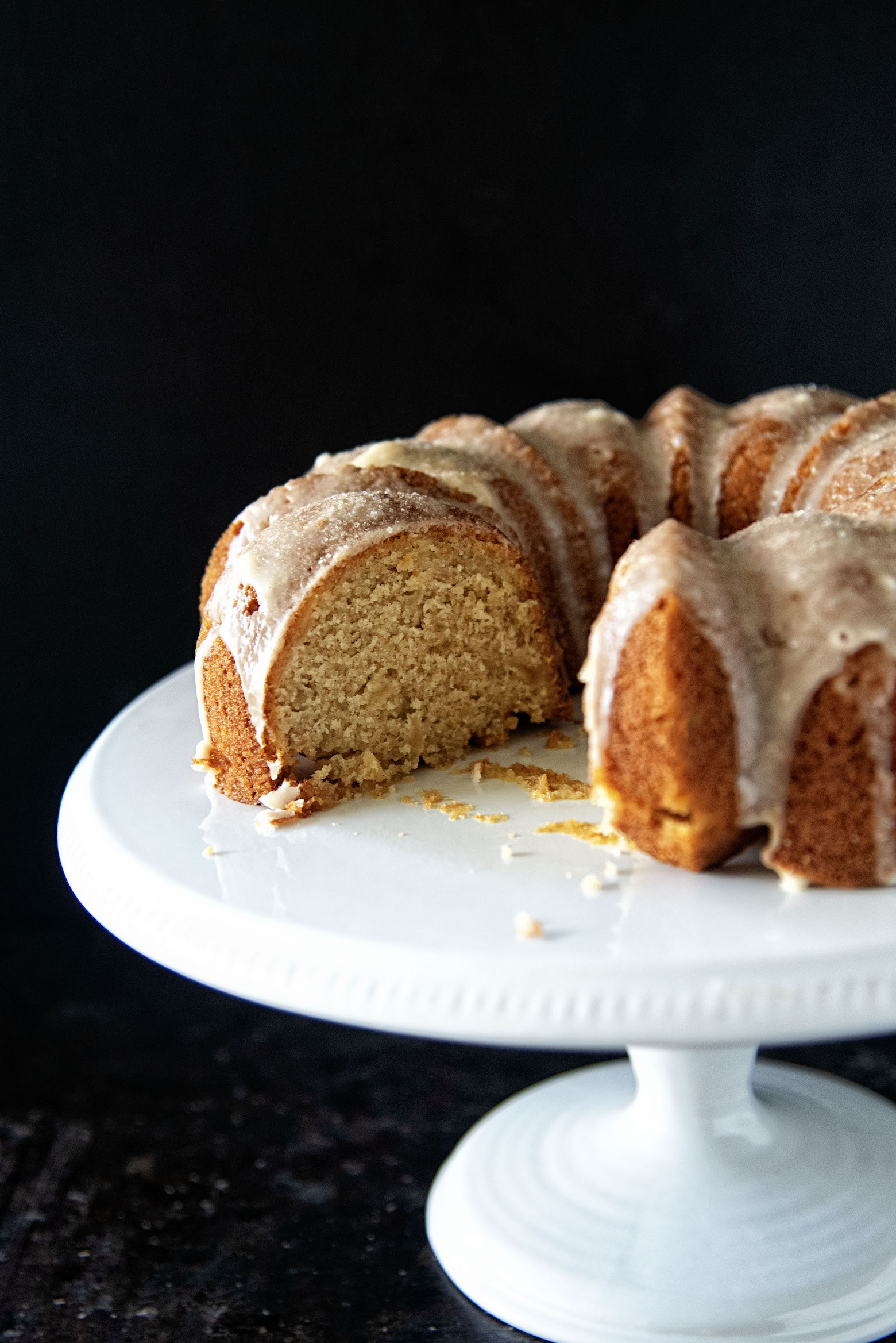 What drew me to this recipe is that you basically make your own apple sauce for the cake.
I fully admit that you can be lazy and just go buy chunky applesauce.
But that does not help me use up my 100's of apples on my trees.
It also doesn't have apples cooking in apple cider.
Something that I think really helps this cake.
I chose to add some cinnamon sugar on top of it as well.
You can leave that off but I thought it was a nice finish.
P.S. Have you bought my cookbook yet?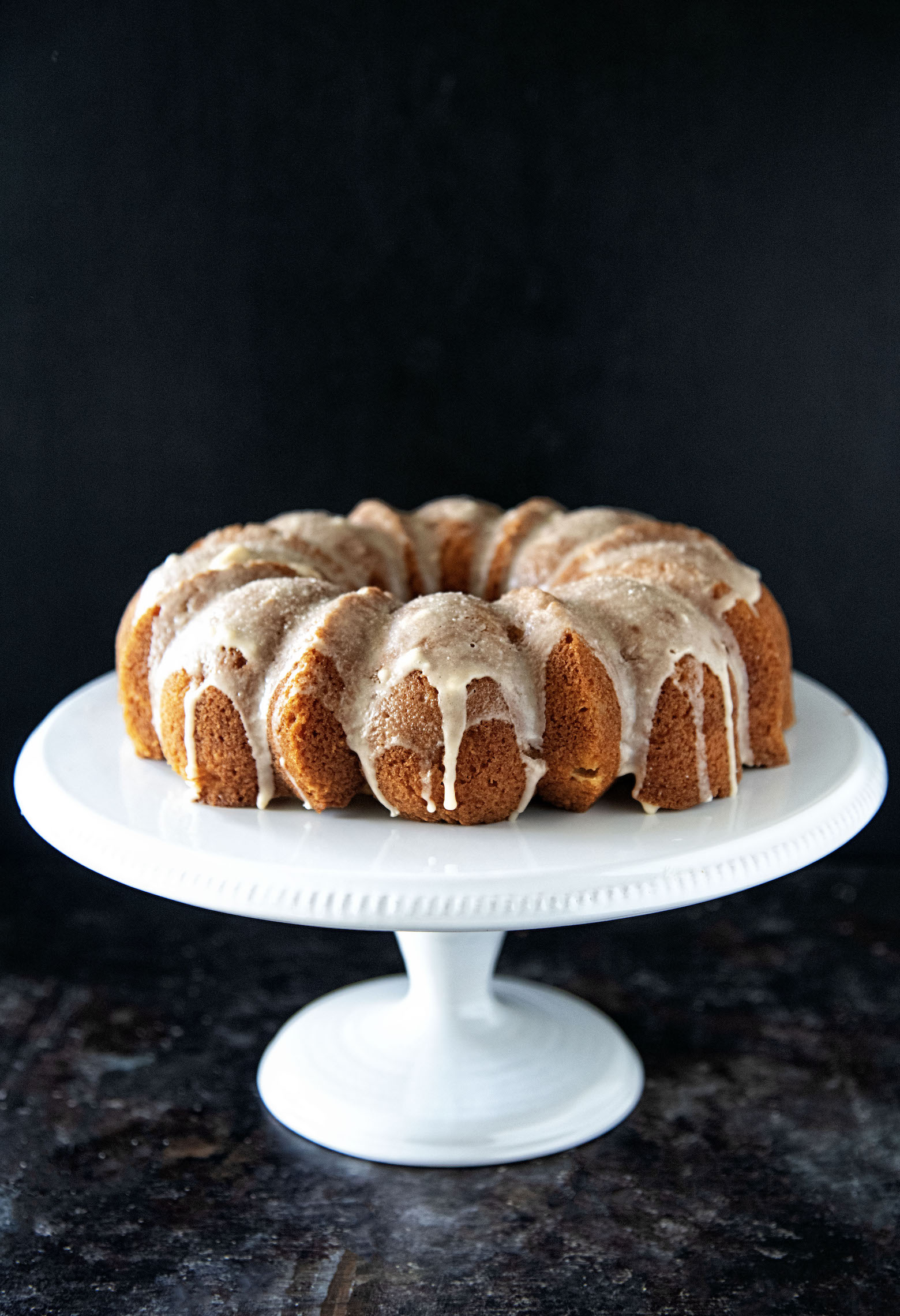 Want more recipes? Try these:
Apple Cider Donut Bread Pudding
Bulgar Wheat Apple Cider Walnut Bread
Apple Cider Donut Hole Muffins
Brown Sugar Apple Cinnamon Babka
Apple Cider Caramel Glazed Pound Cake
Mini Caramel Glazed Honeycrisp Apple Bread
Ingredients
8 TBSP unsalted butter, at room temperature
8 oz Honeycrisp apples, peeled, cored, and roughly chopped
1 1/2 cups fresh apple cider
1/2 cup whole milk at room temperature
2 1/2 cups all-purpose flour
1 1/2 tsp. baking powder
1/2 tsp. baking soda
1 tsp. salt
1/2 tsp. apple pie spice
3/4 cup granulated sugar
1/2 cup packed light brown sugar
3 eggs, at room temperature
1/4 cup oil
1 tsp. vanilla
For the Glaze:
1 ½ cups powdered sugar
4 TBSP apple cider
For the Cinnamon Sugar:
6 TBSP sugar
1 tsp. cinnamon
Instructions
Preheat oven to 350°F.
Spray a bundt pan with non-stick spray.
In medium saucepan, bring chopped apple and cider to boil over medium-high heat.
Reduce heat to medium and simmer until most of the cider has been absorbed and apples are easily smashed with a fork, 10 to 12 minutes.
Remove pan from heat, cool 5 minutes, and mash with the back of a spoon. Measure out 1 cup apple mixture and stir in milk; set aside.
If you feel lazy you can skip that first part and use a cup of chunky applesauce.
In medium bowl, whisk together flour, baking powder, baking soda, salt, and apple pie spice; set aside.
In large bowl, beat butter, sugar, and brown sugar on medium speed until light and fluffy, about 3 minutes.
Add eggs, one at a time, beating well after each addition.
Add oil and beat until incorporated, about 1 minute.
Decrease mixer speed to low and add flour mixture in three batches, alternating with apple mixture, scraping down sides and bottom of bowl with rubber spatula as needed.
Increase speed to medium and beat mixture just until combined, about 20 seconds.
Add vanilla and beat once more, just to combine, about 10 seconds.
Scrape batter into prepared pan. Bake until cake tester inserted in cake comes out clean, rotating cake halfway through baking, 35 to 45 minutes.
Transfer cake to cooling rack set inside baking sheet and cool in pan 10 minutes, then invert directly onto cooling rack.
Cool cake completely, about 1 hour.
For the Glaze:
Whisk together the ingredients of the glaze in a medium bowl.
Pour over the cake.
For the Cinnamon Sugar:
Combine the cinnamon and sugar.
Sprinkle cinnamon sugar on top of freshly poured glaze.