This Gingersnap White Chocolate Cracker Toffee is easy to throw together made with lots of butter, brown sugar, gingerbread cookies, and white chocolate.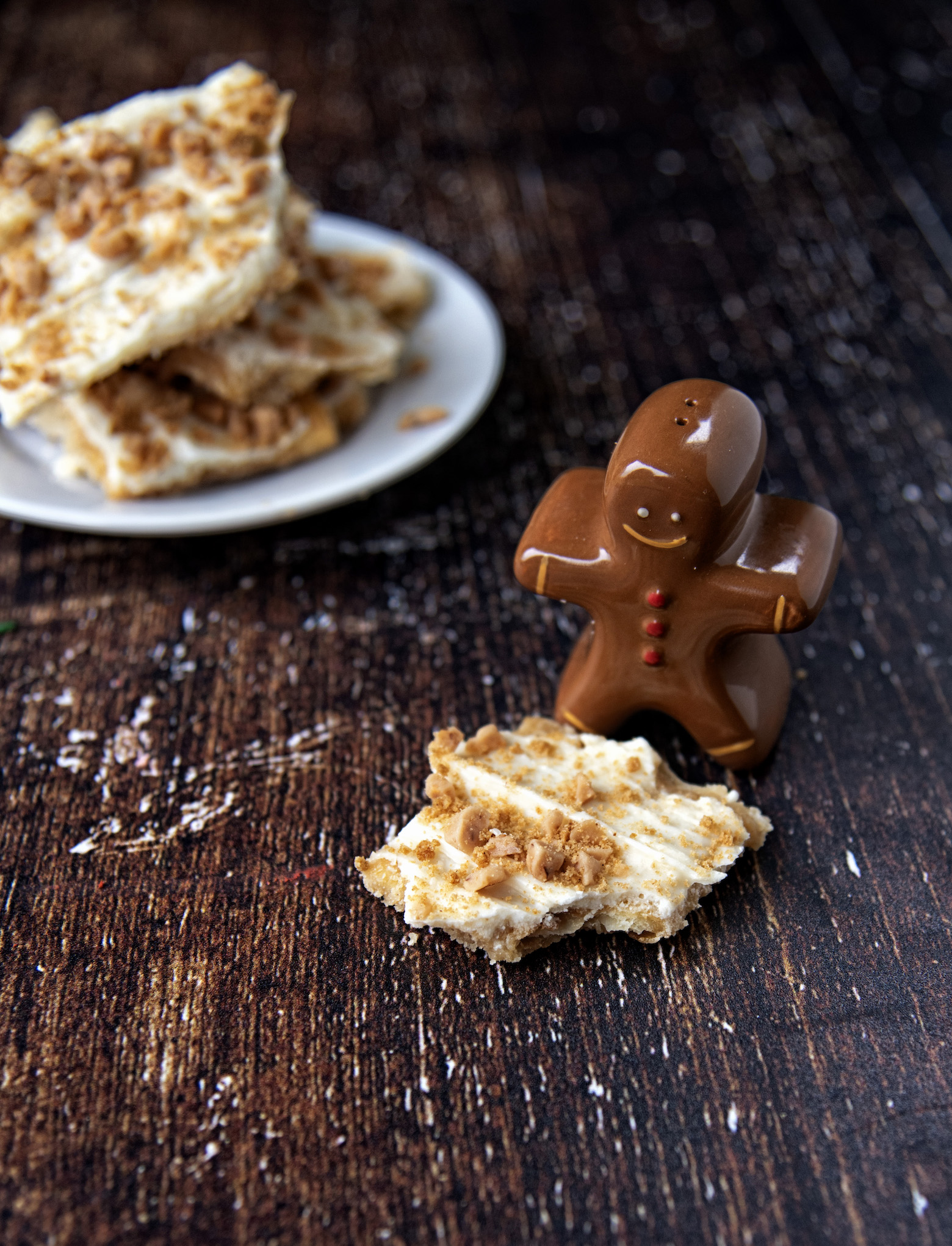 I can not believe Christmas is Wednesday.
So not ready.
I mean the shopping is done (nothing is wrapped) but I still have a long list of things that aren't going to get done.
Holiday cards aren't getting done this year.
I realized with my mom not coming that I would be in charge of making a lot of the Christmas cookies that she always brings with her already made.
Many of the cookies she brings I won't be making due to time.
But I'll be making Russian Tea Cakes this week along with my usuals.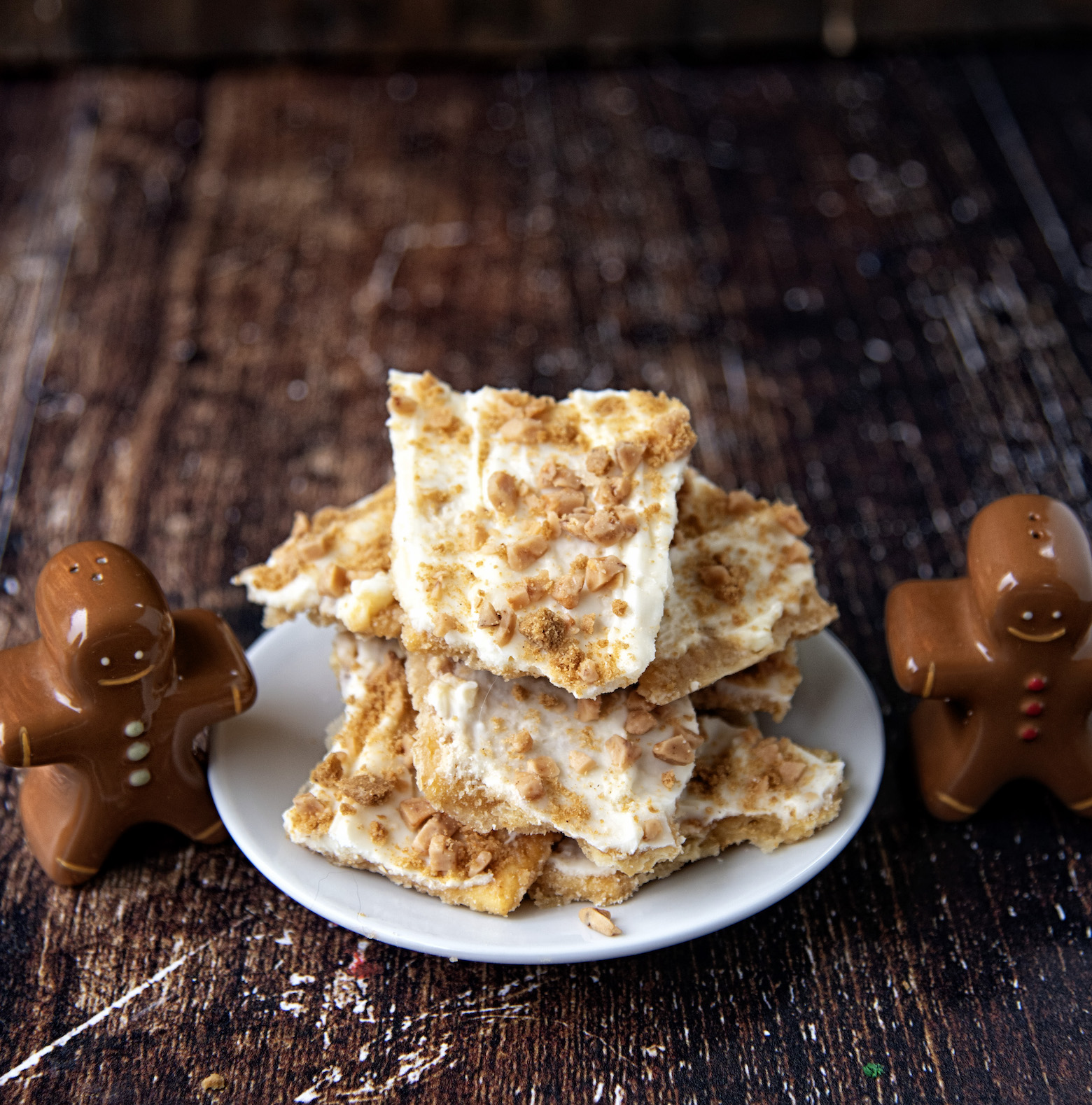 What are my usuals?
Though the recipe I made this year was for the cookbook so you won't see it on here.
However I do plan on making another one before the week is up that will go up here.
Sugar cookies which I make every year and is the cookie we leave out for Santa…yes, I still do that. 🙂
Traditional Jam Thumbprint Cookies.
A classic.
And a form of cracker toffee.
This year its Gingersnap White Chocolate Cracker Toffee.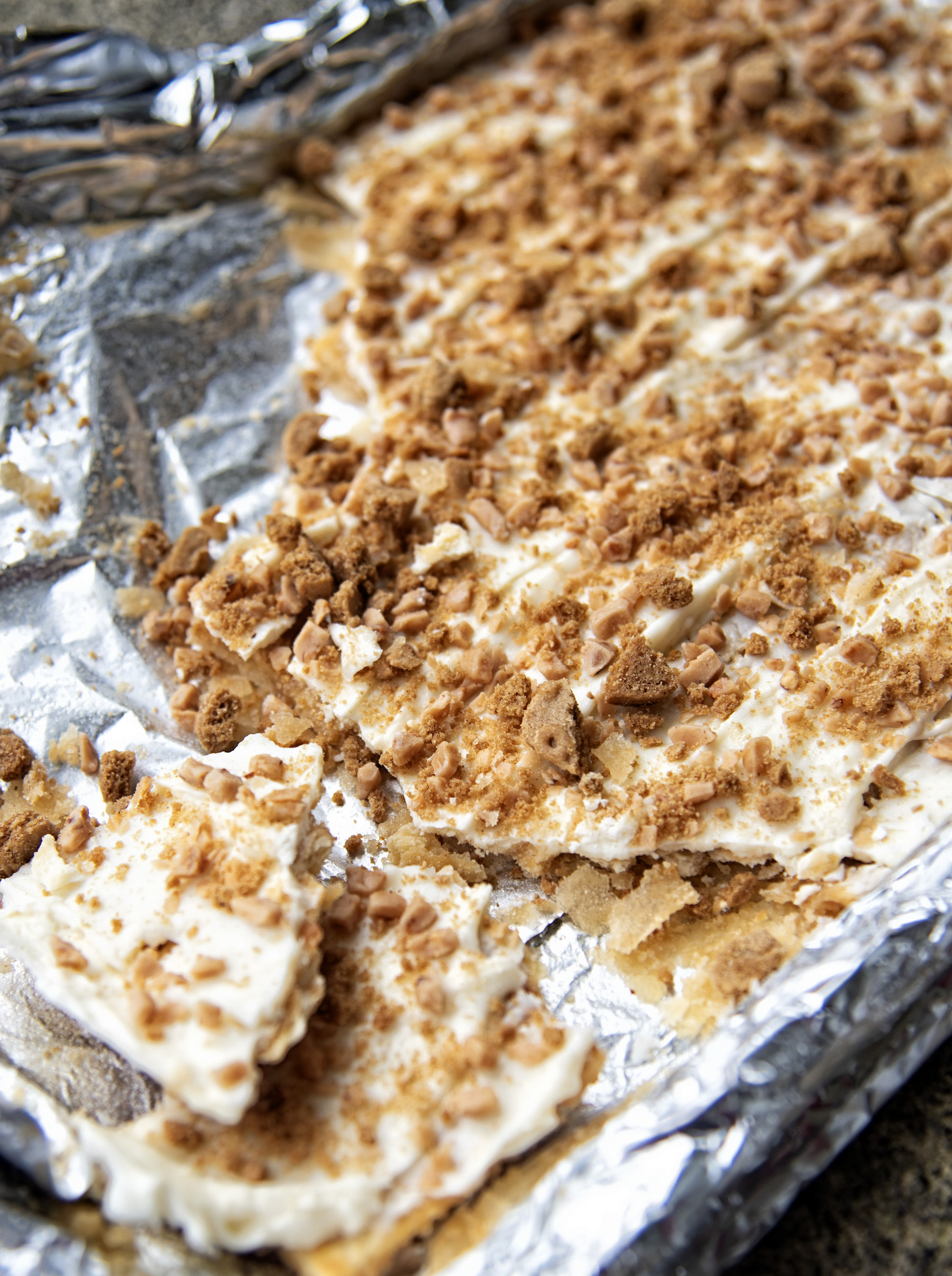 The first time I ever made cracker toffee for the blog was December 2006.
I found it in a book called The Sweet Potato Queens' Big-Ass Cookbook (and Financial Planner).
Never had heard of it before and they called it Ghetto toffee.
The original recipe used Saltine crackers which I switched years ago to Keebler Club Crackers because they are buttery.
But I ended up with several boxes of Saltines lately and used those for this toffee and it works fine.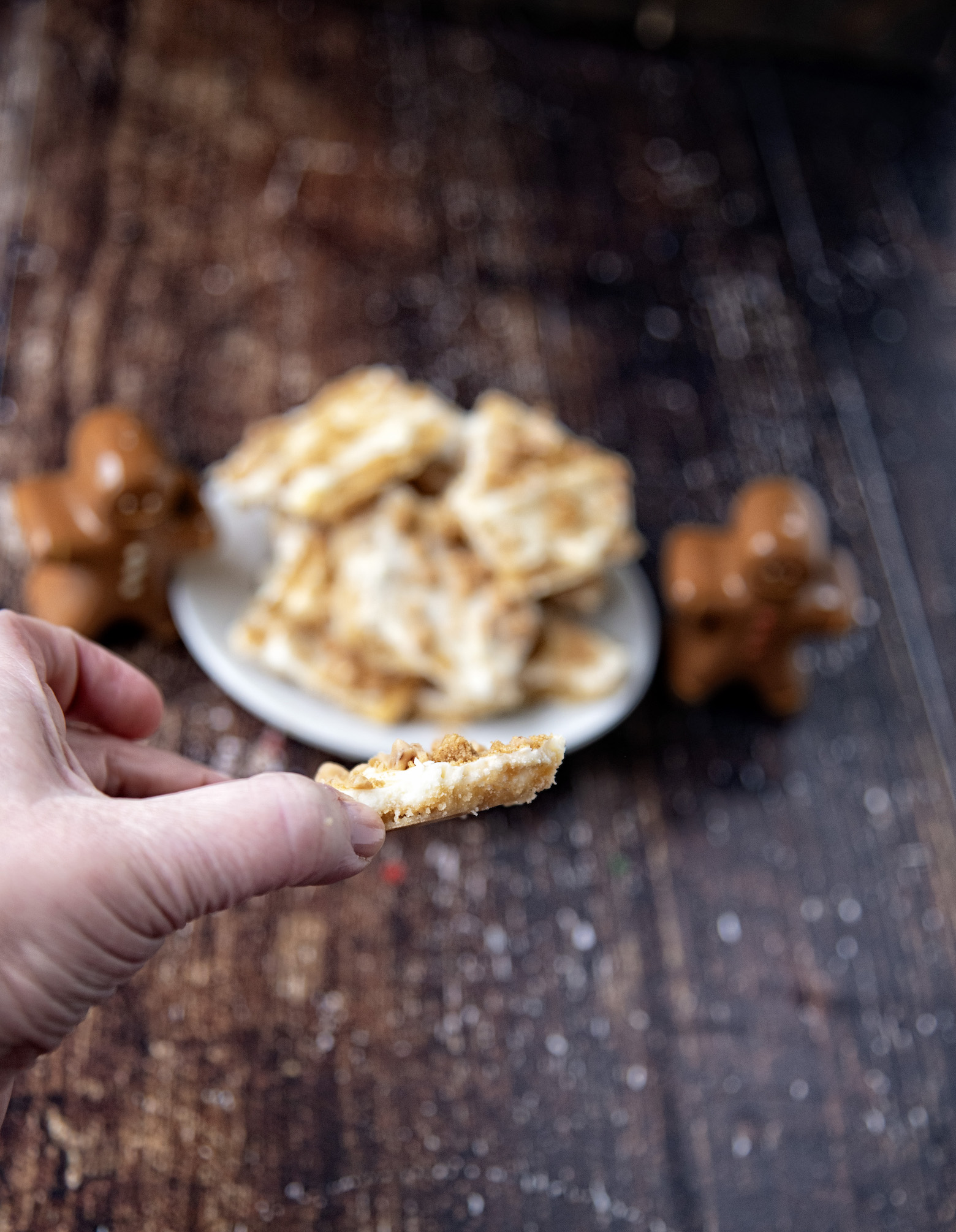 I added just a little bit of gingerbread spice to brown sugar and butter mix but feel free to add a little more if you are a big spice fan.
You can use either gingersnaps or gingerbread man cookies.
It also could work well with milk chocolate as well if you are not a fan of white chocolate.
Easy to make for any last minute holiday treats you want to make.
P.S. It's a great day to buy my cookbook Holy Sweet!
Want More Cracker Toffee Recipes?
White Chocolate Candy Cane Cracker Toffee
Cranberry Bliss Cracker Toffee
Ingredients
1 cup butter
1 cup brown sugar
1/2 tsp. gingerbread spice
Enough crackers to make a layer on a cookie sheet (I use Saltine Crackers because they are buttery and rectangular), about 2 sleeves of crackers
1 12-ounce bag of white chocolate chips
8 oz. toffee pieces (I used Heath Bit O'Brickle)
1 1/2 cups gingersnaps or gingerbread cookies, crushed
Instructions
Preheat oven to 350F.
Line a cookie sheet with foil (this is a must).
Bring the butter, gingerbread spice, and brown sugar to a boil in a saucepan and simmer it for about 5 minutes.
Put a layer of crackers on the cookie sheet, close together.
Pour the brown sugar mixture over the crackers and bake for about 6-10 minutes (I do 10).
Remove and immediately pour the white chocolate chips over the crackers, evenly distributing them. Let sit for about 30 seconds.
Then with the back of a spatula I move the white chocolate chips just a little bit. I wait another 30 seconds and repeat.
I start to slowly move the chocolate around being careful not to move the crackers.
I let is sit for another 30 seconds and at this point it pretty much spreads like frosting.
It still gets messy…it's fine.
Top with toffee and gingersnap pieces.
Firm up in fridge for about 30 minutes and then break into pieces.