This Gingersnap Cream Cheese Pumpkin Pie is made with pumpkin and cream cheese filling topped with mile high gingersnap whipped cream.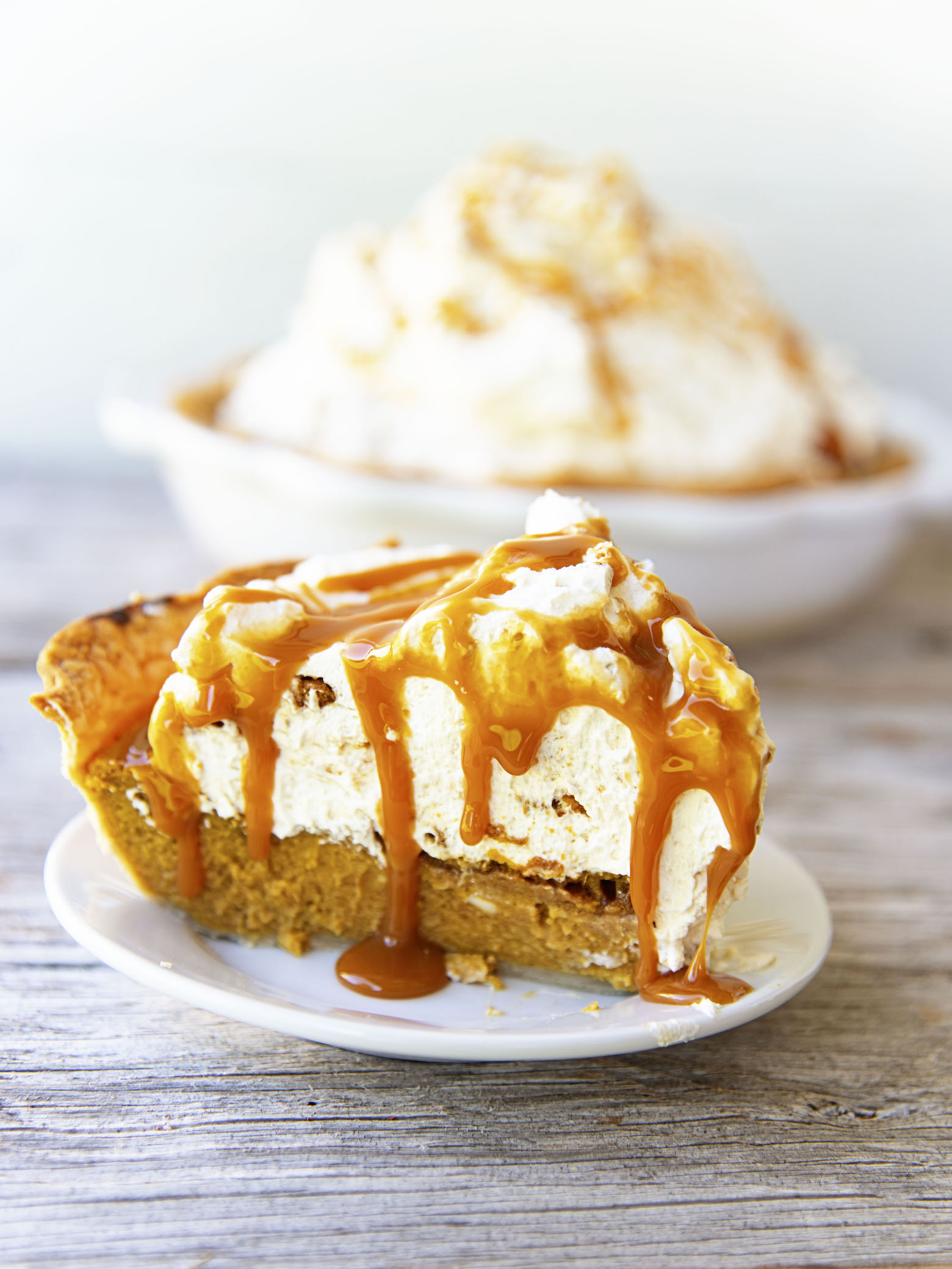 Every year I try to make a different version of a pumpkin pie.
The curse of a food blogger I guess.
You never really want to make the same things.
Though for American Thanksgiving I do make just a plain ol' pumpkin pie.
Last year I made a Pumpkin Oreo Cream Cheese Pie and it was a big hit.
Mostly because the whipped cream was piled sky high.
As it should be.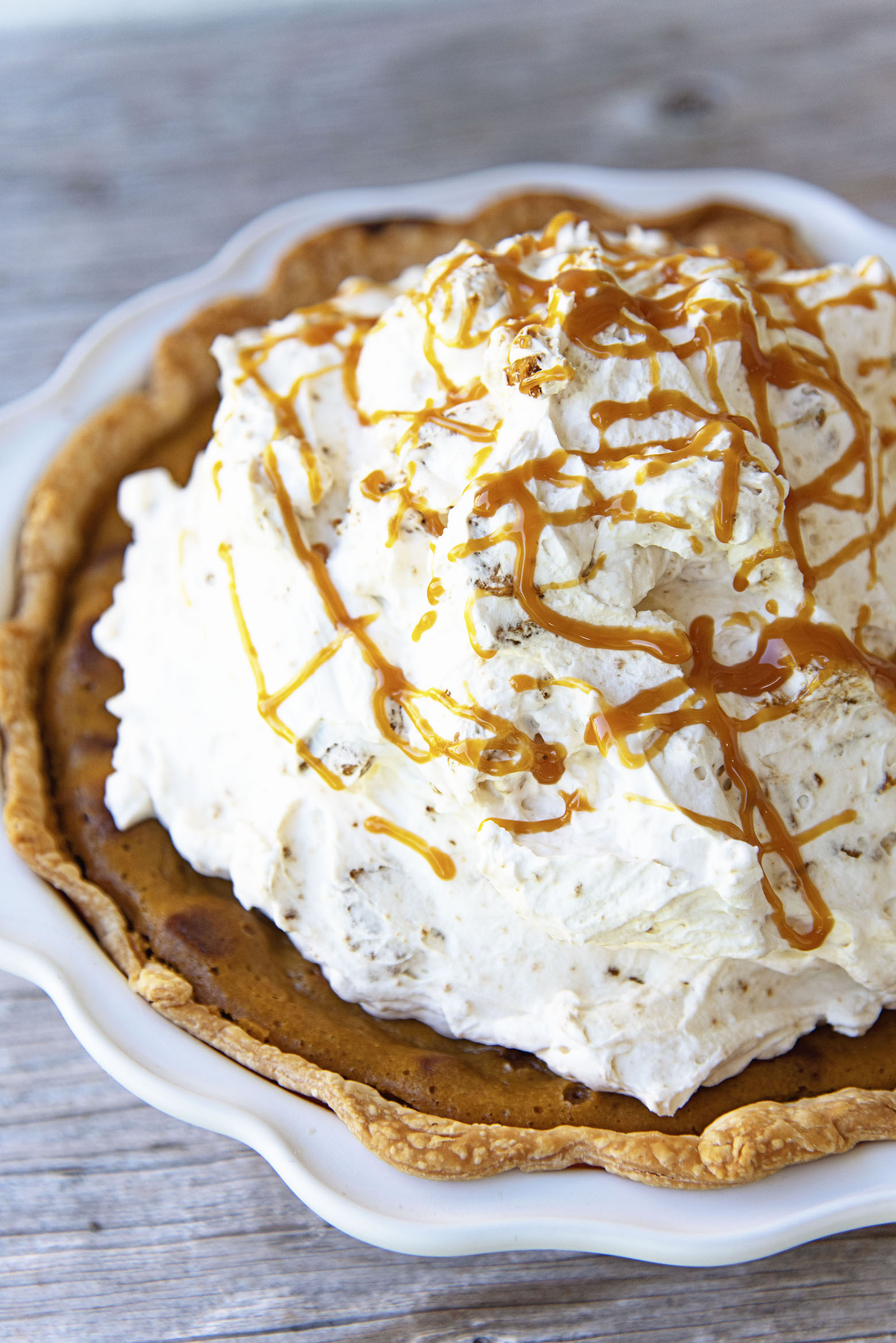 So I set out to make an equally awesome pie.
Which honestly we like this Gingersnap Cream Cheese Pumpkin Pie even more than last year's pie.
The gingersnap really adds a layer of sharpness to it that is lovely.
Last years pie had some of the cream cheese swirled at the top.
But this year I just threw it all together.
Which gave it more of a half pumpkin pie half pumpkin cheesecake kind of vibe.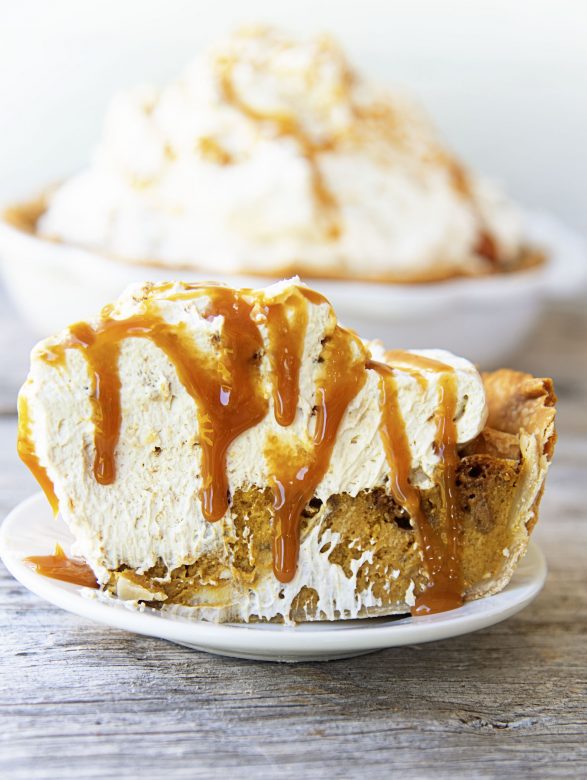 The whipped cream is what helps make this extra special.
Yes, it's a lot.
Leslie Knope would be proud.
But I'm one of those people who usually covers their slice of pumpkin pie in whipped cream.
And if I have an pie leftover that doesn't have whipped cream I get up and get more whipped cream.
So I feel that this is the correct ratio of whipped cream to pie.
The gingersnaps will soften in the whipped cream.
You want that.
That way they flavor the whipped cream without being crunchy.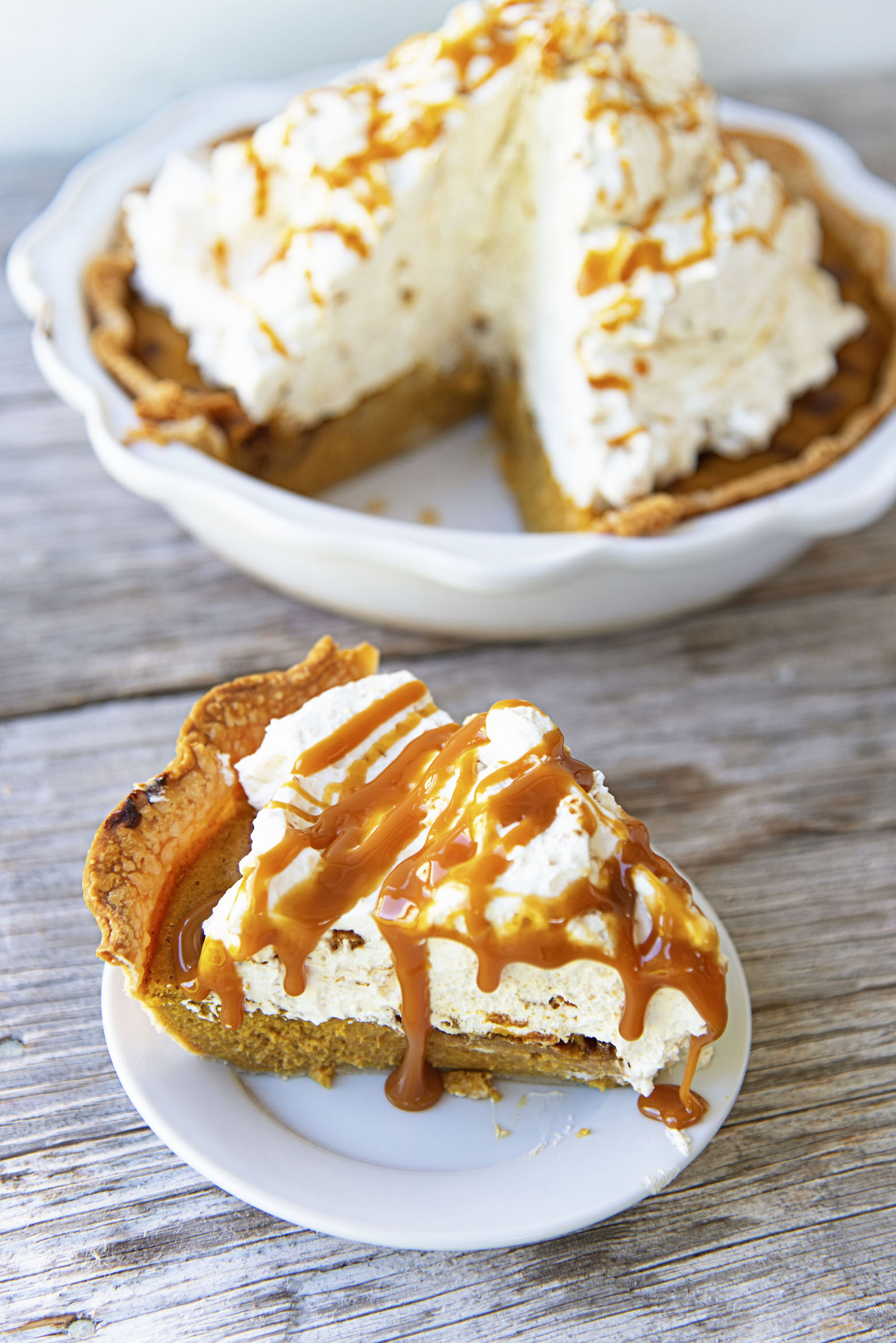 I added salted caramel to my pie.
Partially for the photos if I'm being honest.
But also because it's caramel and why not?
I chose salted caramel so it would not be so sweet.
However, if you prefer regular caramel feel free to add that instead.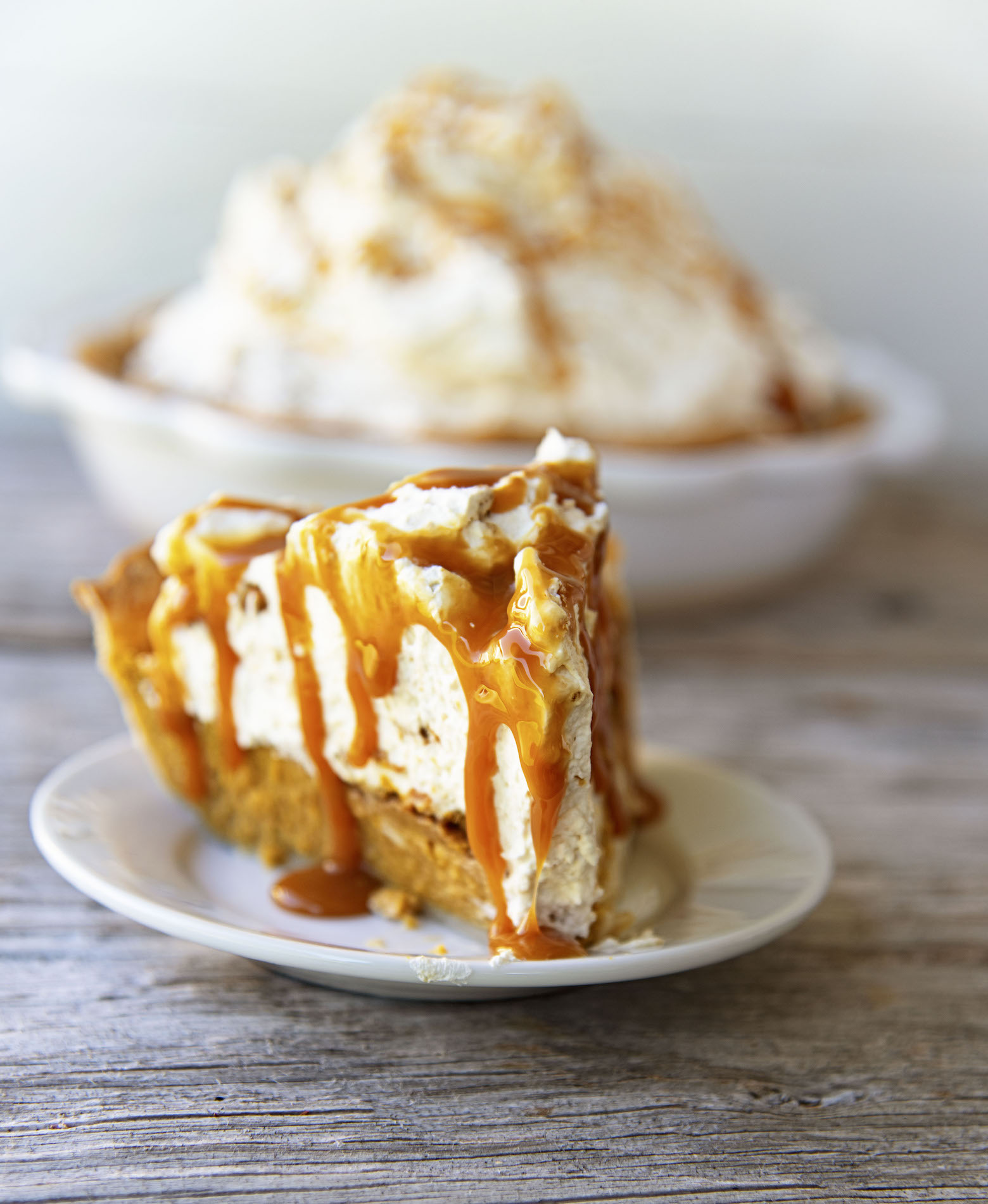 P.S. It's a great day to buy my cookbook.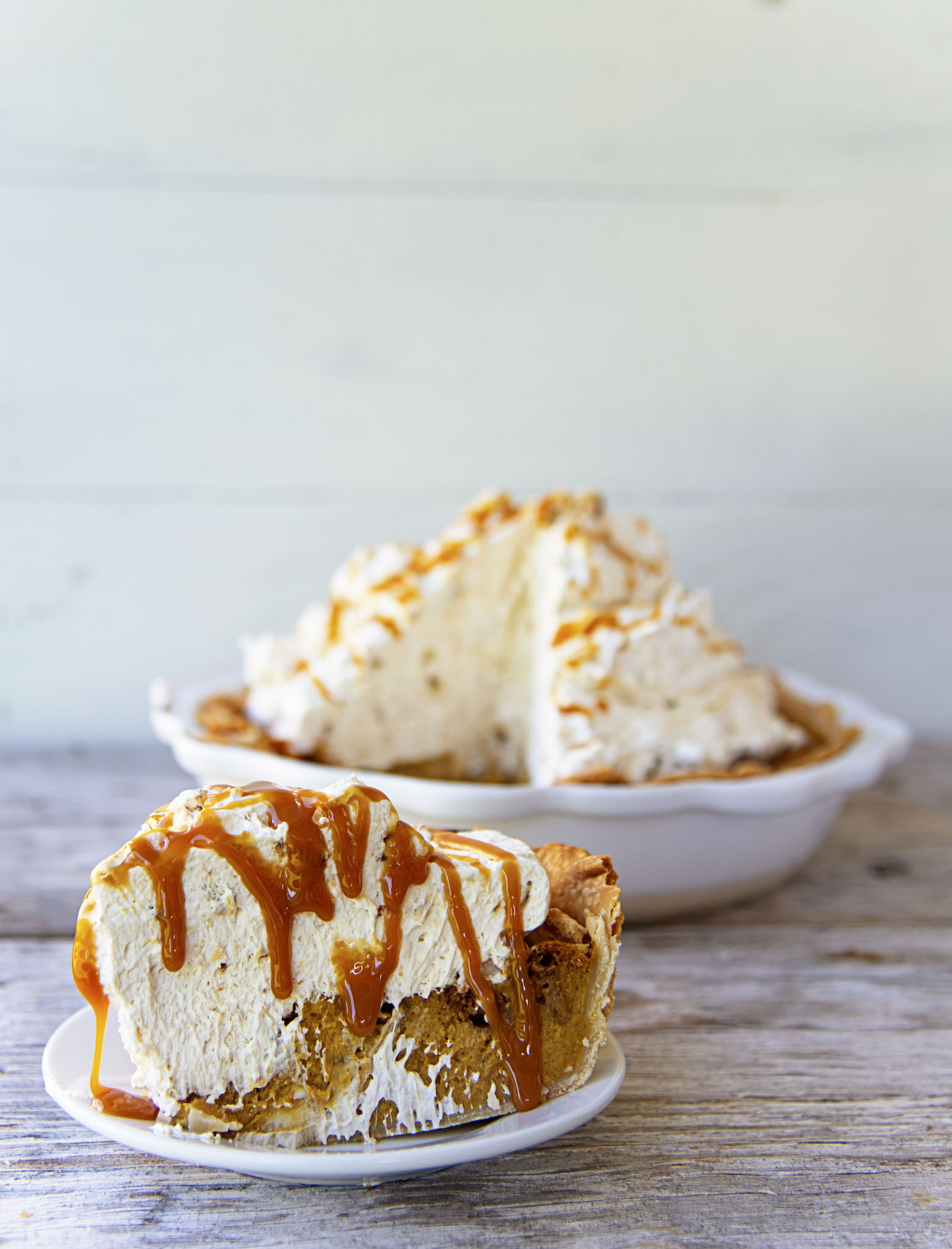 Want More Pumpkin Recipes?
Pumpkin Creme Brûlée Tartlets with Chocolate Ginger Crust
White Chocolate-Pumpkin Topped Blondies
Pumpkin Pecan Pie Gingerbread Bars
Brown Butter Pumpkin Pie Layer Cake
Ingredients
For the Pie:
1 refrigerated pie crust (I used Pillsbury…it was on sale)
1 cup granulated sugar
3 TBSP all-purpose flour
11 oz cream cheese, at room temperature
1 TBSP pumpkin pie spice
3 eggs
1 can (15 oz) pumpkin puree (not pumpkin pie mix)
10 Gingersnaps, crushed
For the Whipped Cream:
2 cups heavy cream
1/3 cup granulated sugar
1 cup crushed Gingersnaps
For garnish:
Salte Caramel
Instructions
For the Crust:
Heat oven to 375°F.
Place pie crust in 9-inch pie plate as directed on package for one-crust filled pie. Bake about 8 minutes or until light golden brown.
For the Filling:
Using a stand mixer with a paddle attachment beat together the sugar, flour and cream cheese on low speed until smooth.
Add the pumpkin pie spice, egg, and pumpkin puree to cream cheese mixture.
Beat on medium speed, scraping bowl constantly, until smooth.
Add the crushed Gingersnaps mix until fully combined.
Pour mixture into the pie crust.
Cover edge of crust with 2- to 3-inch strip of foil to prevent excessive browning; remove foil for last 15 minutes of baking.
Bake 40-50 minutes or until knife inserted in center comes out clean.
Cool 30 minutes.
Cover loosely and refrigerate at least 4 hours before serving.
For the Gingersnap Whipped Cream:
Place the sugar into a mixing bowl and add the whipping cream.
Whisk just until the cream reaches stiff peaks.
Add the crushed Gingersnaps and whip until fully combined.
Place whipped cream on top of cream pie and add some salted caramel for garnish if desired.
Store covered in refrigerator.