These Gingerbread Shortbread Sandwich Cookies have a gingerbread shortbread base and with white chocolate raspberry jam buttercream filling.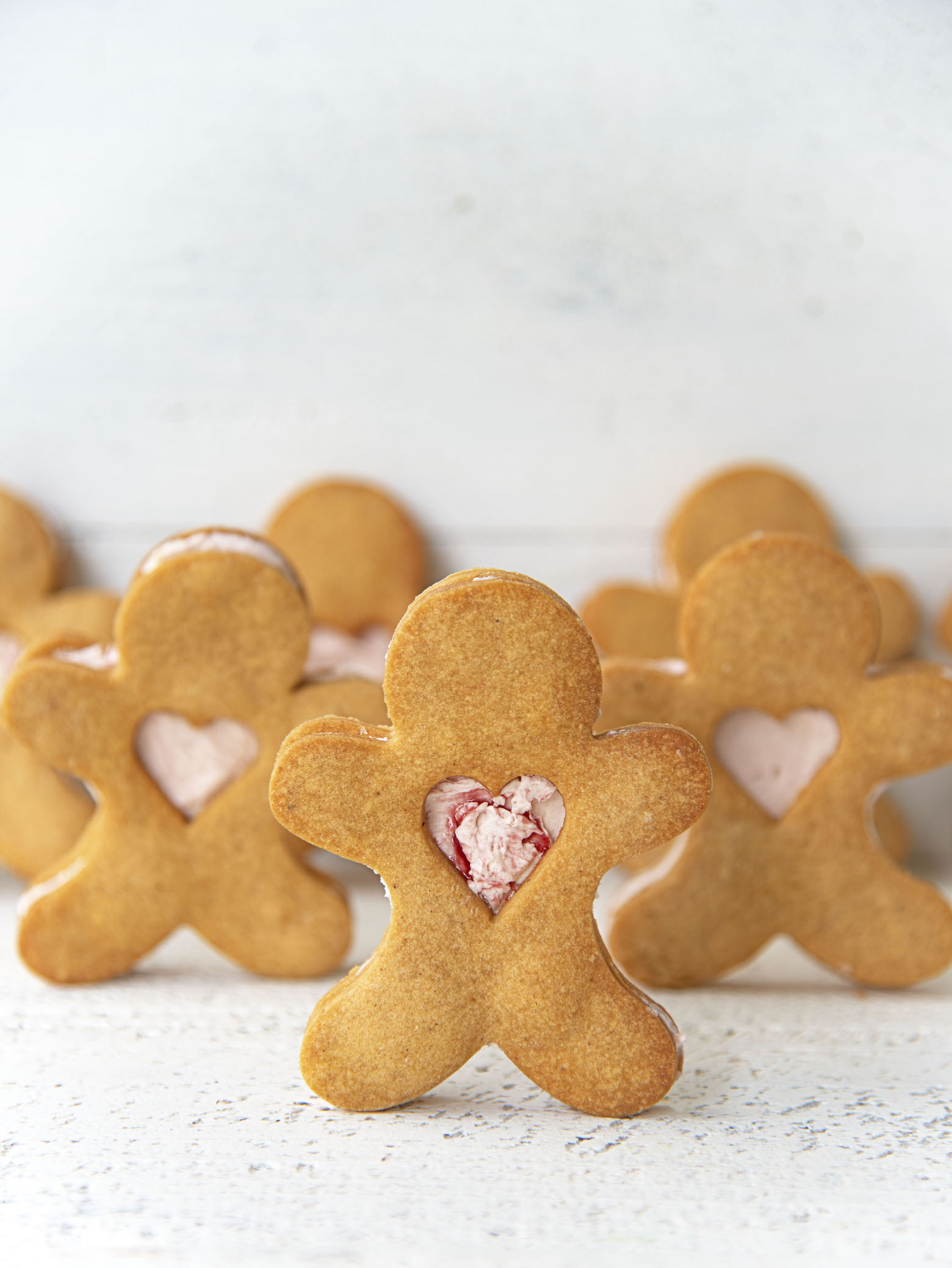 I wasn't completely sure what to call these.
So I settled Gingerbread Shortbread Sandwich Cookies.
If you haven't followed the blog for very long then you might not know I have a gingerbread man addiction.
It's the holiday thing I collect.
I even keep some of the gingerbread men up in my kitchen year round.
Just because I find it so cheerful.
Not all gingerbread men but the fat, happy kind.
I have well over 30 gingerbread man cookie cutters.
If I see one I don't have I tend to buy it.
Which happened this year when Williams Sonoma had these.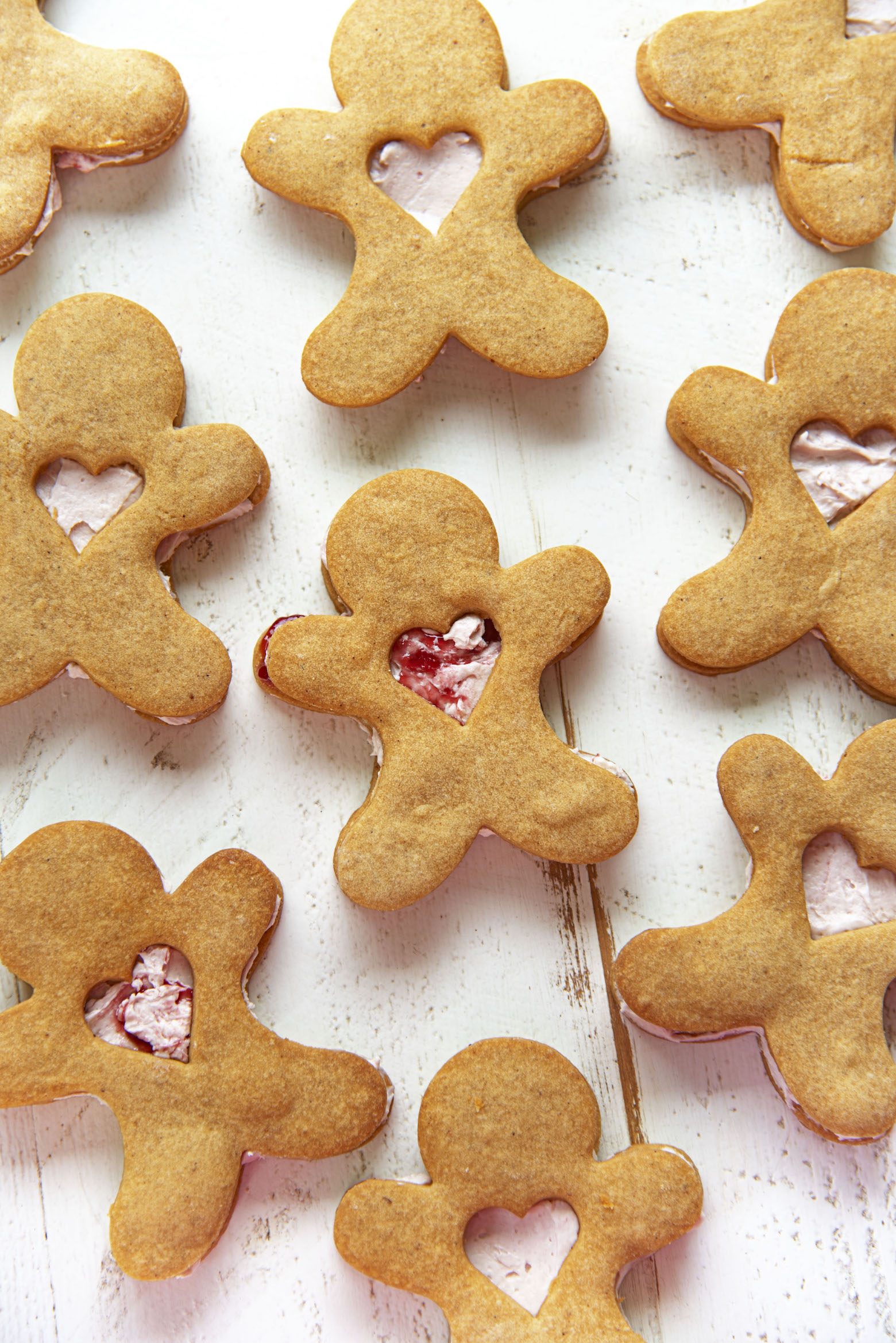 For some reason I thought that they would be smaller.
But they are a full sized cookie cutter.
Keep in mind if I actually read the website it tells you how big the cookie cutters are.
The cookie cutters I used were meant to be for Linzer cookies.
But I just wasn't feeling the linzer cookie.
If you are unfamiliar with a linzer cookie they are made with almond flour.
They use regular flour as well but the almond flour gives it a nice texture.
I just didn't want to shell out the money for almond flour. 😛
They are sandwich cookies.
And they are filled with jam usually.
Then usually sprinkled with powdered sugar.
Since I needed to make some mini gingerbread men for some of my baking decorations I settled on making my gingerbread shortbread.
Which I make every year.
My husband and I love it so much.
So much better than traditional gingerbread cookies if you ask me.
Then again, I'm Scottish and we love all things shortbread.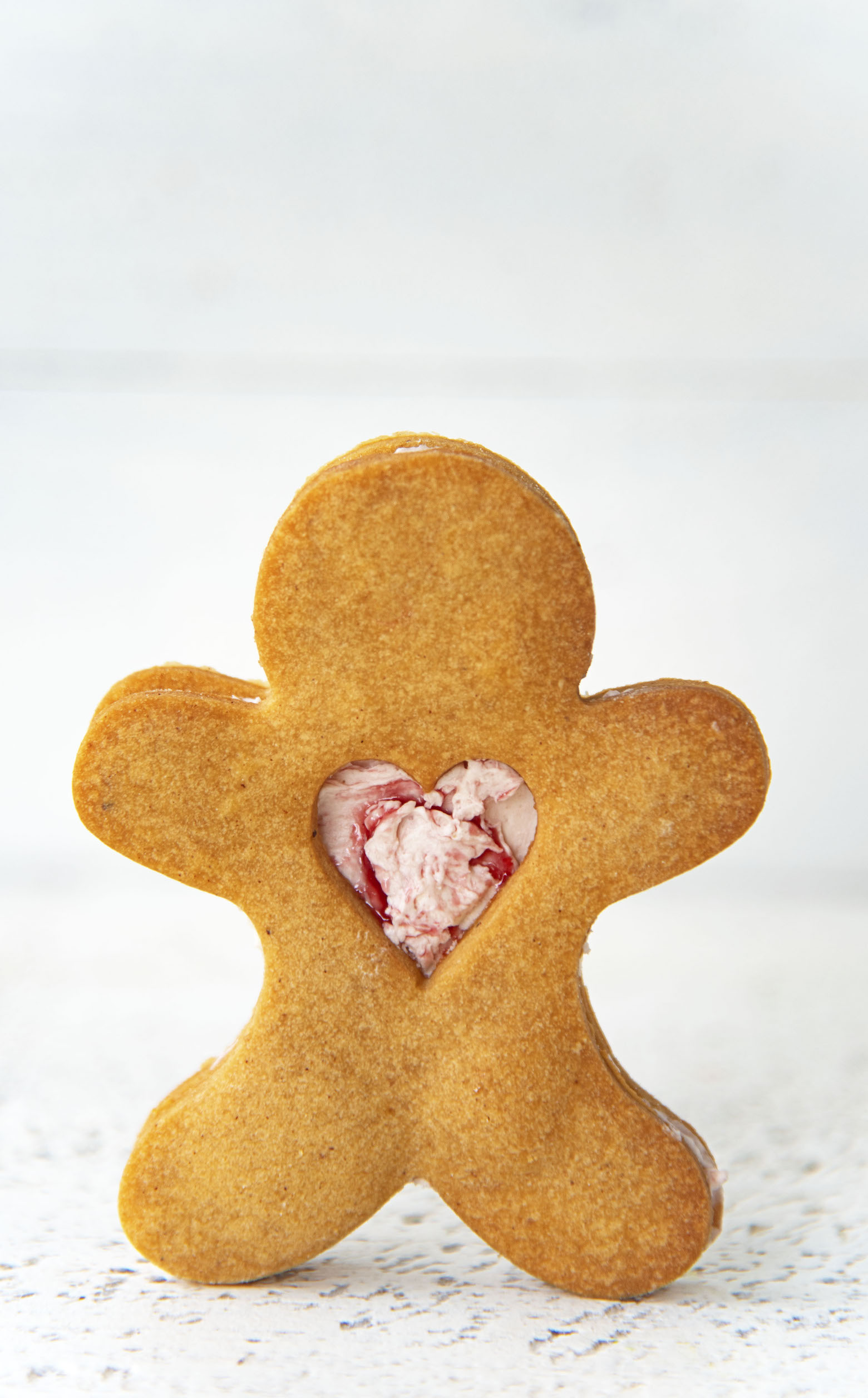 While traditionally filled with jam I kicked it up a notch.
I did use raspberry jam which is the traditional jam for linzer cookies but I mixed it into white chocolate Swiss meringue buttercream.
Because it's so good.
I said about a tablespoon per cookie but really that's just eyeballing it.
You may want to use more buttercream or less depending on your preference.
Personally, I'm a more buttercream kind of gal. 😀
I also added some raspberry jam swirls after I frosted the bottom half of the cookie.
That was just for a pop of color for the photos.
But if you want to do that feel free.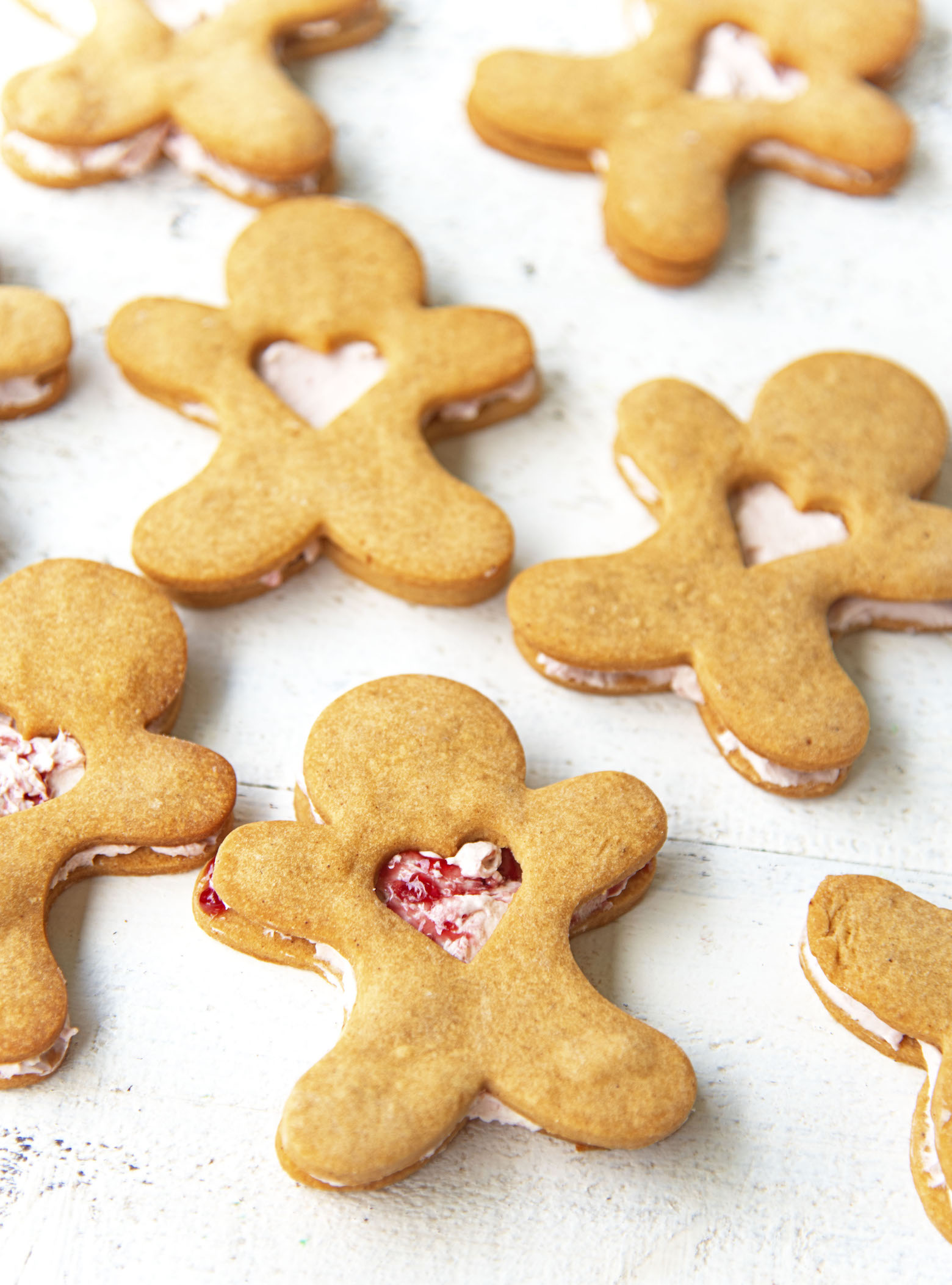 If you are feeling ambitious by all means feel free to decorate the gingerbread men with a face.
I tend to feel guilty when I give them a face since they are so cute it feels wrong. 🙂
Also, I'm lazy so that's another reason I skipped out on decorating them.
Feel free to dust the cookies with powdered sugar if you want the linzer cookie look.
Feel free to call these cookies whatever you want.
But definitely make them.
You can't go wrong with shortbread and buttercream.
P.S. It's always a great day to buy my cookbook Holy Sweet!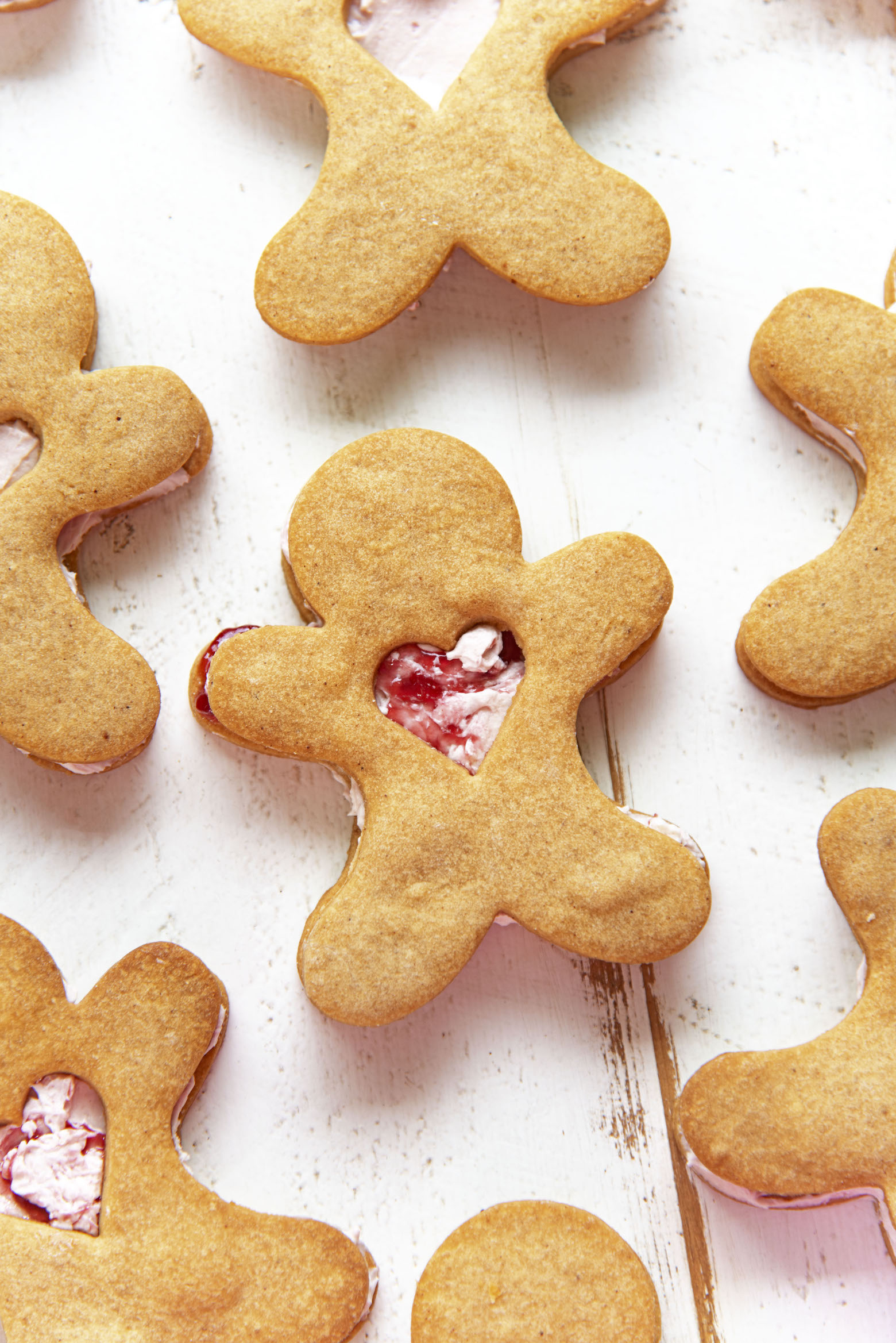 Want More Gingerbread Recipes?
Chocolate Dipped Gingerbread Shortbread Cookies
Gingerbread Cheesecake Cheeseball
Clementine Upside Down Gingerbread Cake
Gingerbread House Gingerbread Layer Cake
Ingredients
For the Cookies:
1 1/2 cups unsalted butter, at room temperature
3/4 cup powdered sugar
4 1/2 TBSP molasses
1 1/2 tsp vanilla extract
3 cups all-purpose flour
1 1/2 TBSP gingerbread spice
1/4 tsp salt
For the Raspberry Jam Swiss Meringue Buttercream:
½ cup egg whites (about 4 large eggs whites)
1 cup granulated sugar
1 ½ cups (3 sticks) unsalted butter, at room temperature, cubed
1 tsp pure vanilla extract
5 oz white chocolate, melted and slightly cooled
3/4 cup strawberry jam (preferably homemade)
Instructions
For the Cookies:
Preheat oven to 350 degrees. Line three 1/2 baking sheets with parchment paper.
Using a stand mixer fitted with paddle attachment cream together the butter and powdered sugar together on medium-high speed until light and fluffy, about 3 minutes.
Add molasses and vanilla and beat until combined, about 30 seconds.
With the mixer on low speed, slowly add spices and salt until just combined.
Add the flour 1 cup at a time until just combined. Do not overmix. 
Form the dough into a disk and wrap in plastic wrap. Place in refrigerator for 30 minutes. 
Remove dough from fridge and place on lightly floured surface.
Roll dough out to about 1/4-inch thickness. Cut out with gingerbread man cutters. 
Every other gingerbread man cookie cut out the center of the gingerbread man with a mini heart shaped cookie cutter.
Transfer to prepared sheets placing 1 inch apart.  Place sheets in refrigerator for 10 minutes.
Remove trays from refrigerator and bake 12-14 minutes for regular size gingerbread men. 10-12 minutes for mini gingerbread men. And 14-16 for large gingerbread men.
Let cool on sheet for 5 minutes, then remove to wire rack to cool completely. Repeat with remaining dough until you've used it all.
For the Raspberry Jam Swiss Meringue Buttercream:
Place the egg whites and sugar in the metal bowl of a stand mixer and set over a small pot of simmering water (the bowl should not touch the water).
Heat, stirring occasionally, until mixture is 160F or hot to the touch.
Transfer bowl to stand mixer and beat on high speed with a whisk attachment to medium stiff peaks, about 8 minutes.
Reduce mixer speed to medium low and add butter a tablespoon at a time, letting it incorporate into the meringue for few moments before adding more.
Add vanilla extract, raspberry jam, and salt and beat on high for 1-2 minutes until smooth and creamy.
Add in the white chocolate and mix until fully incorporated and the frosting in smooth and creamy.
To assemble the Cookies:
Spread about a TBSP of the frosting onto the flat sides of the non-cut out gingerbread man.
Place the gingerbread man cookie with the heart cut out on top of the buttercream.
Push down a little to get the frosting to go into the heart shape.