These Gingerbread Lemon Cream Cheese Cookies are spicy ginger molasses cookies wrapped around a lemon cream cheese center and rolled in lemon sugar.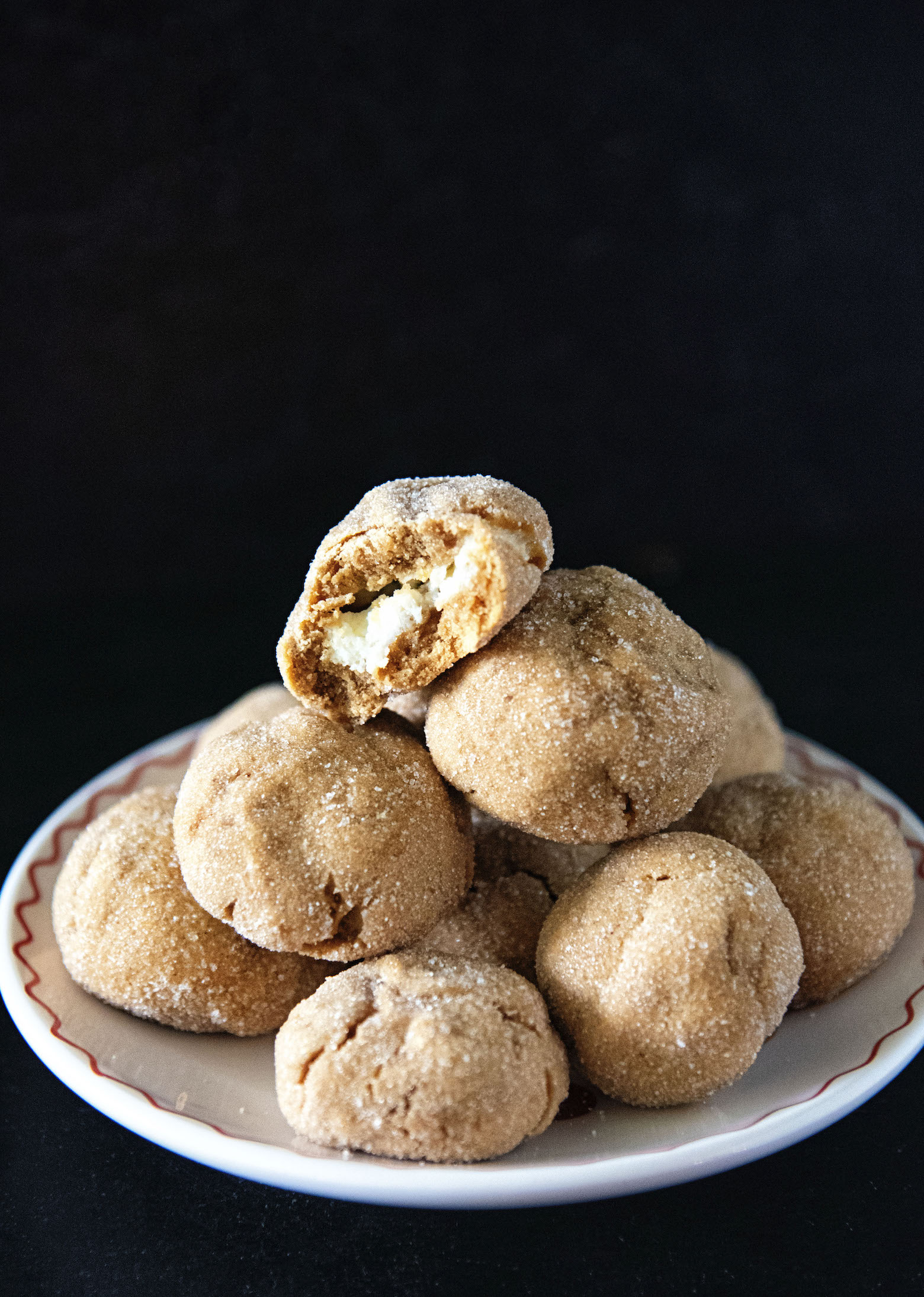 Ready or not the holiday season is rapidly approaching this year.
And with Thanksgiving late this year they are kind of merging more than ever.
In fact, I have a cookie exchange just two days after Thanksgiving this year.
There is always such added pressure when you are a baking blogger to have THE best cookie each year.
Which is hard because that is so subjective.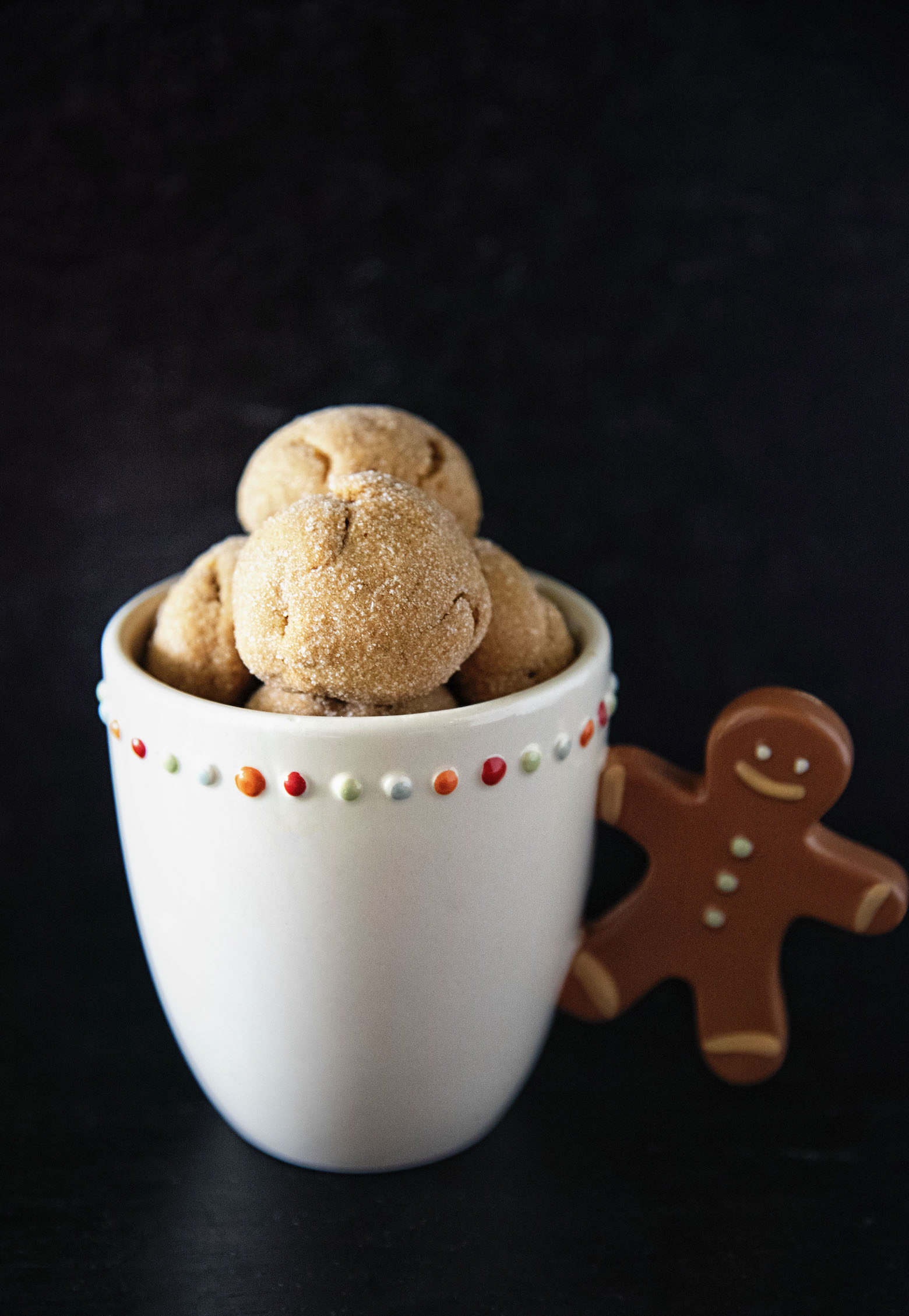 To start off the cookie season I am going with gingerbread.
The cookie flavor I used to not be able to stand. 🙂
But now love.
I've made these Gingerbread Lemon Cream Cheese Cookies twice now.
The first time I made them they tasted good but they did not flatten.
And for some reason in my mind they were flat.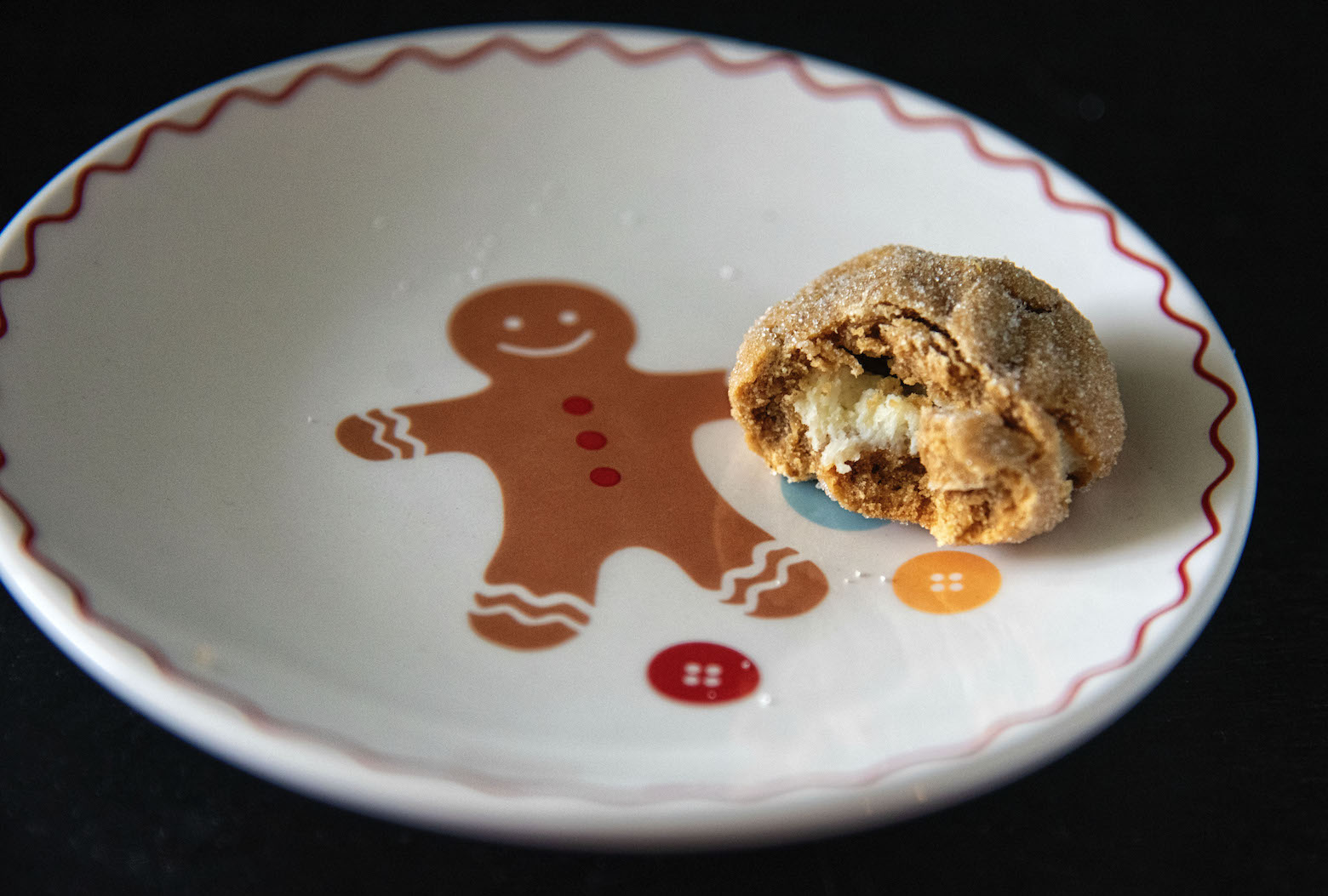 Except when I went back and read the recipe that I adapted the gingerbread part from I realized that those cookies never really flattened much when baking.
So it made total sense that when I wrapped them around a cream cheese filling that they would stay their round shape.
You can fit more in your mouth at once when they are this shape. 😀
And honestly now that I have made them I prefer them in the more rounded shape.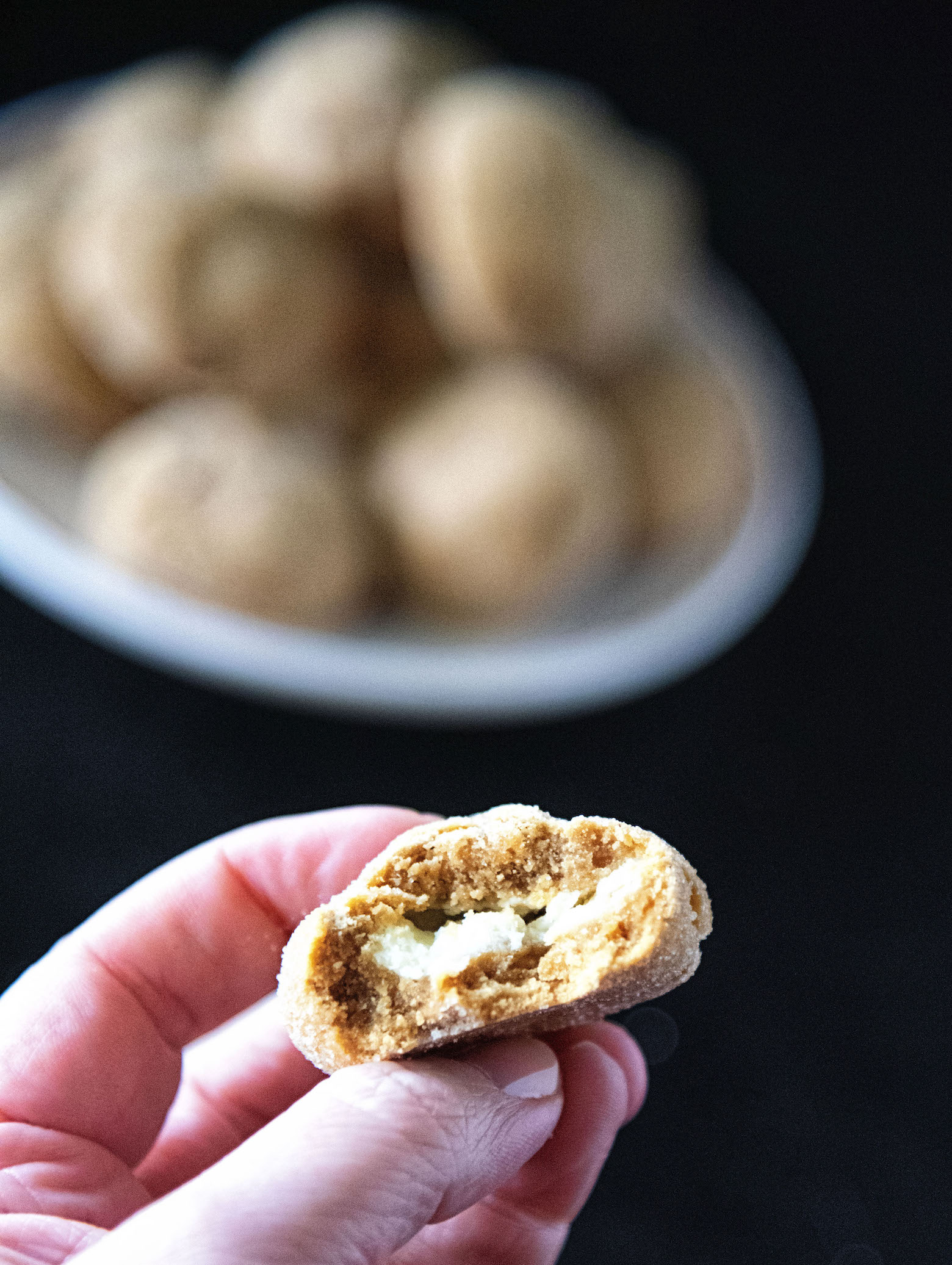 This recipe uses Lemon Juice Powder.
Which is exactly what it sounds like.
Lemon juice that they turned into a powder.
It gives you a very concentrated flavor of lemon without adding extra moisture to your baked goods.
These cookies are also rolled in lemon sugar.
Which is sugar and lemon zest mashed together so that the oils from the lemon get in the sugar.
You can sift the lemon zest out or keep in in there.
I sifted mine out but that's just my preference.
And as always it's a great day to order my cookbook.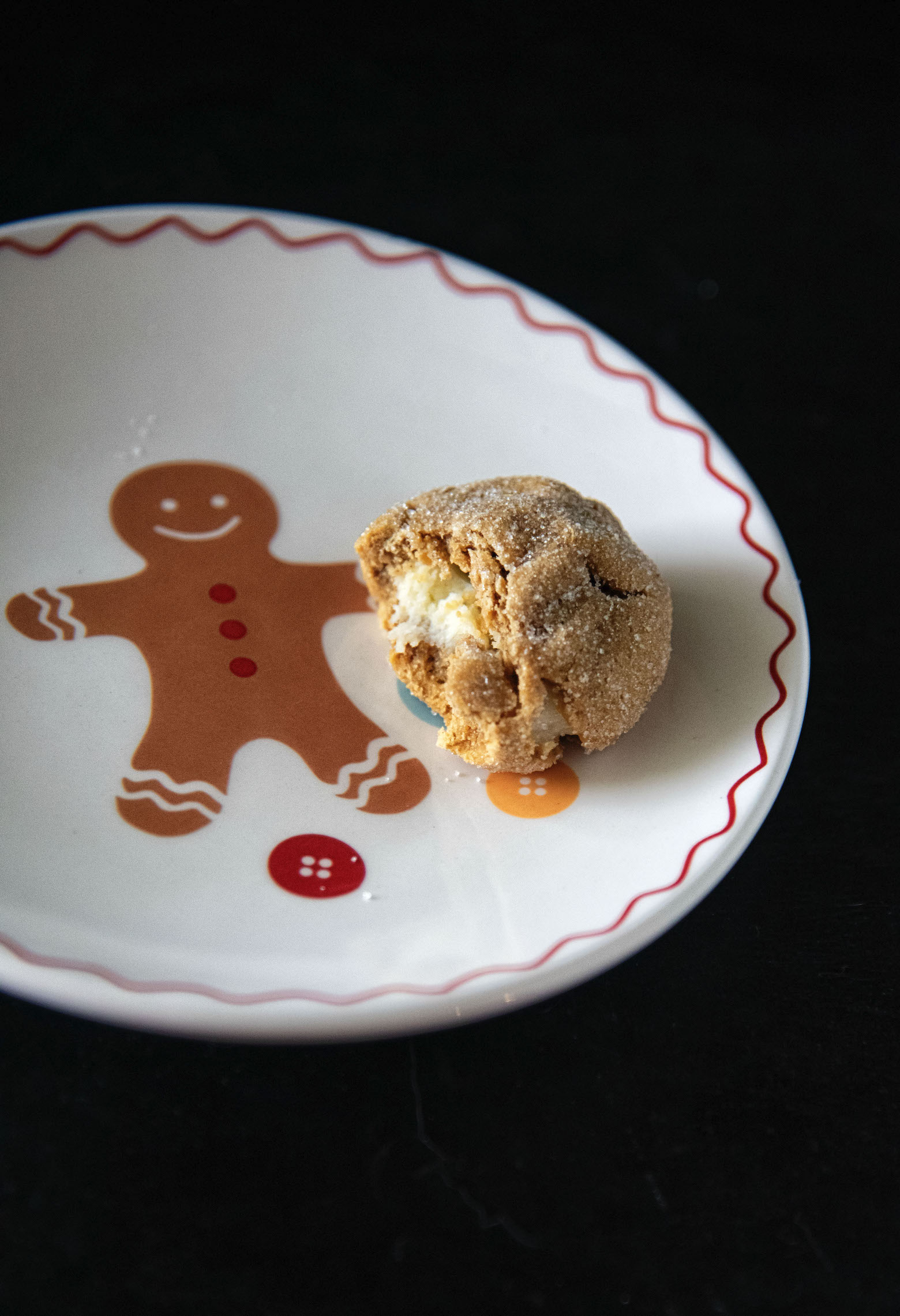 Want More Holiday Cookies?
White Chocolate Topped Gingerbread Cookies
Mini Chocolate Gingerbread Men Sandwich Cookies
Chocolate Peppermint Shortbread
Cranberry Orange Pistachio Cookies
Ingredients
For the Lemon Sugar:
zest of one large lemon
1 cup granulated sugar
For the Filling:
8 oz cream cheese, softened
1/2 cup powdered sugar
2 tsp. lemon powder
For the Cookie Dough:
3 cups flour
2 tsp. ground ginger
1 tsp. ground cinnamon
1 tsp. baking soda
1/4 tsp. fresh ground nutmeg
1/4 tap salt
3/4 cup (1 1/2 sticks) unsalted butter, at room temperature
3/4 cup firmly packed brown sugar
1/2 cup molasses
1 egg
1/4 cup granulated sugar
1 tsp. vanilla extract
Instructions
For the Lemon Sugar:
Pour sugar into a bowl.
Zest one lemon into the bowl and rub the lemon zest into the sugar with your fingers.
Set aside.
For the Filling:
Using a stand mixer with a paddle attachment beat together the cream cheese, powdered sugar, and powdered lemon juice until fully combined.
Place in a bowl and cover with plastic wrap.
Put the bowl in the fridge for at least one hour.
For the Dough:
Mix flour, ginger, cinnamon, baking soda, nutmeg and salt in large bowl.
Beat butter and brown sugar in large bowl with electric mixer on medium speed until light and fluffy.
Add molasses, egg and vanilla; beat well.
Gradually beat in flour mixture on low speed until well mixed.
Press dough into a thick flat disk.
Wrap in plastic wrap. Refrigerate 4 hours or overnight.
Preheat oven to 350°F.
Using a medium (2- tablespoon) cookie scoop, portion out the dough.
Flatten each dough ball into a flat circle.
Scoop 2- teaspoons of the cold cream cheese mixture out and place each scoop in the center of the flattened dough.
Form the dough into a ball around the cream cheese, making sure it's sealed inside.
Roll in the lemon sugar.
Place 2 inches apart on ungreased baking sheets.
Bake 10-12 minutes or until edges of cookies just begin to brown.
Remove to wire racks; cool completely.