This Giant Eggnog Cinnamon Roll Cake is basically just a giant cinnamon roll made with eggnog instead of milk and all glazed with an eggnog glaze.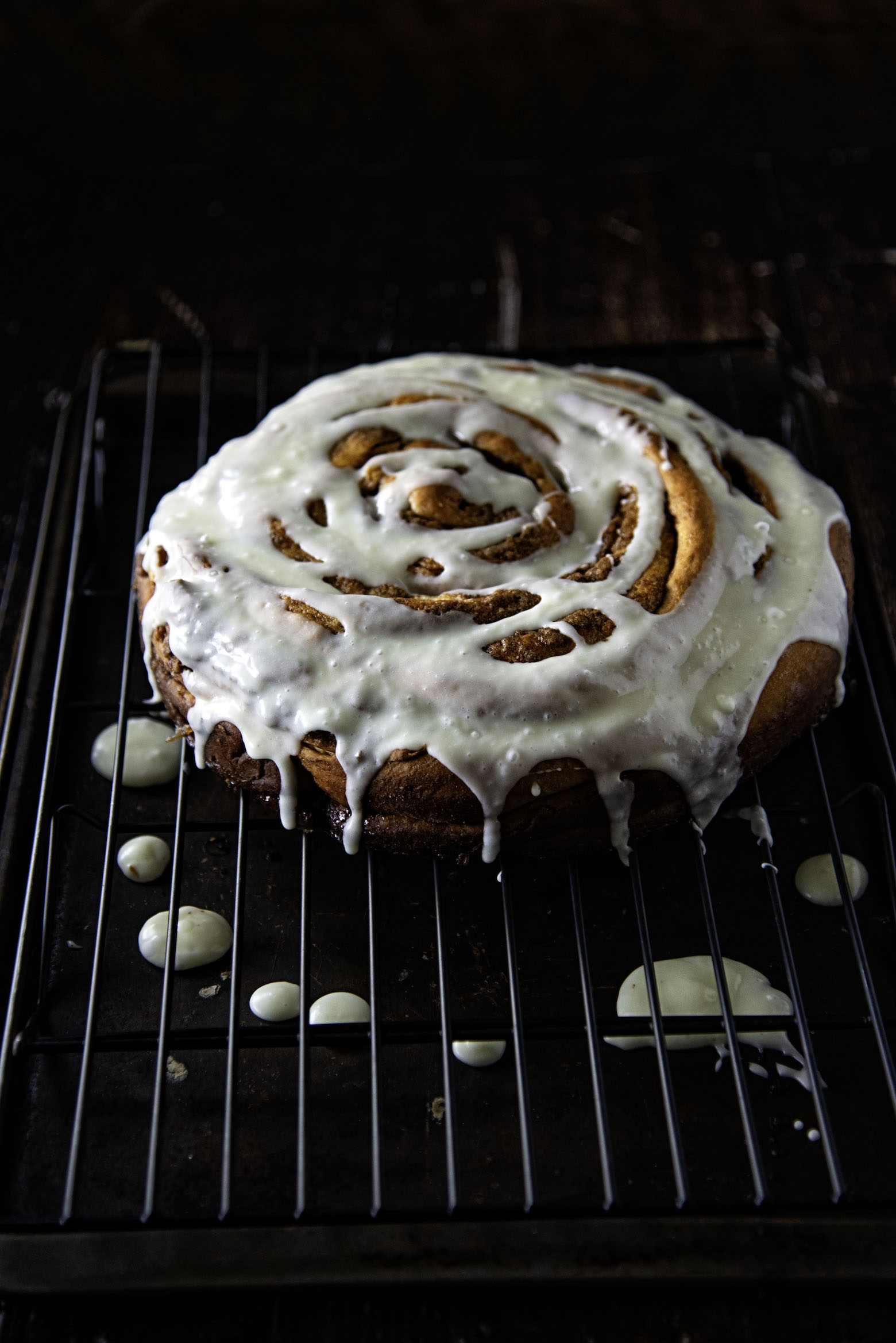 A little unknown fact about me is that almost daily I take out a packet of yeast.
And make something with it.
Most of those recipes do not go on the blog.
Partially because I am just experimenting and working with the dough to get to the recipe that finally gets up on the blog.
Yes, that's right, I test, and test, and re-test my recipes.
Sometimes it's because they were an epic failure.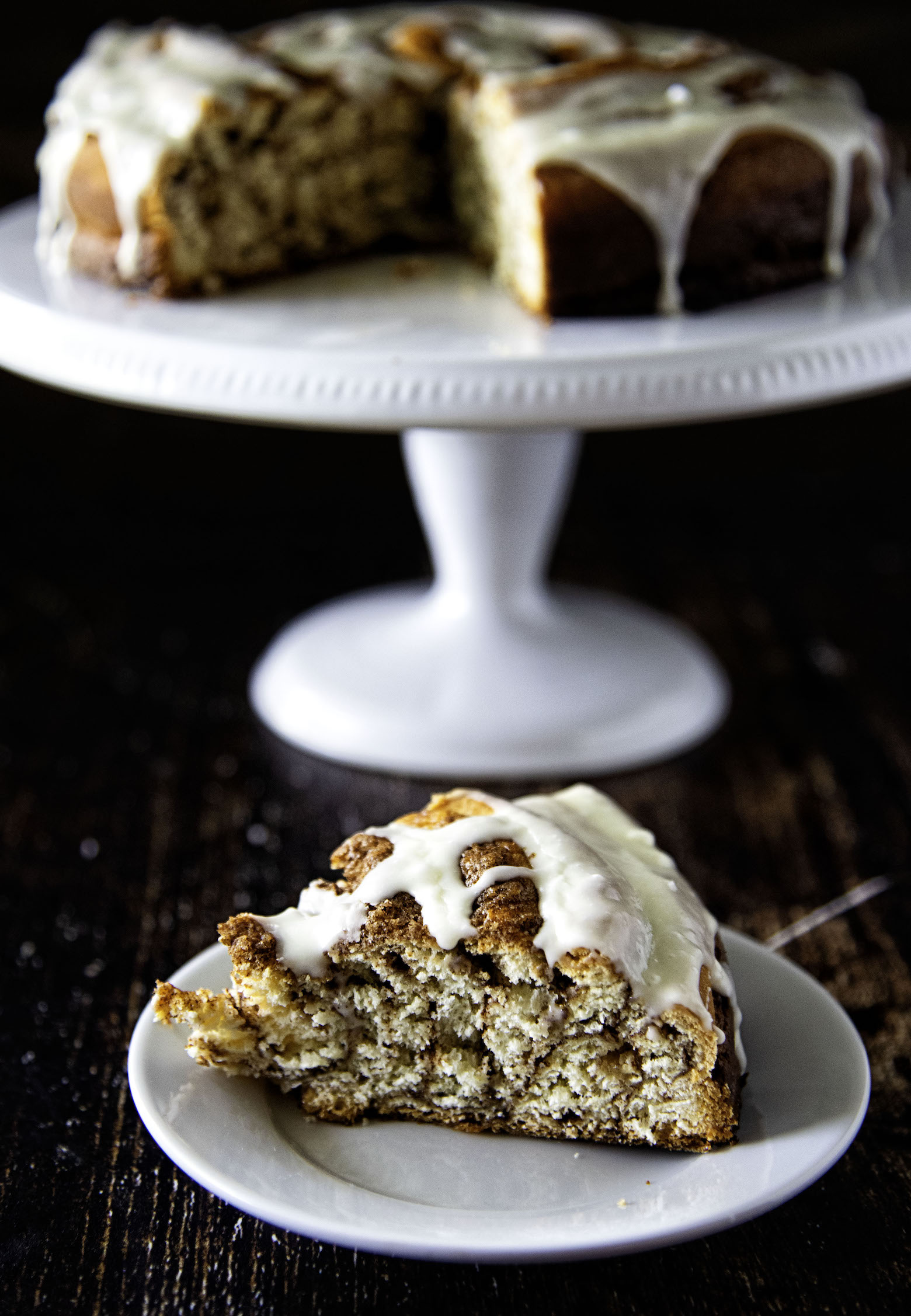 More than not it's just that it wasn't what I had in my mind and I want to tweak it a little more before putting it on here.
And sometimes it's just because I'm making sandwich bread or a bread/roll that is already on the blog.
I pretty much always want to make cinnamon rolls or sweet rolls.
Because why wouldn't I?
Sometimes I just make plain old cinnamon rolls.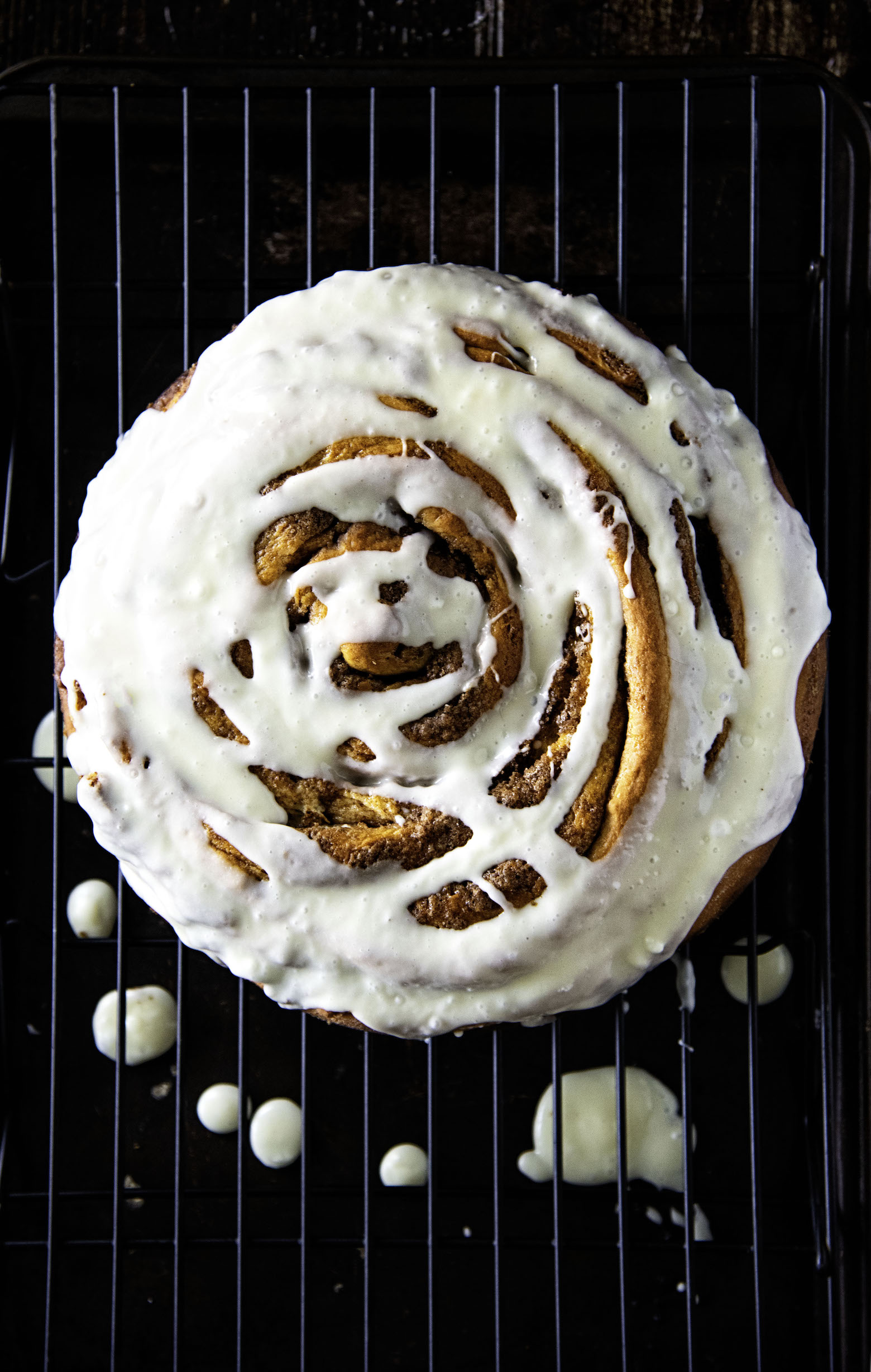 But most of the time I like to do something new.
Enter this Giant Eggnog Cinnamon Roll Cake.
Don't let the name fool you.
There is no cake in this cake.
It is just one giant cinnamon roll that I call a cake because you cut it like a cake…and I put it on a cake stand. 🙂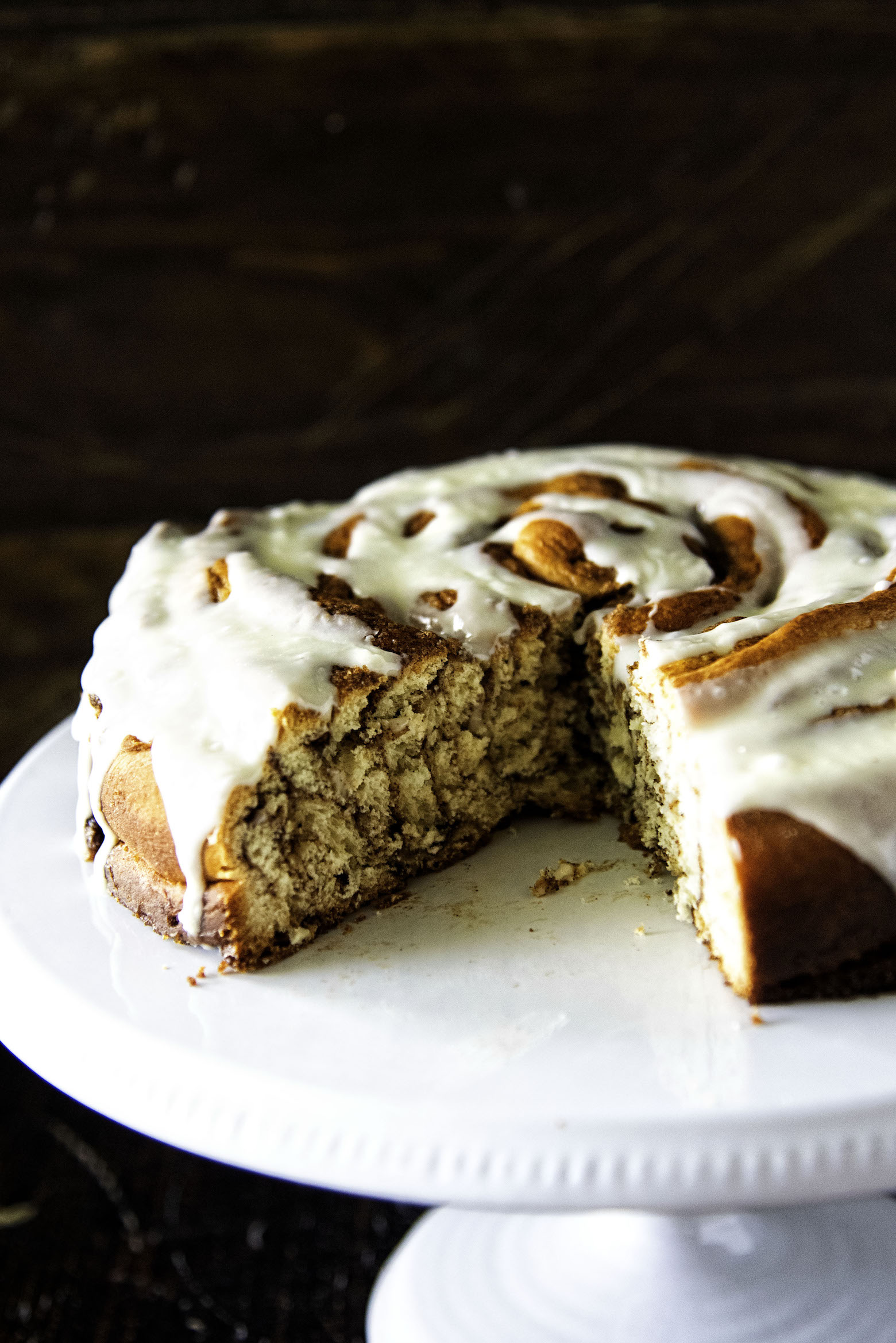 It's a fun way to serve cinnamon rolls at your breakfast or brunch.
And perfect to make for the holidays.
Speaking of the holidays….they are coming up.
Like in your face coming up.
So it's best to start planning now.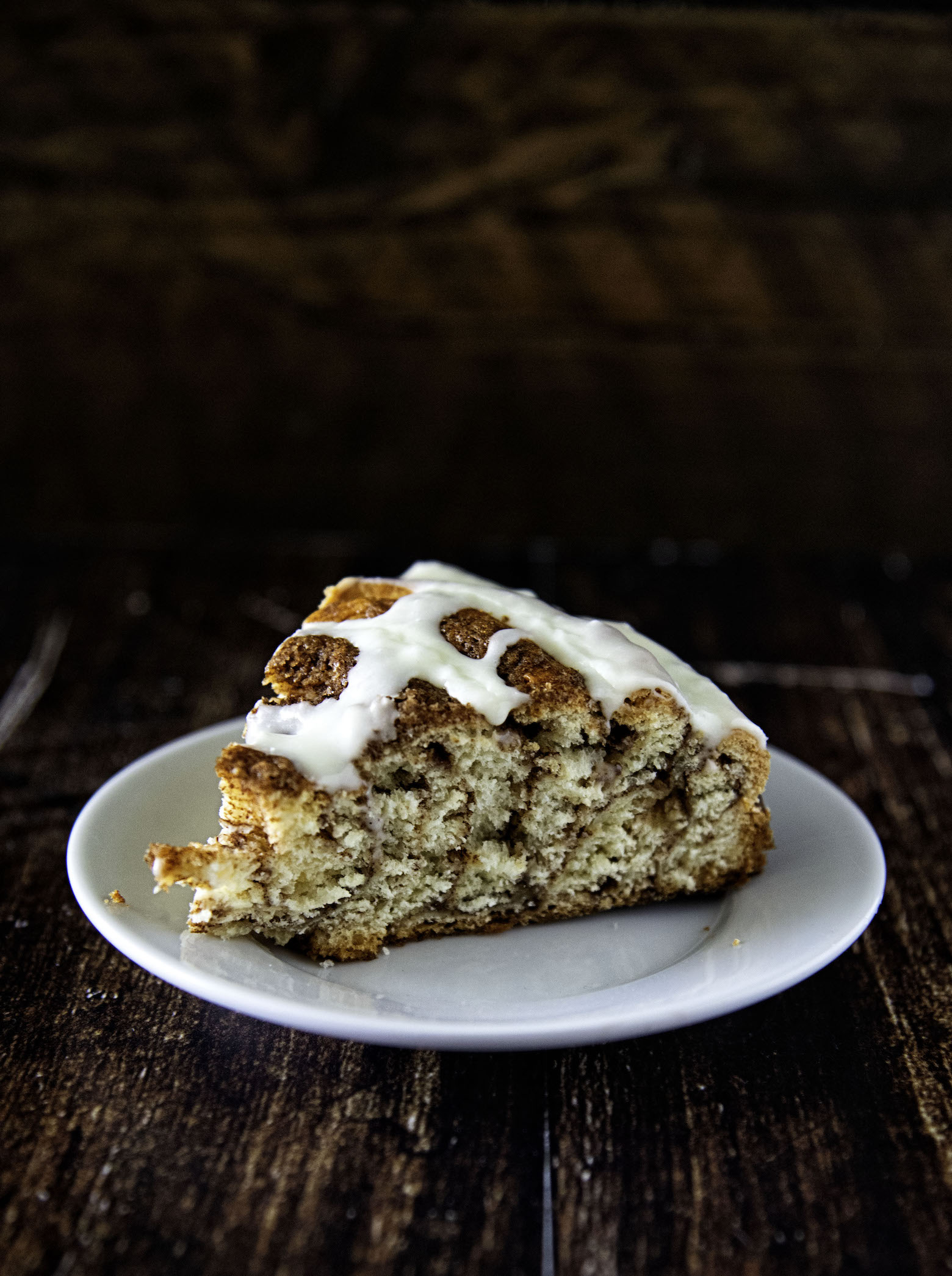 The main difference with this other than its size is that I use eggnog in place of milk or buttermilk.
This is a soft dough. A very soft dough.
And so making the giant roll can be a little tricky as the dough likes to stretch.
I caution you to add too much flour as though the dough is super soft it makes for a super soft roll when baked.
And you don't want to mess with that.
A simple icing of eggnog and powdered sugar are added to give it a little more eggnog flavor.
P.S. It's a great day to buy my cookbook.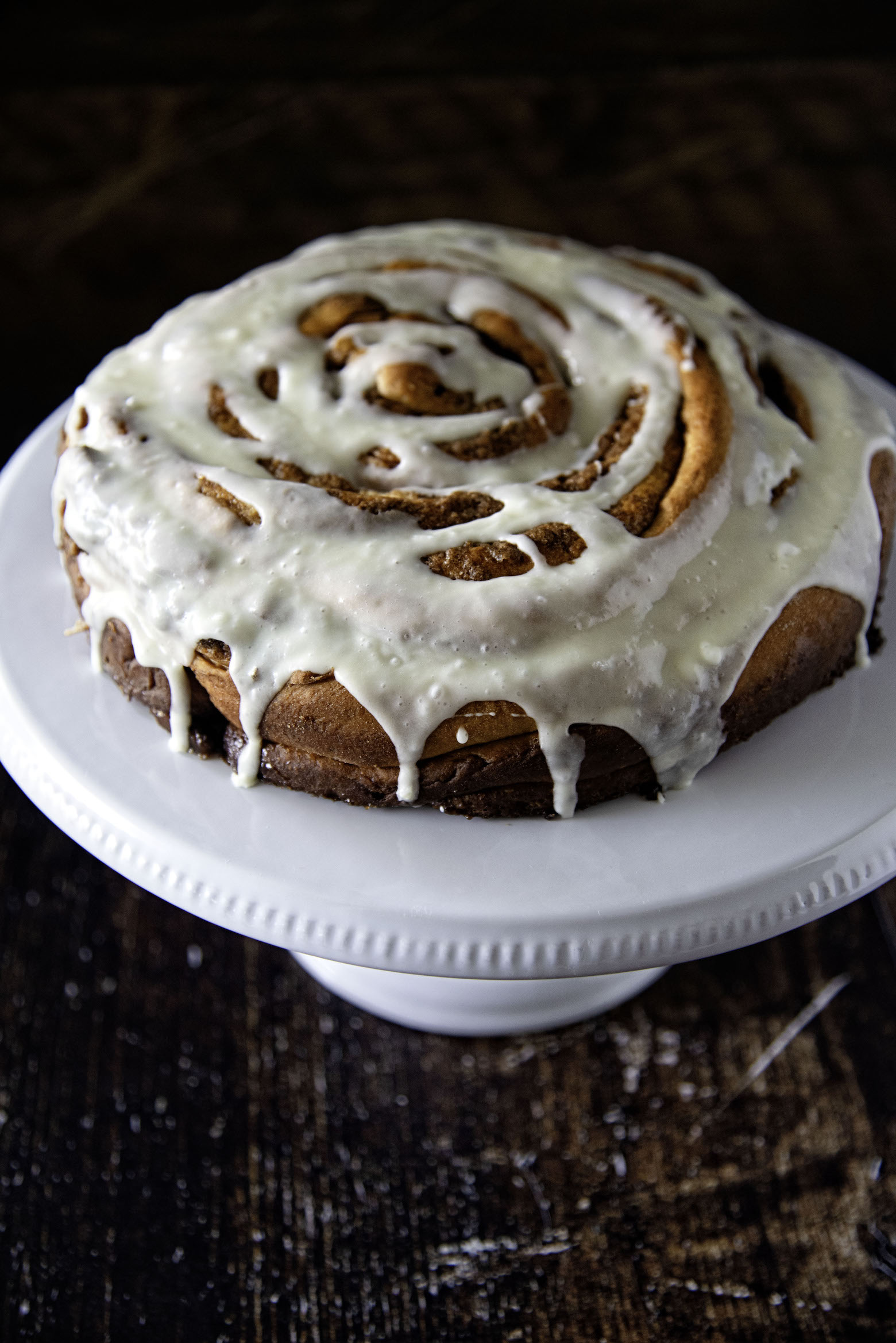 Want More Cinnamon Roll Recipes?
Creamsicle Crumb Topped Cinnamon Rolls
Giant Cinnamon Roll with Cake Batter Frosting
Snickerdoodle Cookie Dough Cinnamon Rolls
Oatmeal Raisin Cookie Stuffed Cinnamon Rolls with Caramel Glaze
Ingredients
For the Dough:
1/2 cup warm eggnog, 110 – 115F
1 TBSP active dry yeast (I used Red Star Yeast Platinum)
1/2 cup eggnog at room temperature
2 large eggs
1/2 cup plus 1/2 tsp granulated sugar, divided
1 tsp. salt
1 tsp. vanilla extract
1 tsp. freshly ground nutmeg
6 Tbsp unsalted butter, melted and slightly cooled
3 1/2 – 4 cups bread flour
For the Filling:
6 TBSP unsalted butter, at room temperature
1 cup Brown Sugar, loosely packed
2 TBSP Ground Cinnamon
pinch of salt
For the Icing:
2 cups powdered sugar
1/3 cup eggnog
Instructions
For the Dough:
Using a stand mixer with the paddle attachment add the yeast, warm eggnog, and 1/2 tsp. granulated sugar.
Let rest for 5-10 minutes to proof…the batter will puff up. If it does not then your yeast is bad and rolls won't rise so best to throw out and start again with different yeast.
Add in room temperature eggnog, eggs, 1/2 cup granulated sugar, salt, nutmeg, vanilla, and melted butter and mix until fully combined.
Add in 2 1/2 cups of the flour and mix until fully combined.
Switch to a hook attachment then add another 1 cup flour. Knead mixture until combined.
Continue to knead on low speed about 5 – 6 minutes while adding a little more flour as needed to reach a soft and moist dough (Dough shouldn't stick to the sides of the bowl but does stick to the bottom).
Transfer dough to an oiled bowl, cover with plastic wrap (I find press and seal works best) and let rise in a warm place until doubled in volume, about 1 1/2 hours.
Grease a 9-inch springform pan with baking spray. Set aside.
When the dough has doubled in size lay it on the a floured work surface and roll it out to about 16 X 12, with the SHORTEST side closest to you.
Make the filling by mixing together the butter, brown sugar, cinnamon, and salt. It will be clumpy.
Sprinkle the filling all over the dough, going all the way to the outside edges.
Using a very sharp knife or a pizza cutter, cut the dough into six 2-inch wide strips. Loosely roll up one strip and place it in the center of your prepared pan. You're rolling it up loosely so the dough has some give as it rises. Coil the remaining 5 strips around the center roll, starting each strip at the end of the previous one to make one large rolled cake. Some of the filling may spill out as you pick up the strips, but I just sprinkled that on top of the cake after I was finished spiraling.
Cover with plastic wrap then the a kitchen towel and let rise for another 1 1/2-2 hours or until it's doubled in size.
Preheat oven to 350F.
Remove plastic wrap and towel and place into oven. Bake for 30-35 minutes.
Let cool to room temperature before adding the icing.
For the Icing:
Whisk together the eggnog and powdered sugar. If you want it more thick add more powdered sugar. If you want it more thin add more eggnog.