These Fireball Whiskey Pumpkin Cinnamon Rolls are made with pumpkin brioche and filled with cinnamon sugar and topped with a Fireball Cream Cheese Frosting.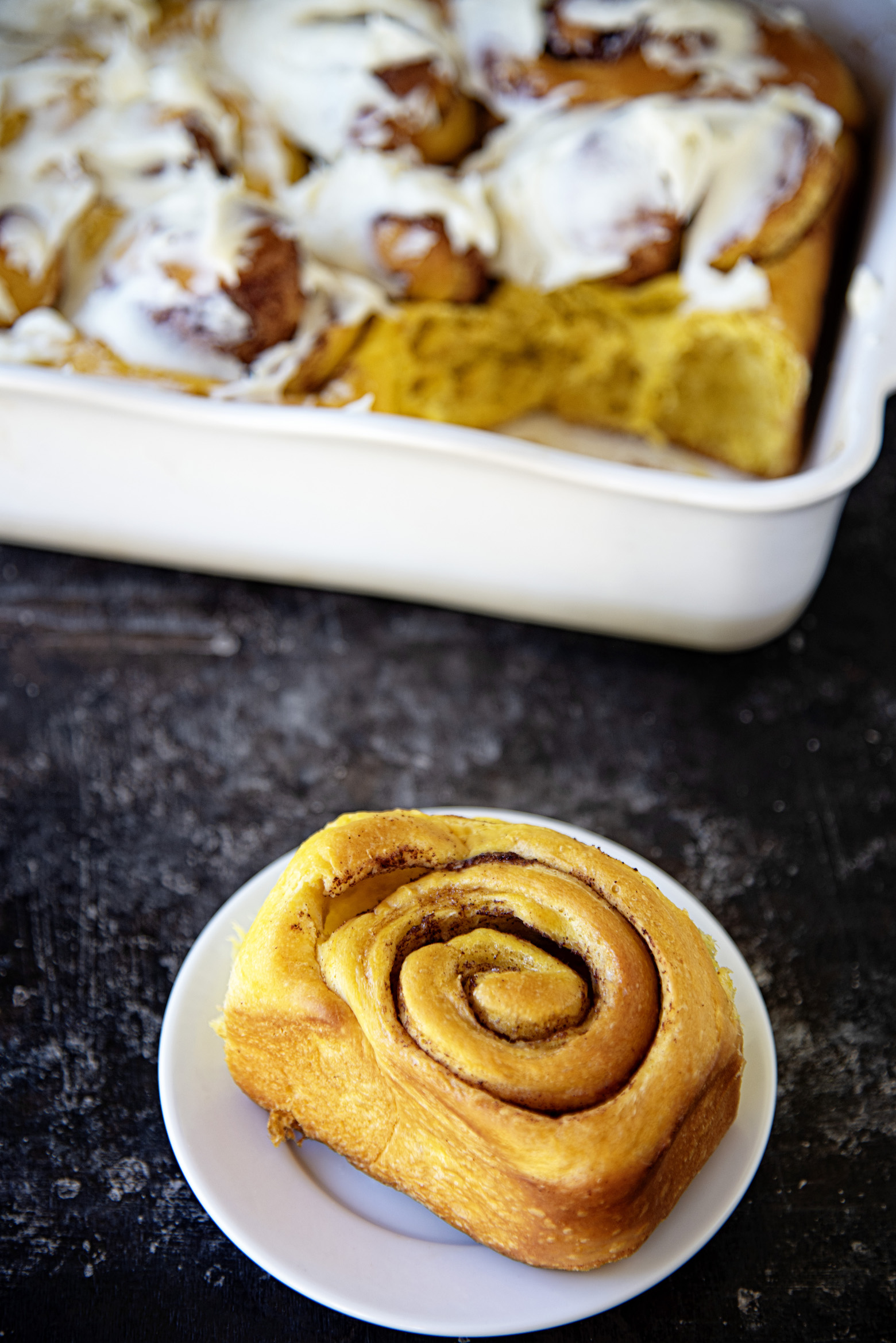 Pretty much everyone knows that the actor Chadwick Boseman passed this week.
He meant a lot to a lot of people.
I'll admit I have not seen the movie Black Panther.
I'm not a superhero kind of gal.
When my stepson was still in high school I watched all of them because he was very into the superhero movies.
But once he graduated in 2016 I haven't seen any.
I was shocked to find out how many Avenger movies there were (as I had only seen the first one). 🙂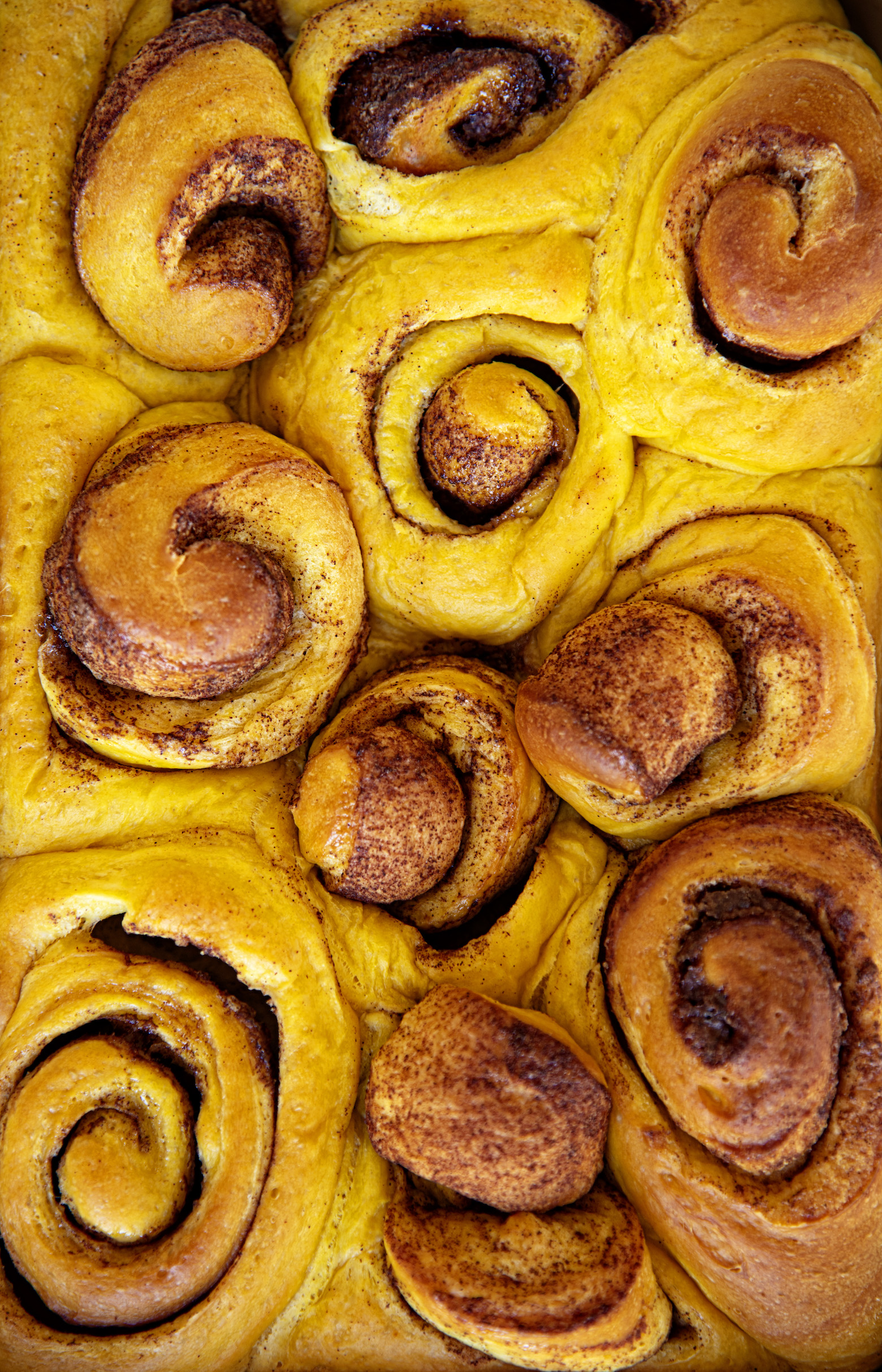 People have been sharing different stories.
Jimmy Fallon had shared the show where they had different people talk about how much it meant to them and their children to have a strong black main character.
I have seen people scoff that there are plenty of black actors and actresses.
And yes, there are black actors and actresses but they are almost always a supporting cast member.
This was a superhero in a mainstream film.
It wasn't a black superhero movie…just a superhero movie.
For me growing up as a chunky kid, teen, and then adult I didn't have much representation.
I mean sure there were plenty of white girls playing the lead in the teen movies growing up but they were all pretty.
And even the not pretty girls were pretty.
They just put glasses on them or told people they were awkward only to have them have a makeover and everything turns out great.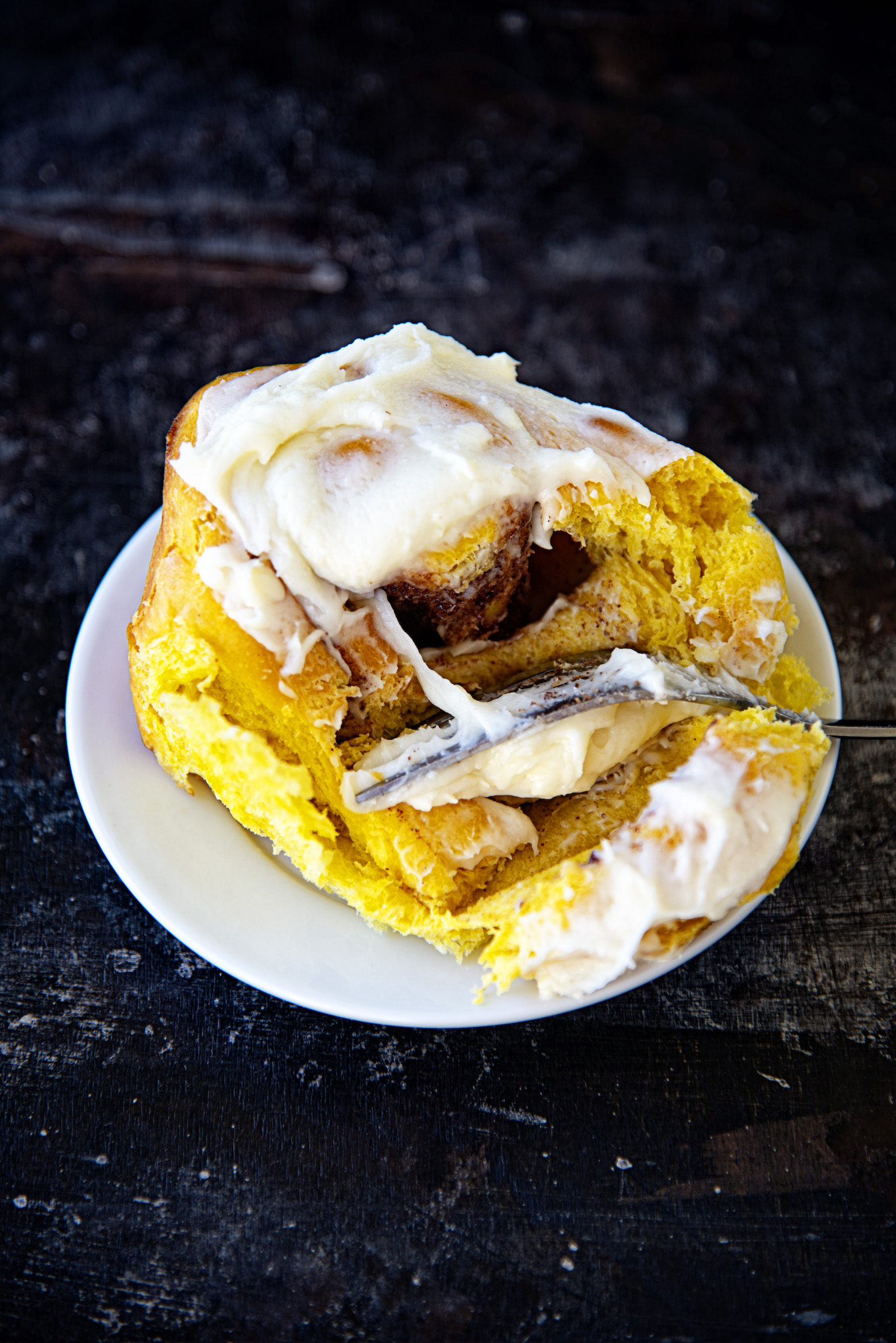 For overweight kids every story we had growing up told about how the fat kid finally lost weight at the end and all their problems were solved.
So for those of us growing up the message was always lose weight and. your life will be great.
Imagine the disappointment when you lost weight and life was pretty much the same.
Hairspray was popular because it had a fat girl getting the cute guy.
But even in that movie the main character and her friends are considered freaks.
Not really until This Is Us has a fat female been portrayed facing real struggles that overweight people deal with.
Bridget Jones Diary supposedly had fat Renee Zellweger who bravely gained 35 pounds.
Yeah, she wasn't fat.
Or Amy Schumer movies…where she is also not fat.
Those of us that are not white super American standard hot are rarely represented in the media.
So when you see an actor or actress representing you it can really mean a lot.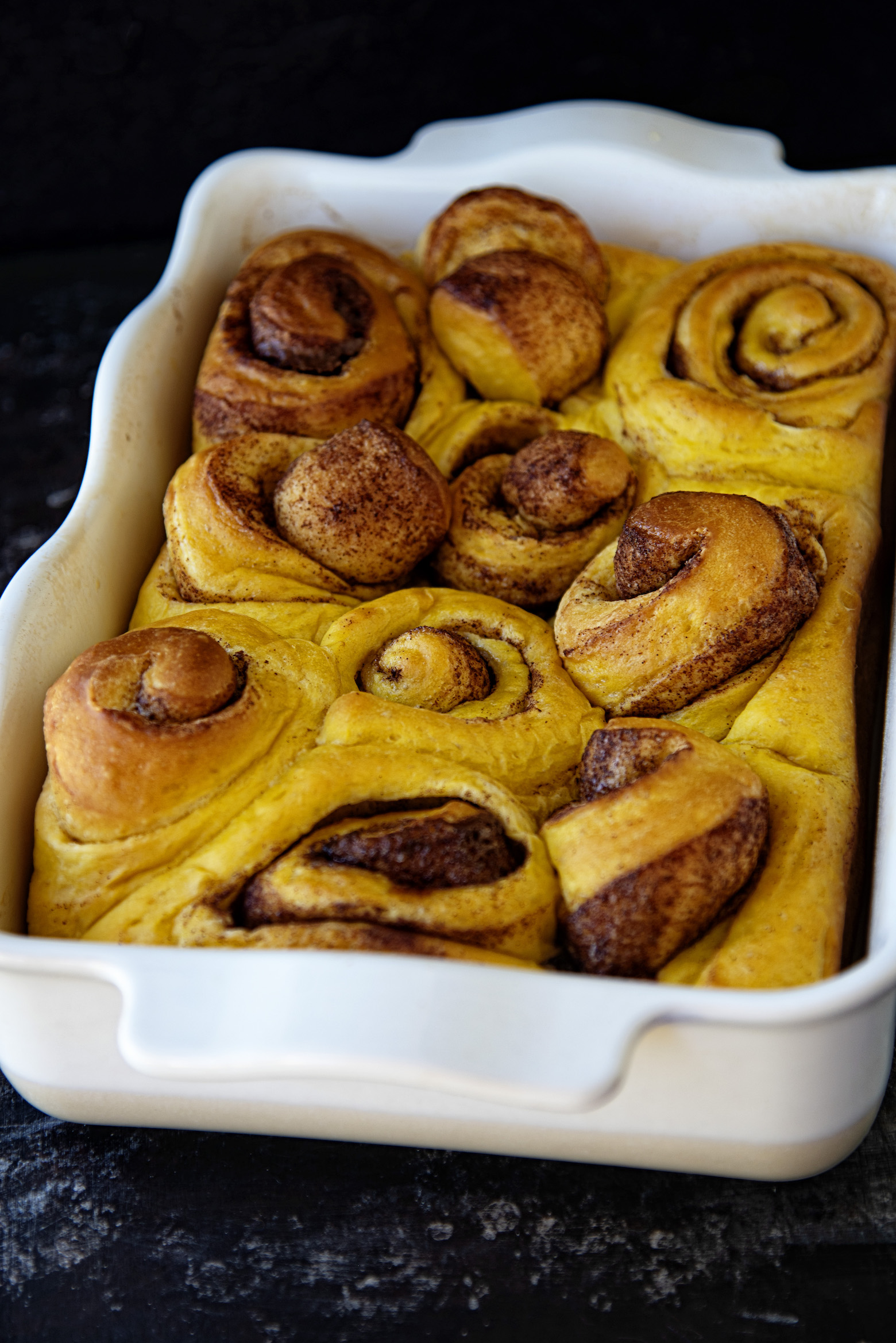 Representing pumpkin lovers are these Fireball Whiskey Pumpkin Cinnamon Rolls.
It's also representing carb lovers as well.
The pumpkin in these is very subtle.
Since there is no pumpkin pie spice you don't get a hit you over the head pumpkin taste.
The pumpkin just adds to make a very soft and yummy roll. I added Fireball Whiskey to the cream cheese frosting (which my hubby loved) because I had been working on a bonus recipe for my cookbook.
Which FYI comes out in two months now…you know you want to pre-order it. 😀
If you are not wanting the booze in this you can sub orange juice or milk for the whiskey.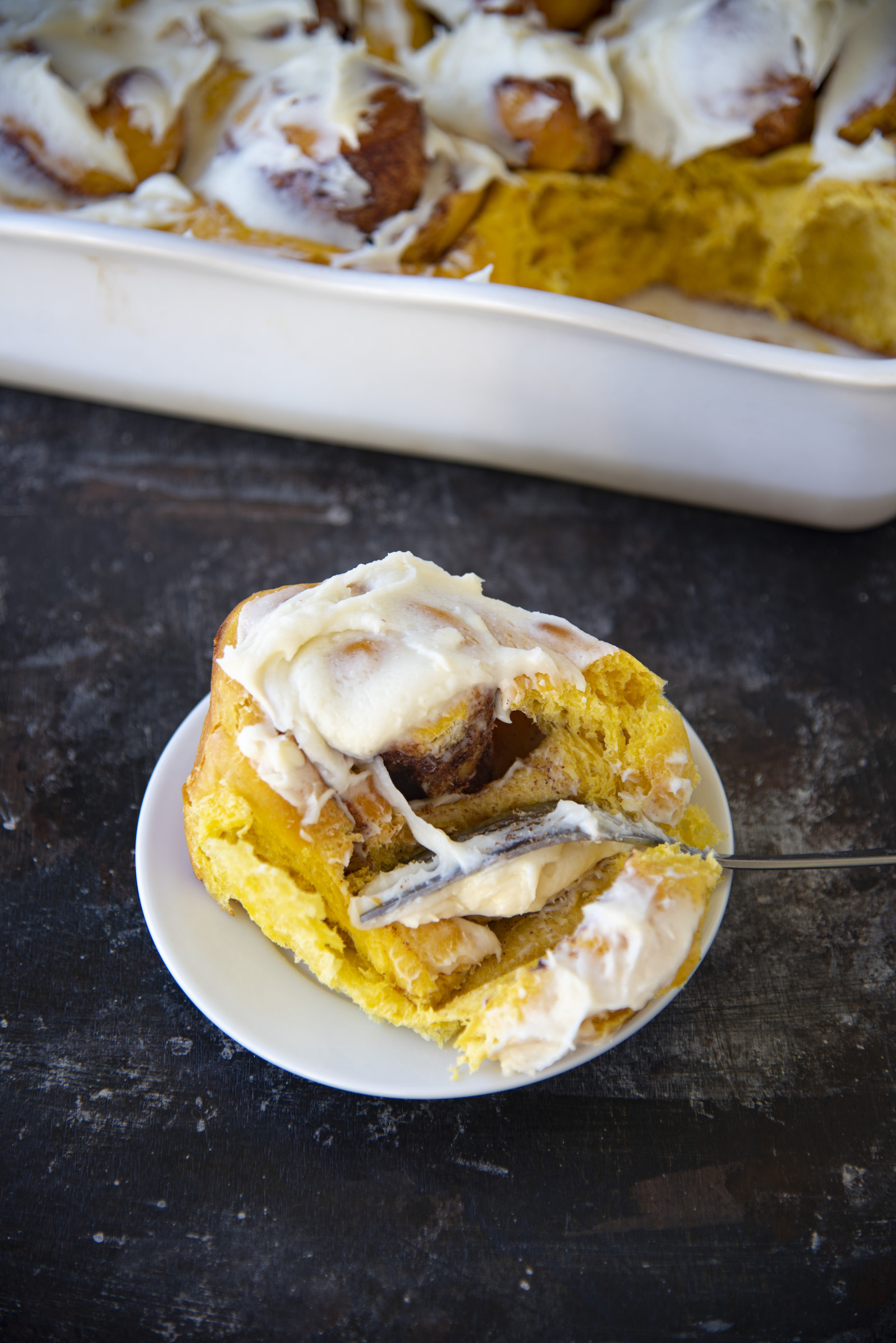 Want More Roll Recipes?
Pineapple Upside Down Sticky Buns
Bourbon Butterscotch Sweet Rolls
Chocolate Clementine Sweet Rolls
Bourbon Brown Sugar Caramel Peach Sweet Rolls
Ingredients
Pumpkin Brioche (you will only need 1/2 the dough):
For the Sponge:
¼ cup whole milk, at room temperature
2 ½ tsp. active dry yeast (I used Red Star Yeast Platinum)
1 cup pumpkin puree
1/3 cup granulated sugar
1 cup bread flour
For the Dough:
5 cups bread flour
2 tsp. salt
6 large eggs, lightly beaten
8 ounces (1 cup) unsalted butter, softened
For the Filling:
6 TBSP unsalted butter, super soft but not quite melted
1 cup packed brown sugar
2 TBSP cinnamon
For the Fireball Whiskey Cream Cheese Frosting:
8oz. cream cheese, at room temperature
4 oz. unsalted butter, at room temperature
4 cups powdered sugar
2 TBSP (or more) Fireball Whiskey
Instructions
For the Brioche:
For the Sponge:
Combine the milk and yeast in the bowl of a standing mixer fitted with a paddle attachment and whisk until the yeast is dissolved.
Let stand for 5 minutes, then stir in the pumpkin puree, sugar, and flour, forming a thick batter.
Cover with plastic film and let rest in a warm environment until bubbles form, 30-40 minutes.
For the Dough:
Add the flour and salt to the sponge, then add the eggs.
Mix on low speed for 2 minutes, or until the eggs are absorbed. Increase speed to medium and knead the dough for 5 minutes.
The dough will begin to slap around. Hold on to the mixer when necessary.
On medium-low speed, add the butter, 2 TBSP at a time.
Stop the mixer and scrape down the sides of the bowl occasionally.
(Recipe did not say to, but I switched to the dough hook at this point).
Knead until the dough is shiny and smooth, about 5 minutes.
Scrape out the dough, wash and dry the bowl, and coat it lightly with oil.
Place dough in the oiled bowl and turn it so that the top is coated with oil.
Cover with plastic film and let rise at room temperature until doubled in volume, about 2 hours.
After the dough has doubled in volume, press down to deflate, folding one half into the other.
Cover with plastic film and refrigerate for at least 4 hours or overnight. This is the second rise.
Remove brioche dough (that has chilled overnight) from the fridge.
Turn the dough out onto a lightly floured surface. Using a rolling pin, roll it into a rectangle approximately 12 by 16 inches.
Use a pastry brush(or your hands if you like to get messy) to spread 6 TBSP of butter around the rolled out dough, leaving an 1-inch margin at the top edge with no butter.
In a small bowl mix the brown sugar and cinnamon.
Sprinkle the cinnamon sugar evenly over the butter leaving the 1-inch margin.
Starting from the long side closest to you, roll up the dough like a jellyroll.
Transfer the log to a baking sheet, cover with plastic wrap and freeze for 10 minutes. This will make cutting the buns clean and even.
Remove from freezer, cut buns into 1 ½-inch pieces, you should get around 12-16.
Place them back onto a greased baking pan If you want regular cinnamon rolls spread them out so they don't touch. If you are making the loaf have them touching slightly.
Wrap with plastic wrap and let rise at room temperature for 1 ½ to 2 hours.
Preheat the oven to 400F. Bake buns for 10 minutes and reduce heat to 350F.
Bake for another 10-15 minutes depending on the size of your buns.
For the Frosting:
Using a stand mixer beat together the cream cheese and butter until fully combined.
Add powdered sugar, 1 cup at time.
Add the Fireball Whiskey to thin the frosting. If too thin add more powdered sugar. If too thin add more whiskey. If not wanting to use whiskey just use orange juice or milk.