Fruity Pebbles Salted Caramel Blondies: Fruity Pebbles Blondie base topped with salted caramel glaze and then topped with Fruity Pebbles Brittle for a fun treat.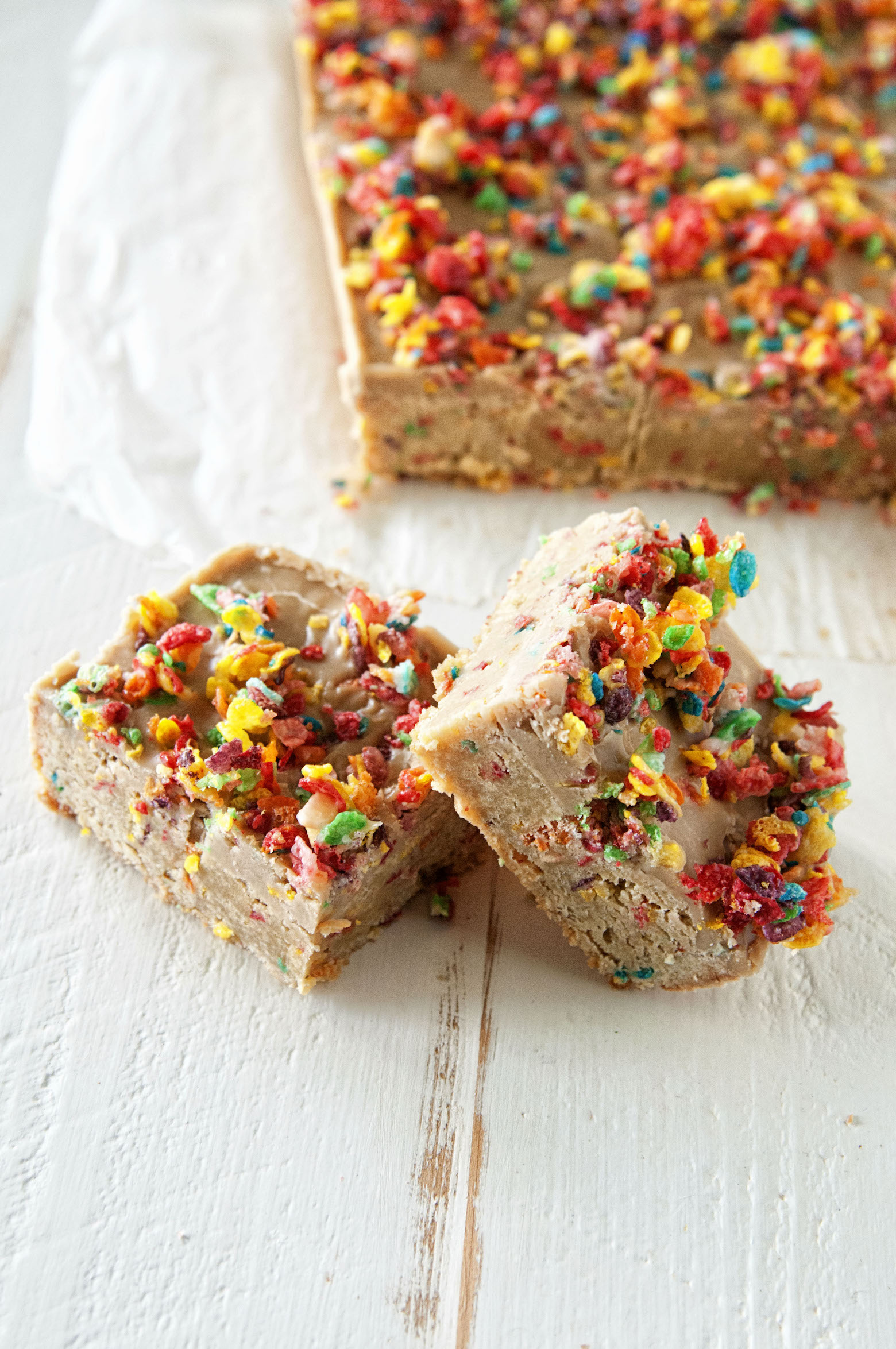 2018 has definitely been a challenging one.
As most of you know my husband had a heart attack in January.
Things were going well but he did have a few "sensations" like someone was startling him.
So when we went for his routine echocardiogram (the do it at the 2 month mark) the cardiologist suggested my husband have an angiogram.
For some fine tuning if you will. 
He obviously wasn't too thrilled with this.
Especially since his echocardiogram came back great, in fact his heart is at full function just after two months which they said would take about a year.
He is even off one of his heart meds already.
But when they go in and place a stent when you have a heart attack they look for the blockage and don't really explore.
My hubby and I were in a good routine and he didn't want to mess with that, I don't blame him, but we also figured 5 days off routine was well worth knowing if something else was going on.
Last week he went in for his angiogram.
The cardiologist expected to find nothing and we were to be home in the mid-afternoon, easy peasy.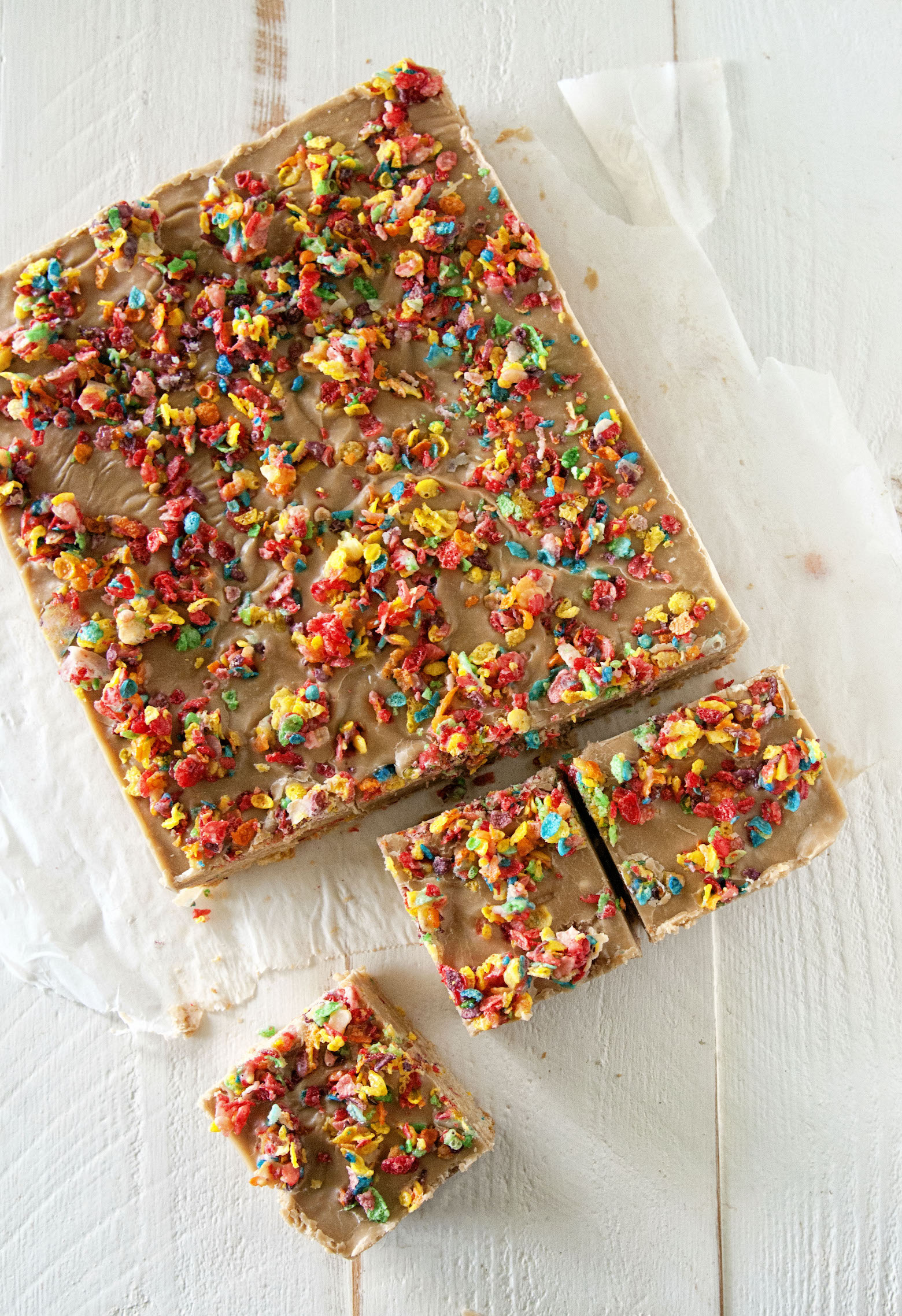 Except nothing about this year has been easy peasy.
The point of this angiogram was to stress the heart to see for any irregular activity.
He didn't have any narrowing or blockage anywhere but every time they moved the instrument down below his stent there was irregular activity.
So his angiogram went from routine to placing another stent just right under his other stent.
His first stent was fine but apparently another was needed below.
Better to have it done now but of course this meant some hospital time that we didn't plan on.
Luckily, after the heart attack we learned who was really there for us and we were able to lean on them again.
He is doing great and should be cleared for all activity again after tomorrow.
Tonight is our last hockey game of the season.
We didn't advance in the playoffs and so we show up in pj's and drink a little before we play. 🙂
And eat.
So I made these Fruity Pebbles Salted Caramel Blondies.
Sounds odd I know…but I don't tend to do normal.
I used salted caramel because the Fruity Pebbles are sweet and so it's nice to have just a touch of salt to balance them out a little.
Don't get me wrong these are still sweet, just not sickeningly so. 🙂
Hoping to get back to blogging much more and hoping life will stop throwing curve balls our way. 🙂
It's a great day to buy my cookbook.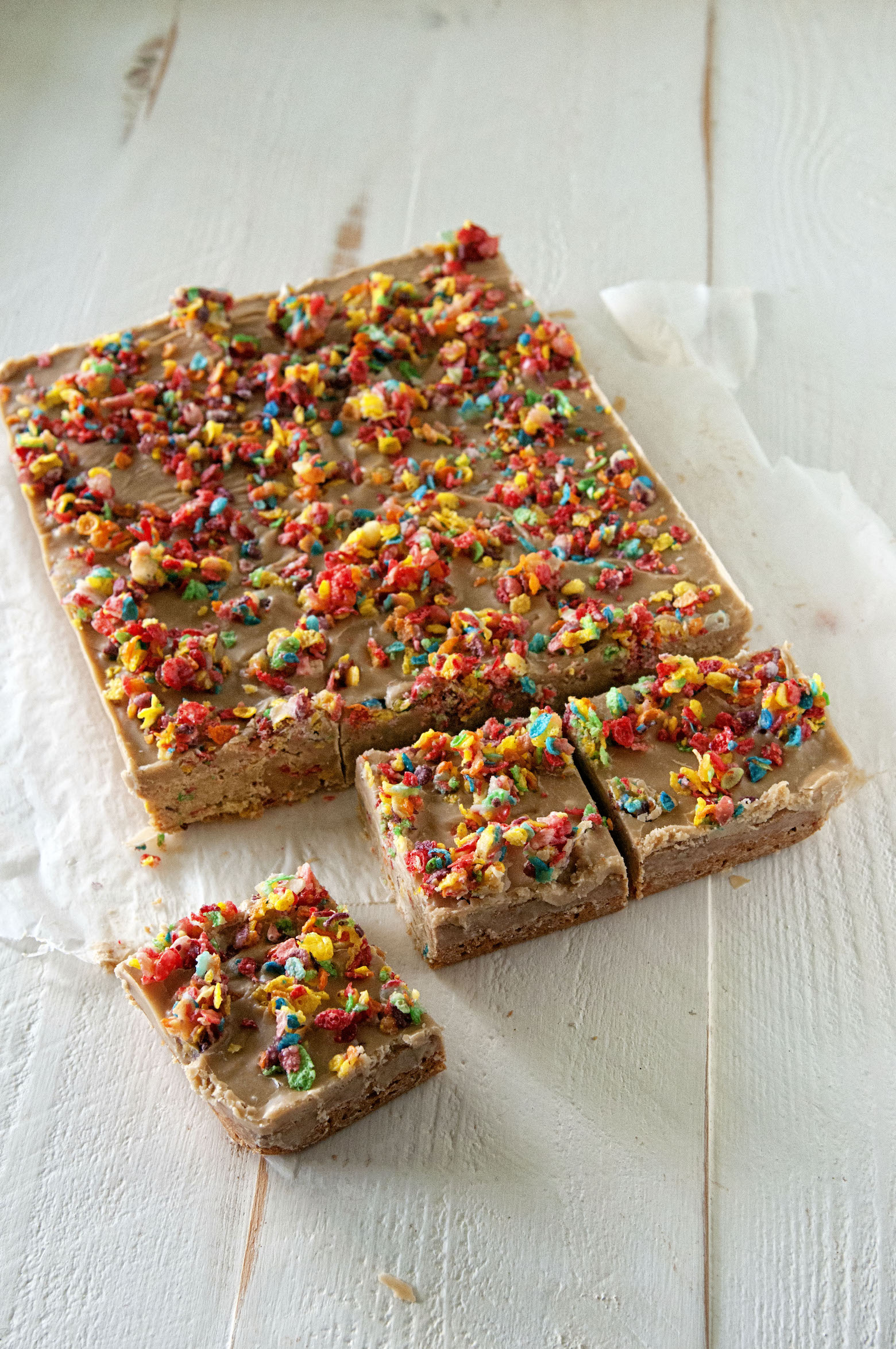 Want More Bar Recipes?
Birthday Cake Batter Cereal Blondies
Chocolate Chunk Churro Cookie Bars
Dried Cherry-Chocolate-Cashew Blondies
Ingredients
Fruity Pebbles Brittle:
1 ½ cups Fruity Pebbles Cereal
½ cup granulated sugar
1 TBSP water
1 tsp. Light corn syrup
Blondie Batter:
12 oz. unsalted butter, at room temperature
1 cup granulated sugar
1 ¾ cups brown sugar, packed
3 large eggs
2 tsp. vanilla extract
3 ½ cups all-purpose flour
1 tsp. salt
1 ¾ tsp. baking powder
1 1/2 cups Fruity Pebbles cereal
Salted Caramel Glaze:
3 oz. salted butter
¾ cup heavy whipping cream (try and us 36% or higher)
1 cup brown sugar, packed
1/4 tsp. salt
1 tsp. vanilla extract
1 cup powdered sugar
Instructions
Make the Fruity Pebble Brittle:
Place parchment paper on a baking sheet.
Measure the cereal out so you don't do what I do which was frantically do it when the caramel had formed.
Using a small saucepan (I recommend an older one that doesn't conduct heat well…you make less mistakes that way) add the sugar, water, and corn syrup, stir until combined.
Bring to a boil over medium-high heat.
Once mixture comes to a boil, lower heat to medium and boil until a medium-amber color forms, about 5 minutes.
If you aren't comfortable with making caramel this is why an older pan that doesn't conduct heat as good helps…when you have a good pan/pot you can often go from amber to burnt in no time. But one that doesn't conduct heat as well helps with it not going to burnt. It also means it may take longer to turn to the amber color but better safe than sorry.
Remove from heat and add the cereal, making sure to coat all the cereal with the caramel.
Pour out the caramelized cereal onto the parchment paper on the pan.
Spread it out as best you can.
Let cool to room temperature. Set aside you won't need it for a while.
For the blondie batter:
Preheat oven to 350F.
Spray a 9×13-inch baking pan with baking spray.
Place aluminum foil or parchment paper into the pan and have it form an overhang to make removal of the blondies easier.
Spray baking spray on the foil or parchment.
Using a stand mixer with the paddle attachment, beat together the butter and sugars, until light and fluffy, about 3 minutes.
Add the eggs one at a time and scrape down the bowl and sides after each addition.
Add the vanilla and beat another 30 seconds.
Add the flour, baking powder, and salt and mix on low speed and mix until fully combined.
Fold in the Fruity Pebbles cereal.
Scrape the batter into the prepared pan and spread evenly (as best you can).
Bake for 20 minutes at 350F. Then lower the oven to 325F and bake for another 16-18 minutes or until a toothpick or knife inserted comes out clean.
Cool on a wire rack for at least 15 minutes.
Make the Glaze:
Cut butter into 8 slices.
Place the butter slices, cream, and brown sugar into a small saucepan.
Cook over medium heat, stirring occasionally, until the butter has melted.
Once melted turn up heat to medium-high and bring to a full boil, boil for two minutes without stirring.
Remove from pan and add vanilla and salt.
Let sit at room temperature for 30 minutes.
Add sifted powdered sugar (I was lazy and didn't sift) and whisk until it forms a smooth glaze and you don't see any stray powdered sugar.
Pour glaze over the blondies, use a spatula to distribute the glaze evenly.
Chop up the Fruity Pebbles cereal brittle with a knife into ¼-inch pieces.
Immediately sprinkle them over the glaze (push down a little) so that when the glaze cools they will stay put.
Cool for 30 minutes.
And now the hard part…put in the fridge for at 7-8 hours or overnight. Told you that was hard because you really want to eat them.
Remove from fridge.
Run a knife around the edges so that removal will be easier.
Since it's refrigerated pretty good you can just tilt it on it's side…if they don't come out tug a little on the foil or parchment to get it to come out.
Cut with knife and serve.
Mine made 12 big ones but you can cut smaller and get 24.