Everything Bagel Cheesecake: Savory cheesecake made with cream cheese and white cheddar all on top a homemade bagel bottom dotted with everything bagel drops.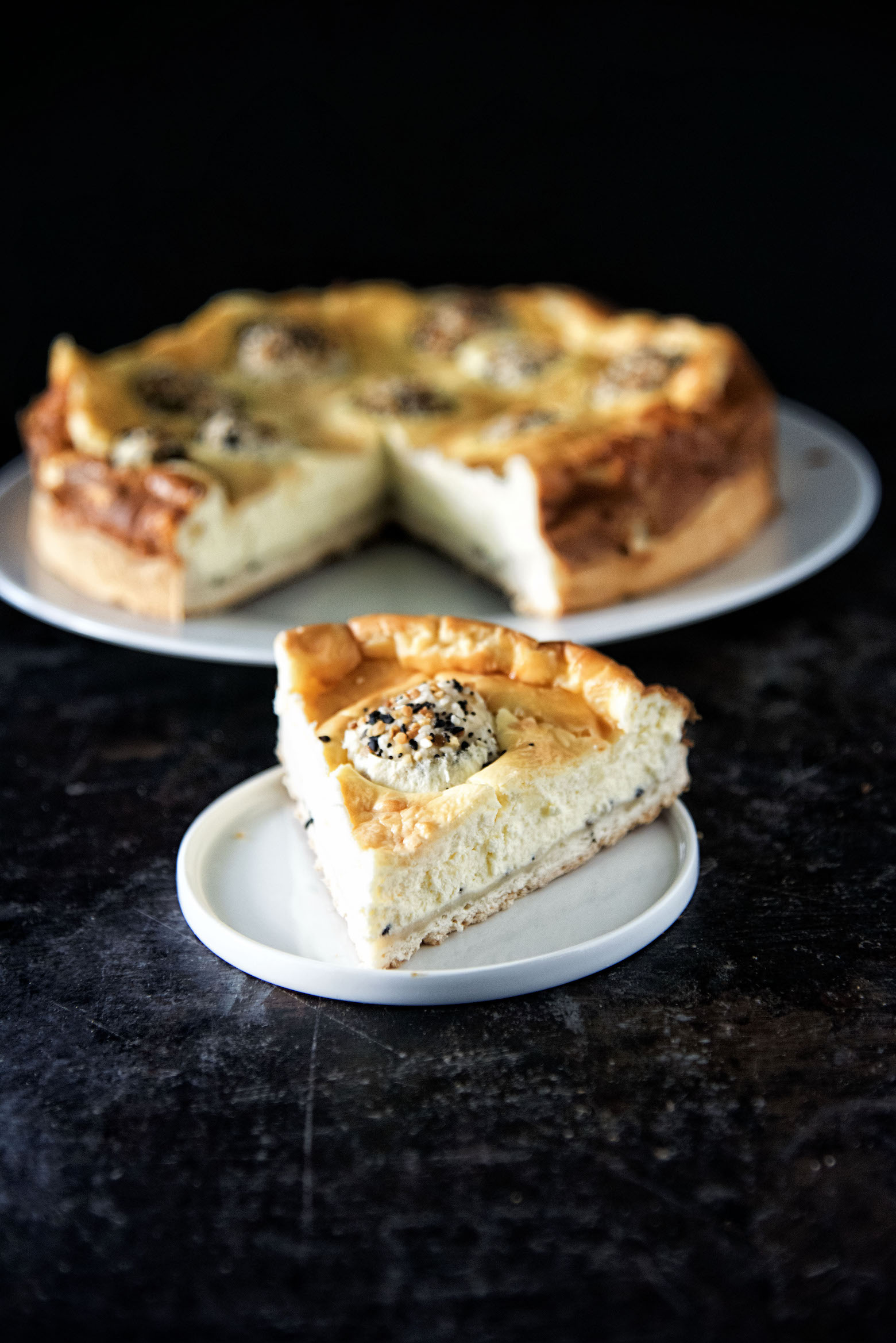 So first to the bagel purist (because you are out there) I am aware this is not truly a bagel.
The crust didn't get boiled.
Thought about boiling the dough balls but really it turned out great without doing that.
I've been thinking about this idea for awhile.
I am a big fan of savory cheesecakes.
One of my first recipes on here was my Blue Cheese Cheesecake with Onion-Pear Jam.
People thought it was weird.
A savory cheesecake?
The brave souls that tried it loved it.
LOVED it.
Many, many emails over the years telling me they have it every year at Christmas…we do too.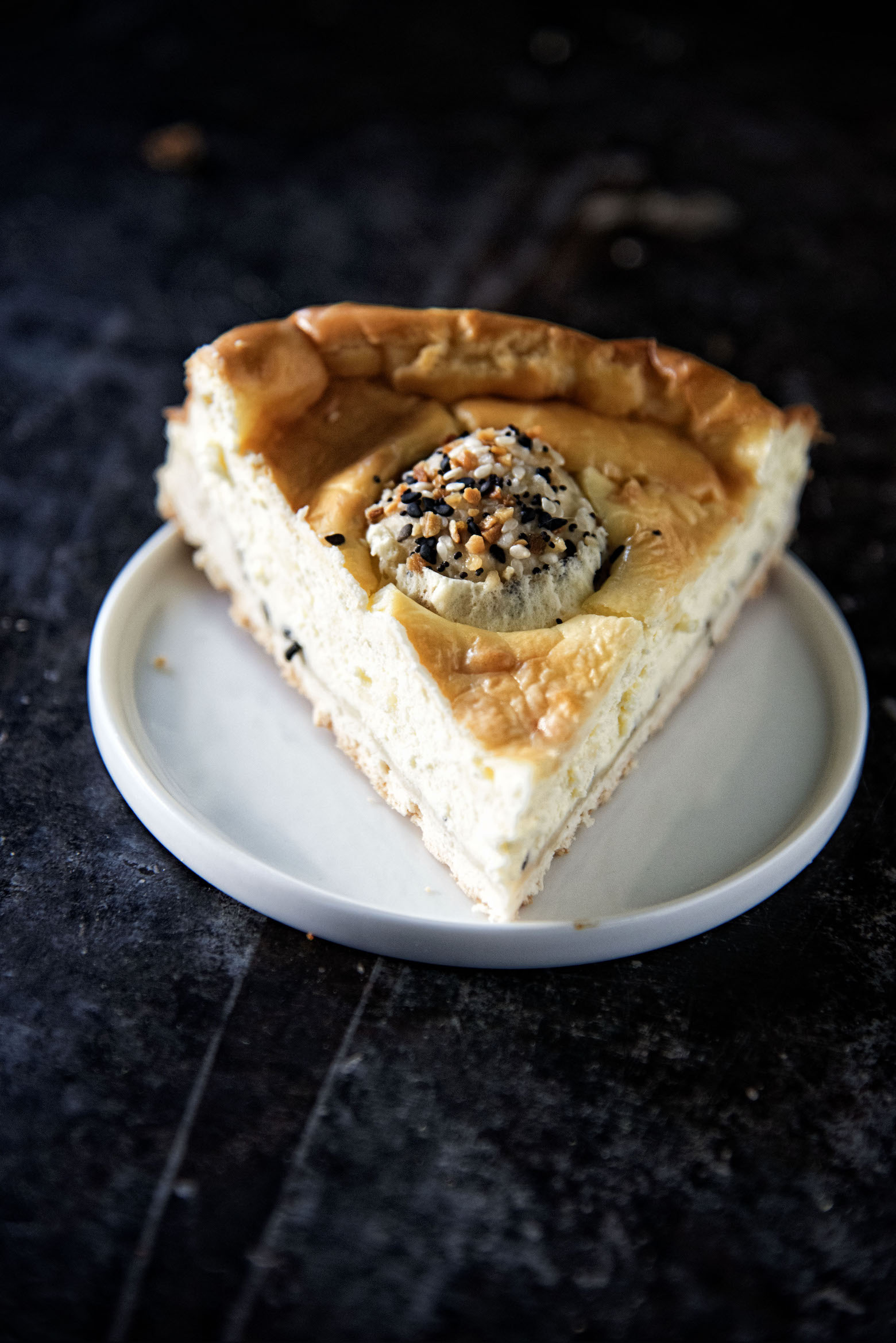 But as much as I love that cheesecake I was wanting to create another party cheesecake.
This one is extra awesome because of the bagel bottom makes it portable.
You can walk around eating it while mingling.
I buy my Everything Bagel Seasoning at Trader Joe's but if you can't find it you can make it.
If you are an Everything Bagel fan this cheesecake is for you.
Try it at your next party.
Just make sure to bring some breath mints since it is onion and garlic. 🙂
P.S. It's a great day to order my cookbook.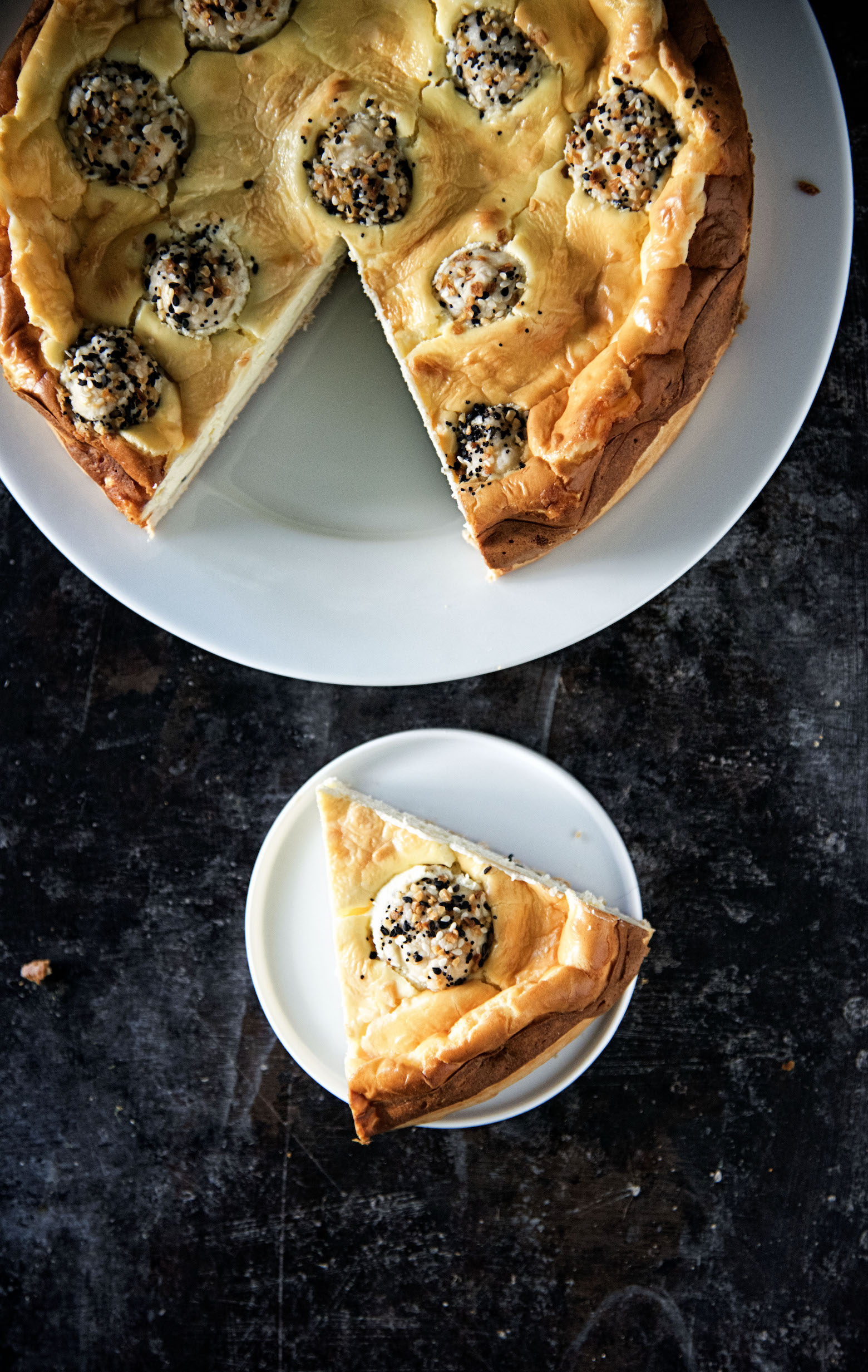 Want More Cheesecake Recipes?
Pumpkin Salted Caramel Swirl Cheesecake
Caramel Apple Toffee Cheesecake
Ingredients
For the Bagel Dough:
1 3/4 cup Bread Flour
1 TBSP granulated sugar
3/4 tsp. salt
1 tsp active yeast
3 TBSP unsalted butter, melted and cooled
3/4 cup water (110F)
For the Filling:
16 oz. cream cheese, at room temperature
3 eggs
3 TBSP all-purpose flour
1/4 tsp. salt
1/4 cup heavy cream
7 oz. white cheddar cheese, cut into tiny cubes or shredded
1/3 cup Everything Bagel Seasoning
Instructions
For the Bagel Dough:
 Using a stand mixer with dough attachment, place the bread flour, yeast, granulated sugar and salt. Make sure that the salt is not side by side or in direct contact with the yeast.
Use a handheld whisk to combine well.
Add 3/4 cup water and slightly melted butter, and mix on low-speed with the dough hook until combined.
Raise the mixer speed to medium and kneed for about 10 minutes.
The dough should be smooth and thick, but slightly sticky. If the dough is too wet, add 1-2 tbsp flour.
Take about a baseball size of dough and set it aside.
Grease a 9-inch Springform pan with baking spray and pat the remainder of the dough into the pan to form a crust.
Let dough rest while you make filling.
Cheesecake Filling:
Using a stand mixer with the paddle attachment beat the cream cheese and heavy cream until smooth.
Add the eggs, one at a time, scraping down the bowl after each addition.
Add the flour and salt and beat until fully combined.
With mixer on low add the cheddar cheese and mix until combined.
Sprinkle the bagel dough crust with 1 TBSP Everything Bagel Seasoning.
Pour the cheesecake filling on top of the dough. Spread evenly with a spatula.
Take the remaining dough that was set aside and form 10 small dough balls.
Place Everything Bagel Seasoning on a plate.
Dip each dough ball into water and then roll it into the seasoning.
Do this to all the balls.
Place them randomly onto the cheesecake, trying to distribute so that each piece of cheesecake will have at least one, and press down to help keep them in place.
Bake at 350F for 45-50 minutes.
Remove from oven and let cool.
You can serve this at room temperature or cold. I like it about 15 minutes out of the fridge.