These Eggnog Spiced Rum Caramel Sticky Buns have an eggnog based cinnamon roll baked in a sticky spiced rum caramel sauce.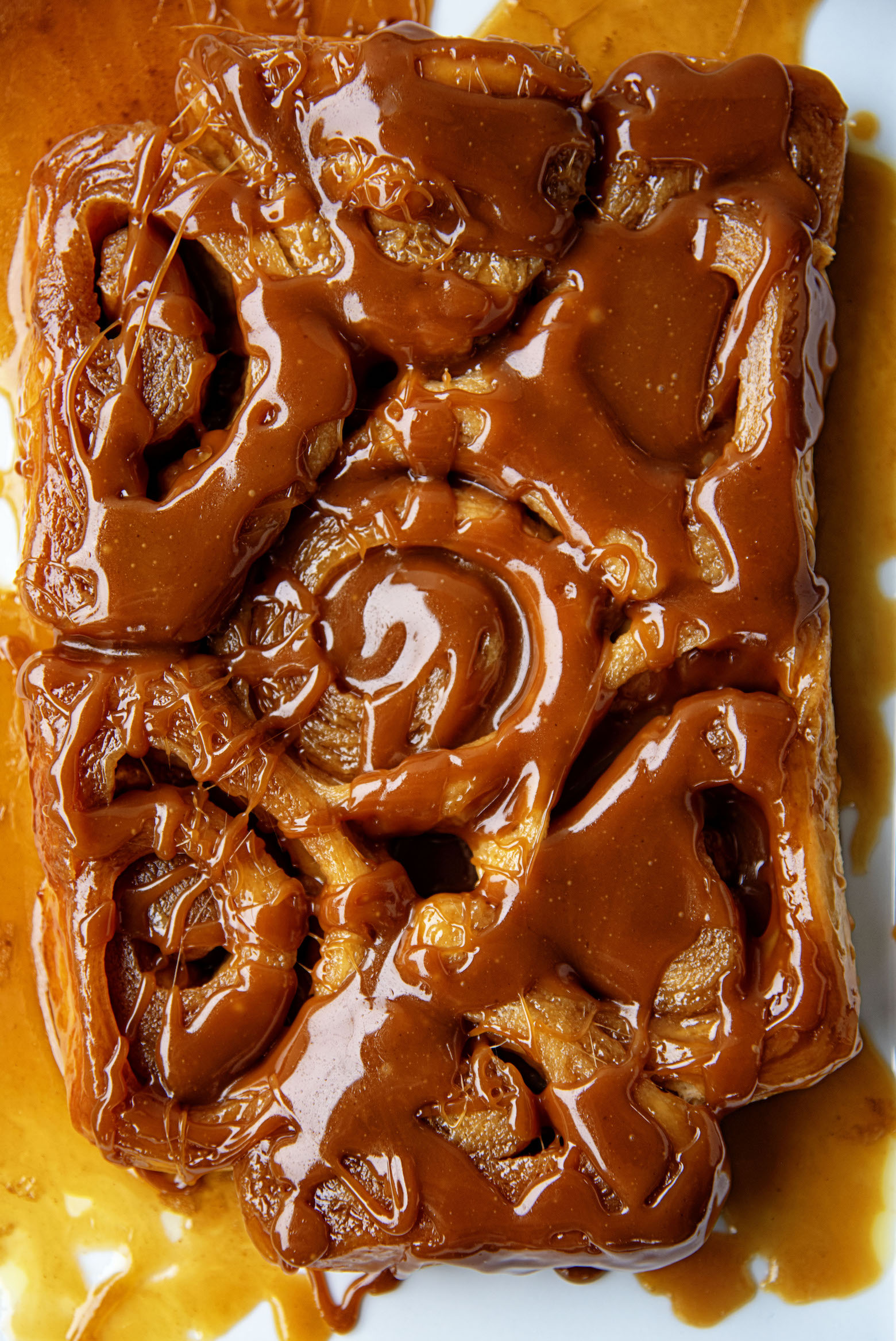 December 26th is so very lackluster to me.
It's been that way since I can remember.
As a kid you look forward to Christmas for so long.
The anticipation.
And then in a frenzy you open all your stuff and that's that.
Plus people want you to flip a switch and turn off all your holiday cheer.
Toss your eggnog and peppermint everything to the side.
Stop holiday baking.
Start obsessively talking about how fat you are and what diet you will try this year.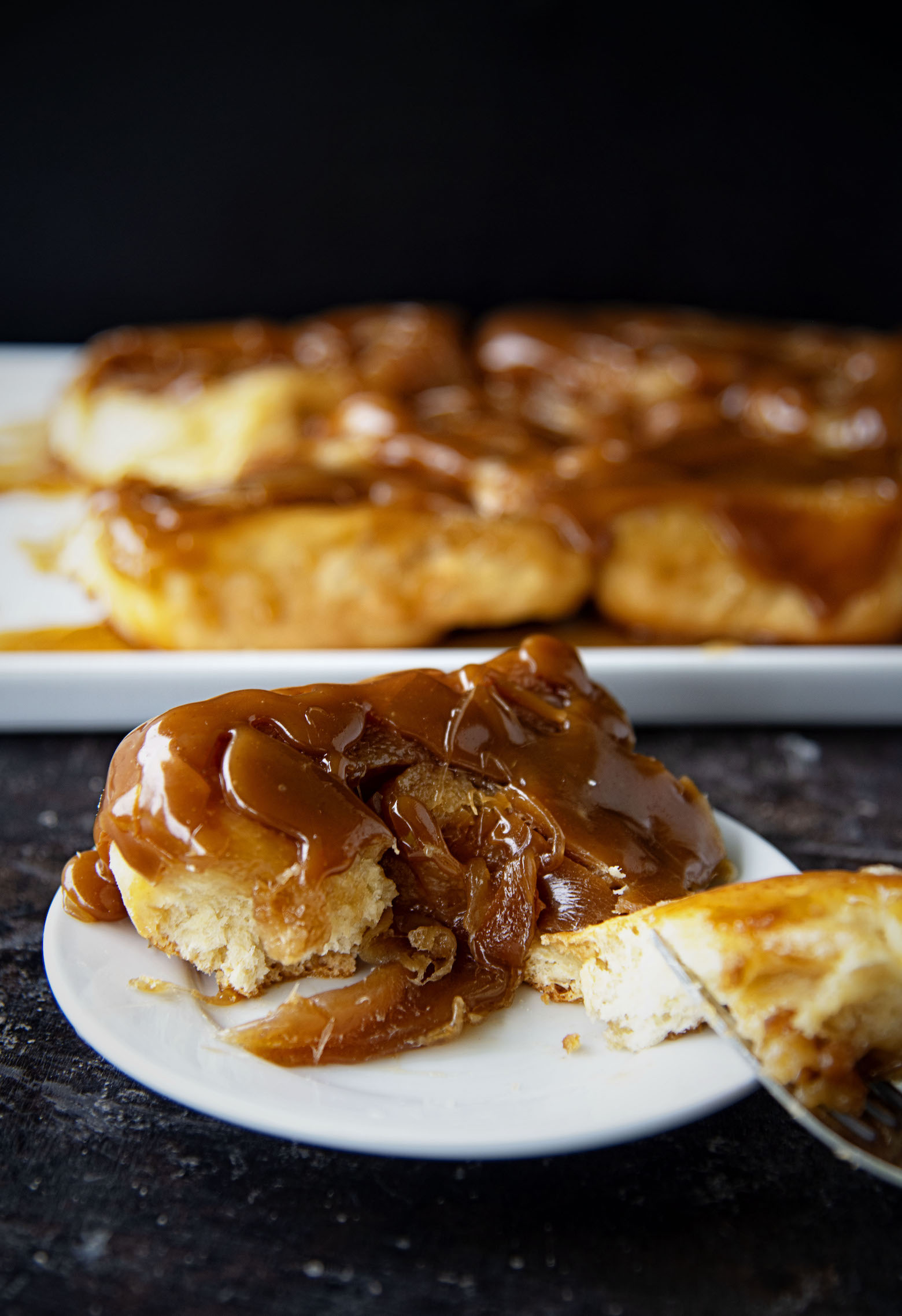 But not me.
I still continue to celebrate no matter how long that will be.
Some years I take my tree right down after the new year.
One year it stayed up until April (don't worry I have a fake tree).
I'm currently drinking a peppermint hot chocolate coffee.
With whipped cream.
And sprinkles.
In a gingerbread mug.
I use my holiday mugs all year round.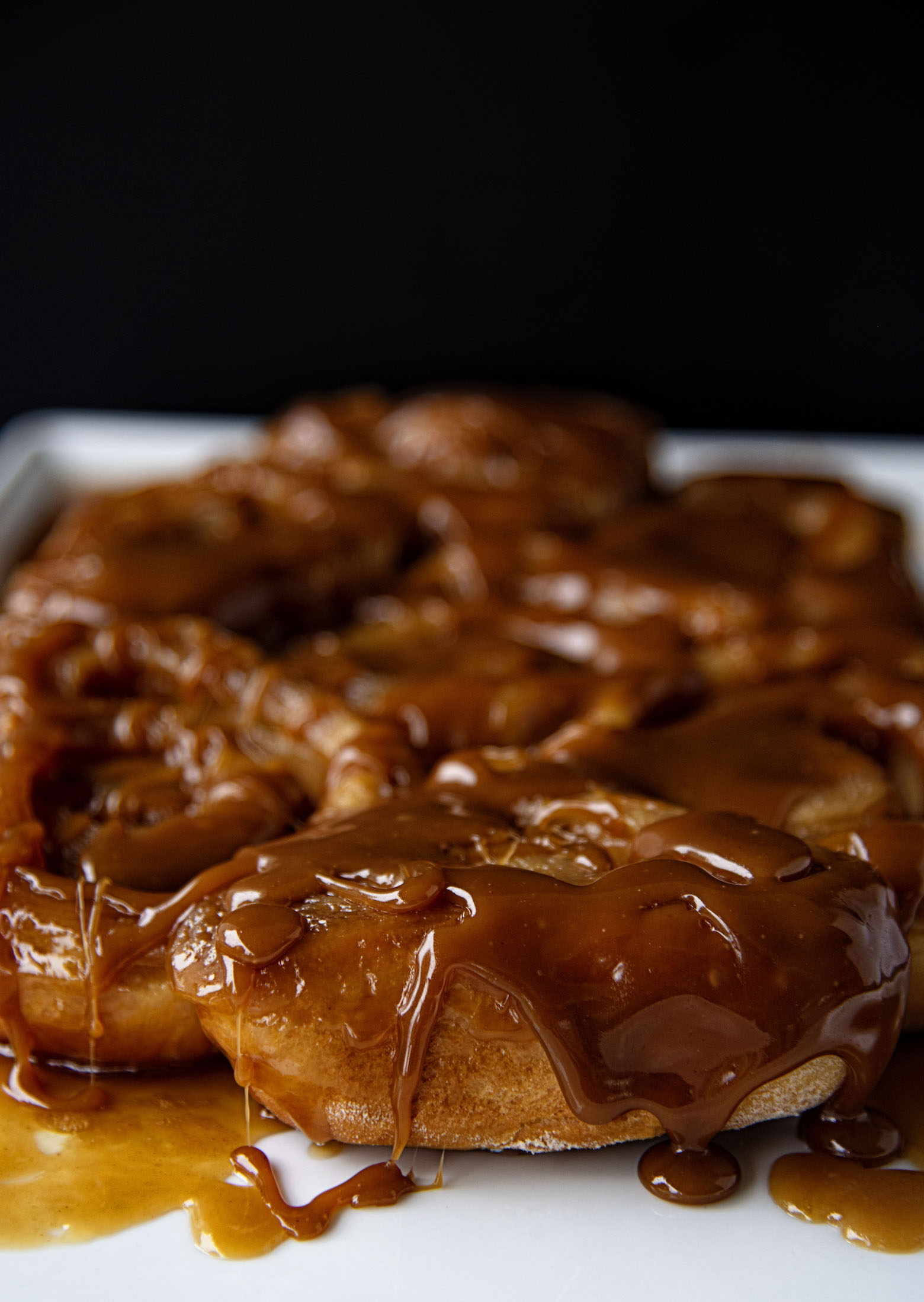 And I have leftover eggnog.
Which almost everyone who drinks eggnog (my husband does, I don't) usually does.
While I made these Eggnog Spiced Rum Caramel Sticky Buns before Christmas, I made a batch of Eggnog Snickerdoodle Muffins this morning with our leftovers.
So if you are not the type of person who wants the holidays to end…they don't have to.
Oh, and if you are wondering why my caramel sauce is placed so perfect and looks firm it's because it was so dark I had to photograph them outside.
When it was 24F.
And so my sticky bun sauce froze up.
Yours won't do this.
Unless of course you are eating them in 24F weather.
P.S. It's a great day to buy my cookbook Holy Sweet!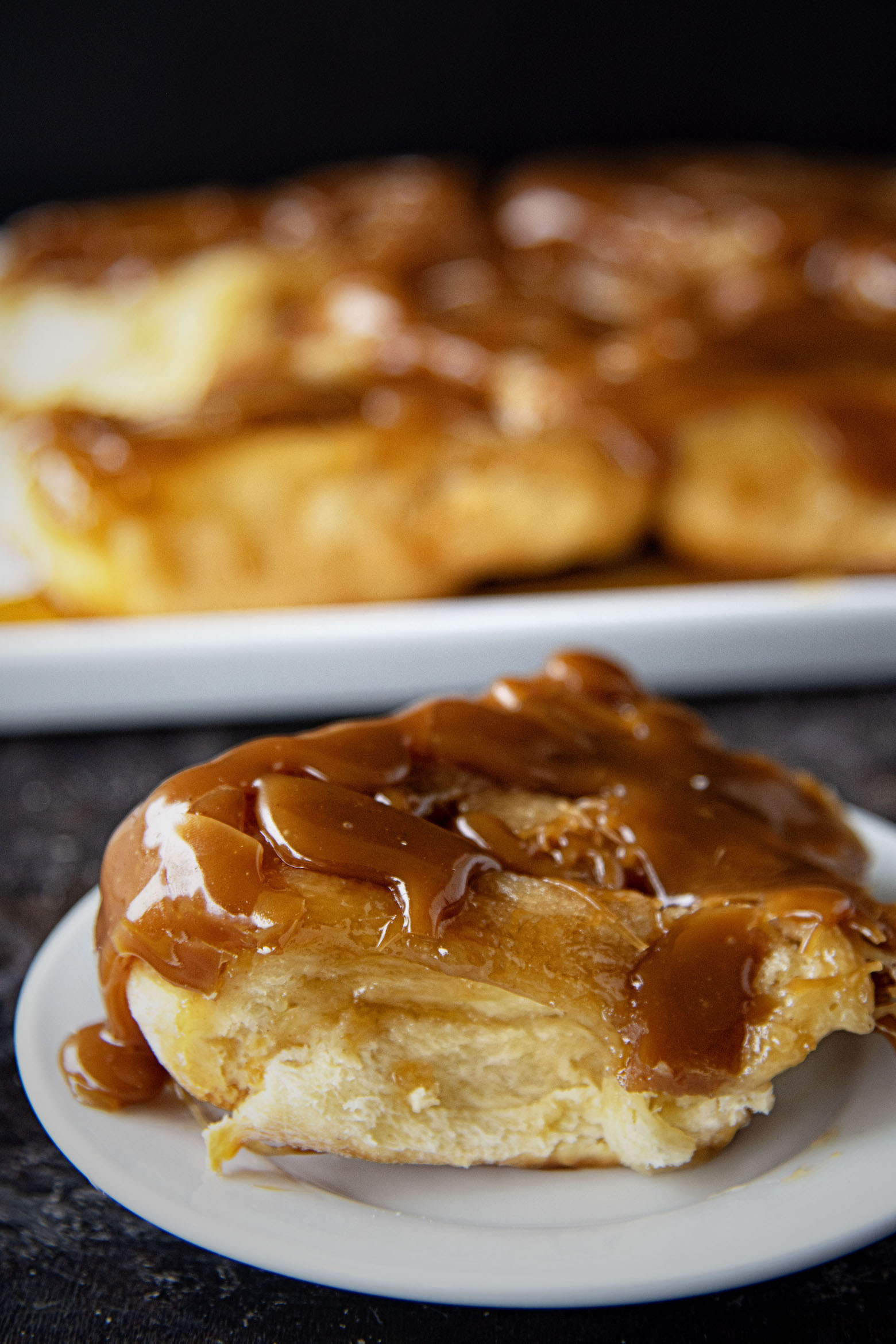 Want More Bun and Sweet Roll Recipes?
Pineapple Upside Down Sticky Buns
Bourbon Butterscotch Sweet Rolls
Chocolate Clementine Sweet Rolls
Bourbon Brown Sugar Caramel Peach Sweet Rolls
Bourbon Frosted Fruitcake Cinnamon Rolls
Ingredients
For the rolls:
1/2 cup full fat eggnog, 110 – 115F
1 TBSP active dry yeast (I used Red Star Yeast Platinum)
1/2 tsp granulated sugar
1/2 cup full fat eggnog, at room temperature
1/2 cup plus granulated sugar
2 large eggs
1 tsp. salt
1 tsp. vanilla extract
6 TBSP unsalted butter, melted and slightly cooled
3 1/2 – 4 cups bread flour
For the filling:
6 TBSP unsalted butter, super soft but not quite melted
1 cup packed brown sugar
2 TBSP cinnamon
For the Sticky Bun Sauce:
1 1/2 cups (3 sticks) unsalted butter
2 1/2 cups brown sugar, tightly packed
2/3 cup corn syrup
3 TBSP spiced rum
Pinch of salt
Instructions
Using a stand mixer with the paddle attachment add the yeast, warm eggnog, and 1/2 tsp. granulated sugar.
Let rest for 5-10 minutes to proof…the batter will puff up. If it does not then your yeast is bad and rolls won't rise so best to throw out and start again with different yeast.
Add in the remaining 1/2 cup eggnog, eggs, 1/2 cup granulated sugar, salt, vanilla, and melted butter and mix until fully combined.
Add in 2 1/2 cups of the flour and mix until fully combined.
Switch to a hook attachment then add another 1 cup flour. Knead mixture until combined.
 Continue to knead on low speed about 5 – 6 minutes while adding a little more flour as needed to reach a soft and moist dough (Dough shouldn't stick to the sides of the bowl but does stick to the bottom).
Transfer dough to an oiled bowl, cover with plastic wrap (I find press and seal works best)  and let rise in a warm place until doubled in volume, about 1 1/2 hours.
For my rolls I used a jelly roll pan. I don't suggest this as I bubbled over…and I was going for more of an effect for photography purposes. 🙂 Use a 9-x-13-inch pan.
With 20 minutes left in the rise start to make the sticky bun sauce.
In a large saucepan melt the butter.
Add the brown sugar, corn syrup, and salt and bring to a low boil.
Remove from stove top and add the spiced rum. Mix until fully combined.
Pour the sauce evenly into the pan.
You can let sit. It will start to get hard but that is fine as once baked it will get gooey again.
Punch dough down.
Dust a working surface lightly with flour and turn dough out onto surface.
Sprinkle top of dough with a little flour then roll dough out into an 20 by 18-inch rectangle.
 Spread the softened butter evenly over entire surface (hands work best).
In a small mixing bowl whisk together brown sugar and cinnamon. Sprinkle and spread brown sugar mixture evenly over butter layer (try to leave about 1/2-inch border uncovered along all edges).
 Beginning on an 18-inch side tightly roll dough into a cylinder. Pinch the seam to seal (brushing a little egg white underneath helps if needed or I just use a toothpick).
Cut into 12 equal portions using a large sharp knife (they should be 1 1/2-inch each).
Arrange rolls, spacing evenly apart on top of the Sticky Bun Sauce.
Cover with plastic wrap loosely.
Let rise in a warm place until doubled in volume, about 1 1/2 hours. Preheat oven to 350F near the last 20 minutes of rolls rising.
 Bake rolls in preheated oven until centers are no longer doughy, about 25-30 minutes.
Rolls and sauce will be hot but you need to flip your rolls out onto a platter or you can be on the safer side and remove with a spatula and then spoon the sauce on top.
Serve immediately.
If you have leftovers the sauce will harden a little just pop on a plate in the microwave for about 20-30 seconds and you will be good to go.