This Eggnog Cinnamon Sugar Babka has an eggnog dough, cinnamon sugar filling, and topped with a thick eggnog spiced rum glaze.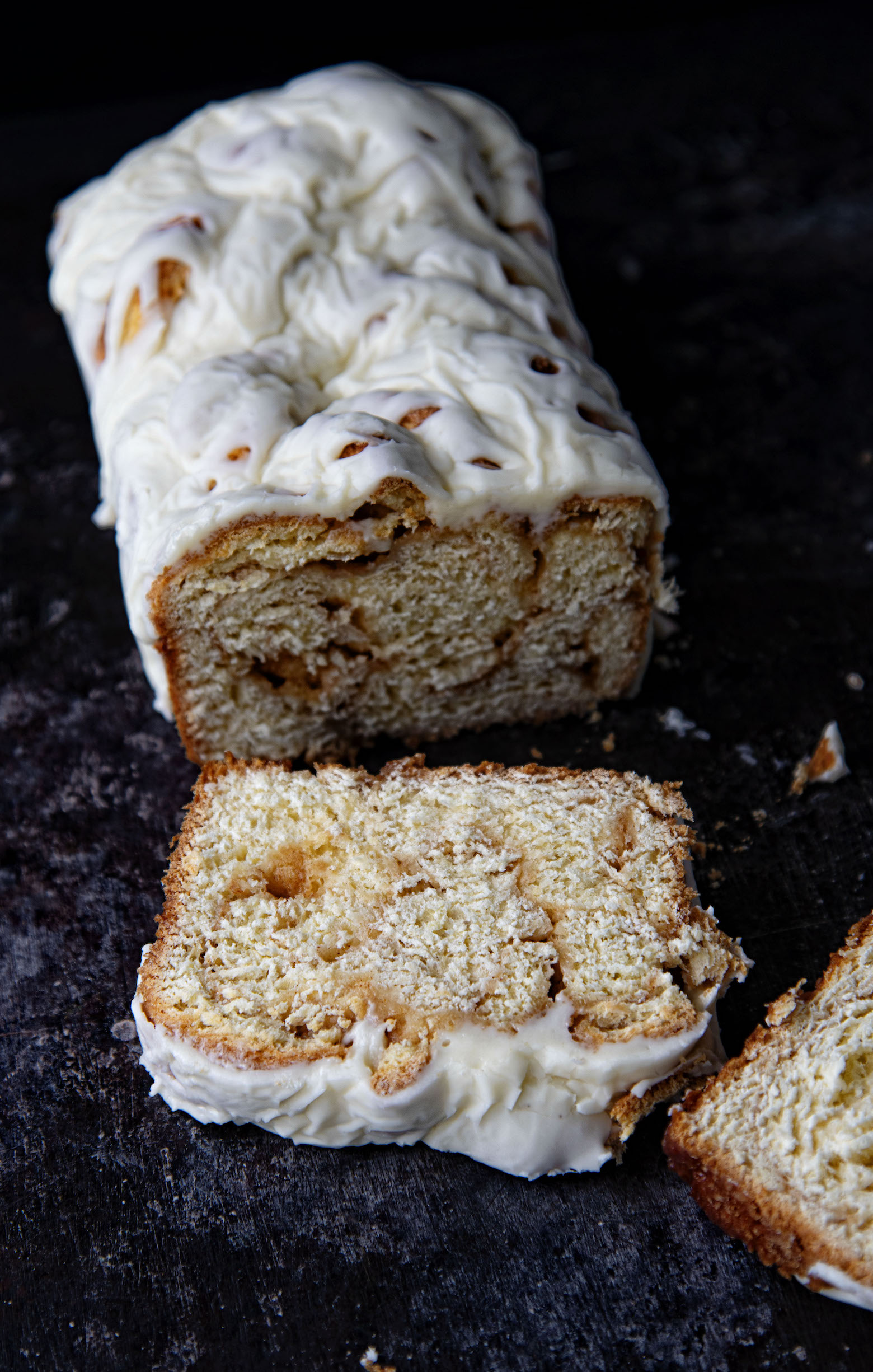 The advent calendar is closing in on the 25th.
As always I'm not even close to being ready.
And because I have so much to do I of course decided to make babka instead.
I got a fresh shipment of Platinum Yeast from Red Star and so needed to break it in.
With half a bottle of homemade eggnog sitting in the fridge I knew eggnog would be involved.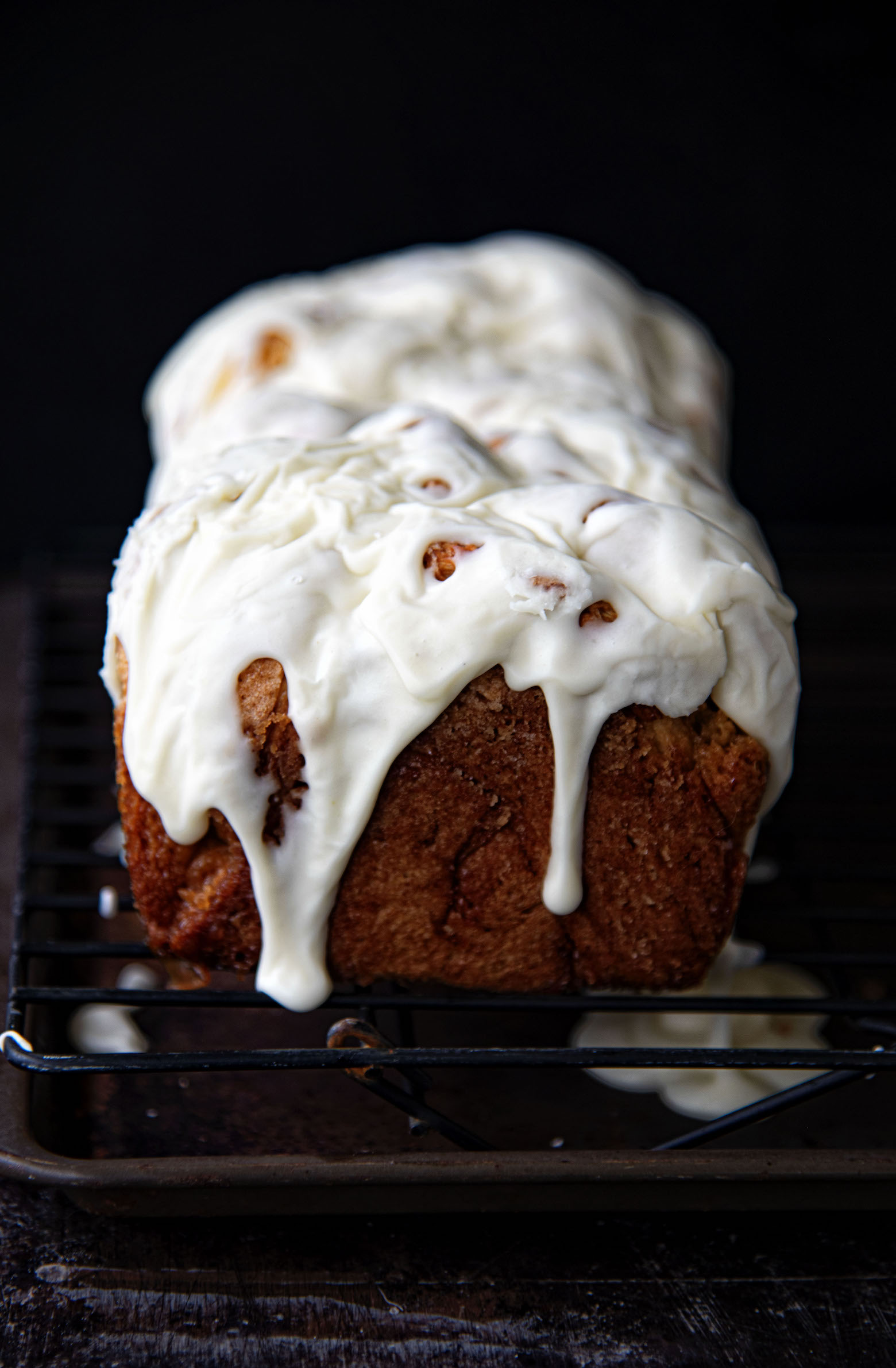 My husband likes to drink eggnog but I do not.
But we both love eggnog flavored baked goods.
You can find tons of them on here.
I have a Eggnog Chocolate Fudge Bundt Cake that is wildly popular on Pinterest.
Bourbon Soaked Eggnog Fruitcake Pound Cake is for those who love eggnog and fruitcake.
Breakfast is wonderful with my Eggnog Doodle Muffins.
And my person favorite my Eggnog Cupcake with Spiced Rum Caramel Buttercream.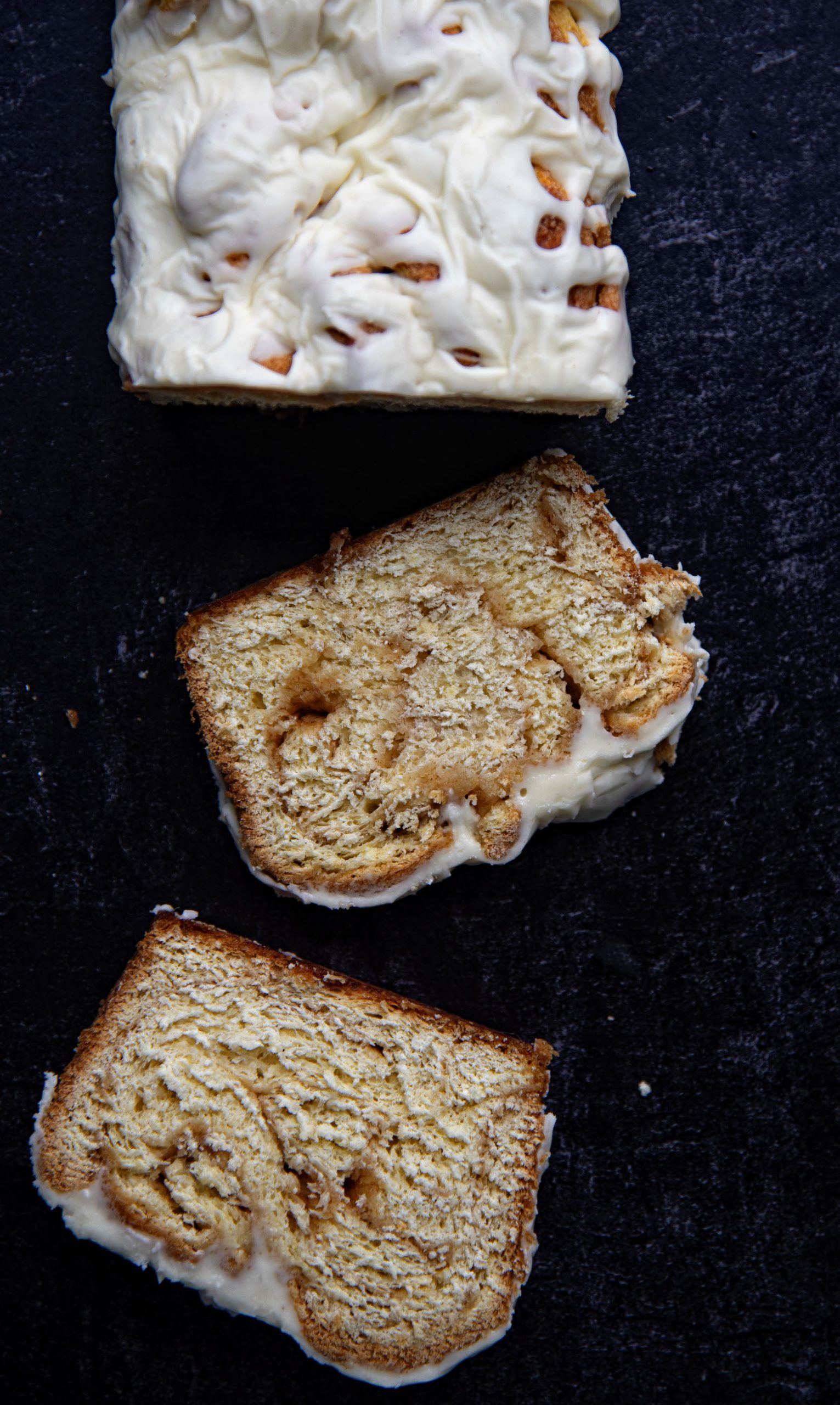 Yet somehow I have never made eggnog babka.
Of course until now.
A Eggnog Cinnamon Sugar Babka.
Both the dough and the glaze have eggnog in it.
Don't use homemade eggnog for this.
I find that homemade eggnog gets too eggy for baked goods.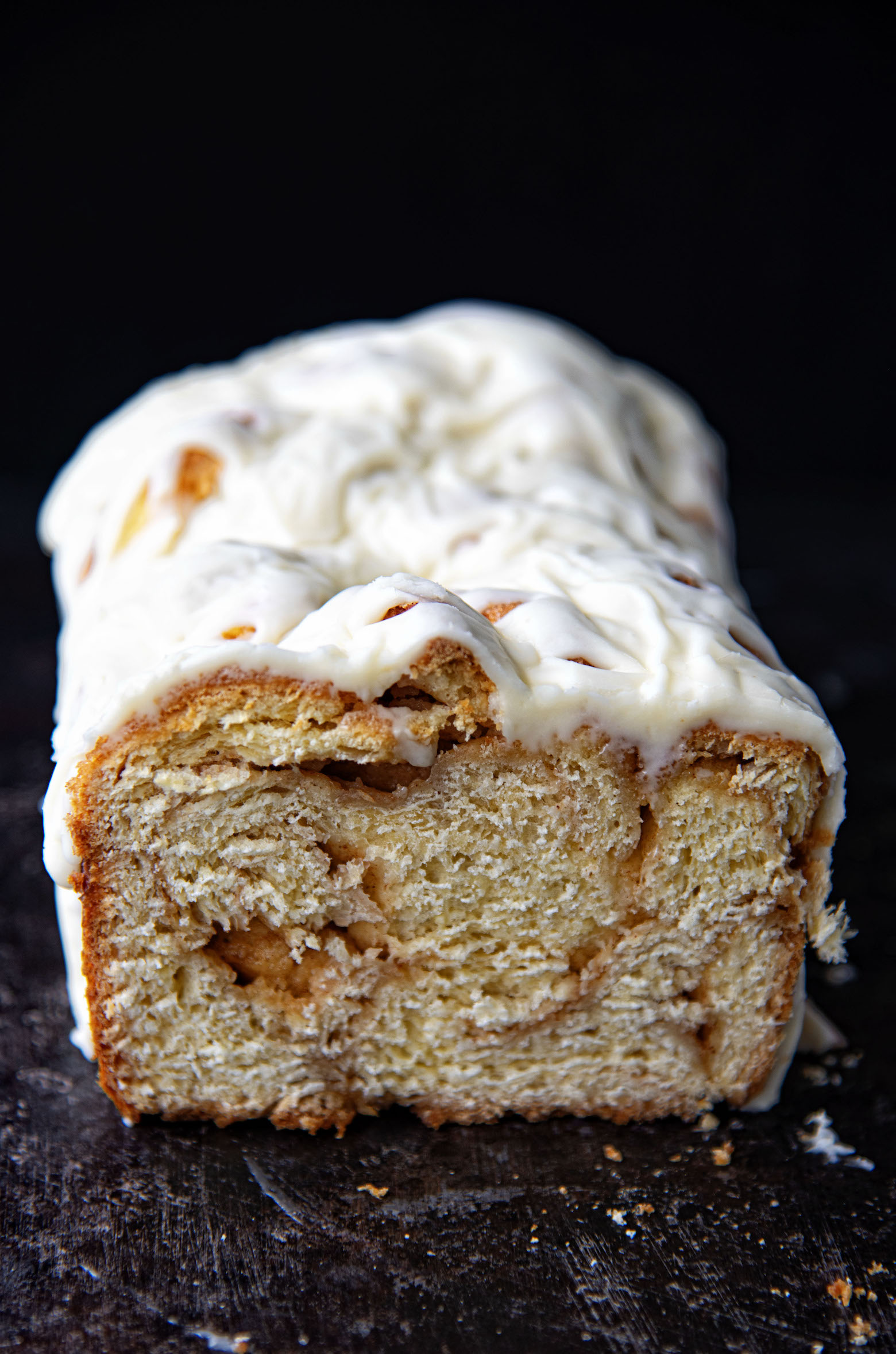 The filling is similar to that of a cinnamon roll and compliments the eggnog flavor really well.
This recipe makes two babka's so that you can have one for yourself .
And one to give away to the neighbors for the holidays.
P.S. It's a great day to buy my cookbook Holy Sweet!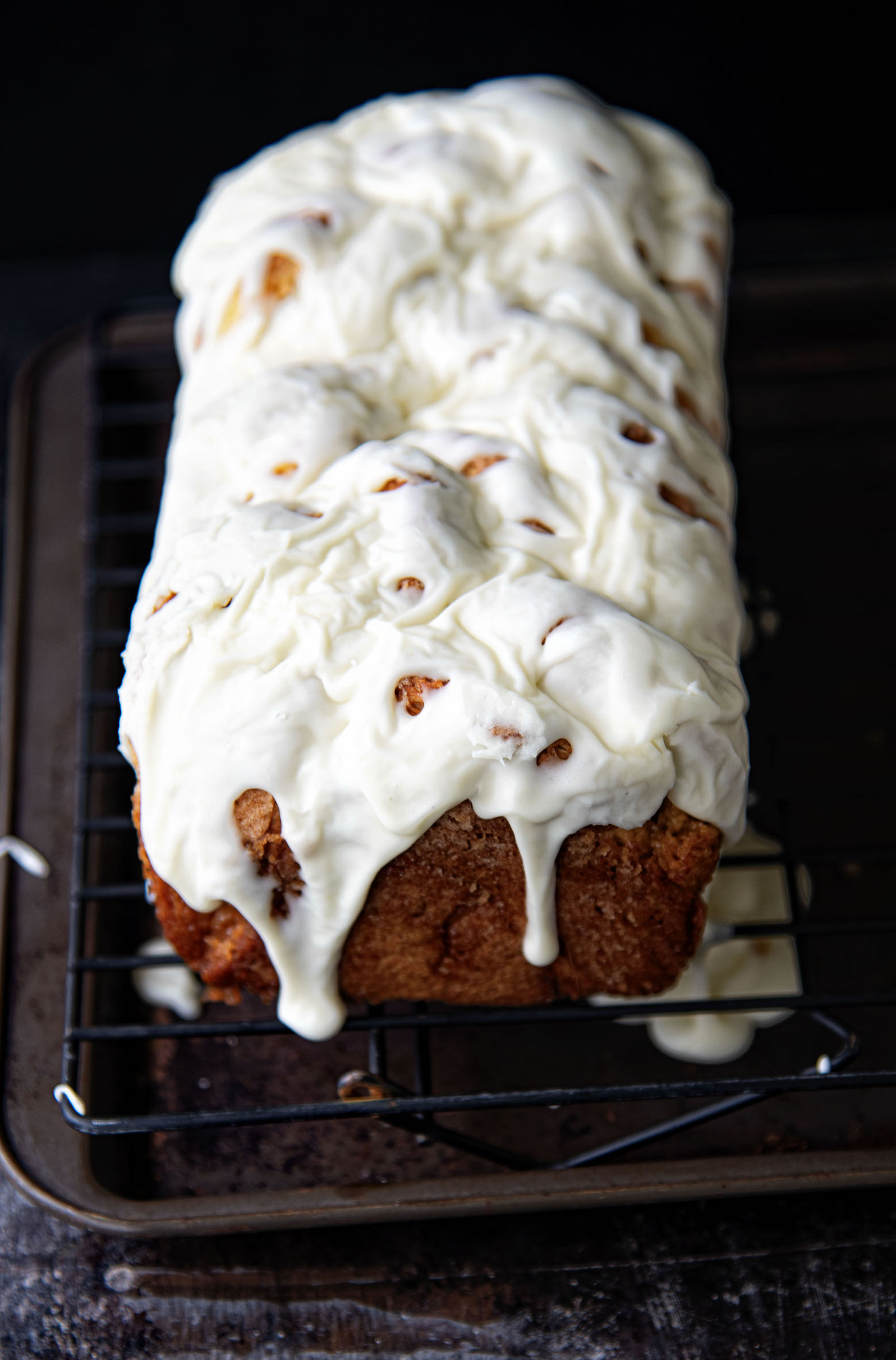 Want More Babka Recipes?
Brown Sugar Apple Cinnamon Babka
Ingredients
For the Dough:
1/2 cup eggnog
1 package active dry yeast
⅓ cup granulated sugar, plus 1 TBSP, divided
4 ¼ cups all-purpose flour, more as needed
1 ½ tsp salt
1 tsp vanilla extract
3/4 tsp ground nutmeg
4 large eggs, at room temperature, lightly beaten
10 TBSP unsalted butter, at room temperature
For the Filling:
3/4 cup unsalted butter, melted
1 1/2 cups brown sugar
2 TBSP ground cinnamon
For the Glaze:
3 TBSP unsalted butter, at room temperature
2 cups powdered sugar
2-3 TBSP eggnog
2 TBSP spiced rum
Instructions
For the Dough:
In a small saucepan or a bowl in the microwave, warm the eggnog until it's lukewarm but not hot (about 110 degrees).
Add yeast and a pinch of sugar and let sit for 5 to 10 minutes, until slightly foamy.
In an electric mixer fitted with the dough hook, or in a food processor, mix together flour, 1/3 cup sugar, the salt, vanilla and nutmeg.
Beat or process in the yeast mixture and eggs until the dough comes together in a soft mass, about 2 minutes.
If the dough sticks to the side of the bowl and doesn't come together, add a tablespoon more flour at a time until it does, beating very well in between additions.
Add half the butter and beat or pulse until the dough is smooth and elastic, 3 to 5 minutes, scraping down the sides of the bowl with a spatula as needed. Beat in the rest of the butter and continue to beat or pulse until the dough is smooth and stretchy, another 5 to 7 minutes.
Again, if the dough sticks to the sides of the bowl, add additional flour, 1 tablespoon at a time.
Butter a clean bowl, form the dough into a ball and roll it around in the bowl so all sides are buttered.
Cover the bowl with a clean towel and let it rise in a warm, draft-free place (inside of a turned-off oven with the oven light on is good) until it puffs and rises, about 1 to 2 hours. It may not double in bulk but it should rise.
Press the dough down with your hands, re-cover the bowl and refrigerate overnight (or, in a pinch, for at least 4 hours, but the flavor won't be as developed).
For the filling:
In a medium bowl mix all the ingredients until fully combined. Set aside until needed.
For the Glaze:
Whisk all the ingredients together and drizzle over the two babkas.
If too thick add more eggnog. If too thin add more powdered sugar.
Making the babka:
Cut the dough into two equal parts.
Roll out one part into a rectangle.
Spread 1/2 of the cinnamon sugar filling onto the rolled out dough.
Roll dough up like a cinnamon roll and cut it straight down the middle so the filling is exposed.
Cut ½ inch off each end.
Layer each cut piece on top of one another and twist.
Place in a greased loaf pan.
Repeat with other babka dough.
Lightly drape a kitchen towel over the top of pans.
Allow to rise another 30 minutes.
Preheat oven to 350°F while the dough rises.
Bake for 20 minutes with aluminum foil lightly tenting the bread.
Remove foil and put back in oven and bake another 15-20 minutes.
The edges should be slightly brown and the middle should be slightly doughy.
Let cool for 5 minutes.
Divide the glaze in two parts and glaze each loaf.
Let glaze set up for about 30 minutes.