This Easter Basket Cracker Toffee is a fun and easy treat using crackers, butter, brown sugar, chocolate, and Easter candy.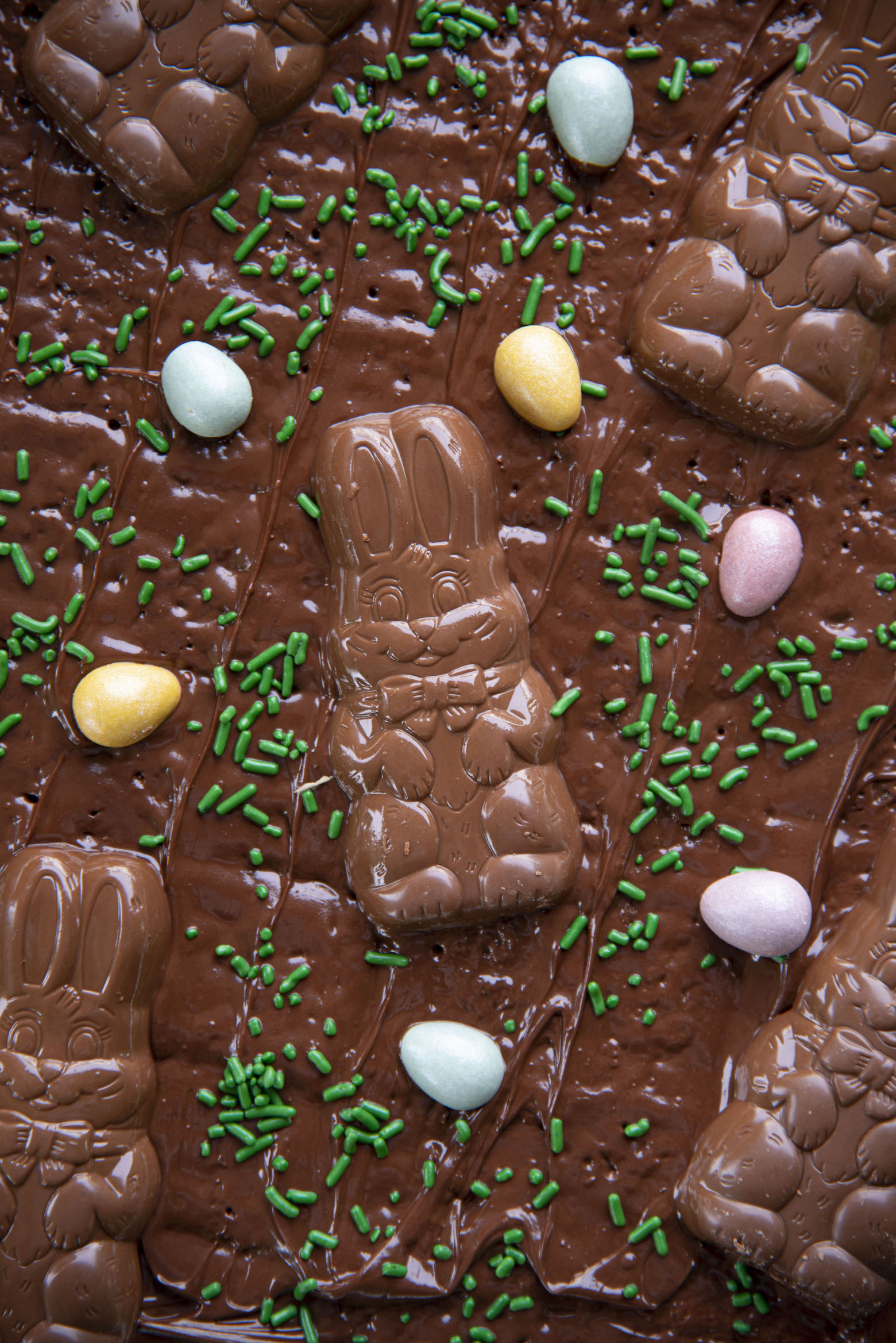 Easter baskets were a big thing in my family.
A big thing.
As a candy-a-holic I loved it.
I mean Halloween is nice because you get the candy but you also have scary stuff.
And I don't do scary.
But Easter always came with bunnies, chicks, and lambs.
And pink.
Which is my favorite color.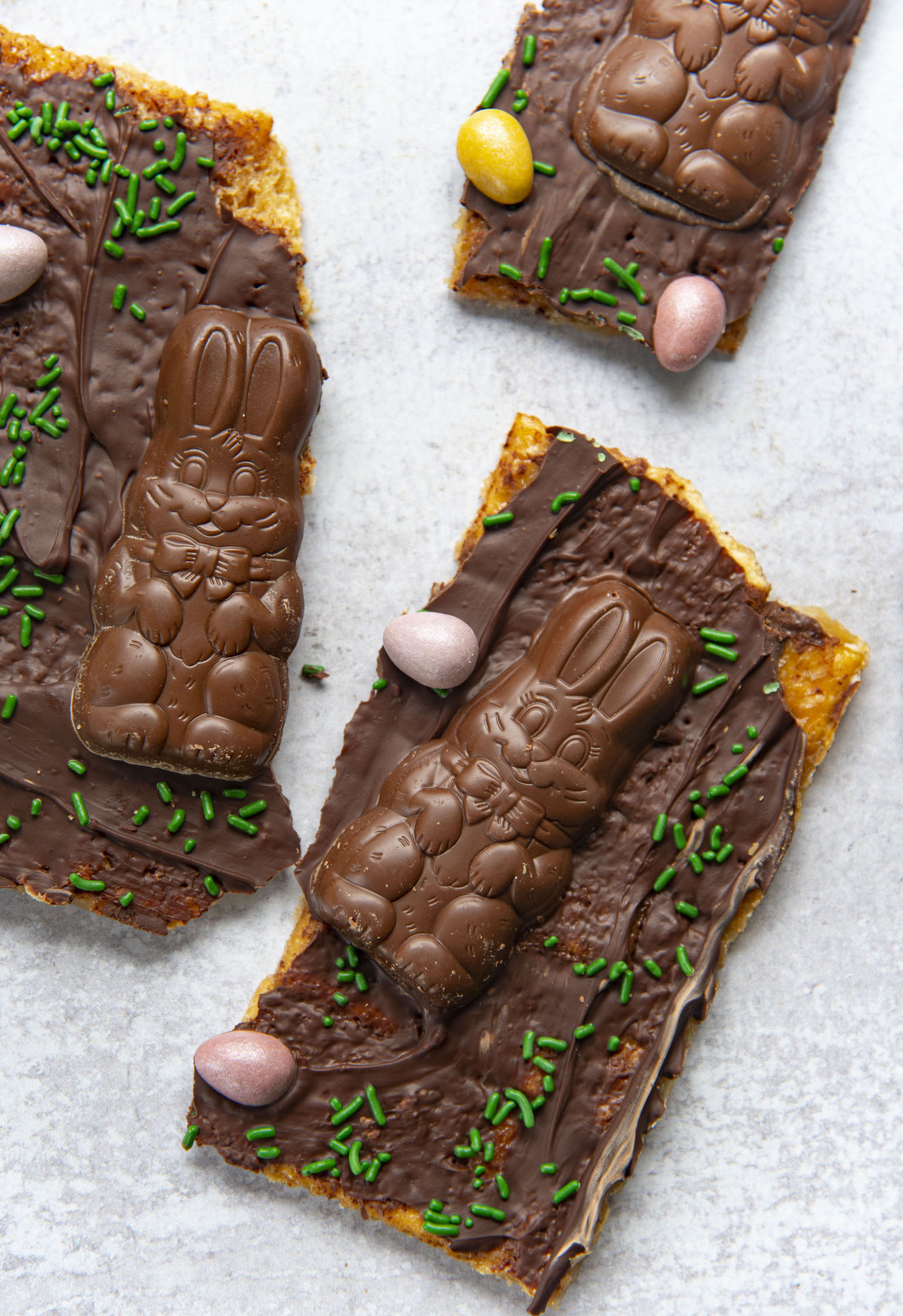 My mom almost always followed the same formula.
A big main basket.
That had a stuffed animal in it.
Giant chocolate bunny.
Jelly beans.
Marshmallow bunny and chicks (the ones like Circus peanuts).
Then on the side of the basket were all the things she couldn't fit in the basket.
My mom was very big on aesthetics so everything had to look just so.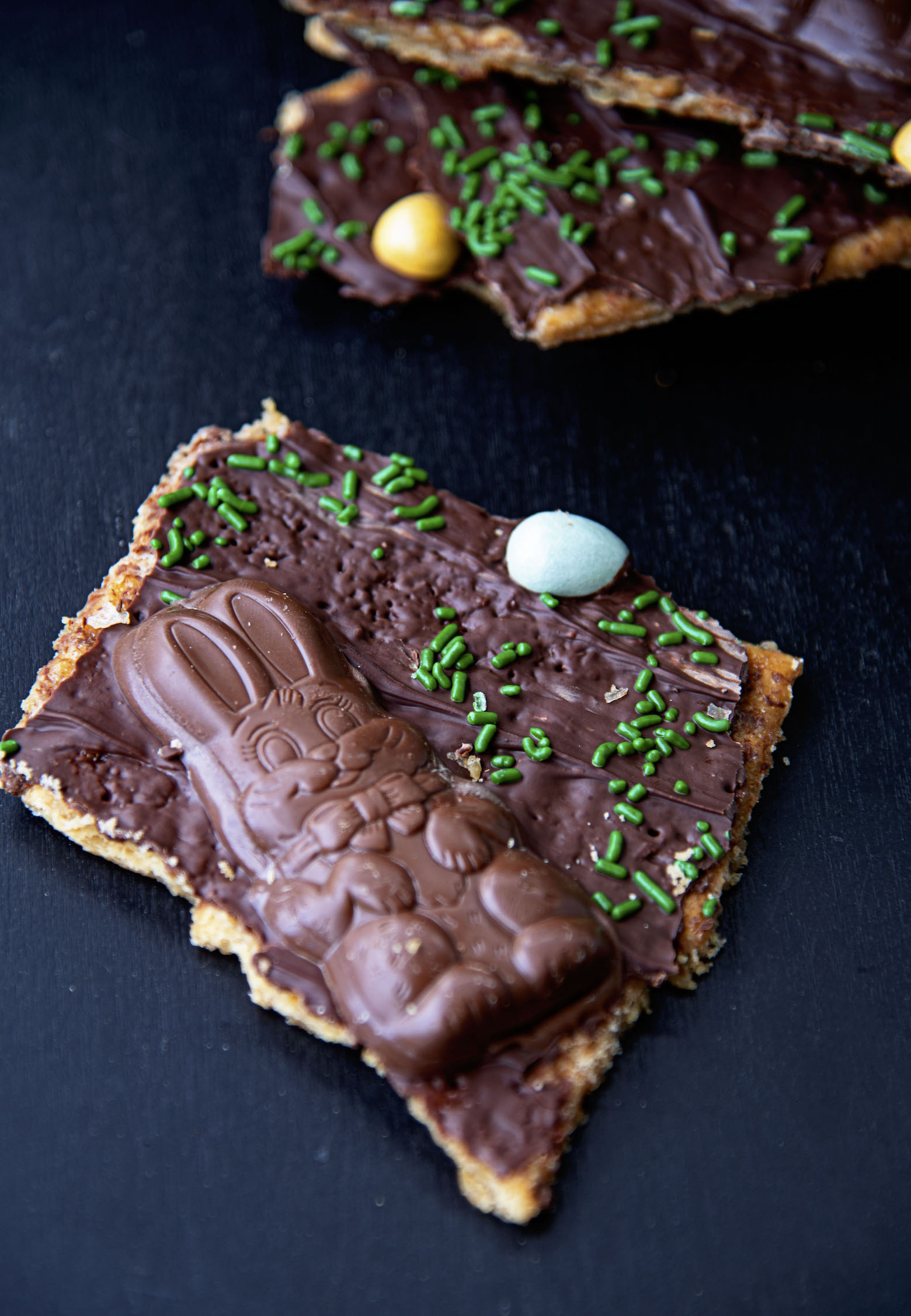 The last thing I would bring myself to eat each year was the chocolate bunny.
I always felt so bad.
Even as a kid, rationally I knew that the bunny was feeling no pain, but I still felt guilty.
So I never would eat the bunnies face.
Even when I got so very desperate for candy I just couldn't do it.
Needless to say I felt guilty when I broke this bark apart and ended up decapitating one of the bunnies.
Again, totally know the bunny can't feel anything, but still feel bad all the same.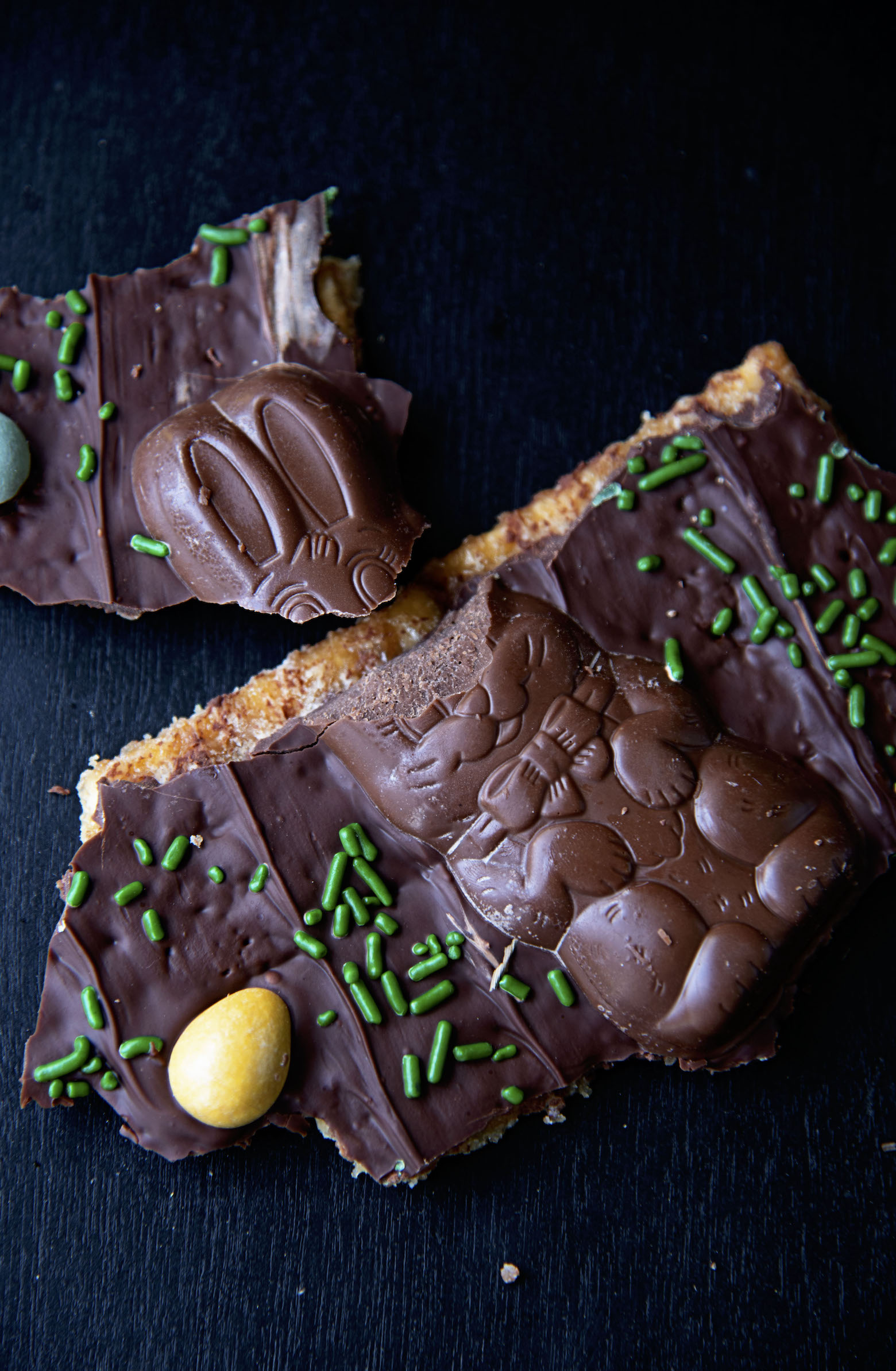 I've been thinking about making this Easter Basket Cracker Toffee for awhile.
Actually, it started off as going to be a bark.
Just like I did with the Gingerbread House Bark.
But I had a craving for cracker toffee and thought that sounded even better than bark.
It is.
This is a blank canvas for you.
If you are not big on decapitating bunnies you can leave them off.
You can add whatever Easter candy you want to your toffee.
I just stuck with chocolate candy since there is chocolate on top of the cracker toffee.
It goes without saying that this is super fun for kiddos.
It's a great day to buy my cookbook.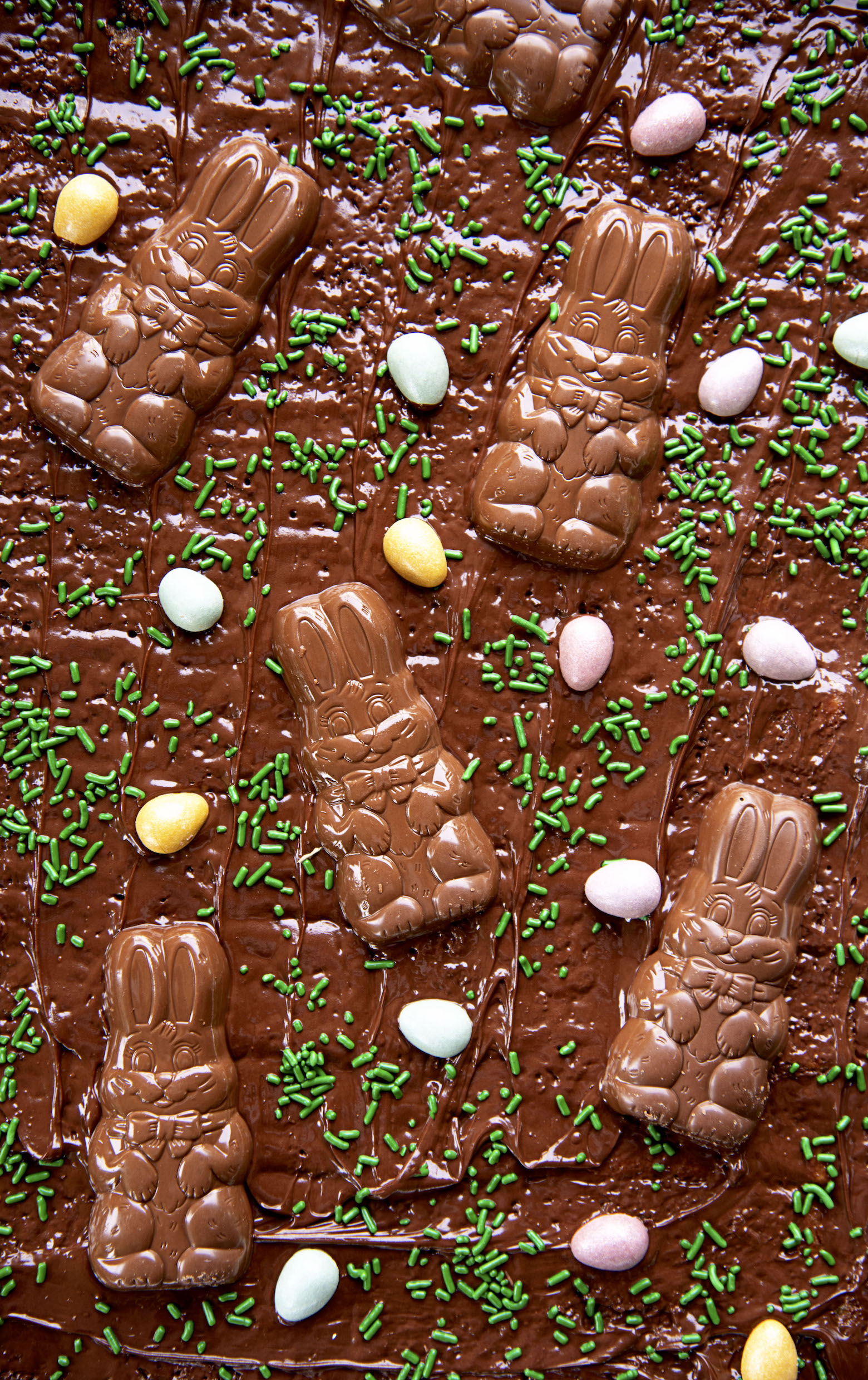 Want More Easter Recipes?
Rich Cadbury Caramel Egg Creme Brulee
Cadbury Caramel Egg Marshmallow Pie
Yummy Cadbury Caramel Egg Banana Cupcakes
Ingredients
1 cup salted butter
1 cup brown sugar
Club House Crackers (enough crackers to make a layer on a cookie sheet about 1 1/2 sleeves)
12 oz. chocolate chips
6 Hershey's Chocolate Bunnies (for garnish)
Cadbury Shimmer Eggs (cut in half)
Green Sprinkles (for garnish)
Instructions
Bring the butter and brown sugar to a boil in a saucepan and simmer it for about 5 minutes.
Put a layer of crackers on the cookie sheet, close together.
Pour the brown sugar mixture over the crackers and bake for about 6-10 minutes (I do the 10) at 350F. 
Remove and immediately pour the chocolate chips over the crackers, evenly distributing them.
Put back in oven for 1 minute.
Remove from oven and let it sit for about 30 seconds.
Then with the back of a spatula I move the chocolate chips just a little bit. I wait another 30 seconds and repeat.
I start to slowly move the chocolate around being careful not to move the crackers.
I let is sit for another 30 seconds and at this point it pretty much spreads like frosting.
Then add the bunnies first.
Followed by the mini eggs.
And then the green sprinkles.
Let it set up in freezer for about and hour and then break into pieces.