This Dr. Pepper Chocolate Dump Cake is easy to make with cherry pie filling, chocolate cake mix, butter, and a fudgy Dr. Pepper icing.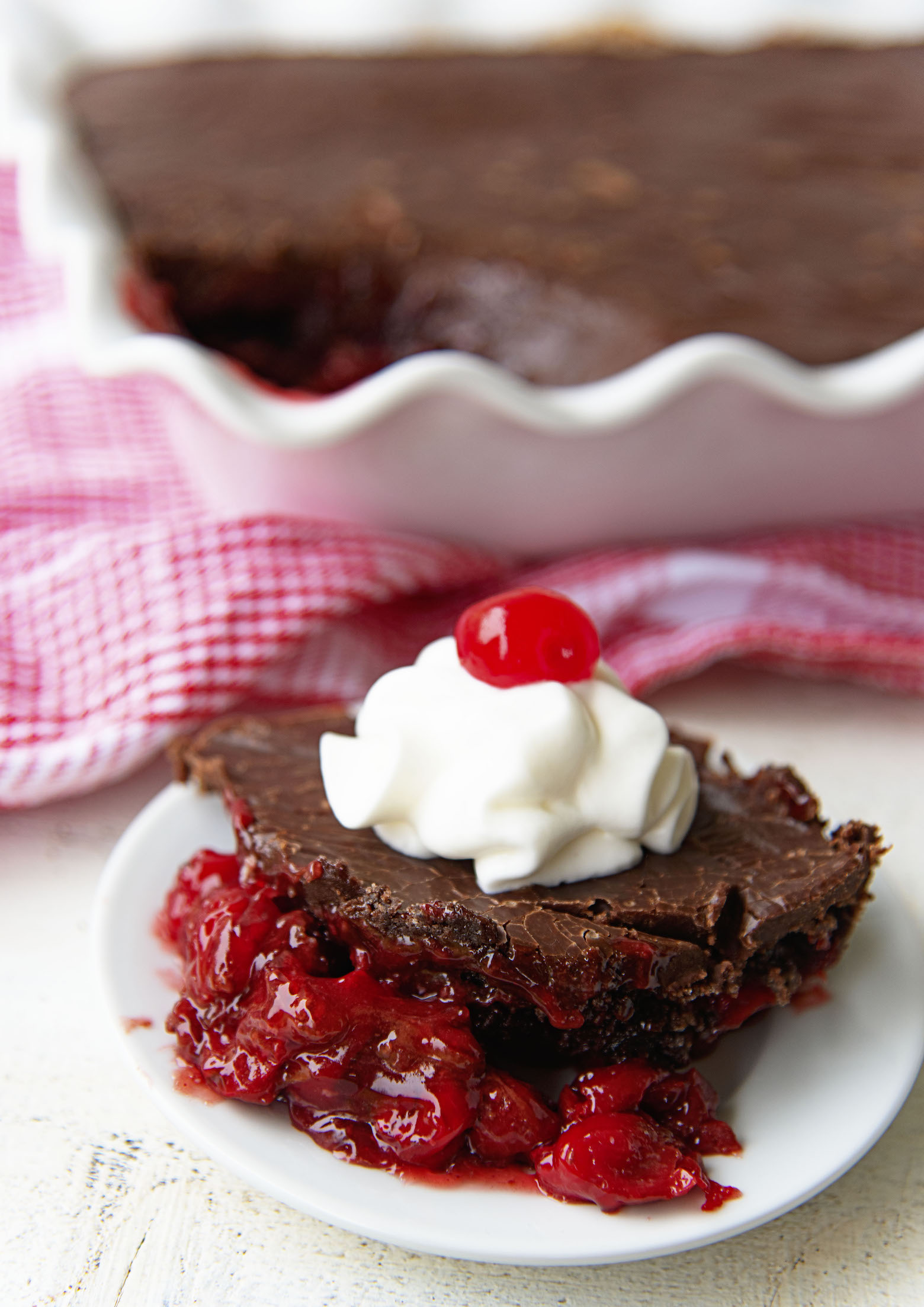 This Dr. Pepper Chocolate Dump Cake is a combo of two of my favorites desserts in one.
Cherry Dump Cake.
And the frosting that comes from Chocolate Cola Cake that was in a magazine years ago.
I love dump cake recipes because they are super easy as well as tasty.
You can never go wrong with easy and tasty.
To this day I swear it was invented by someone moving and cleaning out their pantry.
They had some cake mix but no eggs.
They had some butter, crushed pineapple, canned cherry pie mix, and some coconut.
And decided to create a cake to use up those ingredients as to not get stuck packing them.
It's true origins are still up for debate.
But ever since then more and more varieties have been invented.
Many on this blog.
Including this one.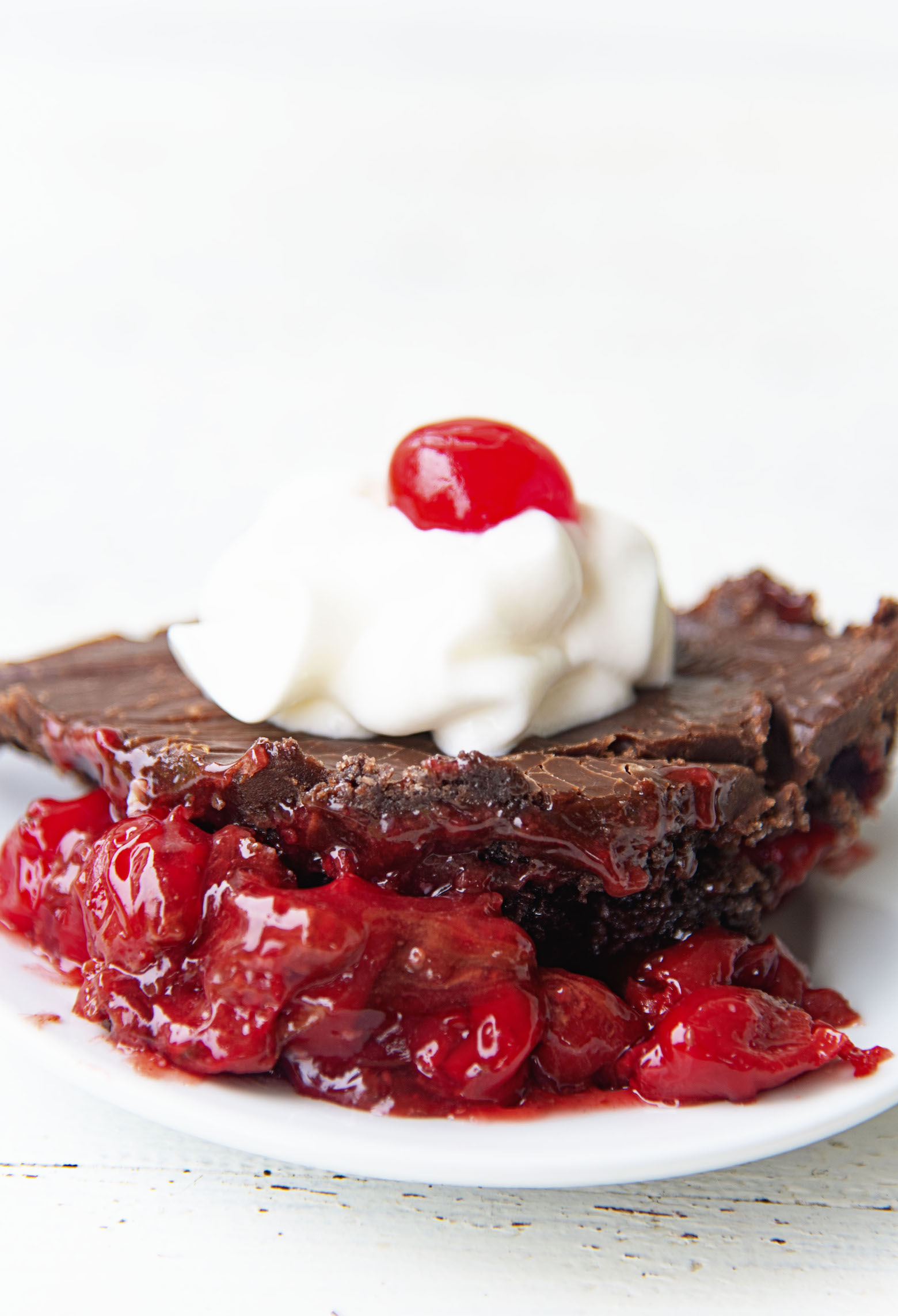 Ironically, I dislike canned pie filling in pies.
I'm not sure if it's because I make pies from scratch or what.
But in a dump cake I'm all about the canned pie filling.
Especially cherry.
I've actually tried a few times to make dump cake using homemade cake mix and pie filling.
And it just isn't the same.
But people always ask if they can make it from scratch.
I encourage you to experiment if you can't bring yourself to use cake mix.
But if you aren't using cake mix this dump cake becomes far more complicated.
And part of what makes dump cake so great is how easy it is to make them.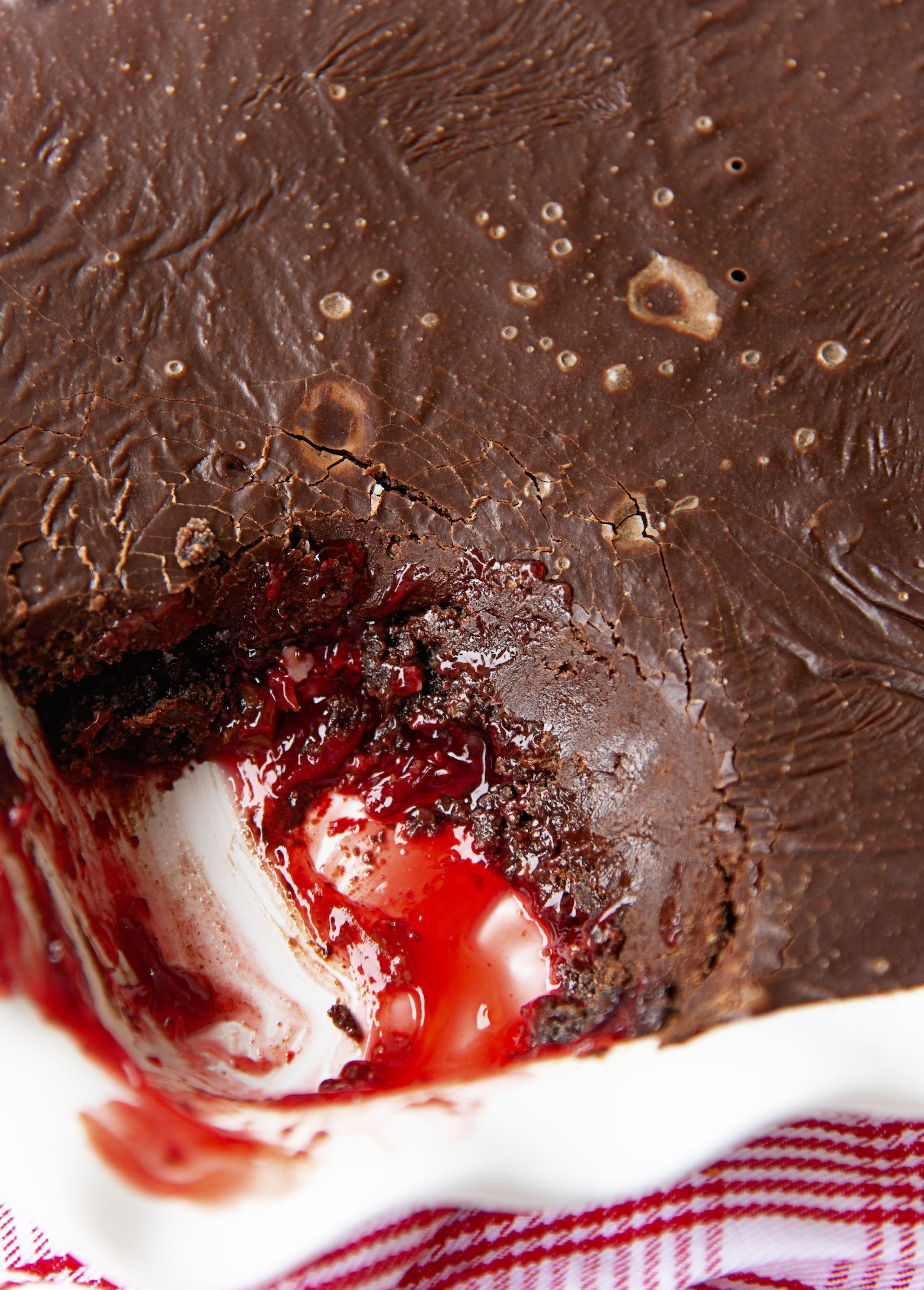 Do you have to use Dr. Pepper?
No.
The recipe for the frosting was originally part of a Cheerwine cake.
Cheerwine is similar to Dr. Pepper and can usually only be found in the South.
But I have found a few times out here on the west coast.
Though not consistently.
And the Cheerwine cake was based off of a chocolate cola cake.
I think cola, cherry cola, Cheerwine, even cream soda would be a perfectly fine substitute.
But I definitely like the Dr. Pepper with this cake.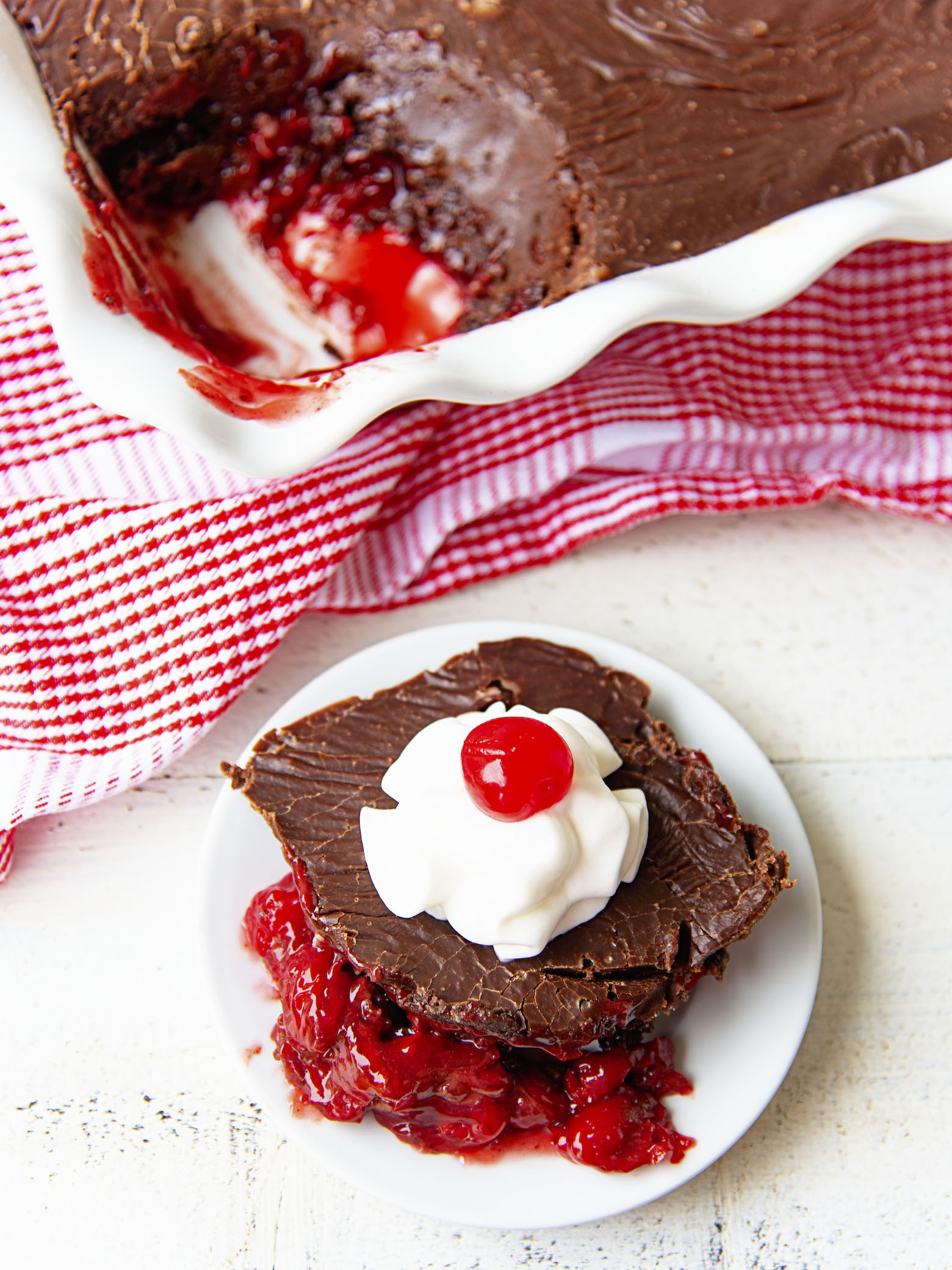 Do I have to make the frosting?
It maybe hard to believe but there is always someone who asks if they have to have the frosting.
Or icing.
Yes, I think those people are odd. 🙂
The cake part or this dump cake recipe only has three parts.
The chocolate cake mix.
Cherry pie filling.
Melted butter.
So without the frosting it's a little plain.
You can however jazz it up with ice cream or a lot of whipped cream.
But who doesn't love a fudgy chocolate frosting?
So why wouldn't you want to add it to the dump cake recipe?
Last but not least…it's a great time to buy my cookbook. 😀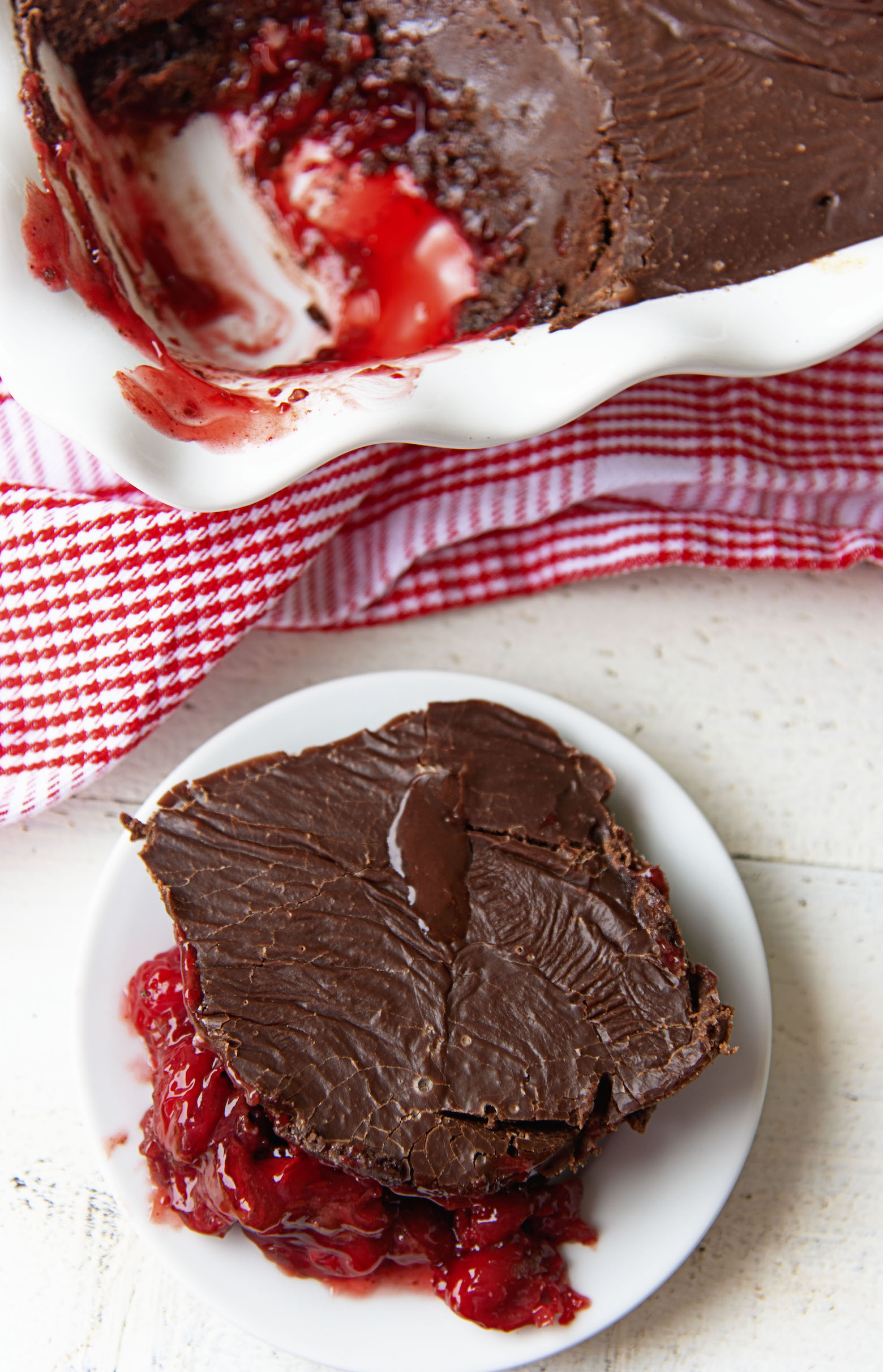 Want more Dump Cake recipes?
Peach Blackberry Oatmeal Cookie Cobbler
Ingredients
For the Cake:
1 box Chocolate Cake Mix
2 cans (21 ounces each can) cherry pie filling
8oz (1 cup) unsalted butter, melted
For the Dr. Pepper Frosting:
1/3 cup Dr. Pepper Soda
1/2 cup salted butter
1/4 cup unsweetened natural cocoa powder
2 1/2 cups powdered sugar, sifted
Instructions
Heat oven to 350F.
Spray a 9×13 inch pan with baking spray.
Dump the two cans of cherries into the pan.
Spread with a spatula to make even.
Sprinkle cake mix over the cherries, doing your best to evenly distribute the mix.
Pour butter evenly as best you can over the cake mix.
Bake for 50-60 minutes.
Remove from oven.
For the Frosting:
In a small saucepan, combine Dr. Pepper, butter, and cocoa powder; bring to a boil.
Pour hot mixture over powdered sugar and stir until smooth.
Cool for approximately 10 minutes.
Pour the glaze over the top of the dump cake.
Serve with ice cream or whipped cream for extra yumminess