These Double Chocolate Rainbow Chip Cookies are stuffed with and rolled in white and semisweet chocolate chips plus rainbow chips.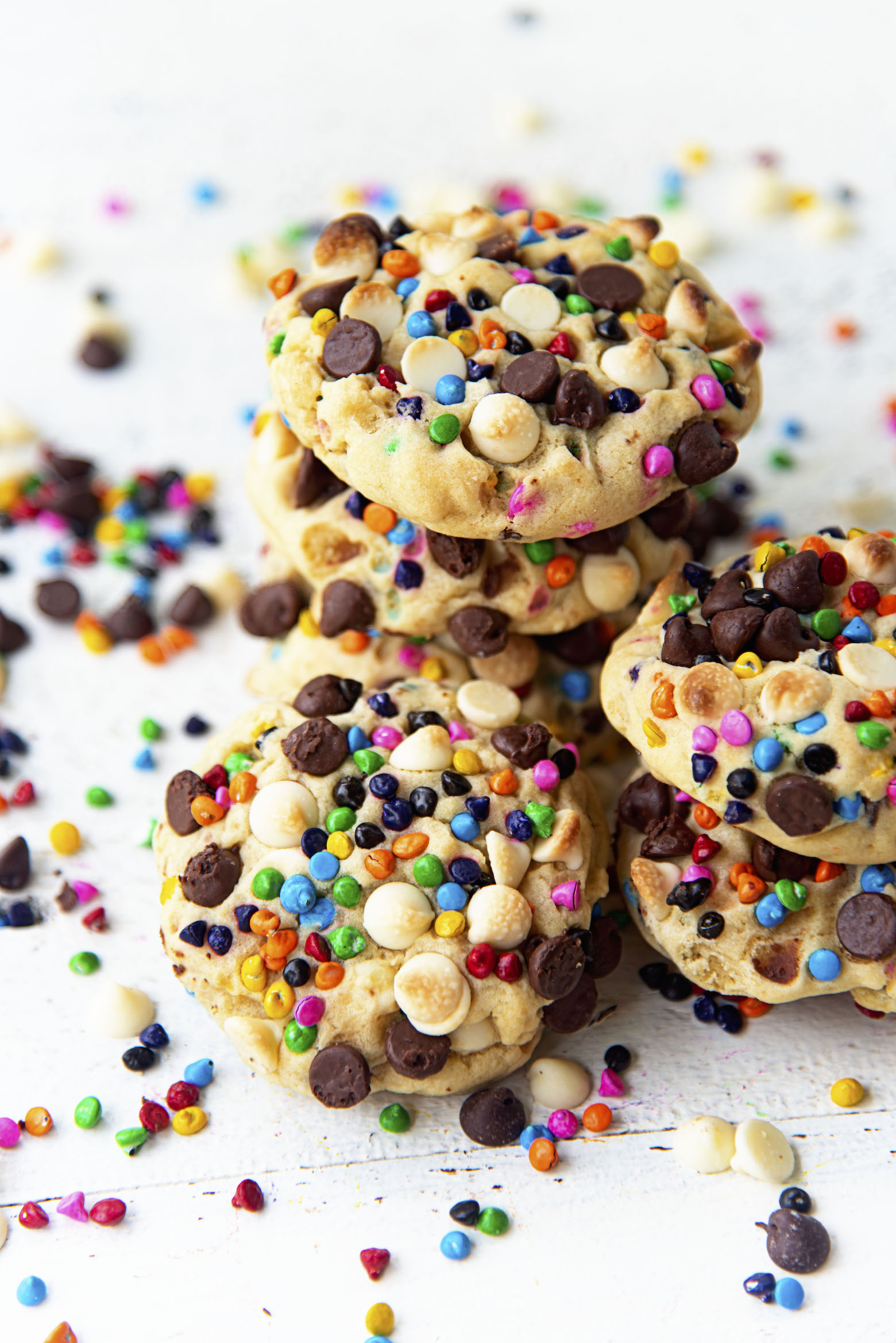 Taylor Swift was right.
Some of you all need to calm down.
What people get worked up about these days is amazing.
The day I made these Double Chocolate Rainbow Chip Cookies I posted them into my Instagram stories.
And BOY did that bring some reactions from people.
Some normal reactions like "those look so fun and yummy".
Which is the reaction I was going for.
And then there were the odd reactions.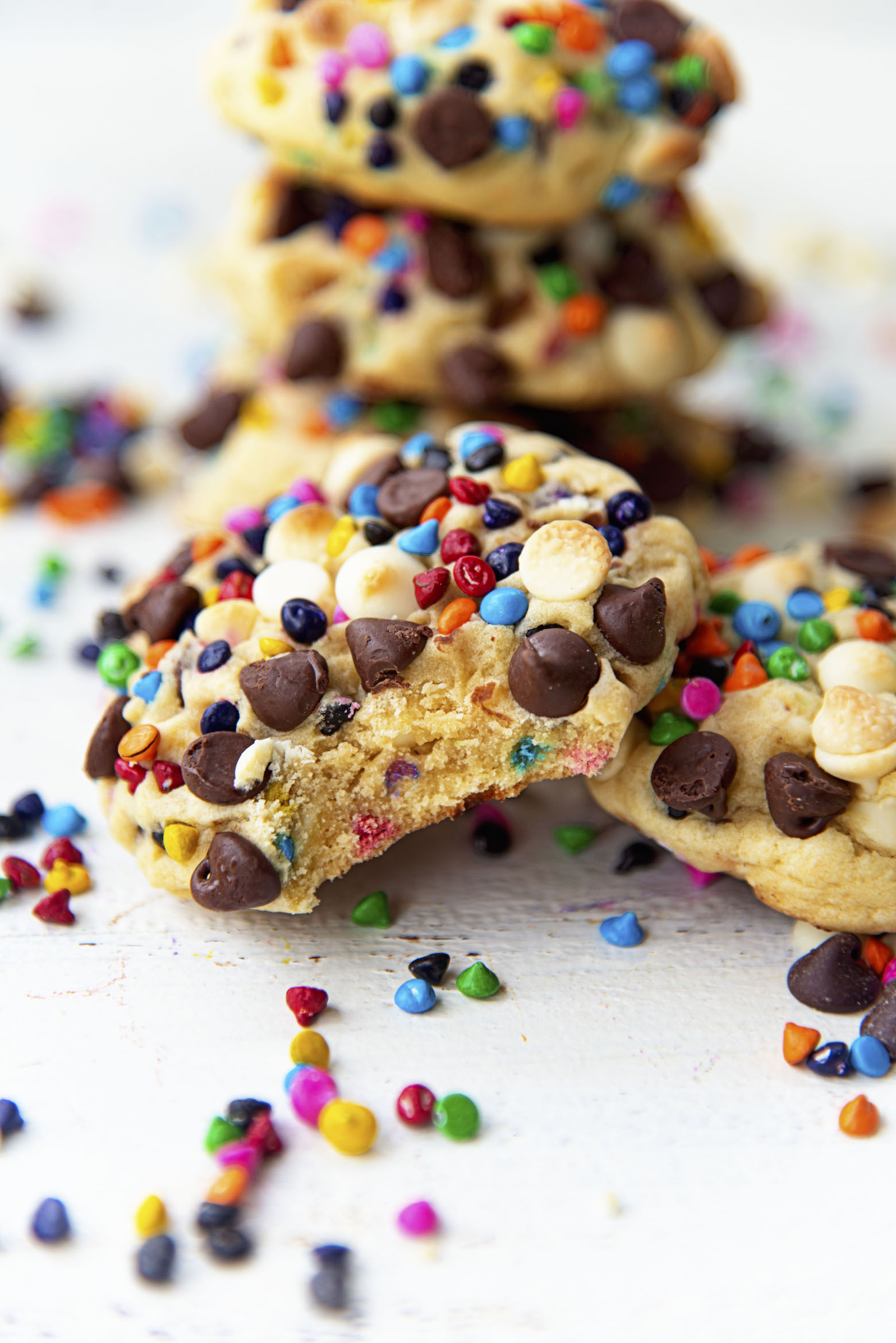 I had people tell me they were so tired of rainbow stuff being shoved down their throats.
First off, the only thing I'm trying to shove down your throat is a cookie.
Second, it's a cookie. Chill.
Spend just a few seconds on this site and you will notice my love of color.
And my love of sprinkles.
Especially rainbow sprinkles.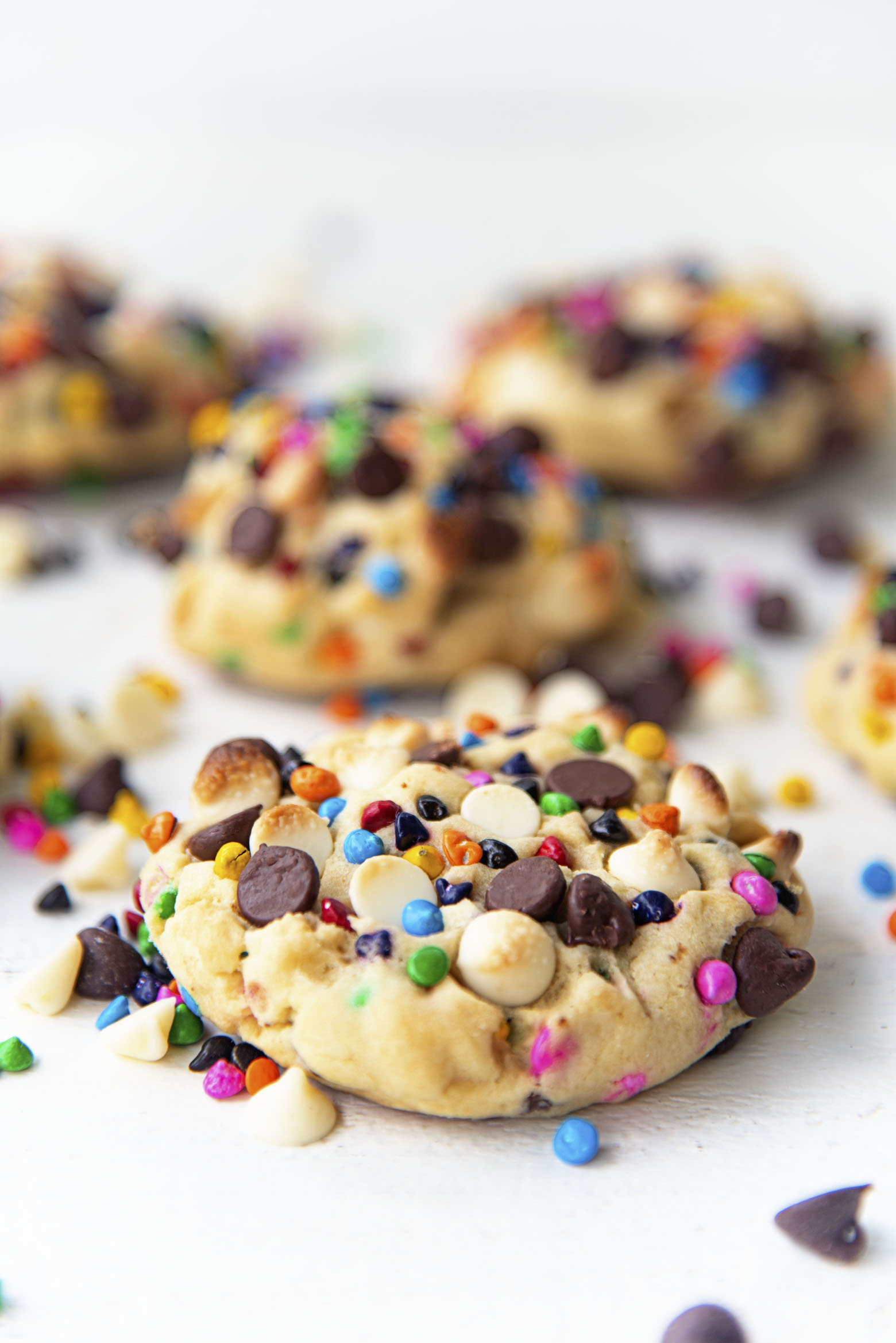 The oddest thing said to me was that "we are taking back the rainbow".
To which I replied "fine but then I'm taking back snow and hail".
To which the woman told me that was a stupid response.
And I said I respond to stupid…with stupid. 🙂
I'm pretty sure she's not following me anymore.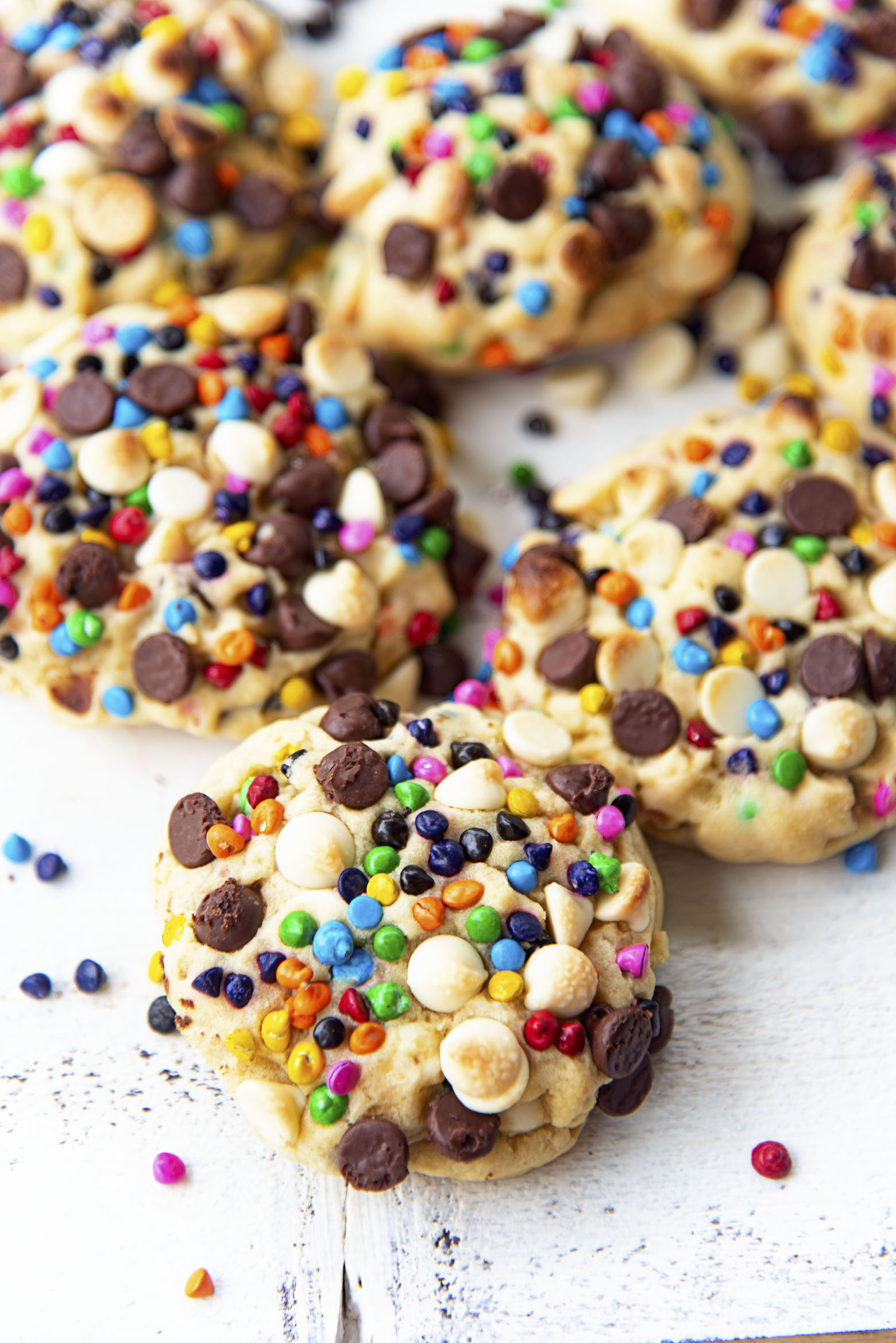 I originally saw a version of these cookies on Pinterest.
They were covered in all variations of chocolate chips.
But since I buy my rainbow chips in bulk (just like my sprinkles) I decided those would make these cookies WAY more fun.
And they did.
I also used white chocolate.
Which does get a little toasty on top and they don't stay all that white.
That's fine.
It gives them a caramel-ish flavor.
So make some cookies and stop worrying about what people are putting on the cookies.
Last but not least…it's a great time to order my cookbook. 😀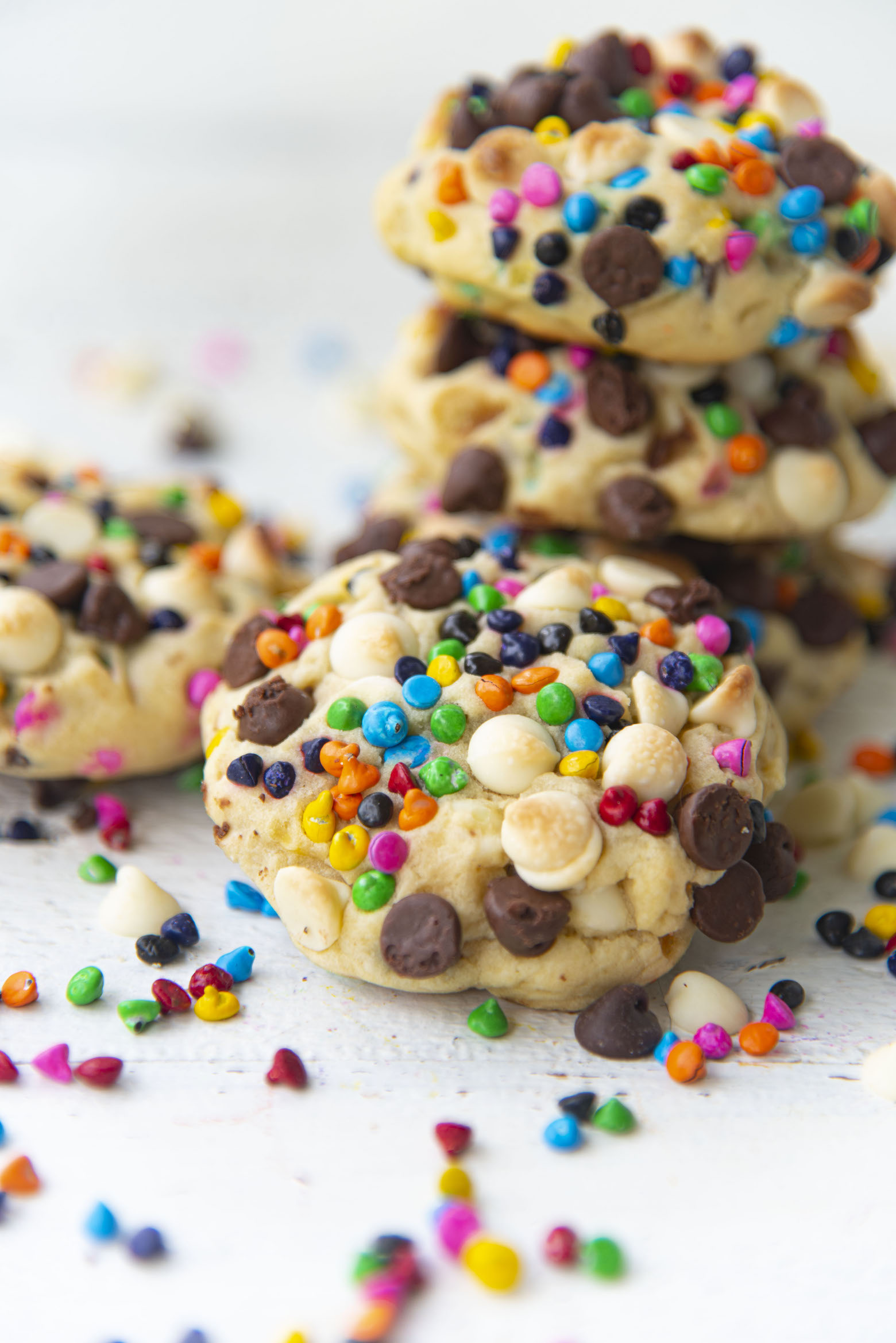 Want More Cookie Recipes?
Strawberry Cheesecake Chocolate Chip Cookies
White Chocolate Chip Creamsicle Cookies
Vanilla Bean Caramel Thumbprint Cookies
White Chocolate Dried Pineapple Salted Macadamia Nut Cookie
Caramel Cream Filled Snickerdoodles
Ingredients
2 cups semisweet chocolate chips
2 cups white chocolate chips
1 cup unsalted butter, at room temperature
1 cup brown sugar, packed
1/2 cup granulated sugar
2 eggs
2 tsp vanilla extract
1 tsp kosher salt
1 tsp baking soda
3 cups all purpose flour
Instructions
Preheat the oven to 400°F.
Line two baking sheets with parchment paper and set aside.
In a gallon size Ziplock bag combine the chocolate chips with the rainbow chips. Shake to evenly mix (this is great to get your kiddos something to do). Set aside.
In the bowl of your stand mixer fitted with the paddle attachment mix together the butter and sugars together for 30 seconds on low speed to help prevent the butter and sugar from flying everywhere (been there done that).
Turn the mixer up to medium speed and mix for about 3 minutes until light and fluffy.
Add in the eggs one at a time and scrape down the bowl after each addition. Mix until fully combined.
Add the vanilla, salt, and baking soda and mix for 1 minute until smooth, scraping the sides of the bowl as necessary.
Turn the mixer to low and add in the flour, mixing until just combined.
With mixer still on low, add in 1 1/2 cups of the chocolate rainbow chip mixture, mixing until incorporated.
Pour the remaining chocolate rainbow chips into an 8-x-8 pan. I find this works better than a bowl but that's just me. Something else might work better for you.
Using a large ( 1/4- cup) cookie scoop, portion the dough and roll it into a ball.
Coat the ball with the chocolate chip mixture, leaving the bottom of the ball free from chocolate chips. Make sure the chips are pressed firmly and evenly into the dough.
Place the dough balls onto the prepared baking sheet 3- inches apart. I pushed them down slightly to flatten them a little. Then if they had any bald spots on the cookie I would place more chocolate or rainbow chips where the space was. I baked 6 cookies at a time.
Bake for 9-10 minutes, until the edges and tops are lightly golden. Each oven is a little different so just watch.
Allow the cookies to cool for 2-3 minutes on the baking sheet, and then transfer to a wire rack to cool completely.