These Double Chocolate Banana Muffins have a chocolate banana muffin base filled with chocolate chips and topped with more chocolate chips.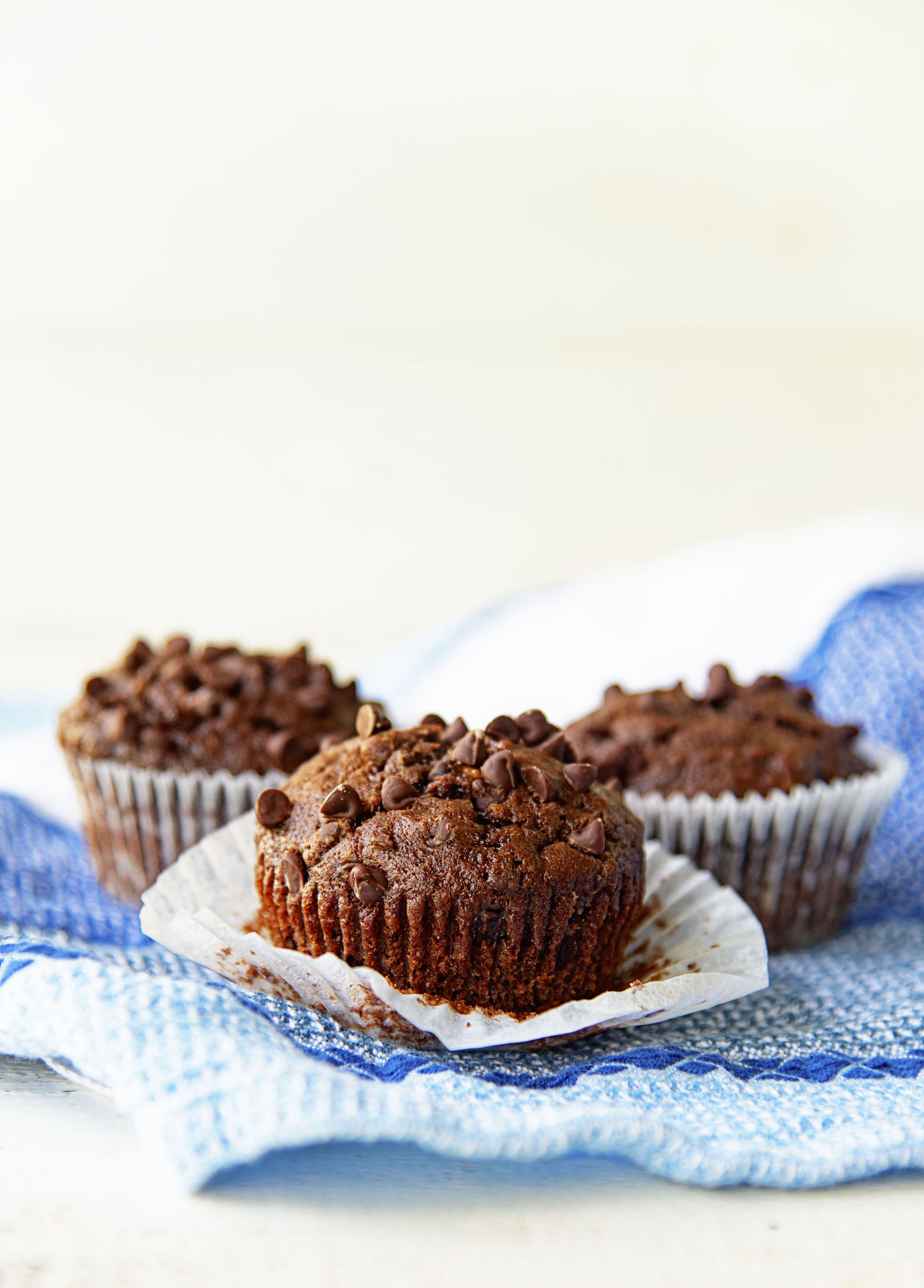 Most people would look at these Double Chocolate Banana Muffins and think, oh muffins.
I know when I am asked to bring something for a potluck and I bring muffins people seem disappointed.
Oh, you brought muffins is usually what is said.
And not in an excited oh yay you brough muffins kind of way.
More of a didn't you write a cookbook and all you brought are muffins kind of way.
Yet, when it's time to leave the potluck there are no muffins left.
Because no matter how unexciting muffins seem to be, we all kind of love them.
And everyone seems to eat them when they are put out.
Which is why I bring them to potlucks.
Banana bread and banana muffins were probably the most searched recipes on the Internet the last 2 years.
Well, that and sourdough.
Now I have made a variety of banana breads over the years.
From Chocolate Crunch Banana Bread to Fruity Pebbles Banana Bread.
As well as some unique banana muffin recipes as well.
Like Glazed Butter Pecan Banana Muffins and Butterfinger Cream Cheese Banana Muffins.
But I realized I had never made a chocolate banana based muffin.
I made a Chocolate Chocolate Chip Sourdough Banana Bread before but no muffin version.
It's funny when you run a blog as long as I have (going on 17 years) there are certain recipes you swear you already have on the blog.
But you don't.
I was quite positive I had a chocolate banana muffin. I've made them.
But alas they never made it to the blog.
Probably because I already thought I had a recipe up. 😀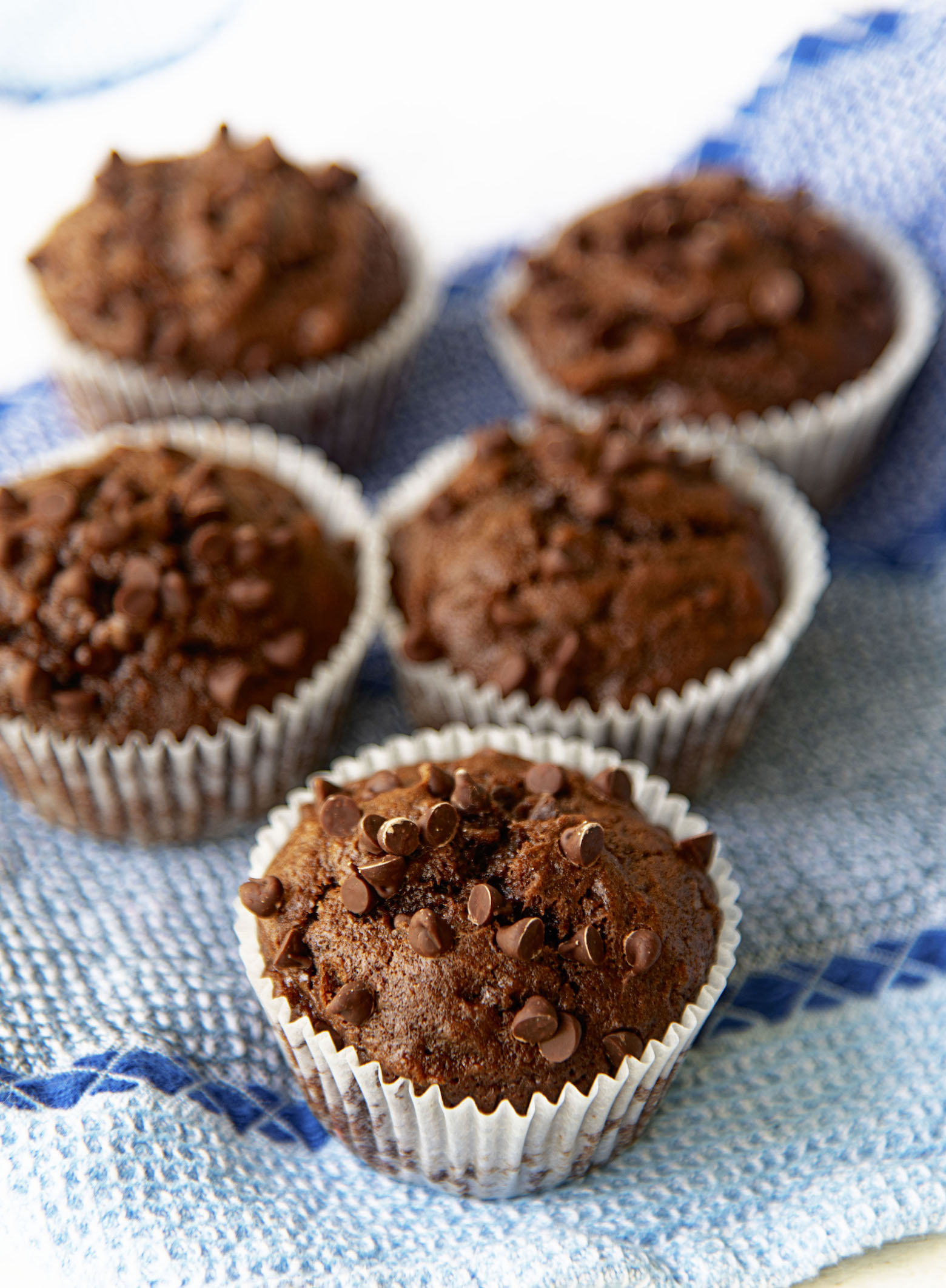 Can I use butter instead of oil in this recipe?
You can.
But here is why I didn't.
While banana muffins tend to be moist on their own thanks to the banana when you add cocoa powder to them they can become dry.
I find that oil works better than butter in these because they tend to keep them moist.
If you are wanting to use butter for these, I suggest using melted butter instead of it being in solid form.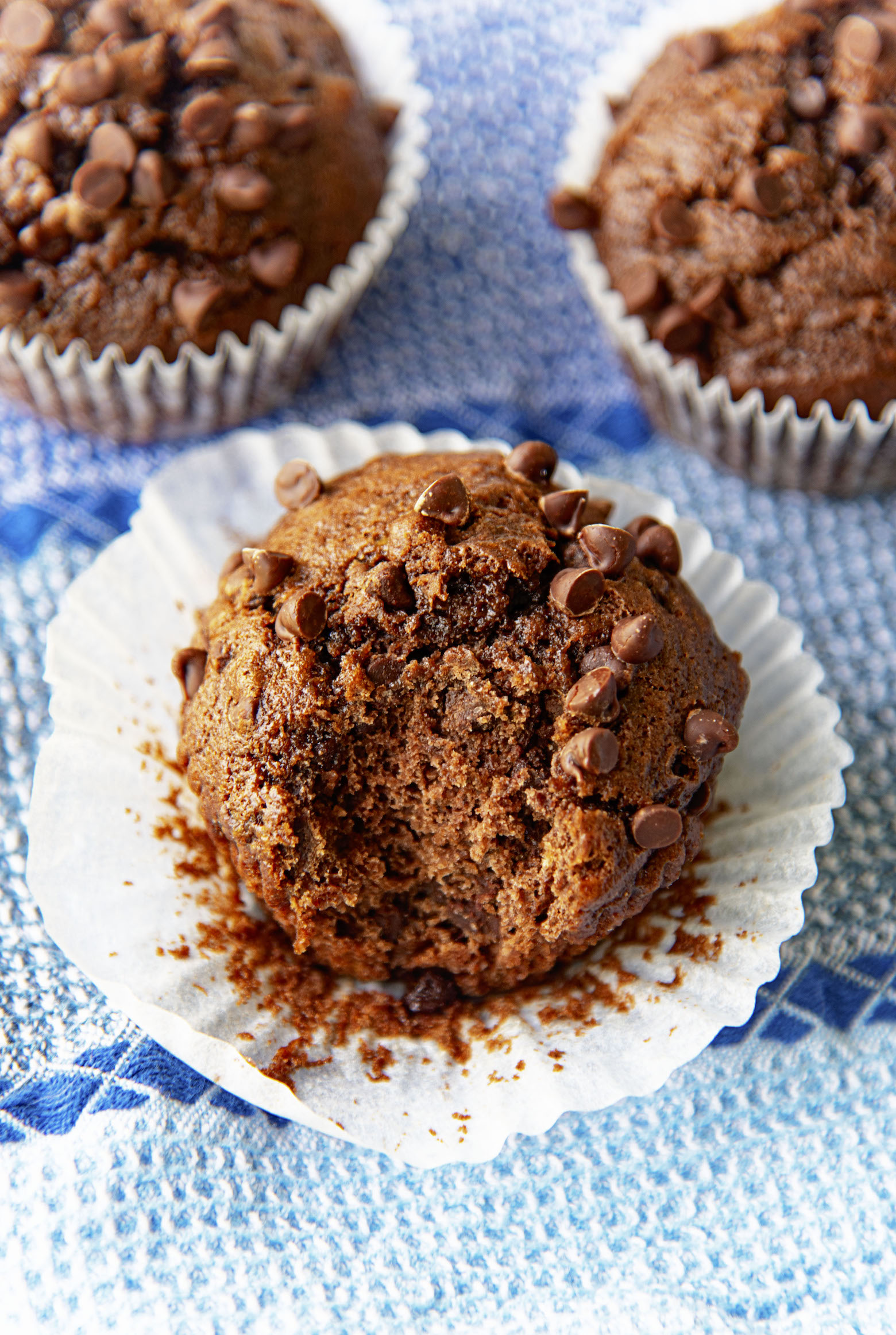 Do I have to use mini chocolate chips?
No.
You can use regular size chips.
I however prefer mini in baking because I feel you have a better chance of getting a chocolate chip in each bite when they are smaller.
And well, I like getting a bite of chocolate chip in my chocolate chip baked goods. 🙂
You also don't have to use semi sweet chocolate.
Milk chocolate would work as well.
White chocolate would probably be okay with this but I would stick to either semi sweet or milk if I were you.
But it's really your preference so whatever works best for you.
P.S. It's a great day to buy my cookbook Holy Sweet!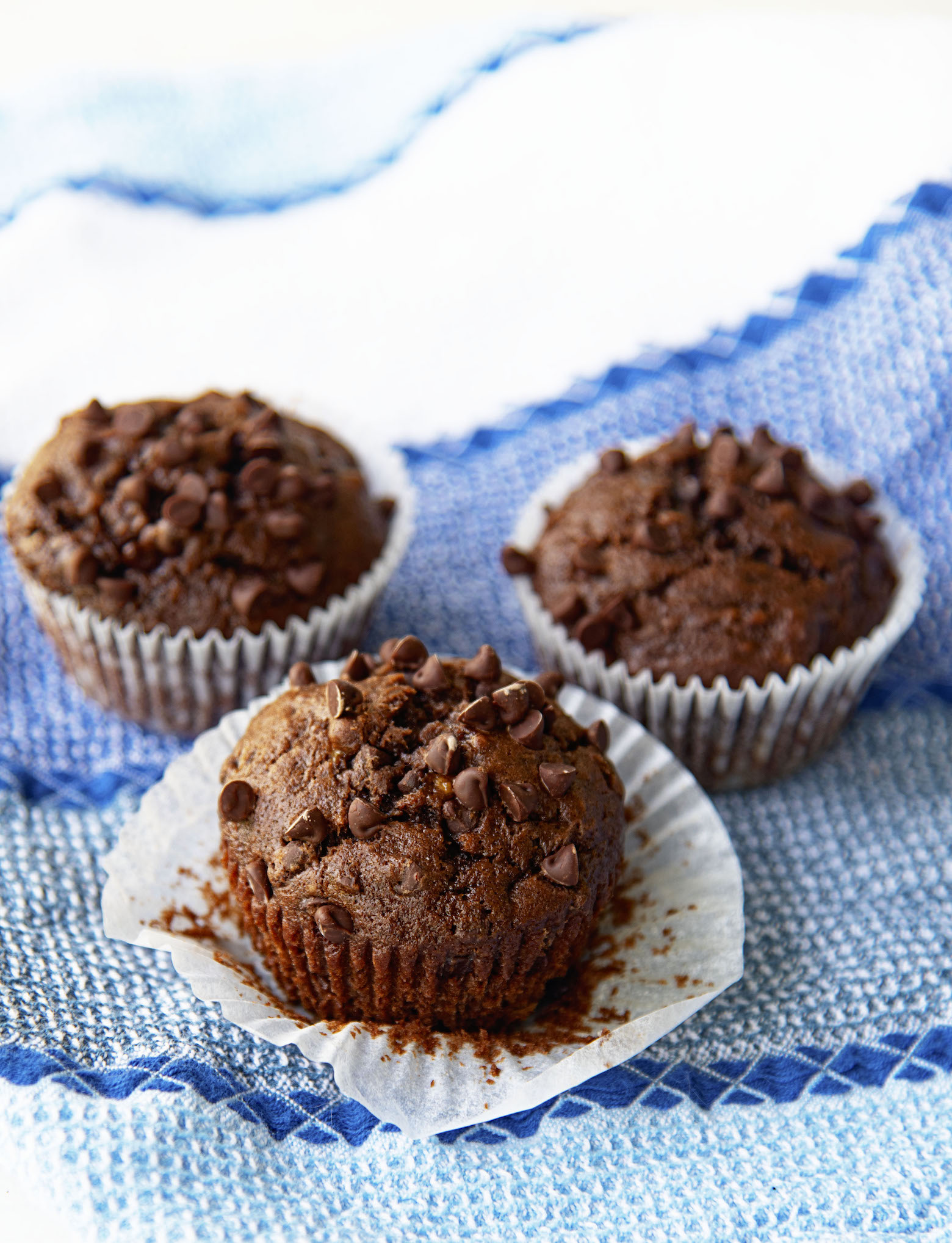 Want More Muffin Recipes?
Clementine Chocolate Chip Muffin
Cider Glazed Apple Fritter Muffins
Ingredients
6 TBSP vegetable oil
1 cup brown sugar
1 large egg
1/2 tsp vanilla
1 cup mashed super ripe bananas (about 3 medium bananas)
1 cup all-purpose flour
1/2 cup unsweetened cocoa powder

3/4 baking soda

1 1/4 tsp baking powder
1/2 tsp salt
1 1/4 cup mini chocolate chips, divided
Instructions
Preheat oven to 400 F and line a standard 12 cup non stick muffin tin with paper liners.
Using a stand mixer with a paddle attachment beat together the brown sugar, butter, egg, and vanilla extract.
Add in mashed bananas and mix on low until just combined.
Remove the bowl from the mixer and add in flour, cocoa powder, baking soda, baking powder, and salt. Carefully mix the ingredients together using a spatula. You don't want to over mix or it will affect the texture of the muffin.
Fold in one cup of the mini chocolate chips.
Scoop evenly into prepared muffin tin. You should get 12 muffins.
Top each one with a few more mini chocolate chips.
Bake for 5 minutes at 400F and then lower heat to 350 degrees F and keep baking.
Bake an additional 12-14 minutes, or until a toothpick comes out *almost* clean. Don't overbake.
Remove from pan and let cool on a wire rack.
Notes
Adapted from Show Me the Yummy