This Dill Pickle Cream Cheese Pull Apart Bread is made with pickle seasoning in the bread and pickles stuffed between layers.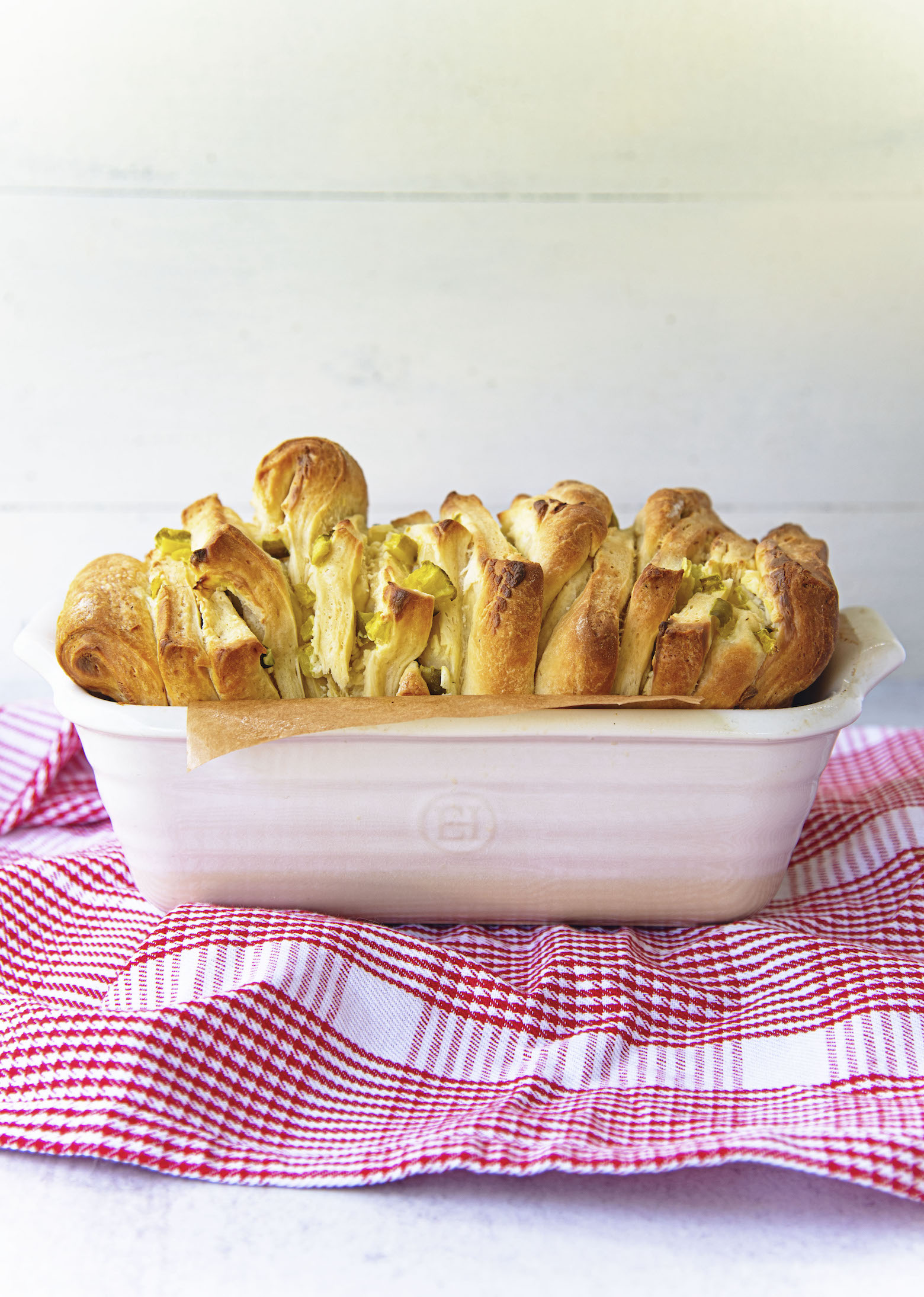 My husband and I sure do love dill pickles.
We have put it in our macaroni and cheese.
You can find dill pickles in our soup.
In dip.
And, of course, Deep fried.
So it only seemed fitting to put it in bread at some point.
Not just any old bread.
But Dill Pickle Cream Cheese Pull Apart Bread.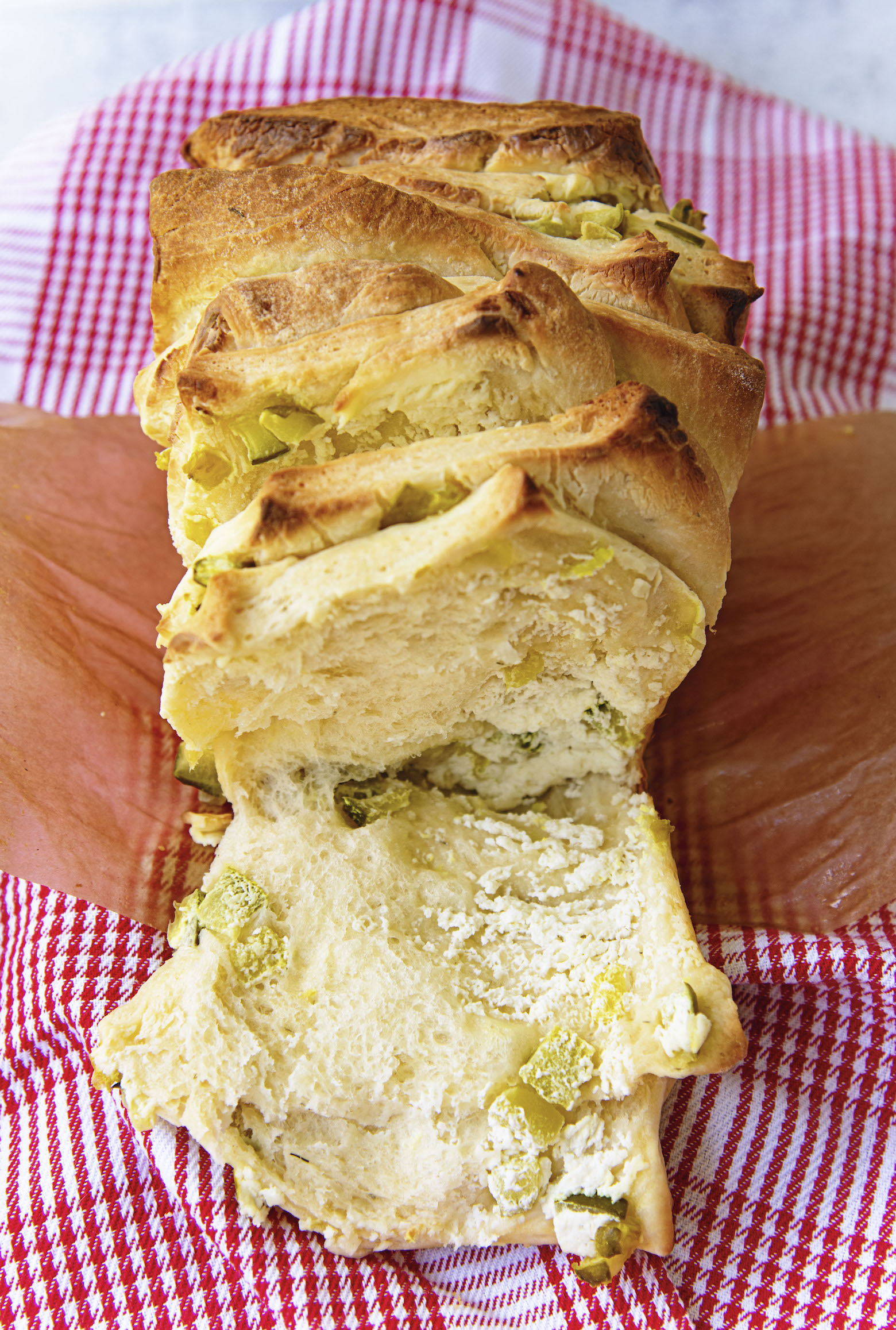 Pull apart breads are fun.
Some people call them tear and share.
Call it whatever you want.
I prefer pull apart because I don't like the idea of having to share my bread if I don't want to. 😀
Though I did end up sharing this with my husband.
And we ended up just eating the whole thing and calling it dinner.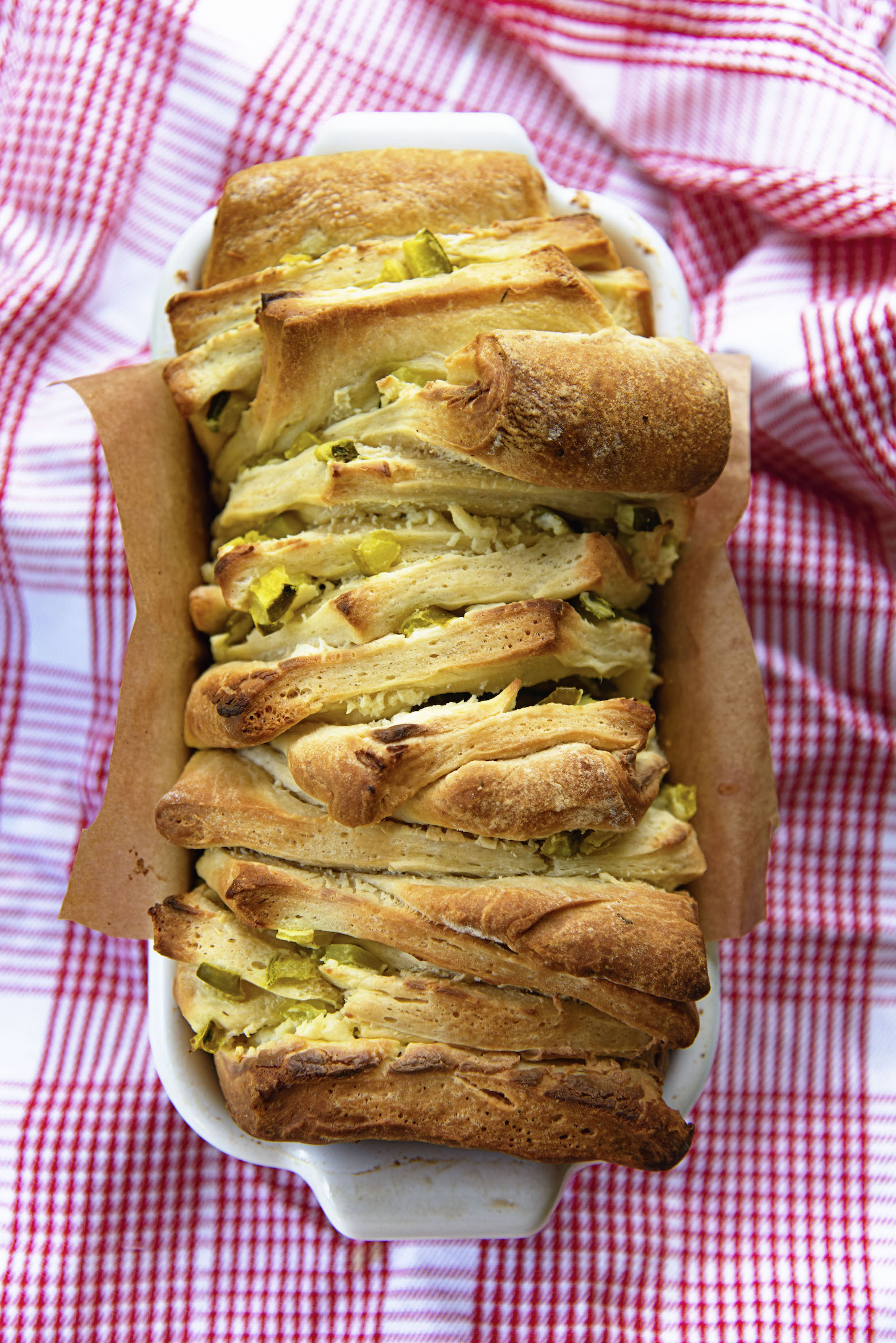 The key to help make this extra pickle flavored is adding the pickle flavored popcorn seasoning.
You don't have to have it to make this bread. But I highly suggest buying it.
We use it on a lot of things.
And yes, it's really good on popcorn…like it was made for.
There is a link where to get it in the recipe.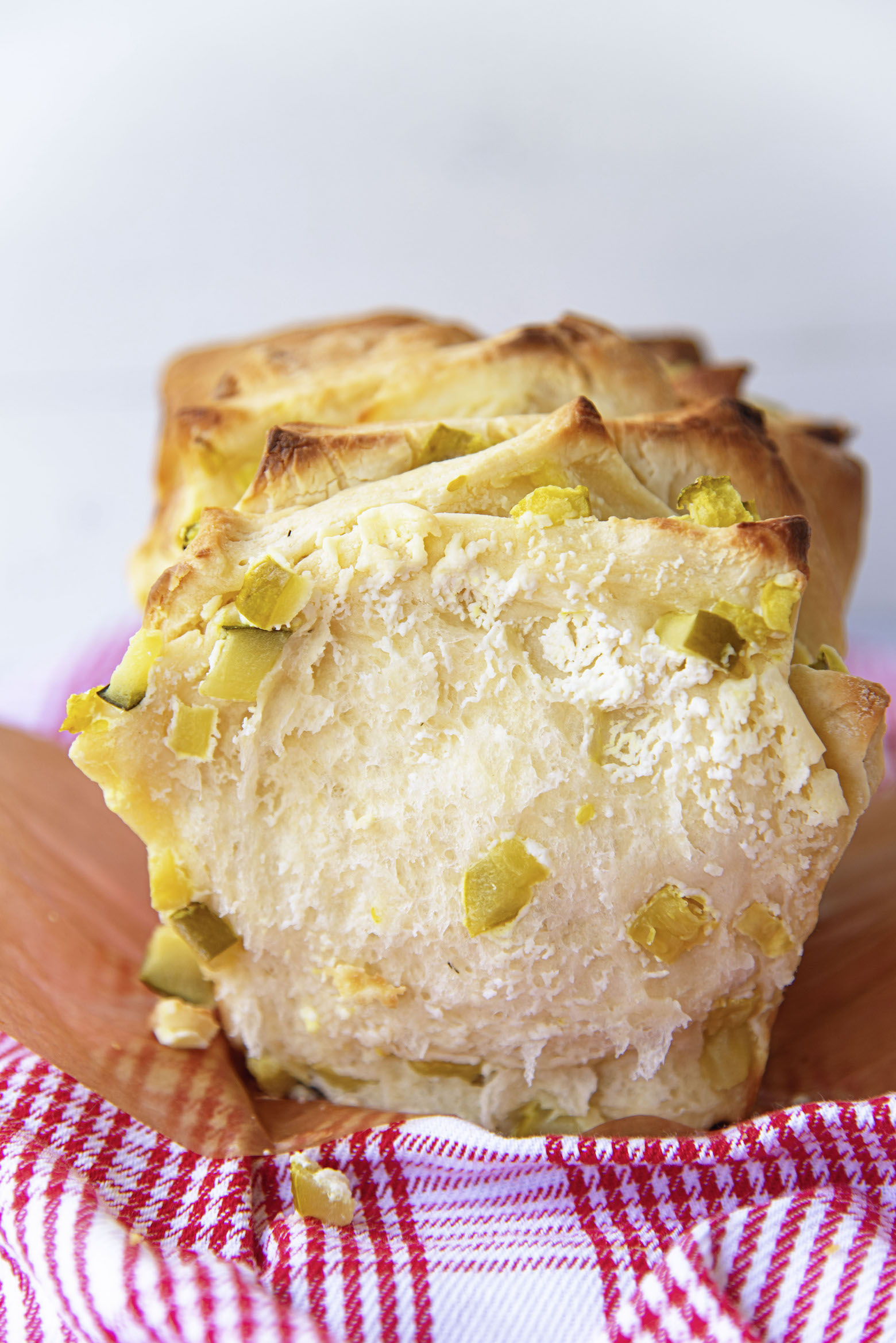 While I only used cream cheese this time around I think the next time I make it I'll throw in some cheddar as well.
Because almost everything needs more cheese.
A nice sharp cheddar would be great with this.
P.S. It's a great day to buy my cookbook Holy Sweet!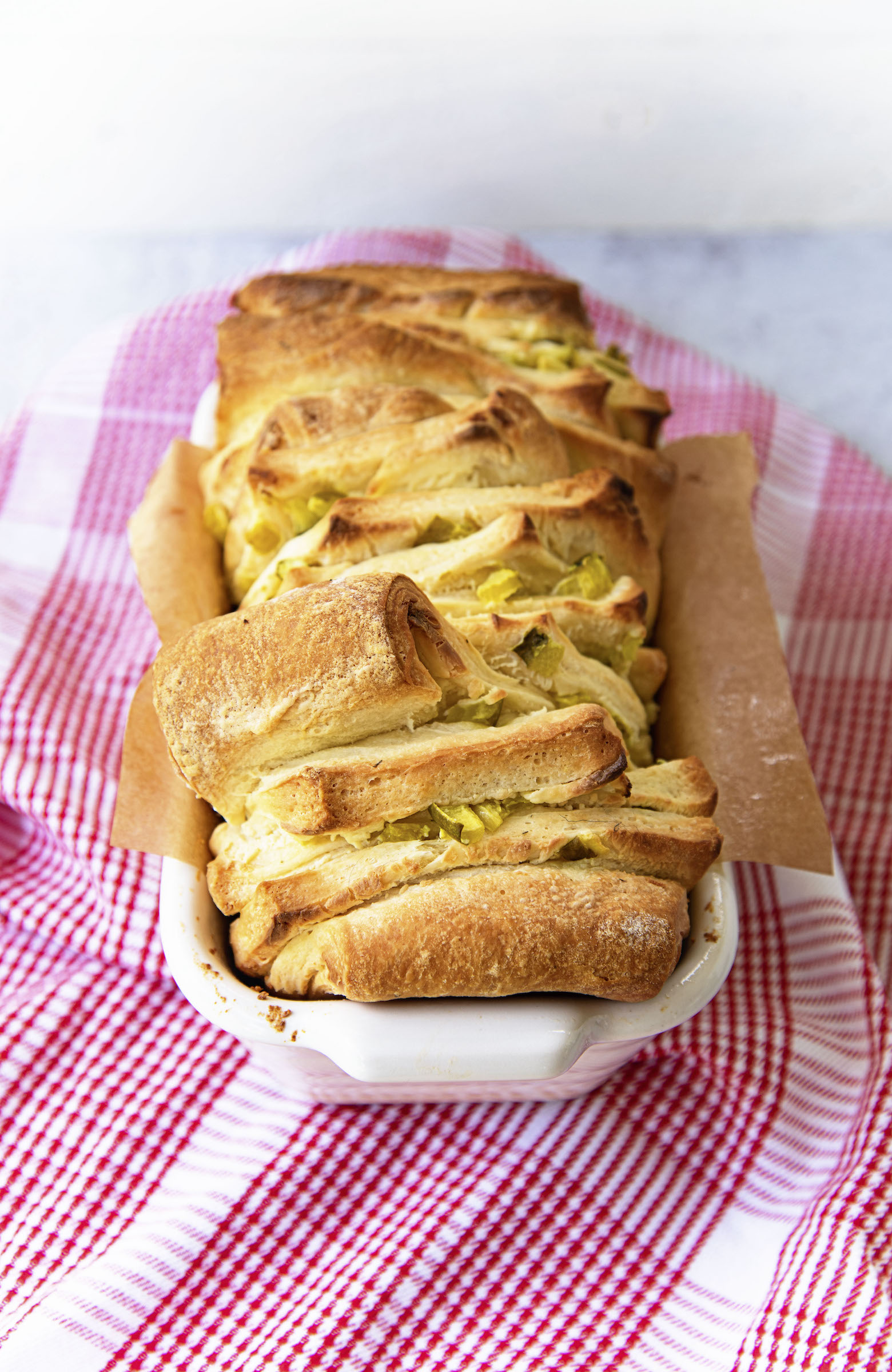 Want More Bread Recipes?
Orange Blossom Chocolate Challah Bread
Ingredients
For the Dough:
⅔ cup warm whole milk (105°F to 110°F)
1 TBSP granulated sugar
1 (0.25-ounce) package active dry yeast
3 1/4 cups all-purpose flour, divided
¼ cup unsalted butter, melted
2 large eggs
1 tsp kosher salt
For the Bread:
4 TBSP unsalted butter, melted and divided
8 oz cream cheese, at room temperature
1 cup dill pickles, chopped
Instructions
For the Dough:
In the bowl of a stand mixer fitted with the paddle attachment, combine warm milk, sugar, and yeast. Let stand until mixture is foamy, about 10 minutes.
With mixer running on low speed, add 1 cup flour, beating just until combined.
Add melted butter and ½ cup flour, beating until combined.
Beat in eggs.
Gradually add salt, pickle seasoning, and remaining 1¾ cups flour, beating until a soft dough forms.
Spray a large bowl with cooking spray.
Place dough in bowl, turning to grease top. Loosely cover and let rise in a warm, draft-free place (75°F) until doubled in size, about 1 hour.
For the Bread:
Roll dough into an 18×16-inch rectangle.
Brush with 2 TBSP melted butter. Then spread the soft cream cheese over the whole rectangle and sprinkle with dill pickles.
Using a knife or pizza wheel, slice dough lengthwise into 4 equal strips.
Stack strips one on top of the other, and cut into 4×3-inch rectangles.
Spray an 9×5-inch loaf pan with cooking spray, and prop pan at an angle on a book or other object so pan is not flat.
Stack rectangles on their sides in prepared pan.
Top with any fillings that came loose.
Loosely cover and let rise in a warm, draft-free place 75°F until doubled in size, 30 minutes to 1 hour.
Preheat oven to 350°F.
Drizzle remaining 2 TBSP butter on top of loaf, and bake until golden brown, 40 to 45 minutes, covering with foil halfway through baking to prevent excess browning, if necessary.
Let cool for 20 minutes before inverting onto a serving plate.
Turn right side up to serve.