This Hot Chocolate Marshmallow Brownie Bars have a brownie base, loaded with marshmallows topped with white chocolate hot cocoa crumb topping.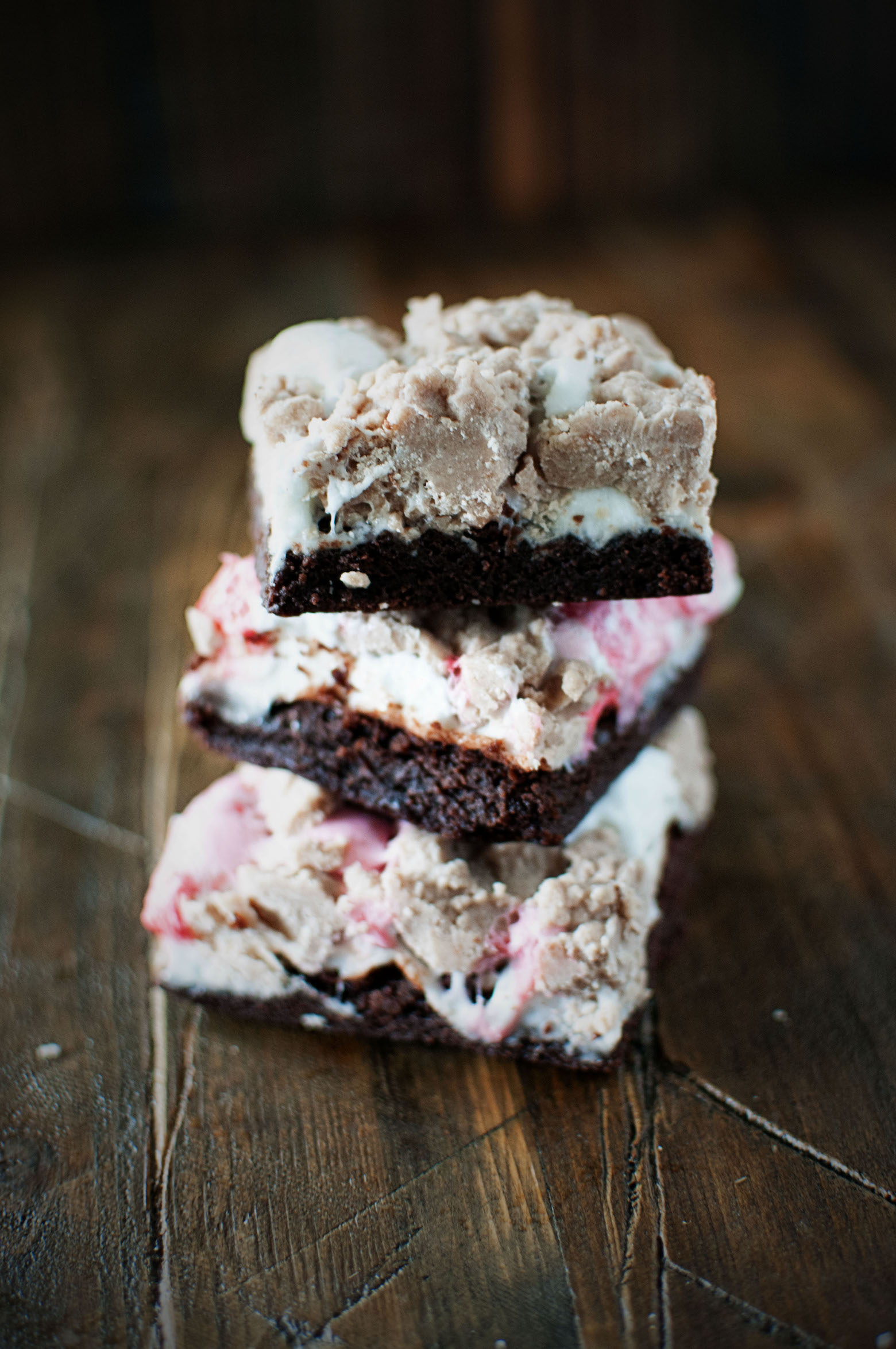 I can tell this story since my husband never reads my blog. 🙂
With Christmas coming, I was having a hard time figuring out what to get him.
See when you buy a fixer upper and you have special needs rescue dogs all your money tends to go to those two things. 🙂
But no one seems to like the gift of look at the dogs heart x-rays.
Also, why on Earth to closet systems (aka wire racks) cost so darn much?
He loves kitchen stuff but we now have a 78 sq. ft kitchen and I'm not sure how long we will be having it that size so adding to that is a bad idea.
Nothing was coming to mind and I didn't want to buy something just to buy something.
Then an idea presented itself and I got all excited and pulled the trigger.
Not really paying attention to the details.
It came today. Two days early.
Just an hour before my husband was to be home.
With no outer box so you could see what it was.
There is a giant yellow sticker on it that says Mech Lift or Two People.
And I am neither of those things.
An attempt to move it was futile….I notice it weighs 133 pounds.
For about two minutes I considered leaving it out there and being like Merry Christmas when my husband came home.
But it's only December 6th and it's pretty much the only gift he is getting.
So off I went to drag it in.
Thirty minutes give or take later I had gotten it inside the door.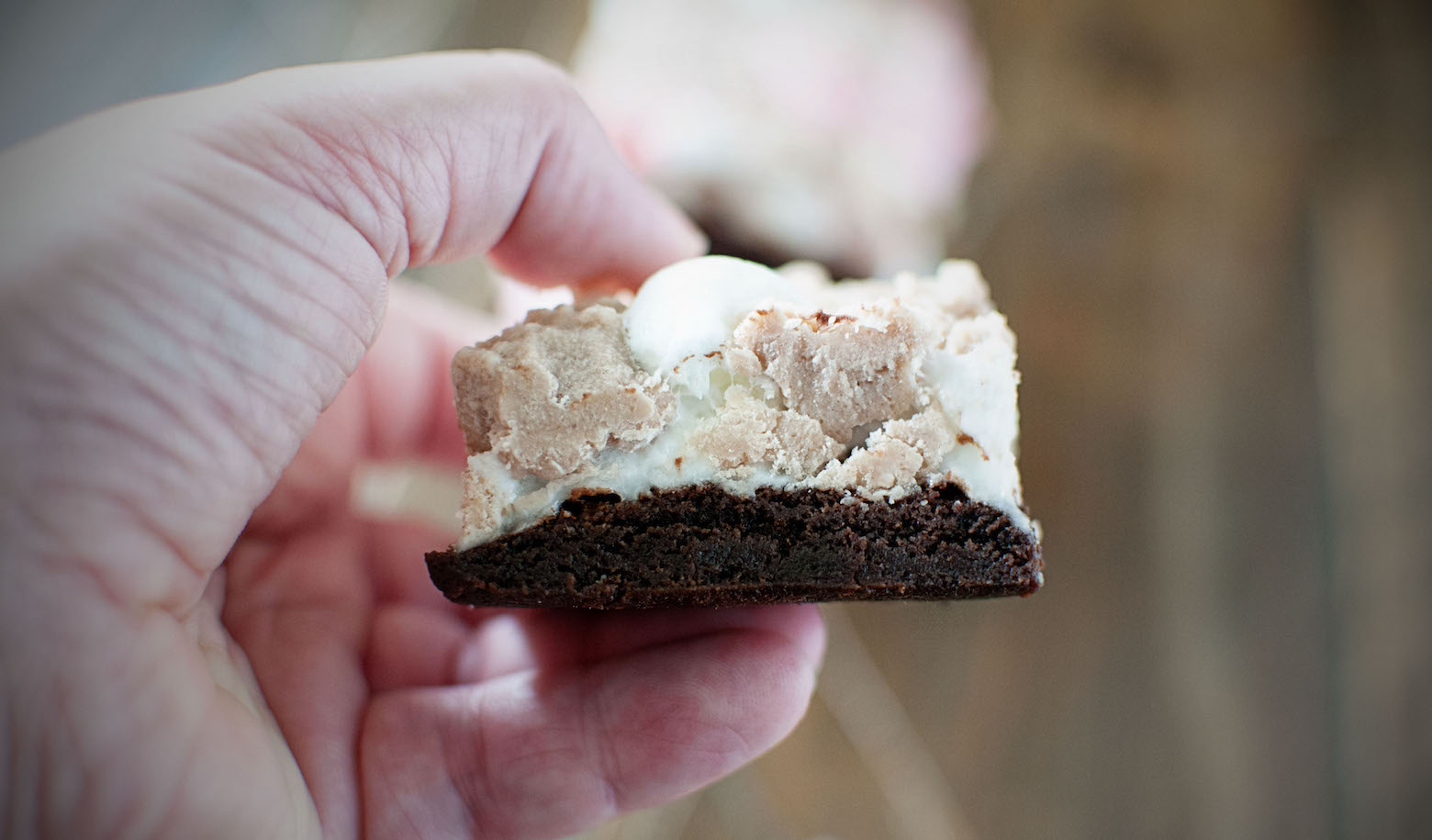 The good news is we have hardwood floors so I was then able to push it over towards the tree.
I have never been so happy to live in a small house as I was today. 😀
I then had to wrap it since it shows what it is…it's wrapped on three sides…I doubt anyone is going to try and flip it over to see the bottom.
My husband then called to remind me he would be late today since he had to go to a retirement party at the end of the work day…so I did not to be as frantic as I was. Ah, life.
It's there. It's wrapped.
He hasn't seen it yet.
You can see it here. 
The take away from all of this is that I can move a dead body on my own.
If need be.
As long as that person weighs 133 pounds or less.
And I have 30 minutes or so to move them.
Not related to dead bodies are these Hot Chocolate Marshmallow Brownie Bars.
I mean I hope they aren't related to dead bodies, you can never be fully sure.
These are a take on some brownie bars I made a long time ago.
But those had peanut butter and Rice Krispies.
I thought about leaving in the Rice Krispies but decided against last minute when I realized I didn't have any Rice Krispies. 🙂
That's how a lot of recipes get decided on this blog. 😛
I did a mix of peppermint and regular marshmallows because I wanted peppermint but some of the people I knew who were going to eat them did not like peppermint.
So I compromised.
P.S. It's a great day to buy my cookbook Holy Sweet!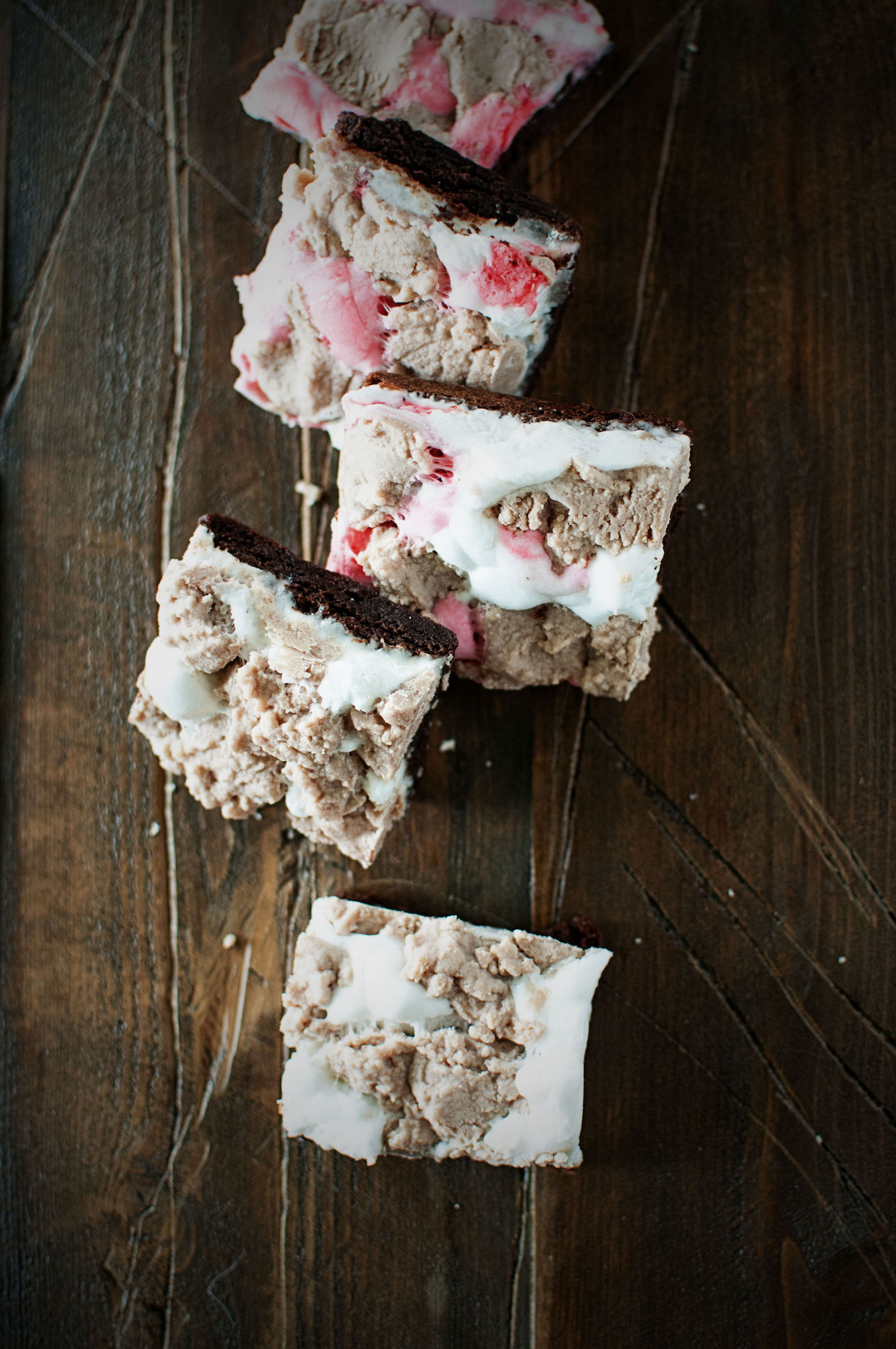 Want More Brownie Recipes?
Marshmallow Crunch Brownie Bars
Ingredients
Brownie Layer:
4 oz. unsweetened chocolate
2/3 cup unsalted butter
¾ cup semi-sweet chocolate chips
1 1/3 cups all-purpose flour
1 tsp. baking powder
½ tsp. salt
4 large eggs, room temperature
2 cups granulated sugar
2 tsp. vanilla extract
Topping Ingredients:
10 oz. mini marshmallows (I did a mix of half regular half peppermint)
2 cups white chocolate, chopped finely
2 oz. unsalted butter
2 packets powdered hot chocolate (2 oz)
Instructions
Preheat oven to 350F.
Grease a 9×13-inch baking pan.
For brownie batter:
In a medium saucepan, melt the chocolate, butter, and ¾ cup of the semisweet chocolate chips on medium heat.
Stir occasionally while melting.
Set aside and cool for 5 minutes.
In a medium bowl, sift the flour, baking powder, and salt.
Set aside.
In a large bowl, place the eggs and whisk thoroughly.
Add in the sugar and vanilla.
Stir the melted ingredients into the egg mixture, mixing well.
Stir in the dry sifted ingredients and mix well.
Pour the batter into the prepared pan, and even with a spatula.
Bake for 25 to 30 minutes, or until a cake tester inserted into the corner of the pan comes out with moist crumbs.
To finish the bars:
While the brownies are baking, place the white chocolate, hot chocolate mix, and butter in a medium saucepan.
Cook over low heat, stirring constantly until melted.
Let mixture start to cool.
Remove the brownies from the oven, and immediately sprinkle the marshmallows over them.
Drop white chocolate cocoa topping onto marshmallow layer like you would a crumb topping. 
Return the pan to the oven for 3 more minutes.
Remove from oven and let cool to room temperature.
Refrigerate until chilled before cutting.
Makes 12 3×3-inch bars.